Derrick Lancaster Tops Friday's Daytona Test Speed Charts
Derrick Lancaster led the way on Day 1 of the annual ARCA Menards Series two-day open test at Daytona International Speedway on Friday.
Lancaster's best lap, turned in a draft, timed in at 48.939 seconds/183.902 mph in his No. 29 Derrick Lancaster Racing Chevrolet.
"I have someone helping me out with some tricks, and I told him I wouldn't tell anyone who it is," Lancaster said the 47-year-old Lancaster, who has five career ARCA Menards Series starts on his resume dating back to 2014. "He told me a few things, and I listened to him. I learned more out there today than I have in the previous eight times I have been here.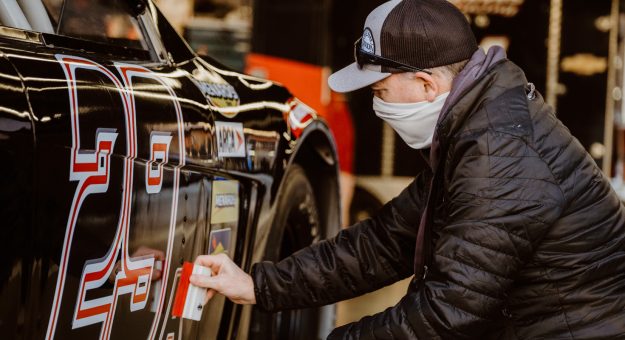 "We hooked up in the draft with (Ty Gibbs') 18 car and caught the pack in front of us really quickly. The 18 and I seemed to work really well together."
Lancaster's run at Daytona was his first time back in a race car after a serious injury in a late model last summer could have ended his career.
"It was last August at Kingsport Speedway," he explained. "I had won there the previous year, and we were running good and the cars in front of me got together and I got into it. I got up in the air and came down and it just came down wrong. I got out of the car and walked back to the trailer, and my guys started to tell me something looked wrong with my neck.
"I ended up going to the hospital, and they told me I had cracked my C-1 vertebra. They said I was lucky to be alive, and that my racing days were going to be behind me.
"Last year was hard for everyone for a lot of reasons, so it's great to get here to Daytona and start the season off on the right foot."
Gibbs was second fastest in Friday's open session at 48.985 seconds/183.730 mph. Thad Moffitt (49.275 seconds/182.648 mph), Sean Corr (49.311 seconds/182.515 mph), and Nick Sanchez (49.312 seconds/182.511 mph) rounded out the top five.
Defending series champion Bret Holmes was sixth fastest, with Corey Heim, Taylor Gray, Rich Bickle and Jack Wood rounding out the top 10.
Forty-nine drivers made at least one lap throughout the seven-hour session. The only incident was a flat left rear tire on Gracie Trotter's No. 25 Toyota with less than half an hour remaining in the session.
ARCA Menards Series testing at Daytona continues Saturday starting at 10 a.m. ET. ARCARacing.com will carry live timing and scoring throughout the day.
Friday Results
| | | | | | | |
| --- | --- | --- | --- | --- | --- | --- |
| Pos. | No. | Name | Sponsor/Make | Time | Speed | Diff. |
| 1 | 29B | Derrick Lancaster | Derrick Lancaster Racing Chevrolet | 48.939 | 183.902 | 0.000s |
| 2 | 18 | Ty Gibbs | Joe Gibbs Racing Toyota | 48.985 | 183.730 | 0.046 |
| 3 | 46 | Thad Moffitt | DGR Ford | 49.275 | 182.648 | 0.336 |
| 4 | 8 | Sean Corr | Empire Racing Chevrolet | 49.311 | 182.515 | 0.372 |
| 5 | 2S | Nich Sanchez | Rev Racing Chevrolet | 49.312 | 182.511 | 0.373 |
| 6 | 23H | Bret Holmes | Bret Holmes Racing Chevrolet | 49.354 | 182.356 | 0.415 |
| 7 | 20 | Corey Heim | Venturini Motorsports Toyota | 49.368 | 182.304 | 0.429 |
| 8 | 17 | Taylor Gray | DGR Ford | 49.410 | 182.149 | 0.471 |
| 9 | 45 | Rich Bickle | Empire Racing Chevrolet | 49.435 | 182.057 | 0.496 |
| 10 | 21 | Jack Wood | GMS Racing Chevrolet | 49.497 | 181.829 | 0.558 |
| 11 | 63 | Dave Mader III | Spraker Racing Chevrolet | 49.508 | 181.789 | 0.569 |
| 12 | 35 | Greg Van Alst | Van Alst Motorsports Chevrolet | 49.512 | 181.774 | 0.573 |
| 13 | 32 | Howie DiSavino III | AM Racing Chevrolet | 49.517 | 181.756 | 0.578 |
| 14 | 23M | Sam Mayer | Bret Holmes Racing Chevrolet | 49.523 | 181.734 | 0.584 |
| 15 | 2W | Kris Wright | Young's Motorsports Chevrolet | 49.603 | 181.441 | 0.664 |
| 16 | 55 | Derek Griffith | Venturini Motorsports Toyota | 49.691 | 181.119 | 0.752 |
| 17 | 17 | Drew Dollar | Venturini Motorsports Toyota | 49.701 | 181.083 | 0.762 |
| 18 | 73 | Andy Jankowiak | AJ Racing Team Ford | 49.938 | 180.223 | 0.999 |
| 19 | 44 | John Ferrier | Ferrier McClure Racing Chevrolet | 49.951 | 180.177 | 1.012 |
| 20 | 60D | Andrik Dimayuga | Lira Motorsports Ford | 50.041 | 179.853 | 1.102 |
| 21 | 94D | Dawson Cram | Cram Enterprices Toyota | 50.044 | 179.842 | 1.105 |
| 22 | 25 | Gracie Trotter | Venturini Motorsports Toyota | 50.118 | 179.576 | 1.179 |
| 23 | 40N | Jett Noland | Niece Motorsports Chevrolet | 50.154 | 179.447 | 1.215 |
| 24 | 94C | Alex Sedgwick | Cram Enterprises Toyota | 50.213 | 179.236 | 1.274 |
| 25 | 69 | Scott Melton | Kimmel Racing Ford | 50.285 | 178.980 | 1.346 |
| 26 | 3 | Willie Mullins | Mullins Racing Chevrolet | 50.326 | 178.834 | 1.387 |
| 27 | 3C | Davey Callihan | Mullins Racing Ford | 50.368 | 178.685 | 1.429 |
| 28 | 28 | Kyle Sieg | RSS Racing Chevrolet | 50.541 | 178.073 | 1.602 |
| 29 | 10C | Jason Crabtree | Fast Track Racing Ford | 50.686 | 177.564 | 1.747 |
| 30 | 40H | Carson Hocevar | Niece Motorsports Chevrolet | 50.877 | 176.897 | 1.938 |
| 31 | 97 | Jason Kitzmiller | CR7 Motorsports Chevrolet | 50.943 | 176.668 | 2.004 |
| 32 | 44C | Benny Chastain | Ferrier/McClure Racing Chevrolet | 51.150 | 175.953 | 2.211 |
| 33 | 2G | Mark Green | Rev Racing Chevrolet | 51.236 | 175.658 | 2.297 |
| 34 | 18A | Ty Gibbs | Joe Gibbs Racing Toyota | 51.257 | 175.586 | 2.318 |
| 35 | 12L | Charles Lacarre | Fast Track Racing Chevrolet | 51.341 | 175.298 | 2.402 |
| 36 | 12N | Michael Harper | Fast Track Racing Chevrolet | 51.445 | 174.944 | 2.506 |
| 37 | 83 | Chase Dixon | Derrick Lancaster Racing Chevrolet | 51.487 | 174.801 | 2.548 |
| 38 | 10D | Devon Rouse | Fast Track Racing Ford | 51.636 | 174.297 | 2.697 |
| 39 | 60G | Juan GOnzalez | Lira Motorsports Ford | 51.661 | 174.213 | 2.722 |
| 40 | 29A | Josh Berry | Derrick Lancaster Racing Toyota | 51.710 | 174.048 | 2.771 |
| 41 | 44A | Mark Lowrey | Ferrier/McClure Racing Chevrolet | 51.875 | 173.494 | 2.936 |
| 42 | 01P | Blaine Perkins | Fast Track Racing Toyota | 52.160 | 172.546 | 3.221 |
| 43 | 10P | Ed Pompa | Fast Track Racing Ford | 52.263 | 172.206 | 3.324 |
| 44 | 11 | Richard Garvie | Fast Track Racing Ford | 52.339 | 171.956 | 3.400 |
| 45 | 10S | Owen Smith | Fast Track Racing Ford | 52.686 | 170.823 | 3.747 |
| 46 | 88M | Rickey Moxley | Reeves Racing Chevrolet | 52.857 | 170.271 | 3.918 |
| 47 | 88R | Scott Reeves | Reeves Racing Chevrolet | 53.117 | 169.437 | 4.178 |
| 48 | 7 | Brittany Zamora | CCM Ford | 53.226 | 169.090 | 4.287 |
| 49 | 12B | Mariah Boundrieau | Fast Track Racing Chevrolet | 59.641 | 150.903 | 10.702 |