WRC Monte Carlo: Toyota first and second after a demanding day
The TOYOTA GAZOO Racing World Rally Team occupies first and second place on Rallye Monte-Carlo following a demanding and dramatic Friday – the longest day of the event. The team's trio of drivers shared the lead between them during the day, and Elfyn Evans finished it with an advantage of 7.4 seconds over Sébastien Ogier while Kalle Rovanperä is fourth.
Following the opening two stages of the rally on Thursday, the crews faced a challenging start to Friday with the first two tests to be run prior to sunrise. SS3 was particularly tricky in full darkness and with sections of ice and snow, but the team's drivers rose to the challenge. Ogier was quickest ahead of Evans, but third for Rovanperä was enough for the Finnish youngster to claim the rally lead just in front of his team-mates.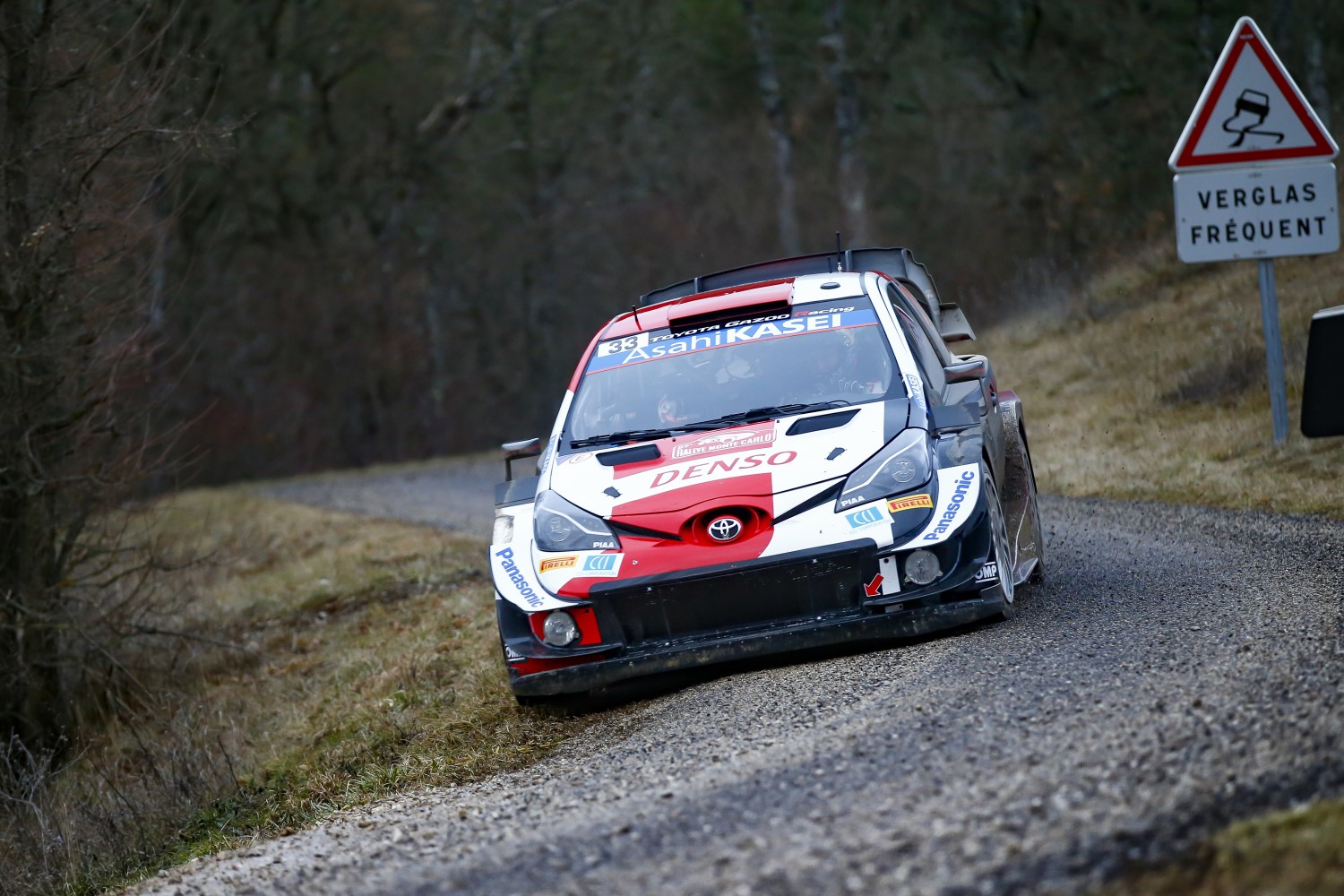 Seven-time rally winner Ogier was quickest again in SS4 to take the lead and then again in SS5 to complete the morning loop with a margin of 11.3s over Evans.
The afternoon loop of two stages was affected by heavy rain on top of the already-slippery road surface, and Ogier's progress was disrupted by a flat tire in SS6 that demoted him to third overall. Evans on the other hand won the stage as he gained the rally lead.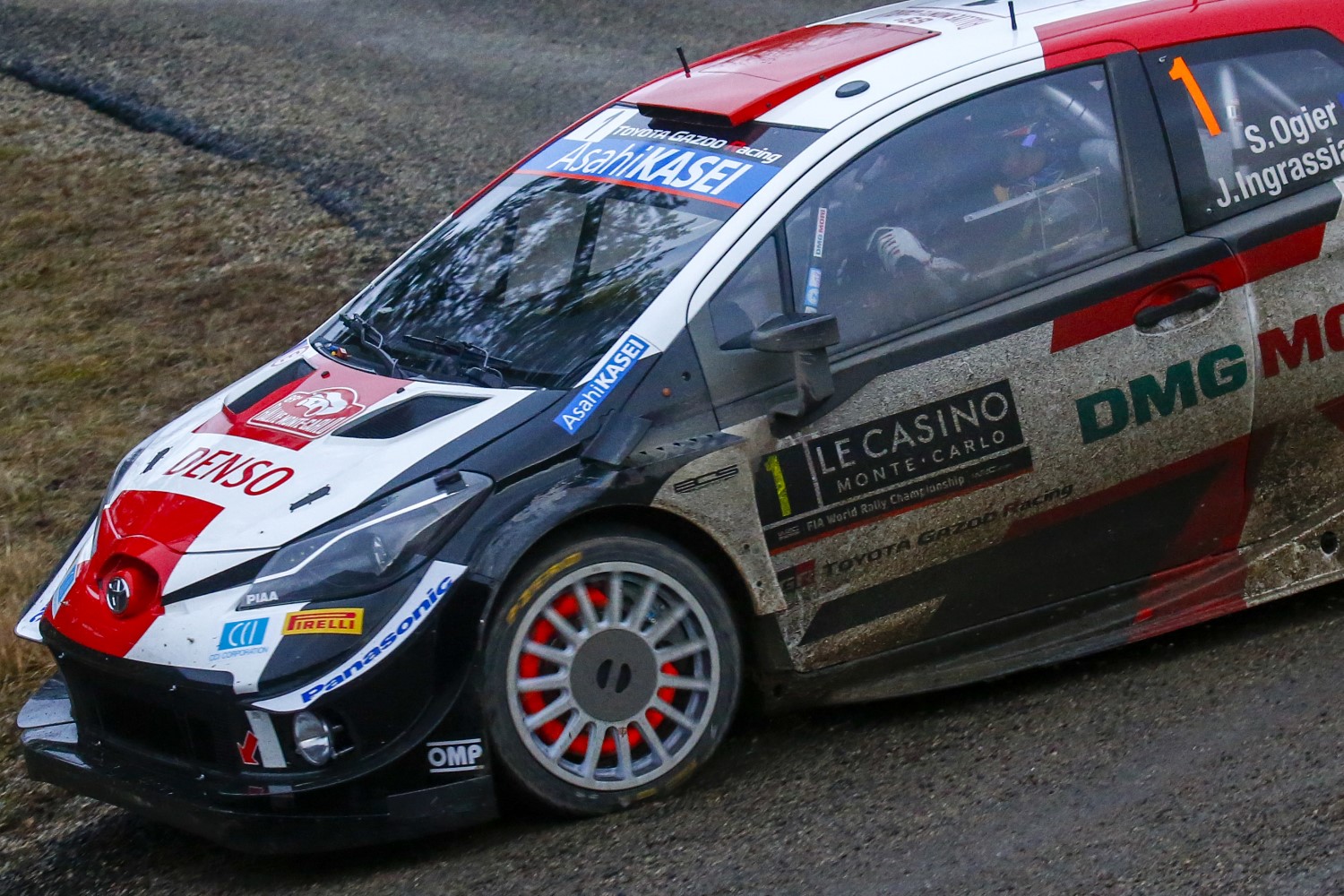 Ogier responded brilliantly in SS7 with a further stage win to regain second place and reduce his deficit to Evans. Rovanperä meanwhile had fallen back to fifth after going off the road on mud in SS6, but took fourth place back in SS7.
Takamoto Katsuta, driving a fourth car under the TOYOTA GAZOO Racing WRC Challenge Program, is eighth overall and gained in confidence during the day to set the fourth-fastest time in the extreme wet conditions of SS7.
Quotes:
Jari-Matti Latvala (Team Principal)
"After today I can say that I am more nervous watching the stages from the service park than what I used to feel as a driver! But we can be very happy with our day. All of our drivers have been doing a really good job in these conditions. Elfyn has been doing a very consistent and clean drive. Seb lost some time, but he really fought back on the final stage with an amazing time, and Kalle was showing great speed as well but just slid off on some mud. These are some of the challenges that the drivers face on this rally, and I'm sure there will be more to come, but overall I'm very pleased at the moment."
Sébastien Ogier (Driver car 1)
"After the difficult start yesterday, I was able to wake up this morning and have a good rhythm from the first kilometers. It was a difficult start on the first stage with some fog and a lot of icy sections. But I was happy with the car, and it was much more enjoyable to drive now that I had the confidence. This afternoon the roads were more muddy as expected, but with the winter tires on it was still nice to drive. I think we were pretty unlucky in the penultimate stage where we lost a lot of time, but other than that I think we've done the best we could do today. I came here to win this rally, and I'm going to do everything to make that happen."
Elfyn Evans (Driver car 33)
"Even though we're leading I'm not completely satisfied with the day, to be honest. Seb has driven very well today, and it's been difficult to keep up with his times. In some sections I was able to do quite well, but when the surface gets more slippery I'm struggling to feel the grip and I don't get the confidence to push more in those areas. Hopefully, we can make some changes and be in a better position in those conditions tomorrow. It's been a difficult rally with the conditions so far, and it sounds like there's the possibility for more interesting weather overnight, so it's not going to be easy all the way to the end."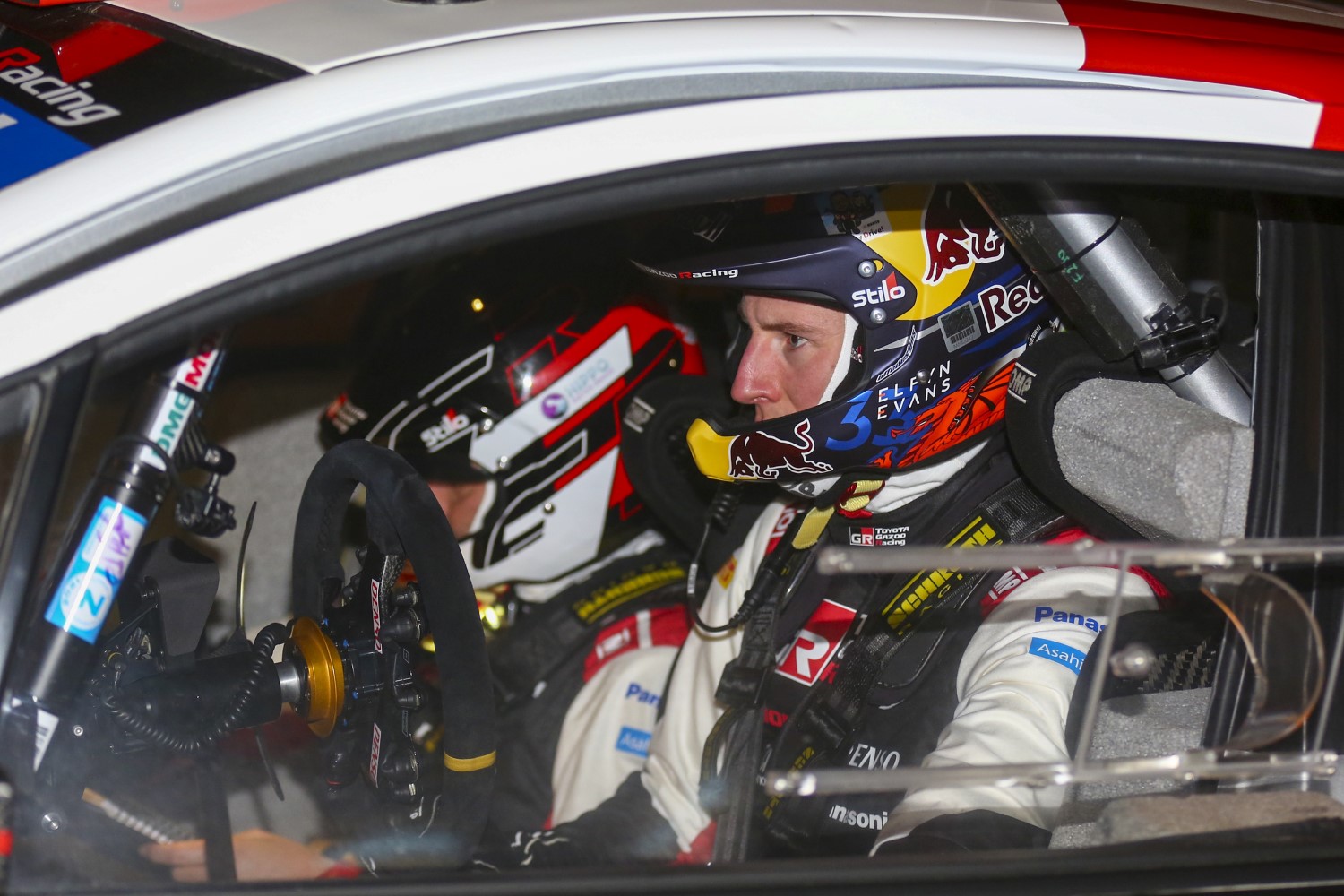 Kalle Rovanperä (Driver car 69)
"I had a good feeling this morning. It started with a tricky stage, but we managed quite well. Then we had a small issue on the road section, and we couldn't make it on time to the next stage but at least we got it fixed. In the first stage after service in the beginning there was a really big cut with a lot of mud: I was expecting a bit more grip from the tire, and we had a spin and took us some time to get back on the road. I'm pretty happy with the driving, but with the time penalty and this small off it's quite a big gap we have given away."
Standings End of day two (Friday):
| | | | | | |
| --- | --- | --- | --- | --- | --- |
| Pos | No | Driver | Co-Driver | Team | Behind |
| 1 | 33 | E. Evans | S. Martin | Yaris WRC | +0.0s |
| 2 | 1 | S. Ogier | J. Ingrassia | Yaris WRC | +7.4 |
| 3 | 8 | O. Tänak | M. Järveoja | I20 Coupé WRC | +25.3 |
| 4 | 69 | K. Rovanperä | J. Halttunen | Yaris WRC | +53.1 |
| 5 | 11 | T. Neuville | M. Wydaeghe | I20 Coupé WRC | +59.1 |
| 6 | 6 | D. Sordo | C. Del Barrio | I20 Coupé WRC | +1:49.6 |
| 7 | 25 | A. Mikkelsen | O. Floene | Fabia Evo | +3:50.8 |
| 8 | 18 | T. Katsuta | D. Barritt | Yaris WRC | +4:05.0 |
| 9 | 20 | A. Fourmaux | R. Jamoul | Fiesta Mk II | +4:37.9 |
| 10 | 44 | G. Greensmith | E. Edmondson | Fiesta WRC | +5:10.8 |
| 11 | 24 | E. Camilli | F. Buresi | C3 | +6:02.4 |
| 12 | 21 | N. Gryazin | K. Aleksandrov | Polo GTI | +6:26.8 |
| 13 | 23 | O. Solberg | A. Johnston | NG i20 | +6:31.8 |
| 14 | 30 | Y. Rossel | B. Fulcrand | C3 | +6:53.9 |
| 15 | 55 | Y. Bonato | B. Boulloud | C3 | +7:00.7 |
| 16 | 29 | N. Ciamin | Y. Roche | C3 | +8:30.0 |
| 17 | 22 | M. Bulacia | M. Der Ohannesian | Fabia Evo | +11:07.9 |
| 18 | 39 | H. Neubauer | B. Ettel | Fiesta Mk II | +11:47.0 |
| 19 | 28 | S. Johnston | A. Kihurani | C3 | +12:48.6 |
| 20 | 32 | C. De Cecco | J. Humblet | Fabia Evo | +12:51.9 |
| 21 | 52 | O. Burri | A. Levratti | Polo GTI | +12:55.1 |
| 22 | 26 | K. Abbring | P. Tsjoen | Polo GTI | +13:49.7 |
| 23 | 7 | P. Loubet | V. Landais | I20 Coupé WRC | +13:55.0 |
| 24 | 43 | E. Guigou | A. Coria | A110 | +14:58.3 |
| 25 | 61 | M. Coppens | F. Gordon | Fabia | +15:24.1 |
| 26 | 40 | D. Vanneste | K. D'alleine | C3 | +16:18.8 |
| 27 | 36 | J. Keferböck | I. Minor | Fabia Evo | +17:57.9 |
| 28 | 56 | J. Chavanne | P. Blot | Fiesta | +18:08.0 |
| 29 | 47 | R. Astier | F. Vauclare | A110 | +18:36.1 |
| 30 | 34 | G. Ogliari | L. Granai | C3 | +19:40.8 |
| 31 | 42 | C. Robert | M. Duval | A110 | +19:51.4 |
| 32 | 72 | N. Latil | J. Degout | 208 Rally 4 | +20:04.1 |
| 33 | 54 | D. Alonso Villarón | A. Lopez Fernandez | Fiesta Mk II | +20:31.4 |
| 34 | 38 | T. Williams | G. Ascalone | Fiesta Mk II | +20:41.6 |
| 35 | 49 | Y. Desangles | N. Theron | Fabia | +25:40.9 |
| 36 | 37 | C. Cherain | S. Prévot | Fabia | +25:55.0 |
| 37 | 79 | T. Lefebvre | M. Lacruz | 208 Rally 4 | +26:21.5 |
| 38 | 76 | S. Althaus | L. Zbinden | 208 | +27:20.5 |
| 39 | 80 | F. Roussel | F. Gilbert | 208 Rally 4 | +27:41.8 |
| 40 | 53 | P. Eouzan | P. Eouzan | Fabia Evo | +28:01.7 |
| 41 | 31 | M. Diaz Aboitiz | D. Sanjuan | Fabia Evo | +28:04.4 |
| 42 | 92 | T. Van Parijs | K. Heyndrickx | Clio RS Line | +28:30.6 |
| 43 | 58 | C. Boroli | M. Imerito | Fabia | +28:43.6 |
| 44 | 45 | P. Baffoun | A. Dunand | A110 | +29:12.7 |
| 45 | 35 | F. Arengi Bentivoglio | M. Bosi | Fabia | +29:31.0 |
| 46 | 93 | B. Verlinden | J. Claerhout | Clio RS Line | +29:39.6 |
| 47 | 88 | T. Monnet | Q. Saxemard | Clio RS Line | +29:47.2 |
| 48 | 46 | P. Ragues | J. Pesenti | A110 | +30:04.8 |
| 49 | 74 | S. Martinez | P. Santos | 208 Rally 4 | +32:09.6 |
| 50 | 67 | J. Aymard | S. Aymard Bouix | Clio RS | +32:57.6 |
| 51 | 59 | C. Covi | M. Lorigiola | Fabia | +33:09.8 |
| 52 | 60 | P. Roux | C. Roux | Polo GTI | +33:14.7 |
| 53 | 63 | F. Delgery | S. Schwab | Clio RS | +33:49.7 |
| 54 | 94 | G. Michellier | C. Richard | Clio RS Line | +34:18.9 |
| 55 | 89 | G. Rossi | B. Volpei | Clio RS Line | +34:38.8 |
| 56 | 85 | J. Morel | M. Toti | DS3 | +35:29.8 |
| 57 | 27 | E. Brazzoli | M. Barone | Fabia | +36:02.2 |
| 58 | 91 | A. Cusimano | S. Kukulka | Clio RS Line | +36:23.7 |
| 59 | 71 | V. Prodan | Z. Raštegorac | Fiesta Rally4 | +38:38.2 |
| 60 | 87 | D. Berard | F. Lager | Twingo RS | +40:32.8 |
| 61 | 84 | M. Peretti | L. Salini | Fiesta | +41:05.2 |
| 62 | 57 | M. Miele | L. Beltrame | Fabia | +42:32.9 |
| 63 | 70 | N. Radet | M. Palacio | 208 | +43:44.7 |
| 64 | 66 | G. Dizier | S. Dizier | Clio RS | +43:56.5 |
| 65 | 75 | J. Marcaillou | M. Salignon | 208 | +44:51.2 |
| 66 | 95 | J. Villy | R. Villy | DS3 | +45:11.7 |
| 67 | 64 | P. Tanci | S. Malet | Clio RS | +45:57.7 |
| 68 | 86 | J. Mallard | A. Marest-Ceccaldi | Twingo RS | +46:20.1 |
| 69 | 83 | J. Palmero | M. Pastorino | Fiesta | +52:45.9 |
| 70 | 77 | A. Cittadino | L. Santi | 208 | +53:21.2 |
| 71 | 82 | Z. Làszlò | D. Berendi | Fiesta Rally4 | +54:59.4 |
| 72 | 90 | F. Garosci | R. Briani | Clio RS Line | +1:07:12.3 |
| 73 | 73 | N. Pavlidis | A. Harryman | 208 Rally 4 | +1:11:58.9 |
| 74 | 96 | L. Biagetti | L. Biagetti | Twingo RS | +1:19:48.6 |