Wayne Taylor Acura (DPi), Corvettes (GTLM) win Rolex 24 at Daytona
The #10 Wayne Taylor Racing Acura ARX-05c of Ricky Taylor, Filipe Albuquerque, Helio Castroneves, and Alexander Rossi have won the 2021 Rolex 24 at Daytona. This is the third consecutive win at the Rolex 24 for Wayne Taylor Racing.
Running Cadillacs for years, the #10 team bought the Acuras from Team Penske after they exited the series at the end of 2020, and still managed to win with a car they were unfamiliar with.
Ganassi #01 Cadillac driven by Renger van der Zande, who was fired by Wayne Taylor Racing,  was hunting down the #10 Acura Wayne Taylor Acura of Filipe Albuquerque in the closing minutes, but blew a tire late.
"He nearly passed me, but then he was kind of steady for four of five laps," Albuquerque said. "He was not really getting in there. I was just counting. 'One more lap. One more lap in the lead.' When he blew, we were lucky. But there is nobody who has ever won Daytona or any championship without luck."
Albuquerque drove the No. 10 Konica Minolta-sponsored Acura ARX-05 to a 4.704 second win over the No. 48 Action Express Racing Cadillac DPi.V-R of Kamui Kobayashi.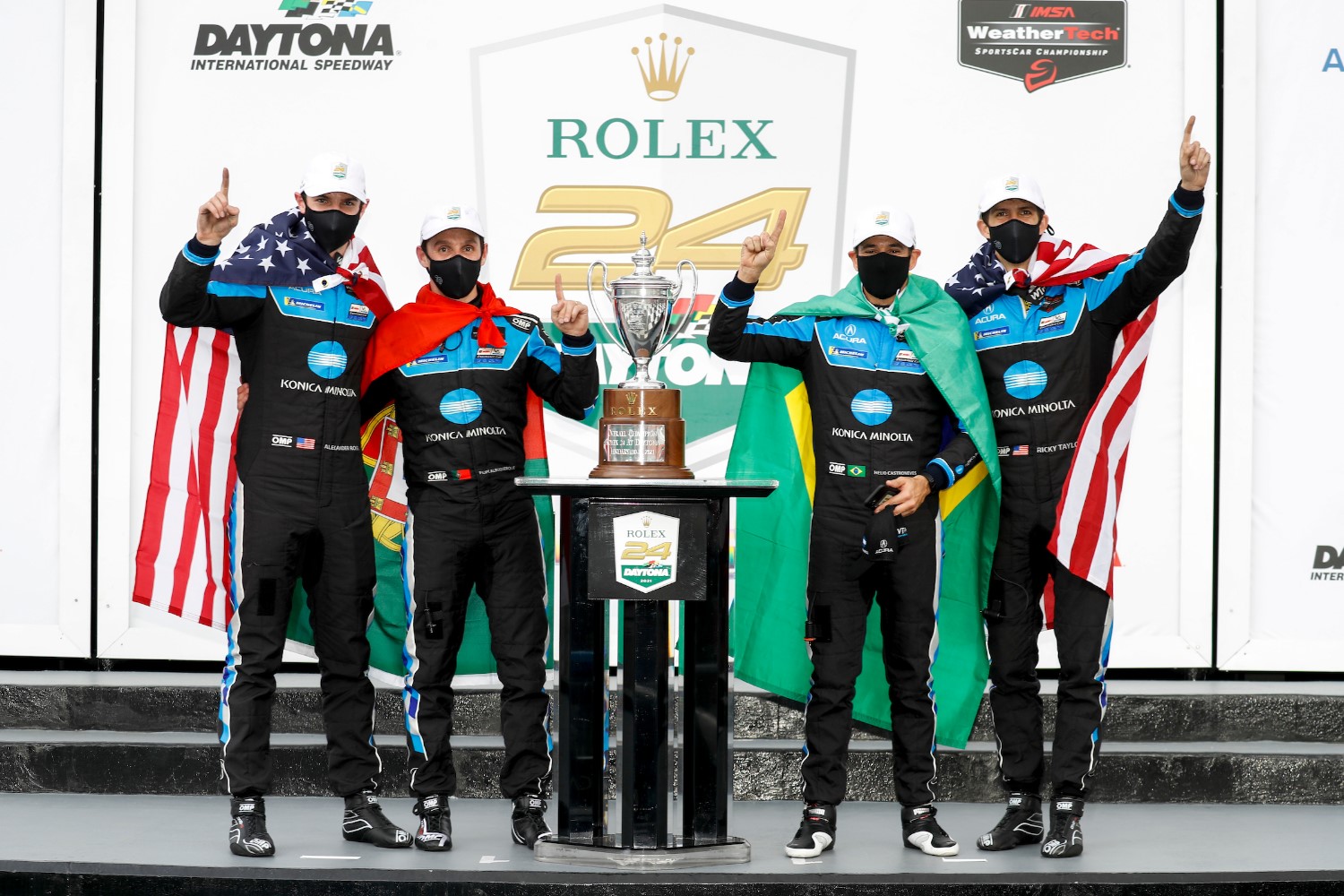 Kobayashi brought the #48 Ally Cadillac home 2nd and the #55 Mazda was third after the #48 passed the #55 Mazda RT-24P of Jonathan Bomarito, Oliver Jarvis, and Harry Tincknell with under 4 minutes to go.
Albuquerque took over controls of the Acura DPi from Ricky Taylor with 90 minutes to go and brought it home first after immense pressure from van der Zande.
A 6.4-second gap following the final round of stops was reduced to less than a second in the final 20 minutes until van der Zande peeled into the pits with a right-rear puncture with eight minutes to go.
It dropped the No. 01 Chip Ganassi Racing Cadillac to fifth in the race.
"To see Jordan win in the GTLM class, we're living a dream," Ricky Taylor said of his younger brother, who helped the family team to a pair of prototype overall victories in 2017. Jordan Taylor, meanwhile, was elated but relieved.
The attrition rate in DPi had been very low for the first half of the race and trouble did not strike the class until the #5 Mustang Sampling/JDC-Miller Cadillac DPi-V.R. found themselves in the wrong place at the wrong time. The #16 Wright Motorsports Porsche 911 GT3 R was hit from behind by the #9 Pfaff Motorsports Porsche 911 GT3 R in the braking zone of Turn 1. That contact sent the #16 Porsche sliding deep into the turn where it hit the #5 Cadillac.
The #5 Cadillac would go on to retire under half an hour before the finish. With no other DPi cars running into serious trouble, they had to settle for a last-place seventh in class result.
LMP2
The Era Motorsports #18 Oreca of Paul-Loup Chatin beat the #8 Tower Motorsport Oreca 07 Gibson of Gabriel Aubry after Aubry was forced to serve a drive-through for a jumped restart with 90 minutes to go. Still leading the #8 ORECA team conceded the lead of the race in the final five minutes as they needed a splash-and-dash fuel stop.
Chatin co-drove the No. 18 with Ryan Dalziel, Dwight Merriman and Kyle Tilley.
"It's amazing," Merriman said. "I'm really proud of the team. It really is a team effort to win in endurance racing, especially when you get to these super-long ones. It's just so hard to win, even if you're good. It requires all aspects of the program to be good."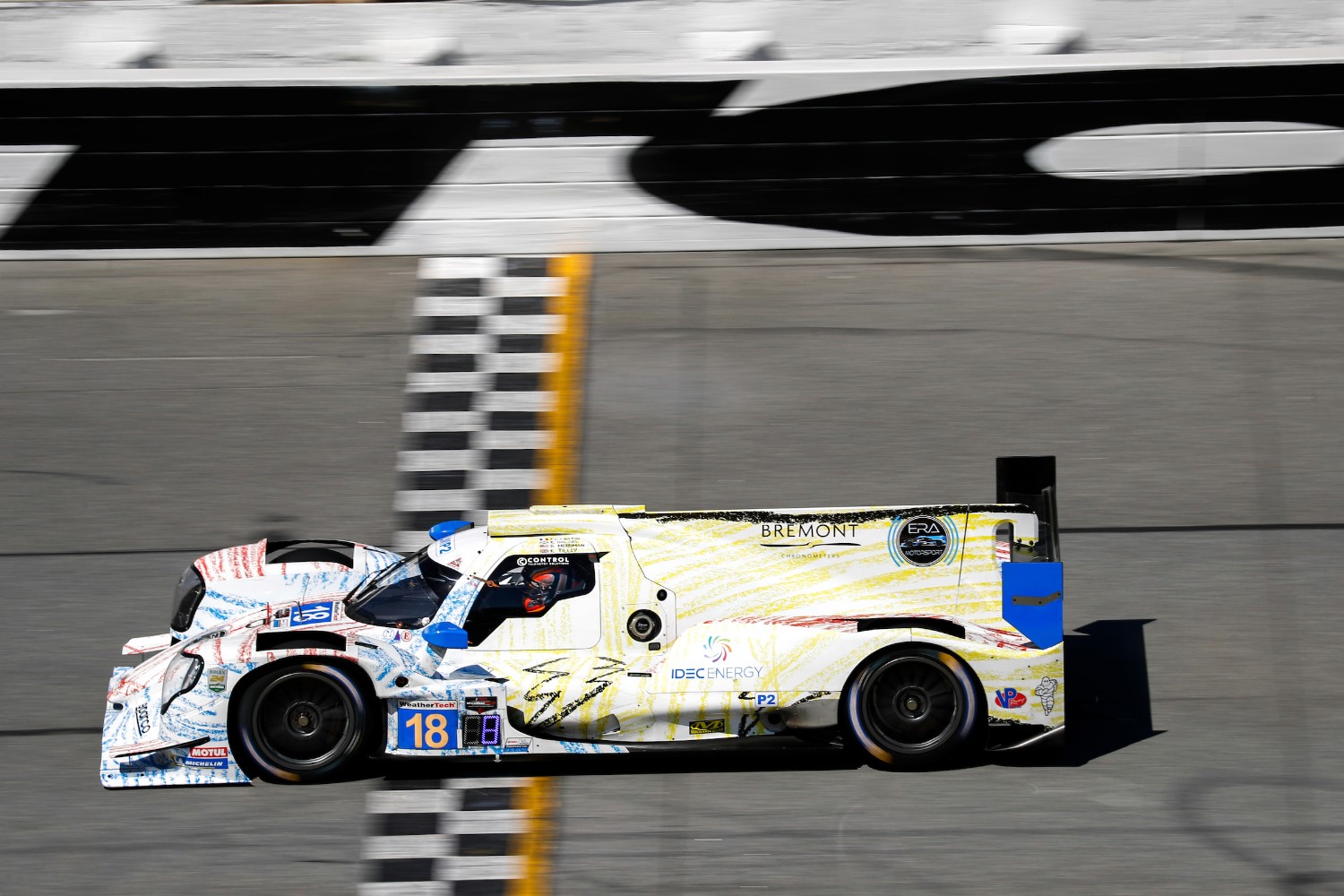 Rounding out the top three was the #82 DragonSpeed ORECA 07 of Eric Lux, Devlin DeFrancesco, Fabian Schiller, and Christopher Mies.
LMP3
Spencer Pigot brought the Riley Motorsport #74 Ligier home for the win with Gar Robinson, Oliver Askew and Scott Andrews. As others in the class ran into trouble, the #74 Ligier kept their feet underneath them with impressive performances from Scott Andrews and Oliver Askew.
"It was a pretty smooth race, to be honest," Pigot said. "We kind of stayed out of trouble and did our own thing. That was our plan all along. Nobody knew how reliable these LMP3 cars would be. I don't think they'd ever run a race this long. One thing we knew is that we'd have the best-prepared car in the paddock, and I think we showed that today."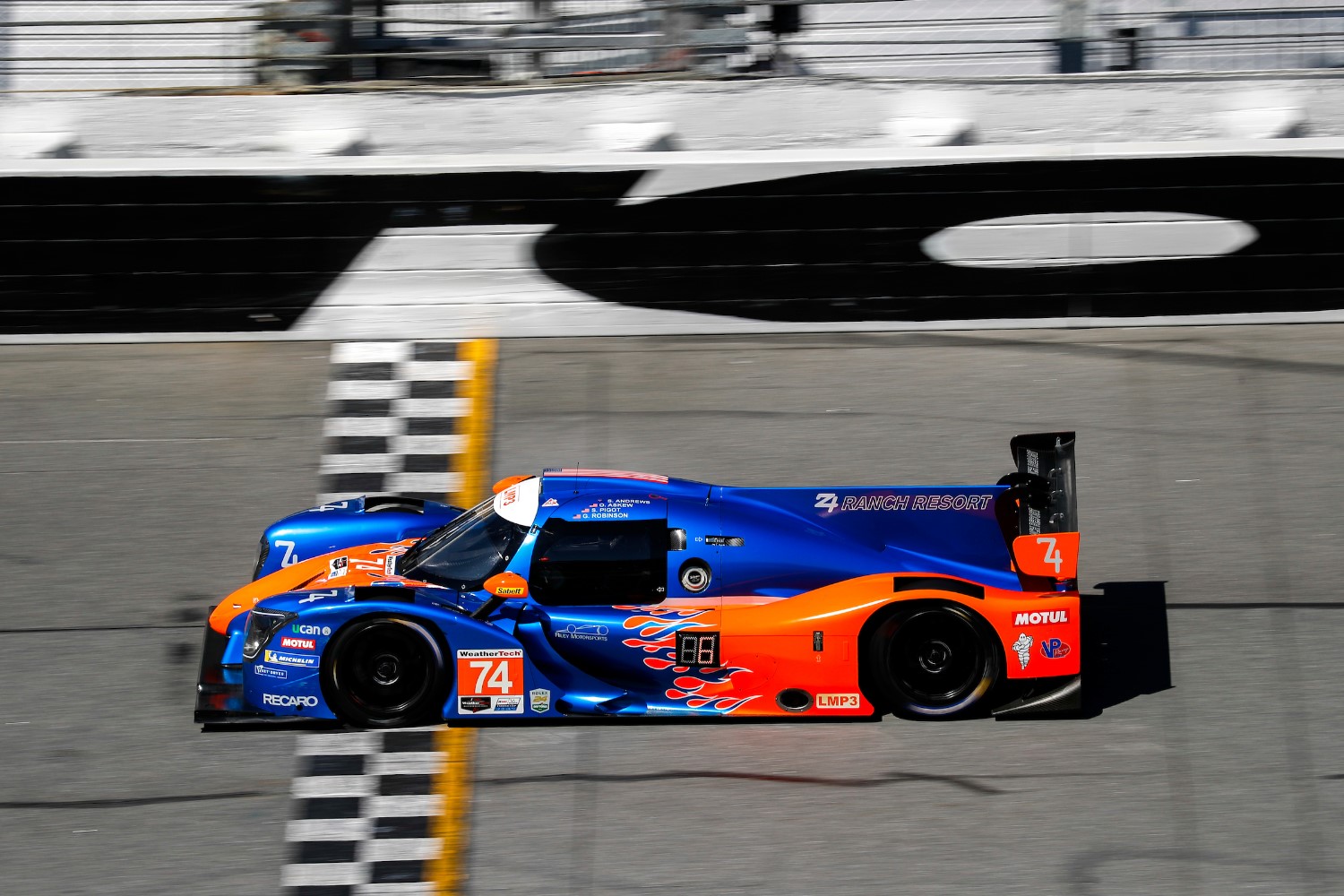 Three laps behind the winning car was the #33 Sean Creech Motorsports Ligier JS P320 of Joao Barbosa, Lance Willsey, Yann Clairay, and Wayne Boyd. Rounding out the top three was the #6 Muehlner Motorsports Duqueine D08 of Mortiz Kranz, Laurents Horr, Kenton Koch, and Stevan McAleer.
GTLM
The #3 Corvette of Jordan Taylor held off the #4 sister Corvette of Tommy Milner by 3.5s for a 1-2 win. Taylor made the winning move around the outside of his teammate Tommy Milner in Turn 1 in the final hour. Corvette held onto the top spots in the class for virtually the entire race.
It was an amazing day, I think," he said. "All 24 hours in this class are always intense, and I think every year you forget how intense it is until it starts again. All the cars were pretty much within 10 seconds all race long, so no one could make a mistake. Any little mistake would put you on your back foot."
Certainly, Jordan Taylor drove an inspired final stint to rally from a slow pit stop hours earlier that dropped the car he shared with Antonio Garcia and Nicky Catsburg from contending for the win to fourth place at the time. The hard work and inspired drive through the field secured Corvette Racing's first Rolex 24 victory in five years – by a 3.519-second margin over the team's No. 4 Corvette. The No. 24 BMW Team RLL BMW M8 GTE finished third.
The last time Corvette won in class was 2016, sweeping the top two podium positions then as well. This was the first endurance win for the mid-engine C8.R that began competing last year. Corvette Racing also holds the top two positions in the IMSA Michelin Endurance Cup standings after Round 1 with the No. 4 squad sitting two points ahead of their teammates in the No. 3 by a count of 19-17.
"It's great for Corvette to get their first endurance win with the C8.R," Jordan Taylor said. "Last year, we obviously won six sprint races and the championship, but the one that was missing was the endurance win, so to start out 2021 with the Rolex 24 win is amazing, and to do it with Nicky and Antonio. It was our first win as a trio so that's definitely special and definitely makes us more hungry to win Sebring 12 Hour next."
John Edwards, Jesse Krohn, Marco Wittman, and Augusto Farfus in that #24 BMW finished third.
The #62 Risi Competizione Ferrari 488 GTE of Alessandro Pier Guidi, Davide Rigon, Jules Gounon, and James Calado were fourth. The #25 BMW M8 GTE of Connor De Phillippi, Philipp Eng, Bruno Spengler, and Timo Glock were fifth.
The race started bad for the #62. Risi qualifying and starting driver, Italian Alessandro Pier Guidi, was hit on the first lap by the No. 79 Porsche GTLM car, and despite a hard hit, he managed to keep his Rosso Corse Ferrari pointed forward and moved up through the field.
"It was quite an emotional start," said Guidi.  "It was quite tricky. You don't expect something like this (being hit on the first lap by the #79 Porsche 911 RSR-19 GTLM) for the start of a 24 hour, but we were lucky honestly. I was hit hard but the car was fine."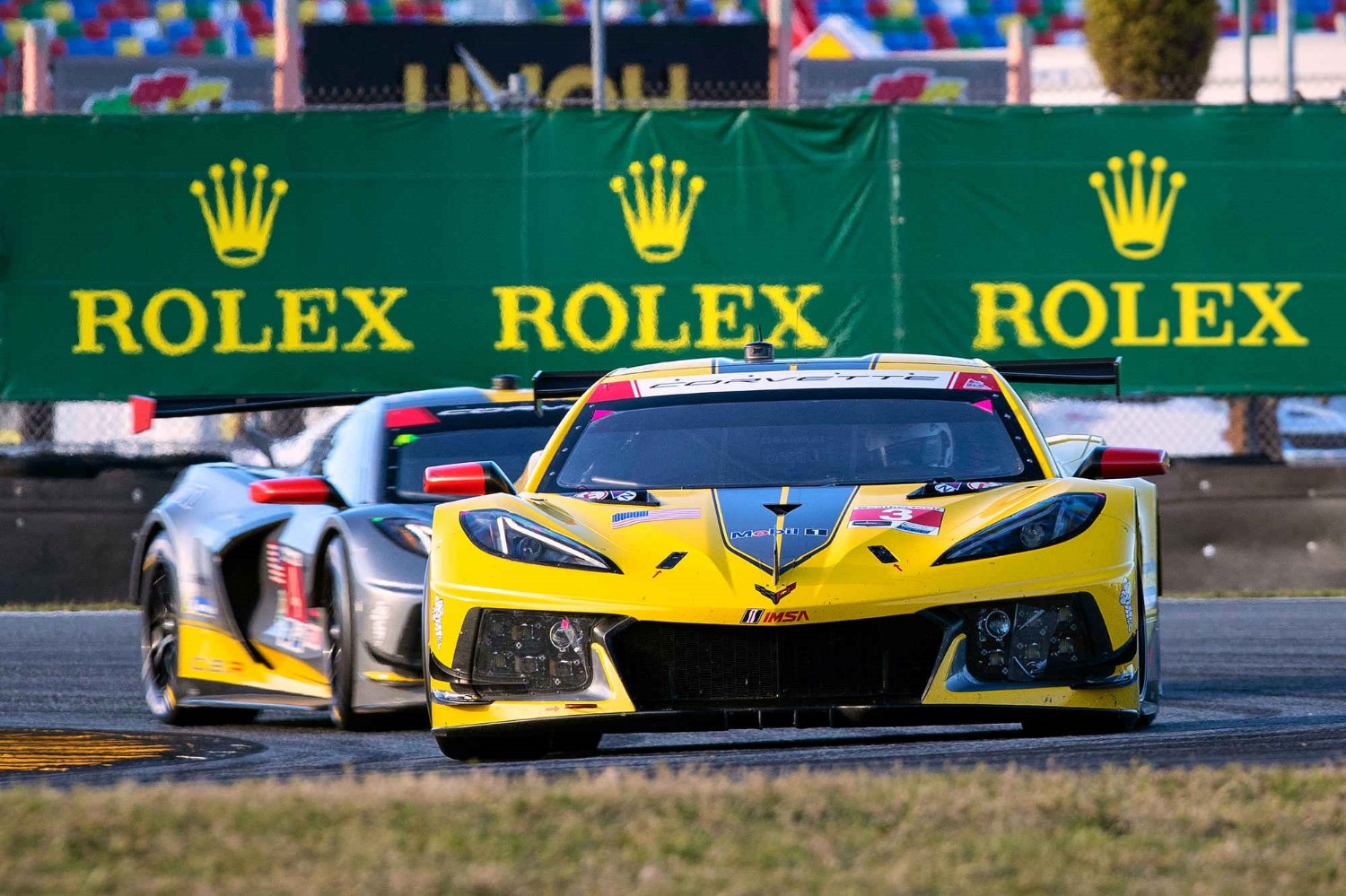 Garcia tested positive for COVID-19 during the Rolex 24 at Daytona, and he drove the No. 3 Chevrolet Corvette C8.R through the 17th hour of the race until being pulled from the car when results from a routine travel test came back to the team.
"As part of international COVID travel protocols, all drivers and team members traveling in and out of the U.S. are required to take a COVID test before and after any race activities," a statement from Corvette Racing read.
"While Antonio Garcia tested negative in preparation for his arrival for the Rolex 24, we have received notice that he has now tested positive in preparation to depart the country.
Of course the tests are so inaccurate who knows if he was really positive.
"He was immediately pulled from competition upon notification of the positive test result and, although he wasn't experiencing any symptoms, will no longer participate in any additional race activities at the Rolex 24 at Daytona.
"Upon consulting IMSA and its Event Operations Protocols, the series determined Corvette Racing met all conditions under the IMSA event protocols that allowed it to compete in a safe and responsible manner.
"We have notified crew members and others who had contact with Antonio and will conduct testing with racing team members after 72 hours, per CDC guidelines."
Garcia issued a statement on Twitter:
"Since I was discharged on Jan. 8, I never imagined that I would test positive again in a test that I did later," he said.
GTD
Mercedes was 1-2 with the #57 of Maro Engel, Russell Ward, Philip Ellis, and Indy Dontje  holding off the #75 of Kenny Habul, Raffaele Marciello, Luca Stolz, and Mikael Grenier.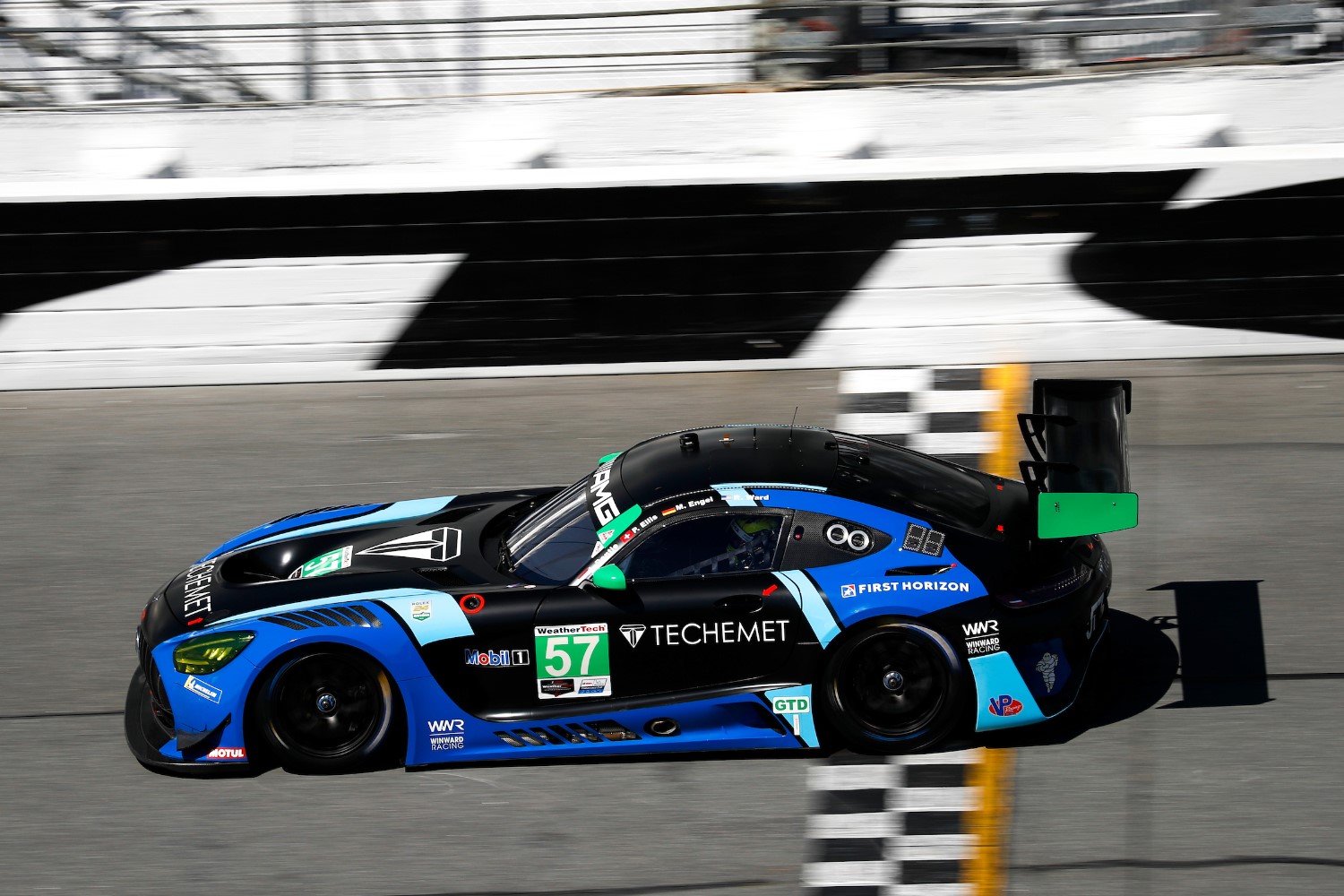 Rounding out the top three was the #1 Paul Miller Racing Lamborghini Huracan GT3 Evo of Bryan Sellers, Madison Snow, Andrea Caldarelli, and Corey Lewis.
"We had been battling with the (No.) 21 car probably for a good 16 hours, probably the whole race we had been going at it with the guys," said Philip Ellis, who was driving the No. 57 at the time. "It was always very hard racing but fair racing. That's the way we like it and the way we want to see it, and we think the spectators want to see it as well.
"Both of us came out of the pits on cold tires just after pit stops, and I think he just saw an opportunity to make a move early and the tires weren't quite there yet. And I think he just misjudged it, took a bit too much risk and squeezed me off a little bit which was enough to upset the car. Unfortunately, I hit him and corrected the car. It's very unfortunate for the (No.) 21 car. You don't want to see battles end this way. Unfortunately, it did this time."
This was the inaugural Rolex 24 victory for all four drivers on the winning GTD team and first Rolex 24 win for Mercedes-AMG in five tries. In fact, it's the first major victory by Mercedes at Daytona International Speedway.
The WeatherTech Championship season resumes March 17-20 with the Sebring 12 Hours at Sebring International Raceway.
Hour 24 Standings (Final)
| | | | | | | |
| --- | --- | --- | --- | --- | --- | --- |
| Pos | Class | No. | Drivers | Car | Laps | Behind |
| 1 | DPi | 10 | Ricky Taylor/Filipe Albuquerque/Alexander Rossi/Helio Castroneves | Acura DPi | 807 | 0.000s |
| 2 | DPi | 48 | Jimmie Johnson/Kamui Kobayashi/Simon Pagenaud/Mike Rockenfeller | Cadillac DPi | 807 | 4.704s |
| 3 | DPi | 55 | Oliver Jarvis/Harry Tincknell/Jonathan Bomarito | Mazda DPi | 807 | 6.562s |
| 4 | DPi | 60 | Dane Cameron/Olivier Pla/Juan Pablo Montoya/A.J. Allmendinger | Acura DPi | 807 | 54.418s |
| 5 | DPi | 01 | Renger van der Zande/Kevin Magnussen/Scott Dixon | Cadillac DPi | 807 | 1m07.744s |
| 6 | LMP2 | 18 | Dwight Merriman/Kyle Tilley/Ryan Dalziel/Paul-Loup Chatin | ORECA LMP2 07 | 787 | 20 Laps |
| 7 | LMP2 | 8 | John Farano/Gabriel Aubry/Timothé Buret/Matthieu Vaxiviere | ORECA LMP2 07 | 787 | 20 Laps |
| 8 | DPi | 31 | Felipe Nasr/Mike Conway/Pipo Derani/Chase Elliott | Cadillac DPi | 783 | 24 Laps |
| 9 | LMP2 | 82 | Eric Lux/Devlin DeFrancesco/Fabian Schiller/Christopher Mies | ORECA LMP2 07 | 783 | 24 Laps |
| 10 | LMP2 | 51 | Cody Ware/Salih Yoluc/Austin Dillon/Sven Muller | Ligier LMP2 | 778 | 29 Laps |
| 11 | GTLM | 3 | Antonio Garcia/Jordan Taylor/Nick Catsburg | Corvette C8.R | 770 | 37 Laps |
| 12 | GTLM | 4 | Tommy Milner/Nick Tandy/Alexander Sims | Corvette C8.R | 770 | 37 Laps |
| 13 | GTLM | 24 | John Edwards/Jesse Krohn/Augusto Farfus/Marco Wittmann | BMW M8 GTE | 769 | 38 Laps |
| 14 | GTLM | 62 | James Calado/Alessandro Pier Guidi/Jules Gounon/Davide Rigon | Ferrari 488 GTE | 769 | 38 Laps |
| 15 | GTLM | 25 | Connor de Phillippi/Philipp Eng/Timo Glock/Bruno Spengler | BMW M8 GTE | 768 | 39 Laps |
| 16 | LMP2 | 11 | Thomas Steven/Tristan Nunez/Thomas Merrill/Matthew Bell | ORECA LMP2 07 | 764 | 43 Laps |
| 17 | GTLM | 79 | Cooper MacNeil/Kevin Estre/Richard Lietz/Gianmaria Bruni | Porsche 911 RSR – 19 | 760 | 47 Laps |
| 18 | LMP3 | 74 | Gar Robinson/Spencer Pigot/Scott Andrews/Oliver Askew | Ligier JS P320 | 757 | 50 Laps |
| 19 | LMP3 | 33 | Lance Willsey/Joao Barbosa/Wayne Boyd/Yann Clairay | Ligier JS P320 | 754 | 53 Laps |
| 20 | LMP3 | 6 | Moritz Kranz/Hoerr Laurents/Kenton Koch/Stevan McAleer | Duqueine D08 | 750 | 57 Laps |
| 21 | LMP3 | 91 | Jim Cox/Dylan Murry/Austin McCusker/Jeroen Bleekemolen | Ligier JS P320 | 746 | 61 Laps |
| 22 | GTD | 57 | Russell Ward/Philip Ellis/Indy Dontje/Maro Engel | Mercedes-AMG GT3 | 745 | 62 Laps |
| 23 | GTD | 75 | Kenny Habul/Raffaele Marciello/Mikael Grenier/Luca Stolz | Mercedes-AMG GT3 | 745 | 62 Laps |
| 24 | GTD | 1 | Bryan Sellers/Madison Snow/Corey Lewis/Andrea Caldarelli | Lamborghini Huracan GT3 | 745 | 62 Laps |
| 25 | GTD | 16 | Trent Hindman/Patrick Long/Jan Heylen/Klaus Bachler | Porsche 911 GT3 R | 745 | 62 Laps |
| 26 | GTD | 23 | Ian James/Roman De Angelis/Darren Turner/Ross Gunn | Aston Martin Vantage GT3 | 745 | 62 Laps |
| 27 | GTD | 96 | Bill Auberlen/Robby Foley/Aidan Read/Colton Herta | BMW M6 GT3 | 744 | 63 Laps |
| 28 | GTD | 97 | Maxwell Root/Charles Eastwood/Ben Keating/Richard Westbrook | Aston Martin Vantage GT3 | 744 | 63 Laps |
| 29 | GTD | 21 | Simon Mann/Nicklas Nielsen/Daniel Serra/Matteo Cressoni | Ferrari 488 GT3 | 743 | 64 Laps |
| 30 | GTD | 28 | Daniel Morad/Michael de Quesada/Billy Johnson/Maximilian Buhk | Mercedes-AMG GT3 | 741 | 66 Laps |
| 31 | LMP3 | 54 | Jon Bennett/George Kurtz/Colin Braun/Matt McMurry | Ligier JS P320 | 737 | 70 Laps |
| 32 | GTD | 88 | Rob Ferriol/Earl Bamber/Katherine Legge/Christina Nielsen | Porsche 911 GT3 R | 737 | 70 Laps |
| 33 | GTD | 44 | John Potter/Andy Lally/Spencer Pumpelly/Mario Farnbacher | Acura NSX GT3 | 736 | 71 Laps |
| 34 | DPi | 5 | Tristan Vautier/Loic Duval/Sébastien Bourdais | Cadillac DPi | 723 | 84 Laps |
| 35 | LMP2 | 47 | Roberto Lacorte/Antonio Fuoco/Andrea Belicchi/Giorgio Sernagiotto | Dallara LMP2 | 710 | 97 Laps |
| 36 | GTD | 9 | Zacharie Robichon/Laurens Vanthoor/Lars Kern/Matt Campbell | Porsche 911 GT3 R | 702 | 105 Laps |
| 37 | LMP3 | 38 | Rasmus Lindh/Cameron Cassels/Mateo Llarena/Ayrton Ori | Ligier JS P320 | 687 | 120 Laps |
| 38 | GTD | 12 | Robert Megennis/Zach Veach/Townsend Bell/Frankie Montecalvo | Lexus RC F GT3 | 681 | 126 Laps |
| 39 | GTD | 63 | Ed Jones/Bret Curtis/Ryan Briscoe/Marcos Gomes | Ferrari 488 GT3 | 676 | 131 Laps |
| 40 | GTD | 42 | Alan Metni/Andrew Davis/J.R. Hildebrand/Don Yount | Audi R8 LMS GT3 | 665 | 142 Laps |
| 41 | LMP2 | 52 | Ben Keating/Mikkel Jensen/Scott Huffaker/Nicolas Lapierre | ORECA LMP2 07 | 664 | 143 Laps |
| 42 | GTD | 14 | Aaron Telitz/Oliver Gavin/Kyle Kirkwood/Jack Hawksworth | Lexus RC F GT3 | 641 | 166 Laps |
| 43 | GTD | 64 | Ted Giovanis/Owen Trinkler/Hugh Plumb/Matt Plumb | Porsche 911 GT3 R | 515 | 292 Laps |
| 44 | LMP3 | 7 | Mark Kvamme/Ryan Norman/Gabby Chaves/Charles Finelli | Duqueine D08 | 413 | 394 Laps |
| 45 | GTD | 111 | Rolf Ineichen/Mirko Bortolotti/Steijn Schothorst/Marco Mapelli | Lamborghini Huracan GT3 | 347 | 460 Laps |
| 46 | GTD | 19 | Mikhail Goikhberg/Franck Perera/Albert Costa/Tim Zimmermann | Lamborghini Huracan GT3 | 195 | 612 Laps |
| 47 | LMP2 | 29 | Frits van Eerd/Giedo van der Garde/Job Van Uitert/Charles Milesi | ORECA LMP2 07 | 64 | 743 Laps |
| 48 | LMP2 | 20 | Dennis Andersen/Ferdinand Habsburg/Anders Fjordbach/Robert Kubica | ORECA LMP2 07 | 56 | 751 Laps |
| 49 | LMP2 | 81 | Rob Hodes/Garett Grist/Rinus van Kalmthout/Ben Hanley | ORECA LMP2 07 | 53 | 754 Laps |