Alex Bowman leads Hendrick Chevy all-front row for Daytona 500
Alex Bowman recorded the fastest lap in Wednesday's Busch Pole Qualifying at Daytona International Speedway and will lead the NASCAR Cup Series field to the green flag for the upcoming Daytona 500. The No. 48 Hendrick Motorsports Chevrolet turned a lap of 47.056 seconds at 191.261 mph.
Teammate William Byron had the second-best time and will start alongside Bowman in the Daytona 500 in his No. 24 Hendrick Motorsports Chevrolet. His lap was .258 seconds slower at 47.314 seconds and 190.219 mph.
These are the only two NASCAR Cup Series drivers from Charter teams who know their lineup spot for Sunday's main event. Everyone else's position will be determined by Thursday's two Bluegreen Vacations Duels.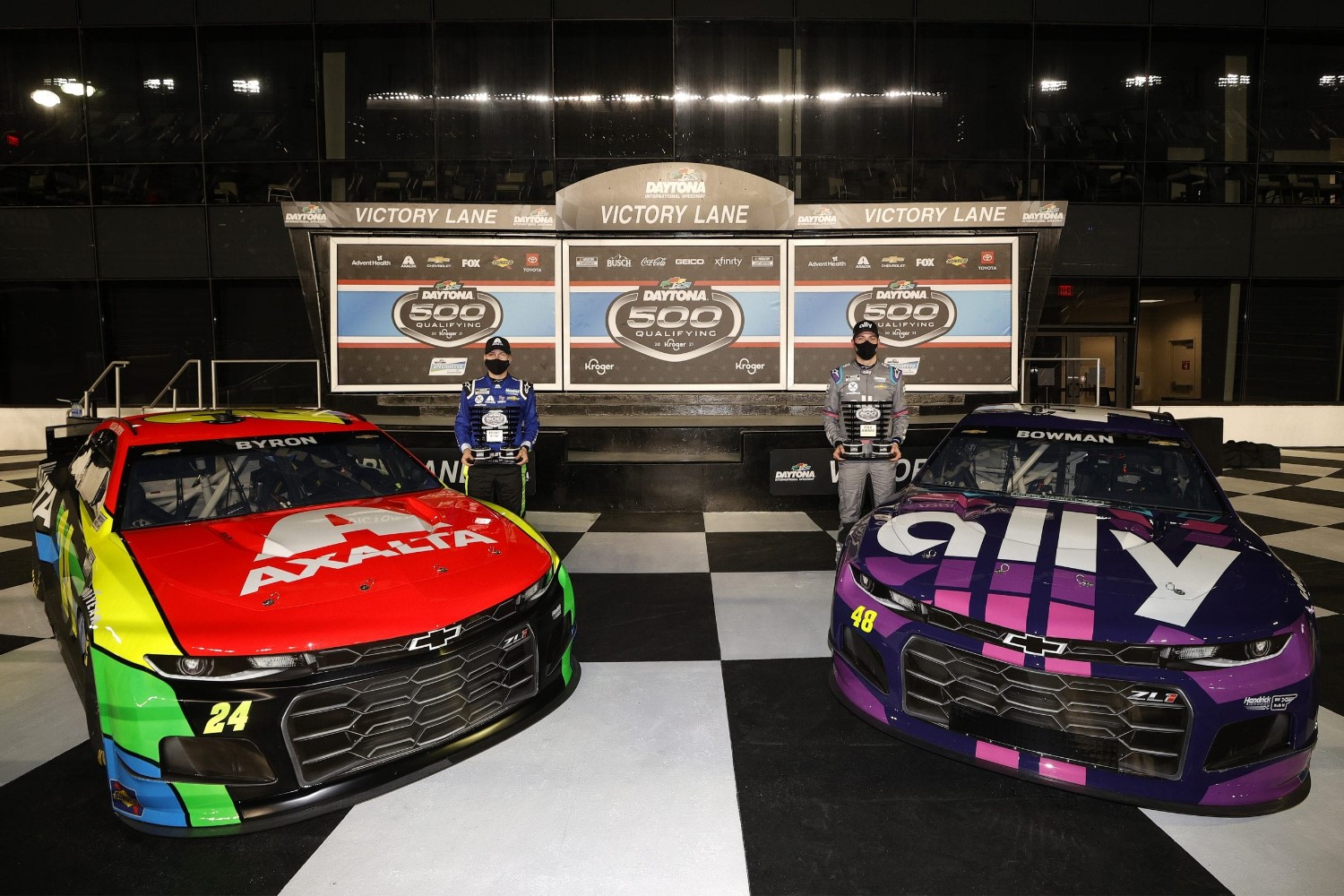 Noah Gragson, one of the eight Open drivers, failed pre-qualifying inspection three times and lost the lap in his No. 62 Beard Motorsports Chevrolet as a result. A crew member from the No. 62 has also been ejected as a result of the pre-qualifying inspection failures.
Out of the then-seven Open teams trying to qualify without a Charter, Ryan Preece (47.585 seconds, 189.135 mph in the No. 37 JTG Daugherty Racing Chevrolet) and David Ragan (47.74 seconds, 188.561 mph in the No. 36 Front Row Motorsports Ford) were the fastest and locked in Daytona 500 berths. The other six (Gragson, Austin Cindric, Ty Dillon, Kaz Grala, Timmy Hill and Garrett Smithley), will battle it out for the remaining two bids in the Bluegreen Vacation Duels, one apiece. That will then complete the 40-car field already featuring the 36 Charter teams guaranteed entry.
Bluegreen Vacation Duel 1 is scheduled for a 7 p.m. ET start Thursday, while Bluegreen Vacation Duel 2 is set for 9 p.m. ET right afterward. Both will air live on FS1, MRN and SiriusXM NASCAR Radio.
ALEX BOWMAN, NO. 48 ALLY CAMARO: Pole Winner
ALEX, FOURTH-STRAIGHT YEAR YOU'VE BEEN ON THE FRONT ROW. THIS IS YOUR SECOND DAYTONA 500 POLE. WHAT DOES IT MEAN TOT YOU? GREG IVES JUST TALKS ABOUT FOCUSING ON THIS NIGHT IN PARTICULAR.
"It doesn't really have a lot to do with me; it's a testament to these guys and everybody back at the shop at Hendrick Motorsports. They work so hard on these superspeedway cars. They're beautiful when they get to the race track. Our Ally Camaro has been really fast since we unloaded, and they focused a lot on trying to get the pole for the Daytona 500. It means a lot to us, and we were able to achieve that."
"I'm just really proud of everybody; all our partners at Hendrick Motorsports. Thanks to Team Chevy for giving us great racecars. It feels really good. It's awesome for Ally. I don't know if they've gotten a pole yet. I figured they probably had a pole with Jimmie (Johnson) somewhere, but I don't know. Man, it's just awesome to be driving this No. 48 car."
WILLIAM BYRON, NO. 24 AXALTA CAMARO: Qualified 2nd
WAS IT KIND OF WHAT YOU EXPECTED OF YOUR TEAM FOR YOU AND ALEX (BOWMAN) TO BE THIS FAST? IT WASN'T NECESSARILY LIKE THAT IN PRACTICE, BUT YOU GUYS SEEM TO BRING IT WHEN YOU HAVE IT.
"Yeah, I feel like it's always — Hendrick always gives us great cars to come down here and qualify well and also race well, so you never know which guys are going to have the speed out of the four of us. To see how we approached the weeks leading up to this race and how we were really determined to go out there and start off strong with obviously the Clash last night, finishing fifth was great for us, good solid start, but our goal today was to go out there and try to qualify on the front row.
It's nice to be able to kind of check that off. And great to see both Alex and I – the 48 team and the 24 team – both up there."
Qualifying Results (Only Top 2 Locked in)
| | | | | | | |
| --- | --- | --- | --- | --- | --- | --- |
| Pos | No. | Driver | Team | Time | Speed | Behind |
| 1 | 48 | Alex Bowman | Ally Chevrolet | 47.056 | 191.261 | 0.000s |
| 2 | 24 | William Byron | Axalta Chevrolet | 47.314 | 190.219 | 0.258 |
| 3 | 10 | Aric Almirola | Smithfield Ford | 47.324 | 190.178 | 0.268 |
| 4 | 23 | Bubba Wallace | DoorDash Toyota | 47.474 | 189.577 | 0.418 |
| 5 | 47 | Ricky Stenhouse Jr. | Kroger/NOS Energy Drink Chevrolet | 47.477 | 189.565 | 0.421 |
| 6 | 4 | Kevin Harvick | Busch Light #TheCrew Ford | 47.489 | 189.518 | 0.433 |
| 7 | 20 | Christopher Bell | DEWALT Toyota | 47.573 | 189.183 | 0.517 |
| 8 | 37 | * Ryan Preece | Cottonelle Chevrolet | 47.585 | 189.135 | 0.529 |
| 9 | 3 | Austin Dillon | Bass Pro Shops Chevrolet | 47.631 | 188.953 | 0.575 |
| 10 | 99 | Daniel Suarez | iFly Chevrolet | 47.636 | 188.933 | 0.58 |
| 11 | 9 | Chase Elliott | NAPA Auto Parts Chevrolet | 47.695 | 188.699 | 0.639 |
| 12 | 11 | Denny Hamlin | FedEx Toyota | 47.695 | 188.699 | 0.639 |
| 13 | 36 | * David Ragan | Select Blinds Ford | 47.73 | 188.561 | 0.674 |
| 14 | 1 | Kurt Busch | Monster Energy Chevrolet | 47.742 | 188.513 | 0.686 |
| 15 | 5 | Kyle Larson | Nations Guard Chevrolet | 47.752 | 188.474 | 0.696 |
| 16 | 18 | Kyle Busch | M&M's Toyota | 47.78 | 188.363 | 0.724 |
| 17 | 21 | Matt DiBenedetto | Motorcraft/Quick Lane Ford | 47.881 | 187.966 | 0.825 |
| 18 | 12 | Ryan Blaney | Menards/Blue DEF/PEAK Ford | 47.895 | 187.911 | 0.839 |
| 19 | 33 | * Austin Cindric(i) | Verizon 5G Ford | 47.9 | 187.891 | 0.844 |
| 20 | 16 | * Kaz Grala | Hyper Ice Chevrolet | 47.925 | 187.793 | 0.869 |
| 21 | 22 | Joey Logano | Shell Pennzoil Ford | 47.943 | 187.723 | 0.887 |
| 22 | 14 | Chase Briscoe | HighPoint.com Ford | 47.956 | 187.672 | 0.9 |
| 23 | 6 | Ryan Newman | Kohler Generators Ford | 47.96 | 187.656 | 0.904 |
| 24 | 42 | Ross Chastain | Clover Chevrolet | 47.972 | 187.609 | 0.916 |
| 25 | 41 | Cole Custer | HaasTooling.com Ford | 48.06 | 187.266 | 1.004 |
| 26 | 2 | Brad Keselowski | Discount Tire Ford | 48.072 | 187.219 | 1.016 |
| 27 | 34 | Michael McDowell | Love's Travel Stops Ford | 48.124 | 187.017 | 1.068 |
| 28 | 19 | Martin Truex Jr. | Bass Pro Shops Toyota | 48.165 | 186.858 | 1.109 |
| 29 | 43 | Erik Jones | Armor All Chevrolet | 48.189 | 186.765 | 1.133 |
| 30 | 17 | Chris Buescher | Fastenal Ford | 48.269 | 186.455 | 1.213 |
| 31 | 8 | Tyler Reddick | Lenovo Chevrolet | 48.347 | 186.154 | 1.291 |
| 32 | 38 | Anthony Alfredo | Speedy Cash Ford | 48.422 | 185.866 | 1.366 |
| 33 | 96 | * Ty Dillon(i) | Bass Pro Shops/Black Rifle Coffee Toyota | 48.446 | 185.774 | 1.39 |
| 34 | 77 | Jamie McMurray | AdventHealth Chevrolet | 48.746 | 184.631 | 1.69 |
| 35 | 7 | Corey LaJoie | Youtheory Chevrolet | 48.767 | 184.551 | 1.711 |
| 36 | 0 | Quin Houff | Mane 'n Tail Chevrolet | 49.571 | 181.558 | 2.515 |
| 37 | 13 | * Garrett Smithley(i) | Trophy Tractor Ford | 49.88 | 180.433 | 2.824 |
| 38 | 78 | BJ McLeod(i) | NASCAR Heats Ford | 49.985 | 180.054 | 2.929 |
| 39 | 66 | * Timmy Hill(i) | VSI Racing Ford | 50.016 | 179.942 | 2.96 |
| 40 | 51 | Cody Ware | Nurtec ODT Chevrolet | 50.074 | 179.734 | 3.018 |
| 41 | 53 | Joey Gase | Page Construction Ford | 50.63 | 177.76 | 3.574 |
| 42 | 52 | Josh Bilicki | Wisconsin Lighting Lab Ford | 50.926 | 176.727 | 3.87 |
| 43 | 15 | Derrike Cope | Jacob Companies Chevrolet | 0 | 0 | -47.056 |
| 44 | 62 | * Noah Gragson(i) | Beard Motorsports/South Point Chevrolet | 0 | 0 | -47.056 |