Q&A with NASCAR President Steve Phelps
NASCAR President Steve Phelps met with the media Friday afternoon at Daytona International Speedway. A transcript of his remarks and the question and answer session follows:
An Interview with: Steve Phelps
MIKE FORDE: We're now joined by NASCAR president, Steve Phelps, to give a preview of the 2021 season.
Over to Steve Phelps. Take us away.
STEVE PHELPS: Thanks, Mike. Appreciate it. Welcome, everyone. It's good to talk to you again. I haven't spoken to many of you since last November. We are going to try to do these more often.
I believe this is the first time we've ever had a kind of State of the Sport kickoff here at the Daytona 500. I want to try to be as transparent as I can with you.
I want to, as I normally do, thank you. I thought last year was an extraordinary year from a coverage standpoint, perhaps our best ever. That doesn't happen without your efforts. Obviously the storylines that played out on track last year and some of the things that played out off the track, frankly, were very important to us.
As we head into 2021, I'll try not to look into the past too much, as extraordinary as 2020 was for all of us, 2021 we've got real excitement as we head into this season, probably more excitement and more wind at our back than we've had in decades. That's gratifying, feels good. We need to make sure that as a sport we continue to pour gas on the growth of this sport. It's important.
Again, the role that you all play is fantastic. We really appreciate what you do. As we head to the 500 this weekend, lots of different storylines here obviously. We have a great crop of young drivers, a great crop of first-ballot Hall of Famers that will be part of this sport racing side-by-side: a great young champion in Chase Elliott, Kyle Larson coming back, Bubba Wallace. Obviously new ownership. We have three new teams, obviously highlighted by the 2311 group with Michael Jordan, Denny Hamlin and obviously their driver Bubba Wallace. The great outing last night.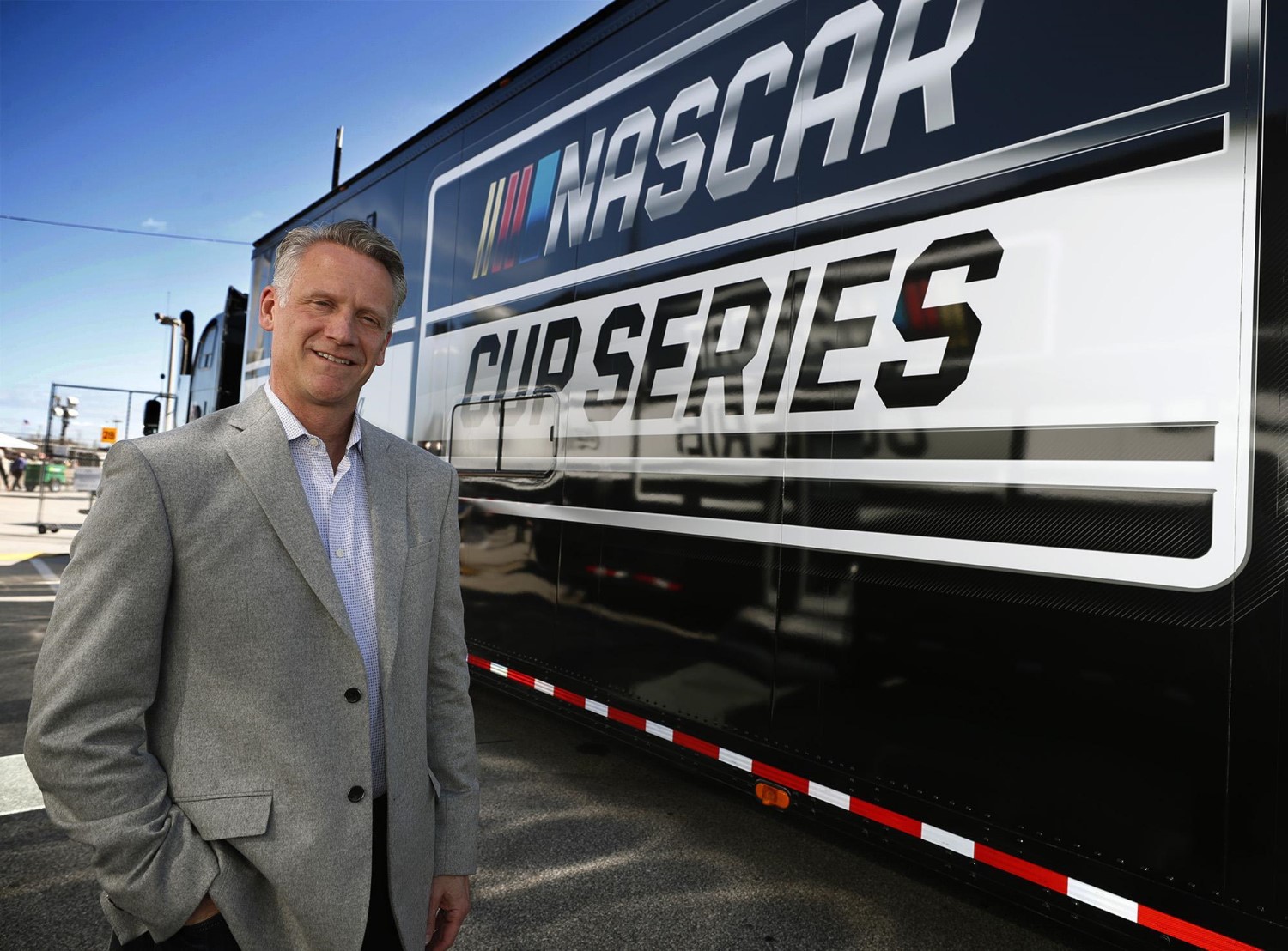 You have Justin Marks and the Trackhouse team with Pitbull. Wood fast with the Tiffts and B.J. McLeod. That part is very exciting. Lots of new sponsors coming in as well. There's a lot of momentum in the sport.
I think that if you look at our partner FOX, their promotion right now, they're calling it the best season ever. I'm hopeful that's exactly what is going to happen. It's been an incredible off-season. I think the work that was done to create a unique schedule (audio interruption).
The point I transitioned to is one of the most important things that happened last year was our stance on social justice. We had talked about being a sport of action. We were at that time. We continue to be. I'm happy to talk about that moving forward. It's important for us.
I think if you look at where we were from being the first sport back without fans, then the first sport back with fans, those were important things. Some great things that happened on the racetrack, us being innovative in how we got back, just a different way for us to do business.
I think if you look back to what happened in early June to mid June, probably those moments, that two and a half weeks, was the seminal moment for our sport. It opened up an aperture to a brand-new fan base. Our fans are so welcoming. You've all been to the racetrack, you see what it's like when an avid fan that has a new fan that comes with them.
There was a question at the time: did NASCAR go too far to ban the Confederate flag? Social justice, is that something a sport should do, NASCAR should do? Do we have permission to do it? The answer is yes. The question was: How is that going to affect our core fan, our avid fan?
A couple weeks ago we got our brand tracker for 2020 back. Looked at a number of different things including the health of the sport, the health of the brand, all which are soaring, which is fantastic.
One of the most important questions that was in there was a question about how our avid fans felt about the stance that NASCAR took on social justice and the banning of the Confederate flag. If you bear with me for one second. These are all avid fans broken into three segments of time spent: 16 plus years as an avid fan, four to 15 years as an avid fan, or zero to three.
16 plus, three-to-one favorable to unfavorable about how NASCAR handled social justice and the banning of the Confederate flag.
Four to 15 years, six-to-one favorable to unfavorable.
Zero to three, eight-to-one.
To me, it really speaks to our fan base. If you go to a racetrack and you're walking through the campground, you go up to someone, they're going to offer you a beer, a hot dog, they're going to say, Hey, who is your driver?
They say, Hey, I'm new to NASCAR.
Come in, I'm going to tell you about NASCAR, how great this community is, what it's like to be a fan of this sport.
We have an opportunity with so many different things where we are bringing these new fans who are going to sample our great sport. It's an exciting time.
With that, I will open it up for any questions that you have.
Last year NASCAR was very up front that it wanted to have more variety on its schedule for 2021, more road courses, that kind of thing. Are you pleased with the schedule for this year? What would you like to see, what are your objectives for 2022?
STEVE PHELPS: I had a little bit of trouble hearing you. But I think you talked about the 2021 schedule and the road courses.
And 2022, what you guys want to do.
STEVE PHELPS: I'm thrilled with the schedule. As I said, it's a bold schedule. This is something that we've been creating for a long time, to be able to put out a schedule that looks like this one.
The fans had said they want more road courses. The OEMs said they want more road courses. Our broadcast partners said they wanted more road courses. As evidenced by what happened on Tuesday night, I think having stockcars on road courses works well. They're slipping and sliding, they get into each other. It puts on great racing.
I think for us, as we think about '22, will we continue to have schedule variation, additional changes? I think the answer to that is yes. What that looks like, I'm not sure at this particular time.
We have a promise to our fans that we'll continue to create new opportunities at new venues and new formats. That's what we're going to do for '22.
How do you feel the COVID protocols worked last year? What was the process like for implementing them for this year?
STEVE PHELPS: Listen, I thought they worked very well. Nothing's perfect. We did have some cases, a couple high-profile drivers as well. But all in all, I think if you look at our protocols relative to other sports, I think it worked really well. I think our competitors felt safe and I think our drivers, for the most part, they're very pleased.
We have some competitive advantages as we had spoken about before. Drivers, they already have PPE, their fire suits, their helmets, gloves, all of it. It's different than other sports. Same with the crew members, our officials. It's outdoors. All kinds of things that are positive.
I think for us, just to kind of pivot away from that a second, for 2021 it's going to be largely the same. We've done a little tweaking here and there, but for the most part it's the same.
If it didn't work, we'd do something different. But I believe it worked, so we're going to stay with the protocols that we had.
One thing I would say that is tangential to this, all of our facilities have worked with local, state governments and health officials to open up their facilities for vaccines to be distributed at all of our NASCAR Cup Series tracks. Not just NASCAR-owned, but SMI, the independents. They're all open and want to be distributing the vaccine.
There's some that are doing it right now: Texas, Charlotte, Bristol, Atlanta, Auto Club, Richmond. All of them are ready to do it. They are in short supply in some places so we can't do it. We had a conversation with the White House earlier this week, and the White House is thrilled that we will be doing this.
With the charter system, it appears some owners are spending or getting financing to purchase charters at the expense of fielding quality racecars. Is there anything you've considering to improve the quality of the field and the charter system? If so, what are you considering?
STEVE PHELPS: That's an interesting question.
We want to make sure that everyone is bringing a competitive race car to the racetracks. That is something that we are very keen on having. If you're not competing, this isn't the right series for you. You should be competing in a different series.
There are some things that we are undertaking to try to make sure that if there are folks out there who want to compete, want to buy a charter, that they have the ability to do that.
We have to make sure that we are putting out the best field that we can. Obviously someone needs to finish 40th, right? But we need to make sure that the ones that are finishing 40th don't continue to be the same cars that are finishing 40th.
We will look to see what measures we can put in place. We've got some things that we have started to look at to make sure that people are bringing competitive cars and they're running to the best of their ability.
I'm wondering with the rise of the streaming services, obviously your TV deal is coming up at some point soon here, this just happens to be when streaming services are taking off. What do you think is the likelihood that Cup Series races will end up on exclusive streaming services in the future?
STEVE PHELPS: Yeah, listen, streaming services, to your point, are the hot thing right now. There's a lot of funding that's going into the streaming services.
It's hard to predict what will happen with the streaming services moving forward. Do I envision a time when NASCAR Cup Series races are being streamed and that's the only place you can get them? I would say right now that's not something that's on our radar.
I think that making sure there is a place where people can watch over the air, broadcast, is important to us. It's important to our teams and our sponsors. Cable, we've got a good balance at this particular time.
Do I think there is a role for streaming services within NASCAR? The answer to that is yes. Different content that we can put through a streaming service like a Peacock is important, right? I think that with funding going in that particular direction, that can work out very well.
We have an OTT product right now called Track Pass in a partnership with NBC that's doing incredibly well. Do I believe that there's a place for motorsports and NASCAR specifically in streaming? The answer is yes. I just don't see that being done in the foreseeable future for our NASCAR Cup Series races.
When do you anticipate talks on new TV deals starting? Regarding FOX, I've heard that they are interested in qualifying and practice, to have at-track content. Is that something that NASCAR would take into consideration to help a television partner? With NBC Sports going away, is USA a big enough platform for NASCAR to be on?
STEVE PHELPS: I'll do it in reverse order, if I could.
NBCSN announced they were going away at the end of the year. We have a phenomenal relationship with the NBC people. We will find the right home for our races. If it's USA Network, that's a potential. Is it big enough? USA Network actually has six million additional homes than does NBCSN.
Again, nothing has been decided. Do I think we'll find a great race for our racing with NBC? I do. I don't foresee, as kind of a follow-up to the previous question, I don't see us being pushed over to Peacock. That's not something we would want to do, at least as it relates to the races themselves, the Cup races specifically.
Going back to your first question, which I believe was when the media discussions will start. I think we've been pretty public about when our negotiating window is. It is in the first part of 2023. I believe we said that publicly before. Whether talks start before then or not, I don't know.
What I do know is that our two (indiscernible) could not be happier with NASCAR at this particular time. I was going to quote someone, but I probably shouldn't. Suffice it to say they are very pleased with where we are. They are more pleased with us today than they were a year ago, where we stand from a relevance standpoint. Where we stand from a reputation standpoint, where we stood in terms of our ratings relative to other sports and entertainment properties was significantly higher than any other major sport. That year over year increases. We're very pleased with where that is.
The middle question was?
FOX wanting more at-track content.
STEVE PHELPS: Yeah, no, the great news for us is they can't get enough of our content. As far as the practice and qualifying, the reduction in P and Qs, we decided to have more iRacing pro invitationals. We decided to create new content with them or work with them to create new content, which that part isn't ready to be announced but will be announced soon.
We're excited that our partners want more NASCAR. We had on NBCSN and on FS1, 60 of the top 100 programs for each of those networks. That's important. The cable companies want to have programs that are going to drive ratings. That's what we do.
Would you consider putting more on-track content for the partner?
STEVE PHELPS: Are you talking about races specifically?
Practice and qualifying.
STEVE PHELPS: Do they want to have more practice and qualifying? They absolutely do. Are you asking if they want it on FS1?
Will NASCAR consider adding it because the network wants it, returning it?
STEVE PHELPS: I think for 2022 we will go back, my feeling, back to more practice and qualifying.
You talked about the brand study, you talked about fans. There's such a feeling, celebrity, minority ownership in NASCAR, just go out and talk to people. On the business level, right, are you feeling that? Are you feeling that there are businesses, sponsors, people that didn't want to jump in before that are calling you and now saying, Yes, we're feeling it on the fan side of things, but talk about the business side of it?
STEVE PHELPS: Absolutely we are feeling it on the business side. We're feeling it not just on the business side of fielding new calls and new relationships that are coming to the sport – those are happening, too – but it really also is around how our existing sponsors, team sponsors, sanctioning body sponsors, track sponsors, want to jump in with NASCAR.
Some of them in the areas of social justice which we've seen a lot of conversation around, others just because the sport has more relevance and it's growing.
Obviously that's a place where we want to be. You could see it even with FOX, frankly, right? You look at the amount of promotion that they're running, the number of spots that they're doing, the fact they're going to continue to pour gas on this sport long after the 500 has been run, is fantastic for us.
What they're doing with Bristol, what they'll do with COTA, what they're going to do with the throwbacks at Darlington, these are all important things for us as a sport. A lot of it has to do with schedule variation, but it's more than that, right? It's where this sport is and the importance for these new partners and these long-term partners as well.
Yes, I wouldn't suggest that my phone is ringing off the hook, but the renewed interest is clearly there and it feels good.
You mentioned this at the beginning. Why do you think NASCAR as an organization believes it's its place to publicly address and act on social justice and racism issues? How would you respond to critics who disagree with that?
STEVE PHELPS: For us, I think it was a moment in time for us back in June that seemed for us it was the right time to act. I think it was the right time for our country. I think it was the right time for our sport. The response to that was fantastic.
What we do in the areas of social justice and diversity equity inclusion is going to be authentic to who we are. May not be the right thing for the NBA, but it's going to be the right thing for us.
We've broken our DE and I strategy into three pieces: what are we going to do for ourselves internally, what are we going to do as an industry, and what are we going to do with the partnerships we can secure.
Those things I'm proud to say are working well.
From an internal standpoint it's supplier diversity, creating more opportunity for women and minorities in our company, in our hiring practices. It's making sure that we're doing training for all of our employees in sensitivity, unconscious bias training.
As an industry I made a promise to this group back on Thursday after the Talladega race with Bubba Wallace and the situation with the noose, that when people walked into the Daytona 500, into that garage, every single one of them would be trained in sensitivity training. I can say that that happened. That was important.
The sponsorships I talked about a little bit before. The sponsorships that we have or the partnerships that we're developing are significant. When it's time to announce what those are, and that will be soon, it's gratifying. I think it's, as I said, right for our sport. It's authentic to our sport. We are going to continue this.
For us it really is about making sure that we continue to act, and act in a way that is consistent with where our brand DNA is.
Your response to critics who would say, Stick to racing?
STEVE PHELPS: The critics that we've seen anyway, if you think about our fan base, how our fan base has reacted, just talk about the brand tracker, I would say we are doing what we believe is right for our sport. I think that is something that we're going to continue to do.
I would say you're going to have critics no matter what you do. You're not going to please all the people for sure. We're going to do what we believe is right for the sport, right for the growth of this sport.
A clarification that you were talking about the charter, some ways of changing that structure. I know there's the rule that performance over three years, the charter can be taken away. Are you looking at changing that? My question is, as the vaccine becomes more and more out there, how might that change the garage policy for fans, sponsors and media as the season goes on?
STEVE PHELPS: To answer your first one, listen, we have a contractual obligation with our charter system and our owners. Making changes to it are not easy, right?
With that said, there is a provision in the charter that says you need to come and you need to compete. We need to make sure that is happening.
Whether there is a change to the bottom three rule moving forward, I think that you all have seen some maneuvering that has gone on with respect to the bottom three rule, the ability to have someone lease a charter. It's not perfect.
I think the intention of the bottom three rule and leasing, they were not supposed to be tied. I think it's an unintended consequence to something that we thought was in the right interest. The reason why we had leasing in the first place was if a team that's been involved for a long time lost a major sponsor, they'd be able to lease that charter for a year, then have it back when they were able to get the sponsor, a new sponsor on that race car. Don't want to belabor that point.
There are things we are looking at, are doing that will ensure that people are competing. They have to compete. They need to be competitive on the racetrack.
With respect to the vaccinations, to me it can't come too soon. It's not the reason why we're using our facilities to vaccinate people, but when we get to a place where we have herd immunity, that is something we welcome the time when we can have our media partners in the garage, in the media center, and our race fans.
NASCAR is about access. Right now we don't have access with our race fans. We want to give them that access because it's a unique point of difference in our sport relative to our stick-and-ball brother.
We're going into another year with restricted access, different guidelines. How do NASCAR's partners feel about what's going on, what they're getting out of things right now? What have those conversations been like?
STEVE PHELPS: I actually just finished with the head of Advanced Auto Parts. He's thrilled with his new relationship with NASCAR, NASCAR home tracks.
What we've tried to do and how we've approached it from a sponsor standpoint, frankly from a fan standpoint, we want to make sure that that fan or that sponsor feels good about how NASCAR treated them during this difficult time. When we're not in a COVID situation, they will say, You know what, NASCAR did it better than other sports, they treated me better. That's the mantra that we have.
If you're a B-to-B sponsor, it's tough, right? You want to be able to showcase the excitement level that you get from being on pit road, being in the garage, that access. That's hard, right? So we've tried to create virtual hospitality things. We've created other hospitality opportunities for sponsors, whether they're team sponsors or NASCAR sponsors or track sponsors. But in general I think the sponsors certainly understand what happened in 2020.
Is there some fatigue that comes with having another year of COVID as we start another season? Yeah, there's some fatigue. But I think the sponsors and those in the sport are managing it as well as you can or as well as we can.
We're trying to be very consistent about how we're approaching that. Whether it's the sanctioning body, SMI, our race teams, we're working as one entity to make sure that we are giving the sponsors real value.
There are different ways we've done that through iRacing, making sure that sponsors have additional visibility in different places, from a media perspective with our own media.
I give our folks a lot of credit as an industry on being creative and innovative to make sure the sponsors are seeing value for what they pay for.
I know there's been a lot of chatter about the fact that you have a lot of people interested in becoming new owners in the sport. It's always a hot topic about new OEMs and manufacturers coming in the sport. Any update that you can give us on that possibility?
STEVE PHELPS: Yeah, on the OEM front, I think we talked about this in November, we believe that we are going to have renewed interest from an OEM standpoint. I think all the OEMs last year were kind of in survival mode. They sold a lot of cars, and the inventory was low, but it was a difficult period for them as well. I would say the OEMs probably did better than they thought they were going to do when COVID started. That part's rewarding.
As things get back to normal, we will continue to ramp up our discussions with new OEMs. We talked about our media partners being in a better place with us, our fans. I believe new OEMs and the relevance of this sport, where this sport now ranks within the sports entertainment landscape is different than it was a year ago, two years ago, three years ago.
With that, as well as the NextGen car coming out next year, I think there's going to be some renewed interest from an OEM perspective.
Maybe this is just the impression I'm getting, but I'm seeing a lot more of our athletes stepping outside of the stockcar barriers, engaging with grassroots racing, et cetera. Are you more apt to use your drivers as brand ambassadors to spread the gospel of NASCAR right now?
STEVE PHELPS: There's no question, our drivers are obviously the stars of the show. They're the ones with the personalities. They're the ones that fans care about. So any time we can use them as brand ambassadors, we're going to do that.
I think you've seen that repeatedly, whether it's drivers being in Super Bowl ads, drivers that are going to short tracks, or drivers who want to become owners. Every opportunity for us to connect with a fan where they are with our drivers and showcase things, I think it's important.
I think like the Denny Hamlin commercial for Domino's with his PJs, that's a fun ad that showcases NASCAR and Denny to a national audience. They poured a lot of gas on that, spent a lot of money on that creative.
It's other things as well. It's not just commercials. It's where they go in their everyday life, how they are talking about NASCAR. We've got an entire new group of both drivers as well as owners who are doing that.
You look at Pitbull and the thing he did yesterday, how he's talking about NASCAR. Michael Jordan is doing some things from a media perspective today that will be on FOX in the prerace. I'm not sure I was supposed to say that (smiling).
But it's exciting, right? It's a new opportunity for us to connect with a new fan. Our drivers are the face of that, whether it's Bubba Wallace or Danny Suarez, the people's champ Chase Elliott, or it's Kyle Busch or Kevin Harvick, any number of our drivers in all three of our national series.
There are great storylines in all three national series. There's storylines in ARCA, storylines at home tracks. It's an exciting time for us as a sport. I hope you all feel that momentum and the wind at the back. You guys are a big part of that.
Your thoughts on the future electrification of the sport, the potential addition of the new manufacturers, is that something they're looking ahead to as well? Tangentially, how does NextGen fit into any of that?
STEVE PHELPS: NextGen sits by itself. There are many things that NextGen will do for us as a sport when it rolls out in 2022. The styling is going to be amazing. I think the racing is going to be better based on the aerodynamics of the vehicle. The costs associated with the vehicle will be lower in terms of its absolute cost as well as the number of cars that will be necessary to run and run up front. Those are all wins for us.
As it relates to electrification and new OEMs, I would be surprised if a new OEM came in without some type of electrification. I'm not talking about all electric. I'm talking about a hybrid system. I think it probably is something, obviously something that we're exploring now with our existing three OEMs. The question is, What is it? What's the timing of it?
I don't have either of those answers at this point, although John Probst, Steve O'Donnell, that group, plus our OEMs, engine builders, are all working on that right now.
When it comes to electrification, how important is it, do you feel, when we start to move towards those vehicles, that NASCAR is still something you can hear and feel? You hear from people that go to Formula E, the cars go by and it's like 'swoosh', you can't feel it in your stomach. Do you feel NASCAR needs to be loud and powerful even when it becomes more electric?
STEVE PHELPS: I do. I could have just stopped there, but sound is a huge part of who we are as a sport. It's going to continue to be.
I don't foresee a time in the future where we would go, with all of our series, to an all electric. I don't see that. Could we have an exhibition series potentially? We could. That would be something that we might explore.
Sound is a major part of who we are as a sport. It's going to continue to be.
When you look at the release of how many places the Daytona 500 will be broadcast, in Europe, South America, those countries seem to be more towards road racing. Once we get out of the Daytona 500, do you think with the additional road races on the 2021 schedule now, that will increase your request for syndication of the events of the NASCAR Cup events in Europe and even the Latino countries?
STEVE PHELPS: I'm not sure. I would say most likely the answer is yes. We'll be broadcast to 200 countries, the Daytona 500 on Sunday. We have a great relationship with IMG. They're our partner overseas to create media in different countries.
Yes, road racing to your point in South America and Europe is kind of the 'preferred racing' in those parts of the world. With that said, we're making some inroads in some ovals as well.
It would make sense to me, right? I haven't given it a lot of thought. They've done a great job from a distribution standpoint. For us it's less about the money we're making in those countries and more about the engagement, the eyeballs that we're able to get. We're having some significant growth there and it feels good.
During the COVID situation, we were one of the only things that IMG was out selling and could sell, and they were thrilled about that. Our growth internationally from a television standpoint is important. I think road racing certainly could be a big part of that.
Obviously last year was a difficult situation. With the pandemic, getting through the pandemic, you guys persevered to get through it. How have you as a sport, industry, kept that momentum going, pushed that momentum in spite of the challenges we're still facing this year?
STEVE PHELPS: Yeah, I think for us again, when you have wind at your back, it's just a lot easier.
One of the things that I challenged the industry to do is to continue to move as one company, as one entity, with one voice. The industry's doing that. Racetracks working with the sanctioning body that are not our own tracks, the relationship we have with our teams, our OEMs, our broadcast partners, it's never been better. The trust that exists today versus where we were two years ago, three years ago, we are in a very, very different place.
The momentum kind of feeds on itself, right? There's so many different great storylines that are now happening, that when another great one happens, Oh, there's another one. That feels good.
At the heart of it really was an industry that came together as one and proved to other sports, to the country overall, the world frankly, that we can do it.
If we continue to act as one, with one voice, understanding the important things about what we're trying to achieve, we're going to continue to have growth as a sport and to continue to have success.
MIKE FORDE: Steve, thank you so much for all your time. Thank you to the media for your questions and coverage.
Any parting words for the group?
STEVE PHELPS: I just want to say, again, in the words of the FOX promo, I think this is going to be our best season ever. Thank you, again, for all you do. We appreciate it. You have some phenomenal storylines to cover. We are going to do our best to make sure that we're servicing you in the best way we can in a very difficult COVID world.
Feel free to reach out to us. We are here. It's important to us that you get what you need in order to write the stories that you want to write. So thank you.
— NASCAR —