Ben Rhodes wins wild Truck race at Daytona
(Update)
This article was updated with photos and video highlights from the race last night.
---
February 13, 2021
23-year-old Ben Rhodes from Louisville got a big push from his Toyota teammate Matt Crafton on the final overtime lap to win the NextEra 250 NASCAR Truck Series race at Daytona Friday night.
Rhodes led seven of the 101 laps in the lid-lifting NextEra Energy 250, driving his ThorSport Racing No. 99 Toyota to a 0.036-second margin of victory at the checkered flag. The fourth win of his Truck Series career was his first at the 2.5-mile Florida track.
Despite his heroic effort to help his teammate, things did not work out well for Crafton as 1/4 of the field wrecked behind the two leaders and Crafton got caught up in the melee.
12th starting the final lap, Jordan Anderson was 2nd for Chevy for the 2nd year in a row as he came across the finish line side-by-side with 3rd place Cory Roper's Ford.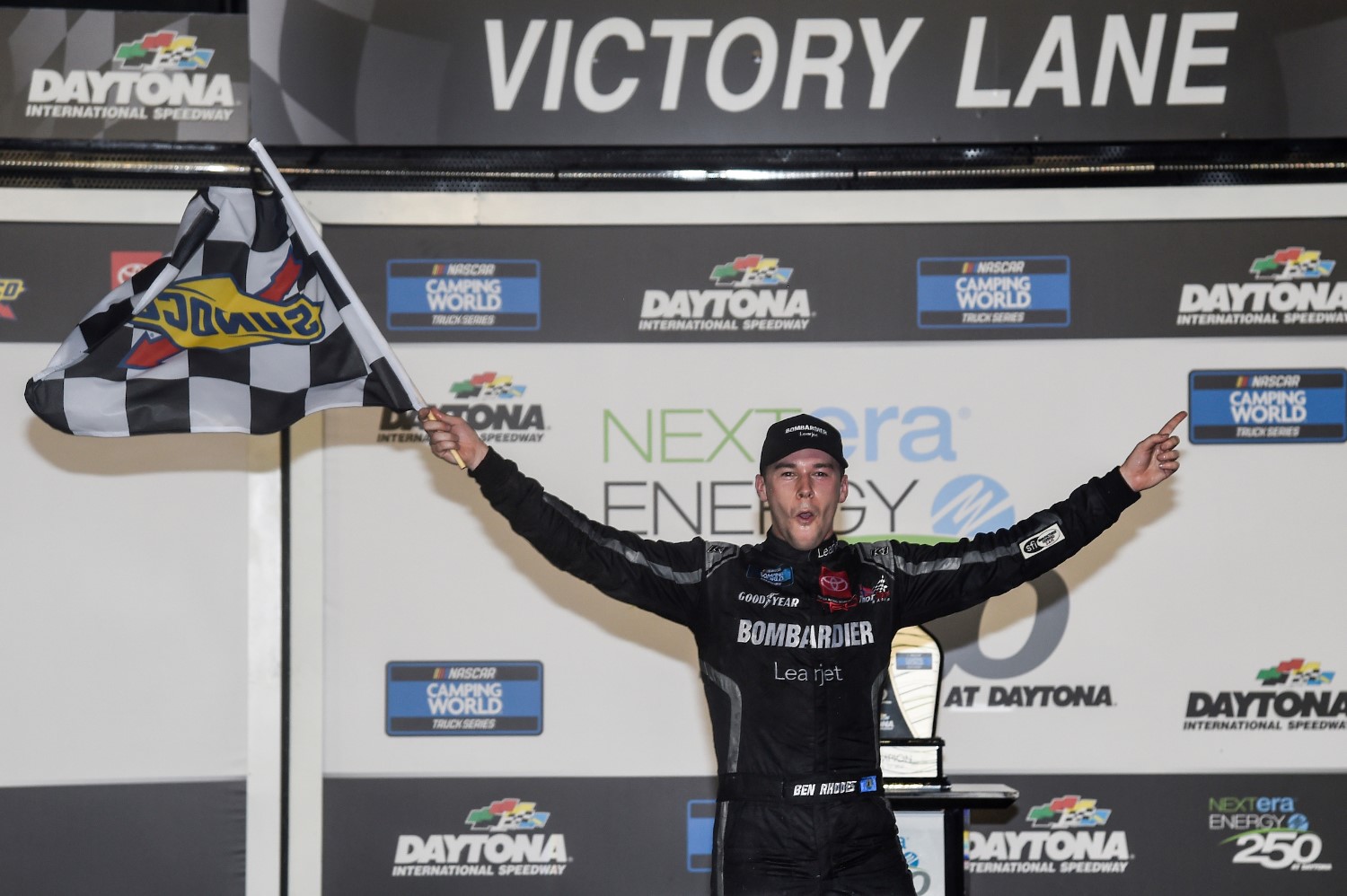 Ryan Truex and Carson Hocevar rounded out the top-5.
Of the 36 Trucks that started the race, only 6 finished not torn up.
Two drivers who switched teams in the off season divided the stage wins, with Raphael Lessard (new to GMS Racing) capturing Stage 1 and John Hunter Nemechek (Kyle Busch Motorsports) prevailing in Stage 2. Nemechek slipped out of contention after his No. 4 Toyota was damaged in an eight-vehicle crash with six laps left in regulation, a melee that forced the race into the extra distance.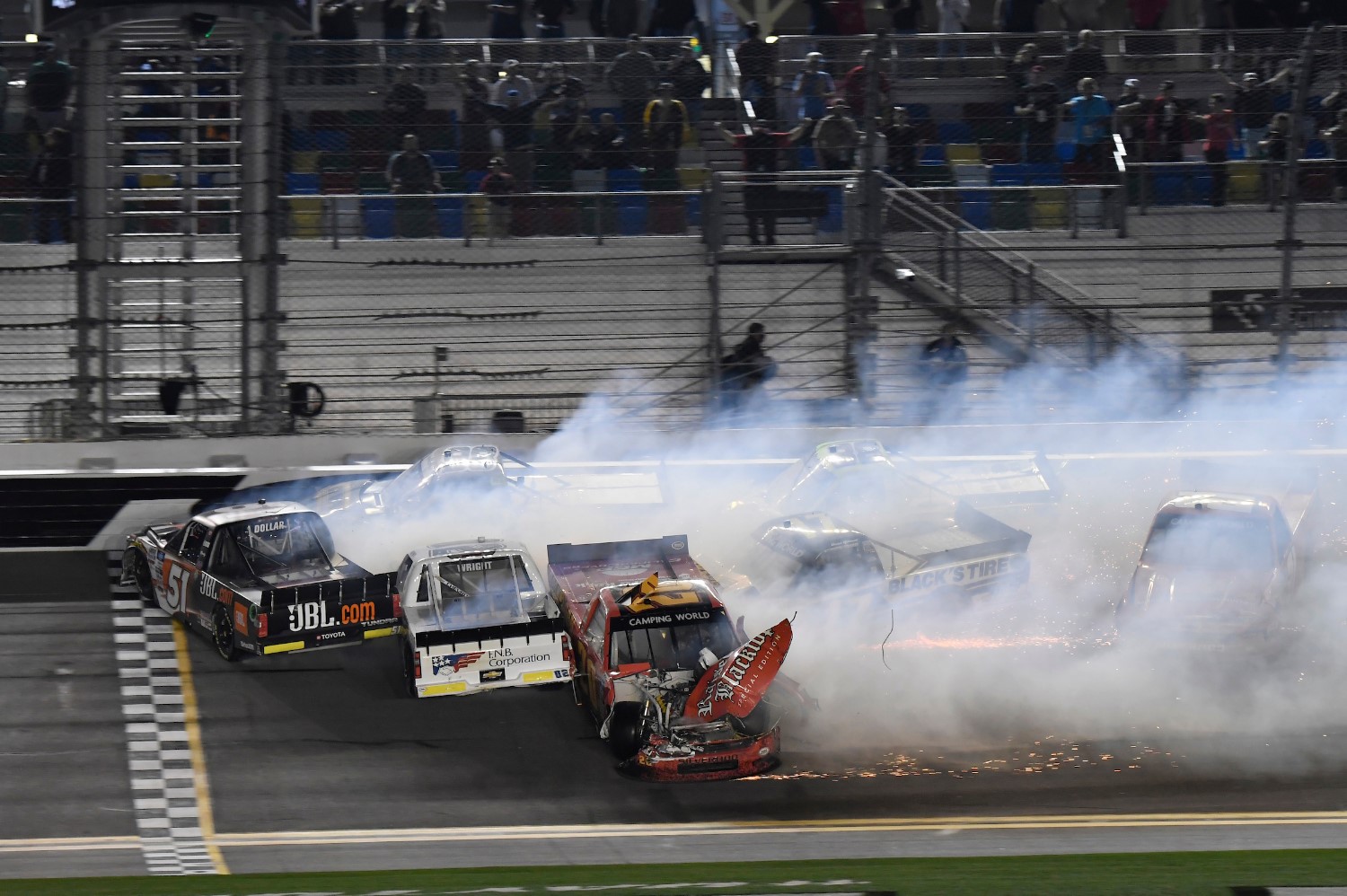 Hailie Deegan started her rookie season with a 24th-place result, slowed by a Lap 80 crash into the inside retaining wall on the backstretch. Her No. 1 David Gilliland Racing Ford sustained significant front-end damage after skidding out of Turn 2 and into the barrier, and she lost three laps while her crew made repairs.
BEN RHODES QUOTES
How did you end up here with the checkered flag?
"I don't even know. I've got to give such a big thank you to my team. This is so special. Biggest win of my career. I can't even believe this. As a driver, you are always asked about what your biggest accomplishment is. This is it. This is hands down it. This is the place to be. I can't even believe it. We've got Bombardier on the truck. We came back to Toyota and we won in our first race with them back with ThorSport. I can't thank Duke and Rhonda Thorson (team owners) enough for this opportunity. This is special."
You won at Daytona. How does that feel?
"I'm going to soak it up for as long as I can. That Darlington win went by too fast. You just don't know when you're going to get it again, but I'm going to enjoy this night. The best night of my life right here."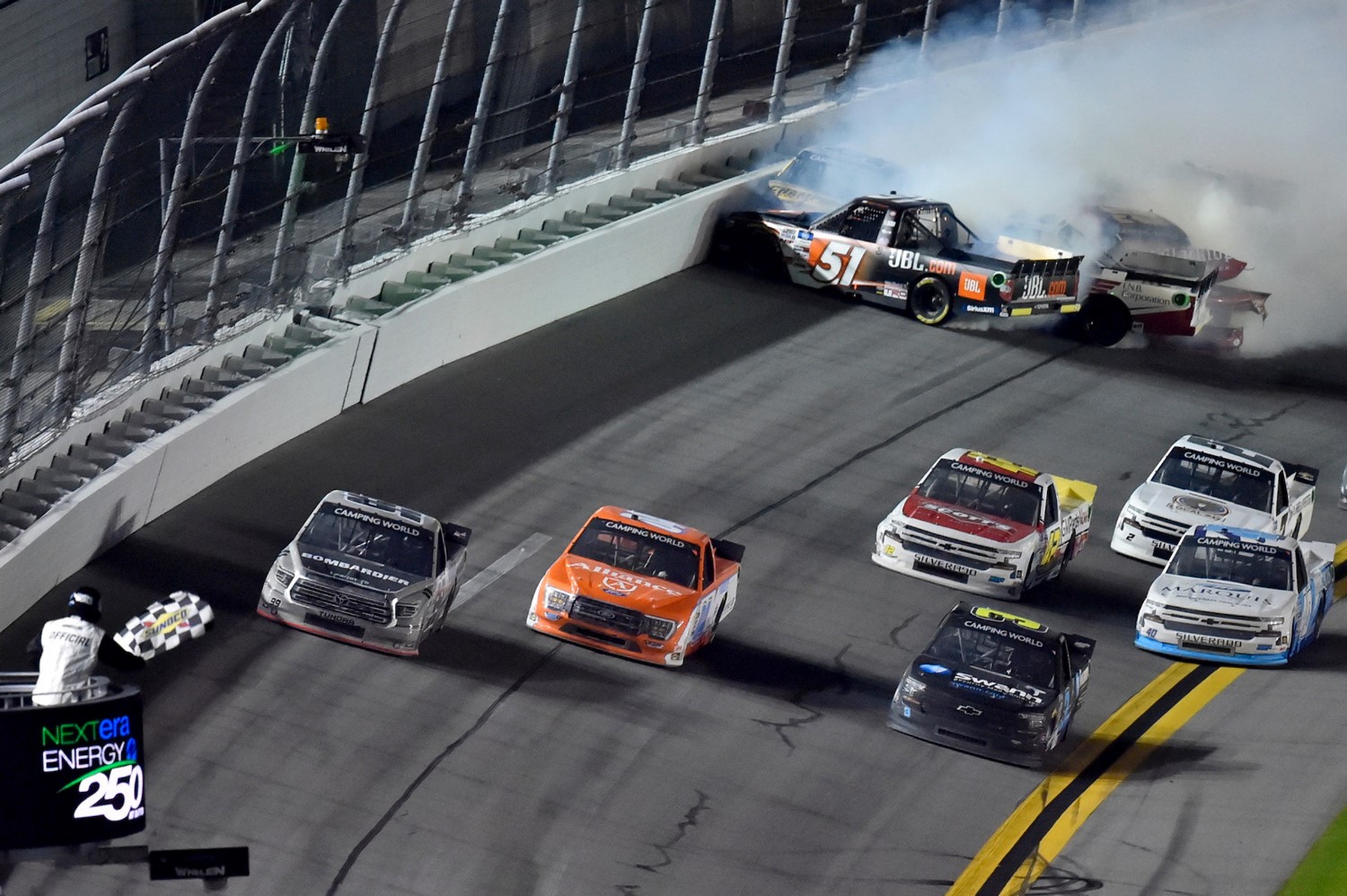 Can you talk me through your last lap?
"That actually started out at the end of the second stage. I got setup with the same move, and I logged it in my memory bank. I came up short at that checkered flag, but I was going to make sure I didn't come up short on this one. We just tried to time it right. Thank goodness I had my Menards teammate Matt Crafton behind me because he's a stud. He's been around for a long time. He knows what he's doing, and you've seen the help he gives me there. This wouldn't have been possible without Matt Crafton. I owe him a huge thank you."
Can you talk us through the last lap of the race?
"I love this, oh my gosh, I love this. This has been such a long time coming for this race. It's been three years in a row that we got wrecked out leading with like three laps to go. This is years of frustration coming off right now. I can't even believe it. Thank goodness I had my teammate of Matt Crafton behind me. What a hero? He saved this race for us and got us the win. I can't even thank him enough. This is because of him. I owe him a huge thank you. He's a stud and he's been in this series a long time. He knew what he was doing and he made that block for me. Without him doing it, I don't think we'd be here right now so thank you so much."
What all did you all do to the race truck to improve the handling during the race?
"I don't know if it was the combination of left-side skirt or maybe we were down on the splitter too, but I just had a big balance problem. I was pushing really bad, couldn't get on people's bumpers. At the same time, the rearend was out of the track. I don't know what Rich (Lushes, crew chief) did. I just tried to stay focused on the race. He's a great crew chief. First race together and he's got a ton of experience. I just trusted in him. We can talk about the changes in the post-race debrief, he and I. I just trusted in what he was doing and whatever he was doing, he made it right."
Is being a winner at Daytona better than you ever thought?
"Oh yeah. You can dream about this. I've dreamed about this I can't tell you how long. I've dreamed about this since I was seven years old. Nothing describes the feeling. I've had very few days like this in my life to have this much elation. My marriage day, a couple other wins, the K&N championship, but this is right up there with all of them. This is Daytona. You don't even need to explain that. This is Daytona. I'm going to enjoy every second of it."
Race Results
| | | | | | | | | |
| --- | --- | --- | --- | --- | --- | --- | --- | --- |
| Pos | Str | Car | Driver | Team | Behind | Laps | Led | Status |
| 1 | 23 | 99 | Ben Rhodes | Bombardier LearJet 75 Toyota | 0.000s | 101 | 7 | Running |
| 2 | 20 | 3 | Jordan Anderson(i) | Swann Security Chevrolet | 0.036 | 101 | 0 | Running |
| 3 | 31 | 04 | Cory Roper | Alliance Aviation Ford | 0.100 | 101 | 0 | Running |
| 4 | 25 | 40 | Ryan Truex | Marquis Spas Chevrolet | 0.252 | 101 | 0 | Running |
| 5 | 12 | 42 | Carson Hocevar # | GM Parts Now Chevrolet | 0.264 | 101 | 0 | Running |
| 6 | 2 | 2 | Sheldon Creed | I.B.E.W. Chevrolet | 0.356 | 101 | 1 | Running |
| 7 | 7 | 4 | John Hunter Nemechek | Fire Alarm Services Toyota | 0.483 | 101 | 14 | Running |
| 8 | 26 | 9 | Codie Rohrbaugh | Grant County Mulch Chevrolet | 0.605 | 101 | 0 | Running |
| 9 | 6 | 18 | Chandler Smith # | Safelite AutoGlass Toyota | 1.072 | 101 | 22 | Running |
| 10 | 17 | 51 | Drew Dollar | JBL Toyota | 1.200 | 101 | 0 | Running |
| 11 | 3 | 02 | Kris Wright # | Champion/Curb Records Toyota | 1.233 | 101 | 13 | Running |
| 12 | 27 | 20 | Spencer Boyd | First National Bank Chevrolet | 1.250 | 101 | 0 | Running |
| 13 | 24 | 98 | Grant Enfinger | American PVMT/Raised On BlkTop Chevrolet | 1.261 | 101 | 0 | Running |
| 14 | 13 | 17 | David Gilliland | Black's Tire Ford | 1.329 | 101 | 8 | Running |
| 15 | 14 | 88 | Matt Crafton | Mold-Armor/Menards Toyota | 1.343 | 101 | 0 | Running |
| 16 | 8 | 21 | Zane Smith | MRC Construction Chevrolet | 1.393 | 101 | 0 | Running |
| 17 | 32 | 10 | Jennifer Jo Cobb | North American Motor Car Toyota | 7.657 | 101 | 0 | Running |
| 18 | 16 | 28 | Bryan Dauzat | Fastener Supply Company Chevrolet | 9.377 | 101 | 0 | Running |
| 19 | 28 | 33 | Jason White | FDNY/OB Builders Chevrolet | 15.883 | 101 | 2 | Running |
| 20 | 35 | 22 | Austin Wayne Self | powder ventures excavations Chevrolet | 0.509 | 100 | 0 | Running |
| 21 | 19 | 30 | Danny Bohn | GO TEXAN/AM Technical Solutions Chevrolet | 0.785 | 100 | 0 | Running |
| 22 | 18 | 16 | Austin Hill | United Rentals Toyota | -3 | 98 | 0 | Running |
| 23 | 5 | 24 | Raphael Lessard | CANAC Chevrolet | -3 | 98 | 12 | Running |
| 24 | 9 | 1 | Hailie Deegan # | Monster Ford | -3 | 98 | 0 | Running |
| 25 | 15 | 25 | Timothy Peters | Circle B Diecast Chevrolet | -6 | 95 | 1 | Running |
| 26 | 10 | 45 | Brett Moffitt | Rackley Roofing Chevrolet | -6 | 95 | 3 | DVP |
| 27 | 1 | 13 | Johnny Sauter | Vivitar/RealTree Toyota | -7 | 94 | 12 | DVP |
| 28 | 11 | 26 | Tyler Ankrum | LiUNA! Chevrolet | -7 | 94 | 6 | Accident |
| 29 | 4 | 23 | Chase Purdy # | BamaBuggies.com Chevrolet | -10 | 91 | 0 | Electrical |
| 30 | 30 | 12 | Tate Fogleman | Solid Rock Carriers Chevrolet | -28 | 73 | 0 | DVP |
| 31 | 21 | 38 | Todd Gilliland | Speedco Ford | -30 | 71 | 0 | Accident |
| 32 | 29 | 52 | Stewart Friesen | Halmar International Toyota | -30 | 71 | 0 | Accident |
| 33 | 33 | 19 | Derek Kraus | MHR SHOCKWAVE Toyota | -45 | 56 | 0 | DVP |
| 34 | 34 | 56 | Gus Dean | Dean Custom Air Chevrolet | -100 | 1 | 0 | Accident |
| 35 | 22 | 15 | Tanner Gray | Ford Performance Ford | -101 | 0 | 0 | Drivetrain |
| 36 | 36 | 44 | James Buescher | FHE FracLock Chevrolet | -101 | 0 | 0 | Accident |
# DENOTES ROOKIE
(i) NOT ELIGIBLE FOR POINTS
(*) REQUIRED TO QUALIFY ON TIME