Daytona 500 Red-Flagged due to rain and big crash
Rain and lightning in the Daytona Beach, Florida area have halted the 63rd annual Daytona 500 for the NASCAR Cup Series at Daytona International Speedway after just 15 laps but now before a big crash took out 1/3 of the field.
Christopher Bell's No. 20 Joe Gibbs Racing Toyota went to push Aric Almirola's No. 10 Stewart-Haas Racing Ford, as a run started to form in the inside line. The cars were not properly aligned, so Bell's nudge ultimately turned Almirola. The No. 10 went up the track and sparked a 16-car pile-up that first collected pole-sitter Alex Bowman in the No. 48 Hendrick Motorsports Chevrolet and then many others. Bell continued on.
"We were just getting pushed too hard too early," Almirola said of the pressure he felt at the end of the backstretch. "It's a long, long race. Man, we were in a fine position, just sitting there riding around in the top two, three and the 20 (Bell) just came with a big run and hit me really hard in a bad spot and it turned me to the right and tore up our race car and ended our Daytona 500 way too early."
Involved in the 16-car wreck were Ryan Blaney, Chris Buescher, Tyler Reddick, Anthony Alfredo, Aric Almirola, Alex Bowman, Daniel Suarez, Kurt Busch, David Ragan, Ryan Newman, Matt DiBenedetto, Erik Jones, Martin Truex Jr., William Byron and Jamie McMurray.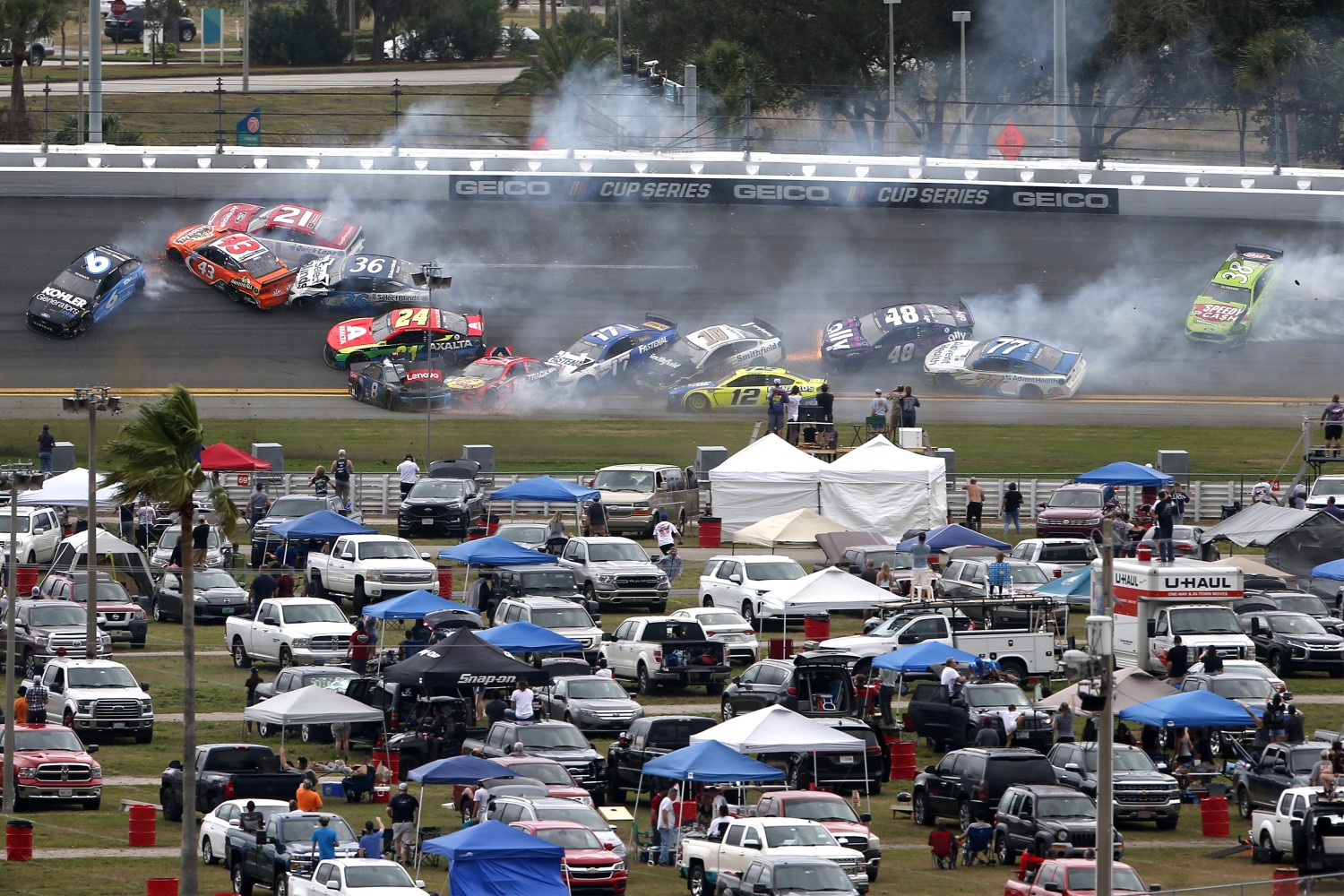 "It looks like the No. 10 (Aric Almirola) kind of got turned sideways there, and I was the guy that got ran into (because you were too slow to be running out front)," said Alex Bowman. "Bummer – I hate it for Ally. Obviously, we had a really fast Camaro. The Chevrolet's were working good together; hopefully a Chevy still ends up in Victory Lane."
"Hats off to everybody at Hendrick Motorsports; they built some really fast race cars. Hate that superspeedway racing works out that way sometimes, but that's just part of the game."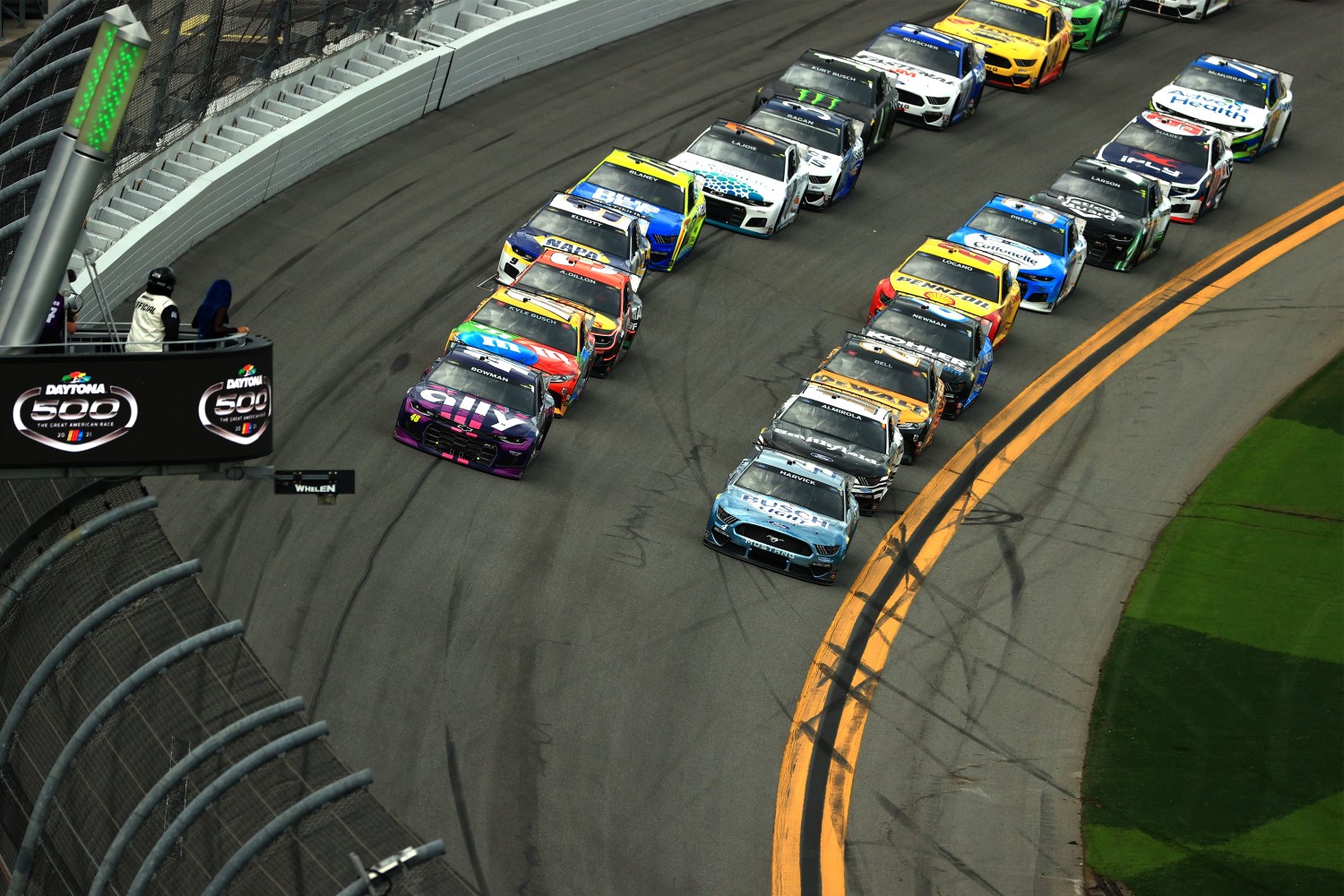 "Unfortunate end for the No. 43 Richard Petty Motorsports team in the Daytona 500; it's not what we were hoping for by any means," said Erik Jones. "
The No. 43 Armor All Chevrolet Camaro ZL1 1LE was fast to start. We had raced up there into the top-10 and I think we were just outside of it when the big wreck started. Bummed, but there's 35 more races left this season to go back out and make up for it. We'll work hard to try and make these points up here as we go and move onto the Daytona Road Course next week."
The race started at 12:15pm for 40 years, but since NASCAR moved the race to a later start time it has been hit by rain over and over.  The race would have been over before the rain started if they started at 12:15pm.
A lightning strike forced a 30-minute hold on at-track activities, and attendees were instructed to seek shelter at 3:29 p.m. ET. Kevin Harvick was scored as the race leader with 15 laps complete.
A fleet of 19 Air Titans, 10 jet dryers, two vacuums and two sweepers are at the 2.5-mile speedway for track-drying efforts.
Lap 15 Running Order
| | | | | |
| --- | --- | --- | --- | --- |
| POS | CAR | DRIVER | MAKE | LAPS |
| 1 | 4 | Kevin Harvick | Ford | 15 |
| 2 | 20 | Christopher Bell | Toyota | 15 |
| 3 | 3 | Austin Dillon | Chevy | 15 |
| 4 | 18 | Kyle Busch | Toyota | 15 |
| 5 | 9 | Chase Elliott | Chevy | 15 |
| 6 | 5 | Kyle Larson | Chevy | 15 |
| 7 | 37 | * Ryan Preece | Chevy | 15 |
| 8 | 22 | Joey Logano | Ford | 15 |
| 9 | 34 | Michael McDowell | Ford | 15 |
| 10 | 47 | Ricky Stenhouse Jr. | Chevy | 15 |
| 11 | 7 | Corey LaJoie | Chevy | 15 |
| 12 | 23 | Bubba Wallace | Toyota | 15 |
| 13 | 42 | Ross Chastain | Chevy | 15 |
| 14 | 14 | Chase Briscoe # | Ford | 15 |
| 15 | 41 | Cole Custer | Ford | 15 |
| 16 | 11 | Denny Hamlin | Toyota | 15 |
| 17 | 16 | * Kaz Grala | Chevy | 15 |
| 18 | 2 | Brad Keselowski | Ford | 15 |
| 19 | 00 | Quin Houff | Chevy | 15 |
| 20 | 78 | BJ McLeod(i) | Ford | 15 |
| 21 | 33 | * Austin Cindric(i) | Ford | 15 |
| 22 | 53 | Joey Gase | Ford | 15 |
| 23 | 52 | Josh Bilicki | Ford | 15 |
| 24 | 51 | Cody Ware | Chevy | 15 |
| 25 | 12 | Ryan Blaney | Ford | 14 |
| 26 | 17 | Chris Buescher | Ford | 14 |
| 27 | 8 | Tyler Reddick | Chevy | 14 |
| 28 | 38 | Anthony Alfredo # | Ford | 14 |
| 29 | 10 | Aric Almirola | Ford | 13 |
| 30 | 48 | Alex Bowman | Chevy | 13 |
| 31 | 99 | Daniel Suarez | Chevy | 13 |
| 32 | 1 | Kurt Busch | Chevy | 13 |
| 33 | 36 | * David Ragan | Ford | 13 |
| 34 | 6 | Ryan Newman | Ford | 13 |
| 35 | 21 | Matt DiBenedetto | Ford | 13 |
| 36 | 43 | Erik Jones | Chevy | 13 |
| 37 | 19 | Martin Truex Jr. | Toyota | 13 |
| 38 | 24 | William Byron | Chevy | 13 |
| 39 | 77 | Jamie McMurray | Chevy | 13 |
| 40 | 15 | Derrike Cope | Chevy | 3 |
# DENOTES ROOKIE
(i) NOT ELIGIBLE FOR POINTS
(*) REQUIRED TO QUALIFY ON TIME