Rumor: Andretti to buy Sauber/Alfa Romeo F1 team (Deal Breaker)
(14th Update)
This rumor is downgraded to 'false' today as expected.
Michael Andretti's attempted buyout of the Formula 1 team currently known as Alfa Romeo has collapsed.
Amid swirling rumors in the paddock about US-based motor racing giant Andretti Autosport acquiring 80 percent of Swiss-based Sauber Motorsport, former F1 supremo Bernie Ecclestone admitted his doubts.
"I doubt there will be a deal with Andretti," he told Blick newspaper.
"Switzerland is not exactly the ideal Formula 1 location. British people don't really want to go there and if they do they leave pretty quickly."
The real problem, however, seems to have been the hefty and firm financial demands of Sauber's current owners, led by Swedish billionaire Finn Rausing who controls the parent company Islero Investments.
"The following numbers are rumored in the paddock: the purchase price of EUR 350 million, in addition to a bank guarantee of 250 million over the next five years," Blick reported over the US GP weekend.
"The Swedish owners want to ensure that Alfa-Sauber can continue to operate properly."
Now, Italy's Corriere dello Sport – and other authoritative sources – claim that three months of talks between Andretti and Islero have completely broken down.
"The negotiations had already been disturbed by the rumors coming from the United States at the beginning of October," the newspaper reported.
"It created a lot of publicly for Andretti, further fuelled by rumors about Colton Herta's immediate arrival in Formula 1. But it all irritated Islero."
Veteran Blick correspondent Roger Benoit said: "The son of Mario Andretti gambled and probably did not expect that the current owners would put the Swiss employees first."
---
October 27, 2021
This rumor is downgraded to 'speculation' today and will likely soon go to 'false.'
According to paddock sources, once The Rausing family got wind of Toto Wolff saying they should not sell the team to Andretti and instead wait as the value of the team will be higher in a year or two, word is the family made additional monetary demands that the Andretti team was not willing to meet.
While we are not ready to stick a fork in a no-deal and say it's done, it appears to be pretty charred from the outside.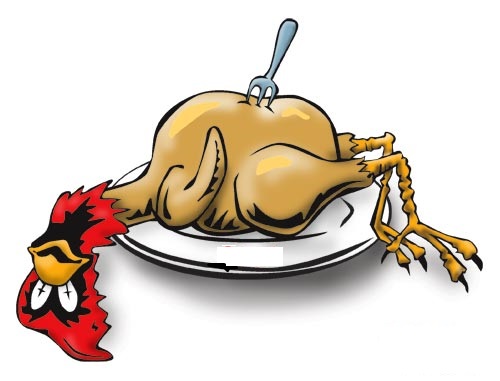 ---
October 25, 2021
(GMM) Michael Andretti's takeover of the Alfa Romeo team is suddenly on the rocks.
Earlier in Austin, the paddock was alight with speculation that the former F1 driver, who now runs the US-based motor racing empire Andretti Autosport, had taken over 80 percent of the Swiss-based Sauber team.
"It hasn't been officially confirmed yet, but 80 percent of Sauber has already been sold to Andretti," former F1 driver Ralf Schumacher confidently declared to Sky Deutschland.
"The Rausing family is no longer a shareholder, although Finn Rausing himself has retained 20 percent."
It was rumored that the news would be made official on Sunday, prior to the green light for the 2021 US GP in front of a big crowd.
But that appears to have been wide of the mark, with key media sources suggesting Andretti is actually balking at the price of the deal.
"Is Sauber too expensive for Andretti?" wondered the F1 correspondents for the well-connected Swiss newspaper Blick.
"The following numbers are rumored in the paddock: the purchase price of EUR 350 million, in addition to a bank guarantee of 250 million over the next five years.
"The Swedish owners want to ensure that Alfa-Sauber can continue to operate properly."
Michael Schmidt, the highly respected correspondent for Auto Motor und Sport, is reporting the same stumbling block to the deal.
"Who has that much money?" he said in Austin.
"Although many in the paddock are still convinced that the sale is a done deal, the plan seems to have failed for the time being.
"According to our information, investors are shying away from the amount they would have to raise to take over the team from the Rausing family," Schmidt added.
It is suggested the American suitors are arguing that the price should be lowered because of the value the Andretti name brings to the team and F1.
"Does the Sauber name mean nothing?" a source at the Hinwil based team said. "After all, we are the fourth-oldest team in Formula 1."
---
October 23, 2021
(GMM) Michael Andretti's buyout of the Formula 1 team currently known as Alfa Romeo is a done deal.
That is the view of Ralf Schumacher, a former F1 driver who purports to know for sure that Swedish billionaire Finn Rausing has sold most of his stake in Swiss-based Sauber.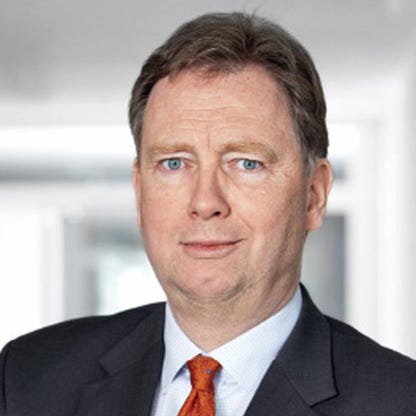 "It hasn't been officially confirmed yet, but 80 percent of Sauber has already been sold to Andretti," Schumacher told Sky Deutschland.
"The Rausing family is no longer a shareholder, although Finn Rausing himself has retained 20 percent," the German added.
The news appears to be backed up by McLaren supremo Zak Brown, who reveals that fellow American Andretti – a former F1 driver – is "very serious about Formula 1".
It emerges that Brown is actually connected with Andretti Acquisition Corp., an entity lodged with the United States Securities and Exchange Commission.
"I don't think it's my position to really comment on Michael's situation," Brown said in Austin. "What I would say is that he is very serious about Formula 1.
"I think it would be great if Michael and the Andretti name were involved in Formula 1, but we'll see what happens."
He clarified that his connection with the Andretti acquisition company "doesn't have anything to do with Formula 1".
Valtteri Bottas, meanwhile, insists he has been in the dark about the Andretti goings-on, even though he has signed to race for Alfa Romeo next year.
"Of course, as a future driver of the team, it would be nice to know a little more about the plans," said the Mercedes driver in Austin.
But he also insisted he wouldn't mind if Andretti becomes the new team owner, declaring of the rumored buyout: "Why not?"
---
October 20, 2021
The negotiations on a sale of the Sauber team to Andretti Autosport have not come to a conclusion as quickly as the parties involved had hoped. According to information from 'Motorsport-Total.com', the talks are continuing, but will not come to a conclusion, or at least a fundamental understanding as originally hoped for, before the US Grand Prix in Austin.
Insiders report, for example, of "unrest" among the staff in Hinwil because Michael Andretti's concept apparently also includes laying off up to 200 existing employees. To what extent this is only BS or whether such plans actually exist, is unclear.
The fact that Andretti wants to buy the team is now an open secret. Michael Andretti's father Mario indirectly confirmed this in the podcast 'F1 Nation'. He declares that he is "not a spokesman" for Andretti Autosport and therefore cannot contribute anything "really meaningful" to the topic; but then reveals that talks are underway.
"There are still a few loose ends, as I understand the situation," explains the 81-year-old. And when asked by moderator Tom Clarkson whether it would not be a great thing to see the sounding name Andretti on the front door of the Sauber factory in Hinwil, he replies tellingly: "Wait and see."
Meanwhile, 'RACER' reports that the never officially confirmed, but rumored planned Friday test of the American Colton Herta for Alfa Romeo in Austin was canceled considering the faltering negotiations. Herta is one of the star drivers of Andretti Autosport in the IndyCar Series.
Mario Andretti said "Colton would be a good fit," in F1. "It's about when that could work. But the fact that we will have two Grands Prix in the USA next year is a good thing. It would be great to see an American driver."
Herta, the son of former US racing driver and IndyCar team owner Bryan Herta, is "for many reasons" America's greatest hope of getting a driver back into Formula 1: "First, he trained over there. He drove Formula 3 together with Lando Norris and contested his first races in Europe," said Andretti.  And let's not forget he schools, on a regular basis, his Andretti Autosport teammate Alexander Rossi, a former European trained American F1 prospect.
---
October 20, 2021
Michael Andretti has been spotted at the Sauber factory in Hinwil this week, so the deal appears to be progressing.
The acquisition by Andretti could also cause a twist in the driver market. Valtteri Bottas is fixed for 2022, but the other seat is still available.
Guanyu Zhou was rumored as a possible successor to Antonio Giovinazzi, he has a bag of cash. Andretti would prefer an American driver in the car, but with the super license system, it will be difficult to get Colton Herta in. So, in 2022 Andretti might run Zhou or Giovinazzi full-time in the 2nd seat, and run Herta on enough Friday mornings to get the points he needs.  You get 1 Superlicense point for each practice session you do.
---
October 14, 2021
We rumored below that Gainbridge may be the primary sponsor on the Andretti Alfa Romeo team's F1 cars should the 'rumored' deal come to fruition.
So how would the current Andretti IndyCar sponsors look on the new for 2022 F1 cars?
Very well indeed, although so far only Gainbridge is rumored to be involved!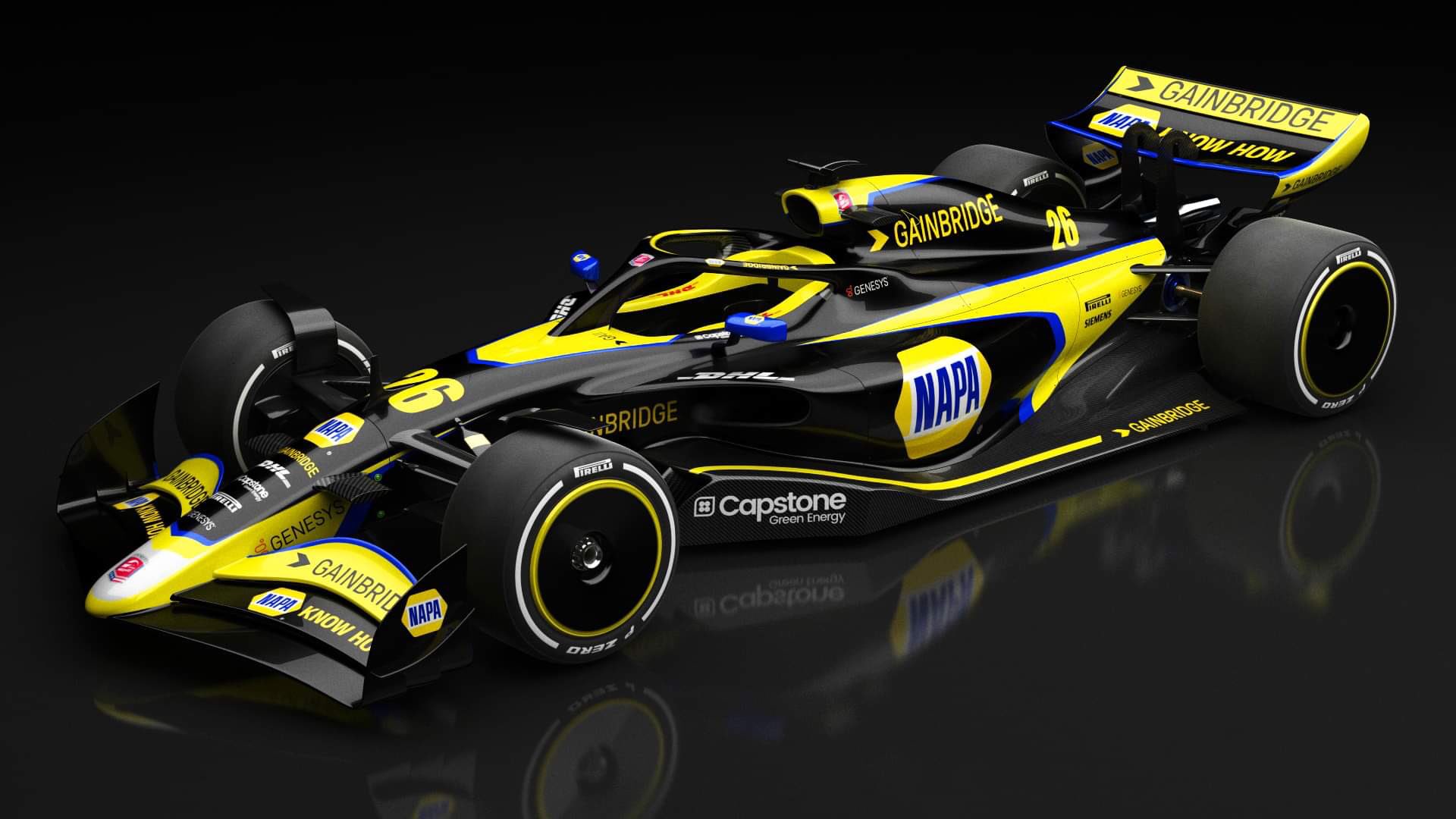 ---
October 9, 2021
(GMM) Formula F1 driver Michael Andretti "has already taken over 80 percent" of the Swiss-based Formula 1 team currently known as Alfa Romeo.
That is the claim of veteran Swiss F1 journalist Roger Benoit, whose report in Blick newspaper mirrors widespread rumors in the Istanbul paddock. (RaceFans has reported that Andretti could buy 80 percent of the shares in Islero Investments, giving him control of both Sauber Motorsport and Sauber Engineering. Islero Investments was set up by Longbow Finance, which acquired the team from Peter Sauber and Monisha Kaltenborn in 2016.)
Team boss Frederic Vasseur, who runs Sauber Motorsport at Hinwil and at the grands prix, is not yet ready to confirm the news.
"If all the reports I've read in the last few weeks were true, we'd have sold the team 25 times already," he said.
"I hope the current owners got some good business out of it. In the end, it's they who will decide."
Andretti, the son of F1 legend Mario, is now a major player in the chiefly US-based motor racing industry, with teams in IndyCar, Formula E and elsewhere.
The transaction could explain why Alfa Romeo is now the only team in pitlane with an official race driver vacancy for 2022.
It had been rumored that the well-financed Chinese driver Guanyu Zhou had secured the place, but Vasseur now insists that a driver agreeing to a "one-year deal" may be a wiser choice.
Top of the list now may be Formula 2 front-runner and Australian Oscar Piastri – but the issue with that is his links with the Renault-Alpine program.
"When you are taking a young driver with a new car and starting a new journey, I think it would make much more sense to have the possibility to extend the contract," said Vasseur.
"Not a multi-year contract but at least to be sure that you won't lose the driver after year one."
Vasseur's personal favorite is Theo Pourchaire, but 2022 would be too soon for his 18-year-old fellow Frenchman.
So the latest name linked with the team is Andretti's top IndyCar driver, 21-year-old Colin Herta.
When asked why the identity of Valtteri Bottas' 2022 teammate is so delayed, Vasseur said in Turkey: "Because we are discussing with all the parties involved, and it's not an easy choice.
"We will take a decision in the next couple of weeks, most probably."
---
October 8, 2021
We have had this rumor going since the middle of August. Now Racer reports that Michael Andretti's hopes of taking over a Formula 1 team appear a step closer with significant talks with Sauber — the company that runs Alfa Romeo Racing ORLEN — set for the United States Grand Prix weekend at Circuit of The Americas in Austin. We already had this rumor rated 'strong' so we will keep that rating.
They don't really report anything new that we have not already rumored.  Like we said, a good portion of the money needed to buy the team will come from the Andretti Acquisition Corporation (WMMR).
---
September 17, 2021
Listed among the shareholding director nominees of Andretti Acquisition Corporation (NYSE ticker symbol WMMR) is McLaren F1 boss, and good friend of Michael Andretti, Zak Brown.
However, Brown was quick to shoot down any suggestions that he or McLaren could be involved in Andretti's F1 foray.
"No, we're very focused on McLaren Formula 1," Brown said.
"Michael and I are great friends, so my doors always open to have a conversation, but we don't have any interest in focusing on anything in F1, other than on ourselves."
Earlier this year, Andretti registered Andretti Acquisitions Corporation, WMMR, which is seeking to raise $250 million through an initial public offering.
"While we may pursue our initial business combination in any business, industry or geographic location, we currently seek to focus on opportunities that can benefit from the iconic Andretti brand name, for the purpose of effecting a merger, share exchange, asset acquisition, share purchase, reorganization or similar business combination with one or more businesses or entities." the Securities and Exchange Commission filing stated.
Once WMMR goes public and, assuming they raise the $250 million goal, or more, then we suspect the rumors of Andretti buying an F1 team will heat up.
---
September 9, 2021
Seems Andretti Autosport does not want to let the cat out of the bag too soon, especially since WMMR has not gone live yet to raise a lot of the money needed to buy Sauber AG and the Alfa Romeo F1 team.
When asked about this latest rumor, a team spokesperson played it coy. As rumored, the entry would be starting in the 2023 season, so plenty of time to make an announcement.
"Entering Formula 1 has been of interest to Michael and the team for some time and we've explored many options over the years, but at this time we have nothing new to report," an Andretti Autosport spokesperson told The Race.
"Our passion is racing, in all forms, and we never say never.
"Should a proper opportunity come along to take the Andretti name back to F1, we'd jump at it.
"But as of now, that opportunity has not fallen in our laps and our focus remains on our seven disciplines of competition."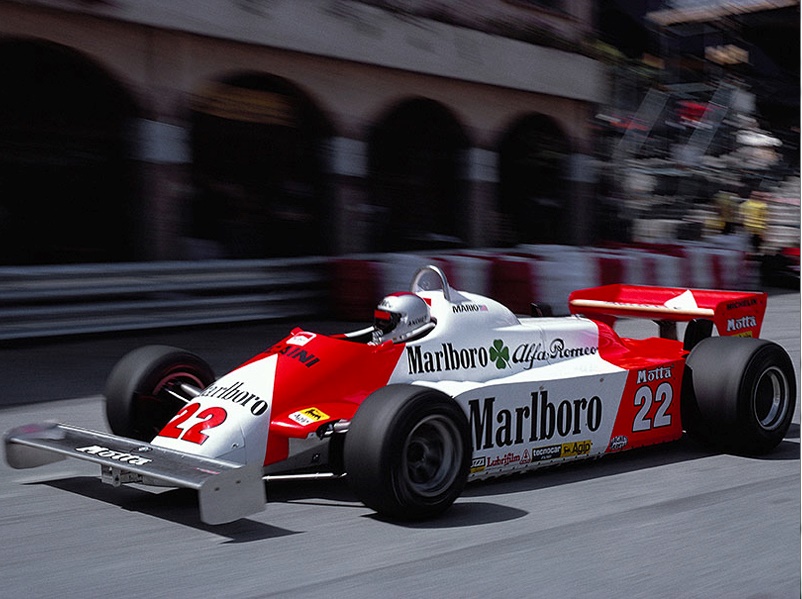 ---
September 8, 2021
We mentioned below that a portion of the money to buy the F1 team would come from the Andretti Acquisition Corp SPAC WNNR.
It will go public soon.  More info can be found here.
---
September 8, 2021
We are raising this rumor from 'speculation to 'strong' today.
Word is now that IndyCar team owner Michael Andretti will indeed be buying Sauber Motorsport AG that currently runs the Alfa Romeo team in F1, with entry slated for the 2023 season.
There have been rumors lately that the team may switch from Ferrari engines to Mercedes power units, but that would upset the apple cart in the F1 paddock with Mercedes having too much influence and control of the F1 paddock.  We have to wait and see on that one, but we suspect they will stick with Ferrari power.
The team just hired Valtteri Bottas (with blessing from Mercedes), and while the rumors were that Alex Albon was eyeing an IndyCar seat with Andretti Autosport, might it be that he eventually brings his Thai money to Andretti's F1 team as the 2nd driver alongside Bottas….who signed a 3-year deal this week?
Money for the purchase is said to come from the SPAC Andretti recently raised, some from Gainbridge, plus other Venture Capital money. Another rumor has the Nikita Mazepin Uralkali money moving from the Haas team to the Alfa Romeo Team.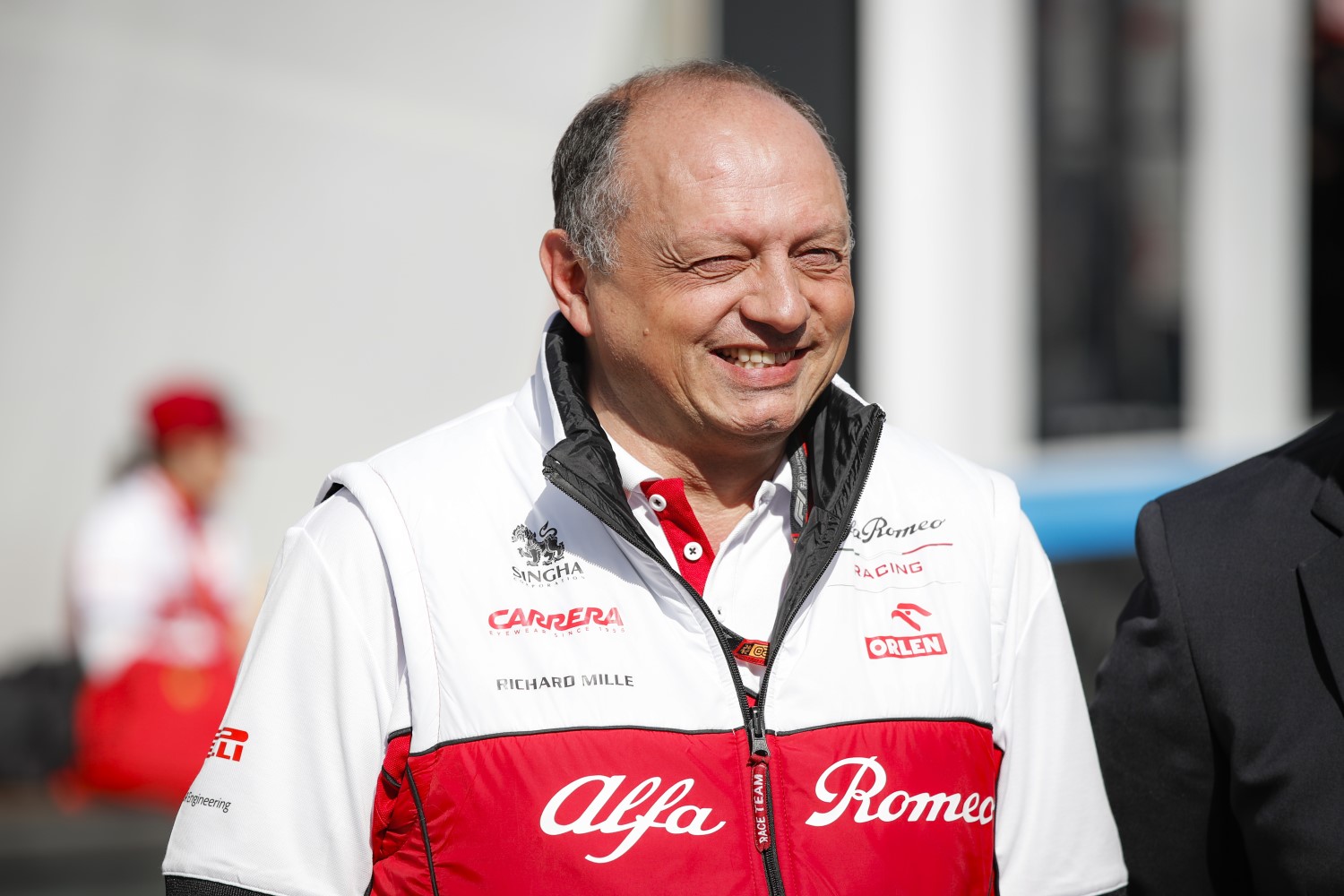 ---
August 20, 2021
More news on this year old AR1.com rumor.
RACER now hears a year later that Andretti Autosport team owner Michael Andretti has been actively pursuing an F1 team to acquire, with multiple sources pointing towards Haas F1's Gene Haas.
It's understood the Haas conversation did not move beyond a basic outreach according to RACER, which led to Andretti seeking another target in the F1 paddock. After Haas F1, it's believed the two teams owned by investment firms – Alfa Romeo Sauber, which was sold to Longbow Finance S.A. in 2016, and Williams Grand Prix Engineering, which was bought by Dorilton Capital in 2020 – stand as the best options available for the 1991 CART IndyCar Series champion.
"It would be great, but there's a long way to go if it were to happen," Andretti told RACER. "If the right opportunity comes up, we'll be all over it. But we're not there yet."
We suspect if Andretti does move forward he will get parts of the car from his close associate Zak Brown, McLaren F1 boss. The question is whether he would go with Ferrari power or Mercedes power.
---
February 20, 2021
Last week, the investor group Sportstek Acquisition Corporation went public. It is a 'company' that is purely and simply aimed at acquiring or buying itself into sports clubs. They are open to all kinds of sports, but there is a special connection with Formula 1.
One of the founders of the group is Tavo Hellmund (shown above), who can be held responsible for the construction of the Circuit of the Americas in Austin. Moreover, he has shown interest in a Formula One team before. That was when Manor F1 ran into trouble in 2015.
Hellmund told Autoweek's Steven Cole Smith that interest is still there. In doing so, he would like to work with one of the other parties interested in taking over Manor at the time: American racing hero and team owner Michael Andretti. One of the calls Hellmund plans to make is to Andretti, as the two discussed joint F1 ownership in the past.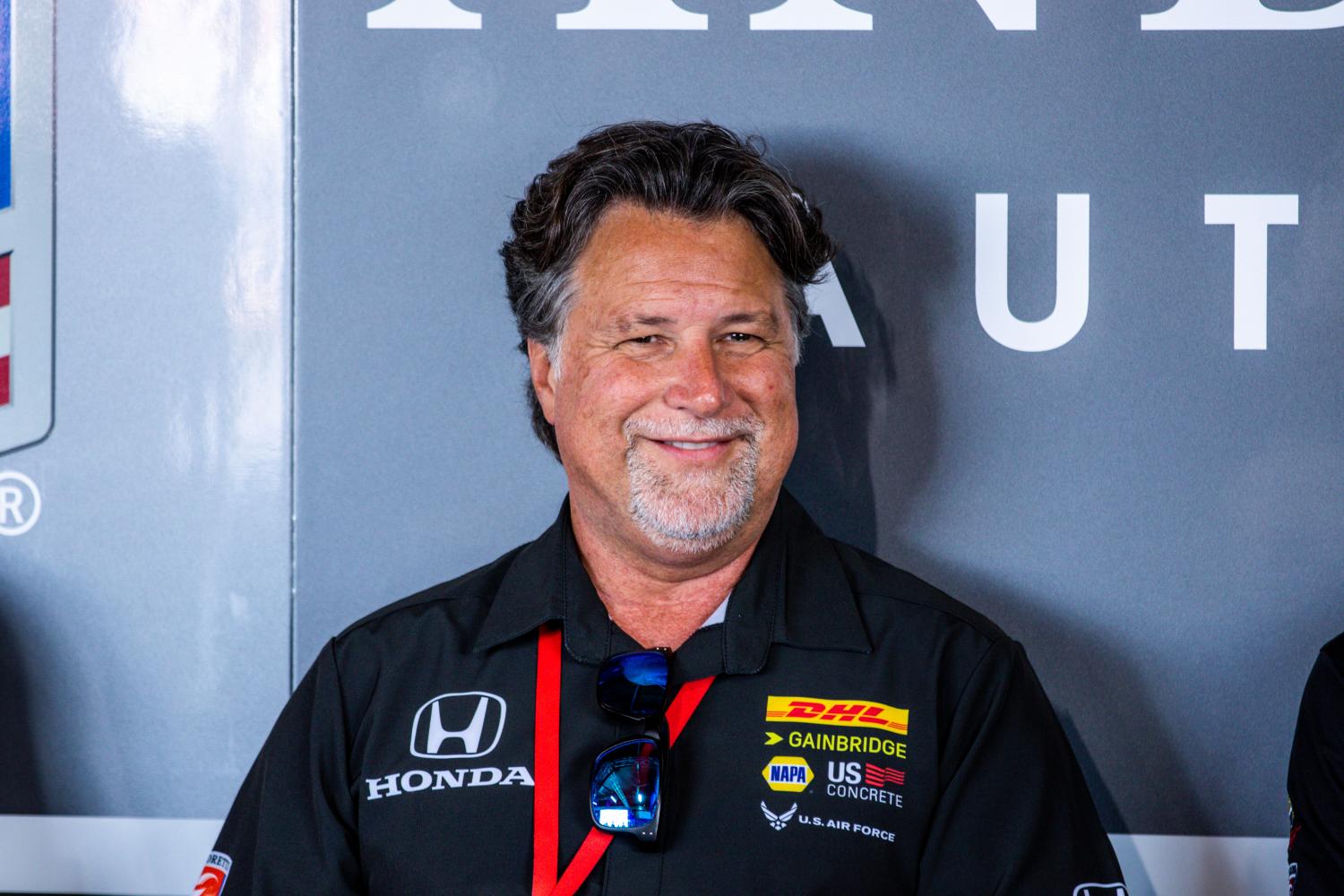 "Since hanging up his helmet, Michael has proved that he is a world-class team owner. F1 would be better off with him, without a doubt," said Hellmund, who also immediately admits which teams are at the top of his list: AlphaTauri and Sauber Alfa Romeo. Especially the first one would be a remarkable development.