Newgarden tops mid-day IndyCar test times at Barber
At the lunch break, #2 Penske Chevy driver Josef Newgarden has turned the fastest lap in IndyCar testing Tuesday at Barber Motorsports Park. Newgarden's lap of 1m07.49s was 0.01s faster than Conor Daly in the #20 Ed Carpenter Chevy.
So far Chevys run 1-2-3-4-5 with the fastest Honda being that of #18 Dale Coyne Honda of Ed Jones at 1m07.94s.
Will Power is a close third in his #12 Penske Chevy  with an almost identical time to Daly.
Romain Grosjean spun off in T1 earlier but he is now back out running 11th quick in his #51 Dale Coyne/Rick Ware Honda.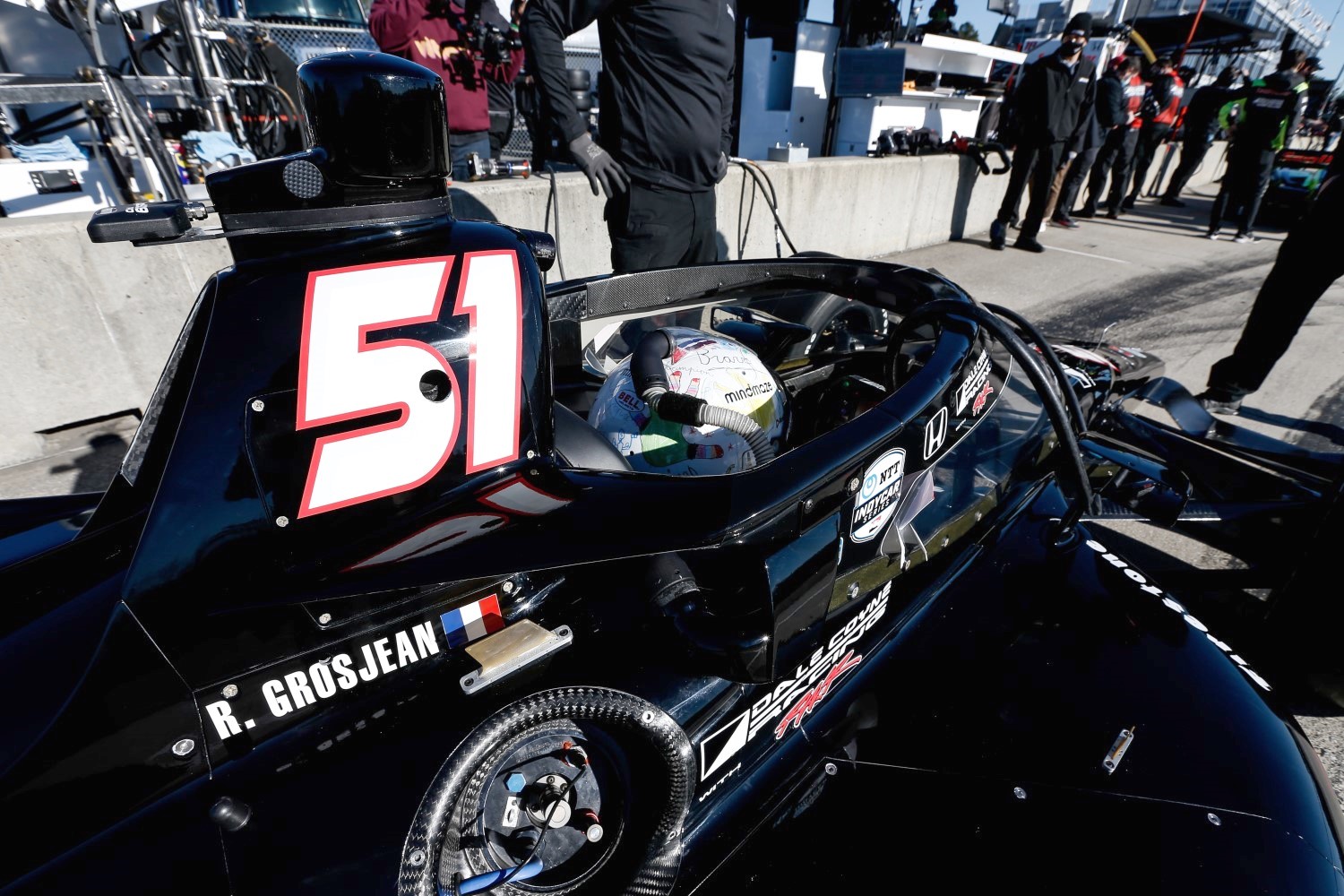 The complete testing lineup:
AJ Foyt Racing: Sebastien Bourdais, Dalton Kellett
Dale Coyne Racing: Romain Grosjean, Ed Jones
Ed Carpenter Racing: Conor Daly, Rinus VeeKay
Rahal Letterman Racing: Graham Rahal, Takuma Sato
Team Penske: Scott McLaughlin, Josef Newgarden, Simon Pagenaud, Will Power
Barber IndyCar Test Times @Noon
| | | | | | | | | | |
| --- | --- | --- | --- | --- | --- | --- | --- | --- | --- |
| Pos | No | Name | Time | Diff | Gap | Laps | Speed | Engine | Team |
| 1 | 2 | Josef Newgarden | 1m07.49s | 0.00s | 0.00s | 27 | 122.676 | Chevy | Team Penske |
| 2 | 20 | Conor Daly | 1m07.51s | 0.01s | 0.01s | 31 | 122.656 | Chevy | Ed Carpenter Racing |
| 3 | 12 | Will Power | 1m07.51s | 0.01s | 0.00s | 44 | 122.649 | Chevy | Team Penske |
| 4 | 14 | Sebastien Bourdais | 1m07.64s | 0.14s | 0.13s | 40 | 122.417 | Chevy | AJ Foyt Enterprises |
| 5 | 3 | Scott McLaughlin | 1m07.86s | 0.05s | 0.01s | 29 | 122.016 | Chevy | Team Penske |
| 6 | 18 | Ed Jones | 1m07.94s | 0.44s | 0.08s | 36 | 121.866 | Honda | Dale Coyne Racing with Vasser Sullivan |
| 7 | 15 | Graham Rahal | 1m08.03s | 0.53s | 0.08s | 58 | 121.714 | Honda | Rahal Letterman Lanigan Racing |
| 8 | 22 | Simon Pagenaud | 1m08.05s | 0.55s | 0.10s | 36 | 121.683 | Chevy | Team Penske |
| 9 | 30 | Takuma Sato | 1m08.15s | 0.64s | 0.10s | 38 | 121.505 | Honda | Rahal Letterman Lanigan Racing |
| 10 | 21 | Rinus VeeKay | 1m08.19s | 0.69s | 0.04s | 34 | 121.420 | Chevy | Ed Carpenter Racing |
| 11 | 51 | Romain Grosjean | 1m08.93s | 1.44s | 0.74s | 22 | 120.121 | Honda | Dale Coyne Racing with Rick Ware Racing |
| 12 | 4 | Dalton Kellett | 1m11.55s | 3.74s | 1.75s | 3 | 115.719 | Chevy | AJ Foyt Enterprises |