Supercars: Van Gisbergen goes two-for-two
As he did in 2017 and 2018, Shane van Gisbergen has opened up an early Repco Supercars Championship lead by claiming both race wins at the opening event of the season.
The 2016 Supercars winner capped off a perfect weekend at the Repco Mount Panorama 500 by claiming today's race win after starting from ARMOR ALL Pole Position.
Ford's Cam Waters was second today and Chaz Mostert was third in his Walkinshaw Commodore.
Waters, who is expected to feature among this year's serious title contenders, started the race perfectly, beating van Gisbergen off the line to lead over the early laps.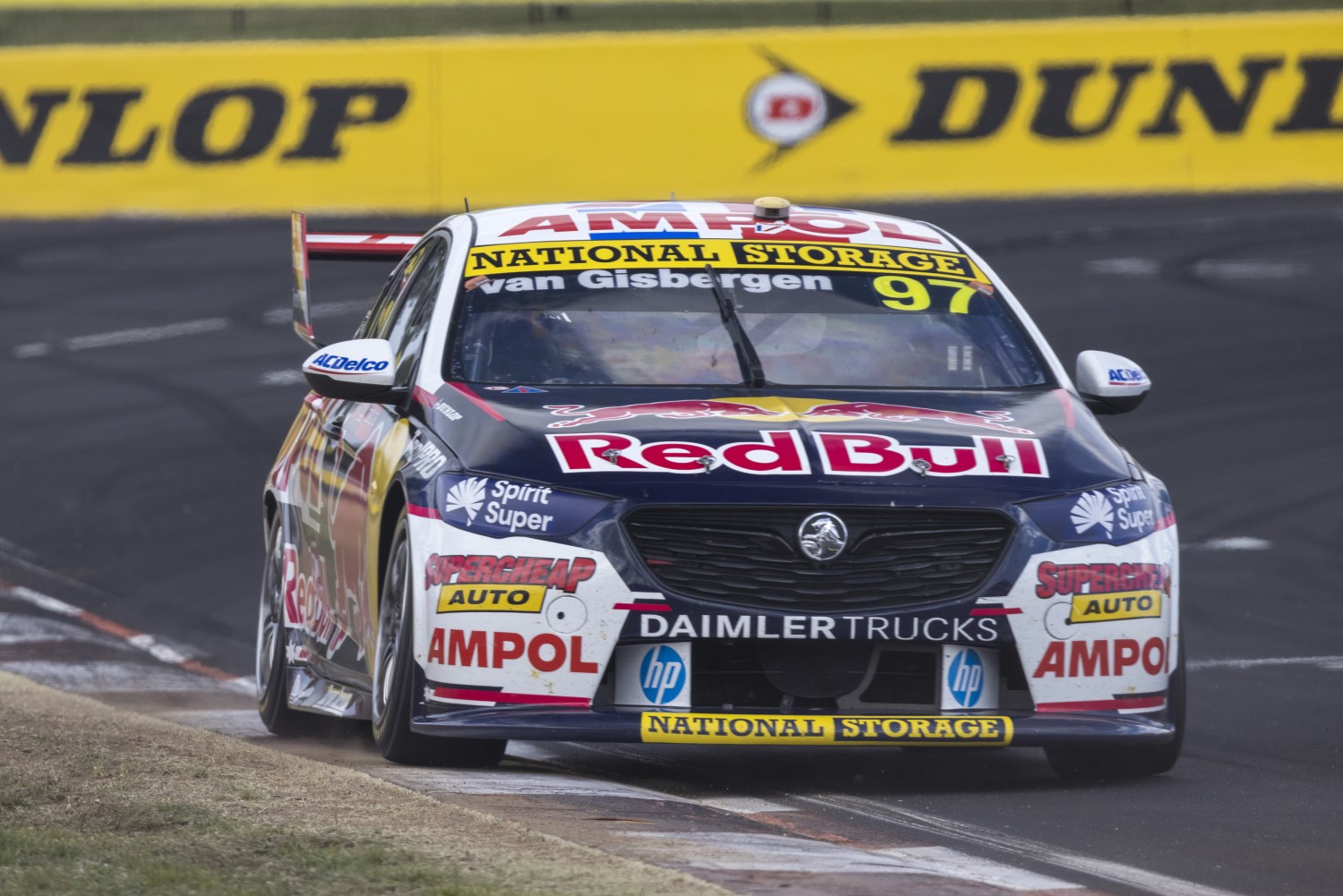 Van Gisbergen, who won the Bathurst 1000 last October, kept his cool though and overtook the Monster Mustang following a pit stop on lap 15.
From there the Red Bull driver was never headed.
This weekend's results mean van Gisbergen claimed a perfect 300 Championship points and holds a 33-point advantage over Mostert heading into next month's Penrite Oil Sandown SuperSprint.
Irwin Racing veteran Mark Winterbottom was one of the most consistent performers over the weekend and sits third 69 points off the pace, ahead of Will Davison, Jamie Whincup and Waters who lies sixth after the opening round.
Race 2 Results
| | | | | |
| --- | --- | --- | --- | --- |
| POS | No. | DRIVER | TEAM | TIME/BEHIND |
| 1 | 97 | Van Gisbergen | Red Bull Holden Racing Team | 1:26:39.279 |
| 2 | 6 | C. Waters | Monster Energy Racing | +6.128 |
| 3 | 25 | Mostert | WAU Racing Pty Ltd | +8.681 |
| 4 | 100 | A. de Pasquale | Shell V-Power Racing Team | +19.371 |
| 5 | 18 | Winterbottom | Team 18 | +23.278 |
| 6 | 88 | Whincup | Red Bull Holden Racing Team | +29.151 |
| 7 | 17 | Davison | Shell V-Power Racing Team | +30.391 |
| 8 | 20 | S. Pye | Team 18 | +33.177 |
| 9 | 7 | Heimgartner | Nissan Motorsport | +42.539 |
| 10 | 8 | Percat | Brad Jones Racing | +46.339 |
| 11 | 26 | Reynolds | Nissan Motorsport | +46.954 |
| 12 | 99 | B. Kostecki | Penrite Racing – Erebus | +48.337 |
| 13 | 2 | B. Fullwood | WAU Racing Pty Ltd | +49.201 |
| 14 | 9 | W. Brown | Penrite Racing – Erebus | +54.739 |
| 15 | 96 | M. Jones | SCT Motor Sports | +1:01.996 |
| 16 | 35 | Z. Goddard | Matt Stone Racing | +1:03.637 |
| 17 | 34 | J. Kostecki | Matt Stone Racing | +1:06.502 |
| 18 | 14 | T. Hazelwood | Brad Jones Racing | +1:22.064 |
| 19 | 5 | J. Le Brocq | Truck Assist Racing | +1:31.387 |
| 20 | 22 | G. Jacobson | Team SYDNEY – Tekno | +1:38.908 |
| 21 | 4 | J. Smith | SCT Motor Sports | +2:05.232 |
| 22 | 19 | Coulthard | Team SYDNEY – Tekno | +1 Lap |
| NC | 44 | Courtney | Boost Mobile Racing | +31 Laps |
SUPERCARS CHAMPIONSHIP STANDINGS
Shane van Gisbergen  – Red Bull Ampol Racing (300 points)
Chaz Mostert – Mobil 1 Appliances Online Racing (267)
Mark Winterbottom – Irwin Racing (231)
Will Davison – Shell V-Power Racing Team (225)
Jamie Whincup – Red Bull Ampol Racing (198)
Cam Waters – Monster Energy Racing (183)
 Bryce Fullwood – Mobil 1 Middy's (177)
David Reynolds – Penrite Racing (156)
Jack Le Brocq – Truck Assist Racing (150)
Andre Heimgartner – Ned Racing (144)
Brodie Kostecki – Erebus Boost Mobile (141)
Scott Pye – DEWALT Racing (138)
Todd Hazelwood – Dunlop Racing (129)
Nick Percat – R&J Batteries (129)
Zane Goddard – Yellow Cover Racing (126)
Jake Kostecki – Unit Racing (120)
Will Brown – Erebus WD-40 (120)
Anton De Pasquale – Shell V-Power Racing (120)
Fabian Coulthard – Local Legends (102)
Jack Smith – SCT Logistics (96)
James Courtney – Boost Mobile Mustang (90)
Macauley Jones – Coca Cola Racing (60)
Garry Jacobson – PremiAir Racing (45)
Tim Slade – CoolDrive Racing (0)