IndyCar Driver Interviews: Daly, McLaughlin and Newgarden
Participants
Conor Daly, Ed Carpenter Racing (Shown above)
Scott McLaughlin, Team Penske
Josef Newgarden, Team Penske
Daly Interview
THE MODERATOR: Good morning, Conor Daly, driver of the No. 20 U.S. Air Force Ed Carpenter Chevrolet. Thank you for joining us.
Give us a little overview of how you see things shaking out this season. How are things looking for you heading into the 2021 season?
CONOR DALY: Honestly, I think everything's looking great. We knew where we had to improve I think from last year with our group. So far, after our first two test days, we have been quite a lot more competitive, which has been nice. The car has definitely felt better for me. The operating window where my driving style works I think is smaller, but I'm broadening that out a little bit. It definitely feels better.
I'm proud of the team for the work we've done over the off-season; put a lot of effort in. It's going to be nice to get out on the racetrack when everyone is finally together. It's weird not having an open test like at COTA we did last year because that's kind of like the first taste of where everyone is at.
Yeah, I mean, Barber is going to be a lot of fun. It's going to be a tough place physically to start, for sure.
THE MODERATOR: How far are we going with this?
CONOR DALY: I feel pretty good about it honestly. After seeing it come out of the fryer this morning, whatever they do to hair, it was pretty cool. I don't know. We're just going to let it live a little bit. I'm not sure when, what the timeline looks like. I feel pretty strong about it now. Josef Newgarden even said to me this morning, he said, wow, you look good. As a man who had to grow up going up against Josef Newgarden, not only in the driving category but also the looks category, because that guy is just a finely tuned specimen, he just looks like a Greek God, it's impressive to hear that from him, so I feel pretty good about it.
THE MODERATOR: Any helmet adjustments due to that?
CONOR DALY: No, still same sized helmet. Someone actually got mad at me on the internet, What happens if your hair catches on fire because it comes out the back of your helmet?
If you think the hairs come out the back of the helmet, you have a serious problem. I'm tucking that stuff all the way in; we're maximum speed.
THE MODERATOR: We'll open it up for questions now.
Q. The truck race you're running tomorrow, you ran the trucks last year, what do you think about your chances this week as you head over to run a truck?
CONOR DALY: I'm excited. I mean, just another chance to kind of capitalize on what I learned last time. I mean, did 138 laps, then you sleep on it, you can improve quite a lot afterwards. I've just been waiting four or five months to do that.
It's something that I already know where I kind of want to start, what I want to do, and what I want to improve on. It's going to be fun. We have Fatheads and Elliott's Custom Trailers & Carts helping us out there which is really, really cool, and the team is awesome. Cody Efaw and everyone over there, Al Neese, great environment. I have some great teammates, too. It's going to be fun.
Q. Do you have any other planned races for the trucks? They'll be on road courses with COTA. Maybe the fall Vegas race or something?
CONOR DALY: I want to race everything, everywhere, anytime. I have a focused schedule on INDYCAR, so that's going to take up every bit of my time. The only reason I actually got to run Vegas is because our schedule got pushed back a little bit. I got to keep myself busy. I got to get the body rolling into race mode. It's going to help come I think Barber because I'm going to have a full distance race with some heat and sweat going. Nice preparation for the INDYCAR season.
Q. How do you get the top of your hair like that?
CONOR DALY: Well, there's a lot of electricity, passion and staring at the American flag for a certain amount of time (smiling).
Q. And it works?
CONOR DALY: So far.
Q. Is it the staring that puts it over the top?
CONOR DALY: I think it's realistically enough hairspray to set a house on fire, but I'm excited about it either way.
It's not always going to look like this. For today, we're just going to let it eat and have a great time.
Q. You have one truck race at this time on your schedule, but if opportunities came open, would you add more?
CONOR DALY: Oh, yeah, absolutely. I mean, I want to do everything that I can do. I'm ready to go whenever. But INDYCAR for sure is the focus. We got a lot of races in a row coming up in May, April and May, then basically all throughout the season. That will be taking up every bit of time.
Q. Can you remind me what your program is this year in INDYCAR?
CONOR DALY: Currently it's 14 races with Ed Carpenter Racing, the Indy 500 and all the road and street courses. That's officially all that I've got.
Q. You think you might fill the rest?
CONOR DALY: I mean, if I was a betting man, yes, I would enjoy doing the whole season. I think it's possible. But it's not up to me.
Q. Roger has had a full year to own the series. What is the most significant thing you've seen happen under his leadership?
CONOR DALY: Honestly, Roger's leadership is something that I think we're all lucky to be a part of. There's some incredible things happening with the series. I think there's a lot of energy. I know the improvements at the actual Indianapolis Motor Speedway are fantastic.
I think it's just the amount of positivity that everyone has, like, under his leadership is pretty cool. I mean, I'm excited to see when we get back to a fully, fully normal season, I think then Roger's kind of outlook on everything and his team obviously, his group of people that he's put together, that's when I think it will really start taking off into the sky, which I think is really cool. I'm excited for the future. The future is bright, for sure.
Q. The value of being able to have your deal locked in during the off-season, you haven't had that opportunity very often in your career. How valuable is that just to keep your mindset positive?
CONOR DALY: It was great. I mean, honestly, I hadn't really ever gone into like a renewal type of situation of a contract before. To have that with Ed and the Air Force, basically where we were just like, All right, we all like each other, we all know what we need to improve, let's just keep this going. That was really cool.
Ed was always really honest with me as well. Ed is a straight-shooter. Really appreciate that guy. Happy late 40th birthday to Ed. He still looks like a young, athletic man, you know what I mean? That's very exciting for him.
Yeah, I'm pumped to be with the same group. Continuity, it's nice. We saw how that paid off last year with Carlin. I think it was super important to have that first year together, come back and take advantage of it. Want to do the same thing this year with ECR, first year, now we know what to do, take advantage of it in year two.
Q. In some ways you and Ed are like part of the family, the extended family. How important is that? How much do you kind of wish maybe this opportunity had happened much earlier in your career?
CONOR DALY: Well, I've been asking him much earlier in my career to be a part of the team, but it just didn't work (smiling).
I mean, I love the group that he's got assembled. A lot of the guys there I've known actually since I was a lot younger. It would have been cool to be here for a long time. But as I told Ed, I'd love to be there for 10 years. You know what I mean? You could be at that team, settle in in a competitive environment. They've got the resources there. They're working hard. It would be great to be with those guys for a while, start winning races with them, really compete for the top spot more often.
Q. Make sure you get your Carson Wentz jersey early.
CONOR DALY: We'll see (laughter). Actually, he's a ginger, so love that. We're going. I think he's my guy now.
Q. How did it feel to have a really good test at Barber, with Rinus VeeKay? How is your relationship with him coming along? How is that working in the pits?
CONOR DALY: Rinus is obviously very talented. We all know that. He's super fast. He's a good kid, too. He's someone that is just constantly happy, constantly has a smile on his face, which is great, and he's quick.
For me, it helps. When you have someone that has raw talent like that as your teammate, it's great data to look at, great information to have. I'm very much I think more focused on the technical side, trying to develop with the experience I've got. He doesn't have that experience yet, only because last year, the rookie season, he didn't get to go to all the tracks yet. He's still got to experience some of these tracks in an INDYCAR. That was tough on the rookies last year, for sure. It's been great to work with him. Ed has put a great group around us.
He's going to be quick again this year for sure. The goal is to have us both on the podium as much as we can get there.
Q. You did well in the test. I guess you're looking forward to the first race. It's got to feel great to have a shortened oval season this year. Just gives you more races there at ECR. When do you think you might be able to talk him into having the full ride on every race?
CONOR DALY: Well, I mean, that's always the goal. We were trying to make that happen, but it's a financial game. Obviously we need to have certain things to make certain things happen.
Right now it's the best situation possible for me and the U.S. Air Force. At some point maybe that could happen. For right now, I mean, we've got this opportunity in front of us, which is 14 races.
To be honest, I would actually like more ovals on the schedule. I like the oval racing. But, yeah, for right now it works out perfectly. If I can organize another program to end up doing the full season, it all fits really well.
Q. If the planets align, you still have enough races to get the championship. Go for it. Good luck.
CONOR DALY: If that managed to happen, that would be hilarious. We'll give it a shot (laughter).
Q. We have Jimmie Johnson joining the series this year. He's such an incredible driver, résumé. A lot of folks imagine it would likely be tough for him adapting to a new series and a new car. Do you have any idea what it would feel like finishing that first race in Barber and seeing yourself ahead of Jimmie Johnson, having grown up and watched him as a kid?
CONOR DALY: I mean, Jimmie is a brave man. Also I respect the heck out of what he's doing. Doing the sports car stuff, coming over here to the INDYCAR world…
I think this season without a doubt has so much excitement. You have some real heavy hitters coming here, Scott McLaughlins of the world, Jimmie Johnson, Romain Grosjean, Pietro Fittipaldi now, two current F1 guys, V8 Supercar legend, man the world, incredible talent, then you've got Jimmie Johnson who has more trophies than all of us combined. I think we have to take advantage of that as a series and say, Look, we have the best in the world coming here to race. It's no joke. We're going to have a great time this year.
I would love to beat Jimmie. That sounds like a great plan. I'd like to beat everyone. I just think he's taken on this opportunity so perfectly. He respects the heck out of what we're doing. He's getting out there, testing as much as he can. He's doing everything he can. That's super cool. To have him part of the series, awesome.
I mean, this whole championship is just stacked. It's pretty cool to be a part of, for sure.
Q. We haven't gotten on the track for races yet. You mentioned all of the new talent and the exciting drivers. The series potentially is looking to undergo some changes or potentially renew with NBC. You have the potential of a third engine manufacturer trying to come into the series. When you are preparing for the season, you're involved with things on track, but do you have a sense of everything that's going on around you off the track and what the season can potentially mean for INDYCAR's future?
CONOR DALY: I mean, as drivers, it's our job to just try to help as much as we can make all those things happen, you know what I mean? We got to go out there, and we got to produce a great racing event. We got to be smart, but we got to be electric. We got to get our personalities out there. There's people with great personalities in this series. We got to be able to have — just got to put the best show on that we can. We have to make sure we do our work on social media, whenever we can.
It's going to take us, like all of us, to do this. It's a team sport, but it's also like a team effort in general just to get this thing to go. I mean, we all know, everyone in the Zoom here knows the excitement of this championship, how much cool stuff is going on around us with the drivers and the teams. I think there's so many full-time cars, it's awesome, it's great. Then we have an incredible Indy 500 as well that's going to be happening. We have to hammer it home to everyone that doesn't know about INDYCAR, hammer it home to everyone that might like F1. Maybe there's some F1 guys in there now, we'll check it out. I don't know.
We got to do our jobs to help make sure this series takes off as we know it deserves to do.
Q. People have asked about your truck potential for the rest of this year. We have an Xfinity race on the road course at IMS the same weekend at INDYCAR is racing there. Any chance you would potentially end up or pursue an opportunity to run both races that day?
CONOR DALY: I think I'm too poor for that series. We'll see. I'd love to be a part of it. I don't think anyone is just going to take a chance, Hey, we like your hair, jump in this Xfinity car. We'll see.
I have to focus on the INDYCAR races. Physically it's going to be hard to do both of those races in the same weekend, that's tough. But I'm a yes man. I learned that from saying yes to Travis Pastrana; anytime he asks you to do something you always say yes. I'm not a no man. I'm ready to go.
THE MODERATOR: We'll let you go now and thanks a lot for your time. Best of luck to you.
CONOR DALY: Sweet. Thank you.
McLaughlin Interview
THE MODERATOR: Scott McLaughlin, driver of the No. 3 PPG Team Penske Chevrolet. Think about where you were a year ago today and where you are now. What is the expectation? What are the goals coming into this year?
SCOTT McLAUGHLIN: Look, obviously last year took a turn for everyone. Yeah, my plan was obviously to do the Indy road course, get somewhat of a warmup, which my warmup was at St. Pete a week after my last race in the Supercar. It's been a whirlwind adventure. The last three months I've been here or so, it's been awesome to get acquainted with the team, get an understanding of INDYCAR racing, visit the Holy Grail in Indy at the Speedway there, do my ROP, which was fantastic. It's all sort of coming together.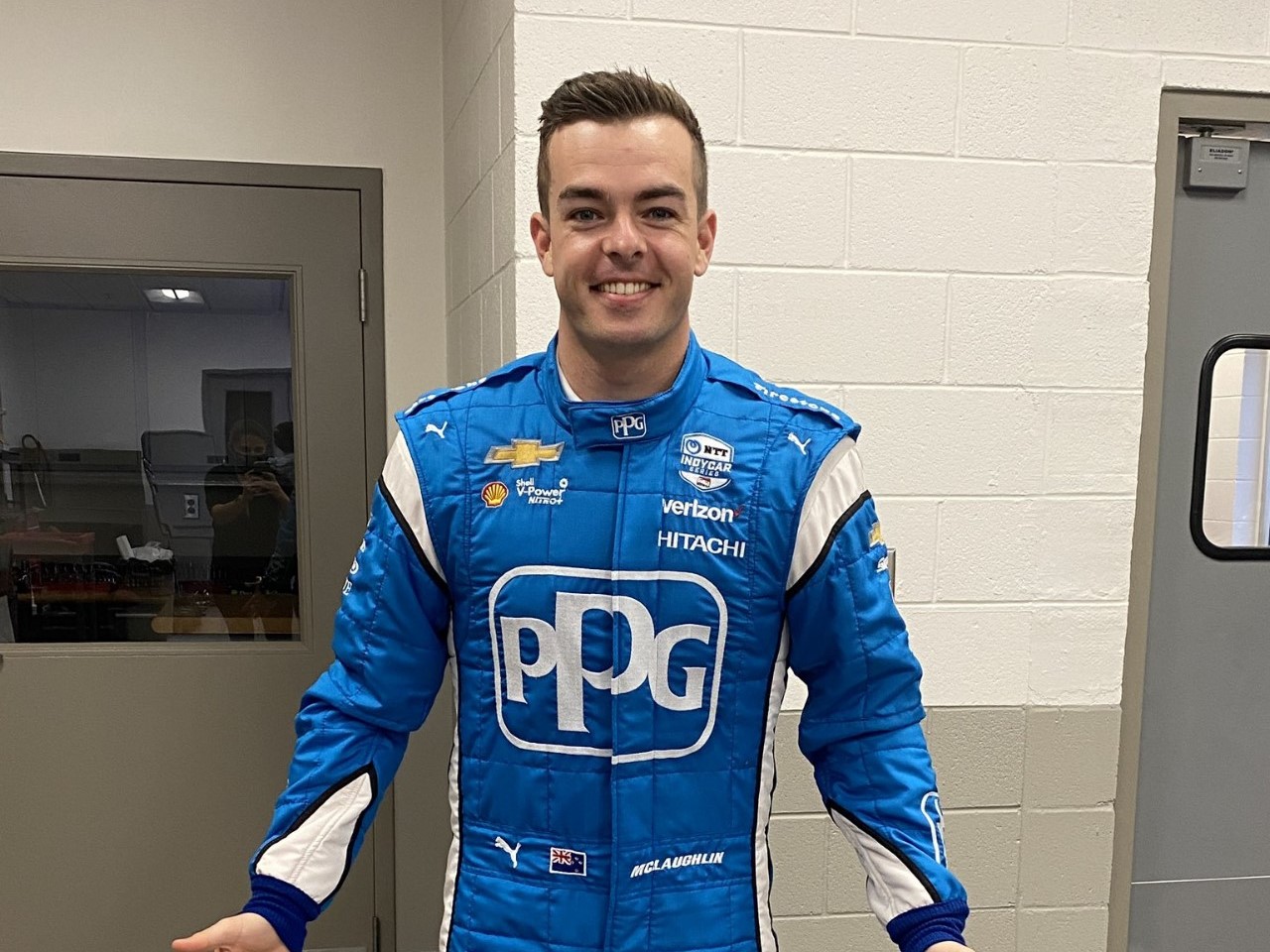 I still have a hell of a lot to learn, but I'm really enjoying it. Awesome to have PPG onboard as a primary sponsor for us for 10 races, hopefully more to come with the rest of the races, too.
THE MODERATOR: We'll open it up to questions.
Q. Obviously there's a lot of unknowns this upcoming season for you. How much comfort do you have in the first few races you've been on those racetracks before?
SCOTT McLAUGHLIN: Yeah, it's definitely nice to head to a track that you know. For me, heading to Sebring, for instance, just for the test, that was one of my first INDYCAR tests. To turn around there about a year later, actually get into it and know where everything goes, know some of the bumps, the curbs, dropoffs off the curbs, stuff like that, just little things you don't know when you turn up to a racetrack for the first time was invaluable.
I think for me right now, heading to Barber after testing there twice now, then St. Pete obviously racing there, it's a big thing for me in my first foray into INDYCAR racing. It's not going to be like that all year obviously, so I really have to take that in my stride, try to accelerate my learning as much as I can in this period for sure.
Q. Obviously being new to INDYCAR, what has been the hardest thing for you to get used to? Is it the better braking, increased downforce? Where do you have to make improvements yet to be where you want to be?
SCOTT McLAUGHLIN: There's a lot of things I've got to get used to. For instance, even just driving a turbo car. I've never really done that before in Australia. For me, I'm learning boost levels, aero maps, trusting aero, aerodynamics through corners and stuff. It's taken me a little bit of time at Barber. Barber is quite difficult. I put Barber at the same commitment level that you need at Bathurst. It's very tough.
To build up and not make a mistake in that period, it's a tough thing there. I'm slowly getting used to what I want from the car, what I can ask for, what I can't ask for. That's just going to keep getting better and better throughout the season.
This year for me is a learning season. I've got time. I'm planning to be here for a long time, not a short time. Just got to make sure I get through this year, learn the tracks, learn the car, come back stronger, even better in 2022 as well.
Q. What do you think of this rookie class?
SCOTT McLAUGHLIN: Yeah, what I think of it (laughter)? Well, I think it's phenomenal. I didn't think I'd be racing Jimmie Johnson, Romain Grosjean. It's crazy. Very exciting.
Someone put out a tweet, quite a good tweet, the rookie class where it's like three-time Supercar champion, seven-time NASCAR champion, then a guy who is a veteran of Formula 1 in their first season in INDYCAR. It just shows what INDYCAR is all about right now. It's exciting times for the category. I hope the fans relish it. I think it's awesome to have Romain and Jimmie be a part of it. They're two guys that have done so many things in world motorsport.
For me to be a part of it, I'm just proud to represent the brands, have PPG onboard, being able to try and have a good time in my first foray into American motorsport. I loved it when I came here and raced here once in 2013 back in the day with Supercars. To be here in my rookie season with those two guys, it's phenomenal. I'm really excited.
Q. You're the only one of the three running the full schedule, so I guess that gives you the edge. Is there any incentive to outperform them each week?
SCOTT McLAUGHLIN: Yeah, for sure. I think it's not just them. I've got three other teammates that are very high caliber that I'd love to have a good shot at and try and beat on the occasion while I learn and get better.
Yeah, it's not just all about them for me. It's getting the best out of myself and my team. We'll get that. We'll get better and better as the season gets on. If not, hopefully come out of the gates really fast. I'm preparing like crazy. I'm looking at footage, data, trying to make sure I'm ready for round one and we can hit the ground running.
Q. What have you learnt from your race in St. Pete that you can bring forward going into the new season?
SCOTT McLAUGHLIN: I think for me it's learning the pit stops and stuff were very big for me. Like cold tires, hot tires coming in, cold tires going out. Obviously driving the red tire was a good little introduction for me. It's one thing that I probably struggled with at St. Pete was just getting the most out of that tire. Unfortunately we can't test on that. That's all going to be race miles on that tire to get used to it.
But, yeah, just understanding little things like how to get from the hotel to the track, where the pits are, what it's like. I didn't even realize I had a scooter when I got there to get from the pits. Stuff like that. It's learning not only on-track stuff but off-track stuff to make me comfortable, settle into the series quick.
I'm enjoying it so far. I'm really excited to head back to St. Pete. I love that race circuit, love the vibe there. Hopefully we can have an amount of fans that makes it really cool.
Q. Obviously we're going to Nashville this season for the first time. Is that going to be a benefit to you do you think, given all the drivers are going with a fresh kind of point of view? You're all going in as rookies for that race.
SCOTT McLAUGHLIN: Yeah, I guess in some ways it's nice to have that happen later on down the road. I think you're going to have your experienced guys that come up to speed on the track pretty quick. These days you got simulators as well. Everyone is probably going to have a simulator go on the track at one point beforehand and get used to the track and the limits there. Obviously you got to do it in real-time.
Yeah, look, it's probably one that I've probably circled, said that's probably one that I can be on the even terms in some ways for the first time this year. Yeah, I'll try and make it work.
Q. You mentioned this would be a little bit of a learning season. You also said you're paired with some high-caliber teammates, three guys who have been series champions, two guys who have won the Indy 500. What has the team told you about what are the expectations in terms of competing against Pagenaud, Power, Newgarden? Are you going to be okay if you don't beat those guys the first weeks?
SCOTT McLAUGHLIN: My competitive instincts, probably not going to be okay with it (smiling). I'm very competitive, but I'm realistic at the same time. I've got a lot to learn. Yeah, I'd love to try and beat them a few times throughout the season. I'm not putting off that I can't. I think if I feel the car and work with my engineer well enough and get better and better, there's no reason why we can't be at the same pace as those guys, if not better.
But I'm very lucky in that way. I'm trying to soak everything up like a sponge, learn their data, learn how they drive the car, what does Will do, what does Josef do, what does Simon do? They're three very different guys in terms of driving style. I got best of both worlds. I can pick sort of what I want to do, how I want to feel the car kind of thing.
Yeah, look, it is a learning year. I'm being realistic. I know it's going to take time. Those guys got experience. Everyone has experience here. I'd love to — yeah, for sure, my competitive instinct will kick on at some point for sure.
Q. Those three guys being different in style, are you most similar to one of them so far? Can you even tell at this point?
SCOTT McLAUGHLIN: It's hard to tell. Look, you put Will Power in a cardboard box, he'd probably get pole. If you put Josef, he's just very bright. Simon, he likes the car secure. Yeah, I don't know. I'm still figuring that out right now. It's very interesting looking at the data. It's something that I haven't really had. I've only had one teammate in the past in Australia. It's nice to have three, really get an idea.
With Simona coming onboard, as well, for Team Penske at Indy there, it's going to be awesome to have her data as well, someone I've raced before in Supercars.
Q. Is there any chance you would be able to go back and run Bathurst later on in 2021?
SCOTT McLAUGHLIN: My plan is to go back and race that race. The problem being they've got quarantine periods in Australia, you have 14-day isolation in hotel rooms when you get there. With the calendar now with INDYCAR, Long Beach finishes basically two weeks before Bathurst. My quarantine would end by the time I get to Australia, two days, you lose a day going across, I think my quarantine ends the Monday after. Right now I can't do it unless something changes on their end. If it does change on their end, it's a possibility. I'm scheduled in to do it.
At the end of the day my main focus is here. If anything changed here, collided dates, something got pushed back, I don't know. We know what 2020 was like. My main objective is here. I'd give up the Bathurst opportunity obviously.
Q. Who is the team you are set to run with?
SCOTT McLAUGHLIN: Sorry?
Q. Who is the team you're set to run with?
SCOTT McLAUGHLIN: My old team. Dick Johnson Racing. We did the old deal when it was all announced over here and stuff like that.
Q. The level of experience coming in here as a rookie, when you start a test, how significant is the progress that you see that you make from the start of the test till the end?
SCOTT McLAUGHLIN: It goes in peaks and troughs. Sometimes I feel like I'm making the headway and then one of the boys will go out and smash me by half a second.
I think for me it's just getting an understanding of the car, what I want from it. The last few test days, yeah, for sure I've made gains in that area in what we want. We've really had good debriefs post-Sebring and Barber to get an idea of where we want to go forward, where we want to start, especially for Barber, for the first race there.
Yeah, anytime I can get laps in the car, keep driving, learn what I have under me, what I want under me, is beneficial. But yeah, there's been times during test days it's been frustrating. Sort of don't know exactly what I want. Then you find something, something clicks in your brain, then it all sort of comes back to you, gets going again.
But definitely the last test at Barber was the most comfortable I felt in the car. I felt really strong. Definitely a good platform for me to build on.
Q. I got to ask you this question. You're new to Team Penske. What did you think of the last lap of the Daytona 500?
SCOTT McLAUGHLIN: It was two hard racers going for a big victory. It's unfortunate. At Team Penske in the past we've always been told we can race as hard as we want but fair. They were both going for the same real estate. Certainly we know that the goal is not to make contact and stuff like that. Unfortunately that happened. But I'm sure they'll learn from it and move on together.
Q. Racers are racers. The culture at the track varies, but there's a basic template you understand. How has it been moving from one continent to another knowing you're going to be here pretty much for the full year? What is the biggest challenge for you?
SCOTT McLAUGHLIN: I think for me it's actually just knowing where to go. Little things like you wouldn't think about, but different airports, where do you put the rental cars up, where do you do all this sort of stuff (laughter). There's stuff you don't think about that's second nature in Australia that you've been there your whole life, Australia, New Zealand. To come over to this place where I've really only been here for holidays. I've gone to only one or two places, New York and a couple other places because my wife is from New York.
Yeah, it's been different. I'm going to learn a lot, learn a lot of America this year, get to see places I haven't been to and probably would never been to if I didn't race over here. It's exciting.
For instance, the fans and stuff, the fans at St. Pete were really nice. Everyone was really welcoming, coming up and wishing me good luck, welcoming me to the series. Very on the front foot with all that sort of stuff. It's pretty refreshing from that point of view, as well.
THE MODERATOR: Scott, everyone has loved your #scottlearnsamerica hashtag this year. The two I recall the most were the first time you went to Target, the first time you watched NFL Red Zone. Which one was cooler, Red Zone or going to Target?
SCOTT McLAUGHLIN: No, Red Zone by a mile. If you asked my wife, she probably enjoyed Target. She knew what to expect. But I hate shopping. I enjoyed sitting on the couch at 1:00, much to the disgust of my wife (laughter).
THE MODERATOR: Panthers fan since you're in Carolina?
SCOTT McLAUGHLIN: I am. My wife tried to get me to be a New York Jets fan. I was like, No way, they suck. I jumped on the Panthers bandwagon. Hopefully we pick up a good couple players here in the trade period and we get going. I managed to get to a game, as well. Small attendance figures, but very cool to get to my first NFL game. Saw Drew Brees play. I love American football, watched it for a long time. Best thing now is I don't have to watch it at six a.m., I can watch it at one p.m. with a beer in my hand. It's awesome.
THE MODERATOR: Thanks for joining us.
Newgarden Interview
THE MODERATOR: Josef Newgarden, the No. 2 Hitachi Chevrolet, Team Penske Chevrolet. Don't like that number, do you?
JOSEF NEWGARDEN: You know, we seem to win championships in the 2. Hopefully it's a good year for us, though.
THE MODERATOR: What is the outlook for this season? That's the goal, championship or nothing?
JOSEF NEWGARDEN: Well, it's definitely the same. It's a little boring, but it doesn't change. We want to win an Indy 500. For me specifically, that's a big goal. I've not won that race. Obviously as a team, we've had a lot of success there. They'd like to add to that.
For me, I'd like to get my first. Then the championship as well, yeah, we're looking for another one. Obviously I was hoping we were going to win our third championship last year and we could be working on the fourth. We're going to have to go back to square one and try to knock the third off this season.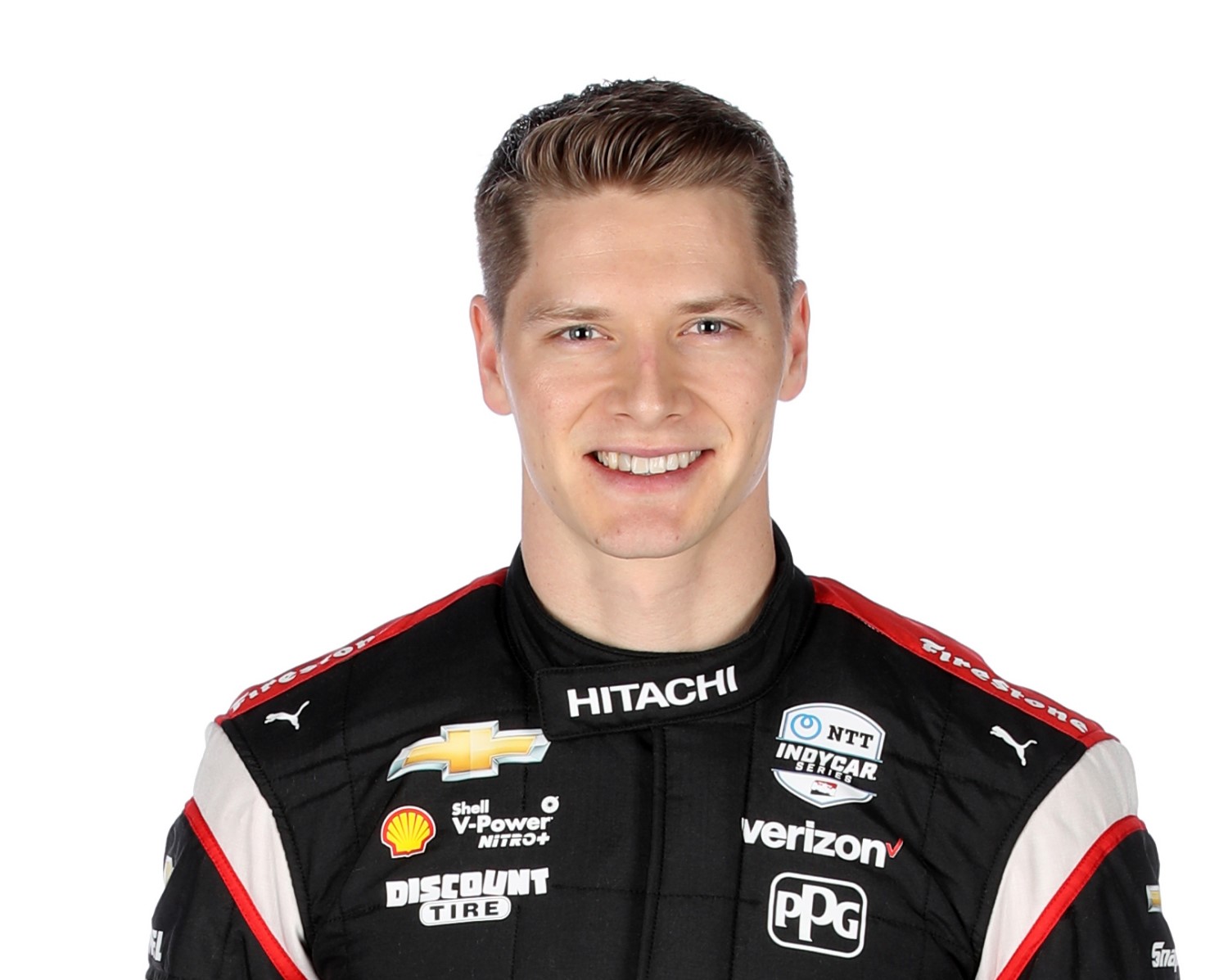 THE MODERATOR: We'll open it up for questions.
Q. Back in January before the Daytona 500, you talked about how much you started preparing for Indy already. How hard is it in INDYCAR these days to not throw all your eggs in one basket, gain in one area but not lose in area?
JOSEF NEWGARDEN: It's a balancing act, for sure. That's a good point. You have to try and understand, when you push resources one way, how does that affect everything else. I think for us, we're pretty good at balancing that formula.
Indy is a really tough track, not only because it's the most important race but I think because it's all about very small details, and those little details take a tremendous amount of time and effort to move the needle. It's all these little things that add up at the end of the day when you show up in the month of May. It takes a tremendous amount of time to make large progress at Indianapolis, whereas at another track you may find a small difference or small change with something that you found that didn't take nearly as much energy or money or resources.
I think you can have these bigger magnitudes of shift at a place like a street course or a road course compared to Indianapolis. Indianapolis really takes a ton of time, ton of resources to make those little incremental improvements forward. That's why we emphasize trying to get that right. For us, it was skewed last year in that Indy was probably one of our worst tracks. There's no doubt. We didn't perform like we wanted to at the 500 from a qualifying standpoint and race standpoint. I think that's why we've heavily leaned to get that right in the off-season.
We haven't left anything else behind. We're still pushing forward on all the other fronts because we need to be strong across the season.
Q. Is this one of the toughest seasons top to bottom with the talent level that is in the series?
JOSEF NEWGARDEN: It just seems like it gets better every year. It's hard to diminish what happened the last couple years. I think our depth of talent has been incredibly high since I've been in the series. It's just been incredibly high. It's only gotten better from 2012, whether that's teams, personnel or the drivers themselves.
Yeah, I think if you look at the championship, who is in there now this year, certainly the additions with people like Jimmie Johnson or Romain Grosjean, there's a lot of talented people in the mix. It's going to be really tough to stay at the front of the pack.
The field count is going up. It's not just the depth of talent is increasing, it's the depth is increasing but the size is increasing and you're keeping that depth with increased size. Yeah, it's going to be a tough task. INDYCAR is so tight nowadays. This is the closest form of racing that I see on the planet at the moment, the most parity out there. To try to find an edge on this competition, it takes a tremendous amount of work.
Q. How do you feel the pandemic has affected the big teams in INDYCAR? It feels like the shorter window for getting your car in the right place across the weekend, stuff like that, kind of gives a bit of an advantage to the smaller teams almost. You guys can't get everything ready as much as you would have done before. Do you see it that way or do you feel like maybe you have a better advantage because you have more resources at your disposal?
JOSEF NEWGARDEN: That's a great question.
You can look at it both ways, right? I should say you can look at it from both perspectives. You could argue we should have an easier time because there's less track time, less time to figure things out when you show up to the weekend. The big teams, more resource, they should show up more prepared.
I actually look at it the opposite way. I feel like where our strength is, when we show up on a race weekend, we have two days to work through it, we are so good at if we have a deficiency right when we roll off, we're so good at figuring out how to fix all the problems we need to fix by qualifying time Saturday afternoon, then race time on Sunday. That's where we really shined in the past, especially when you have three or four cars that are all strong. This year we're going to have all strong drivers, engineers. That's where we shine is when we have enough testing time to sort it out on a weekend.
I think last year we struggled a little bit with the shortened sessions. We were not always prepared. And not prepared in that we weren't doing our job, we just didn't forecast correctly what we needed some of the time showing up to these tracks. When you don't do that, you don't have a lot of time to figure it out. If you don't have the time, you might not get there on race day.
I think that is the new challenge with the pandemic, how do we work better in simulation, how do we show up more often with exactly what we need right away. We just know we don't have the time to fix it across a race weekend. Pretty much how you roll off is going to dictate a lot of how your weekend goes. We've been working a tremendous amount figuring out how to be better right off the truck so we don't have to play catch-up like we did last year.
Q. The Indy 500, that's the big focus for you guys this season. What are you preparing for and what have you been working on the specifics of the 500? A complex event with so many different elements to it that you need to nail.
JOSEF NEWGARDEN: Last year our qualifying form was not strong. We were all disappointed with our speed. That was first and foremost. How do we fix the speed of the cars from last season? There's been a tremendous amount of work that's been put in. We have the best of the best in my opinion when it comes to talent and personnel. There's been no shortage of effort and time to make these Penske racecars as fast as possible. That was first and foremost.
Then I think the race condition of the car, how does it really work across 30 laps on a set of tires in multiple-car drafts? That's probably the most important ingredient nowadays is just figuring out if you get buried 10 or 15 cars back, how is your car reacting in that much dirty air. That was something we needed to be stronger at.
Just outright speed and the car's potential in a big wake. That's all different this year, too. We tried to learn where we were deficient last year, but now we also need to figure out where we need to be better in the future with the new aero parts. Quite a bit of difference with not only the front wing but the underside build of the car aerodynamically. There's going to be some new elements. The car is going to drive different. We need to be better all around.
Q. Conor took high praise from you about his hair. He considers you a Greek God. If you like it, it must be good. I'm wondering if you actually like it.
JOSEF NEWGARDEN: I got to tell you, I thought he looked amazing. It's not for me, but it fits him. At this point he's built a brand, okay? I think he should own it, which he clearly is. You show up with that type of a haircut, he is on brand for Conor Daly. I thought he looked good. That was professionally done. I don't know if he told you his backstory. He went to a hairdresser this morning and got that done up. The commitment level, admirable. I admire the level of commitment he has for his brand. Good for him. Good for him. He is a very committed person.
I think Conor probably gets a bad rap at times. From a personal note, I've known Conor since he was a young kid. We grew up together racing karts. He's a super talented individual. He does work very hard and tries to get the most out of himself and out of situations that he's in.
Don't be deceived by this brand that he's got going on around him. I do think he's a hard-working individual. Yeah, I support what he's doing. I think it looks great.
Q. He said he achieves it by a lot of staring at the American flag.
JOSEF NEWGARDEN: Pretty sure he went through like three cans of hairspray. He literally got up this morning to have someone do that before he showed up.
Q. Year two under Roger Penske's ownership. What were the biggest things you saw that he achieved last year and what could be next?
JOSEF NEWGARDEN: Tremendously excited. I think we're all so thankful to have the leadership of Roger. I've been lucky enough to be in front of that personally, having driven for the team now for the last four years. I got to witness how Roger works within the corporation at Penske Corp and certainly within Team Penske. Just the way he leads people, he's really a tremendously impressive individual, but I think he's probably the best ally you could have in racing.
Now he's not an ally that I have or that our team has, but he's an ally that the entire series has. Yeah, I think they've done a tremendous job trying to weather the storm. No easy task, not for anybody, any racing series out there. I think Roger and the entire group at INDYCAR has done a great job trying to keep us afloat, get us moving to the next phase.
I think this year has strong potential to really go to the next phase of where we're at in this pandemic, hopefully back to a newer normal and working towards what we love, and that's having people at the track, putting on great shows, providing great entertainment.
I'm really excited. As we get to this next phase, I think the best is still yet to come from Roger Penske and the entire organization. I think, like I said, we're all very thankful that he's in charge and that we've got a good direction in front of us.
Q. You mentioned you feel like the best is yet to come from Roger and his team. In a year where the series is looking for a third engine manufacturer, you're looking to sign a new deal with NBC, explore new opportunities with broadcast, you mentioned the talent coming in, as drivers do you sense everything going on around the series off the track as you're getting ready this off-season?
JOSEF NEWGARDEN: Yeah, you definitely have a sense of what's moving, what needs to move, what's taking play around you definitely. There's a lot to do. Like I said, the best I do feel is still to come. But there's a lot of moving pieces. There's just a tremendous amount of effort that's going in, much more than I could fathom. Thank goodness I only really have to work on figuring out how to make cars go fast and keep it out of the wall and in Victory Lane. That's my job, which is much easier than what they are tasked with at the moment.
Yeah, there's a lot on the horizon. I think the pandemic, navigating that, has been first on the list, trying to understand how do we just get to the racetrack, how do we serve our customers the best, how do we give our race fans the best experience possible. That's still number one for all of us. Then how do we take the series as a whole, keep moving that forward every year, whether that's TV contracts, engine manufacturers. There's a lot at play there.
We have a sense of that. Thankfully that's up to better people than me. I think we do have the best of the best looking after it.
Q. As Team Penske becomes a four-car team this year, how does that dynamic change when you add another driver into the mix?
JOSEF NEWGARDEN: I'm pretty excited about it. It's good timing for us. We operate well as a three-car team. When I initially came to Team Penske, it was a four-car operation. I've seen both sides of it.
I think at this time and place, I think a four-car team will give us more strengths than weaknesses at the moment. Like Jack had asked the question about limited time on race weekends, trying to show up as prepared as possible, which is so critical now. I think having an extra car, extra hand, extra set of data, extra engineer full-time, it's all going to benefit what we're doing. We're already seeing that. We're already seeing the benefit of it.
Scott is a really smart, accomplished driver. He's really good at what he does. He's still learning INDYCAR. He's not fully up to speed, I would say. He's not going to struggle. He drives his car to a very high level. His engineer, Jonathan Diuguid, is a strong addition to our operation. I think it's going to be a big benefit to us, to have a four-car operation. I'm excited from that standpoint.
Q. Does a strong finish to a season like you had last year where you almost won the championship, but you did have a great run at the end, any of that momentum carry over or do you spend a lot of the off-season thinking about how close you came to getting a championship?
JOSEF NEWGARDEN: Well, I've tried to wipe last year from my memory as best I can, at least the tough parts. I felt like our momentum was quite consistent throughout the year, at least from a performance standpoint. We could just not seem to catch enough breaks. That's the nature of the beast. Sometimes things just go your way without even realizing why; you can't seem to do anything wrong. Some years you seem to be on the wrong end of the stick half the time.
I feel like last year was one of those years. We were just in the wrong place, wrong time, a little too often. You have that happen just one too many times, basically what happened to us is the result of it.
Yeah, we had a good run at it. I felt confident in what we could do every weekend. I felt like that in the beginning of the year, the middle and the end. I'm not trying to just ride the end-of-the-year momentum. I think the consistency we've had year over year is really strong. We need to keep that going. I think from year to year it's been really good.
Q. The Music City Grand Prix, seems like every week they're announcing another big name into the ownership group: Justin Timberlake, Dale Earnhardt Jr., the other day they announced a whole list of high-powered people in the business community. You as a Nashville resident, how excited are you about the prospects of how big that race is going to be?
JOSEF NEWGARDEN: I'm tremendously excited. I honestly think it's going to be a huge deal, I really do. Maybe I'm wrong. Maybe we show up and it's not that big of an event.
If I'm a betting man, all signs are pointing to a ginormous event, world-class event. I'm excited. The people, they have some serious hitters involved, like you said. They seem to keep just adding to that list. They're very prepared. They have everybody onboard that needs to be onboard as far as the city, the support from the Titans, the support from local business owners, from national business owners, from brands, large-name individuals. They just have everything in place to make this a world-class event.
I think that's their ambition. They want to host an incredible INDYCAR event but on top of that they just want to host a world-class event. Really that's what we should be going for. We should be able to bring race fans in to this track in Nashville to have a great time and watch a great show, but we should be attracting people that don't know anything about motorsports, maybe don't care about motorsports. Bring them to an environment where they can enjoy it.
I think the knock-on effect is they'll probably become motorsports fans as they leave the event. I'm energized about what they have going on. I think it's in the best city in the world right now for an event. I don't think anyone shows up better than Nashville at the moment when you bring these type of sporting events to that town. The sky is the limit from what I'm seeing at the moment.
Q. I was watching a Twitter video you did the other day, listing cameo videos or whatever, and you said you were in your apartment. Weren't you building a house in your hometown? Are you still doing that? Will it be ready for INDYCAR's big arrival in Nashville?
JOSEF NEWGARDEN: Yeah, still kind of transitioning. Trying to get that out of the way off my plate so we can focus on racing.
Q. With the NASCAR-INDYCAR crossover happening again this year, you've talked about wanting to run NASCAR. Is that still a possibility in the near future? Is it still going to be depending on the Indy 500 and then worry about that stuff?
JOSEF NEWGARDEN: Yeah, I'd love to. I would love to say it's on the list right now. It's not, unfortunately. I'm focused on what's in front of me, which is purely INDYCAR. But I would really love to run some stockcar events. It looks like a blast. Similar to what you see going on with Jimmie Johnson and other guys from that series, they're interested in driving in our world, and vice versa, we're interested in driving in their world. I only see that as a positive. This crossover stuff is fantastic for the sport. We're all racers at the end of the day. We all kind of want to drive anything we can, have new experiences.
I'm really hopeful at one point I can get an opportunity to cross over and dabble a little bit over there. Not take away from my INDYCAR commitments, but just kind of add to it.
THE MODERATOR: Josef, thanks for your time.
JOSEF NEWGARDEN: Thanks, everybody. Take care.