Legendary F1 announcer Murray Walker dead at 97
(Update)
How many of you ever saw this Pizza Hut Commercial with Murray Walker and Damon Hill?
---
March 14, 2021
We are deeply saddened to hear about the passing of the legendary F1 announcer Murray Walker – the voice of F1 that so many of us grew up learning to love F1 and the greatest F1 commentator that ever was.
Tributes from Formula 1 drivers and personalities have come flooding in after former F1 commentator Murray Walker – the voice of the World Championship for generations of fans – passed away on Saturday at the age of 97.
Having joined the BBC as full-time commentator from 1978, Murray eventually called time on his illustrious career after the 2001 United States Grand Prix, having become one of the most popular broadcasters in the business. He was best known for his excitable style and his many famous 'Murrayisms', and was a legendary figure in the motorsport world long after he finally hung up his microphone.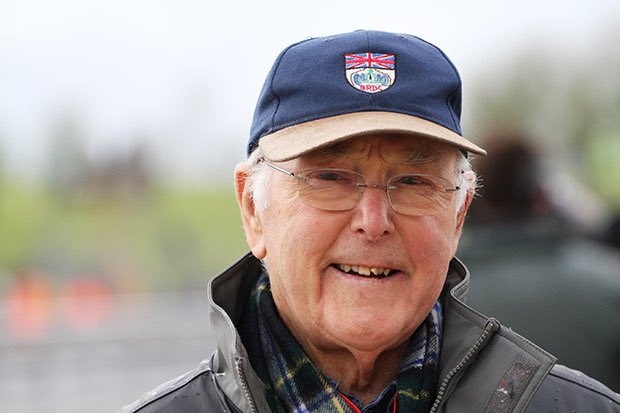 Richard Giles of the Guardian put it best – "The affection with which he was held by the paddock and across the sport rose from an enthusiasm and often overlooked a dedication to his craft that has rarely been matched in any discipline. Few commentators come to truly epitomize their subject, but over Walker's 23 years of bringing F1 to the nation he was acknowledged as a true great, and a unique talent.
"Walker first commentated on F1 full-time in 1978 for the BBC. His excitable, enthusiastic style quickly became his trademark. Clive James famously referred to him as talking like a man "whose trousers were on fire". Yet, his effervescence was the product of a genuine love for the sport and his desire to convey the passion he felt to fans. He succeeded beyond compare."
Murray Walker could make ANYTHING exciting with his eccentric commentary style. This is one of my favourites – snooker! "He's missed it, he's missed it, FANTASTIC!!" pic.twitter.com/KQcg5iqN2A

— Paul McGinnes 🏁 (@PaulMcG92) March 13, 2021
"It was never work to Murray, it was never just commentating, it was simply telling the world about something he loved."

Murray Walker remembered… pic.twitter.com/ZqEJa9Hfl9

— Formula 1 (@F1) March 13, 2021
There's only one Murray Walker 🎙 pic.twitter.com/4f2YQdyrJT

— ESPN F1 (@ESPNF1) March 13, 2021
The late F1 commentator Murray Walker, right, in 1945, as a 21-year-old tank commander, in the 4th Armoured Brigade.

He had just crossed the Rhine, when who should be bump into, but his dear old dad, left, who was covering the advance for the British newspapers. pic.twitter.com/1ltrN1Tacu

— Lost Glasgow (@LostGlasgow) March 13, 2021
The legendary Formula 1 commentator Murray Walker has died at the age of 97.
Here's a look back at the time he "realised a life ambition" by getting behind the wheel of a Formula One car. pic.twitter.com/YiwfIiIwCV

— BBC Archive (@BBCArchive) March 13, 2021
Very sad to learn that Murray Walker has passed away. @F1 Grand Prix commentator for over 25 years for the BBC and ITV, notably with James Hunt, he was the voice of Formula 1. All the @FIA family pays tribute to him. My thoughts are with his loved ones. pic.twitter.com/NtD178U8HF

— Jean Todt (@JeanTodt) March 13, 2021
"With a mic in his hand he was an energetic, voluble man on a mission, and his audience loved him for it because it was real"https://t.co/FmntR7Ni0b

— Formula 1 (@F1) March 13, 2021
RIP Murray Walker #F1

(ITV coverage of 2001 US GP, his final broadcast as a full-time commentator) pic.twitter.com/383OqElOQc

— F1 in the 2000s (@CrystalRacing) March 13, 2021
RiP Captain Murray Walker of the 4th Armoured Brigade, tank commander and the voice of Formula One. pic.twitter.com/4pa87gekZY

— Daniel Scholefield (@Burntime0101) March 13, 2021