Josh Hart wins Gainesville title in historic Top Fuel debut
It didn't take long to settle the debate over who would be NHRA's next first-time pro winner after Josh Hart drove to a win at the Amalie Motor Oil NHRA Gatornationals in his Top Fuel debut. Hart is a two-time U.S. Nationals Top Alcohol Dragster champion so he knows a thing or two about performing on a big stage, but nothing he's done to this point in his career could ever compare to his debut in Gainesville where he defeated Shawn Langdon in the final round. Hart, a native of Ocala, Fla., joined a short list of drivers who have won in their professional debut, and become the first driver to accomplish the feat in Top Fuel since the late Darrell Russell in 2001.
Hart was consistently in the 3.8-second zone throughout eliminations including a 3.826 in the final after Langdon's DHL dragster knocked the tires loose and slowed to a 4.244. Not surprisingly, Hart was nearly speechless as he was handed the first Top Fuel Wally of the 2021 Camping World NHRA Drag Racing Season.
"Never in a million years would I have thought this was going to happen," said Hart. "I've wanted to do this for a very long time. Ron [Douglas, crew chief] gave me an amazing car. It was a monster going down the track."
Hart's big break came in the semifinals where reigning Rookie of the Year Justin Ashley had troubles with his Mike Green-tuned entry and never left the starting line. Ashley struggled to do a burnout and set off the supercharger oiling system before he was able to stage. Hart was not the least bit distracted and powered to a 3.811 to earn lane choice for his first professional final. Earlier, Hart defeated Clay Millican, and then advanced after three-time world champion Steve Torrence smoked the tires.
Langdon won the U.S. Nationals and also went to the semifinals in Dallas during the abbreviated 2020 season, but a slow start prevented him from contending for a second Top Fuel world championship. Langdon, who also has a pair of Super Comp championships to his credit, won't have that problem this season after driving his Kalitta Motorsports/DHL dragster to a runner-up finish in Gainesville.
Langdon was solid in the early rounds with runs of 3.75 and 3.76 in his wins against Doug Foley and Leah Pruett. He also topped Antron Brown's Matco Tools dragster in the semifinals with a 3.821 after Brown smoked the tires.
J.R. Todd drove his DHL Camry to victory at the 52nd annual Amalie Oil Gatornationals at the Gainesville Raceway to kick off Toyota's 20th season of NHRA competition in fine fashion Sunday. With the win, Todd completed the NHRA Grand Slam of winning the four biggest events in the sport – the Gatornationals, the Winternationals, the U.S. Nationals and the NHRA Finals.
Todd began the day as the sixth seed and opened up with victories over Blake Alexander and Tim Wilkerson in the first two rounds.  In the semifinals, he left the line even with Cruz Pedregon before surging ahead by the 60' mark and never trailed. That would set up a match-up with Robert Hight in the finals. Todd enjoyed a .010-second advantage on the tree, only to see both cars smoke the tires quickly. Todd was able to recover first, though, and led by more than three-tenths at the 330' mark and drove off to an easy victory and the early points lead in what promises to be an extremely competitive season in the Camping World NHRA Funny Car class.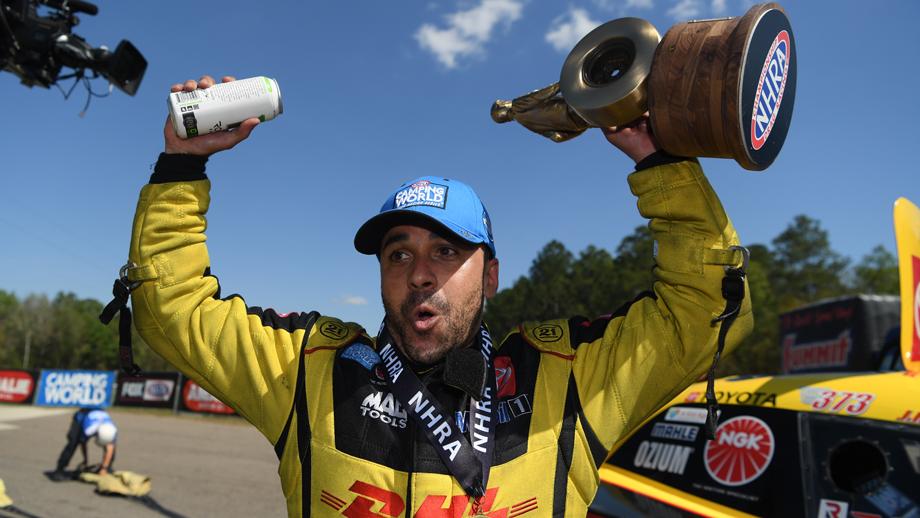 The importance of winning one of NHRA's oldest and most prestigious events in a car owned by Hall of Famer Connie Kalitta isn't lost on Todd, who has 10 wins in Funny Car to go along with 9 in Top Fuel.
"It's amazing to be among the legends that have won this race," Todd said. "This is [Big Daddy] Don Garlits country down here. It almost makes me want to become a Florida resident. I might not go back to Indiana now. I have to thank Connie for giving me this opportunity. No offense to anyone else in Funny Car, but Robert Hight is the best out here. That team sets the benchmark for the rest of us. I was surprised when it blew the tires off.  I just kind of rolled into the throttle but he never came by and we got another one of these gold men [Wally trophy]."
Todd started from the No. 6 qualifying spot with his Jon Oberhofer-tuned Toyota and worked his way to the final with wins against Blake Alexander, Tim Wilkerson, and Cruz Pedregon. Todd had every reason to be surprised when his car smoked the tires in the final since he'd made three clean 3.9-second runs to that point including a 3.933 against Alexander and a 3.940 in his win against Wilkerson's Levi, Ray, & Shoup Mustang.
Hight, who has been sidelined for a calendar year, showed zero signs of rust in his return to the sport. Tuner Jimmy Prock put the Auto Club Camaro into the No. 4 spot in qualifying and the four-time Gainesville winner did the rest by scoring wins against Bobby Bode, boss John Force, and Bob Tasca III. Hight dropped a cylinder in the semifinals and slowed from his earlier 3.9-second pace to a 4.09, but that was enough to cover Tasca, who also dropped a cylinder in his Motorcraft Quick Lane Ford.
J.R. Todd Winner's Circle Quotes:
Opening Statement
It was nice to put our DHL Toyota Camry in the winner's circle. Our goal every week is to show up and win. 2021 is a new year and it's a good way to start off the season with a win here at one of the biggest races of the year. Now we need to ride that momentum as long as we can. This is one you want to check off the list when you see the schedule whether it's the first race or the third race. It's the first time this has ever been the first race of the season and I guess we're the points leader until we get out west.
Tell us about the final run vs. Robert Hight?
It was a little warm and the sun was on the track and at this place, the later in the day with the sun out, the track can just get hot and nasty. That was definitely the case in the final. The starting line wasn't as good as it was early and we both blew the tires off. I thought for sure that he was going to be driving away from us. I never saw him and just rolled back onto the throttle and was able to go all the way down with it and turn on the win light.  It's pretty special to do here in Gainesville.
On winning a pedalfest:
My first Funny Car win came on a pedalfest at Sonoma back in 2017. We don't get a lot of practice to do that.  It just comes with seat time. It was more lucky than anything.
This was your first Gatornationals win and in the process you have now swept the four biggest races on the NHRA schedule, how does that feel?
To be able to win all the majors that are on the schedule, that's pretty awesome. This is Don Garlits country. When you think of the Gatornationals you think of all the legends of the sport that have done well here. Connie (team owner Kalitta) has won this race and I lost my really good friend Eric Medlen here, so it's a pretty special event for me. For whatever reason, I've always had terrible luck here in the past. It's nice to finally turn that around for the DHL Toyota guys.
How was it to face Robert Hight and the Force team in their return? 
Everybody out there in Funny Car is tough, but in my opinion, Robert Hight is the best driver in the category and that team sets the benchmark for the rest of us. When you beat them in the final round, you feel like you really accomplished something.
Did you feel this weekend was somewhat of a return to normalcy?
I hope so. The crowd today looked more like a normal crowd that we're used to seeing in Gainesville. I hope this is a sign of things to come in the future so we can run all of the events on the Camping World schedule and we can get fans back in the stands because they are the ones that make this happen. I have a lot of friends from my hometown of Lawrenceburg, Indiana, that came down here and it felt great to put our DHL Toyota into the winner's circle in front of them.
As birthday presents go, a Wally in the Amalie Motor Oil NHRA Gatornationals is certainly unique. And appreciated.
Greg Anderson, driving the RaceStar Wheels Chevrolet Camaro SS, earned the 95th Pro Stock victory of his career and picked up his fifth Gatornationals title on his 60th birthday in the National Hot Rod Association (NHRA) Camping World Drag Racing Series season opener.
Robert Hight nearly won for the fifth time at Gainesville Raceway, too, finishing runner-up in the Funny Car category in his Auto Club of Southern California Chevrolet Camaro SS.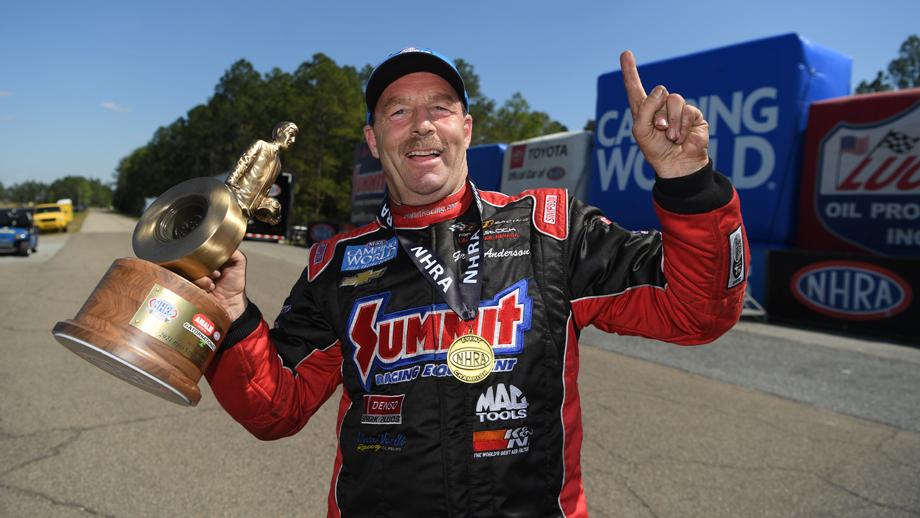 "This is absolutely perfect," said Anderson, the No. 1 qualifier for the 107th time. "Being that it's been a year and a half since I won (Dallas 2019) and it happened on my birthday, there's a lot of reasons that it stands out.
"I've had a pretty good race car for the last six months and we just haven't been able to get to close the deal for whatever reason, whether it's driver or mistakes made or whatever. It feels good to finally close the deal and prove to yourself you still can win. That's a shot in the arm and will help us from top to bottom on this race team. I'm confident that it won't be our last."
Anderson, who extended his NHRA record for consecutive race day starts to 400, moved to within two wins of leader Warren Johnson on the all-time Pro Stock list. He also closed to six elimination round wins of Tony Schumacher (850) for third on the all-time list. Sixteen-time Funny Car champion John Force leads both categories with 151 victories and 1,357 round wins.
Anderson turned on the win light in the final with a 6.602, 209.33 run after Coughlin shook the tires off the starting line and had to lift off the throttle. For Anderson, the win also breaks a long dry spell that dates back to the 2019 Dallas race.
"Thanks to everyone who works on this great race team," said Anderson. "We came here with Race Star Wheels on the car this weekend and I think they made the car faster. This is a match made in heaven. Finally, it's great to get back to victory lane in Gainesville."
The Pro Stock field in Gainesville was so tightly bunched that it would be hard to pick out a favorite, but Anderson's KB Racing Camaro was certainly among them. In qualifying, Anderson was the top qualifier for the 107th time in his career, and he worked his way to career final No. 159 with a combination of smooth driving and brute horsepower. Anderson opened with a 6.550 on what amounted to a single run after Cristian Cuadra left ahead of the green light. Anderson left first against Alex Laughlin's Speed Society Camaro in the quarterfinals and ran a consistent 6.555 to advance and he finished off the drive to the final with a narrow 6.56 to 6.58 win against Deric Kramer's Camaro, which also uses engines from KB Racing.
Nine races into his Pro Stock career and third-generation racer Troy Coughlin Jr. seems destined to find the winner's circle. Already a winner in Super Comp, Super Gas, and Top Alcohol Dragster, and a competitive driver in Pro Mod and Top Fuel, Coughlin moved to Pro Stock early last season and drove to a final round in his rookie season before he lost to his uncle, Jeg Coughlin Jr. Troy Jr. powered past fellow young guns Aaron Stanfield and brothers Cristian and Fernando Cuadra Jr. to reach the final round in his JEGS/Elite Camaro.
Matt Smith dominated the shortened 2020 season with a performance that included a win in Gainesville, a solid 17-6 record in elimination rounds, and his fourth Pro Stock Motorcycle world championship. A lot has changed in the Pro Stock Motorcycle class in the last six months, but one thing that has not is Smith's ability to win races. Smith, aboard his Denso EBR, earned the 27th title of his career when he stopped Ryan Oehler in the final round. Smith ran more than 200 mph on every run on Sunday including the final where his 6.785 easily covered Oehler's competitive 6.869 effort.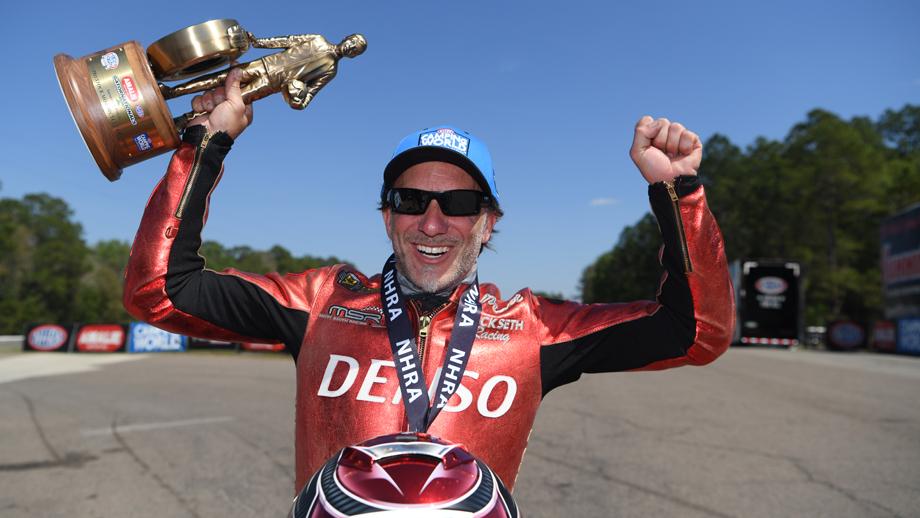 Smith was the second-quickest qualifier with a solid 6.76 and then earned his way to the final with wins against Jimmy Underdahl, Hector Arana Jr., and class veteran Steve Johnson, who made his first start in the class 34 years ago. Smith kicked off the day with a convincing win against Underdahl, who is now a member of Jianna Salinas' Scrappers team. Smith's 6.811 easily covered Uunderdahl's 6.91 best. Arana Jr. put up more of a fight in the quarterfinals, but Smith left first and rolled to a 6.808 to 6.816 victory. Johnson also proved to be no match for the power of Smith's V-twin EBR. Smith has now won back-to-back Gainesville titles, but this marks the first time he's left the first race of the season as the points leader.
"I knew I just had to race my lane," said Smith, who was hurried to the starting line to accommodate the FOX television schedule. "This Denso EBR was running on mean this weekend. I was not getting the E.T. I wanted but we were running the big speeds. I also have to thank Cory [Reed] and Joey [Gladstone] for loaning me a front wheel and brakes. I wouldn't have won this race without you."
A year ago, Oehler sprinted to the early-season points lead in the Pro Stock Motorcycle class when he won the first of four events held at Lucas Oil Raceway at Indianapolis, and after his performance in Gainesville, he figures to be among the class' leaders again this season. Oehler raced to his third career final round with wins against Jerry Savoie and Karen Stoffer. He may not have needed it, but Oehler also caught a break in the semifinals when Indy champ Scotty Pollacheck lost oil pressure on his Denso EBR and didn't' leave the starting line.