Nasr tops opening 12 Hours of Sebring practice
Felipe Nasr (shown above) set the quickest time in opening practice for this weekend's 12 Hours of Sebring.
Nasr posted a 01m46.212s lap driving the #31 Whelen Engineering Cadillac DPi-VR, which was 0.407s quicker than Renger van der Zande in the #01 Chip Ganassi Racing Cadillac.
Van der Zande outpaced the #60 Meyer Shank Racing Acura ARX-05 of Dane Cameron by 0.306s, while the top five was completed by Tristan Vautier in the #5 Mustang Sampling Cadillac and Ricky Taylor in the Daytona-winning #10 Wayne Taylor Racing Acura ARX-05.
Mikkel Jensen topped LMP2 for PR1/Mathiasen Motorsports, with Sebring veteran Guy Smith second for United Autosports ahead of WIN Autosport in third place.
In GTLM Jordan Taylor's #3 Corvette C8.R was fastest with a time of 01m56.715s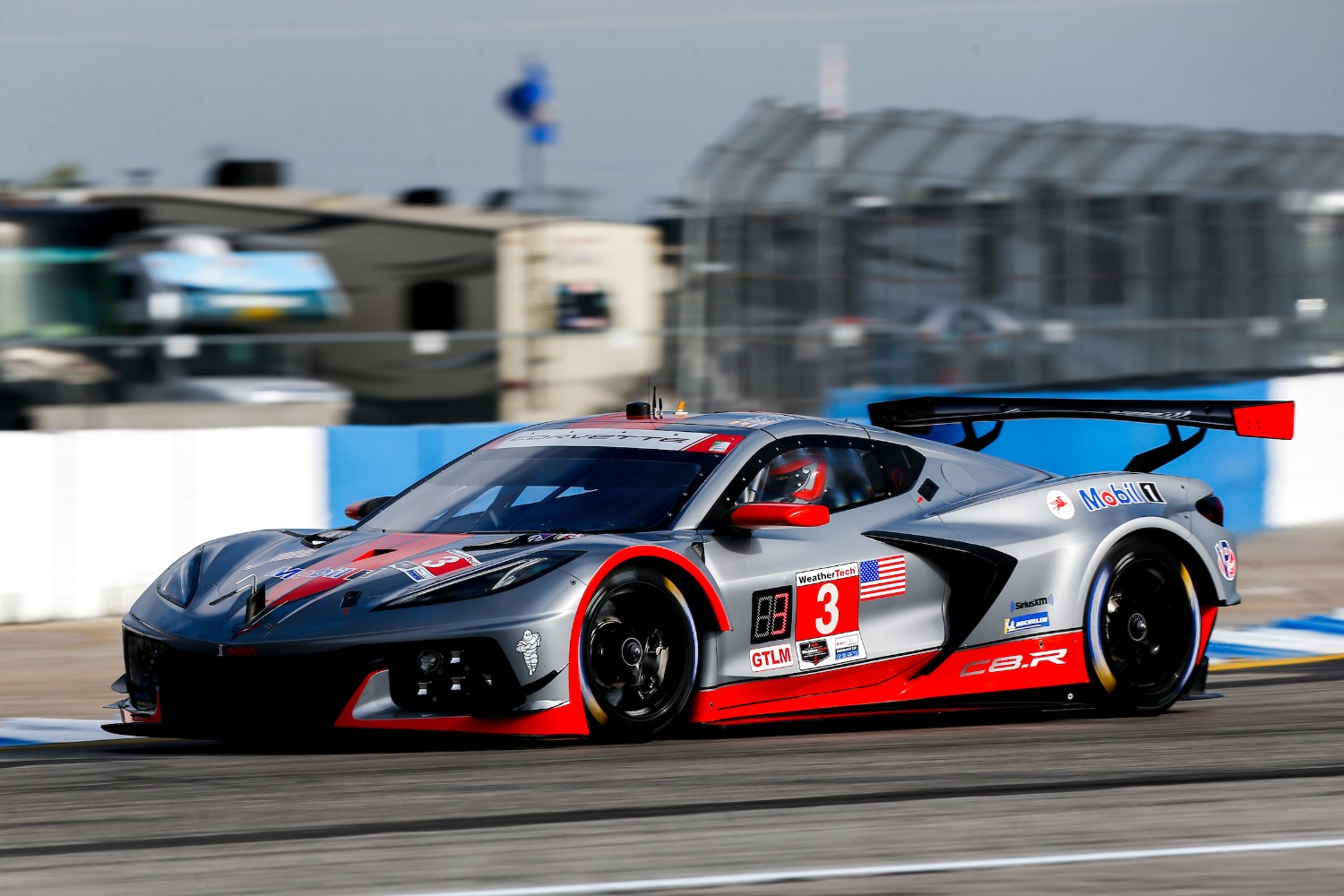 Taylor's best time was half a second clear of the #79 WeatherTech Racing Porsche 911 RSR-19 of Mathieu Jaminet, with Tommy Milner third in the #4 Corvette ahead of the two Rahal BMWs.
Jeroen Bleekemolen topped LMP3 in the #91 Ligier JS P320 for Riley Motorsports, with George Kurtz second for CORE Autosport.
Finally, Bill Auberlen led the way in GTD, posting a best time of 02:00:456 in the #96 Turner Motorsports BMW M6 GT3.
Practice 1 Results
Pos
No.
Team
Class
Car
Driver 1
Driver 2
Driver 3
Time
Behind
Gap

1

31

Whelen Engineering Racing

DPi

Cadillac DPi

Felipe

Nasr

Mike

Conway

Pipo

Derani

1:46.212

0.000s

0.000s

2

01

Cadillac Chip Ganassi Racing

DPi

Cadillac DPi

Renger

van der Zande

Kevin

Magnussen

Scott

Dixon

1:46.619

+0.407

+0.407

3

60

Meyer Shank Racing w/Curb-Agajanian

DPi

Acura DPi

Dane

Cameron

Olivier

Pla

Juan Pablo

Montoya

1:46.925

+0.713

+0.306

4

5

Mustang Sampling / JDC-Miller MotorSports

DPi

Cadillac DPi

Tristan

Vautier

Loic

Duval

Sebastien

Bourdais

1:47.160

+0.948

+0.235

5

10

Konica Minolta Acura ARX-05

DPi

Acura DPi

Ricky

Taylor

Filipe

Albuquerque

Alexander

Rossi

1:47.446

+1.234

+0.286

6

48

Ally Cadillac Racing

DPi

Cadillac DPi

Jimmie

Johnson

Kamui

Kobayashi

Simon

Pagenaud

1:47.599

+1.387

+0.153

7

55

Mazda Motorsports

DPi

Mazda DPi

Oliver

Jarvis

Harry

Tincknell

Jonathan

Bomarito

1:47.969

+1.757

+0.370

8

52

PR1 Mathiasen Motorsports

LMP2

ORECA LMP2 07

Ben

Keating

Mikkel

Jensen

Scott

Huffaker

1:49.920

+3.708

+1.951

9

22

United Autosports

LMP2

ORECA LMP2 07

James

McGuire

Wayne

Boyd

Guy

Smith

1:50.745

+4.533

+0.825

10

11

WIN Autosport

LMP2

ORECA LMP2 07

Steven

Thomas

Tristan

Nunez

Thomas

Merrill

1:52.384

+6.172

+1.639

11

8

Tower Motorsport

LMP2

ORECA LMP2 07

John

Farano

Gabriel

Aubry

Tim

Buret

1:52.486

+6.274

+0.102

12

18

Era Motorsport

LMP2

ORECA LMP2 07

Dwight

Merriman

Kyle

Tilley

Ryan

Dalziel

1:54.957

+8.745

+2.471

13

3

Corvette Racing

GTLM

Chevrolet Corvette C8.R

Antonio

Garcia

Jordan

Taylor

Nicky

Catsburg

1:56.715

+10.503

+1.758

14

91

Riley Motorsports

LMP3

Ligier JS P320

Jim

Cox

Dylan

Murry

Jeroen

Bleekemolen

1:56.917

+10.705

+0.202

15

54

Core Autosport

LMP3

Ligier JS P320

Jonathan

Bennett

George

Kurtz

Colin

Braun

1:56.992

+10.780

+0.075

16

83

WIN Autosport

LMP3

Duqueine D08

Matthew

Bell

Rodrigo

Sales

Niklas

Kruetten

1:57.057

+10.845

+0.065

17

74

Riley Motorsports

LMP3

Ligier JS P320

Gar

Robinson

Spencer

Pigot

Scott

Andrews

1:57.151

+10.939

+0.094

18

79

WeatherTech Racing

GTLM

Porsche 911 RSR – 19

Cooper

MacNeil

Mathieu

Jaminet

Matt

Campbell

1:57.274

+11.062

+0.123

19

33

Sean Creech Motorsport

LMP3

Ligier JS P320

Joao

Barbosa

Yann

Clairay

Lance

Willsey

1:57.335

+11.123

+0.061

20

4

Corvette Racing

GTLM

Chevrolet Corvette C8.R

Tommy

Milner

Nick

Tandy

Alexander

Sims

1:57.577

+11.365

+0.242

21

25

BMW Team RLL

GTLM

BMW M8 GTE

Connor

De Phillippi

Philipp

Eng

Bruno

Spengler

1:57.710

+11.498

+0.133

22

38

Performance Tech Motorsports

LMP3

Ligier JS P320

Rasmus

Lindh

Dan

Goldburg

Mateo

LLarena

1:58.122

+11.910

+0.412

23

24

BMW Team RLL

GTLM

BMW M8 GTE

John

Edwards

Jesse

Krohn

Augusto

Farfus

1:58.167

+11.955

+0.045

24

7

Forty7 Motorsports

LMP3

Duqueine D08

Jim

Norman

Oliver

Askew

Austin

McCusker

1:59.072

+12.860

+0.905

25

96

Turner Motorsport

GTD

BMW M6 GT3

Bill

Auberlen

Robby

Foley

Aidan

Read

2:00.456

+14.244

+1.384

26

14

Vasser Sullivan

GTD

Lexus RC F GT3

Aaron

Telitz

Jack

Hawksworth

Kyle

Kirkwood

2:00.663

+14.451

+0.207

27

19

GRT Grasser Racing Team

GTD

Lamborghini Huracan GT3

Stephen

Simpson

Franck

Perera

Tim

Zimmermann

2:00.966

+14.754

+0.303

28

99

Team Hardpoints EBM

GTD

Porsche 911 GT3R

Rob

Ferriol

Earl

Bamber

Trenton

Estep

2:01.140

+14.928

+0.174

29

75

Sun Energy 1

GTD

Mercedes-AMG GT3

Kenny

Habul

Maro

Engel

Mikael

Grenier

2:01.158

+14.946

+0.018

30

16

Wright Motorsports

GTD

Porsche 911 GT3R

Patrick

Long

Trent

Hindman

Jan

Heylen

2:01.240

+15.028

+0.082

31

1

Paul Miller Racing

GTD

Lamborghini Huracan GT3

Bryan

Sellers

Madison

Snow

Corey

Lewis

2:01.661

+15.449

+0.421

32

9

Pfaff Motorsports

GTD

Porsche 911 GT3R

Zacharie

Robichon

Laurens

Vanthoor

Lars

Kern

2:01.735

+15.523

+0.074

33

28

Alegra Motorsports

GTD

Mercedes-AMG GT3

Daniel

Morad

Michael

de Quesada

Billy

Johnson

2:02.053

+15.841

+0.318

34

12

Vasser Sullivan

GTD

Lexus RC F GT3

Frankie

Montecalvo

Zach

Veach

Robert

Megennis

2:02.094

+15.882

+0.041

35

44

Magnus with Archangel

GTD

Acura NSX GT3

John

Potter

Andy

Lally

Spencer

Pumpelly

2:02.889

+16.677

+0.795

36

23

Heart Of Racing Team

GTD

Aston Martin Vantage GT3

Ian

James

Roman

De Angelis

Ross

Gunn

2:02.940

+16.728

+0.051

37

88

Team Hardpoint EBM

GTD

Porsche 911 GT3R

Christina

Nielsen

Katherine

Legge

Bia

Figueiredo

2:03.881

+17.669

+0.941