Nasr Quickest Again in Second Practice at Sebring
Felipe Nasr kept Action Express Racing on the top of the time sheets at Sebring International Raceway in the second practice session of the day for the 2021 12 Hours of Sebring.
Nasr turned a fast lap of 1m47.323s in the No. 31 Action Express Cadillac late in the session to edge out the No. 5 JDC-Miller Motorsports Cadillac of Loic Duval by 0.181 seconds.
Oliver Jarvis  was third quick in the No. 55 Mazda RT24-P.
Kevin Magnussen was 4th the No. 01 Chip Ganassi Racing Cadillac.
The #10 Wayne Taylor Acura ARX-05swas 4th and the #60 Meyer Shank Racing Acura rounded out the top-5.
LMP2 was led by the No. 52 PR1/Mathiasen Motorsports Oreca 07 Gibson of Mikkel Jensen while Dylan Murry put the No. 91 Riley Motorsports Ligier JS P320 Nissan out front in LMP3.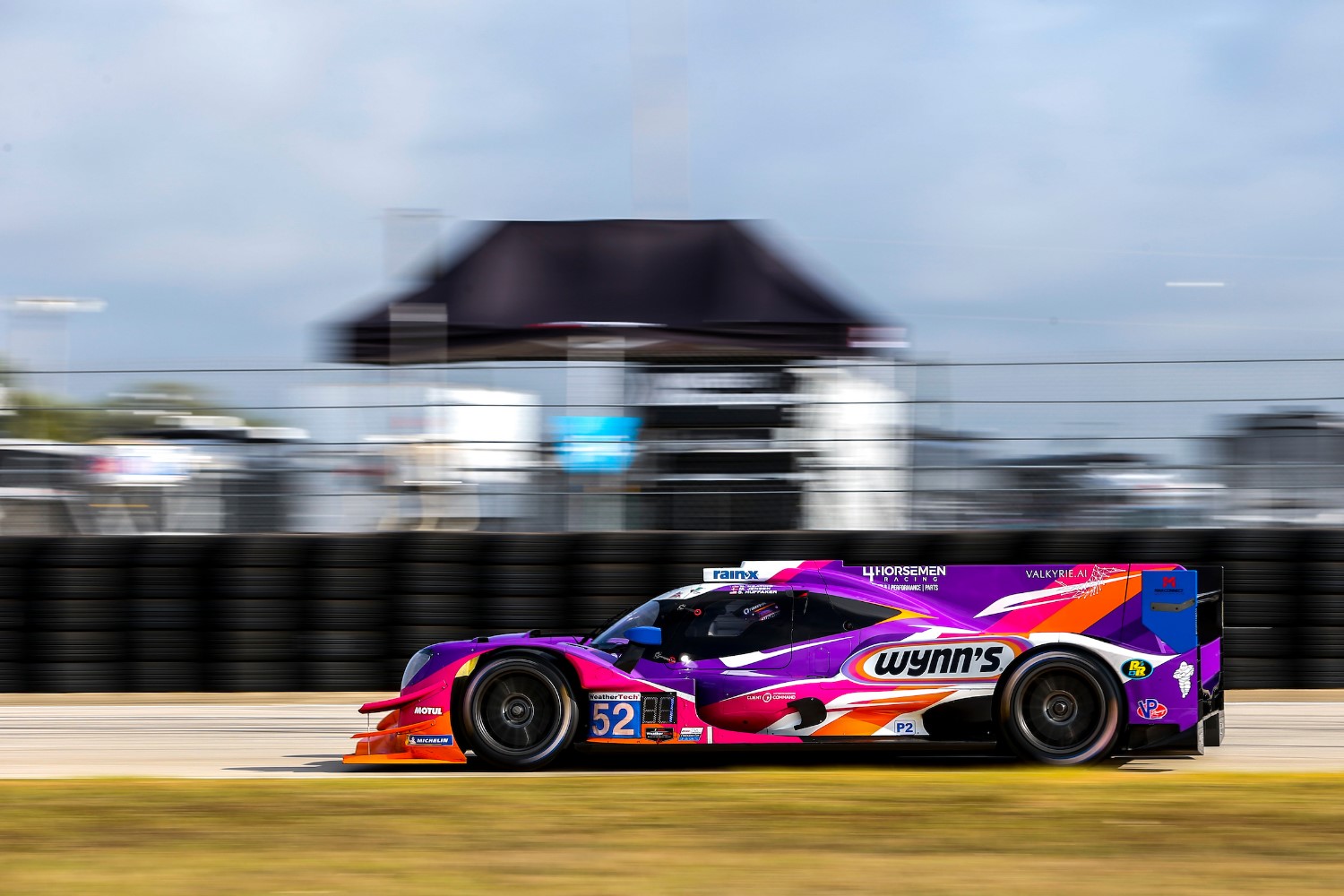 GT Le Mans was led by the  No. 79 WeatherTech Racing Porsche 911 RSR-19 of Matt Campbell.
The No. 75 SunEnergy1 Racing Mercedes-AMG GT3 Evo of Mikael Grenier was quickest in GTD.
A 90-minute night practice session gets underway at 7:30 p.m.
Practice 2 Results
POS

NO.

TEAM

CLASS

CAR

DRIVER 1

DRIVER 2

DRIVER 3

TIME

BEHIND

GAP

1

31

Whelen Engineering Racing

DPi

Cadillac DPi

Felipe

Nasr

Mike

Conway

Pipo

Derani

1:47.323

+0.000s

+0.000s

2

5

Mustang Sampling / JDC-Miller MotorSports

DPi

Cadillac DPi

Tristan

Vautier

Loic

Duval

Sebastien

Bourdais

1:47.504

+0.181

+0.181

3

55

Mazda Motorsports

DPi

Mazda DPi

Oliver

Jarvis

Harry

Tincknell

Jonathan

Bomarito

1:47.579

+0.256

+0.075

4

01

Cadillac Chip Ganassi Racing

DPi

Cadillac DPi

Renger

van der Zande

Kevin

Magnussen

Scott

Dixon

1:47.669

+0.346

+0.090

5

10

Konica Minolta Acura ARX-05

DPi

Acura DPi

Ricky

Taylor

Filipe

Albuquerque

Alexander

Rossi

1:47.736

+0.413

+0.067

6

60

Meyer Shank Racing w/Curb-Agajanian

DPi

Acura DPi

Dane

Cameron

Olivier

Pla

Juan Pablo

Montoya

1:47.824

+0.501

+0.088

7

52

PR1 Mathiasen Motorsports

LMP2

ORECA LMP2 07

Ben

Keating

Mikkel

Jensen

Scott

Huffaker

1:50.224

+2.901

+2.400

8

11

WIN Autosport

LMP2

ORECA LMP2 07

Steven

Thomas

Tristan

Nunez

Thomas

Merrill

1:50.680

+3.357

+0.456

9

48

Ally Cadillac Racing

DPi

Cadillac DPi

Jimmie

Johnson

Kamui

Kobayashi

Simon

Pagenaud

1:51.796

+4.473

+1.116

10

22

United Autosports

LMP2

ORECA LMP2 07

James

McGuire

Wayne

Boyd

Guy

Smith

1:52.207

+4.884

+0.411

11

18

Era Motorsport

LMP2

ORECA LMP2 07

Dwight

Merriman

Kyle

Tilley

Ryan

Dalziel

1:53.144

+5.821

+0.937

12

8

Tower Motorsport

LMP2

ORECA LMP2 07

John

Farano

Gabriel

Aubry

Tim

Buret

1:54.968

+7.645

+1.824

13

79

WeatherTech Racing

GTLM

Porsche 911 RSR – 19

Cooper

MacNeil

Mathieu

Jaminet

Matt

Campbell

1:56.891

+9.568

+1.923

14

91

Riley Motorsports

LMP3

Ligier JS P320

Jim

Cox

Dylan

Murry

Jeroen

Bleekemolen

1:57.371

+10.048

+0.480

15

25

BMW Team RLL

GTLM

BMW M8 GTE

Connor

De Phillippi

Philipp

Eng

Bruno

Spengler

1:57.464

+10.141

+0.093

16

4

Corvette Racing

GTLM

Chevrolet Corvette C8.R

Tommy

Milner

Nick

Tandy

Alexander

Sims

1:57.633

+10.310

+0.169

17

24

BMW Team RLL

GTLM

BMW M8 GTE

John

Edwards

Jesse

Krohn

Augusto

Farfus

1:57.752

+10.429

+0.119

18

74

Riley Motorsports

LMP3

Ligier JS P320

Gar

Robinson

Spencer

Pigot

Scott

Andrews

1:57.772

+10.449

+0.020

19

3

Corvette Racing

GTLM

Chevrolet Corvette C8.R

Antonio

Garcia

Jordan

Taylor

Nicky

Catsburg

1:58.083

+10.760

+0.311

20

33

Sean Creech Motorsport

LMP3

Ligier JS P320

Joao

Barbosa

Yann

Clairay

Lance

Willsey

1:58.813

+11.490

+0.730

21

38

Performance Tech Motorsports

LMP3

Ligier JS P320

Rasmus

Lindh

Dan

Goldburg

Mateo

LLarena

1:59.123

+11.800

+0.310

22

83

WIN Autosport

LMP3

Duqueine D08

Matthew

Bell

Rodrigo

Sales

Niklas

Kruetten

1:59.374

+12.051

+0.251

23

54

Core Autosport

LMP3

Ligier JS P320

Jonathan

Bennett

George

Kurtz

Colin

Braun

2:00.084

+12.761

+0.710

24

75

Sun Energy 1

GTD

Mercedes-AMG GT3

Kenny

Habul

Maro

Engel

Mikael

Grenier

2:01.111

+13.788

+1.027

25

96

Turner Motorsport

GTD

BMW M6 GT3

Bill

Auberlen

Robby

Foley

Aidan

Read

2:01.319

+13.996

+0.208

26

19

GRT Grasser Racing Team

GTD

Lamborghini Huracan GT3

Stephen

Simpson

Franck

Perera

Tim

Zimmermann

2:01.376

+14.053

+0.057

27

28

Alegra Motorsports

GTD

Mercedes-AMG GT3

Daniel

Morad

Michael

de Quesada

Billy

Johnson

2:01.636

+14.313

+0.260

28

12

Vasser Sullivan

GTD

Lexus RC F GT3

Frankie

Montecalvo

Zach

Veach

Robert

Megennis

2:01.700

+14.377

+0.064

29

14

Vasser Sullivan

GTD

Lexus RC F GT3

Aaron

Telitz

Jack

Hawksworth

Kyle

Kirkwood

2:01.828

+14.505

+0.128

30

1

Paul Miller Racing

GTD

Lamborghini Huracan GT3

Bryan

Sellers

Madison

Snow

Corey

Lewis

2:01.941

+14.618

+0.113

31

23

Heart Of Racing Team

GTD

Aston Martin Vantage GT3

Ian

James

Roman

De Angelis

Ross

Gunn

2:01.950

+14.627

+0.009

32

16

Wright Motorsports

GTD

Porsche 911 GT3R

Patrick

Long

Trent

Hindman

Jan

Heylen

2:02.316

+14.993

+0.366

33

9

Pfaff Motorsports

GTD

Porsche 911 GT3R

Zacharie

Robichon

Laurens

Vanthoor

Lars

Kern

2:02.825

+15.502

+0.509

34

99

Team Hardpoints EBM

GTD

Porsche 911 GT3R

Rob

Ferriol

Earl

Bamber

Trenton

Estep

2:03.216

+15.893

+0.391

35

7

Forty7 Motorsports

LMP3

Duqueine D08

Jim

Norman

Oliver

Askew

Austin

McCusker

2:04.366

+17.043

+1.150

36

88

Team Hardpoint EBM

GTD

Porsche 911 GT3R

Christina

Nielsen

Katherine

Legge

Bia

Figueiredo

2:04.545

+17.222

+0.179

37

44

Magnus with Archangel

GTD

Acura NSX GT3

John

Potter

Andy

Lally

Spencer

Pumpelly

2:05.318

+17.995

+0.773