Derani puts Action Express Cadillac on 12 Hours of Sebring pole
While retired NASCAR star Jimmie Johnson was crashing his #48 Ally Action Express Cadillac, Pipo Derani was racing to pole position for the Mobil 1 Twelve Hours of Sebring in the other Action Express Racing Cadillac DPi – the #31, which was fastest in all three practice sessions on Thursday.
Derani's 1m45.354s lap edged out the Rolex 24 at Daytona-winning No. 10 Wayne Taylor Racing Acura ARX-05 of Ricky Taylor by 0.110 seconds.  Taylor is the fastest driver on the #10 team and always qualifies the car instead of his slower teammates.
"The Whelen Cadillac has been fantastic all weekend," Derani said. "We have been fastest in practice and to put it on pole backs up our pace. We knew the car would be tighter compared to the previous practices with the rain from last night and it was, but to put it on pole is a great effort from the entire team. Everyone on the Action Express team put in a lot of work on the car in the test and this weekend."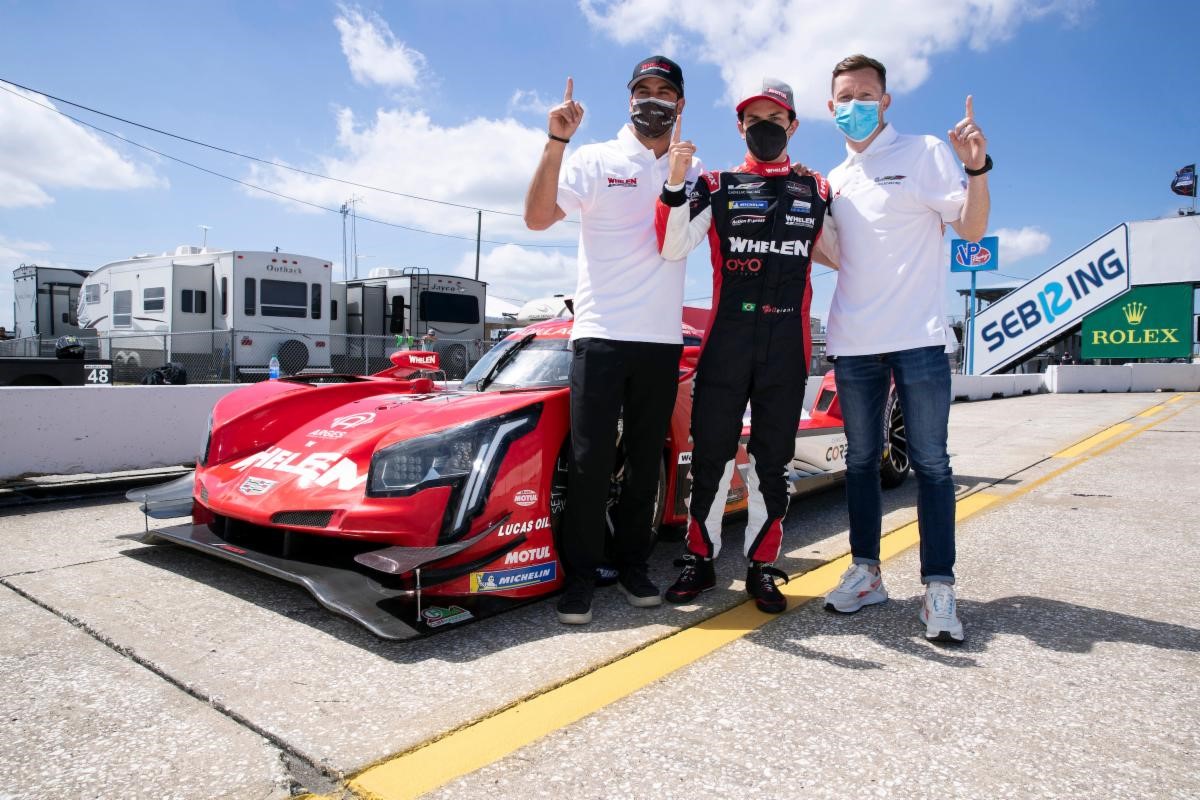 The two exchanged the top spot multiple times over the course of the 15-minute session.
Renger van der Zande had the wheel of the No. 01 Chip Ganassi Racing Cadillac DPi-V.R and drove it to a time of 1:45.849 good for a third place starting position. Together with teammates Kevin Magnussen and Scott Dixon the trio is looking for a strong run in only their second race with the Cadillac DPi-V.R.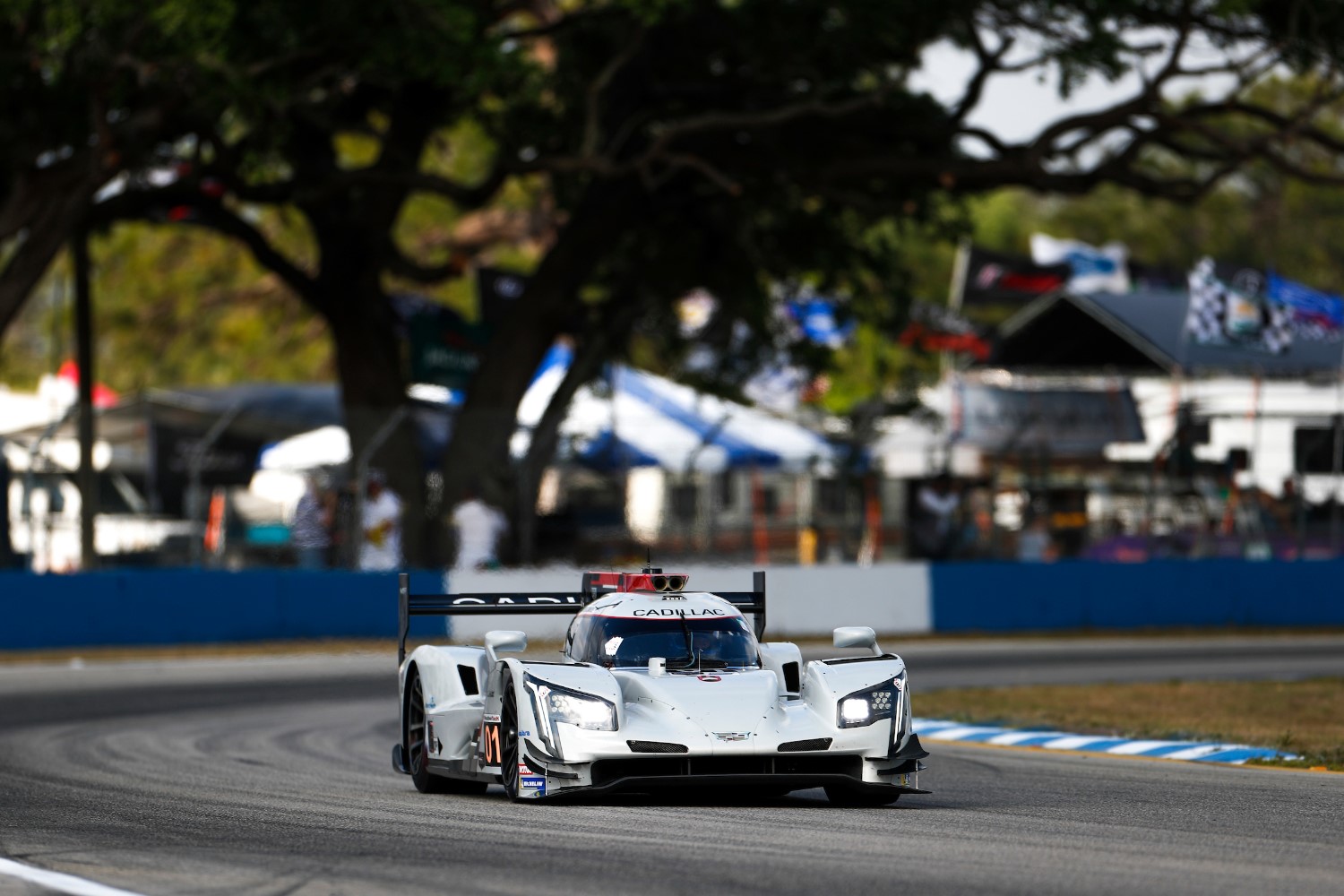 "We ended up P3," van der Zande said. "We were going for the pole position as there's points involved. We need every point in this championship as it is very tight. On the other hand, it's a long race, 12 hours, and our goal is to win the 12 hours of Sebring. It was a little unlucky with the traffic and the red flag at the end. I think we could have done a little better. Maybe even the pole. We are ready to go racing and we will try to win it!"
In the No. 5 Mustang Sampling Cadillac DPi-V.R Loic Duval posted a lap of 1:46.549 good for fifth. He and Sebastien Bourdais and Tristan Vautier were trying different set-up combinations throughout the week.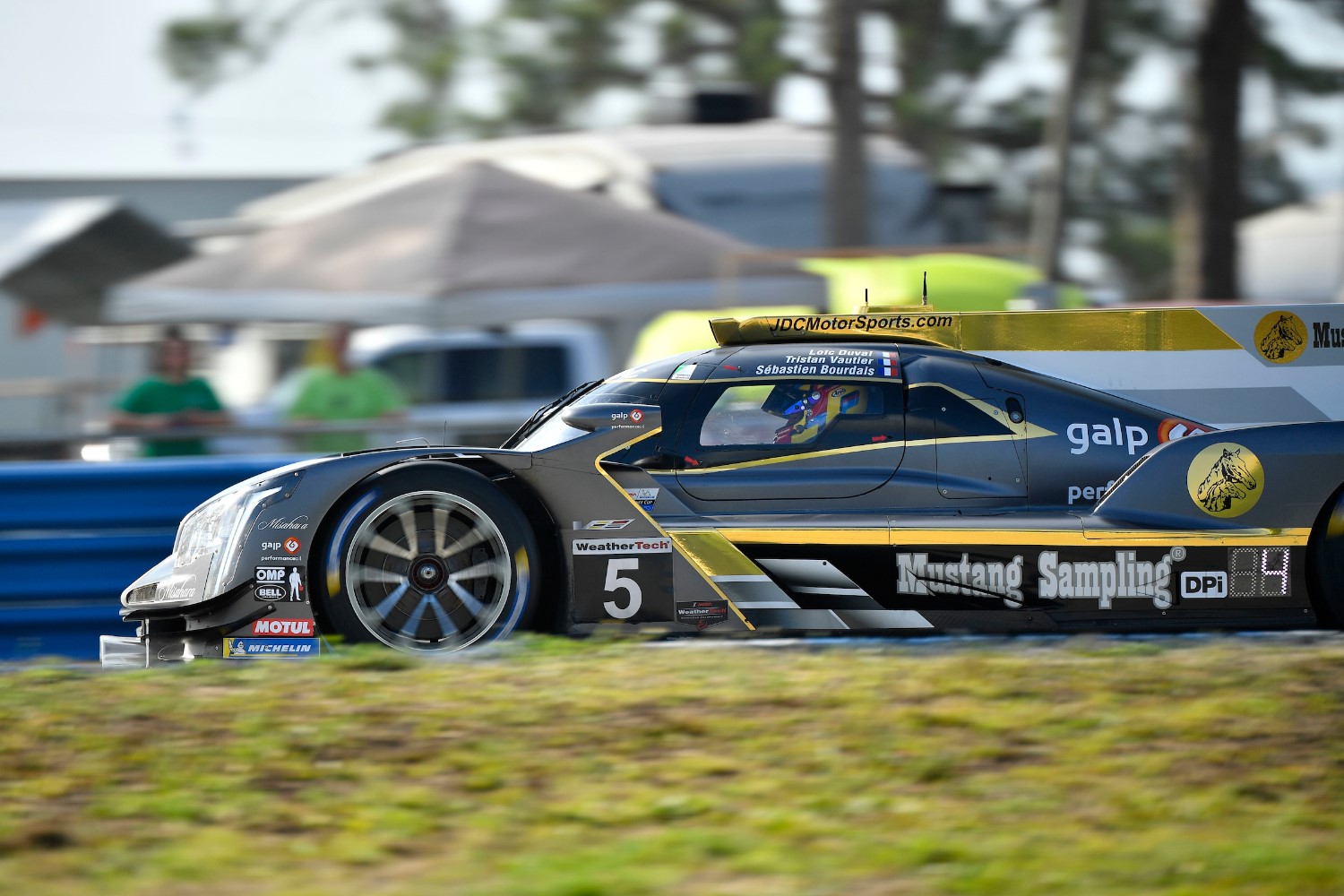 "Qualifying was not so great," Duval said. "Yesterday we tried a few different things in practice even though we don't have too much time. In the morning we were looking ok for our first shot, though we did not test here like the other teams. In the afternoon we were closer in P2. In the night practice we were not too happy with the balance. We decided to do some changes for qualifying. There is some positives and some negatives. I was not able to put everything together for a really fast lap like the guys in front of us. We will try to combine the positives to have a good car tomorrow for the race."
Johnson ran out of talent over the bumps in Turn 17, and thoroughly wadded up the No. 48 Action Express-run Cadillac. While Johnson climbed out unaided, no word has been given on the status of the car, which sustained extensive damage. Johnson racing IndyCars this year is going to be quite the scene. We hope Chip Ganassi has good crash damage insurance.
Qualifying for the 12 Hours of Sebring ends in disaster for the No. 48 Ally Cadillac. Jimmie Johnson spun in Turn 16 before crashing hard in Sunset Bend not even half a minute later. It was Pipo Derani meanwhile who took Pole position.#IMSA #Sebring12 pic.twitter.com/bYKVYzrdex

— Vincent Bruins (@VincentJBruins) March 19, 2021
"I'm certainly disappointed that I tore up the car for the team, putting them in a difficult position," Johnson said. "They seem eager and ready for the challenge to get the Ally Cadillac back together for tomorrow. I spun in Turn 16. I was trying to get up and going to catch another flying lap before the session ended. Sadly, I had some debris on my tires as I entered 17 and tagged the outside wall. I learned a couple of lessons there, call them rookie lessons."
LMP2 pole honors went to the No. 11 WIN Autosport Oreca 07 Gibson of Steven Thomas, who edged out Ben Keating.
Corvettes 1-2 in GTLM
Antonio Garcia won pole in GTLM. The defending class champion in the No. 3 Chevrolet Corvette C8.R reeled off a 1m54.927s to edge out teammate Tommy Milner by 0.034 seconds in the #4 Corvette.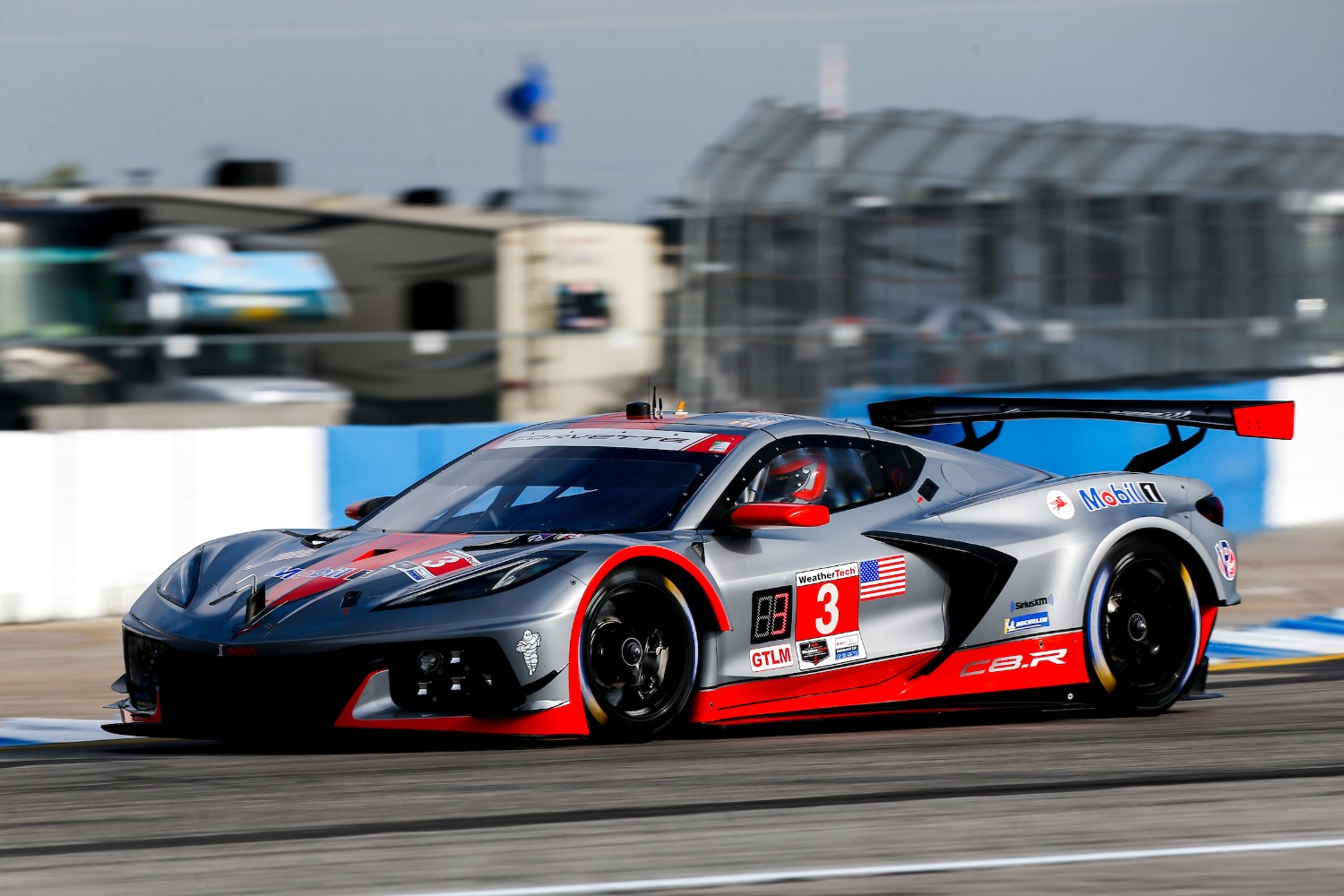 Garcia was the GTLM pole-winner for November's rescheduled 2020 Sebring 12 Hours, and he shared the GTLM Drivers Championship with teammate Jordan Taylor. The pairing, along with Nicky Catsburg, won the Rolex 24 At Daytona to open the 2021 season.
Milner, Nick Tandy and Alexander Sims were second at the Rolex but were the GTLM pole-sitters there. Milner also won a two-hour, 40-minute sprint race at Sebring in July with Oliver Gavin.
Corvette Racing and Chevrolet sit 1-2 in the early-season GTLM points standings. The No. 3 Corvette group leads over the No. 4 C8.R in full-season points, but the positions are switched in the Michelin Endurance Cup. The four-race championship is made of IMSA's four long-distance races with Milner, Tandy and Sims claiming the most points at the pre-determined marks of the Rolex 24. Sebring serves as the second round of the MEC.
All signs point toward Corvette Racing contending for its 13th victory at Sebring International Raceway and 12th in the annual 12-hour enduro. The program's last two Rolex 24 victories in 2015 and 2016 led to race wins at Sebring only weeks later.
GARCIA, NO. 3 MOBIL 1/SiriusXM CHEVROLET CORVETTE C8.R – GTLM POLE-WINNER: "It was very stressful! We are not used to qualifying together with the GTD cars, so initially it was very difficult for us to gauge how much room you had to fall back in order not to catch them. It seemed like no matter how much we were back, we were still catching them. I knew Tommy was coming from behind me, so I couldn't really open a gap; I didn't want to bother him. The first attempt was really bad. The second one I thought I had enough gap but had to dive for a pass going into Turn 17. I knew it was a good lap, so I had to go for it. I'm very happy for Corvette. It's always good to have Corvette Racing up there 1-2 even if it is a long race. Let's see if we can keep those positions like we did at Daytona."
"We are just used to qualifying alone, so we need to get used to it. For the first race, it was a little bit of a shock for us because we didn't know how to place ourselves on track not to interfere with them and for them to not interfere with us. That's the key thing. They have 12-13 cars in that category so it's always difficult around Sebring anyway. When it comes to shorter races, I don't know what's going to happen. Sebring is a long track. I think we all more or less got a clean lap but for sure it was stressful."
Connor De Phillippi qualified third in the No. 25 Team RLL BMW M8 GTE followed by the sister #24 BMW of Jesse Krohn.
The No. 79 WeatherTech Racing Porsche 911 RSR-19 of Cooper MacNeil was fifth.
Tim Zimmermann qualified the No. 19 Grasser Racing Team Lamborghini Huracan GT3 Evo on pole in GTD.
12 Hours of Sebring Qualifying Results
Pos
No.
Team
Class
Car
Driver 1
Driver 2
Driver 3
Time
Behind
Gap

1

31

Whelen Engineering Racing

DPi

Cadillac DPi

Felipe

Nasr

Mike

Conway

Pipo

Derani

01:45.4

+0.000s

+0.000s

2

10

Konica Minolta Acura ARX-05

DPi

Acura DPi

Ricky

Taylor

Filipe

Albuquerque

Alexander

Rossi

01:45.5

0.110

0.110

3

1

Cadillac Chip Ganassi Racing

DPi

Cadillac DPi

Renger

van der Zande

Kevin

Magnussen

Scott

Dixon

01:45.8

0.495

0.385

4

55

Mazda Motorsports

DPi

Mazda DPi

Oliver

Jarvis

Harry

Tincknell

Jonathan

Bomarito

01:46.3

0.899

0.404

5

60

Meyer Shank Racing w/Curb-Agajanian

DPi

Acura DPi

Dane

Cameron

Olivier

Pla

Juan Pablo

Montoya

01:46.4

1.023

0.124

6

5

Mustang Sampling / JDC-Miller MotorSports

DPi

Cadillac DPi

Tristan

Vautier

Loic

Duval

Sebastien

Bourdais

01:46.5

1.195

0.172

7

48

Ally Cadillac Racing

DPi

Cadillac DPi

Jimmie

Johnson

Kamui

Kobayashi

Simon

Pagenaud

01:47.6

2.256

1.061

8

11

WIN Autosport

LMP2

ORECA LMP2 07

Steven

Thomas

Tristan

Nunez

Thomas

Merrill

01:51.0

5.671

3.415

9

52

PR1 Mathiasen Motorsports

LMP2

ORECA LMP2 07

Ben

Keating

Mikkel

Jensen

Scott

Huffaker

01:51.1

5.794

0.123

10

18

Era Motorsport

LMP2

ORECA LMP2 07

Dwight

Merriman

Kyle

Tilley

Ryan

Dalziel

01:52.4

7.034

1.240

11

3

Corvette Racing

GTLM

Chevrolet Corvette C8.R

Antonio

Garcia

Jordan

Taylor

Nicky

Catsburg

01:54.9

–

–

12

4

Corvette Racing

GTLM

Chevrolet Corvette C8.R

Tommy

Milner

Nick

Tandy

Alexander

Sims

01:54.9

0.034

0.034

13

25

BMW Team RLL

GTLM

BMW M8 GTE

Connor

De Phillippi

Philipp

Eng

Bruno

Spengler

01:55.1

0.152

0.118

14

24

BMW Team RLL

GTLM

BMW M8 GTE

John

Edwards

Jesse

Krohn

Augusto

Farfus

01:55.3

0.371

0.219

15

22

United Autosports

LMP2

ORECA LMP2 07

James

McGuire

Wayne

Boyd

Guy

Smith

01:55.4

10.086

3.052

16

38

Performance Tech Motorsports

LMP3

Ligier JS P320

Rasmus

Lindh

Dan

Goldburg

Mateo

LLarena

01:56.0

–

–

17

7

Forty7 Motorsports

LMP3

Duqueine D08

Stevan

McAleer

Oliver

Askew

Austin

McCusker

01:56.1

0.065

0.065

18

79

WeatherTech Racing

GTLM

Porsche 911 RSR – 19

Cooper

MacNeil

Mathieu

Jaminet

Matt

Campbell

01:56.1

1.209

0.838

19

8

Tower Motorsport

LMP2

ORECA LMP2 07

John

Farano

Gabriel

Aubry

Tim

Buret

01:56.1

10.788

0.702

20

74

Riley Motorsports

LMP3

Ligier JS P320

Gar

Robinson

Spencer

Pigot

Scott

Andrews

01:57.0

0.973

0.908

21

54

Core Autosport

LMP3

Ligier JS P320

Jonathan

Bennett

George

Kurtz

Colin

Braun

01:58.2

2.150

1.177

22

91

Riley Motorsports

LMP3

Ligier JS P320

Jim

Cox

Dylan

Murry

Jeroen

Bleekemolen

01:58.5

2.545

0.395

23

33

Sean Creech Motorsport

LMP3

Ligier JS P320

Joao

Barbosa

Yann

Clairay

Lance

Willsey

01:59.0

2.99

0.445

24

14

Vasser Sullivan

GTD

Lexus RC F GT3

Aaron

Telitz

Jack

Hawksworth

Kyle

Kirkwood

01:59.2

4.337

3.128

25

9

Pfaff Motorsports

GTD

Porsche 911 GT3R

Zacharie

Robichon

Laurens

Vanthoor

Lars

Kern

01:59.6

4.707

0.37

26

19

GRT Grasser Racing Team

GTD

Lamborghini Huracan GT3

Stephen

Simpson

Franck

Perera

Tim

Zimmermann

01:59.7

4.801

0.094

27

75

Sun Energy 1

GTD

Mercedes-AMG GT3

Kenny

Habul

Maro

Engel

Mikael

Grenier

01:59.8

4.938

0.137

28

83

WIN Autosport

LMP3

Duqueine D08

Matthew

Bell

Rodrigo

Sales

Niklas

Kruetten

02:00.0

3.949

0.959

29

12

Vasser Sullivan

GTD

Lexus RC F GT3

Frankie

Montecalvo

Zach

Veach

Robert

Megennis

02:00.0

5.082

0.144

30

16

Wright Motorsports

GTD

Porsche 911 GT3R

Patrick

Long

Trent

Hindman

Jan

Heylen

02:00.0

5.097

0.015

31

96

Turner Motorsport

GTD

BMW M6 GT3

Bill

Auberlen

Robby

Foley

Aidan

Read

02:00.2

5.284

0.187

32

99

Team Hardpoints EBM

GTD

Porsche 911 GT3R

Rob

Ferriol

Earl

Bamber

Trenton

Estep

02:00.2

5.313

0.029

33

23

Heart Of Racing Team

GTD

Aston Martin Vantage GT3

Ian

James

Roman

De Angelis

Ross

Gunn

02:00.3

5.397

0.084

34

28

Alegra Motorsports

GTD

Mercedes-AMG GT3

Daniel

Morad

Michael

de Quesada

Billy

Johnson

02:00.3

5.418

0.021

35

1

Paul Miller Racing

GTD

Lamborghini Huracan GT3

Bryan

Sellers

Madison

Snow

Corey

Lewis

02:00.7

5.779

0.361

36

88

Team Hardpoint EBM

GTD

Porsche 911 GT3R

Christina

Nielsen

Katherine

Legge

Bia

Figueiredo

02:00.8

5.919

0.140

37

44

Magnus with Archangel

GTD

Acura NSX GT3

John

Potter

Andy

Lally

Spencer

Pumpelly

02:01.2

6.268

0.349