Van Gisbergen joins exclusive club with 'wet' win at Sandown
Supercars star Shane van Gisbergen has joined an exclusive club today, becoming just the fourth driver in history to start a season with five straight wins after he won both Sunday Supercars races at Sandown.
The Red Bull ace has not been beaten in the 2021 Repco Supercars Championship yet, with five wins from five starts. It is his sixth straight win following the 2020 Bathurst 1000 victory at the end of last year.
Not even nine screws inserted into a broken collarbone two weeks' ago could stop van Gisbergen this weekend. This afternoon's win in the wet at the Penrite Oil Sandown SuperSprint was his 45th career victory.
After rising from 17th to 1st in Saturday's race, van Gisbergen won from pole in both of Sunday's rain-hit races, despite having surgery on a broken shoulder just two weeks ago.
The wet conditions made track conditions treacherous for the first of two 10-minute qualifying sessions. Qualifying for Race 4 saw a red flag in the opening minutes that saw van Gisbergen take pole.
Rain continued for the start of Race 4 of 2021, leaving teams no option but to fit the Dunlop wet tire compound. The opening lap saw the field jostling for track position as they negotiated the wet and slippery track.
Rookie Brodie Kostecki, in just his sixth career race start at the top level, claimed second place – while David Reynolds – in his 350th career race, claimed third and his first podium since switching to the Penrite Ford Mustang at the start of 2021.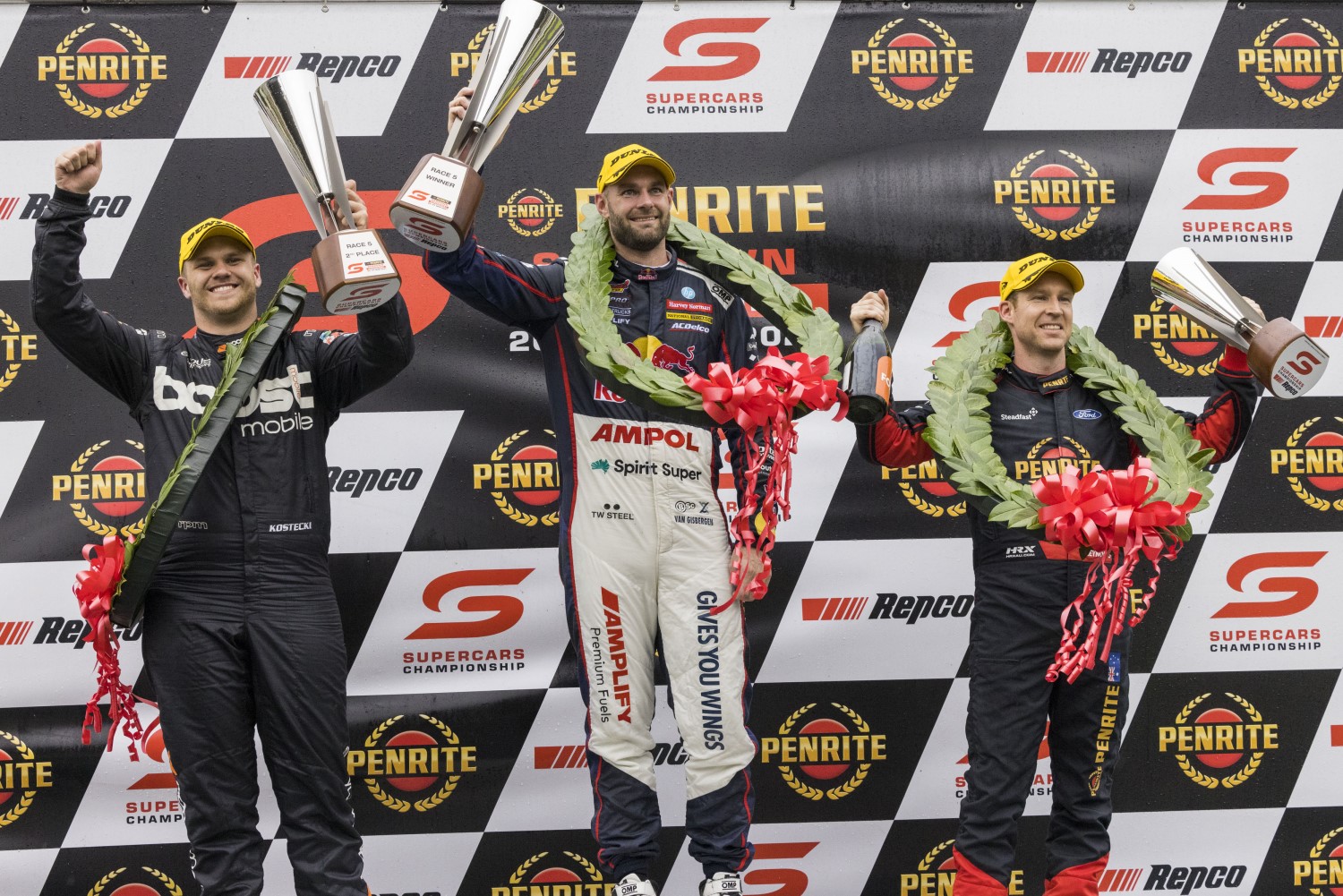 Mark Skaife said in commentary: "What an extraordinary weekend for this young Kiwi! … (He won Bathurst 1000 2020) with one of the best drives I've ever seen… We all expected him to do a couple of laps on Saturday morning and then (emergency replacement) Garth Tander to get in the car."
Van Gisbergen said: "It's unreal. I've got to thank the team so much. The car's been awesome."
"Good to see Brodie up here, he was putting a lot of pressure on. I could see him closing the gap. Awesome race."
Kostecki said: "Stoked to be here. I didn't think I'd be here this early. Just hope we can carry the momentum for the rest of the year."
"I need a beer," he joked.
Van Gisbergen now sits alongside three Hall of Fame inductees for the best ever start to a season; Allan Moffat (1977), Peter Brock (1980) and Mark Skaife (1994) are the only other drivers in the history of Supercars to have started a season with five or more consecutive wins.
The 2016 Supercars Champion now holds a 155 point Championship lead over teammate Jamie Whincup, while Chaz Mostert has slid to third and Cam Waters is fourth, the best of the Ford drivers 170 points behind Van Gisbergen after two rounds.
1st Sunday Race Results
| | | | | |
| --- | --- | --- | --- | --- |
| POS | NO. | DRIVER | TEAM | TIME/BEHIND |
| 1 | 97 | Van Gisbergen | Red Bull Holden Racing Team | 50:27.704 |
| 2 | 6 | C. Waters | Monster Energy Racing | +12.789 |
| 3 | 88 | Whincup | Red Bull Holden Racing Team | +13.010 |
| 4 | 25 | Mostert | WAU Racing Pty Ltd | +13.686 |
| 5 | 7 | Heimgartner | Nissan Motorsport | +14.343 |
| 6 | 8 | Percat | Brad Jones Racing | +15.224 |
| 7 | 44 | Courtney | Boost Mobile Racing | +23.532 |
| 8 | 20 | S. Pye | Team 18 | +29.365 |
| 9 | 3 | Slade | CoolDrive Racing | +30.059 |
| 10 | 17 | Davison | Shell V-Power Racing Team | +30.371 |
| 11 | 18 | Winterbottom | Team 18 | +33.730 |
| 12 | 5 | J. Le Brocq | Truck Assist Racing | +37.533 |
| 13 | 99 | B. Kostecki | Penrite Racing – Erebus | +38.877 |
| 14 | 14 | T. Hazelwood | Brad Jones Racing | +39.891 |
| 15 | 2 | B. Fullwood | WAU Racing Pty Ltd | +41.493 |
| 16 | 9 | W. Brown | Erebus Motorsport | +42.563 |
| 17 | 19 | Coulthard | Team SYDNEY – Tekno | +45.502 |
| 18 | 34 | J. Kostecki | Matt Stone Racing | +51.969 |
| 19 | 35 | Z. Goddard | Matt Stone Racing | +1:05.302 |
| 20 | 22 | G. Jacobson | Team SYDNEY – Tekno | +1 Lap |
| 21 | 4 | J. Smith | SCT Motor Sports | +1 Lap |
| 22 | 26 | Reynolds | Nissan Motorsport | +4 Laps |
| NC | 11 | A. de Pasquale | Shell V-Power Racing Team | +11 Laps |
| NC | 96 | M. Jones | SCT Motor Sports | +34 Laps |
2nd Sunday Race Results
| | | | | |
| --- | --- | --- | --- | --- |
| POS | NO. | DRIVER | TEAM | TIME/BEHIND |
| 1 | 97 | Van Gisbergen | Red Bull Holden Racing Team | 48:18.184 |
| 2 | 99 | B. Kostecki | Penrite Racing – Erebus | +14.813 |
| 3 | 26 | Reynolds | Nissan Motorsport | +23.042 |
| 4 | 88 | Whincup | Red Bull Holden Racing Team | +29.813 |
| 5 | 17 | Davison | Shell V-Power Racing Team | +31.107 |
| 6 | 6 | C. Waters | Monster Energy Racing | +40.304 |
| 7 | 9 | W. Brown | Erebus Motorsport | +42.865 |
| 8 | 14 | T. Hazelwood | Brad Jones Racing | +45.957 |
| 9 | 8 | Percat | Brad Jones Racing | +46.383 |
| 10 | 18 | Winterbottom | Team 18 | +50.591 |
| 11 | 7 | Heimgartner | Nissan Motorsport | +53.011 |
| 12 | 11 | A. de Pasquale | Shell V-Power Racing Team | +55.259 |
| 13 | 2 | B. Fullwood | WAU Racing Pty Ltd | +56.604 |
| 14 | 34 | J. Kostecki | Matt Stone Racing | +57.414 |
| 15 | 44 | Courtney | Boost Mobile Racing | +58.650 |
| 16 | 5 | J. Le Brocq | Truck Assist Racing | +1:07.269 |
| 17 | 3 | Slade | CoolDrive Racing | +1 Lap |
| 18 | 96 | M. Jones | SCT Motor Sports | +1 Lap |
| 19 | 22 | G. Jacobson | Team SYDNEY – Tekno | +1 Lap |
| 20 | 19 | Coulthard | Team SYDNEY – Tekno | +1 Lap |
| 21 | 35 | Z. Goddard | Matt Stone Racing | +1 Lap |
| 22 | 20 | S. Pye | Team 18 | +1 Lap |
| 23 | 4 | J. Smith | SCT Motor Sports | +1 Lap |
| 24 | 25 | Mostert | WAU Racing Pty Ltd | +7 Laps |