Ryan Blaney beats Kyle Larson to win in Atlanta
Kyle Larson dominated most of the Folds of Honor Quicktrip 500 NASCAR Cup race at Atlanta Sunday but Ryan Blaney's #12 Penske Ford pit crew dialed him in perfectly on the last stop with 56 laps to go and he ran down Larson, passed him and pulled away to a 2.083s win.
Larson led 269 of the 325 laps, won both Stage 1 and Stage 2, but in the end came up short in his #5 Hendrick Chevy. Blaney only led 25 laps but he led the most important one.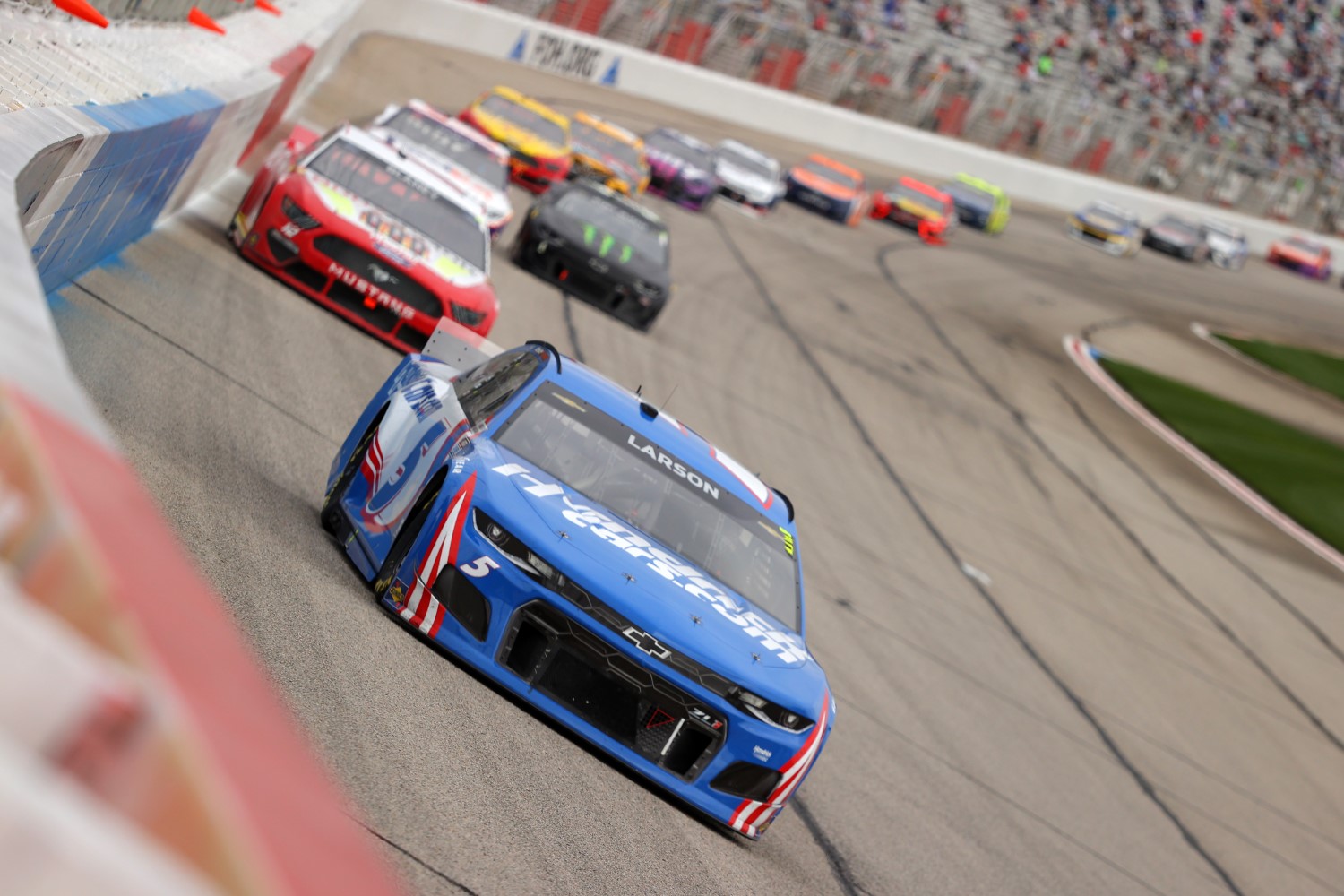 Blaney became the 2021 NASCAR Cup Series' sixth winner in six races, roaring past a dominant Kyle Larson on the 317th of 325 laps to go on to win
"Gosh, we had a great long-run car all day," Blaney said after climbing from his No. 12 Team Penske Ford. "It took us a little bit to get going. I was pretty free all day, so we made a really good change to tighten me up where I needed it.
"It looked like Kyle was getting loose, and I'm happy it worked into our favor that there were a couple of long runs at the end (that) let us kind of get there, and he got slowed up behind some lapped traffic… It's nice to close out a race like that—it was awesome."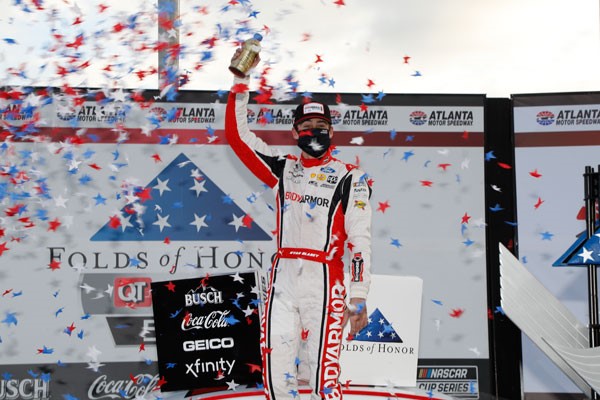 For the fourth time in his career, Larson swept the first two stages of a race and failed to win the event.
Larson, who used a quick pit to take the lead coming out of the competition caution on Lap 31, won Stage 1 by nearly seven seconds. 
He also claimed Stage 2 by eight seconds and only 14 cars remained on the lead lap. 
"I think he (Blaney) just got a lot better that last stage, and that changed up my flow of the race a little bit," said Larson, who won each of the first two stages by more than six seconds. "I could get out to such big leads, and I could take care of my stuff and run the bottom where it was maybe slower, but I could take care of my tires.
"He was fast there (in the final run), and I just wanted to maintain that gap that I had, so I had to run in the faster part of the racetrack and just used my stuff up. He was a lot better than me there late in the run. I hate to lead a lot of laps and lose, but we had a really good car that we brought to the track. Our (No. 5) Hendrick Cars Chevy was stupid-fast there for a long time. I don't know if we got that much worse, or if he got way better."
Alex Bowman, a teammate to Larson, placed third.
"Yeah, for sure. It was a good day to come home third. Obviously wish the No. 5 (Kyle Larson) would have won there, but I'm proud of everybody at Hendrick Motorsports continually bringing really fast race cars to the racetrack. I feel like our Ally Camaro was pretty good. It was just a little bit off on the long-run stuff. But finally, a day where nothing bad happened. We'll take a good solid day, a solid top-three, and move onto Bristol."
Another pair of teammates went fourth and fifth, with pole-starter Denny Hamlin ahead of Kyle Busch, who rallied from a final-stage speeding penalty for a top-five result.
Former Atlanta winner Kurt Busch was among the early exits, getting the worst of a restart stack-up as Stage 2 began. A bump from Hamlin sent his No. 1 Chip Ganassi Racing Chevrolet into the outside wall in Turn 1, ending his day after just 113 laps and leaving him last in the 39-car field.
"Yeah, I think the No. 18 (Kyle Busch) was the outside-lead car. The No. 9 (Chase Elliott) kind of checked-up, too. I checked up; the No. 17 (Chris Buescher) hit us from behind. It was just the accordion effect, and then I jumped to the middle. I'm like 'I'm here'; I positioned myself. It wasn't like I re-arranged my lanes and made another block."
"He didn't do anything vicious or malicious there. It's a 500-miler and these are the days that it hurts the worst. This absolutely hurts the worst because we had a top-five, winning, Monster Energy Chevy."
Hometown favorite Chase Elliott fared little better. Trouble in pre-race inspection sent his No. 9 Hendrick Motorsports Chevrolet to the back of the field for the start. He rallied up into the top 10 at points of the race, but engine failure sidelined him after 220 laps. Elliott finished 38th.
"Yeah, obviously we broke a motor there later on. We got some damage there on that restart. Kyle (Busch) kind of spun his tires and then I was pushing him and Kurt (Busch) was pushing me. We all just really jammed together hard and ended up hurting the nose some. So, I don't know if that had something to do with breaking the engine or not."
"I hate it, for sure. I feel like our car was pretty decent. We drove up there – we got up to tenth, or so, at the Stage. I felt like we were in a decent position to work on it throughout the day. I appreciate all the effort. It's great to be home in Georgia; home for me and home for NAPA Auto Parts. I wish we could have had a good result, but we'll try again at Bristol."
Kevin Harvick, who had won two of the last three Atlanta races, and Kurt Busch also suffered some tough luck.
Harvick was the defending champ, winning with no fans in the stands due to the pandemic last June, but a flat tire during the competition caution spoiled his day. Harvick battled to stay on the lead lap until Larson scooted past him on Lap 74.
He got an opening late in the race to get the lap back and fought his way to a 10th-place finish.
Also among the top 10 were Austin Dillon, Chris Buescher, William Byron and Martin Truex Jr.
Race Results
| | | | | | | | |
| --- | --- | --- | --- | --- | --- | --- | --- |
| Fin | Str | No. | Driver | Team | Laps | Led | Status |
| 1 | 10 | 12 | Ryan Blaney | BodyArmor Ford | 325 | 25 | Running |
| 2 | 6 | 5 | Kyle Larson | HendrickCars.com Chevrolet | 325 | 269 | Running |
| 3 | 14 | 48 | Alex Bowman | Ally Chevrolet | 325 | 0 | Running |
| 4 | 1 | 11 | Denny Hamlin | FedEx Express Toyota | 325 | 27 | Running |
| 5 | 19 | 18 | Kyle Busch | M&M's Messages Toyota | 325 | 0 | Running |
| 6 | 13 | 3 | Austin Dillon | Bass Pro Shops/Tracker Off Road Chevrolet | 325 | 0 | Running |
| 7 | 17 | 17 | Chris Buescher | Fastenal Ford | 325 | 0 | Running |
| 8 | 9 | 24 | William Byron | Liberty University Chevrolet | 325 | 2 | Running |
| 9 | 2 | 19 | Martin Truex Jr. | Bass Pro Toyota | 325 | 0 | Running |
| 10 | 7 | 4 | Kevin Harvick | Hunt Brothers Pizza Ford | 325 | 0 | Running |
| 11 | 20 | 21 | Matt DiBenedetto | Menards/Maytag Ford | 325 | 0 | Running |
| 12 | 12 | 47 | Ricky Stenhouse Jr. | Kroger Chevrolet | 325 | 0 | Running |
| 13 | 28 | 6 | Ryan Newman | Kohler Generators Ford | 325 | 0 | Running |
| 14 | 21 | 42 | Ross Chastain | Tubi TV Chevrolet | 325 | 0 | Running |
| 15 | 3 | 22 | Joey Logano | Shell Pennzoil Ford | 324 | 0 | Running |
| 16 | 15 | 23 | Bubba Wallace | McDonalds Toyota | 324 | 0 | Running |
| 17 | 25 | 99 | Daniel Suarez | CommScope Chevrolet | 324 | 1 | Running |
| 18 | 27 | 41 | Cole Custer | HaasTooling.com Ford | 324 | 0 | Running |
| 19 | 18 | 34 | Michael McDowell | Fr8Auctions Ford | 324 | 0 | Running |
| 20 | 16 | 10 | Aric Almirola | Pit Boss Grills Ford | 324 | 0 | Running |
| 21 | 8 | 20 | Christopher Bell | Sirius XM Toyota | 323 | 0 | Running |
| 22 | 39 | 33 | * Austin Cindric(i) | Pirtek Ford | 323 | 0 | Running |
| 23 | 24 | 14 | Chase Briscoe # | HighPoint.com/Co-Op Financial Ford | 323 | 0 | Running |
| 24 | 22 | 43 | Erik Jones | Petty's Garage Chevrolet | 323 | 0 | Running |
| 25 | 23 | 37 | * Ryan Preece | Planters Chevrolet | 323 | 0 | Running |
| 26 | 29 | 8 | Tyler Reddick | Alsco Uniforms Chevrolet | 323 | 0 | Running |
| 27 | 32 | 38 | Anthony Alfredo # | Georgia Peanuts Ford | 322 | 0 | Running |
| 28 | 4 | 2 | Brad Keselowski | Autotrader Ford | 321 | 0 | Running |
| 29 | 30 | 7 | Corey LaJoie | NFL Alumni/Folds of Honor Chevrolet | 319 | 0 | Running |
| 30 | 26 | 77 | Justin Haley(i) | Diamond Creek Water Chevrolet | 319 | 0 | Running |
| 31 | 33 | 51 | Cody Ware(i) | Nurtec ODT Chevrolet | 316 | 0 | Running |
| 32 | 34 | 15 | James Davison | Smart Sanitizer Chevrolet | 316 | 0 | Running |
| 33 | 35 | 0 | Quin Houff | 8 Ball Chocolate Whiskey Chevrolet | 314 | 0 | Running |
| 34 | 31 | 78 | BJ McLeod(i) | Surface Sunscreen Ford | 313 | 0 | Running |
| 35 | 36 | 53 | Joey Gase | Donate Life Georgia Chevrolet | 308 | 0 | Running |
| 36 | 38 | 66 | * Timmy Hill(i) | SUPREME TRANSPORTATION GROUP Ford | 305 | 0 | Running |
| 37 | 37 | 52 | Josh Bilicki | Insurance King Ford | 285 | 0 | Running |
| 38 | 5 | 9 | Chase Elliott | NAPA Auto Parts Chevrolet | 220 | 0 | Engine |
| 39 | 11 | 1 | Kurt Busch | Monster Energy Chevrolet | 113 | 1 | Accident |