The 2021 Formula One season is about to begin. The longest calendar ever awaits: it will be a test of stamina, mental and physical, between now and Abu Dhabi in December.
It wasn't long ago that the engines stopped roaring at the end of last season – and what a season it had been, full of disruption, surprises and thrills – but in a flash, the winter is gone, and they are back in the sunny climes of Bahrain for the first race of the season.
If it all has a feeling of déjà vu, it is because the teams seem to spend a lot of time here in Bahrain: by next Monday, three out of the four last F1 races will have been held in Sakhir, in addition to the three days testing on this very track less than a fortnight ago.
The Bahrain International Circuit will act as Formula 1's curtain-raiser for the third time in history, having held the honor in 2006 and 2010.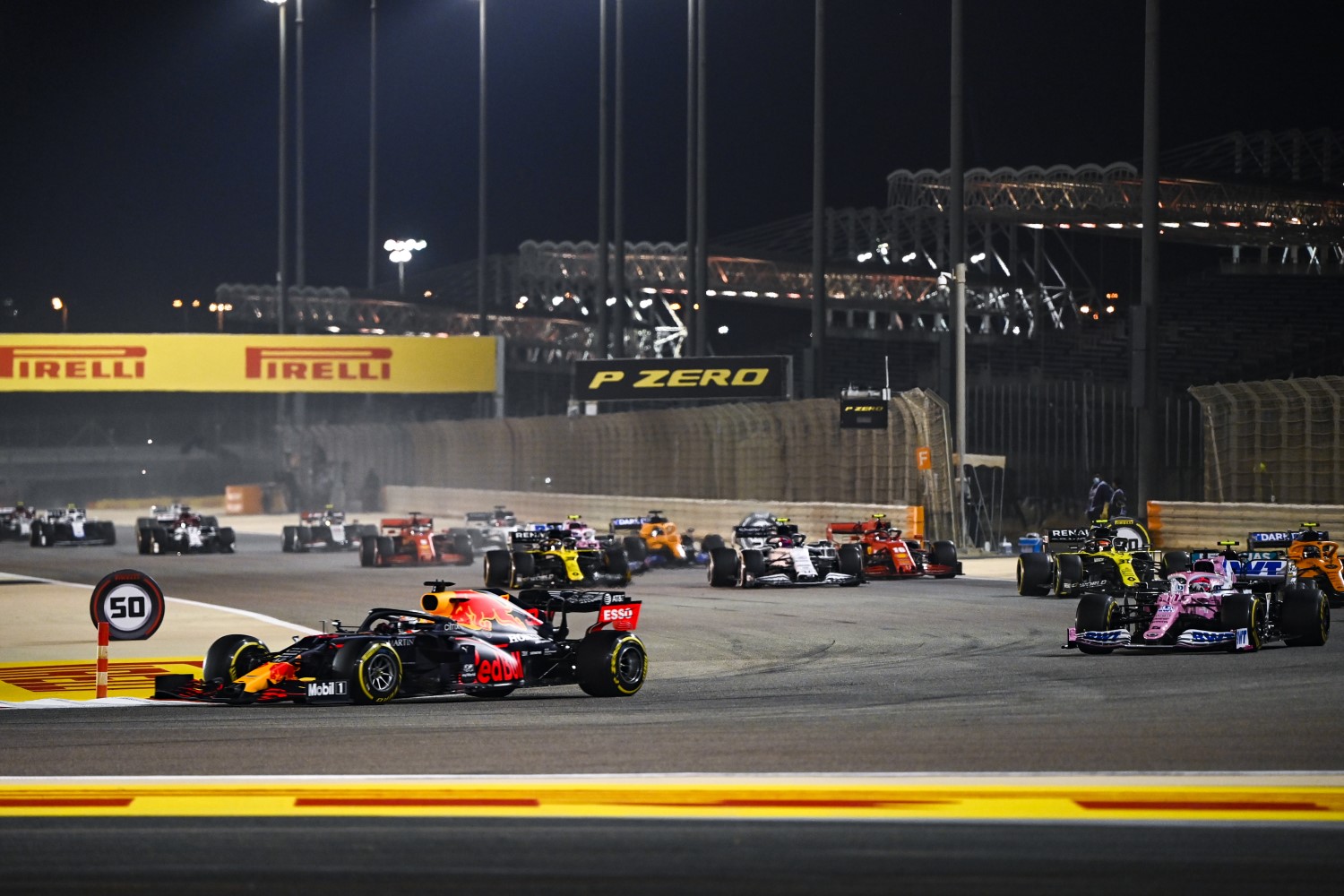 Three practice sessions, each now just one hour in length, will take place across Friday and Saturday, building into the qualifying session that will set the grid for the 57-lap race. The Bahrain Grand Prix is scheduled for Sunday at 18:00 local (16:00 GMT/11:00 EST).
2021 F1 Driver Lineup
| | | | | | | | |
| --- | --- | --- | --- | --- | --- | --- | --- |
| Entrant | Constructor | Chassis | Power unit | No. | Driver name | No. | Driver name |
| Alfa Romeo Racing Orlen | Alfa Romeo Racing-Ferrari | C41 | Ferrari 065/6 | 7 |  Kimi Räikkönen | 99 |  Antonio Giovinazzi |
| Scuderia AlphaTauri Honda | AlphaTauri-Honda | AT02 | Honda RA621H | 10 |  Pierre Gasly | 22 |  Yuki Tsunoda |
| Alpine F1 Team | Alpine-Renault | A521 | Renault E-Tech 20B | 14 |  Fernando Alonso | 31 |  Esteban Ocon |
| Aston Martin Cognizant Formula One Team | Aston Martin-Mercedes | AMR21 | Mercedes-AMG F1 M12 | 5 |  Sebastian Vettel | 18 |  Lance Stroll |
| Scuderia Ferrari Mission Winnow | Ferrari | SF21 | Ferrari 065/6 | 16 |  Charles Leclerc | 55 |  Carlos Sainz Jr. |
| Uralkali Haas F1 Team | Haas-Ferrari | VF-21 | Ferrari 065/6 | 9 |  Nikita Mazepin[b] | 47 |  Mick Schumacher |
| McLaren F1 Team | McLaren-Mercedes | MCL35M | Mercedes-AMG F1 M12 | 3 |  Daniel Ricciardo | 4 |  Lando Norris |
| Mercedes-AMG Petronas Formula One Team | Mercedes | F1 W12 | Mercedes-AMG F1 M12 | 44 |  Lewis Hamilton | 77 |  Valtteri Bottas |
| Red Bull Racing Honda | Red Bull Racing-Honda | RB16B | Honda RA621H | 11 |  Sergio Pérez | 33 |  Max Verstappen |
| Williams Racing | Williams-Mercedes | FW43B | Mercedes-AMG F1 M12 | 6 |  Nicholas Latifi | 63 |  George Russell |
The Circuit
Desert winds regularly deposit sand on the circuit, so there's fairly hefty track evolution across the race weekend as the cars clear the sand and rubber-in the racing line. Pirelli brings its C2, C3 and C4 compounds to this race (Hard, Medium and Soft) – the same as last year. The track surface is particularly abrasive, so expect to see high degradation and multi-stop strategies as default. Pole position is on the left-hand side of the track – it's a relatively short 460m run from P1 down to Turn One.
In general, passing is relatively easy at Bahrain. Excluding the opening lap and restarts, there were 53 overtakes in last year's race – and 70 percent of those were DRS-assisted. It's the fifth-easiest track on the calendar for overtaking. Austria and Montreal top the list for most passing action; Monaco, unsurprisingly, is the hardest place to overtake. The majority of passes happen into Turn One, where a following car is assisted by a DRS zone along the straight and heavy braking into a second-gear right-hander, which offers multiple lines for attack and defense. Another popular passing spot is into Turn Four, for the same reasons (DRS assist/heavy braking).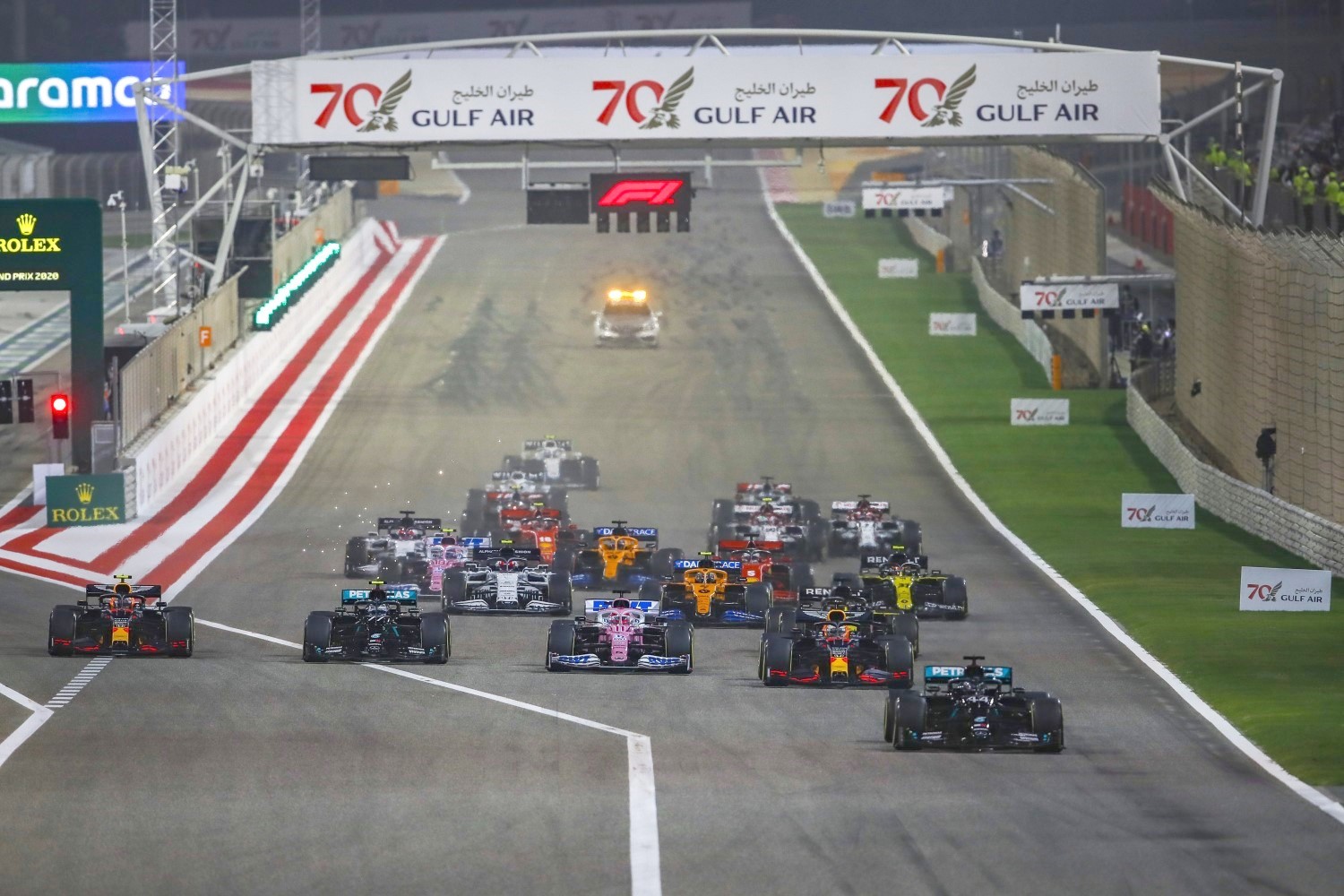 Safety cars are less likely at Bahrain than at many other circuits. Why? Because the huge asphalt run-offs mean cars are less likely to end up stranded on the track. However, the first race of any season always brings additional reliability worries.
140,000: The amount of run-off in square meters around the circuit. That might sound lenient – but the run-off is dusty and slippery, and needs to be avoided.
40,388:  When laid end to end, it would take 40,388 cans of Red Bull to complete a single lap of the Bahrain International Circuit
1,120: The number of palm trees surrounding the circuit.
496: The number of days it took Hermann Tilke and his team to build the Bahrain International Circuit, one of the first of over 20 circuits the German designer and his company has worked on.
5: No other track has more FIA-certified layouts. These include the Outer Track, which hosted last year's Sakhir Grand Prix, the 24-turn Endurance Circuit, and the Test Oval. It has also a popular drag strip
| | |
| --- | --- |
| Number of laps | 57 |
| Lap length | 5.412km |
| Number of corners | 15 |
| Race distance | 308.238km |
| Lap record | 1:31.447 (Pedro de la Rosa, 2005) |
| Qualifying lap record | 1:27.264 (Lewis Hamilton, 2020) |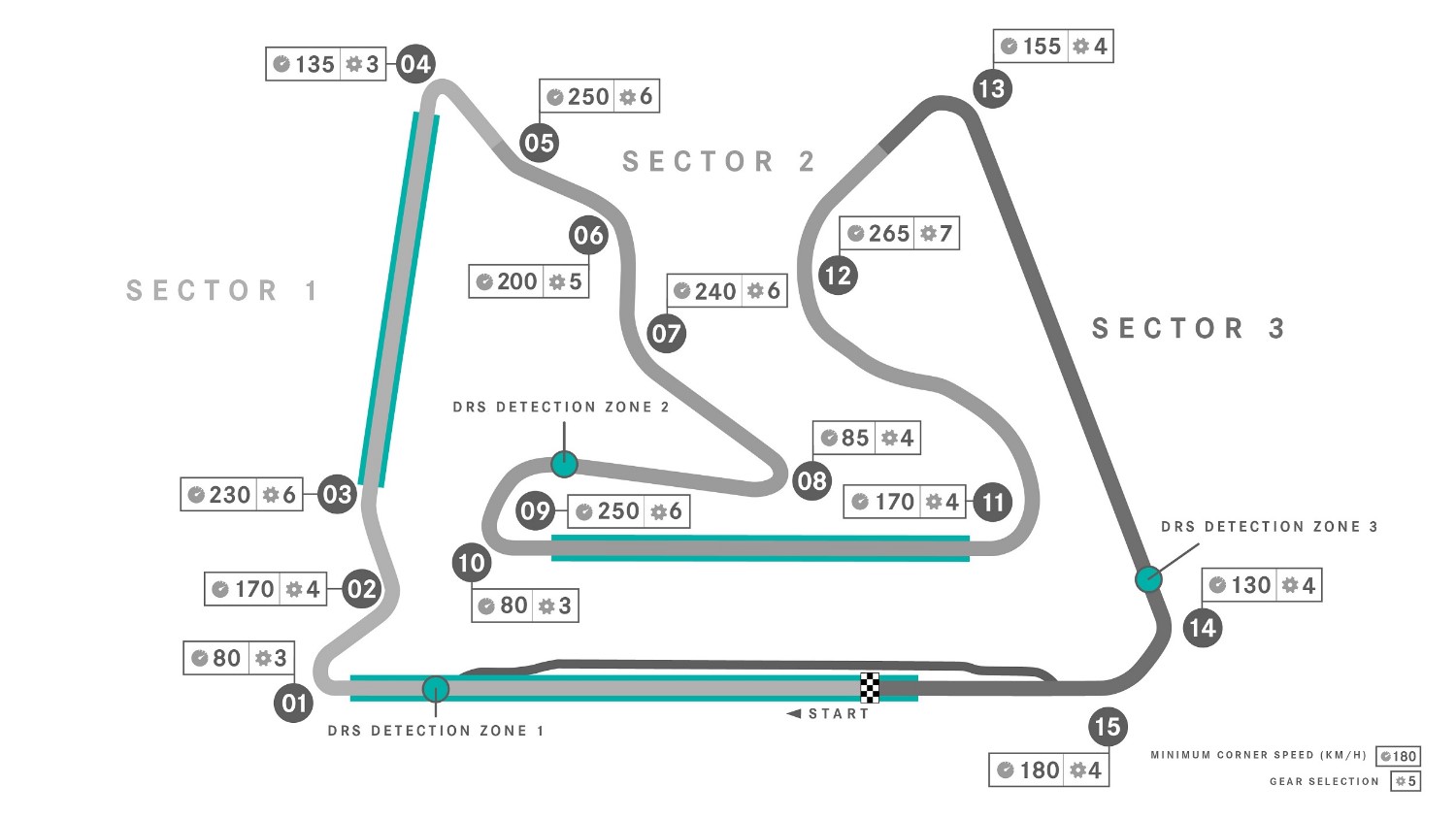 Bahrain Technical Q&A – How Do You Set Up a Formula One Car?
What do we mean when we refer to 'car set-up'?
Finding the perfect set-up for a Formula One car is an almost impossible task. Cars consist of thousands of interacting components, a small number of which teams are permitted to tweak and change for each race. Yet when they do so, the effects are felt across the whole car. 'Car set-up' therefore refers to the optimum compromise of all the different elements of the car; harmony is the illusive aim for engineers.
Set-ups differ from track to track because each circuit has its own characteristics, presenting a unique challenge for tires and aerodynamics. The singular driving style of each driver is also an important factor, which engineers must account for, and no driver set-up will be identical. If the right compromise is found, the driver will feel confident to extract the maximum performance from the car.
On the aerodynamic side, rear wing level and front wing angle can be adjusted, while front and rear ride heights can also be tuned to change the aerodynamic behavior. Suspension settings such as camber, toe angles and stiffness can also be modified, as can the weight distribution – moved forward and backwards within the permitted FIA limits. Some settings, such as the differential and brake balance, can even be changed by the driver on their steering wheel while on track.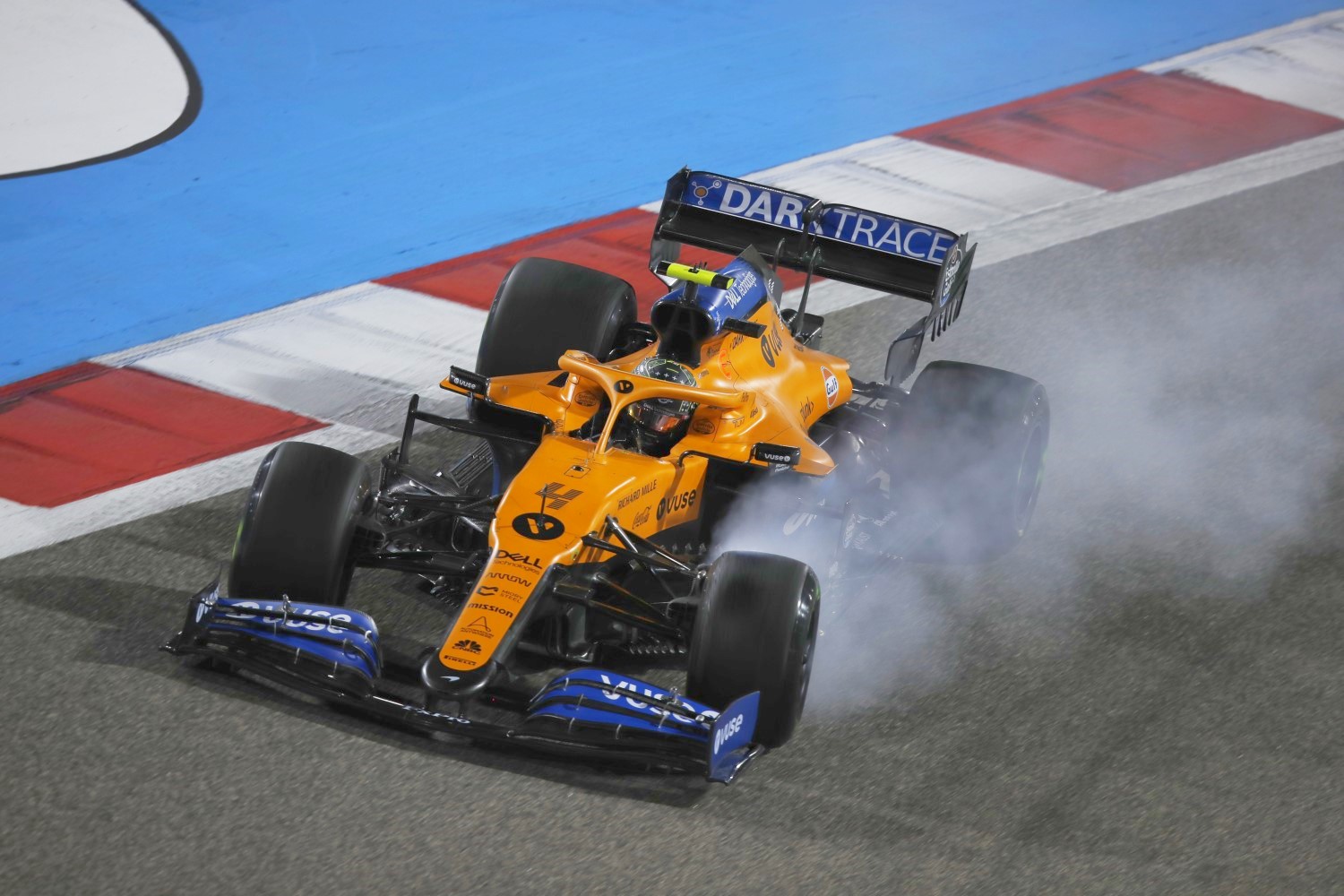 It's rare for drivers to use identical car set-ups and typically this will only be the case if one driver has had limited track running or are struggling with the balance. Bigger parameters such as wing levels and ride heights will be very similar, but smaller details like aero and mechanical balance can differ quite widely depending on their styles.
What pre-race weekend preparations do we complete?
Hundreds of working hours are spent preparing the car set-up in advance of each race weekend, with the goal of delivering the car to track in optimum shape. A large part of the pre-event work is running simulations, both on the Driver-in-Loop (DiL) simulator and computer simulation, to test and interrogate possible set-ups to determine their potential. With efficient simulation, the team can hit the ground running on Friday and focus on fine-tuning for qualifying and the race, looking at elements like track temperature, wind direction and tire condition.
Thousands of laps are completed in the virtual world on our state-of-the-art simulator facility in Brackley, which uses sophisticated lidar-scanned, 3D track maps and detailed virtual models of the car. The simulator drivers try out various set-up options and continue the program over the Friday of a race weekend, sometimes working through the night, to react to and maximize the learnings gained on track.
Ahead of a race weekend, engineers are also running offline computer simulations, using a racing line file generated from the DiL simulator. Engineers can complete thousands of virtual laps a day using this method because the laps can be run in parallel and at a sped-up pace, whereas the DiL must run in real time.
The computer simulations produce thousands of gigabytes of data and this information is generated into graphs and plots, which are useful for understanding the correct wing levels, ride heights and other parameters over a range of set-ups and conditions. This phenomenal computing power allows the engineers to compare set-up changes side by side, mastering how the car will respond to the smallest of tweaks.
Of course, these simulations can never be 100% accurate, and the quality of the simulation is dependent on the quality of data and how accurately the model represents the physics of the car and tires. But in a world of limited track testing, these tools are crucial for providing the initial first step in the set-up process: deciding on a direction to enter the race weekend with.
And how does the set-up evolve through the weekend?
Once the engineers know what base set-up they will be running in Friday's first practice session, it's down to the mechanics and engineers to ensure each car hits the track with the correct settings and components. The sessions on Friday are crucial for finding the right set-up direction to use in qualifying and the race, so it's all about maximizing the track time and conditions.
Engineers can change as many parameters as they like on the car, but the more changes they make, the harder it is to understand the effects each change has on the car performance, especially during the live sessions. When changing the parameters, it tends to be tackling one problem with one solution. But there are occasions where multiple changes are required.
Between the sessions is when more substantial set-up changes are made to the cars, to suit the evolving track temperature and conditions. Between five and 10 parameter changes are typically made during the gap between sessions, depending on the progress being made with the car set-up.
In the week leading up to the race weekend, the race engineering group will discuss and decide the run plans for each session. Like pre-season testing, run plans feature a detailed schedule of how many laps need to be completed and what the objectives are for each run.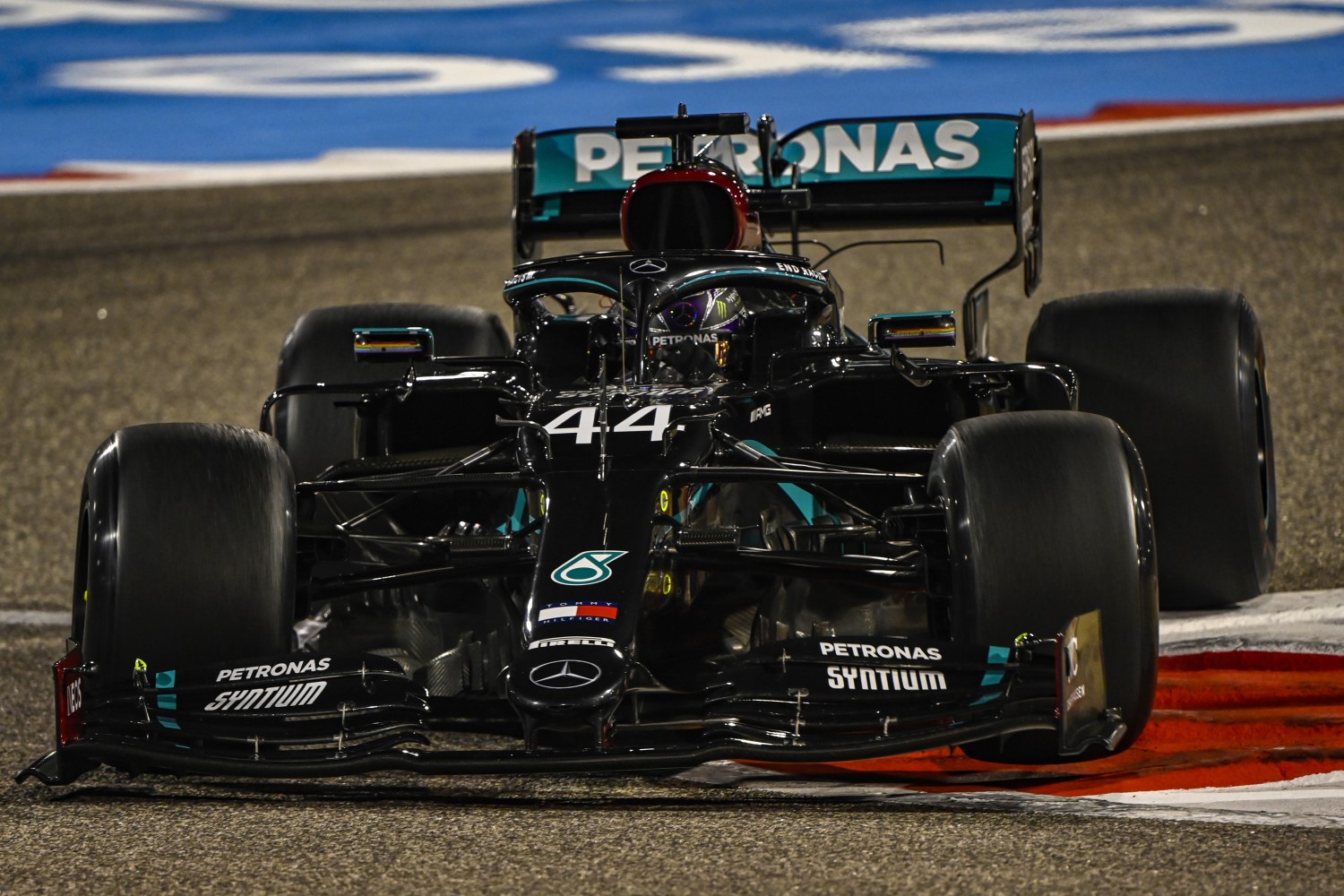 Some influence on the run plan will come from other departments, who will submit priority items such as new parts to try or specific data to be gathered. The race engineering group then prioritizes these items and fits as many as possible into the run plan for each session. The DiL and computer simulations also indicate different areas that need to be included on the run plans.
Every lap in practice generates 60 to 100MB of data, depending on the number of sensors on the car, and these figures multiply by four in the post-processing phase. We receive live telemetry in just 10 milliseconds to the garage for the trackside engineers to monitor, and in just 30ms to the factories in Brackley and Brixworth at European rounds.
Once the runs are completed, the full data offload takes 20 seconds per lap to generate and be available to the garage and factories. All of this data is analyzed both trackside and in the UK to understand the car's strengths and weaknesses. Elements like tire temperatures, wear and pressures are also monitored, to ensure we understand if the car is in the right performance window.
At the end of each day, the groups at the track and in the UK debrief, with engineers and the drivers sharing feedback and findings to refine the set-up direction or find a new route. The car set-up tends to differ slightly for qualifying and the race. In qualifying, your priority is to have a more responsive car so more front end is added, at the expense of rear tire degradation. But in the race, more understeer is required to protect the rear tires, which wear out the quickest.
What challenges does Bahrain present when setting up the car?
Bahrain is an extreme circuit that is hard on the tires, particularly the rears, owing to the rough track surface, mix of corner types, long straights and heavy braking zones.
Car set-up in Bahrain is focused on low and medium-speed corners because the high-speed turns can be taken easily flat. Mechanical grip is also important, to propel the cars out of the slow corners. This is the opposite to tracks like Silverstone, where high-speed corner performance is the priority.
A specific challenge in Bahrain is the differing conditions in practice. FP1 and FP3 take place in the warm temperatures and sunshine of daytime, but FP2 is run in the cooler twilight temperatures also experienced during qualifying and the race. Temperature and track conditions have a huge impact on the tires and car handling, so it makes car set-up particularly difficult.
Running in FP1 and FP3 therefore has limited value, so those daylight sessions are typically reserved for working on test items or tire behavior. The pressure is then on the FP2 run plan, because the twilight session is the only one to provide representative conditions for qualifying and the race. So, track time must be maximized in this session.
The sand is also a factor in Bahrain, although as we observed in pre-season testing, it doesn't tend to cause much drama for the cars and drivers, nor does it impact lap time too much. The sand does however impact track evolution and cause a reset, so it is preferable not to be the first car out on track in a session.
Select Quotes
Max Verstappen – Red Bull #33: "I didn't mind having only 1.5 pre-season days in the car and for me, the important thing was the mileage and seeing that the set-up changes we made over the test were working. You can't talk about proper limitations yet as we have only driven in hot conditions and every track needs different things, but I have a good feel for the car. From my side the car was stable enough to feel comfortable, there are always things to do better, but we are always making improvements and that is what the engineers will do. "Now I have to deliver and the Team have to deliver so we can try and mount a title fight. We all know our roles, and it's good to see Honda and ExxonMobil have been pushing hard over the winter to make sure we have the best possible package in the RB16B for the season. I like the Bahrain track and it will be exciting to see our performance. It's time to see who has got what."
Sergio Perez – Red Bull #11: It was really positive preseason test. There was a very limited amount of testing, especially considering the amount of things we have to run through and check, but I think we prepared well as a Team and I look forward to my first race with Red Bull! It's going to be a process for the first couple of races, just to learn as much as possible and to get up to speed quickly, so we can be in a good position for the season. This is what I've been dreaming of. I can't wait. I'm really, really excited to see some fans at the track, to finally get to race, I'm looking so much forward to it. I'm going to approach things very relaxed and just deliver to my maximum and we'll see where we end up.
Lance Stroll – Aston Martin #18: "The arrival of Aston Martin underlines all the potential in this team; it's a very exciting moment for us all. We're continuing to develop as an organization – that means we'll have more people and more resources to understand the car and how it operates; but we're still understanding how the team is growing. I don't think we were able to show our full potential during the Bahrain test, so there's definitely more performance to come during these opening races, which is exciting."
Sebastian Vettel – Aston Martin #5: "It's going to be a bit of a learning curve in these first few races: for me, it's a new team – I'm still getting to know everyone, still understanding how the AMR21 wants to be driven, and familiarizing myself with the team. I'm very excited to be at the start of that journey in Bahrain this weekend. The conditions were very interesting during testing – high winds made it quite tricky to drive – and we know that tire degradation is always a key factor here. It should make for an exciting race."
Frédéric Vasseur, Team Principal of Alfa Romeo Racing ORLEN and CEO Sauber Motorsport: "We are very excited about the start of the season – it's normal. Hopefully we will still be so after the first weekend! Jokes aside, we approach this race with confidence in ourselves: we have done a good job during testing, with excellent reliability giving us plenty of mileage, no mechanical issues and good feedback from the drivers, and we are eager to turn this positive start into a rewarding first race. The big question mark is, obviously, where we stand compared to our rivals: it's something only the track will say. We just need to give our best and have a flawless weekend, then we will assess the situation and have a clearer idea of what we can expect from the season. We expect a close fight across the whole of the midfield and we know the margins are going to be small, so we will need to extract all we can from our package: we have stability on our side, with an established line-up and no internal changes, so we need to make this advantage count."
Kimi Räikkönen (Car #7): "The first race of the season is always a special moment, mostly because I have missed the racing. It's nice to be back in the car for testing, but what makes this sport fun is driving wheel to wheel and you only get that in races, so there is something to look forward to. I am not looking at the times from the three days we spent here two weeks ago, because there is no point trying to get any idea about what to expect: soon enough, on Saturday, we will have an indication of where everyone is and what kind of battles we have this year. So far, we just have to focus on our work, on improving what we had in testing and on making the most of every opportunity."
Antonio Giovinazzi (Car #99): "I am really excited about the new season, my third full year in the sport. I feel ready, both in body and mind, and I can't wait to experience the feeling of a race weekend once again. I am not making any predictions on where we will be against our rivals, but I am confident we can have a good season. There is a really good spirit within the team, people are feeling positive and we're all walking with our heads held high, so we are approaching the first race with the right mindset. We all know how crucial the start of the season is: last year, we were able to score points right at the first race and they proved very important for the rest of the campaign, so the aim is to once again start with the right foot and boost the team ahead of this important year."
George Russell – Wiliams #63: I'm excited to get the season underway and be back out on the track. I've been out in Bahrain since the test a couple of weeks ago, so I've been able to do lots of training in the sunshine, and I'm feeling ready and motivated for the year ahead.
Bahrain is a tricky circuit with a rough surface and some tough corners, especially turns nine and 10; not being able to attack them makes it difficult for the drivers and everyone is always locking up. But equally, racing at night is beautiful. Even though it's a newer circuit, there is character and a special atmosphere here, so it's a nice track to go to. As always, we'll do our best and I'm looking forward to getting back to racing.
Nicholas Latifi – Williams #6: It goes without saying that I'm super excited for the first race of the year! The pre-season run-up has obviously been a little different to normal with the shorter schedule test taking place in Bahrain and only having one day in the car, so I'm looking forward to getting back out on the track. It's been a huge amount of hard work from everyone at the factory and here at the circuit to get everything ready to go, so I'm incredibly excited and motivated to start the new season and see what kind of progress we can make this year.