NASCAR Bristol Dirt Post-Race Press Conference
Participants
1st – Joey Logano, Paul Wolfe & Travis Geisler
2nd – Ricky Stenhouse Jr.
3rd – Denny Hamlin
4th – Daniel Suarez
THE MODERATOR: Take us through your race, Joey.
JOEY LOGANO: Obviously an exciting race. A lot of different things happening throughout it. But, you know, I think the biggest thing was just being methodical throughout the race. For us, we had a good Shell-Pennzoil Mustang, one that was probably the best on the long run. The last 15, 20 laps of a run is where we would really shine. I was just trying to make sure I had some tires on it for that moment.
The thought in my mind at least was get two cars per run. If I can get a couple, get a couple more, get a couple more, I'll be in position to win this race. I was able to pounce at the right times, get by Suarez, which was a lot of fun racing him. We're friends, so that was pretty cool to see.
Being able to maintain the lead and race Denny there at the end was nuts. They watered down the racetrack, that's the thing with this dirt racing, man, you just don't know what you're going to have next. You're forced to figure something out quickly.
T.J., my spotter, did a good job at telling me where Denny was. I tried moving up. It takes such a different driving style to make that work. On the bottom you can keep it straight, kind of go around kind of like asphalt on the bottom, but up top you have to have the car pitched out and running around. Definitely two different styles of racing and of driving in the car.
You're trying to hold off Denny, trying to save your tires for the long run, and that was a pretty tough challenge for a second. Then working the lap cars at the end was also a challenge, as well. Luckily we were able to get through those cars and fight 'em off on that final restart. Didn't want to see that last caution.
But to be the first team to be able to win on dirt in the Cup Series, in 50 years or so, that's something that I'm very proud of. Very proud of this team.
This weekend coming into the week, you just don't know, right? I said that's the phrase of the week: I don't know. You didn't know what you had to work on in your car. You didn't know how the race was going to play out, you don't know how the track is going to change. It's just watching and studying, getting in a dirt car for a few races in Volusia, running a heat race here a week ago. All that kind of helped out and played out for us.
THE MODERATOR: We are also joined now by our race-winning crew chief, Paul Wolfe. We'll start with questions.
Q: Joey, your dirt-modified experience you've had between Volusia and here, how big a factor did the lessons you learned play into what you were able to do late in the race today? Obviously the track conditions today are really nothing like anything else you had experienced before.
JOEY LOGANO: Yeah, I mean, it's dry and slick. That actually was a lot like Volusia in its own way. Obviously the banking here in the car itself is very different. I feel like the dirt racing probably helped me more on trying to understand how to run the top lane, with trying to keep pitching the car. Those things like that maybe gave me, I don't want to say gave me an advantage, but maybe helped me catch up to everybody else that runs dirt regularly.
I feel like there was some advantages the dirt guys have, for sure, out there. But it's such a different car than a late model or a modified or a sprint car, whatever you may talk about. It's very different.
I feel like the Cup guys that typically drive these cars as well kind of had kind of a way of mixing those two to be able to be successful. I think more than anything, today really shows the talent in this Cup level, right? Race car drivers are race car drivers, they're going to figure it out. You give them time, a few laps, they're going to figure out how to make a race car go fast.
The amount of good racing we saw today throughout the field in very challenging conditions, a very slick track and very dusty, you can't even see where you're going, you saw guys that never even raced on dirt be pretty good. It goes to show that the talent in this NASCAR Cup level is something else.
Q: You referenced visibility. It's easy to be happy about how things ended when you won, but if you put the hat on of looking towards next year, knowing we're doing this again, do you have thoughts on what you'd like to see be done differently for 2022 to make it a better product?
JOEY LOGANO: I'm not a dirt expert by no means. This is my fourth race, so… But I do think that racing at night is the key to this. I think that brings some of the moisture up from the dirt. I think that would help. Plus you don't have the sun glaring through the dust. That's what made it really hard through turns one and two. You couldn't see. You're talking to someone that ran in third or fourth place, so I didn't really get the real worst of it.
Look at what NASCAR did on the track, to be able to prepare for this event, they did a great job. Obviously having a truck race before this is not easy to do to turn the track back around for us to go out there and run 250 laps. I think Harvick said this is the longest dirt race in mankind. I think it was (laughter).
It's just incredible to see that they were able to get the track decent, then the amount of water they laid down the last stage really kept the dust down, but really changed what we had to do from behind the wheel and car adjustments, as well.
THE MODERATOR: We have also been joined by Travis Geisler, the competition director at Team Penske.
We'll continue with questions.
Q: Joey, when you're leading in overtime, going to a single-file restart that you haven't done in I don't know how long, are you like, What do I do? What's my strategy?
JOEY LOGANO: Brings you back to Legends car days for me. I kind of feel like the leader is a sitting duck when they did that because you kind of are trying to time runs and things like that.
As the leader, you're in the mirror watching the car behind you trying to time it to where he doesn't have a run on you and can make the pass into turn one. The restarts were very different than what we're used to.
I would say it's probably easier to be double-file restart if you're the leader, as crazy as that sounds. I think you probably would have a bigger advantage if you were choosing the outside and you had a row behind you to kind of protect you from someone making a move.
I wasn't excited when I saw that caution come out, but I was able to time the start decently and get through one and two to be able to get some distance. That was key. I was fully prepared to get the bumper. I figured that was going to come at some point. You have a green-white-checkered at Bristol, I don't care if it's dirt, concrete, you name it, there's probably going to be contact. But was able to have a good enough start to prevent that.
Q: Did you think you were going to get the bumper because it was Hamlin? All of us thought Logano and Hamlin again.
JOEY LOGANO: I don't care who's behind me. I would just assume that's going to happen. You at least prepare yourself for it one way or another. That was it.
Q: Joey, as the rules changed, as the track changed, I don't know if confusion was the word, but how challenging was today with how everything changed? There wasn't always that constant in terms of seeing the restart change in the middle of the race.
JOEY LOGANO: Yeah, just had to be ready to adapt. That's what this weekend was about. Paul and I talked about it, Travis, all of Team Penske was just kind of, where do we want to start. Like you said, there's unknowns. You try to tune that in the best you can in practice. You learn and you watch other cars, you watch the way the track changes. You watch the truck race earlier today. You try to just take all the information you possibly can to make the best decisions you can possibly make as a team.
I feel like just we did a good job at that. We did a good job at getting a race car put together that was pretty quick, especially on a long haul, and being able to methodically pick your way through the field to be positioned right at the end.
Without pit stops, things like that, you can stay up towards the front without mistakes. That was kind of my thing, is keep my car in one piece and keep my tires on it because if you lose that track position, it's going to be hard to get it back.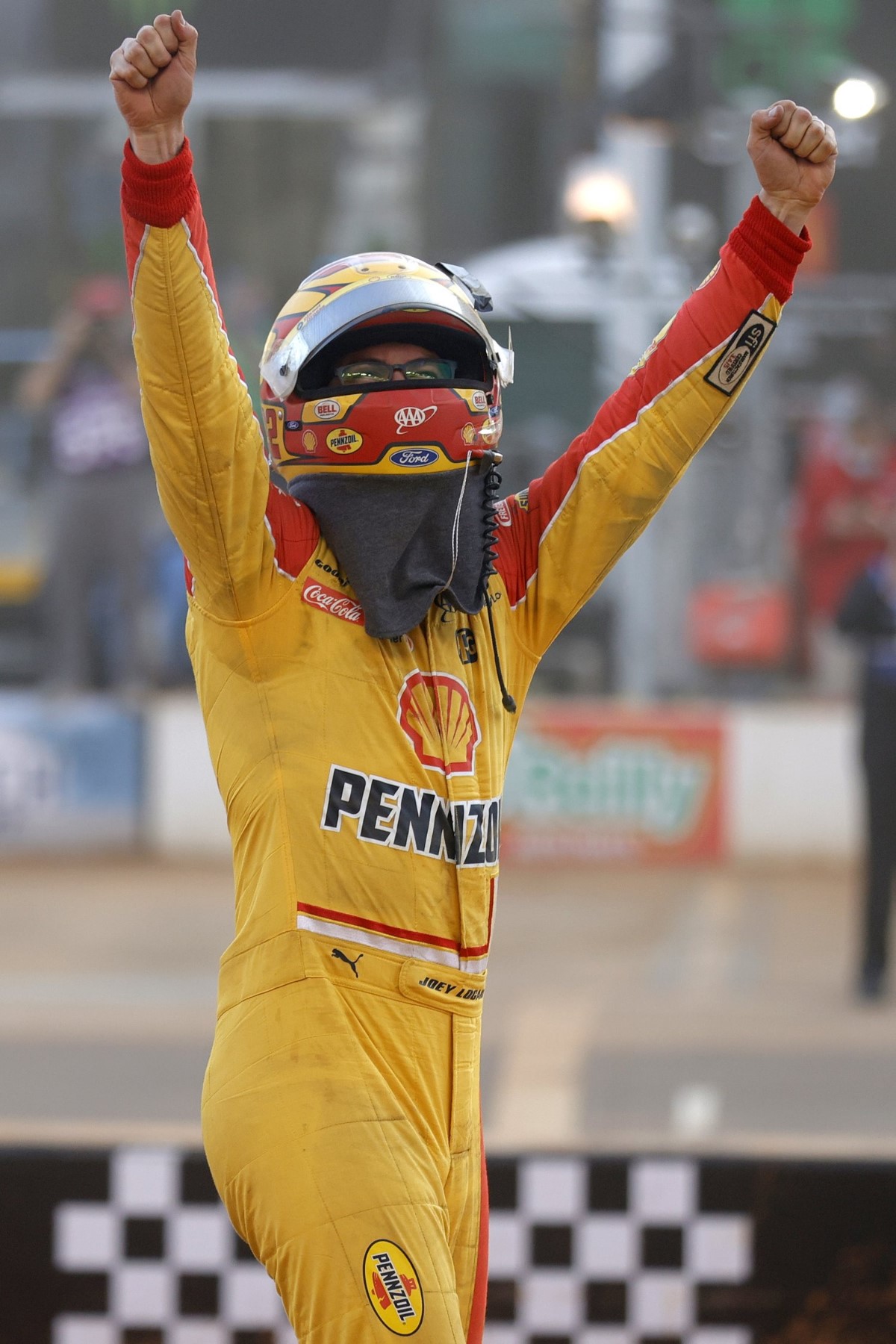 Q: Travis, you've done some stuff with the NextGen car. Obviously with this race returning next year, this will be with the NextGen car, what are the challenges with the NextGen car on dirt, things that need to be looked at before next year's race?
TRAVIS GEISLER: I would say D, all of the above. If this car was a challenge, it's going to be a whole 'nother set of challenges. Certainly early in the season for the whole industry, so we'll still be kind of new to that car, which will make it even more challenging.
This one we kind of knew so much about the history, kind of how things tear up, what happens throughout the course of events, short tracks across the country where you get torn up, you kind of figure out, Hey, we need to reinforce this, do that.
That body being totally different, all the suspension being different. I can't really say independent rear suspensions have been run on dirt. I can remember John Mason trying it when I was probably about five or six. That was pretty unsuccessful. I think we'll have our work cut out for us. Certainly had our work cut out for us this weekend as well.
Just like Joey mentioned, the drivers are so high caliber. I certainly agree with him, it was awesome to see our group just really figure it all out. I think the same goes for the guys in the cars and people that are working at them at every company here. Everything ran through the race, we made it, figured out how to do it. Nobody has really done it before. We'll figure it out. That's part of what we do every week.
Q: What are your thoughts about bringing this car back next year rather than doing a Bristol purpose-made car for the event? I'm looking at it, as much as we've heard about cost-saving measures, wouldn't that be something that would go a long way in saving teams money?
TRAVIS GEISLER: I think we all just have to take a look back after this, kind of go over all the learnings from the past couple weeks and months trying to prep through this. It's the same process we went through to be ready to come here, everybody getting together and talking about all the challenges, let's work together. The teams did a great job of setting aside kind of the competitive side of it, make sure that they worked with NASCAR in a way that we could actually pull this off.
That's something to certainly consider. We need to look at that, how that would impact what we're trying to do next season with the new car. That's things to probably consider over the next few weeks, months. Certainly there will be a lot of this equipment around, and we can decide what we want to do with it as we go.
Q: Joey, can you reflect on a 10-year winning streak. Pretty sporty for a guy to win every year for a whole damn decade.
JOEY LOGANO: 'Whole damn decade,' heck, yeah (laughter).
Yeah, I guess I didn't even realize that. Honestly, I don't take much time to look back and reflect. It's kind of always what's next. You've heard Roger Penske say it a million times: don't trip on your press clippings, don't look in the rearview mirror. I feel like maybe later in my career when I'm done and sitting on the rocking chair, maybe then I'll think that stuff's cool.
Right now I focus on just winning the next race. Probably more disappointed if I don't have more wins, so… I guess it's a cool stat. Don't get me wrong, it's neat for sure. I didn't even know that was a thing at this point.
Just look out the front windshield at this moment, looking to get another one in a couple weeks.
Q: Gabehart warned Denny you were the most aggressive guy in the business, but it still didn't do him any good.
JOEY LOGANO: Aggressive sometimes works for me. I usually stay that way. The guys were joking with me, I'm going to change my name to Joe Dirt now (laughter).
Q: Paul, I think Joey mentioned when he got out of the car, nobody knew how to prepare for this and what to do. What did you and the engineers, everybody back at the shop, how do you prepare for a race weekend like this?
PAUL WOLFE: Well, there was a lot of meetings and getting together. Obviously we had some people within our company, Jeremy and Travis and Kevin, that have raced dirt in the past, have some experience.
So it's really talking to those guys, being open-minded, but still just having a common sense approach knowing that it's still the same race car we race every week, the track is just going to have less grip. We kind of took that approach going into it. The guys did a great job obviously back at the shop preparing the cars.
We came here with two short practices, and executed the practices well. Tried to learn as much as we could to get our car close. All race long, it was still a learning curve, trying to understand the tires and adjustments with the track changing, how big of adjustments we needed to make.
I thought overall obviously we did a good job executing, learned a lot. I think everyone will go back now and digest everything and probably come back even smarter next time around.
Q: Joey, back to when the decision was made to go to a single-file restart, you were really surprised when T.J. told you that on the radio. How much do you think, if at all, that changed the complexion of the race?
JOEY LOGANO: Yeah, I mean, definitely changes it. I was kind of confused on why. I'm sure there's a great explanation, but sometimes when you're in the car you don't see it. I haven't really watched back at things. It might have been for the dust I think maybe, to keep everyone more towards one lane maybe to help the dust. I don't know if that's what it was for or we were just crashing too much.
It's like when you grow up racing, if you crash too much, the sanctioning body comes back and says, Okay, single file restarts, you guys can't do this. I don't know if that's what it was either. I have no idea.
It definitely took me back in time trying to figure out, How do I restart with single file restarts? It's literally been since legends car days for me back in '99 or so since I've done something like that. I was trying to think of all the little short track tricks that I've learned when I was a kid, trying to put it to work in the Cup level, which is kind of funny, right? The things you learn growing up as a race car driver, a young kid, those techniques and little tricks stick with you forever and you never know when you need them.
Q: Talking about being aggressive earlier, Denny was flat out asked, Why not go through the 22? He responded, Well, me and the 22 race differently. I don't have that mentality, Denny said. I just wonder whether it's real or perceived, do you mind having that reputation as an aggressive driver?
JOEY LOGANO: I feel like everybody is aggressive right now. Honestly, when I look at what everybody is doing on the racetrack, maybe I was the first to it, so that reputation stuck with me.
But I can promise you, I watch every one of these races back and I'm not the only one being aggressive. You look at the 550 rules package, everyone is aggressive. Look at the restarts, it's insane. I promise you I am not the most aggressive guy on the racetrack any more. There's times I look at it and say maybe I need to be more aggressive. The game has changed a lot.
That reputation is probably with me because probably five or six years ago that reputation started with me. But the competitors have changed and evolved over time to where everybody is aggressive. Nobody gives up spots. There's not much give-and-take out there on the racetrack any more. We're racing.
You know what, that's what the fans buy the tickets to see, is racing. That's what we're going to continue to do. That might be a reputation that stays with me, but I don't feel like it's the most truthful thing any more these days.
Q: Joey, you mentioned earlier about being the first Cup winner on dirt in 50 years. In regards to all of your achievements that you had, can you rank this? Is that up there with, like, the Daytona 500?
JOEY LOGANO: Any time you win at Bristol, it's special. Been able to win a Bristol night race a couple times. Coming back to Bristol, winning a dirt race, yeah, it's special obviously. It's up there. Can you compare it to the Daytona 500? I don't think you really can. Daytona, Brickyard, Southern 500, Bristol, they're all big races, right? They're all kind of crown jewels that we look at. Coke 600 I'd put in that as well. It's definitely a big race to win, definitely one you want to have on your bucket list.
Winning on dirt, that's something special. You say now I won on superspeedways, short tracks, and dirt tracks. That's kind of a neat thing to put on your résumé, I guess.
I think of big races to win, right? The biggest one is the Championship 4 at Phoenix. That's the biggest race every year if you can get to that point. This is a good step towards that direction today.
Q: Paul, the pit crew guys, you didn't have your regular pit crew as per NASCAR rules, what were the training sessions like to get your crew guys to go over the wall? How much fun did they have doing this today?
PAUL WOLFE: They had a lot of fun. I know they were all looking forward to it, making jokes about it. I think we have a great group of guys that can step up when we need them to.
Fortunately we didn't have a lot of damage today, so it was pretty calm on our pit stops, getting the tires and fuel in it, then just looking the car over for any little damage or potential issues.
Fortunately it was pretty calm and everyone did a great job.
THE MODERATOR: Travis, Paul, thank you so much for joining us today. Congratulations.
We'll continue with questions for Joey.
Q: As we go into a bit of a landmark on the Cup Series schedule, knocked off the first track that's new to everyone in Bristol dirt, how do you feel about where your No. 22 team is at at this point in the year? How great does it feel in this year of parity to get a win right now and not worry about it later?
JOEY LOGANO: I was getting nervous about it, to be honest with you. You start seeing drivers and teams win that you put on the 'maybe can win' list, and some that you would really put on a list that you never thought would win. Some of those guys have really gotten a few this year.
We were up there in points. I think we were second in points coming into this weekend. You're up there on the points, but you still don't have that win in your back pocket. Man, a few bad races, we could miss the Playoffs.
You look at Daniel Suarez up there today leading laps. That went through my mind at one point, Gosh, is he going to win a race? That's another step back.
All that is very concerning for sure. Very cool to see our sport with the parity. I'd rather not have the parity and just see the Shell-Pennzoil Mustang up front every single lap. But I think for the fans, it definitely brings something to the table. It's pretty exciting right now where you just don't know who's going to be strong.
I think some of that is due to the changes with the schedule, but also a lot of that probably is due to not having practice more than anything. I do believe when you have practice, the good race teams and good drivers, they know how to adjust their car to maximize the performance. When you don't give 'em practice, you kind of tie their hands to trying to make it the best educated guesses at the shop. If it's not right, it's really hard to overcome that.
Nice to be able to, like I say, get one here fairly early in the year to head into Easter break, nice to have an extra week to celebrate and enjoy it.
Q: Were you able to take any lessons from watching the truck race on a track you had never run before, save for the practice laps on Thursday, and apply it to the Cup event?
JOEY LOGANO: Maybe a little bit. I really enjoyed doing the broadcast up there with FOX. I've done quite a few of them this year. Doing the iRacing racing stuff from FOX, Race Hub. I really enjoy the TV side of our sport, trying to put my two cents in as a race car driver that just got out of the seat of what's going on out there on the racetrack.
And I'm a race fan. I absolutely love the stuff. This is my life. I love NASCAR racing. I love talking about it and being around it. It's kind of a natural fit for me.
Do I feel like I learn a lot up there? Sometimes I do. I pick up on a couple things, for sure. Today watching, I found a few things. There's also a job to do up there. If I was just up there studying the race the whole time, I really wouldn't say much, I'd just be taking notes the whole time, a couple mental notes on things that I saw. Probably more helpful to actually be in the truck race, but I'd say it worked out all right.
Q: Bristol announced during the final stage break that they were going to be doing this again next year. If that news had been relayed to you in that moment when you're sitting down on pit road waiting to be back on the track, what would your reaction have been like?
JOEY LOGANO: It is funny. I like how they waited to see that it was going well before they announced they were doing it again. All right, this race is going well. We'll do it again. Smart play by SMI.
I think obviously I'm excited. If they told me during the race, maybe I wouldn't have much emotion because I had a bigger thing in my mind at the moment trying to win on this dirt track.
Now I'm excited about it for a lot of reasons. Obviously this is a great event. Would I look at the weeks before and weeks coming here, bringing the short track, late model, Sprint cars, modifieds, street stocks, mini stocks, they're racing everything at Bristol. When I think of just racers, short track Saturday night racers, racing here at Bristol…
I remember my first experience coming to Bristol. I guarantee you the thousands of cars that have been here over the last few weeks and are coming, their first time walking into Bristol and driving around this racetrack is a very special moment. It's really cool that SMI and Bristol is giving these drivers and teams the opportunity to race on the big track, the high banks. Really cool. Excited about that.
I'm excited that we're going to do it again next year because unfortunately this year you look at the situation with COVID. Boy, when they announced this race, I thought it was going to be a sellout. I do think it will be a sellout once we're able to have full capacity back at these racetracks. This is a crazy show. Being able to look at Bristol with dirt on it, everyone wants to see that in person.
When I came up here last week to race that modified, I walked up in the grandstands, looked at the racetrack, this is the weirdest thing I've ever seen. Crazy to even think how this is possible.
Kudos to Bristol, Marcus Smith, those guys, to really come together and put on an event. That's what it is, it's an event. It's a crazy, amazing event that they're able to put on. They should be proud of themselves. This is a big risk, really big risk, that I know not many teams were behind. It worked out well, so congratulations.
Q: Earlier Denny said at times the race felt like old Bristol, where you're getting knocked out of the groove, falling back. Did it feel like that to you at times?
JOEY LOGANO: Yeah, I mean, eventually the bottom was the place to be. Passing cars was hard. It was really hard to do because cars would wrap the bottom so far around a corner to try to get that straight launch off the corner to try to get forward drive. When cars lap the corner that long, how do you get underneath them? How do you continue the run to get underneath them? You're trying to go over the 'dirdles' on the exit, trying to drive. Cars are moving. It's crazy.
Yeah, you know what it really shows us? That you don't have to be going 200 miles an hour to put on a great race. I wouldn't say we were going that fast today, and it was a lot of fun, the drivers were having a blast. I know the fans enjoyed it, as well.
Q: This is a bit of a one-off being Bristol dirt. How much confidence does this give you having that win going into the break, but also when we return at Martinsville, a track you've had a lot of success on before?
JOEY LOGANO: Yeah, Martinsville is obviously a great track for us. It's a great racetrack for Paul Wolfe maybe even more so for me. Glad to be driving his car there. Seems like they've been able to have some good cars there in the past.
Excited about going to Martinsville. Honestly I'm going to enjoy this though, first. I feel like we never enjoy victories enough. We'll enjoy this, have a great Easter break with our families, fire away when we get back.
Q: How would you evaluate your season so far?
JOEY LOGANO: I look at our season, our 750 rules package is spectacular, capable of winning every time we've been out with that, whether it's on the road courses, Phoenix, been pretty good. Obviously that gets me excited about Martinsville. Today kind of like a 750 package, I don't know what you would call this one, but we had the big motors in at least.
Our 550 stuff is a weakness. We need to continue to work at that to try to understand where we're off there. I wouldn't say we're way off, but we're not in contention to win yet with those races. Just got to keep looking at it and trying to figure out where that's at.
Q: When you won the night race in 2014, you called it the biggest mama jama. Where does winning the first Bristol dirt race rank to you?
JOEY LOGANO: That's funny. I don't know the words that come out of my mouth sometimes. I should think more before I talk (laughter).
I don't know what you'd call this. Obviously it's special. Like I said, winning on dirt, saying I've been able to do that, like I said earlier, winning on every different type of racetrack is special. There's no one else actively that can say they've done that right now because this is the only dirt Cup race we've had in 50 years.
That's something I take some pride in for sure, knowing that I'm a versatile driver, and you have to be at this level, in the Cup Series. That's what is so attractive to me about racing in NASCAR, is that you can race different types of racetracks. There's bumping and banging, different disciplines you have to be good at. It's a real, real challenge. It's really hard to race at this level.
I really take pride in trying to figure that out and enjoy the work we put into that.
THE MODERATOR: Joey, thanks so much for your time here tonight. Congratulations on a historic win.
JOEY LOGANO: Thank you very much. Thanks, guys.
Ricky Stenhouse Jr.
Denny Hamlin
Daniel Suarez
THE MODERATOR: We are joined here now by our second- and fourth-place finishers in today's race, Ricky Stenhouse Jr. and Daniel Suarez, as well as Denny Hamlin, our third-place finisher in today's race.
We will go ahead and start with questions.
Q: Daniel, they say that dirt is really kind of the great equalizer for a lot of drivers, a lot like the draft at Daytona and Talladega. When you looked at the races prior to the season, was Bristol one of those that you circled on the calendar thinking this might be the best shot we have early in the season?
DANIEL SUAREZ: I want to be very honest with you, I love racing at Bristol. Is one of my favorite racetracks.
When they announced we're going to be coming here with dirt in one of the races, I wasn't too sure about it because I never been on dirt in my life. In Mexico, we don't have ovals in dirt, at least as I know.
Honestly, I am just very, very proud of my team that they brought a very fast car and I was able to learn as I went.
It was a challenge. Last probably five days ago was my first time ever on a dirt car. It was a lot of fun. I really enjoy a lot. I enjoy a lot, as well, the entire weekend.
Overall I felt that we're very close. That always bring a smile to my face. But it wasn't close enough. So we have to keep working. Now I'm excited actually that we're going to come back next year with another shot to race and compete for the win in Bristol on dirt.
Q: Ricky, certainly you talked about working a lot with Steve Swift on the track conditions. What can be learned from this experience moving forward since this race will be around next year, and how you felt things went?
RICKY STENHOUSE, JR.: Steve and the boys did a great job. Obviously I watched every race last week. They did a great job with all the race cars on the racetrack, knowing they had to prep the track a little bit different for our race cars. Obviously you can't have it wet with the cars overheating and our grill screens, windshields, and things like that. They prepped the track to the best of their ability.
Obviously all the rain didn't help. They reacted, did stuff as best they could. Came out here last night just to check out the track. Kind of talked to them about what they were going to do between the stages and the competition cautions. I think they did a great job.
May have got a little bit behind there. When we started running single file, all the dust just sat in that second lane. I was one advocating for single-file restarts. I felt like NASCAR did a great job adapting to that because, like Steve O'Donnell said, that's things that you see in dirt racing when track conditions just change and kind of are out of your control at that point.
But I think it made the racing better, a lot better there at the end. Hats off to everybody at NASCAR and everybody on the track crew.
Q: Denny, going to the single-file restarts at the end, how much did that impact what you were able or weren't able to do at the end on the restart?
DENNY HAMLIN: Yeah, I mean, it's tough to say. If I'm beside 'em, I'm in a better spot than if I'm behind 'em on a green-white-checkered. I had an opportunity to choose whether I was going to make a move on the high side or the low side. I chose high, and the track was just too slick up there at the time.
Certainly he didn't get a very good restart. I was on him entering turn one. That tells me if I can start beside him, then I had an opportunity there to be ahead of him getting in one.
It is what it is. We all had to adapt. We knew after halfway or so when they changed it that was going to be the rule for the rest of the race. Those are the cards we're dealt.
Q: Why didn't you just go through him? This is short-track racing, bump-n-runs is the standard formula. Why not through?
DENNY HAMLIN: Because I think me and the 22 race differently. I don't have that mentality.
Q: Ricky, when NASCAR returns next year, what would you like to see done with the cars, if anything, to have them better adapted to dirt racing?
RICKY STENHOUSE, JR.: I think that's a really good question because we're bringing back a totally different race car next year.
I think us teams learned a lot throughout the weekend, what not to do, what we can do better. Drivers, as well. When you're bringing back a totally different race car, it's going to be all new.
Hopefully Goodyear is able to work on a tire that we can have a little bit longer run. Our Kroger Camaro was really good on the long run today. I didn't have the short run speeds so I needed those long runs. So hopefully with the package that we have when we come back, we can get those 75-lap, 100-lap runs, depending.
It's going to be tough. I think the track crew learned a lot with these heavy race cars, what they need to do to be better. They adapted well, like I said, with the rain. Those are things that are always changing with dirt racetracks. They did a good job. Next year is going to be just as much of a toss-up with a different race car.
Q: Denny, this is a big-picture question. Is there something to take out of this in terms of trying new things, being willing to try new things, things that could be implemented other races, different venues?
DENNY HAMLIN: I mean, pit stops have been part of NASCAR racing for a long time. I think on the dirt, absolutely leave it as is. We don't need to have competitive pit stops when it comes to dirt.
You can't keep cutting the grass. Cut this, cut that, cut this, cut that. Eventually you're down to dirt and you got nothing left. You can't keep cutting the grass. The grass is our racing, NASCAR racing.
Hopefully we can keep things somewhat a little bit authentic for the way it's been for a long time. But absolutely, I love the nimbleness of our schedule. They were able to take us to a Bristol dirt race, we're going to Circuit of the Americas. A lot of different venues. That part is very, very positive.
But definitely don't want to see them cut out any more competition when it comes to little stuff like pit road.
Q: Daniel, I know it's on dirt so it doesn't necessarily equate to what you guys are facing the rest of the year, but what does this do for Trackhouse just in terms of confidence, morale around the shop? Your confidence? What do you take away from this?
DANIEL SUAREZ: Yeah, it was already a good day for us, running up front, leading laps, and staying in the top 10, top 5 the entire race.
But if you look at it, last week we were very similar. I mean, we didn't lead laps, but I made a mistake in the last pit stop, and that took away our chance to finish either fifth or sixth.
It's the second week in a row that we've been running strong. I don't see this as, okay, we run good because we're on dirt. I feel like everyone at Trackhouse Racing has done an incredible job to work hard on these cars, get them better. Really a lot of support from RCR, engines and chassis and everything. I feel like we still a long ways to go from where we want to be, but we're heading the right direction.
Hopefully we can compete in the top 10, top 5 like we've been doing the last couple weeks on a weekly basis. Eventually we're going to get a trophy.
Q: What were you missing at the end? You were so good throughout stage two. What was missing that final stage or what changed?
DANIEL SUAREZ: The racetrack changed completely. I was actually talking to Denny about it. They did a lot of things to the racetrack, to some cars it came to them, some others they lost the balance a little bit. Unfortunately I was one of those that lost the balance a little bit. For some reason, my rear grip wasn't the same. I felt that my car was capable to challenge for the race lead before that. I kind of like had a plan in my mind.
The last 50 laps for some reason I lost that grip. I just couldn't do much about it. From being a first- or second-place car, I became a fifth- to fourth-place car. That's exactly where we ended.
It's a learning curve. Like I said, I'm still learning about all this dirt racing. My first time was actually just five days ago. I wasn't expecting the racetrack to change that much, but it did. That's something I have to keep in mind for next year.
Q: Denny, they announced they're going to do this next year. Is there anything you particularly would want to suggest to say, Hey, do this differently?
DENNY HAMLIN: I don't know. I think you probably need to get with the dirt guys a little bit more or ask them. But the dust hindered the ability — the single-file racing as much as anything. You could not get out of the groove or else you were just running on dust.
I don't know if there's different dirt that doesn't produce as much dust as this one. I know they really did a lot of research on the dirt itself. A couple of them said if you didn't run during the daylight, dust wouldn't be as bad.
I thought the racing was good. It really was. It was almost like the old Bristol. If you got out of the lane, you got shuffled. That part of it was really encouraging. For fans' sake, for visibility of the drivers' sake, I think a lot of the wrecks happened because of the dust and we couldn't see anything. Just that part.
When we get the new car, those things have paint on the bottom of them. I don't know, these holes, somebody better get a tape measure, some of them are at least like a foot deep. They are super deep. I don't know if that new car can stand that.
Q: Any more frustrating to run second to Logano? You complained on the radio that he cut you off. I assume that's kind of expected in that type of situation.
DENNY HAMLIN: Yeah, definitely. I mean, he's doing what he has to do to protect the lead. I'm trying to get it from him. I just wasn't aggressive enough. I should have shoved him out. When I had position on the bottom, I should have just moved up and got him in the dust, and got rid of him. I just wanted to pass him clean. I didn't, so I didn't win.
THE MODERATOR: Denny, thanks so much for your time today.
DENNY HAMLIN: Appreciate it.
Q: Ricky, I know this is a would have, could have, should have, but is this a different race if Larson and Bell are able to go the distance to the end? Larson remained in there, but he came from the back of the field and was up to fourth when he ran into Bell.
RICKY STENHOUSE, JR.: Yeah, obviously there's a lot of races that change, the flows of them change, especially when different things happen throughout the race.
They're two of the best dirt track racers in the country, and don't do it full-time. They had the top working really well. I don't think they would have made the top work. There towards the end, the rubber that got down on the racetrack was just too fast around the bottom.
But obviously they would have been contending for the win. They showed that they were really fast. So the 22 car looked good in practice. The 11, the 19 looked good in practice. I think the 99 did a phenomenal job all day just working his way up. Obviously his car was really fast, as well.
A lot of cars kind of came and went. I felt like mine was really good. If we had 75-lap runs, I felt like we had one of the best cars. The first 15, 20 laps, I was terrible.
Definitely things would have been totally different, no matter who was out there. The 18 obviously got off to a great start and overheated, I'm assuming, running the top.
Yeah, they would have been battling for the win, I'm sure of it.
Q: Is there any reason not to bring these cars back next year? I know we're going to the Gen-7, but rather than building a dirt-purpose car, couldn't we just recycle these and save the teams a ton of money?
RICKY STENHOUSE, JR.: Yeah, I'm not exactly sure what all the RTA and NASCAR do in their meetings. I think a lot of the teams, crew guys would advocate using these cars, especially with everything we learned this weekend. Maybe we could put on a better race using the same car with the notes that we had. I don't know if the owners and the teams want to keep switching back and forth between race cars throughout the year.
That's not really up to us drivers. We get out and drive whichever one that we can. But I do think the racing could be pretty good if we brought these same race cars back.
Q: Daniel, following up on your performances the last couple weeks, how do you feel about going to Martinsville in a couple weeks?
DANIEL SUAREZ: I feel good. For now I'm really looking forward to sit down a little bit, relax for a few days, try to see everything that we have done the last month and a half, either good or bad, and what can we do better.
But I definitely believe that this team is very good and we just keep getting better and better. I'm just very excited and happy to be back racing with these guys.
I feel like Martinsville has been a good place for me in the past. I'm really looking forward, like I said, a few days off, then come back with my group, work hard and try to build a good piece for Martinsville. I'm sure we're going to have a lot of fun there.
Q: Talk about your relationship with Travis Mack. Is it better than you expected after the first seven races?
DANIEL SUAREZ: I really enjoy a lot working with Travis. He's very smart, a great leader, a great person that work extremely good with people. He keeps me down. I'm sorry, he calms me down the entire time. I'm the kind of person that I get excited very easy. He does a great job making sure that I'm always calm down and relaxed on things.
He doesn't get to the chip on the rpm too often, which is a good thing. I really enjoy working with Travis, everyone at Trackhouse Racing. Everyone does an amazing job. We have a very good relationship, very good chemistry. I feel like it will only get better from here.
Q: Ricky, this has been an excellent start to the season for you and your team. First top 10, let alone top 5. What changes have been made heading into the year to improve the team's performance?
RICKY STENHOUSE, JR.: Yeah, we really focused on just being more consistent week in and week out. We had some really high moments last year and some really low moments. We're just trying to even things out, take the speed of our race cars, make sure we execute when we're at the racetrack, when we're in the shop, just being prepared.
That's starting with me, the things I do behind the wheel, the things I do off the racetrack preparing, going into the weekend, just getting that mindset going into each race that it's one race at a time.
We didn't get off to the hottest start. We struggled a little bit at the 500. Had a couple mistakes that cost us at the road courses. Really, other than that, we've stuck to our game plan and done everything that we've wanted to do and accomplish every week.
Coming into the Bristol dirt event, I felt like I was going to be comfortable on the racetrack. But I felt like these are the best drivers out there. They were going to adapt, their teams were going to adapt, bring good race cars, as well. I didn't want to put too much emphasis on, Hey, we have to go win.
We methodically worked our way throughout this race of getting our race car better, not freaking out early in the race, knowing that the track conditions were going to change, and probably come around the balance of our race car. We did that. Got our first top 5, top 10 of the year. Trying to keep that momentum going into an off weekend and start back fresh when we get going again.
THE MODERATOR: Ricky, thanks so much for your time.
RICKY STENHOUSE, JR.: Thank you.
Q: Daniel, I'm curious, at what point during the day did you feel comfortable or feel like you got the hang of this dirt racing thing?
DANIEL SUAREZ: Probably between lap 50 to a hundred or so. I felt like, okay, the car is actually pretty good, I can make some moves. We were getting to a top 10. I was still passing cars.
Obviously when I went into the lead, I say maybe we can have a shot to win this thing. Really, the track kept changing. That's probably where I lacked some of the experience on dirt. I didn't know what to do. I didn't know what to ask for in the last 50 laps. I knew they were putting a lot of water on the racetrack, but I had no idea what to change.
I even asked my crew chief, Travis, Hey, should we make an adjustment too tight, too loose? He said, I have no idea (laughter).
We were just hoping for the best. Unfortunately didn't work out. Overall on and off it was a very, very solid day. We're back running up front for two weeks in a row. That's something to be proud of.
We really can put our arms down, keep working, keep building for after the break.
THE MODERATOR: Daniel, thank you. Congratulations on the great run today.
DANIEL SUAREZ: Thank you, guys.