F1 stewards favored Hamilton in Bahrain GP
F1 stewards forced Max Verstappen to give Lewis Hamilton the lead in the dying stages of the Bahrain GP race. Why? Is Hamilton F1's 'pet' driver?
Verstappen was pissing mad after overtaking Hamilton at Turn 4 to go ahead with three laps remaining. Officials correctly deemed he had executed the move while off the track but the Dutchman was angry at his team after the race for instructing him to allow the Mercedes to retake the lead — instead of just attempting to surge away and increase the lead to greater than the five-second penalty he would have been hit with.
"Why didn't you just let me go, man?" he said on team radio. "I could have easily pulled those five seconds. I am prepared to lose a win like that than be second like this."
However, clear footage shows Hamilton doing the exact same as Verstappen — taking all four wheels off the track at Turn Four — 29 times in the early stages of the race, before his team told him to cut it out, or risk copping a penalty.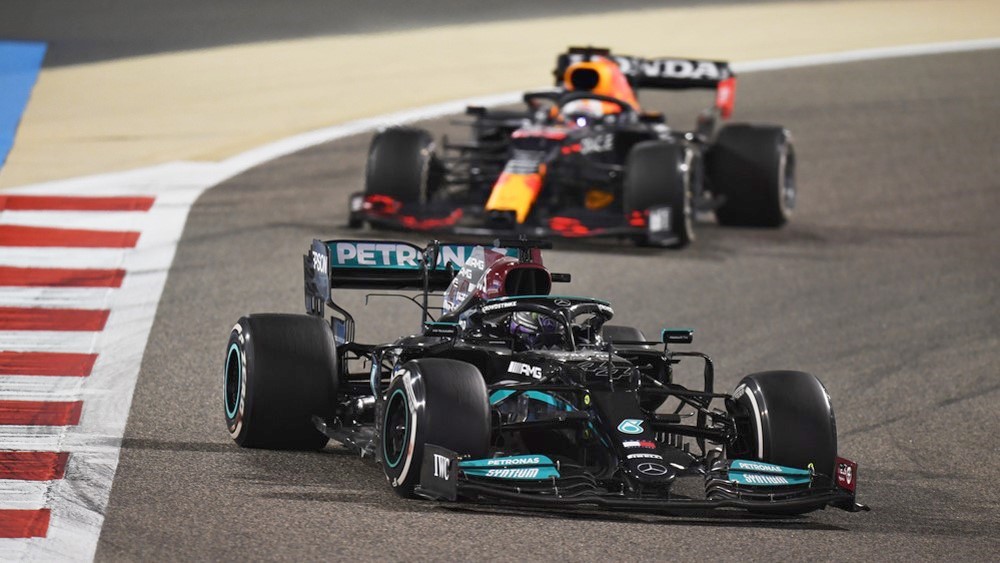 Hamilton asked his race engineer why he had to suddenly change his approach mid-race, when F1 officials told drivers before the grand prix track limits would not be applied at Turn 4.
Mercedes boss Toto Wolff revealed "we were told suddenly during the race that track limits were imposed — and that is what won us the race today".
Red Bull chief Christian Horner told Sky Sports he was informed by Race Control Verstappen had to let Hamilton overtake him.
"Once you have got that instruction, you've got to move out the way," Horner said. "He did that. It was fair racing, and it was tough racing."
Speaking to Sky Sports, F1 pundit Paul Di Resta said FIA director Michael Masi told him the rule is "if a car overtakes outside the white line, you've got to let the car back, you've got to give the track position back".
That Hamilton was allowed to get away with veering off track 29 times — while Verstappen was punished for going off once, and faced a time penalty if he didn't retreat and let his British rival pass — has sparked a strong reaction in the F1 world.
F1 journalist Matt Beer said the saga was a "miserable way for such an absorbing season-opener to be resolved"
"Hamilton drove brilliantly, but Verstappen was robbed," Beer wrote for The Race. "If this season stays as close as we all hope it will, that might even prove to be a title-deciding call, and that would be a travesty."