Road to Indy "Spring Training" Set to go in Alabama
The wait is nearly over. Six weeks later than originally scheduled, the Road to Indy Presented by Cooper Tires' annual "Spring Training" open test will take place April 3-6 at Barber Motorsports Park in rural Leeds, Ala. The same challenging 2.3-mile road course will host the opening two rounds for all three Road to Indy series – Indy Lights Presented by Cooper Tires, the Indy Pro 2000 Championship Presented by Cooper Tires and the Cooper Tires USF2000 Championship – in concert with the NTT INDYCAR SERIES in two weeks' time on April 16-18.
The Road to Indy open-wheel driver development ladder is unique in the world of auto racing, offering prizes and awards valued at over $3.1 million in 2021 which will enable talented young drivers an opportunity to progress from the grass roots of the sport to the pinnacle, the NTT INDYCAR SERIES and the Indianapolis 500, with scholarships at every level.
The 2021 season will be especially significant for Indy Lights, the top rung on the ladder, which returns following a one-year hiatus caused by effects of the COVID-19 global pandemic. In addition, a new halo-type driver protection device will make its debut this weekend on the Indy Lights Dallara IL-15.
Spring Training will commence on Saturday, April 3, with photoshoots, filming and presentations for USF2000 and Indy Pro 2000 drivers followed by two days of testing which will feature almost five hours of dedicated track time for each series. The Indy Lights drivers will convene for similar off-track activities on Monday, April 5, and their own five hours of testing on Tuesday, April 6.
"Judging by the drivers on our entry lists, this season is shaping up to be one of our strongest ever with the level of talent across all three series," said Dan Andersen, Owner and CEO of Andersen Promotions. "This has always been one of my favorite events – an early forecast to the season and the chance to welcome new teams and drivers to the Road to Indy family. It will be especially gratifying as we welcome back Indy Lights after a one-year break, and also to watch many of our drivers who will take their next steps on our ladder system."
Kirkwood Begins Quest for Three-Peat
A trio of scholarship drivers – Kyle Kirkwood, Sting Ray Robb and Linus Lundqvist – will spearhead a strong field in Indy Lights.
Kirkwood, in particular, has been looking forward to this new season – and an overdue opportunity to continue his unique quest to win three consecutive Road to Indy championships. The 22-year-old from Jupiter, Fla., began his Road to Indy career in 2018 when he romped to a dominant season in USF2000, winning 12 of the 14 races, including the final 11 in a row. He took a little longer to hit his stride in 2019 after stepping up to Indy Pro 2000, but once again ended the season in style as he won nine of the final 11 races to wrap up another championship crown.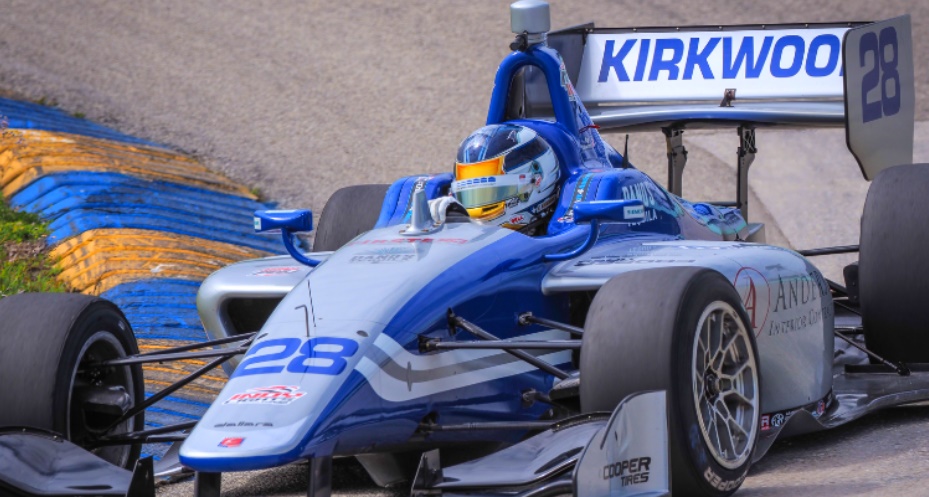 Kirkwood had hoped to continue his winnings ways in 2020 after joining Andretti Autosport, which had won the Indy Lights title convincingly in the two previous years, only for those plans – and Indy Lights – to be put on hold by the pandemic. Instead, he had to be content with some outings in the IMSA WeatherTech Sports Car Championship.
"I'm absolutely ecstatic to get the 2021 Indy Lights season under way," said Kirkwood. "We recently did a test with the new halo and I think it's a great addition. The IL-15 is the third car that I've driven with the halo and there's absolutely no negatives that come from it I believe. This season should be stacked with some really good drivers from very different backgrounds, which is great for all of our progression in motorsports. There's obviously a lot of expectations from me because of the previous seasons, but this will be the toughest one yet."
Robb and Lundqvist also enter the new season with high hopes of continuing their progression toward a career in the NTT INDYCAR SERIES.
Robb, 19, from Payette, Idaho, succeeded Kirkwood as the Indy Pro 2000 champion with Juncos Racing and has remained with the Speedway, Ind.-based squad for his graduation to the top level of the Road to Indy, thanks to a scholarship valued at over $600,000. Meanwhile Lundqvist, 22, from Stockholm, Sweden, has earned his opportunity with Global Racing Group with HMD Motorsports after trouncing last year's Formula Regional Americas powered by Honda field with 15 wins and 15 pole positions in just 17 races.
Each of the three champion drivers will have strong teammates. Robert Megennis, from New York, N.Y., who already has an Indy Lights victory to his name – at the Indianapolis Grand Prix road course – and Singapore's Danial Frost will line up alongside Kirkwood, as will Italian-Canadian Devlin DeFrancesco, who will carry the Andretti Steinbrenner Autosport colors. DeFrancesco and Frost finished second and third in last year's Indy Pro 2000 title-chase.
Englishman Toby Sowery, also an Indy Lights winner in 2019, has joined Juncos Racing as teammate to Robb, while Lundqvist along with Danish-born Benjamin Pedersen, of Seattle, Wash., 2019 Indy Lights podium finisher David Malukas, from Chicago, Ill., and fellow Road to Indy veteran Nikita Lastochkin, from Los Angeles, Calif., will form a potent force in the combined efforts of Global Racing Group and HMD Motorsports.
Pserra Racing/AS Promotions will be making its Indy Lights debut with Antonio Serravalle from Unionville, Canada, whose plans to graduate to the Indy Lights ranks last year following an Indy Pro 2000 campaign were shelved due to the pandemic.
The return of the 2016 championship-winning Carlin team to Indy Lights also has been eagerly awaited with Christian Bogle, from Covington, La., stepping up from USF2000 alongside Australian talent Alex Peroni, whose career in Europe over the past five seasons included a Formula Renault Eurocup victory on the streets of Monaco in 2018.
Stellar Field Set for Indy Pro 2000
A strong European influence also highlights what seems sure to be another exciting season of Indy Pro 2000 competition.
The middle rung on the widely acclaimed ladder system witnessed a gripping contest for much of the 2020 season – or at least until Robb hit his stride after the halfway mark. With the top three finishers – Robb, DeFrancesco and Frost – all making the step up to Indy Lights, Russian Artem Petrov, who finished fourth last year with two wins to his credit, is hoping to fill the void after jumping across to the Exclusive Autosport enclave. But Petrov will likely have his hands full with 2019 USF2000 champion Braden Eves, from New Albany, Ohio, who returns to the team after scoring a win and two poles before a heavy crash at Indianapolis caused him to miss the second half of the season.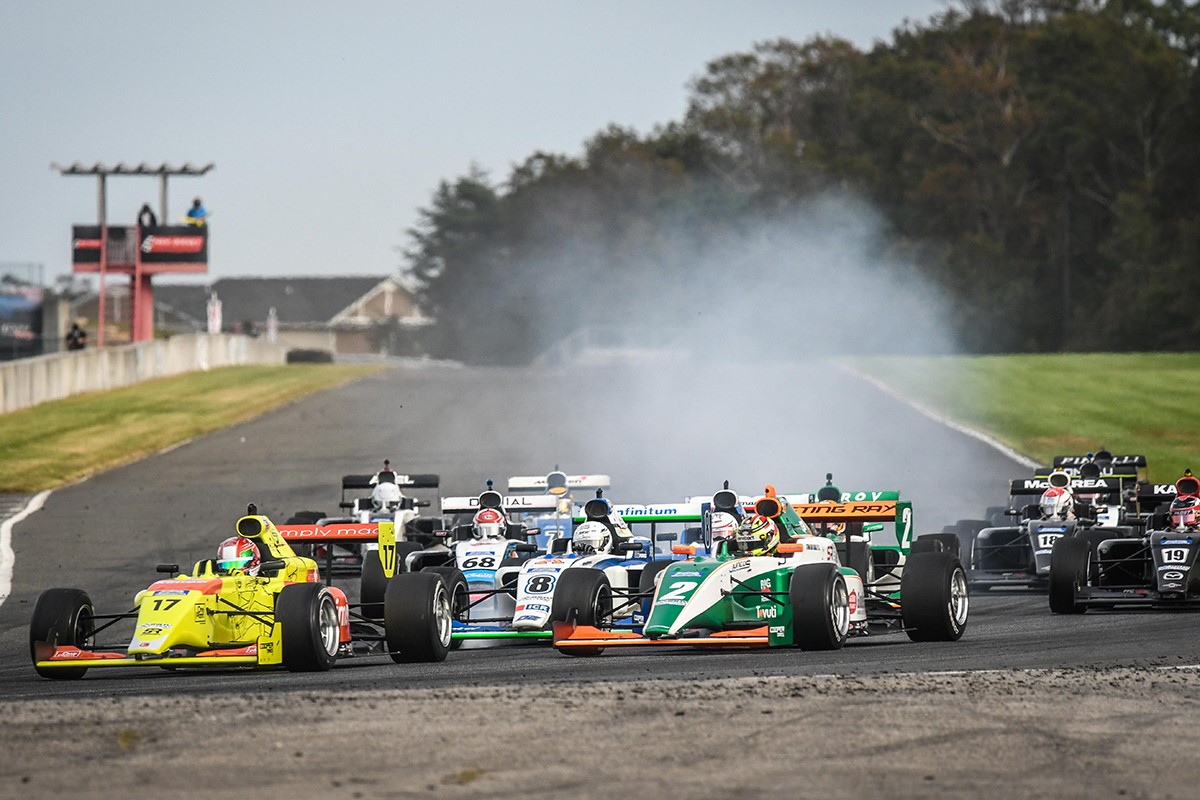 Defending champion team Juncos Racing also boasts a strong lineup with Mexican Manuel Sulaiman, who scored two wins in 2020, joining the squad alongside Reece Gold, from Miami, Fla., who finished third in the USF2000 series, and Barbados-born American Kyffin Simpson.
Denmark's Christian Rasmussen, a convincing winner of the 2020 USF2000 championship, is stepping up one level with the Jay Howard Driver Development team alongside Wyatt Brichacek, from Johnstown, Colo.
Also from Europe, rapid Englishman Enaam Ahmed, the 2017 BRDC British Formula 3 champion, and third-generation Brazilian racer Enzo Fittipaldi, the 2018 Italian Formula 4 champion, will represent RP Motorsport USA, which returns to the fray after winning the title with Kirkwood in 2019 but was unable to defend its crown last year due to travel restrictions brought about by the pandemic.
New Zealander Hunter McElrea, who won the final round of the 2020 season at St. Petersburg, will again join two-time podium finisher Colin Kaminsky, from Homer Glen, Ill., at Pabst Racing to pose another formidable threat to the Indy Pro 2000 establishment.
A stout field also will include singleton entries from Turn 3 Motorsport for Irishman James Roe; DEForce Racing for Australian USF2000 grad Cameron Shields; Legacy Autosport for third-generation racer Flinn Lazier, from Vail, Colo.; Miller Vinatieri Motorsports for another USF2000 graduate, Jack William Miller , from Carmel, Ind.; Abel Motorsports for returning veteran Jacob Abel, from Louisville, Ky.; and last but certainly not least, Velocity Racing Development which will make the step up to Indy Pro 2000 with Hunter Yeany, from Virginia Beach, Va., who dominated last year's F4 United States Championship powered by Honda.
Can the Capes Reclaim the Top Spot?
The big question around the USF2000 paddock prior to the start of the new season is: Can Cape Motorsports return to its championship winning ways? After securing nine consecutive driver championships – and an astonishing 80 race wins – between 2011 and 2019, brothers Dominic and Nicholas Cape had to be content with "only" third place in the points tally and three race wins last term, although it did have the admirable consolation of claiming the coveted Team Championship which had fallen the way of Pabst Racing for the previous three seasons.
Instead it was upstart Jay Howard Driver Development which scooped top honors in 2020 through the efforts of rapid Dane Christian Rasmussen. Howard, formerly a champion himself in both USF2000 and Indy Lights, will return with a three-car effort for Bijoy Garg, from Atherton, Calif., who completed a partial campaign in 2020, alongside rookies Jackson Lee, from Avon, Ind., who marked his quality by securing a Team USA Scholarship, and New Zealander Peter Vodanovich, who won last year's Toyota 86 sedan championship in his homeland before making his open-wheel debut earlier this year in the Toyota Racing Series.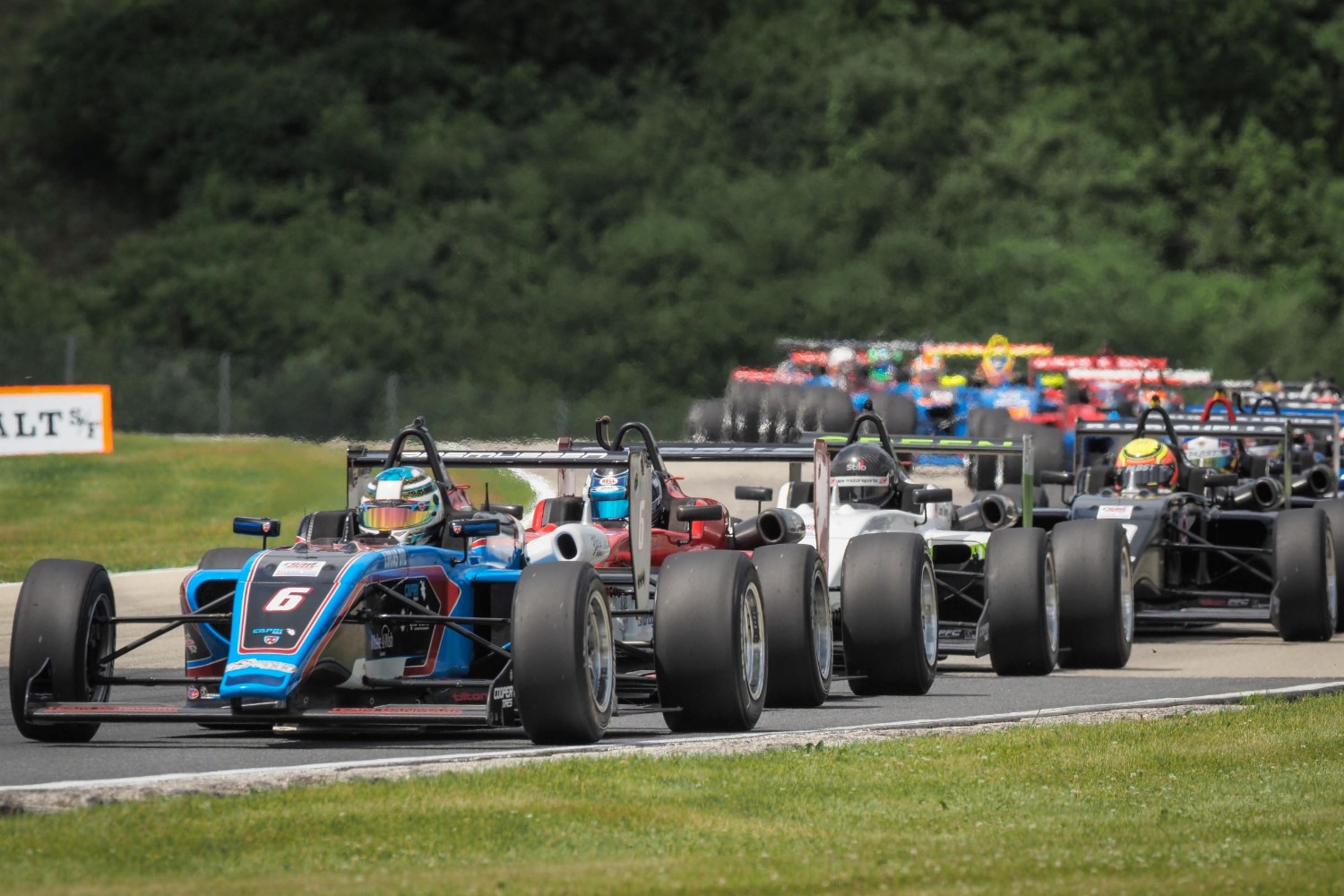 The Capes, meanwhile, will have four arrows in their quiver, including Michael d'Orlando, from Hartsdale, N.Y., who won once in 2020 on his way to fourth place in the points table. He will be joined by a trio of rookies in Spike Kohlbecker, from St. Louis, Mo., a two-time race winner last year in F4, Evan Stamer, from Glen Carbon, Ill., and Canadian Thomas Nepveu.
Still in search of that elusive first driver championship, Wisconsin team owner Augie Pabst will field cars for 15-year-old Josh Pierson, from Wilsonville, Ore., who showed promise during his rookie season in 2020, Yuven Sundaramoorthy, who hails from the same town, Oconomowoc, Wis., as the team, and former karter Jace Denmark-Gessel, from Scottsdale, Ariz.
Canadian-owned Exclusive Autosport also has high expectations with Californian Christian Brooks, who claimed a breakthrough victory last fall at St. Petersburg, and young New Zealander Billy Frazier, who won his homeland's Formula Ford 1600 Championship in 2020.
Texas-based DEForce Racing, which boasts plenty of experience, returns with Brazilian Kiko Porto, also a race winner last year, Nolan Siegel, from Palo Alto, Calif., who claimed a pair of podium finishes, and the past two champions from the Lucas Oil Formula Car Series Prescott Campbell, from Newport Beach, Calif., and Ely Navarro, from Fishers, Ind.
Other notable entries among a strong field of almost two dozen include former Team USA Scholarship winner Josh Green, from Mount Kisco, N.Y., who joins Turn 3 Motorsport after earning three podium finishes in 2020, rookie teammate Dylan Christie, from Princeton, N.J., who finished second in last year's hard-fought FRP Formula 1600 Championship, Kent Vaccaro, from Plattsburgh, N.Y., who returns with Miller Vinatieri Motorsports after three starts in 2020, and new teams Joe Dooling Autosports and Force Indy, which will field entries for Trey Burke of Alvin, Texas, and Myles Rowe, from Powder Springs, Ga., respectively. Force Indy, led by Team Principal Rod Reid, has a mentorship alliance with Team Penske—the most successful team in motorsports history.
Live Timing and Scoring will be available on the Road to Indy TV App and the series' respective websites at indylights.com, indypro2000.com and usf2000.com.