Super Formula: Nojiri on pole at Fuji
This year has been billed as heavy hitter 3-time Super Formula champion Naoki Yamamoto vs. Ryo Hirakawa, but it was Tomoki Nojiri who took pole in the Rd. 1 qualifying at Fuji Speedway as Honda powered cars qualified 1-2-3-4.
Nojiri topped his Q1 group, while Yamamoto didn't make it out of Q1.
Nojiri followed up on his pole in last year's Fuji title decider by grabbing the top spot again with a best time of 1m21.173s in the Q3 pole shootout, putting himself 0.223s of nearest rival Toshiki Oyu (Nakajima Racing).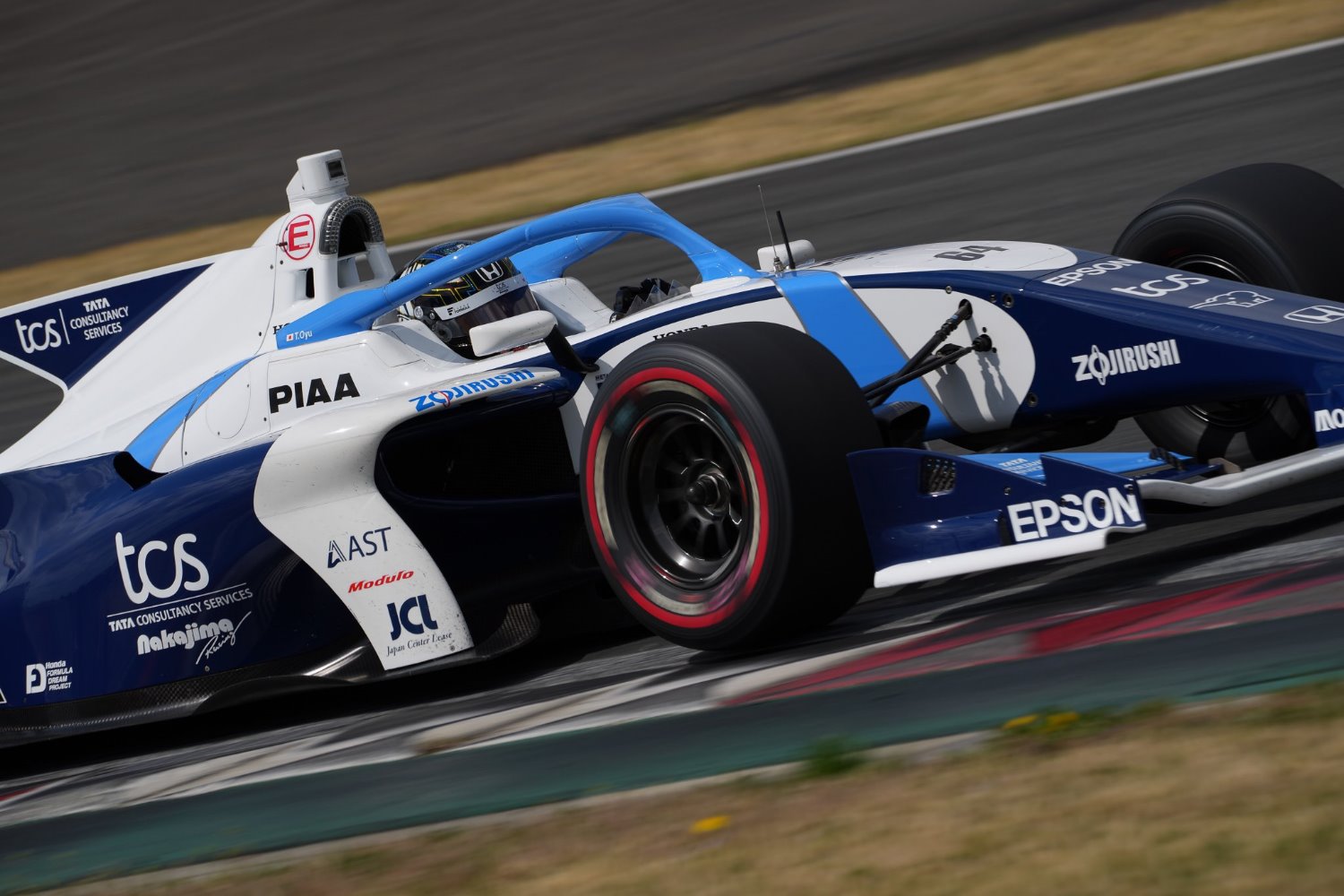 Having led the way in practice on Saturday morning, Nojiri topped both his Q1 group and Q2 on his way to a sixth career pole position.
Tatiana Calderon made it through to Q2, as Kazuki Nakajima got disqualified from Q2 for exceeding track limits. Nojiri was once again topped all drivers in Q2, heading into Q3 with an abundance of confidence.
In Q3, Nojiri did not disappoint again, capturing pole for tomorrow's 187 km race. Finishing in P2 was Toshiki Oyu. Starting in P3 will be Ukyo Sasahara.
Nirei Fukuzumi will start in P4, Sena Sakaguchi P5, Ritomo Miyata P6, and Hirakawa in P7.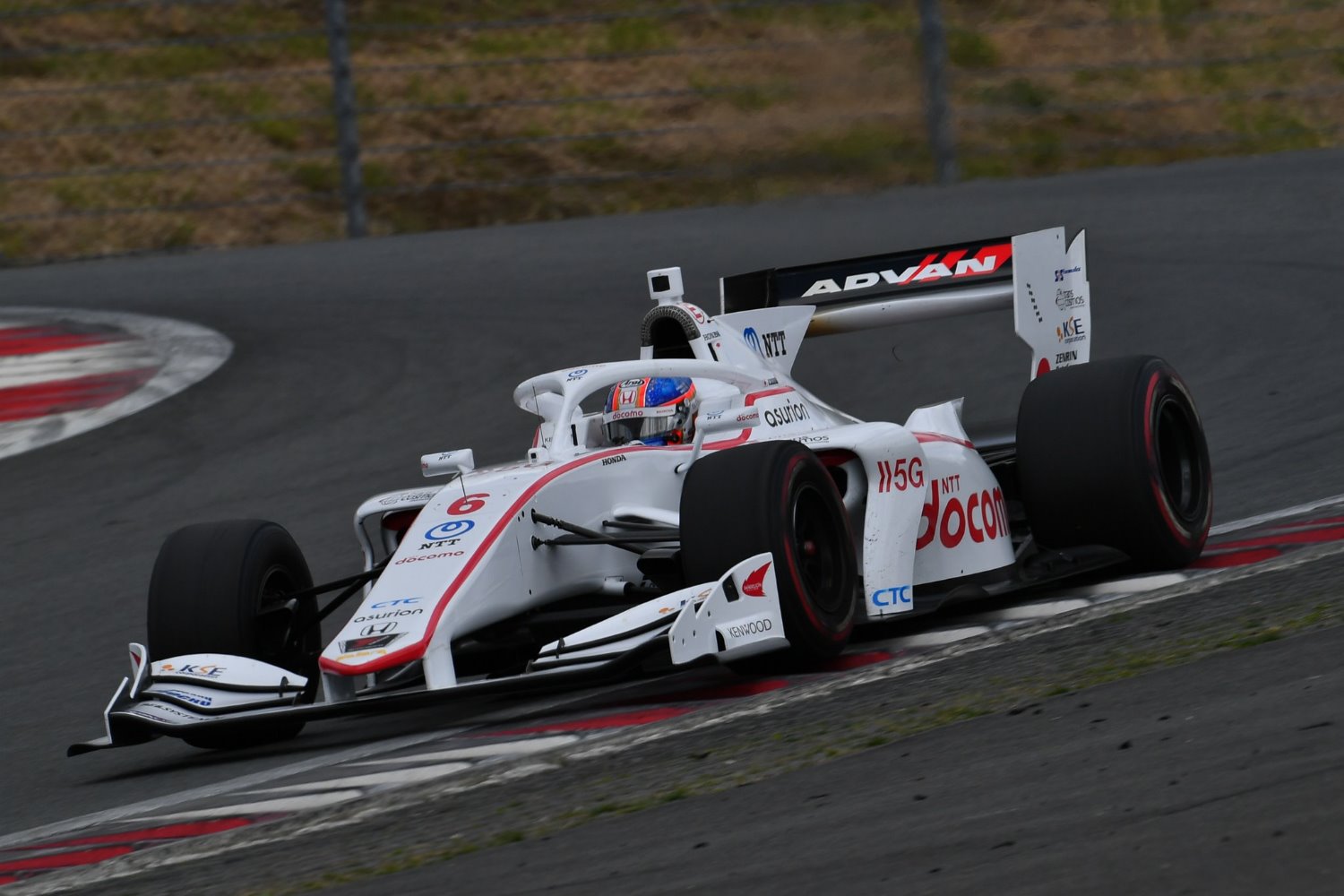 Best of the Toyota runners was Inging rookie Sena Sakaguchi in fifth, ahead of fellow novice Ritomo Miyata (TOM'S) and 2020 title contender Ryo Hirakawa (Impul).
Hiroki Otsu (Mugen) completed the Q3 order, with Yuhi Sekiguchi (Impul) and Sho Tsuboi (Inging) taking the remaining spots inside the top 10.
Qualifying Results
| | | | | | | | |
| --- | --- | --- | --- | --- | --- | --- | --- |
| Pos | No. | Driver | Team | Engine | Q1 | Q2 | Q3 |
| 1 | 16 | Tomoki Nojiri | TEAM MUGEN | HONDA/M-TEC HR-417E | 1m21.994s | 1m21.595s | 1m21.173s |
| 2 | 64 | Toshiki Oyu | TCS NAKAJIMA RACING | HONDA/M-TEC HR-417E | 1m22.140s | 1m21.779s | 1m21.396s |
| 3 | 6 | Ukyo Sasahara | DOCOMO TEAM DANDELION RACING | HONDA/M-TEC HR-417E | 1m22.517s | 1m22.000s | 1m21.463s |
| 4 | 5 | Nirei Fukuzumi | DOCOMO TEAM DANDELION RACING | HONDA/M-TEC HR-417E | 1m22.297s | 1m22.079s | 1m21.604s |
| 5 | 39 | Sena Sakaguchi | P.MU/CERUMO・INGING | TOYOTA/TRD 01F | 1m22.487s | 1m21.956s | 1m21.714s |
| 6 | 37 | Ritomo Miyata | Kuo VANTELIN TEAM TOMmS | TOYOTA/TRD 01F | 1m22.298s | 1m21.975s | 1m21.793s |
| 7 | 20 | Ryo Hirakawa | carenex TEAM IMPUL | TOYOTA/TRD 01F | 1m22.326s | 1m21.850s | 1m21.804s |
| 8 | 15 | Hiroki Otsu | Red Bull MUGEN Team Goh | HONDA/M-TEC HR-417E | 1m22.263s | 1m22.361s | 1m21.869s |
| 9 | 19 | Yuhi Sekiguchi | carenex TEAM IMPUL | TOYOTA/TRD 01F | 1m22.785s | 1m22.441s | – |
| 10 | 38 | Sho Tsuboi | P.MU/CERUMO・INGING | TOYOTA/TRD 01F | 1m23.050s | 1m22.552s | – |
| 11 | 12 | Tatiana Calderón | ThreeBond DragoCORSE | HONDA/M-TEC HR-417E | 1m22.820s | 1m22.584s | – |
| 12 | 18 | Yuji Kunimoto | KCMG | TOYOTA/TRD 01F | 1m22.644s | 1m22.973s | – |
| 13 | 36 | Kazuki Nakajima | Kuo VANTELIN TEAM TOMmS | TOYOTA/TRD 01F | 1m22.333s | 1m27.230s | – |
| 14 | 7 | Kazuto Kotaka | KCMG | TOYOTA/TRD 01F | 1m23.123s | 1m29.988s | – |
| 15 | 4 | Yuichi Nakayama | KONDO RACING | TOYOTA/TRD 01F | 1m23.256s | – | – |
| 16 | 1 | Naoki Yamamoto | TCS NAKAJIMA RACING | HONDA/M-TEC HR-417E | 1m23.144s | – | – |
| 17 | 14 | Kazuya Oshima | NTT | TOYOTA/TRD 01F | 1m23.360s | – | – |
| 18 | 3 | Kenta Yamashita | KONDO RACING | TOYOTA/TRD 01F | 1m23.189s | – | – |