Lewis Hamilton's X44 team tops qualifying for Extreme E Desert X Prix
Lewis Hamilton's X44 team topped combined qualifying for the inaugural Extreme E desert event in Saudi Arabia after a penalty knocked Nico Rosberg's squad from first down to third in a diminished field of only 6 cars.
Carlos Sainz Sr took over the Acciona Sainz entry from Laia Sanz to land a combined second position.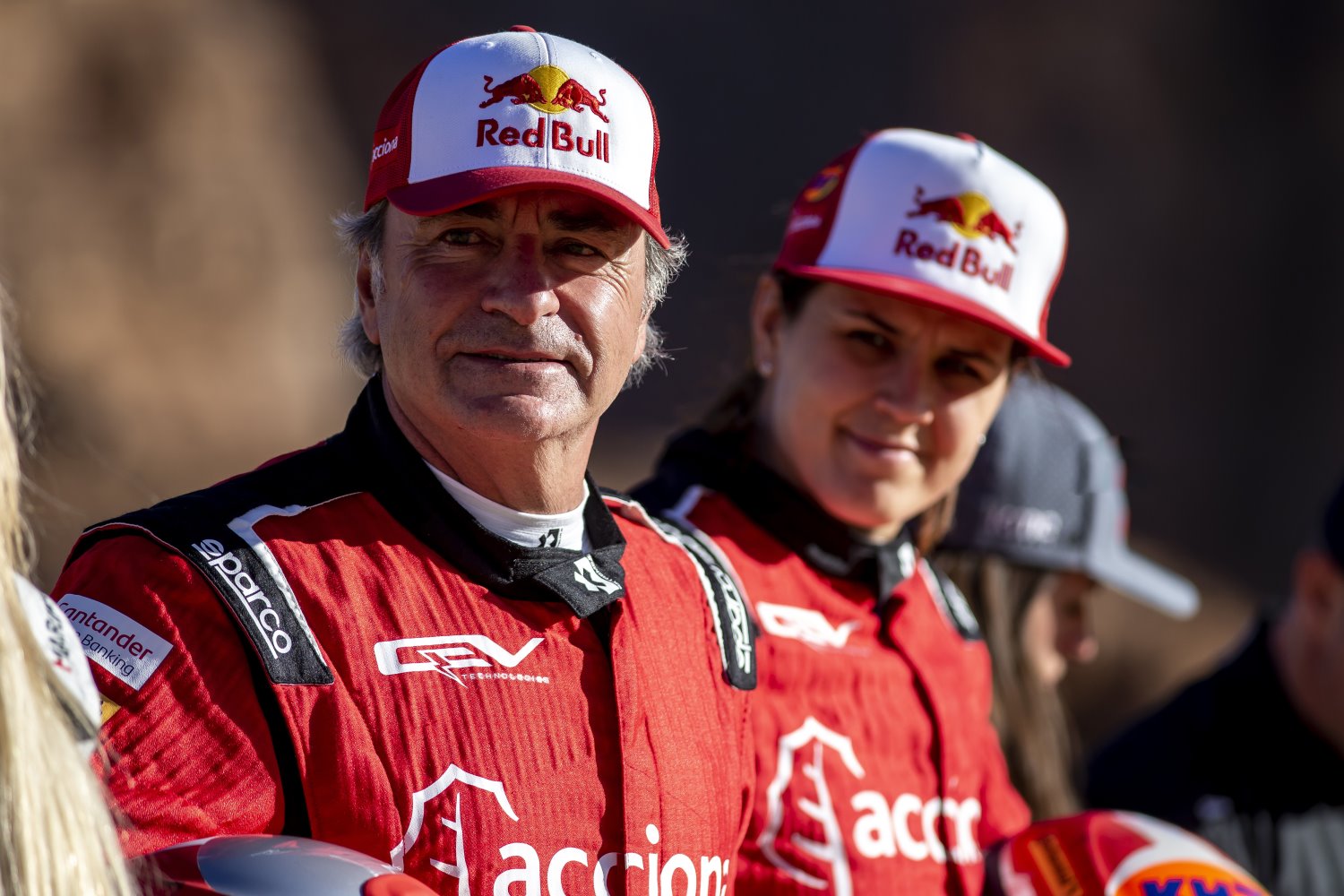 The Andretti United team of Catie Munnings and 2019 World Rallycross champion Timmy Hansen, meanwhile, ended up fourth ahead of the Jenson Button JBXE team by just 0.02s
The first session took two victims, Frenchman Stephane Sarrazin (Veloce) and German driver Claudia Hurtgen (ABT Cupra). Hurtgen's incident was particularly terrifying as she lost control on the rutted sand and rolled five times. Her team watching in the Command Centre fell silent, but she emerged safely a few minutes later having only bitten her tongue. She apologising for scuppering their chances but crash-outs were an inevitable reality of a newly designed circuit which holds so many unknowns.
Sarrazin's crash was less severe but the damage sustained to the car's cage meant Veloce were forced to withdraw from the rest of the weekend's racing. That was an especially big blow to Britain's rising talent Jamie Chadwick, who did not get a moment behind the wheel.
Naturally the afternoon session was more conservative. "It was a bit rough out there," French rally great Loeb said after X44 won qualifying. "We had a good position from the first qualifying, so we didn't take any big risk and just made sure to secure the points."
There was an impressive performance from Britain's Catie Munnings (Andretti), who completed her first qualifying lap despite a burst tire and along with Swedish rallycross driver Timmy Hansen secured fourth place. Jenson Button and his partner Mikaela Ahlin-Kottulinsky (JBXE) suffered a speeding penalty and mechanical issues but managed to complete both qualifying sessions to finish sixth overall.
Desert X-Prix qualifying results
| | | | | |
| --- | --- | --- | --- | --- |
| POS | TEAM | FEMALE DRIVER | MALE DRIVER | Time |
| 1 | Lewis Hamilton Team | Cristina Gutiérrez | Sébastien Loeb | 11:07.931 |
| 2 | Acciona Sainz Team | Laia Sanz | Carlos Sainz | 11:20.864 |
| 3 | Andretti United Team | Catie Munnings | Timmy Hansen | 11:32.931 |
| 4 | XITE Team | Christine Giampaoli Zonca | Oliver Bennett | 12:01.694 |
| 5 | Rosberg Team | Molly Taylor | Johan Kristoffersson | 12:03.258 |
| 6 | Jenson Button Team | Mikaela Åhlin-Kottulinsky | Jenson Button | 14:28.452 |
| 7 | Ganassi Racing Team | Sara Price | KYLE LEDUC | DNS |
| 8 | Ab1 Cupra Team | Claudia Hürtgen | Mattias Ekström | DNS |
| 9 | Veloce Team | Jamie Chadwick | Stéphane Sarrazin | DNS |