Bourdais tops Day 1 of IndyCar testing at IMS
(Update)
This article has been updated with text and photos.
---
April 8, 2021
Sebastien Bourdais of AJ Foyt Racing was the fastest among 32 drivers who turned laps Thursday at the 105th Indianapolis 500 presented by Gainbridge Open Test, which included a rain delay of more than five hours at Indianapolis Motor Speedway.
Frenchman Bourdais was among a group of 11 drivers who took to the 2.5-mile oval in the final 70 minutes of track activity for veteran refresher tests and the Rookie Orientation Program, and he turned a top lap of 224.427 mph in the famous No. 14 ROKiT Chevrolet fielded by legendary four-time Indy 500 winner A.J. Foyt.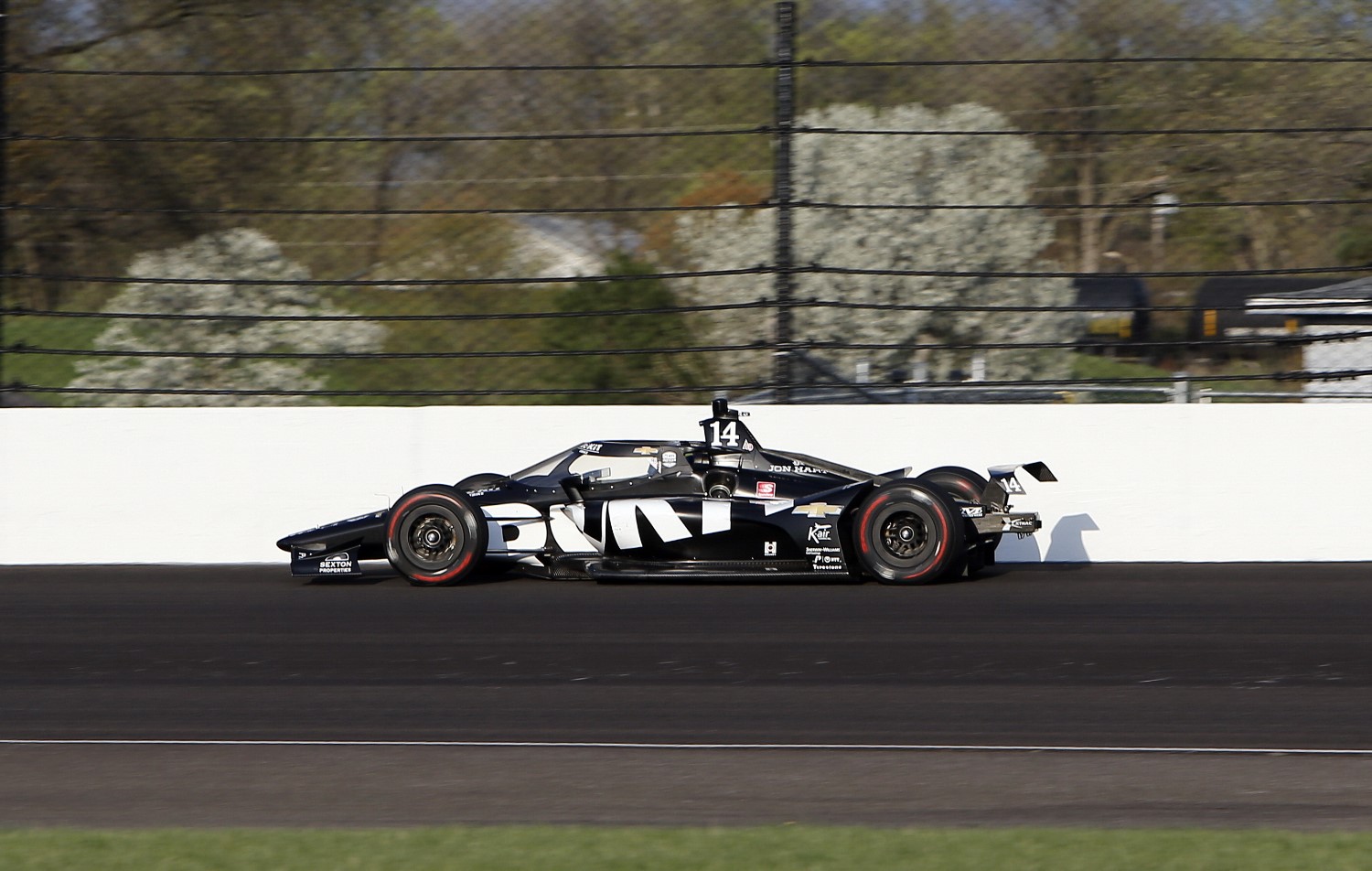 Bourdais turned his top lap in the last few minutes of the final session, which resembled the "Happy Hour" of an Indy 500 practice day with cars running in aerodynamic packs. He was among the veterans who needed to complete the two-phase refresher test since he didn't race in "The Greatest Spectacle in Racing" in 2020.
"Pretty good refresher for the A.J. Foyt No. 14," Bourdais said. "That ROKiT car was pretty good. It always feels a little different when you start at low speeds and the car's never really settled, but we got through both phases and are ready to go tomorrow and start working properly. It's all good."
Rain halted the opening veterans-only session at 12:30 p.m. (ET). A second heavy shower around 3:15 p.m. delayed track activity until the track reopened at 6:03 p.m. under blue skies and sunshine.
Track activity will take place from 9 a.m.-6 p.m. (ET) Friday, with live broadcast coverage on Peacock. Rookie Orientation and refresher tests will take place from 9-10 a.m., with veterans back on track from 10-11 a.m. The track will open for all drivers from 11 a.m.-6 p.m.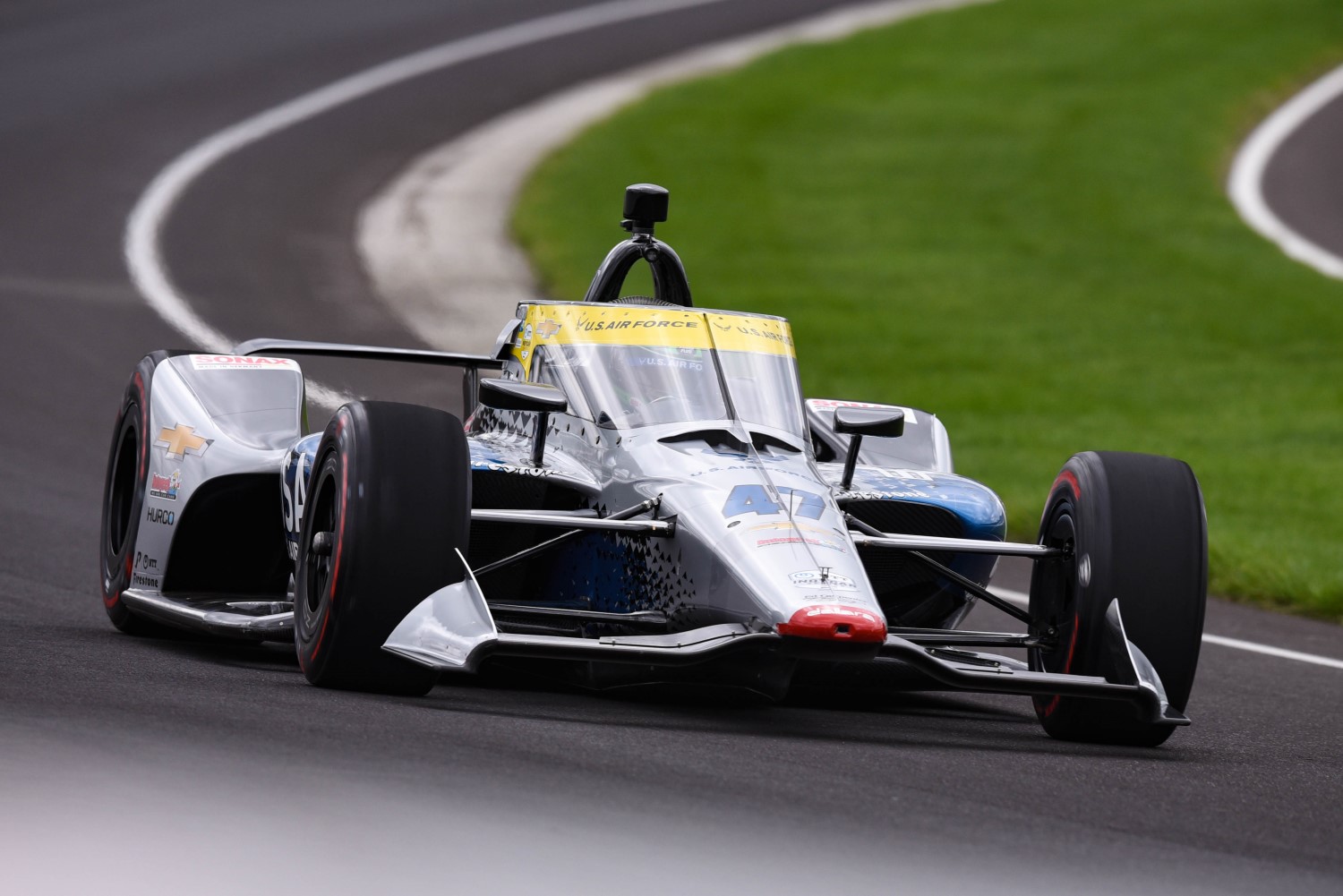 Conor Daly was the second-fastest driver overall and the fastest in the morning session of 90 minutes before heavy rain arrived in Indianapolis. Daly's top lap was 222.714 in the No. 47 U.S. Air Force Chevrolet fielded by Ed Carpenter Racing, also with the help of an aerodynamic tow.
Sage Karam was third overall at 222.408, with his best lap in the No. 24 Dreyer & Reinbold Racing Chevrolet also coming during the final session after the rain left town.
Three-time Indy 500 pole winner Ed Carpenter was fourth at 221.296 in the No. 20 Ed Carpenter Racing Chevrolet. Three-time Indianapolis 500 winner Helio Castroneves rounded out the top five at 221.097 in the No. 06 Meyer Shank Racing Honda.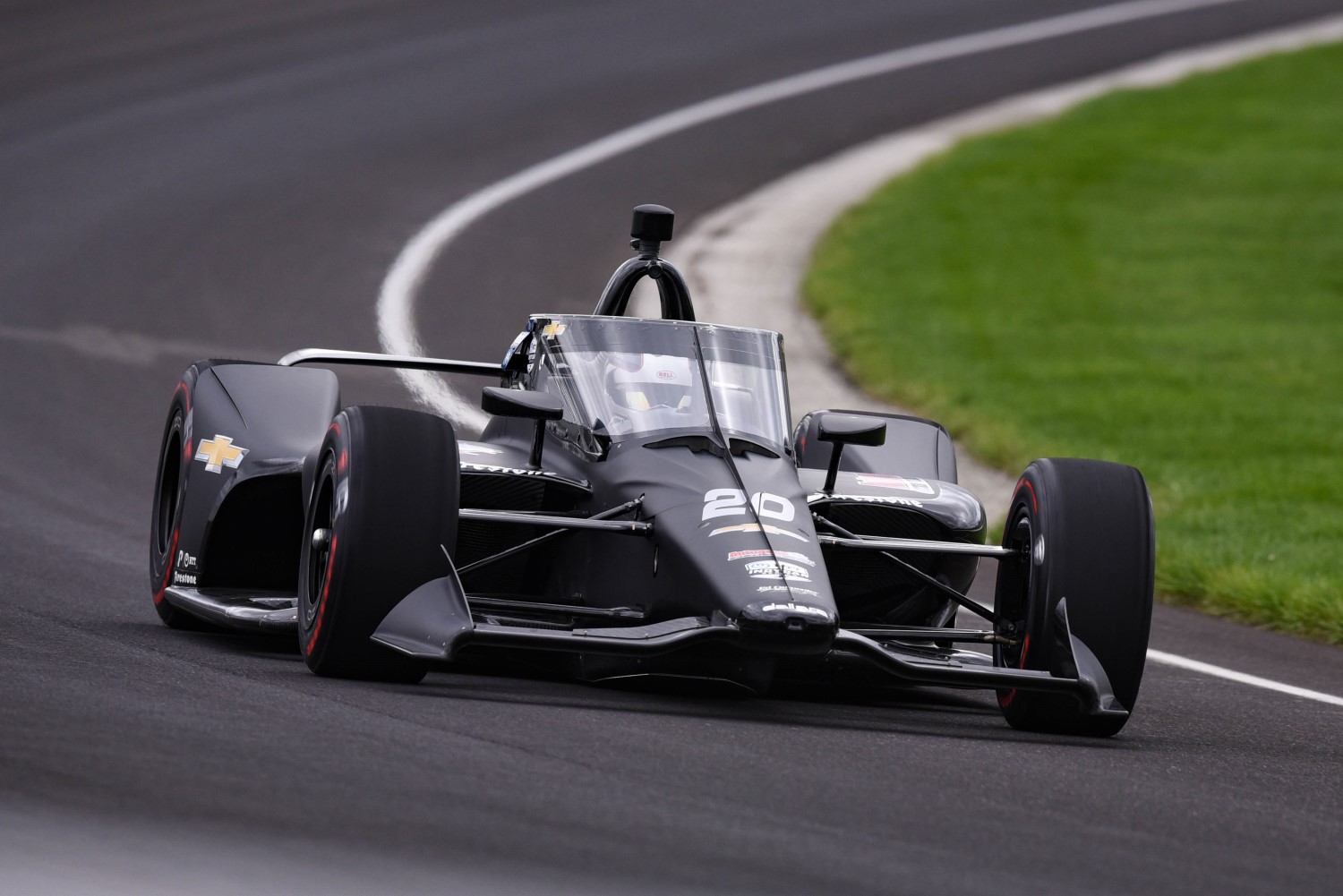 2020 NTT INDYCAR SERIES Rookie of the Year Rinus VeeKay suffered a broken finger in a crash in Turn 1 just 11 minutes into track activity in his No. 21 Sonax/Autogeek Chevrolet fielded by ECR. He was cleared to drive.
VeeKay's car dipped low into the grass inside Turn 1 and did nearly a full clockwise spin before hitting the SAFER Barrier in Turn 1 with the right front and right side of the car. The car then spun twice and slid through the short chute before stopping at the entrance of Turn 2 with heavy damage.
"I wanted to do as many laps as possible to be successful," VeeKay said. "I'm very sorry. It was a weird moment."
It was good to be at Indianapolis Motor Speedway," said Felix Rosenqvist. "We were able to get a feeling of the No. 7 Vuse Arrow McLaren SP Chevrolet and it was a good session. The track seemed to be a bit tricky, slippery and windy. It seemed like everyone was just waiting for someone else to raise the bar and push the limits. It started raining so we only got 15 laps in, but it was enough to get a good feeling of the car and see what direction we're going to work in for the Month of May; which pretty much starts now."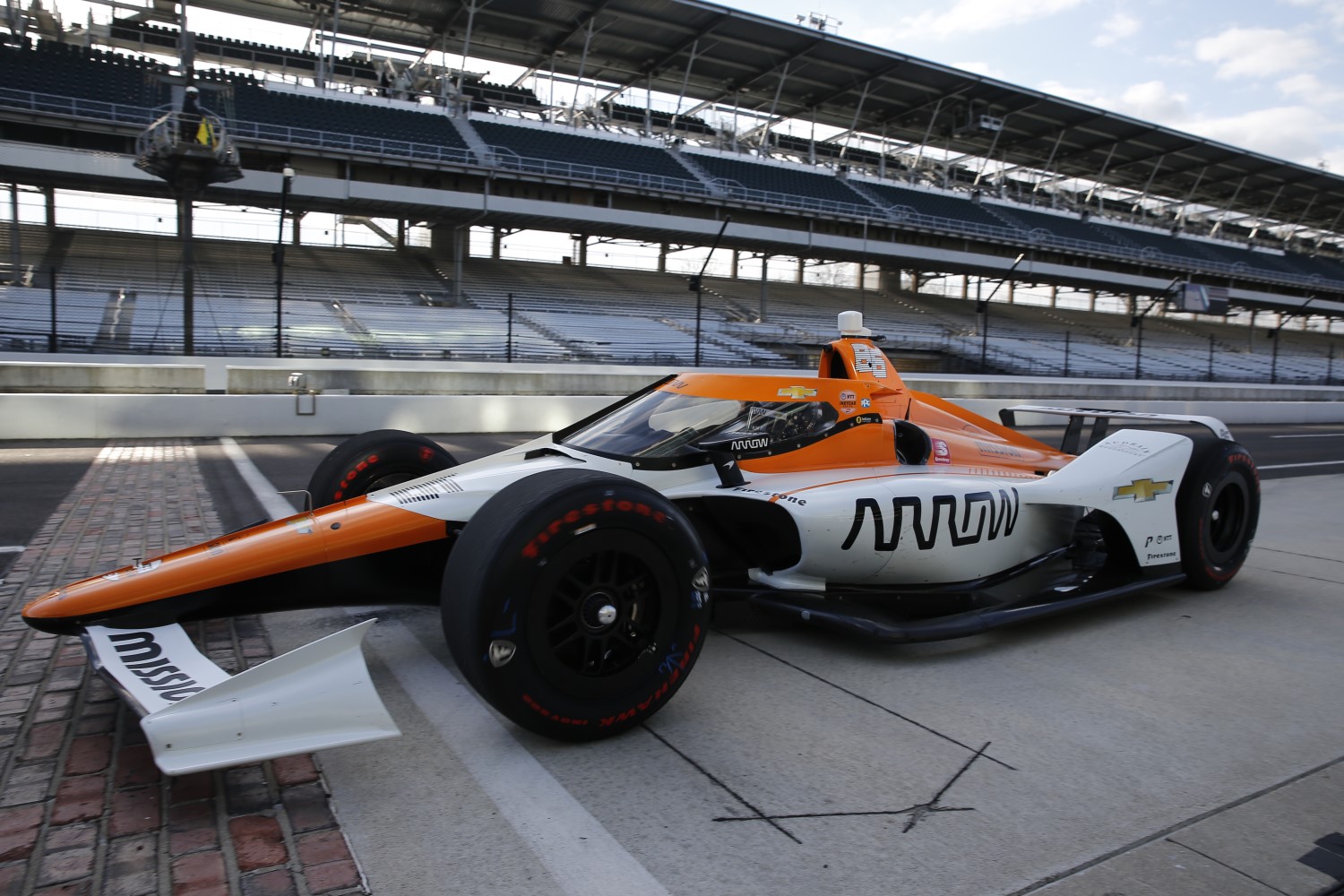 "We had a tricky day today at Indianapolis Motor Speedway," said Pato O'Ward. "I'm looking forward to tomorrow where we'll actually get some good running in. We got our baseline through and done today and nothing felt out of the ordinary. The wind was being difficult so we'll see how it is tomorrow. Hopefully the rain stays away which, it looks like it will, and Arrow McLaren SP will have a nice sunny day of running tomorrow."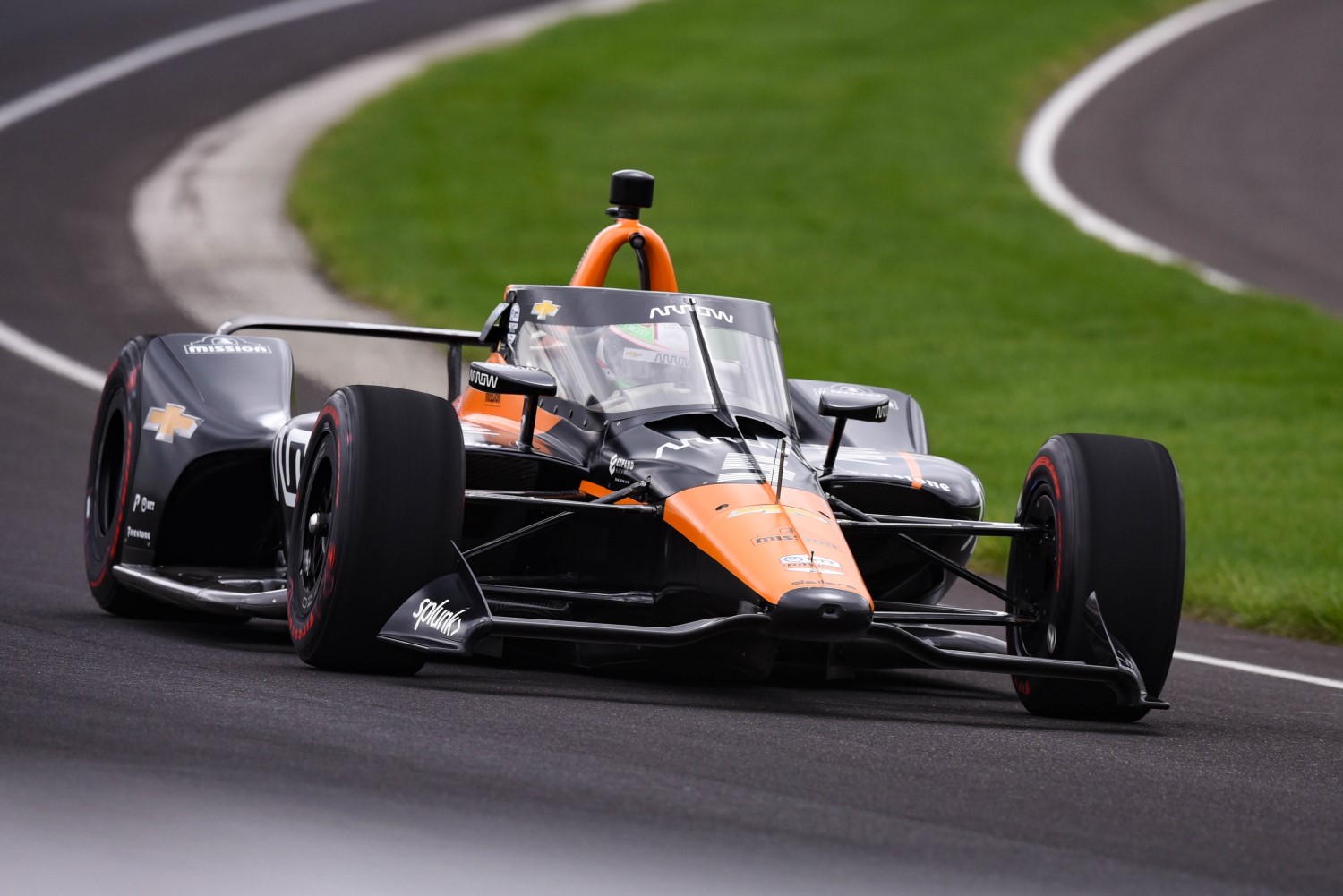 "After I saw what happened to Veekay this morning, you realize there's no rush," said Juan Montoya. "They gave me an extra set of tires to get up to speed and I thought just be smart, do it the right way. Through the years you become more aware of what the car is doing and what you don't want the car to do. I'm really picky and I've learned the pickier you are, the more a pain in the butt you are for everybody, but the end result is normally better. I've been trying to be really smart about everything and at the end I was a little more comfortable running flat. It's great to be back at Indianapolis Motor Speedway."
Testing continues Friday.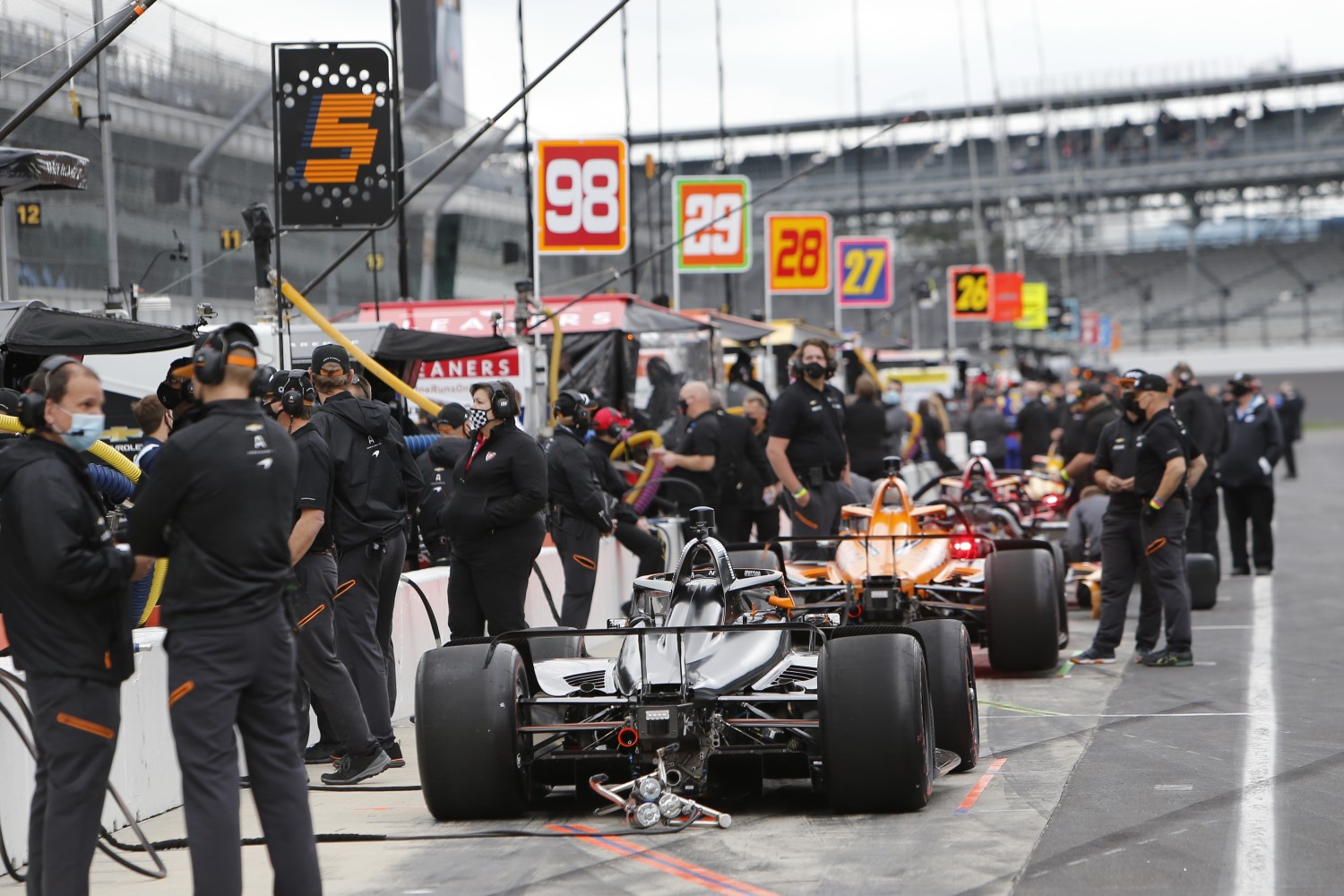 Day 1 Results
| | | | | | | | | | |
| --- | --- | --- | --- | --- | --- | --- | --- | --- | --- |
| Pos | No | Name | Time | Diff | Gap | Laps | Speed | Engine | Team |
| 1 | 14 | Sebastien Bourdais | 40.1022 | 0.000 | 0.000 | 43 | 224.427 | Chevy | AJ Foyt Enterprises |
| 2 | 24 | Sage Karam | 40.5317 | 0.4295 | 0.4295 | 43 | 222.048 | Chevy | Dreyer & Reinbold Racing |
| 3 | 06 | Helio Castroneves | 40.7061 | 0.6039 | 0.1744 | 55 | 221.097 | Honda | Meyer Shank Racing |
| 4 | 29 | James Hinchcliffe | 40.9140 | 0.8118 | 0.2079 | 43 | 219.974 | Honda | Andretti Steinbrenner Autosport |
| 5 | 18 | Ed Jones | 40.9813 | 0.8791 | 0.0673 | 41 | 219.612 | Honda | Dale Coyne Racing |
| 6 | 86 | Juan Pablo Montoya | 41.0754 | 0.9732 | 0.0941 | 45 | 219.109 | Chevy | Arrow McLaren SP |
| 7 | 16 | Simona De Silvestro | 41.1095 | 1.0073 | 0.0341 | 51 | 218.927 | Chevy | Paretta Autosport |
| 8 | 4 | Dalton Kellett | 41.3136 | 1.2114 | 0.2041 | 49 | 217.846 | Chevy | AJ Foyt Enterprises |
| 9 | 51 | Pietro Fittipaldi | 41.3964 | 1.2942 | 0.0828 | 62 | 217.410 | Honda | Dale Coyne Racing w/Rick Ware Racing |
| 10 | 59 | Max Chilton | 41.4817 | 1.3795 | 0.0853 | 47 | 216.963 | Chevy | Carlin |
| 11 | 52 | Cody Ware | 41.8846 | 1.7824 | 0.4029 | 49 | 214.876 | Honda | Dale Coyne Racing w/Rick Ware Racing |
| 12 | 28 | Ryan Hunter-Reay | 41.0360 | 0.9338 | 41.0360 | 6 | 219.320 | Honda | Andretti Autosport |
| 13 | 15 | Graham Rahal | 41.0413 | 0.9391 | 0.0053 | 9 | 219.291 | Honda | Rahal Letterman Lanigan Racing |
| 14 | 8 | Marcus Ericsson | 41.0530 | 0.9508 | 0.0117 | 18 | 219.229 | Honda | Chip Ganassi Racing |
| 15 | 48 | Tony Kanaan | 41.0628 | 0.9606 | 0.0098 | 11 | 219.176 | Honda | Chip Ganassi Racing |
| 16 | 30 | Takuma Sato | 41.2103 | 1.1081 | 0.1475 | 13 | 218.392 | Honda | Rahal Letterman Lanigan Racing |
| 17 | 98 | Marco Andretti | 41.2250 | 1.1228 | 0.0147 | 5 | 218.314 | Honda | Andretti Herta-Haupert w/Marco & Curb-Agajanian |
| 18 | 22 | Simon Pagenaud | 41.3419 | 1.2397 | 0.1169 | 15 | 217.697 | Chevy | Team Penske |
| 19 | 21 | Rinus VeeKay | 41.3718 | 1.2696 | 0.0299 | 4 | 217.539 | Chevy | Ed Carpenter Racing |
| 20 | 3 | Scott McLaughlin | 41.4270 | 1.3248 | 0.0552 | 21 | 217.250 | Chevy | Team Penske |
| 21 | 45 | Santino Ferrucci | 42.0437 | 1.9415 | 0.6167 | 7 | 214.063 | Honda | Rahal Letterman Lanigan Racing |
| 22 | 18 | Ed Jones | No Time | — | — | 1 | — | Honda | Dale Coyne Racing |
| 23 | 51 | Pietro Fittipaldi | No Time | — | — | — | — | Honda | Dale Coyne Racing w/Rick Ware Racing |
| 24 | 24 | Sage Karam | No Time | — | — | 1 | — | Chevy | Dreyer & Reinbold Racing |
| 25 | 16 | Simona De Silvestro | No Time | — | — | — | — | Chevy | Paretta Autosport |
| 26 | 4 | Dalton Kellet | No Time | — | — | — | — | Chevy | AJ Foyt Enterprises |
| 27 | 14 | Sebastien Bourdais | No Time | — | — | — | — | Chevy | AJ Foyt Enterprises |
| 28 | 06 | Helio Castroneves | No Time | — | — | — | — | Honda | Meyer Shank Racing |
| 29 | 86 | Juan Pablo Montoya | No Time | — | — | — | — | Chevy | Arrow McLaren SP |
| 30 | 29 | James Hinchcliffe | No Time | — | — | — | — | Honda | Andretti Steinbrenner Autosport |
| 31 | 52 | Cody Ware | No Time | — | — | — | — | Honda | Dale Coyne Racing w/Rick Ware Racing |