Formula E Rome: Big crash in FP1, Guenther quickest in FP2
Lucas di Grassi (Audi Sport ABT Schaeffler) set the benchmark time on a 1m38.785s in the opening session of the Rome E-Prix double-header race weekend, heading home Stoffel Vandoorne (Mercedes-EQ) by 0.062 seconds with Envision Virgin Racing's Robin Frijns third fastest.
Jake Dennis and DS Techeetah racer Jean-Eric Vergne were sat at the rear of a queue of stationary cars waiting to do practice start when they were wiped out by Oliver Turvey.
Turvey rounded the "blind" Turn 6 of the revised Rome track at relatively high speed and glanced off Vergne then Dennis – who were waiting to make a practice start, as is customary following the end of the first 45-minute practice session.
The three were uninjured but all missed the second 30-minute practice, as a likely powertrain change for Vergne and a new monocoque for Turvey should rule them out of qualifying also.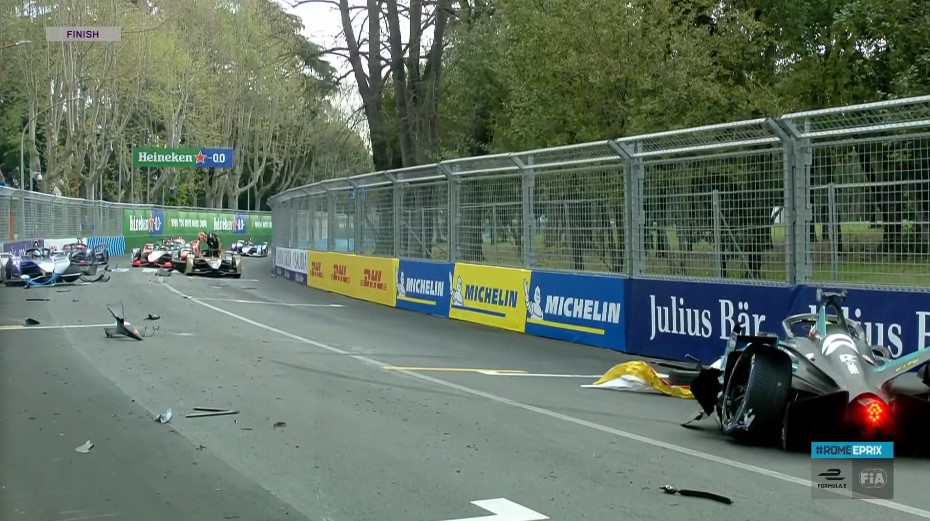 Dennis: "In his defense, there was a poor effort in terms of no red flag, no yellow flag. Nothing.
"Turvey was obviously pushing, which is a bit stupid after a checkered flag.
"The speed he arrived at, he wasn't making the first row . He was going to hit someone, it just happened to be me and [Vergne] who were the next ones to line up.
"It's not an optimum situation for a practice start, but we all knew we were doing practice starts. He obviously just forgot; the team didn't tell him.
"It's a completely blind this corner. Even during the session, I was thinking 'if someone crashes here, for sure you hit them'. He couldn't do anything by the time he saw us."
Maximilian Guenther (BMW i Andretti Motorsport) set the fastest time in Free Practice 2, though due to the session being cut short for curb repairs, the times could hardly be considered representative.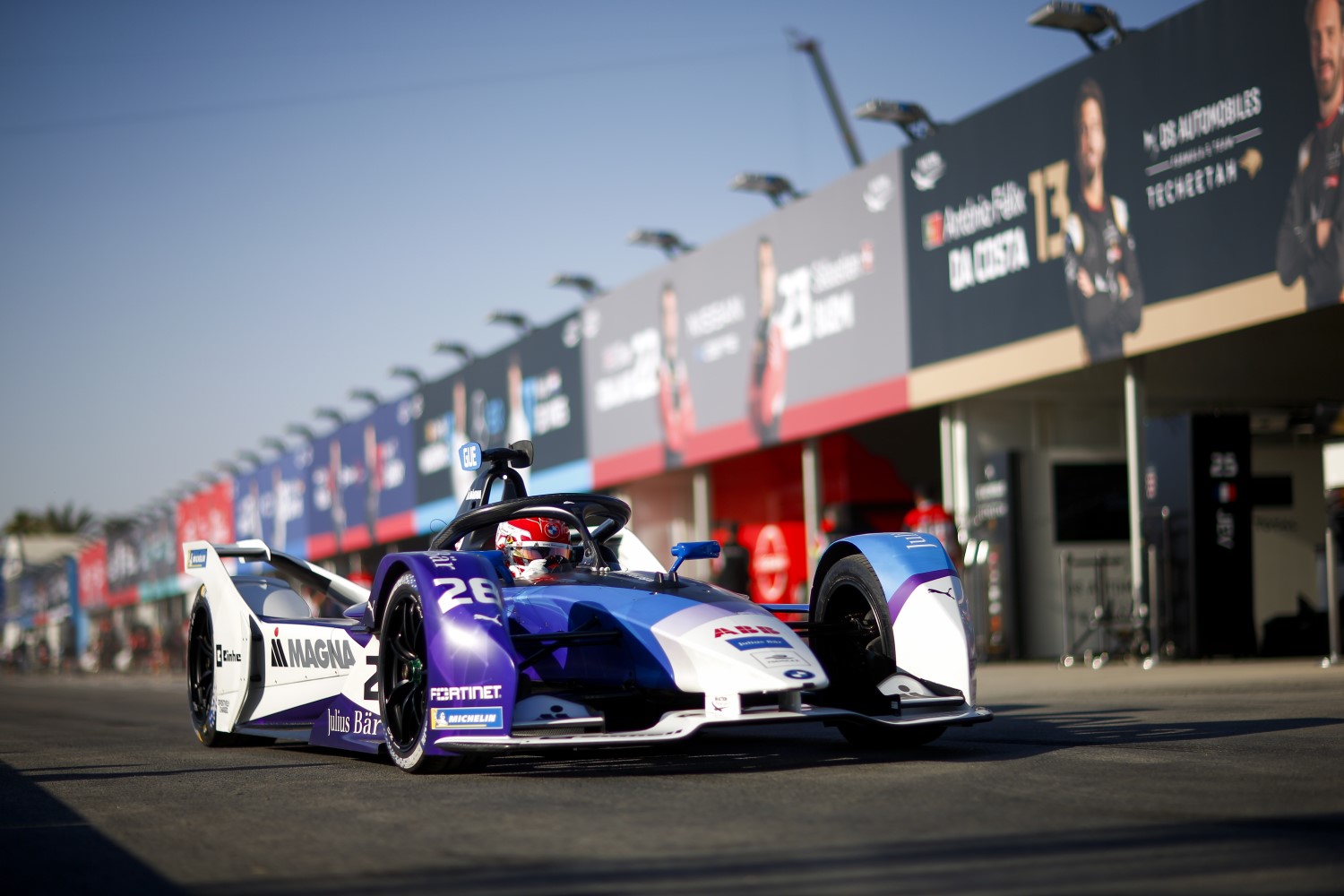 Guenther's 1m39.517s was some eight tenths of-a-second shy of Lucas di Grassi's FP1 best as the drivers only had a chance to get their initial runs and installation in, with just nine minutes of run-time before the red flag was thrown.
Nyck de Vries (Mercedes-EQ) and the Dutchman's teammate Stoffel Vandoorne rounded out the top three.
The Circuito Cittadino dell'EUR has seen a number of changes for 2021, which has extended the course to 19 turns and 3.385km – the second longest in Formula E history behind the Beijing E-Prix track. These tweaks looks to have added eight seconds or so to the overall lap time, with a 1m31s the ballpark for the previous Rome E-Prix layout.
It's a perfect mix of high-speed runs and tight, complex sections and undulations with plenty of opportunities for overtaking at the hairpin and some 90-degree bends – peak Formula E and a big favorite of the drivers.
"Street racing is Formula E's DNA and we should really be pushing to continue building these striking street circuits in city centers," said de Vries, who'll make his city center street track debut in Formula E this weekend in Rome.
"I'm very much looking forward to getting experience of the track. There's four to six different types of Tarmac surface at times through the corners so it's going to bring a lot of different challenges!"
Qualifying ahead of the Rome E-Prix Round 3 is next up.
Practice 1 Results
Pos
No.
Driver
Team
Time
1
#11
Lucas
Di Grassi
Audi Sport Abt Schaeffler
1:38.785
2
#5
Stoffel
Vandoorne
Mercedes-Eq Formula E Team
+ 0.062
3
#4
Robin
Frijns
Envision Virgin Racing
+ 0.246
4
#7
Sérgio
Sette Câmara
Dragon / Penske Autosport
+ 0.259
5
#71
Norman
Nato
Rokit Venturi Racing
+ 0.354
6
#37
Nick
Cassidy
Envision Virgin Racing
+ 0.355
7
#10
Sam
Bird
Jaguar Racing
+ 0.485
8
#22
Oliver
Rowland
Nissan E.Dams
+ 0.773
9
#27
Jake
Dennis
Bmw I Andretti Motorsport
+ 0.802
10
#20
Mitch
Evans
Jaguar Racing
+ 0.822
11
#25
Jean-Éric
Vergne
Ds Techeetah
+ 0.831
12
#6
Nico
Mueller
Dragon / Penske Autosport
+ 1.068
13
#94
Alex
Lynn
Mahindra Racing
+ 1.120
14
#28
Maximilian
Guenther
Bmw I Andretti Motorsport
+ 1.155
15
#13
António Félix
Da Costa
Ds Techeetah
+ 1.254
16
#17
Nyck
De Vries
Mercedes-Eq Formula E Team
+ 1.354
17
#8
Oliver
Turvey
Nio 333 Fe Team
+ 1.492
18
#36
André
Lotterer
Tag Heuer Porsche Formula E Team
+ 1.631
19
#33
René
Rast
Audi Sport Abt Schaeffler
+ 1.705
20
#29
Alexander
Sims
Mahindra Racing
+ 1.914
21
#48
Edoardo
Mortara
Rokit Venturi Racing
+ 1.956
22
#99
Pascal
Wehrlein
Tag Heuer Porsche Formula E Team
+ 2.923
23
#88
Tom
Blomqvist
Nio 333 Fe Team
+ 3.846
24
#23
Sébastien
Buemi
Nissan E.Dams
+ 4.147
Practice 2 Results
Pos
No.
Driver
Team
Time
1
#28
Maximilian
Guenther
Bmw I Andretti Motorsport
1:39.517
2
#17
Nyck
De Vries
Mercedes-Eq Formula E Team
+ 0.192
3
#5
Stoffel
Vandoorne
Mercedes-Eq Formula E Team
+ 0.383
4
#22
Oliver
Rowland
Nissan E.Dams
+ 0.407
5
#6
Nico
Mueller
Dragon / Penske Autosport
+ 0.444
6
#37
Nick
Cassidy
Envision Virgin Racing
+ 0.525
7
#20
Mitch
Evans
Jaguar Racing
+ 0.715
8
#99
Pascal
Wehrlein
Tag Heuer Porsche Formula E Team
+ 1.013
9
#10
Sam
Bird
Jaguar Racing
+ 1.478
10
#13
António Félix
Da Costa
Ds Techeetah
+ 1.568
11
#23
Sébastien
Buemi
Nissan E.Dams
+ 2.034
12
#11
Lucas
Di Grassi
Audi Sport Abt Schaeffler
+ 2.174
13
#7
Sérgio
Sette Câmara
Dragon / Penske Autosport
+ 2.407
14
#33
René
Rast
Audi Sport Abt Schaeffler
+ 2.510
15
#94
Alex
Lynn
Mahindra Racing
+ 3.089
16
#29
Alexander
Sims
Mahindra Racing
+ 3.745
17
#71
Norman
Nato
Rokit Venturi Racing
+ 3.760
18
#48
Edoardo
Mortara
Rokit Venturi Racing
+ 4.845
19
#36
André
Lotterer
Tag Heuer Porsche Formula E Team
+ 11.582
20
#4
Robin
Frijns
Envision Virgin Racing
+ 16.640