Martinsville NASCAR Cup Sunday Press Conference
An Interview with:
1st – Martin Truex Jr. and James Small
1st – place team owner Joe Gibbs
2nd – Chase Elliott
3rd – Denny Hamlin
THE MODERATOR: Martin, congratulations on the win. It seemed like the race came to you and you really took advantage of it when the time was right. Walk us through your final run there.
MARTIN TRUEX JR.: Yeah, it was interesting how it all played out there. I thought throughout the day we were a third- to a fifth-place car in there. At one point in the middle of the race we got off a little bit, probably a sixth- or seventh-place car. It was kind of a weird day.
Proud of the guys for working hard on it. They did a great job. That last pit stop we were able to get us the lead. Couldn't quite hold off the 11 on that restart. He was really fast firing off. Just tried to stay with him and take care of my car. Knew there was enough laps left that tire wear in the long run was going to come into play.
He started getting tight, our car was getting better and better. We were able to take advantage of it. Really happy. For whatever reason our car really turned on when the lights went down. Always good when a plan comes together and it works out the way you hoped it would.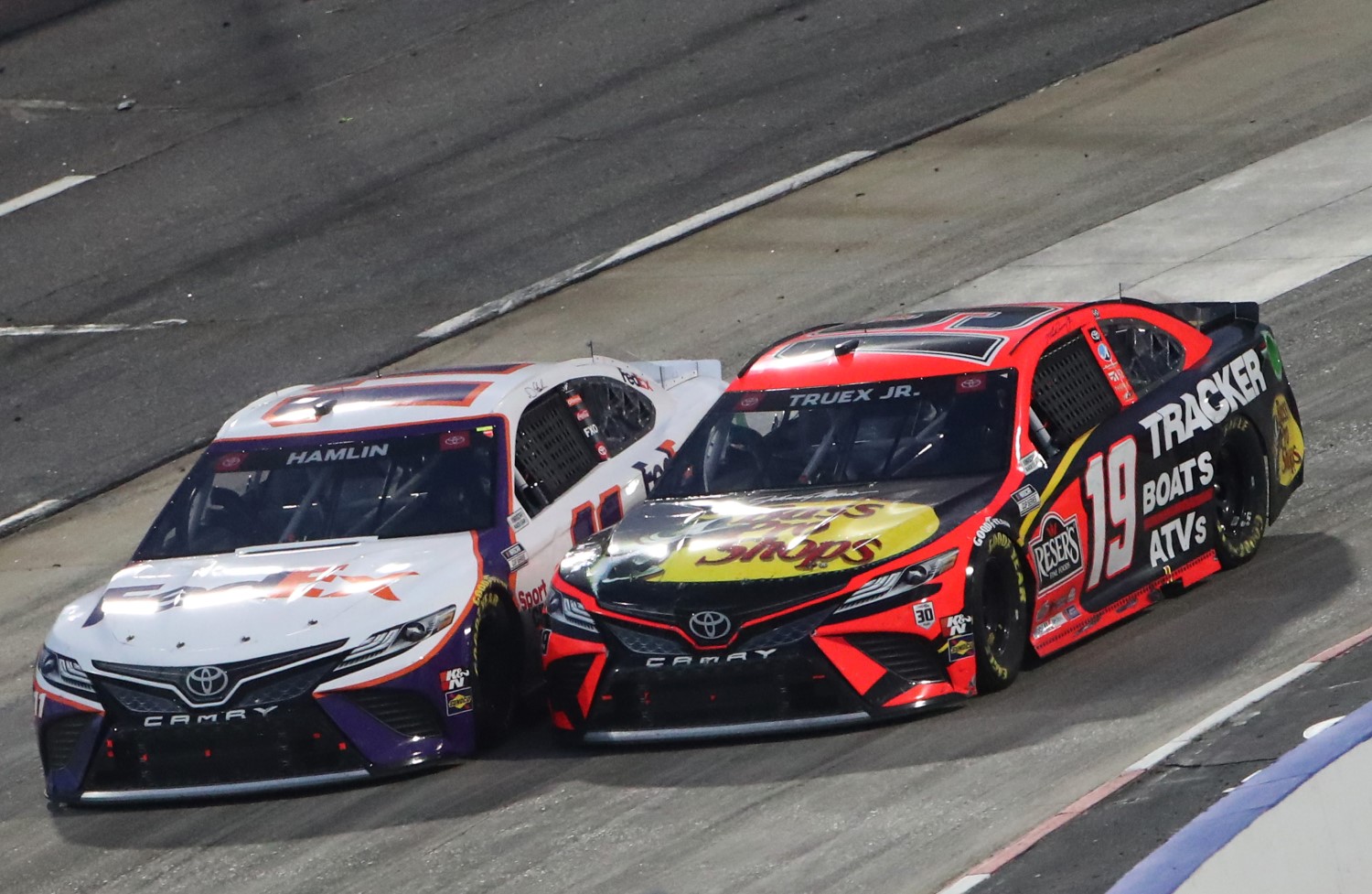 THE MODERATOR: We'll take questions.
 Q: What is your line on racing a teammate and deciding when or when not to use the bumper?
MARTIN TRUEX JR.: It depends on the track I guess. Here it was obvious that we were quite a bit faster at that point when I caught the 11. He was racing as hard as he could to keep us back. I knew if I was patient, I was going to be able to complete the pass.
I don't know. I've never really knocked a teammate out of the way. I don't know there is a right time to do it. I guess it just depends on how you race each other normally, what your relationship is.
 Q: Last year you won one race, you were very good at times. Get back to Victory Lane twice this year already. Does it start to feel like this is 2019, 2018, those championship years?
MARTIN TRUEX JR.: Yeah, I think so. I mean, I feel really good about our team, overall what we can do this year. Our cars are strong. Our team is strong. We've been together a long time. Obviously last year James was the new piece moving to crew chief, but, man, he's done a great job. Last year, for whatever reason, seemed like we were missing the tiniest little things. Sometimes it wasn't even things we were doing wrong. Sometimes you feel like things aren't meant to be, honestly.
Feeling good about it. Got a great team. Pit crew really stepped up today. Got a great stop on the last one that got us the lead. We got all the tools necessary. Great sponsors, Bass Pro, Auto-Owners, Reser's, TRD and Toyota, all they did for us. We have a great opportunity to win a lot of races. Hopefully we can take advantage of it this year more than we did last year.
 Q: You mentioned the final pit stop there. Did you do anything different or did it all come down to the pit crew? Seemed like you got a much better launch to beat Denny out there.
MARTIN TRUEX JR.: I got the launch because I seen him coming. I knew it was going to be close. Really just tried to push it there. Honestly, that was really not a lot different than the time before on pit road. I'd have to really look back and see if it was that much better.
You see an opportunity there, it makes you kind of try to give a little extra. Overall it was the same as the rest of the stops. I think the pit crew just stepped it up, did a good job on that last one.
 Q: On the restart where Denny got a better jump and took off, did that surprise you at all, that he was able to do that on the outside?
MARTIN TRUEX JR.: It didn't really surprise me. I was pretty loose. Not surprised. He was really fast on restarts all day from what I could tell. I was only around him on one of them. He beat my back bumper off in the middle of the corner just being so much faster than me.
I wasn't really surprised. I was a little too loose there to take off. He was holding me down tight, which he's supposed to. I just couldn't get the gas down. Not surprised at all, to be honest.
 Q: Were you pretty confident that you'd be able to pass Denny without having to do much drama, considering it looked like you had a stronger car than him?
MARTIN TRUEX JR.: You know, it was weird. His car, he was really good all night. The last run it really looked like he flipped the switch and got tight, which probably the sun going down, I don't know if they made adjustments to be able to run faster for shorter runs at the end. I don't know, whatever happened. His car really flipped a switch.
At that point I was like, I knew I could get by him, I just needed to be patient. No sense in pushing it with plenty of laps left and the 9 was pretty far back.
 Q: Is it hard to be patient?
MARTIN TRUEX JR.: Not really, no. I'm 40. I've learned over the years that you're better off being patient than not. It pays off in the long run usually (smiling).
 Q: You said in your post-race that you never anticipated winning one Martinsville clock, now you have three. Why did you just not think it was ever going to happen for you here at Martinsville?
MARTIN TRUEX JR.: You know what, it was never clicking. I mean, even at times where we could have decent runs, it was like fifth, sixth, seventh. I felt that was the best I could ever run here up until, like, 2015 or so. For whatever reason, I just could never get the car to do the things I wanted it to do.
It came a point where people told me, They can't do those things you want it to do. You're like, Okay, maybe it can't do those things and I just need to figure out how to drive it the way it is.
After not having success at a track, it comes to a point where you really don't know what you need to do, if it's even possible to do the things that you want to do. It's a real challenge.
I've just been lucky to be with really good people, have really good cars, have that communication, that belief in one another that you can make the thing do the things you want it to do. They know you're driving it right, you know they know how to set it up. You work together.
That's where we've been the past, really, six, seven years here. It's a place where it doesn't change all that much other than depending on the tires that Goodyear brings. You can really just continue to work on similar things and refine those. That's what we've been able to do here.
It's been awesome. Hopefully we can keep it going.
 Q: Do you have a place for the new clock?
MARTIN TRUEX JR.: Absolutely. I absolutely do (smiling). I'll make places. If I keep winning 'em, I will make places for 'em, I promise you. It's not a problem.
THE MODERATOR: Also joined by today's winning crew chief, James Small. Walk us through your win from your perspective.
JAMES SMALL: It was a little bit of a (expletive) show really. We worked all week on racing.
MARTIN TRUEX JR.: That's awesome.
JAMES SMALL: Well, it was. Don't deny it (laughter).
MARTIN TRUEX JR.: It was.
JAMES SMALL: It was very different to how we won here before. Usually we have a pretty dominant car and led a lot of laps. This week we had to battle.
I think the track starting off this afternoon was quite a lot different to what we've experienced here in the last few races where we've been really strong. We struggled, chipped away at it.
It wasn't till the final stage, I think the cautions were kind of helping us. Taking the rubber off the track, not allowing it to rubber in. We kept adjusting a little bit. It finished so late, the conditions actually got back, and the track got back to similar how the last few races were.
At the end there Denny had been exceptional on the short run all day. No matter what lane we picked, it was going to be hard to hold him off. I knew we could come back at him. Us and the 12 were pretty good on the long run. Thankfully he went to the back. It kind of all just worked out for us.
THE MODERATOR: We'll continue with questions.
 Q: Martin, in regards to you're tracking down Denny, you know how good he's been on the short run, but how good you were on the long run, is there something a little extra special passing somebody late for a win after they've been as dominant as they were?
MARTIN TRUEX JR.: It's always a good feeling. You never want to be on the other end of it. I've certainly been on plenty, losing plenty races where we dominated. I know how it feels. It sucks. At the end of the day these races are really, really long. A lot can change. You really just have to hope that things play out the way you need them to.
For whatever reason his car just got really tight there with I want to say 20, 30 to go, whatever it was, whenever we made the pass. Our car was really strong at that point.
We took our lumps and battled really hard all day for that end result to pay off. It feels good. It's nice when things work out the way you need them to in your favor at the end of a race.
 Q: Is there a little bit of relief to get that second win, going into the middle portion of the year?
MARTIN TRUEX JR.: I don't know about relief. It's exciting to be here with two wins at this point in the season, compared to last year. It's always good. You always want to do better than past previous years. Having two wins this early is great. It's good for points. It's good for Playoff points. We need to keep racking 'em up.
 Q: For a long time one of the story lines was you weren't able to win at a short track. You've now won I think this is your fifth win in the last 11 short track races, nearly half, for a guy who seemingly couldn't win. What do you feel like has changed? Some of it's equipment, what that's allowed you to do. James, what have you seen and what have you been able to do in the role of crew chief?
MARTIN TRUEX JR.: For me, it's what I mentioned a little while ago, it's confidence in each other, believing in each other. There was a time in my career when I go back to the Busch Series days, all the races I won there were short tracks. We never won any mile-and-a-half's. Damn, I need to get better at mile-and-a-half's. You work on that. In the Cup Series, every track is tough. Everybody is working constantly at being better every type of track.
For whatever reason for me, the short tracks never really panned out. Even though we had a lot of great runs over the years, for instance, I think we led the most laps at Richmond three or four races in a row before we finally won there. Sometimes you need things to go your way.
Honestly, from a consistency standpoint, being consistent at these short tracks, it comes down to people and equipment, that belief in each other. As I mentioned, especially at Martinsville, being able to just work on similar things year after year with the same group of guys for the most part, continuing to improve on small things. Really just believing what they're telling you. If they tell me I need to drive a certain way, I start driving a certain way. If I tell them that it needs to do something different, they know it needs to do something different.
It's just that team chemistry that we've had over the years has been really good and we've been able to fine-tune on these places.
JAMES SMALL: Exactly what he said (smiling).
THE MODERATOR: Martin, congratulations on the win and good luck next week at Richmond.
MARTIN TRUEX JR.: Thanks, buddy. See you guys.
We'll continue with questions for James.
 Q: Can you further elaborate on your view of this being a (expletive) show?
JAMES SMALL: It was a struggle. We didn't start off well. We ran in the top five the most part of the day. When I got a little crazy with all the different people coming and going and staying out, I think there were starting back at 12th a couple times, battled back through, cautions. We couldn't get into a flow.
I felt like we had a somewhat decent car on a long run, but it wasn't great. We weren't great on short runs. We still needed to be better. We didn't have the pace of the 11 and the 12. We tried a couple things, went the wrong way, then came back on them and did a few other things.
Finally that third stage, we hit on something. Martin gave really good feedback, exactly what he needed. It kind of all started making sense. I think the track came to us a little bit there.
Yeah, it was just all over. It was a bit of a blur, to be honest. Pit crew did a great job at the end on the final stop, so…
 Q: You're naturally very animated on the radio, excited, never give up. How much of that, if anything, is also a bit of relief to get a second win in a season?
JAMES SMALL: Yeah, it's definitely a relief. There was quite a number of races last year where we had the best car, things didn't go right at the end. That's a real punch in the gut every time that happens.
It's even sweeter when you're coming from behind, you battled all day. I feel that's what's really good. No matter what happens with our team, whether it's Martin, we just keep trying and trying and never give up. Finally we got there.
We've lost some races like that. Last year we lost one where we led and got passed at the end. It's gut-wrenching. Finally good it happened to somebody else. We got really excited at the end.
 Q: You have won at arguably the two most important tracks of the year with Martinsville and Phoenix, the last two races of the year. Did you put an extra point of emphasis or did this just happen by chance that you got really good when it counted?
JAMES SMALL: Yeah, not really. Probably put a little bit less emphasis on this track, to be honest. Small refining of the package every time we come back, pinpoint things we need to do a bit better than last time. Just small tweaks.
It's so hard. Especially a track like this, not very aero sensitive, it's all mechanical related. You can't afford to go out on some tangent, on some philosophy or theory or whatever. You just got to stick with what's worked and refine that.
I feel like that's a lot of it. It's the same guys that are running with you all the time, the 9, the 12, the 11, all those guys. We all have something that our drivers like and responds well. We just keep bringing similar stuff back.
No, we put far more effort into the tracks we sucked at. Hopefully we get better at them.
 Q: Martin has three clocks now, two with you. Any chance he would give you one or you have to earn it yourself?
JAMES SMALL: Yeah, that's a good question. I don't want one. They don't really fit in my small apartment. Just have to go back to Australia one day, that's going to be a nightmare. I'll just keep the memories (smiling).
 Q: You had been under Cole and working with Martin a couple years, but last year was the first time getting thrown into the fire and leading this team. The success you've had to start this year, is this a case of everything coming together, you and Martin finding the rapport with one another? Was last year more circumstances necessarily than trying to get comfortable?
JAMES SMALL: I feel like last year we were pretty comfortable, as well, especially after we came back from the COVID break and started getting rolling there. I think it's more just us getting better at this no-practice racing, and us understanding how the track is to start these races, when it starts with not too much rubber, things like that.
Obviously I'm a lot more comfortable now just dealing with the whole situation, we know what to expect on a weekly basis. (Indiscernible) with the guys more, communication, all those things. I've known everybody forever, but it just feels more comfortable now. That's a big part.
I think I've known what Martin needs. He knows what he needs. It's always been about us just trying to put it together. I think it's just things are clicking again, they're going right, they're not going wrong. That's what happened a lot last year. It's nice. Hopefully it continues.
 Q: How rewarding are the days like today when you don't have the fastest car, a dominant car like what your teammate had, yet you find a way to come out on top and make the right changes?
JAMES SMALL: To be honest, this feels even sweeter than any other one we had. It was just a weird day, it was difficult. It's definitely really a nice feeling, I won't deny it. It's nice.
The 11 did that to us at Dover last year. We led a lot of the race. He passed us late and won because he had a better car. Ours kind of went away a little bit. A similar thing happened.
It comes and goes. I'm sure it will happen to us at some point later in the year. It's definitely sweet, that's for sure.
 Q: Talk about being able to find what the car wanted at the end of the race and be strong when it mattered. How much did the track change from daytime to nighttime?
JAMES SMALL: Yeah, I definitely think it was slick, it was getting a lot tighter. Was taking a little more rubber. As it cooled off, I think those series of cautions, on short runs, never allowed it to rubber back up.
We were pretty bad, like tight for a while there. We started going the wrong way. Kind of played into our hands a little bit. The 11 I think still got tight at the end there. We were maybe just a little bit ahead on our adjustments compared to them. It definitely helped.
Also with it cooling down, I think it just got back more into our wheelhouse, where our setup was a little more happy based on the last three races.
 Q: You're now the first team to win two races this season, at two of the most important tracks on the schedule. How does it feel to have everybody looking towards the 19 team as the early championship favorite perhaps?
JAMES SMALL: No, it's definitely nice. It's definitely better than looking like a pack of losers. It's good. Hopefully we can just continue this trend now.
As we all know, it's all about bonus points and getting through those rounds. It's definitely nice to have won at two of the most important tracks. There's plenty more we need to knock off and get better at to make sure we make a really good run at it later in the year.
THE MODERATOR: James, congratulations on the victory and making the most of this show tonight. Good luck next week in Richmond.
JAMES SMALL: Thank you very much.
An Interview with winning team owner Joe Gibbs
THE MODERATOR: We are now joined by our winning team owner, Coach Joe Gibbs, Joe Gibbs Racing.
Coach, what a run you're on right now, especially with Martin Truex Jr., your third win on the season. Walk us through the emotion you have right now winning this race.
JOE GIBBS: What I'm excited about is, yes, great race. I was just praying that Denny and Martin didn't get together up front. That was my biggest concern.
Anyway, I was most thrilled with the fact that all four of our cars wound up in the top 10. Didn't go well for Kyle today, but he fought so hard. I was really proud of him getting back to 10th. Christopher was fast all day. Then, of course, Denny.
I just think Martin's car was better on long runs than what Denny's was. Denny fought so hard.
Anyway, it was a real good day for us. We love Martinsville. I think everybody at our race team gets excited every time we come here.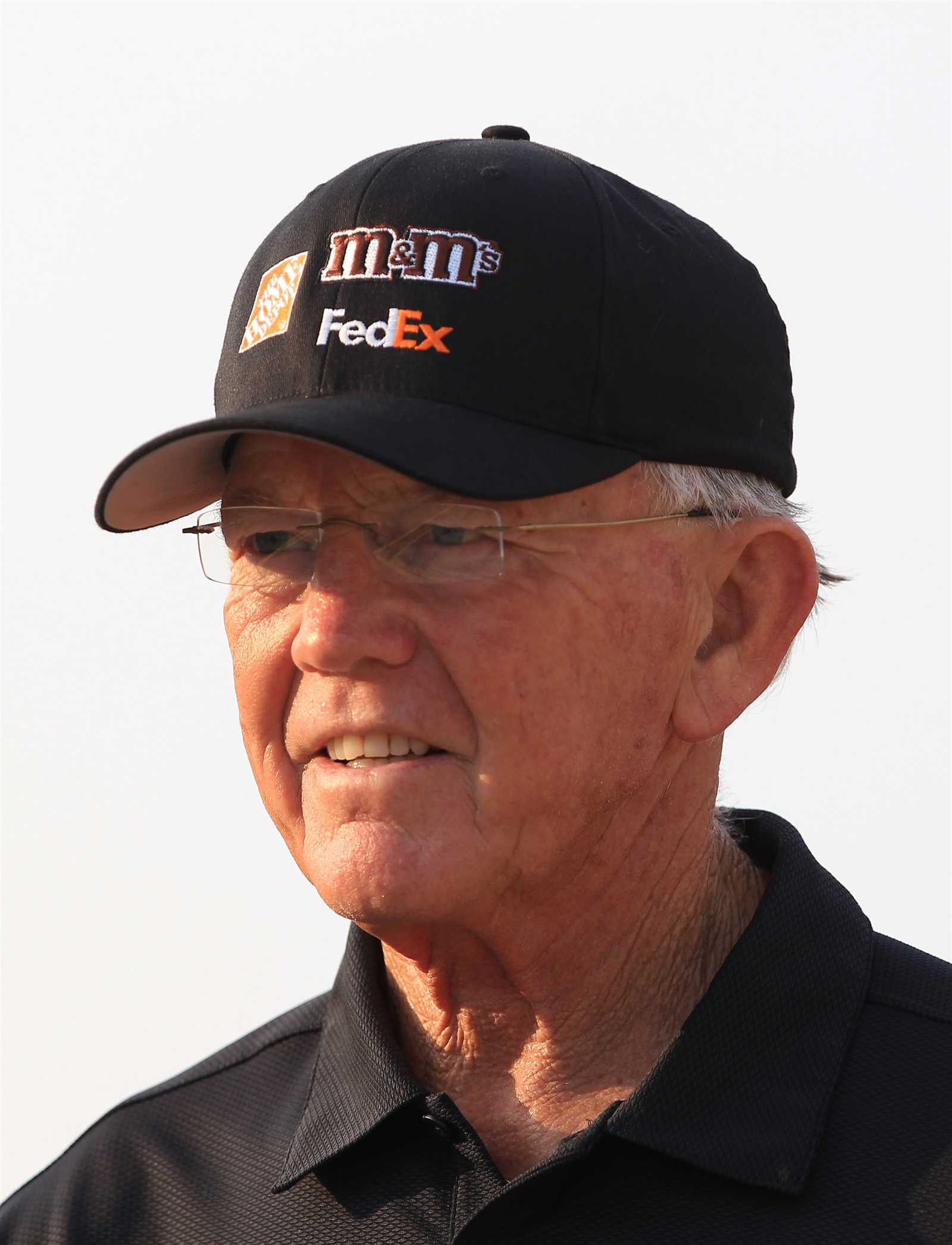 THE MODERATOR: We're going to go to questions.
 Q: Where do you think Joe Gibbs Racing stacks up right now compared to Hendrick, Team Penske? Where are you at right now?
JOE GIBBS: I think it's always hard to say. We're really only just getting started really. Eight races in or whatever it is, eight or nine. I would say that it kind of constantly has been going through the year, somebody gets up pretty good, then somebody else steps up.
I think it's going to be hard-fought all year. I was really happy today about short track for us. That was a good deal. I get excited when all four of our cars run well. But I think it's up in the air as to who you could say is the strongest team right now.
 Q: Coach, NASCAR is going to start letting some select people in the garage area in a few weeks. What were the parameters that you want to see in the garage for your guests who I assume you want to get in as soon as possible?
JOE GIBBS: Yeah, we got so many guys that love racing, key people that support our race team. I'm sure other race teams are the same way. We need, as quick as we can, get those people in, inside, back where they can get and enjoy racing again.
I think most of our key sponsors, the CEOs, upper management of our sponsors, most of them as I continue to talk to them have both vaccines. So hopefully that's going to make a difference, too.
I have. I know a lot of people on our team have. So I'm hoping that's our breakthrough. But it's a huge deal for us. We need to get our partners back with us. So I'm sure hoping, I know NASCAR has talked about it, I know they're doing everything they can, but that would be a huge deal for us.
 Q: How difficult as a team owner is it to balance letting your guys race hard but trusting them not to cross that line and end up taking each other out?
JOE GIBBS: Well, let me say this: it has happened, okay? It's happened a number of times over the years with us. Of course, what you realize is each one of the drivers, each one of our sponsors, the crew chiefs, everybody on that team is so important to the individual teams.
We're back at the race shop, we act as one big team. But when you get to the racetrack, when it gets down to actually the race, at the end of the race, it is each one of our teams, they want to win for their sponsor and for their career and everything that's wrapped up in it.
You always worry about it. It has happened to us numerous times over the years where two of our guys will be up front and get together. I will say this: that's the most nervous that I get in the race, is when two of our guys are up front like that. The whole time I'm praying, Just don't wreck each other (laughter). I got to admit that.
 Q: You had four cars in the top seven in the Xfinity race. Everybody but Kyle ran strong at the end of the Cup race. Do you feel this is maybe one of the strongest positions JGR as a whole has been in in a long time?
JOE GIBBS: Well, certainly I think our Xfinity program, we put so much into that. It's really been something that really supports. We had so many people come from Xfinity to Cup. It's so important to our overall program.
I think our four cars there in Xfinity, I think our crew chiefs there, are all veteran guys. Our drivers there, I think they all get along really well. I am so happy with our Xfinity program and the way everybody has worked together.
I think we're really, really strong in our Xfinity program. Then, of course, to come back today with Cup, here at a very tough place, we love Martinsville by the way, all of our guys do, and to come back and have everybody in the top 10, I really get excited about that.
But besides the win, it was great for Fast Pro, Johnny, auto owners, Jeff. I just really appreciate those guys, the way they support us.
 Q: On the business side of it, you're talking about wanting to get the CEOs and folks back to the track. How important is it for you when you're trying to attract some new sponsorship to be able to bring those folks to the track? What kind of lessons have you learned during all this COVID shutdown, lessons that you've learned to maybe help you with sponsorship now and in the future?
JOE GIBBS: Well, I think you're right, it's so much harder when you can't entertain potential companies that could possibly come to the racetrack with you and get to see everything that takes place at a NASCAR race.
The thing about NASCAR as opposed to other sports, the fact that you can be here, you can be in the hauler area, you can be on pit road, you can have hospitalities, have the driver come up, get autographs, ask questions. I go up and do the same thing.
When you're missing all that, it's really hard. So I appreciate our sponsors. I know that other owners do here. Everybody that has worked so hard with us. I'm hoping we reach the time now where we can start getting a lot of the key players for us, from the sponsor standpoint, back at the racetrack.
I know NASCAR wants to do that. They're working hard to try to get that done. But it's a huge deal, as I mentioned earlier, because they play such a key part. Over here you can't race these cars if you don't have a partner, a sponsor partner. That's not the case in other sports, but it is here.
I think we've learned a lot through COVID. Everybody has handled everything I think about as good as you can handle it. NASCAR has done a fantastic job. We've learned a lot coming to the racetrack only bringing one car, no practice. I know that's been a big adjustment for the tracks, no practice and qualifying. It's been a huge change, but I think everybody has done a good job of fighting their way through it.
THE MODERATOR: Thank you, Coach. Go forth and enjoy your win and good luck next week in Richmond.
JOE GIBBS: Thanks, guys. Appreciate everybody.
An Interview with 2nd place Chase Elliott
THE MODERATOR: We are joined now by today's runner-up, Chase Elliott.
Chase, walk us through your second-place finish today.
CHASE ELLIOTT: Yeah, really, really hard-fought second actually for us. We were not great, but had some, I guess our strong suit was kind of early on in the run, then really faded hard, too hard there latter part of a run.
But we never got one of those super long runs, which is probably a good thing for us because we were struggling on that end. But, yeah, proud we could fight back. We had a long day with strategy not going our way, restart lane choice at times was tough. I'm glad we were able to get back in the fight there and give ourselves a chance.
THE MODERATOR: We're going to open the floor for questions.
 Q: Chase, does this do anything for you for October when you look ahead, this being such a pivotal race?
CHASE ELLIOTT: Yeah, for sure. I mean, I think this is an important race. They're all important, but for sure, when you get down to that Round of 8, if you're still alive in that deal, a win at any of those tracks gives you an opportunity. Of course, definitely.
As long as it's where it's at in the final 10, it will always be an important race.
 Q: You just said on FOX Sports, you described this as an eventful year so far. How challenging has the season been for you guys so far, now being your third top five of the year after coming off a championship?
CHASE ELLIOTT: Yeah, I mean, like I said, every week I feel like it's been one thing or another, a bad run or just whatever. Just nice to have just a smooth day, no damage. We didn't break anything. Everything was just smooth. It was uneventful. That's the days you have to have to compete for wins ultimately. Some of that is in your hands, some of it's not.
Truly nice to have an uneventful day, so to speak, just get a solid finish. Got some solid stage points. It was definitely a step in the right direction for us.
 Q: With today's solid performance, Truex gets his second win of the season, how important is it going to be moving forward to get multiple wins? Do you think kind of where we're at in points, what you've got right now, is going to be okay? Is it still pivotal to get multiples?
CHASE ELLIOTT: I mean, I definitely think winning is a crucial part to the Playoffs. It doesn't guarantee you as you go along. It sure does hedge your bet and having a successful Playoff run if you have wins in the bank.
I want to be on that side of the fence when that rolls around rather than in the opposite position.
 Q: What do you feel you were missing there at the end in relation to the Joe Gibbs Racing duo?
CHASE ELLIOTT: Just rear grip for me was kind of the story of my day. That was also the problem there at the end. Just didn't have the drive I needed to get up off the corner like I wanted and to be able to really get the power down early.
Yeah, solid day, but just came up short.
 Q: Can you talk about the rocky start you've had to the season? How much momentum and confidence does this give you towards Richmond and beyond?
CHASE ELLIOTT: Like I said earlier, just nice to have an uneventful day, so to speak. Just have some nice stage points, have a nice finish, those things are always nice. I feel like we had a mistake-free day, which is what you have to have, so it was good.
THE MODERATOR: Thanks for joining us, Chase. Good luck at Richmond.
CHASE ELLIOTT: Cool. Thanks.
An Interview with 3rd Place Denny Hamlin
THE MODERATOR: Denny, talk us through your run today from your perspective.
DENNY HAMLIN: Had a really good car on the short run all day. Got great restarts. Was fast for 25, 30 laps. Then it seemed like guys would start catching us. Unfortunately it was just too many laps there at the end that we couldn't hold those guys off. At least gave ourselves a chance by getting a good restart there and getting in front of Martin.
Ultimately they were running better, turning the corner, getting off than we were. Came up short again.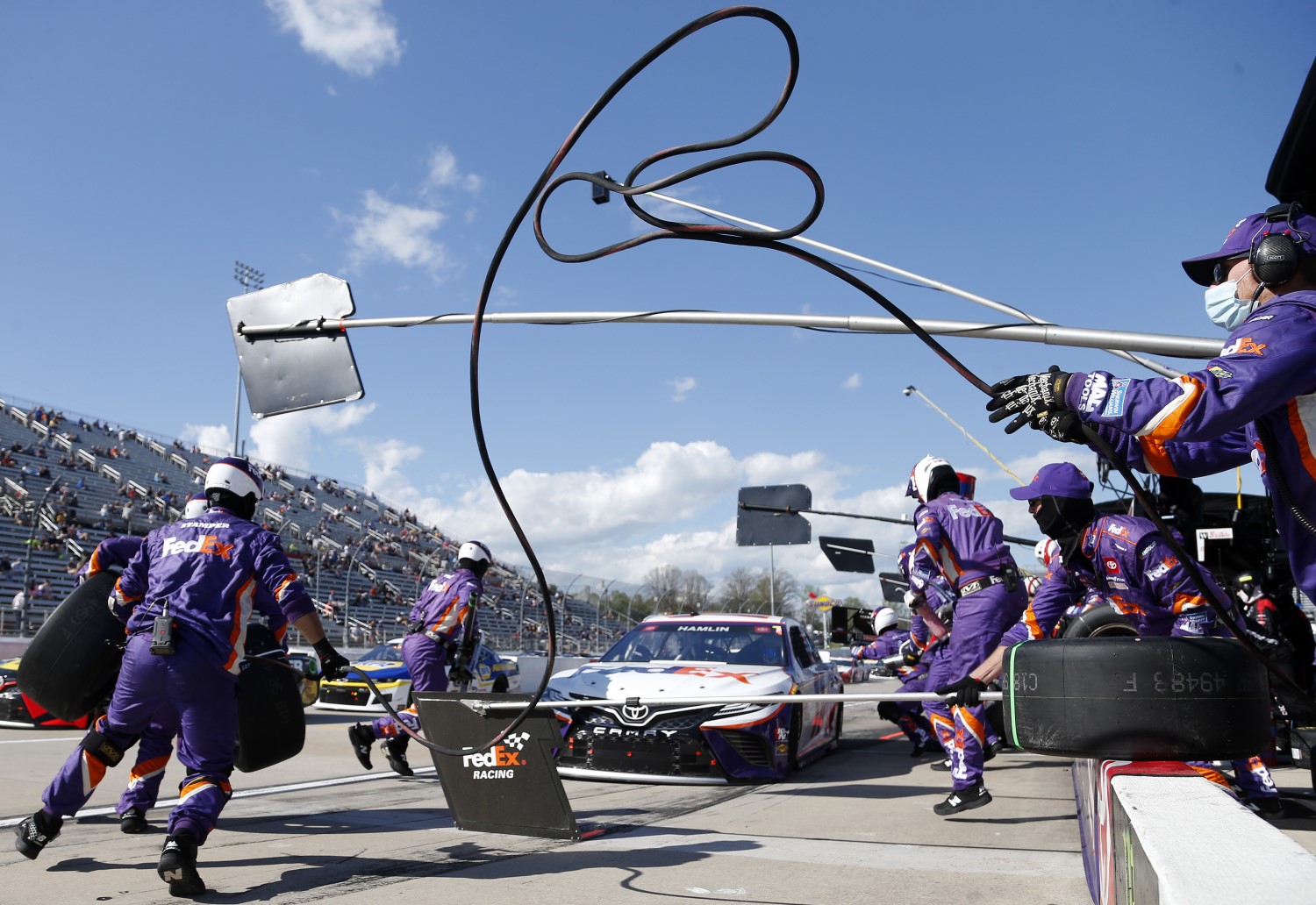 Q: Did you have a lot of hope you were going to be able to hold off Martin or did you think it was a matter of time?
DENNY HAMLIN: I thought it was a matter of time. With about 25 to go or so, he already got into my rear bumper, kind of beating the back end off. It was just a matter of time.
The only hope, we had an extra set of tires over everyone. Hell, we would have pitted, taken tires, restarted 20th. That wasn't going to work either.
Tough to say. We weren't stuck in a box where we could make good in a long run. The reason we led so many laps is we had a lot of short runs, great starts in the middle of the race, not much green flag racing. When we had green flag racing, again, we were fast a little time, not a lot of time.
 Q: NASCAR told teams they're going to start letting some sponsor people potentially in the garage at Darlington. Are there any parameters that you want to see in place or are you good with whatever NASCAR comes up with?
DENNY HAMLIN: I'm good with whatever they come up with, whatever they deem safe.
 Q: Obviously it's hard to complain in one sense about thirds and fourths, top fives at the beginning of the season. Only three Playoff points at this point. If you continue your points, you'll get a bunch of Playoff points at the end of the regular season. How much of a concern is it, 30% of the way through the regular season, three Playoff points for you right now?
DENNY HAMLIN: Yeah, I mean, we definitely would like to have more, for sure. But the way we're running, we can win any given week. We've just gotten beat by one or two cars each and every week that have just hit the setup a little bit better than we did.
But it is, like you said, hard to complain. I don't know what the record is for most points scored in eight races, but I think we pretty much got to be there (laughter). We don't finish any worse than third in every stage, obviously we're finishing in the top three or four every race.
Just keep building on that, look at the positives, try not to be negative. Wins, we're getting closer. We're getting there. We just got to — nothing saying we can't win the next three races in a row, so…
 Q: A lot of different tracks the first eight races. How do you feel to be able to have this consistency? Is there something a little bit off in the sense of not getting those wins? What do you see that's held you guys back at this point?
DENNY HAMLIN: Yeah, I mean, we're just getting used to some things here and there. I think similar to the fall here, we were good for the first part of the race, but we faded there towards the end. It's just something about when this track goes to the night that's not suiting either myself or the driving style, which the car reacts. Just a lot of different things that are factored into us not winning.
Honestly, we've been really close. But each time I feel like that's the best we could do that day. We're not losing with dominant cars, although the stat sheet looks like we're dominant. But it's fake news. We just had a lot of short runs there, when others, Blaney and whatnot, were having issues.
We've been the third best most weeks, and it's been one or two guys, seems like they have just a little better balance than we do, and we get beat by it.
 Q: Does today feel indicative of your season? You guys were very, very good, but kind of missing that little part to get over the hump.
DENNY HAMLIN: Yeah, I mean, yeah, there's just nothing I could have done I feel as a driver differently today. I feel like I executed well on pit road. Obviously we were the only car that was able to take the lead on the restart on the outside multiple times. Sometimes the cards are dealt to you where you got a short run car, and at the end of the race comes down to a 40-lap run. That's just outside your window of greatness.
It's just been amazing the execution that our team has had over the first eight races. Short of a pit road penalty I had on the last pit stop at Homestead, we finished top three every single week.
It's hard to be disappointed with that. We're executing phenomenal. We just haven't had that dominant car that we've had a few times last year that we just beat up on everyone. We just haven't had that car yet. We've just been next best.
 Q: After stage two, most of the leaders had pitted, kind of a rash of cautions. You stayed on the racetrack. What was the thinking there?
DENNY HAMLIN: Well, we saw how many tires we had left. Actually cycling the tires for us was better for us in the long run. It seemed like my car held on slightly better any time I had a short run, then a caution. If I stayed out, my car actually held on better in the long run. It was actually good for us to get those tires prime, then we'd finish off the run on those scuffed tires.
The last run was kind of a worst-case scenario because we had new tires and no cycles, where during the middle of the race we kept cycling our tires because of the cautions. It was the worst-case scenario, really exploited kind of our setup and our weakness there with 15 or so to go.
 Q: You mentioned taking the positives out of the first eight races. Is there a little bit more frustration out of leading 200-plus laps and coming up a little bit short or can you find the positives in this race?
DENNY HAMLIN: Well, I mean, I definitely can find the positives. I did the best that I could do. That's what I need to come out of every weekend. That's my goal, is to, like, make sure I do the best that I can as a driver, do everything that I possibly can to win, not make mistakes.
This was just the seventh of eight races that I've done that, where I feel like there's nothing else I could have done to change the outcome. So all you can do is concentrate on your job. Chris will concentrate on his, making the car better. Pit crew is getting better every single week. Everyone, as long as they stay calm and continue to focus on their job, nothing more, we're going to continue to get better.
 Q: How much can you take out of this, especially with Martinsville being an elimination race in the fall?
DENNY HAMLIN: That's a good baseline for us. I mean, I think that we were better here than what we were in the fall. When we got back in the back of the pack in the fall, we just were not very good in traffic. Luckily for us we stayed up front all day today. We didn't have to fight much traffic, other than lap cars. By then our car was starting to fade anyway.
We'll just have to really look at the data and see where our strengths and weaknesses is, really digest into the 19 car and see where they're different, what approach they have that's different that's making them so good at the end of this race.
 Q: You mentioned the last run really exploited kind of the weakness in your car over that longer run. Was there a lot that you and Gabehart could do to adjust it to make it much better for a longer run or was it a case of where this particular weakness you just kind of had what you had?
DENNY HAMLIN: I had what I had. So the only thing that I could — what I would do is since I had such a good short run car, I would run as hard as I could for the time that it was good. If I could build a gap over the guy that was behind me, it would just take him longer to get to me. Instead of me trying to ride and save my stuff, all I did was let those guys, when my car started fading, they were right on me instead of half a straightaway back. Those are the cards we were dealt.
The reason we even took the lead on that final restart is because we were good on the short runs. We made sure we preserved what strong suit we did have, which was the first 20 laps.
THE MODERATOR: Denny, thank you for joining us. Good luck next week in Richmond.
DENNY HAMLIN: All right. Thank you.