Supercars: Whincup and Mostert win in Tasmania
Race 2
Jamie Whincup has ended teammate Shane van Gisbergen's bid to claim a history breaking Supercars' winning-streak, with victory in the first of two races at today's Beaurepaires Tasmania SuperSprint.
Whincup started from second on the grid, and ran down Ford's Cam Waters mid-race to claim his first win of the 2021 Repco Supercars Championship, and 123rd of his illustrious career.
Van Gisbergen finished second after starting sixth. The result means he finishes with the equal-best start to a Supercars' season with Allan Moffat and Mark Skaife.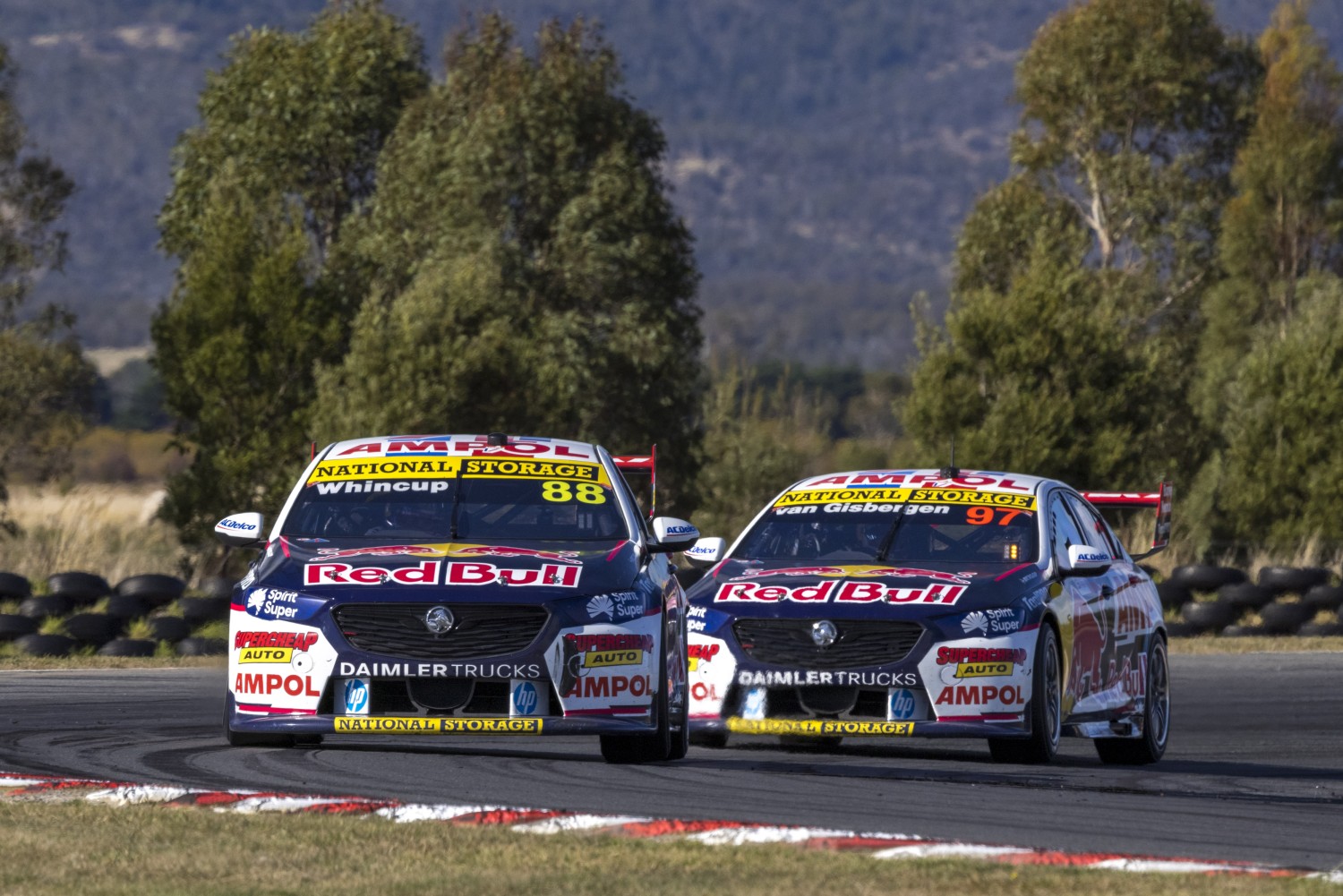 Behind the Red Bull duo was Shell V-Power Mustang driver Will Davison, who snagged his second podium result of 2021.
Monster Energy Mustang driver Cam Waters started from pole position and led for the opening half of the race, until Whincup made his move on the famous Symmons Plains hairpin corner.
From there Whincup pulled away, before van Gisbergen and Davison overtook Waters late to claim the other podium places.
The race started with a number of crashes which ended Anton De Pasquale, Jack Le Brocq and James Courtney's afternoons.
Teams are now resetting to go again in the final race of the event, another SuperSprint which will begin at 4:25pm local time.
Mostert breaks two year drought and wins in Tasmania
Chaz Mostert has broken a two-year winless drought and secured his first victory in a Commodore in the third and final race of this year's Beaurepaires Tasmania SuperSprint this afternoon.
The Mobil 1 Appliances Online driver has waited 765 days to stand atop the Repco Supercars Championship podium since his last victory at the 2019 Beaurepaires Melbourne 400.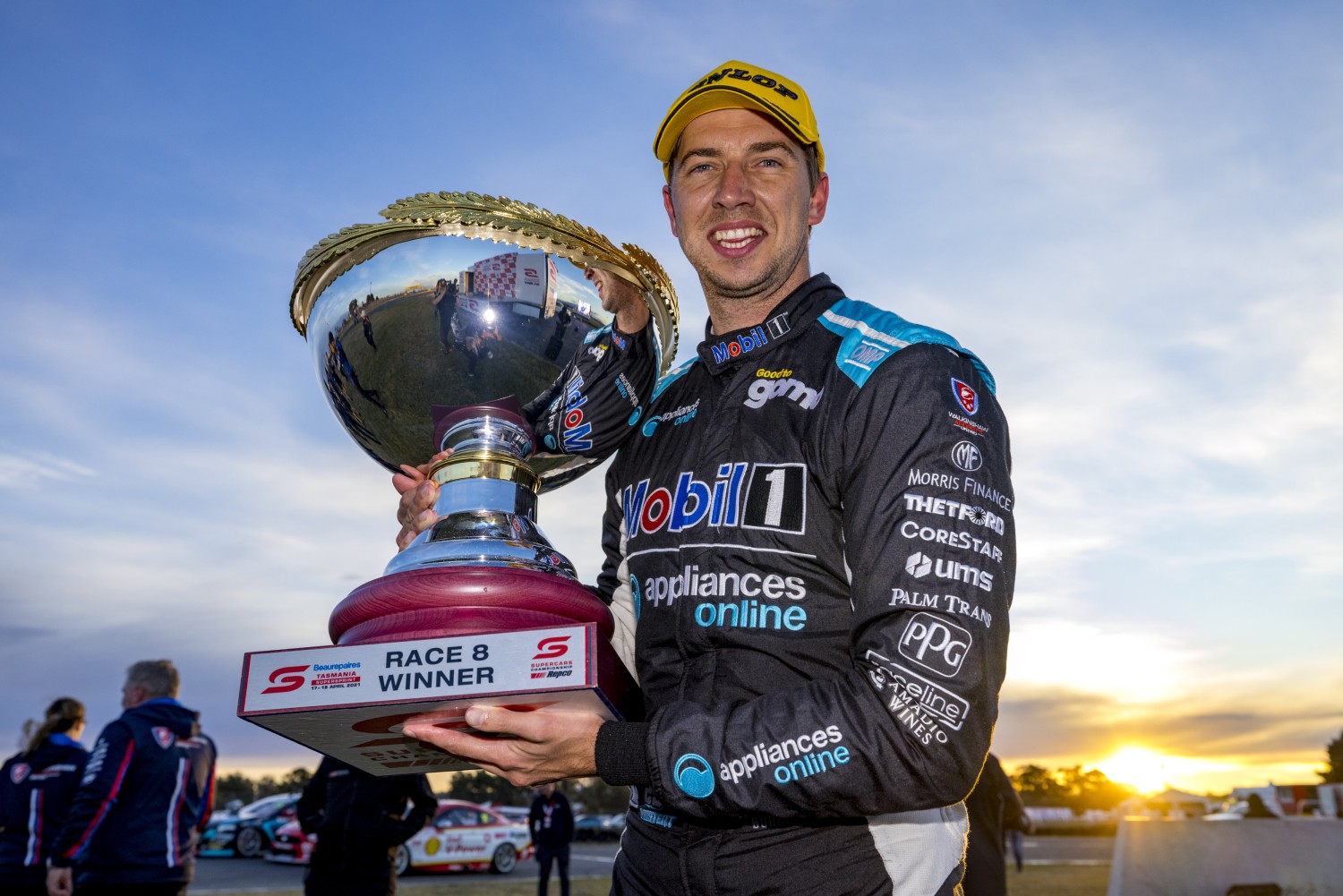 Today, after starting second alongside good friend and close rival Cam Waters, Mostert took the lead mid-race and never looked back, winning the race by a ten second margin from his nearest rival.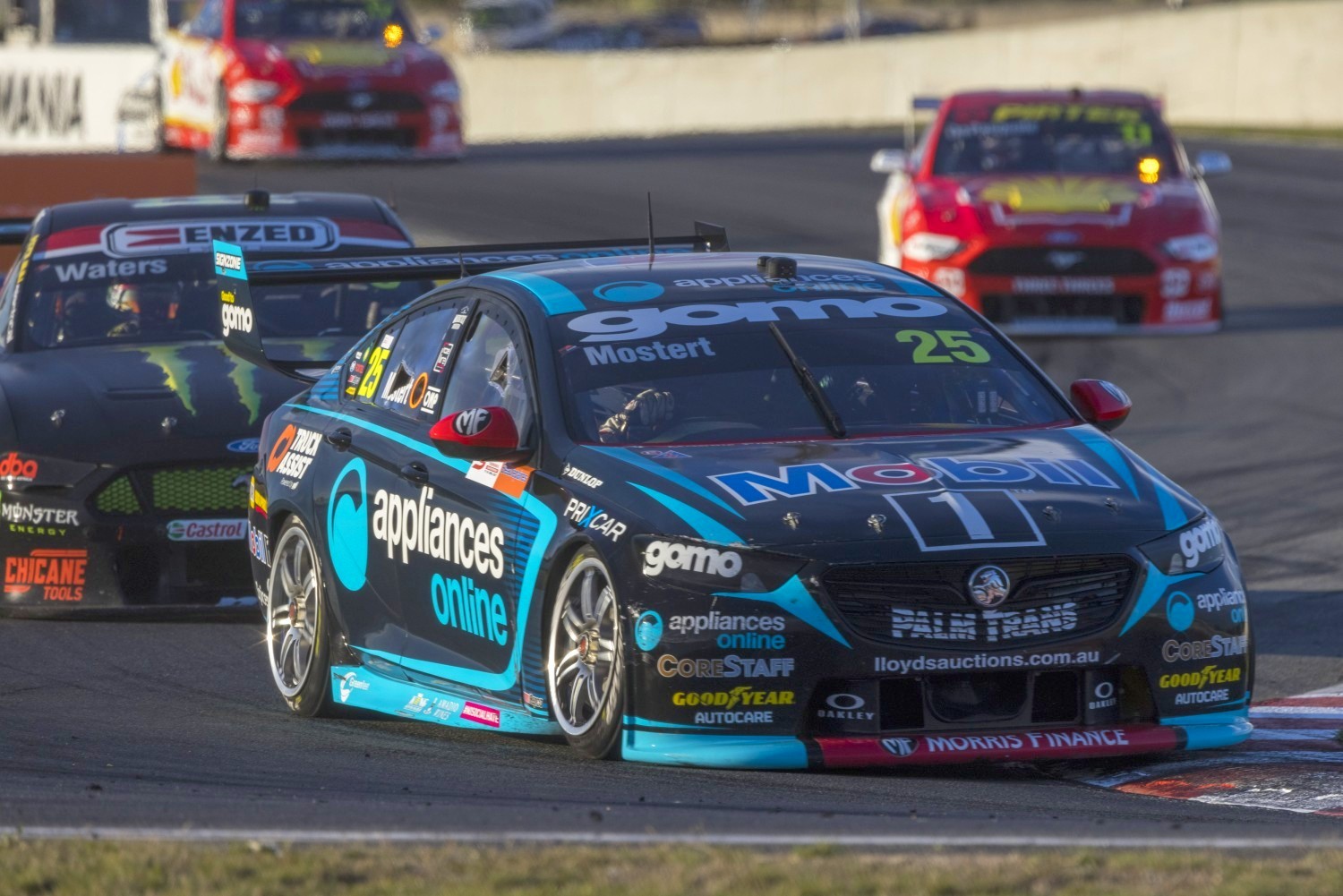 Second place in today's third and final race went to Anton De Pasquale, his Shell V-Power Mustang teammate Will Davison was third.
Earlier today Jamie Whincup broke the record-setting winning-streak of his Red Bull Ampol teammate, Shane van Gisbergen in the opening race of the day.
Whincup won with van Gisbergen second, Davison was third.
Mostert's victory in the final race of the event this afternoon is a monkey off the back for the 2014 Bathurst 1000 winner – who had recorded five podium finishes but no race victories in 2020 after making a much-publicised switch from Ford to Holden.
The win was Walkinshaw Andretti United's first since Scott Pye claimed victory at the 2018 Melbourne 400, 1122 days ago.
The results of this weekend means van Gisbergen now leads the Championship by 139-points from Whincup who remains second. Mostert is third and Waters is best of the Ford drivers in fourth.
Race 2 Results
| | | | | |
| --- | --- | --- | --- | --- |
| POS | No. | DRIVER | TEAM | TIME |
| 1 | 88 | Whincup | Red Bull Holden Racing Team | 38:58.084 |
| 2 | 97 | Van Gisbergen | Red Bull Holden Racing Team | +1.003 |
| 3 | 17 | Davison | Shell V-Power Racing Team | +6.496 |
| 4 | 6 | C. Waters | Monster Energy Racing | +11.905 |
| 5 | 9 | W. Brown | Erebus Motorsport | +14.002 |
| 6 | 25 | Mostert | WAU Racing Pty Ltd | +15.816 |
| 7 | 18 | Winterbottom | Team 18 | +15.973 |
| 8 | 26 | Reynolds | Nissan Motorsport | +16.996 |
| 9 | 20 | S. Pye | Team 18 | +17.916 |
| 10 | 7 | Heimgartner | Nissan Motorsport | +18.781 |
| 11 | 8 | Percat | Brad Jones Racing | +19.257 |
| 12 | 3 | Slade | CoolDrive Racing | +19.458 |
| 13 | 11 | A. de Pasquale | Shell V-Power Racing Team | +22.255 |
| 14 | 14 | T. Hazelwood | Brad Jones Racing | +22.435 |
| 15 | 34 | J. Kostecki | Matt Stone Racing | +28.670 |
| 16 | 99 | B. Kostecki | Penrite Racing – Erebus | +29.675 |
| 17 | 2 | B. Fullwood | WAU Racing Pty Ltd | +30.966 |
| 18 | 35 | Z. Goddard | Matt Stone Racing | +34.464 |
| 19 | 22 | G. Jacobson | Team SYDNEY – Tekno | +35.732 |
| 20 | 96 | M. Jones | SCT Motor Sports | +45.653 |
| 21 | 5 | J. Le Brocq | Truck Assist Racing | +1 Lap |
| 22 | 44 | Courtney | Boost Mobile Racing | +3 Laps |
| NC | 19 | Coulthard | Team SYDNEY – Tekno | +38 Laps |
| NC | 4 | J. Smith | SCT Motor Sports | +43 Laps |
| | | | | |
| --- | --- | --- | --- | --- |
| POS | No. | DRIVER | TEAM | TIME |
| 1 | 25 | Mostert | WAU Racing Pty Ltd | 38:52.998 |
| 2 | 11 | A. de Pasquale | Shell V-Power Racing Team | +10.200 |
| 3 | 17 | Davison | Shell V-Power Racing Team | +11.169 |
| 4 | 6 | C. Waters | Monster Energy Racing | +12.146 |
| 5 | 88 | Whincup | Red Bull Holden Racing Team | +12.611 |
| 6 | 97 | Van Gisbergen | Red Bull Holden Racing Team | +13.386 |
| 7 | 35 | Z. Goddard | Matt Stone Racing | +15.097 |
| 8 | 26 | Reynolds | Nissan Motorsport | +15.823 |
| 9 | 44 | Courtney | Boost Mobile Racing | +16.928 |
| 10 | 8 | Percat | Brad Jones Racing | +17.362 |
| 11 | 18 | Winterbottom | Team 18 | +19.229 |
| 12 | 3 | Slade | CoolDrive Racing | +19.542 |
| 13 | 19 | Coulthard | Team SYDNEY – Tekno | +19.898 |
| 14 | 20 | S. Pye | Team 18 | +22.883 |
| 15 | 9 | W. Brown | Erebus Motorsport | +25.685 |
| 16 | 14 | T. Hazelwood | Brad Jones Racing | +26.167 |
| 17 | 2 | B. Fullwood | WAU Racing Pty Ltd | +26.569 |
| 18 | 99 | B. Kostecki | Penrite Racing – Erebus | +27.889 |
| 19 | 5 | J. Le Brocq | Truck Assist Racing | +32.782 |
| 20 | 96 | M. Jones | SCT Motor Sports | +32.975 |
| 21 | 34 | J. Kostecki | Matt Stone Racing | +33.811 |
| 22 | 7 | Heimgartner | Nissan Motorsport | +34.276 |
| 23 | 4 | J. Smith | SCT Motor Sports | +34.871 |
| 24 | 22 | G. Jacobson | Team SYDNEY – Tekno | +37.896 |