Félix da Costa Tops FP1, Günther Fastest Overall in Valencia E-Prix Practice
António Félix da Costa topped the first Formula E practice session around the Valencia circuit on Saturday morning, while Maximilian Günther (shown above) ended fastest overall in session two.
The ABB FIA Formula E World Championship is making its debut around the Valencia circuit this weekend, with the series going away from their usual street circuits to race around a permanent road course, albeit with a few modifications, including a chicane on the start/finish straight.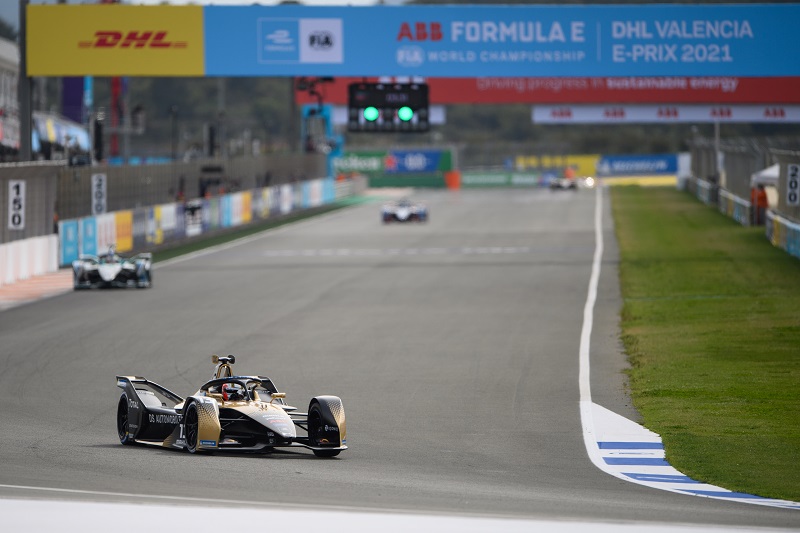 The opening session was used for drivers to get accustomed to the layout, but even then, the first eighteen drivers were all within one second of the outright pace.
Félix da Costa, the reigning Formula E champion racing again for DS Techeetah, edged the first session with a best time of 1:27.238, 0.187 seconds faster than BMW i Andretti Motorsport's Günther, while Nissan e.DAMS' Oliver Rowland ended third, a further 0.035 seconds back.
Jean-Éric Vergne, a two-time series champion, ended fourth fastest in the second Techeetah, just ahead of Rome E-Prix race two winner Stoffel Vandoorne of the Mercedes-EQ Formula E Team and the leading ROKiT Venturi Racing entry of Edoardo Mortara.
The top ten was rounded out by Sébastien Buemi (e.DAMS), Nyck de Vries (Mercedes), Jake Dennis (BMW) and Alexander Sims (Mahindra Racing).
The second session saw Günther take top spot with a time of 1:26.958, while Mahindra Racing's Alex Lynn left it late to jump into second, just 0.012 seconds back.  De Vries also showed good pace to place third, but he will have it all to do in Qualifying, being in group one and with a grid penalty for a final lap clash in Rome hanging over him.
Félix da Costa confirmed Techeetah's pace by placing fourth, although team-mate Vergne was down in fifteenth, despite being less than half a second slower than Günther at the head of the times.  It should mean Qualifying will be an exciting affair.
Rowland was again inside the top five for e.DAMS, just ahead of René Rast of the Audi Sport ABT Schaeffler team, with NIO 333 FE Team's Tom Blomqvist eighth.  The top ten was rounded out by Tag Heuer Porsche Formula E Team's André Lotterer and Venturi's Norman Nato.
Robin Frijns suffered a small spin at turn one, while Günther and Audi's Lucas di Grassi both took trips through the gravel trap.
Practice 1 Times
| | | | | | |
| --- | --- | --- | --- | --- | --- |
| POS. | NO. | DRIVER | NAT | TEAM | TIME/GAP |
| 1 | 13 | Antonio Felix da Costa | POR | DS Techeetah | 1:27.238 |
| 2 | 28 | Maximilian Gunther | GER | BMW i Andretti Motorsport | +0.187 |
| 3 | 22 | Oliver Rowland | GBR | Nissan e.DAMS | +0.222 |
| 4 | 25 | Jean-Eric Vergne | FRA | DS Techeetah | +0.237 |
| 5 | 5 | Stoffel Vandoorne | BEL | Mercedes-EQ Formula E Team | +0.287 |
| 6 | 48 | Edoardo Mortara | CHE | ROKIT Venturi Racing | +0.301 |
| 7 | 23 | Sebastien Buemi | CHE | Nissan e.DAMS | +0.336 |
| 8 | 17 | Nyck de Vries | NED | Mercedes-EQ Formula E Team | +0.494 |
| 9 | 27 | Jake Dennis | GBR | BMW i Andretti Motorsport | +0.571 |
| 10 | 29 | Alexander Sims | GBR | Mahindra Racing | +0.595 |
| 11 | 94 | Alex Lynn | GBR | Mahindra Racing | +0.674 |
| 12 | 99 | Pascal Wehrlein | GER | TAG Heuer Porsche Formula E Team | +0.701 |
| 13 | 7 | Sergio Sette Camara | BRZ | Dragon/Penske Autosport | +0.714 |
| 14 | 37 | Nick Cassidy | NZL | Envision Virgin Racing | +0.791 |
| 15 | 10 | Sam Bird | GBR | Jaguar Racing | +0.817 |
| 16 | 8 | Oliver Turvey | GBR | NIO 333 FE Team | +0.876 |
| 17 | 6 | Nico Muller | CHE | Dragon/Penske Autosport | +0.911 |
| 18 | 33 | Rene Rast | GER | Audi Sport Abt Schaeffler | +0.951 |
| 19 | 71 | Norman Nato | FRA | ROKIT Venturi Racing | +1.002 |
| 20 | 36 | Andre Lotterer | GER | TAG Heuer Porsche Formula E Team | +1.021 |
| 21 | 20 | Mitch Evans | NZL | Jaguar Racing | +1.059 |
| 22 | 4 | Robin Frijns | NED | Envision Virgin Racing | +1.206 |
| 23 | 11 | Lucas di Grassi | BRZ | Audi Sport Abt Schaeffler | +1.289 |
| 24 | 88 | Tom Blomqvist | GBR | NIO 333 FE Team | +2.270 |
Practice 2 Times
| | | | | | |
| --- | --- | --- | --- | --- | --- |
| POS. | NO. | DRIVER | NAT | TEAM | TIME/GAP |
| 1 | 28 | Maximilian Gunther | GER | BMW i Andretti Motorsport | 1:26.958 |
| 2 | 94 | Alex Lynn | GBR | Mahindra Racing | +0.012 |
| 3 | 17 | Nyck de Vries | NED | Mercedes-EQ Formula E Team | +0.031 |
| 4 | 13 | Antonio Felix da Costa | POR | DS Techeetah | +0.083 |
| 5 | 22 | Oliver Rowland | GBR | Nissan e.DAMS | +0.106 |
| 6 | 33 | Rene Rast | GER | Audi Sport Abt Schaeffler | +0.149 |
| 7 | 88 | Tom Blomqvist | GBR | NIO 333 FE Team | +0.164 |
| 8 | 23 | Sebastien Buemi | CHE | Nissan e.DAMS | +0.184 |
| 9 | 36 | Andre Lotterer | GER | TAG Heuer Porsche Formula E Team | +0.192 |
| 10 | 71 | Norman Nato | FRA | ROKIT Venturi Racing | +0.213 |
| 11 | 5 | Stoffel Vandoorne | BEL | Mercedes-EQ Formula E Team | +0.243 |
| 12 | 27 | Jake Dennis | GBR | BMW i Andretti Motorsport | +0.268 |
| 13 | 10 | Sam Bird | GBR | Jaguar Racing | +0.279 |
| 14 | 99 | Pascal Wehrlein | GER | TAG Heuer Porsche Formula E Team | +0.338 |
| 15 | 25 | Jean-Eric Vergne | FRA | DS Techeetah | +0.450 |
| 16 | 11 | Lucas di Grassi | BRZ | Audi Sport Abt Schaeffler | +0.597 |
| 17 | 29 | Alexander Sims | GBR | Mahindra Racing | +0.630 |
| 18 | 8 | Oliver Turvey | GBR | NIO 333 FE Team | +0.639 |
| 19 | 20 | Mitch Evans | NZL | Jaguar Racing | +0.642 |
| 20 | 7 | Sergio Sette Camara | BRZ | Dragon/Penske Autosport | +0.714 |
| 21 | 6 | Nico Muller | CHE | Dragon/Penske Autosport | +0.798 |
| 22 | 4 | Robin Frijns | NED | Envision Virgin Racing | +1.173 |
| 23 | 48 | Edoardo Mortara | CHE | ROKIT Venturi Racing | +1.188 |
| 24 | 37 | Nick Cassidy | NZL | Envision Virgin Racing | +1.480 |