NASCAR: Keselowski wins Talladega with last-lap pass
Brad Keselowski emerged from a frantic overtime dash Sunday at Talladega Superspeedway, grasping his first win of the season in the NASCAR Cup Series.
Keselowski led only the last of the 191 laps in his No. 2 Team Penske Ford, bypassing Daytona 500 winner Michael McDowell on the white-flag lap. Keselowski's triumph in the GEICO 500 marked his sixth win at the 2.66-mile track and the 35th of his Cup Series career.
William Byron netted second place in the No. 24 Hendrick Motorsports Chevrolet. McDowell grabbed third, with Kevin Harvick fourth and Matt DiBenedetto claiming the last top-five spot.
Three-time Talladega winner Joey Logano led 10 laps early, but his No. 22 Team Penske Ford lifted off in a multicar stack-up on the final lap of Stage 1. Logano emerged unhurt, but he wound up 39th in the 40-car field. Only Kyle Larson, who retired with engine failure after completing just three laps, finished worse.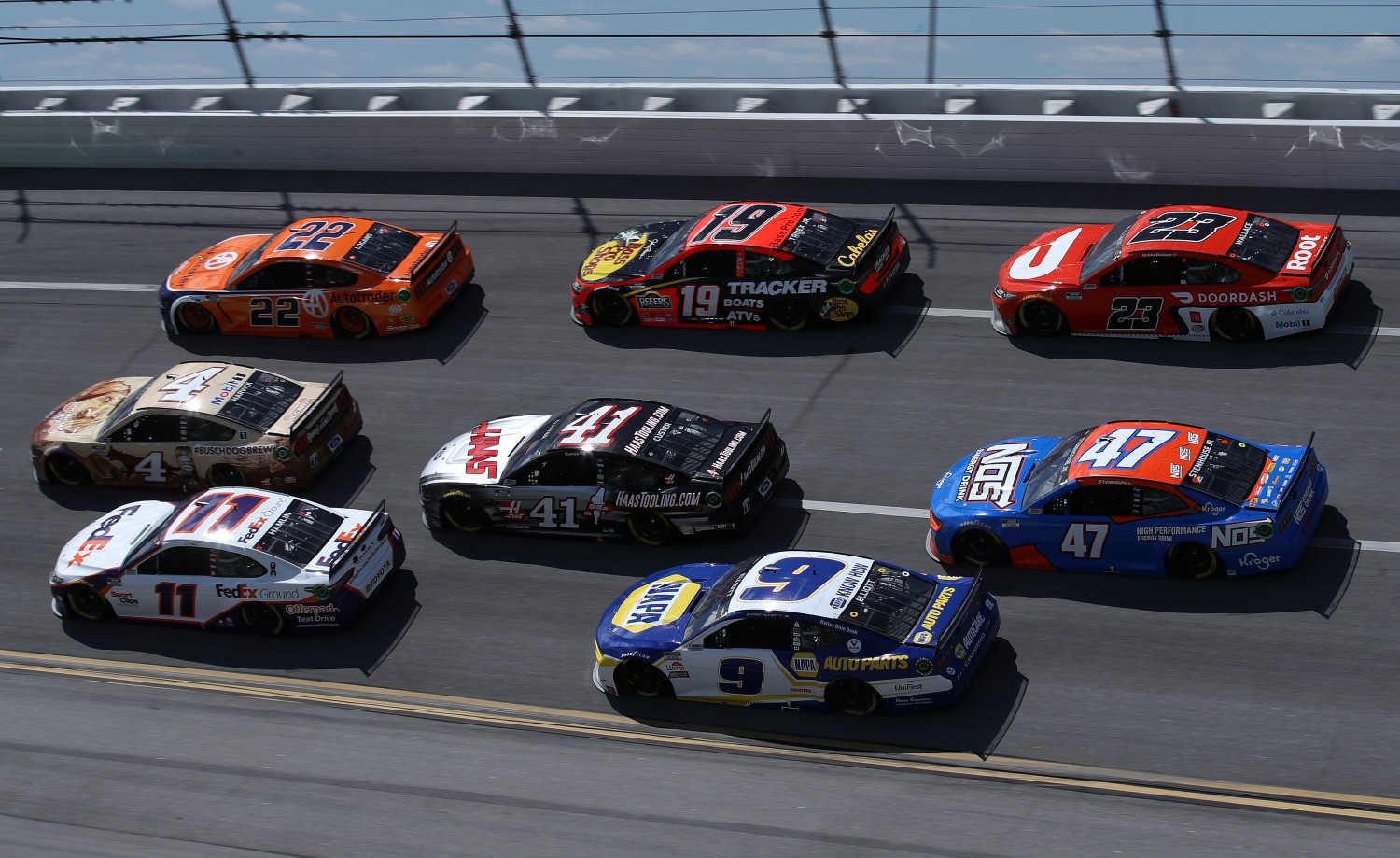 Keselowski was among those involved as contenders Denny Hamlin, Ricky Stenhouse Jr. and Bubba Wallace were also snared in the chain-reaction melee, but all continued with minimal damage.
Hamlin was hindered by a pair of pit-road speeding penalties in the middle of Stage 2 that dropped him from the lead lap. He was clocked as too fast in Section 1 during a pit stop with other Toyota teams, then was too fast in the same section while serving his pass-through penalty.
Hamlin's day turned even more sour when he was in the center of a five-car crunch on Lap 119, damaging his No. 11 Joe Gibbs Racing Toyota. Martin Truex Jr., Chase Elliott, Alex Bowman and Byron were also caught in the dust-up.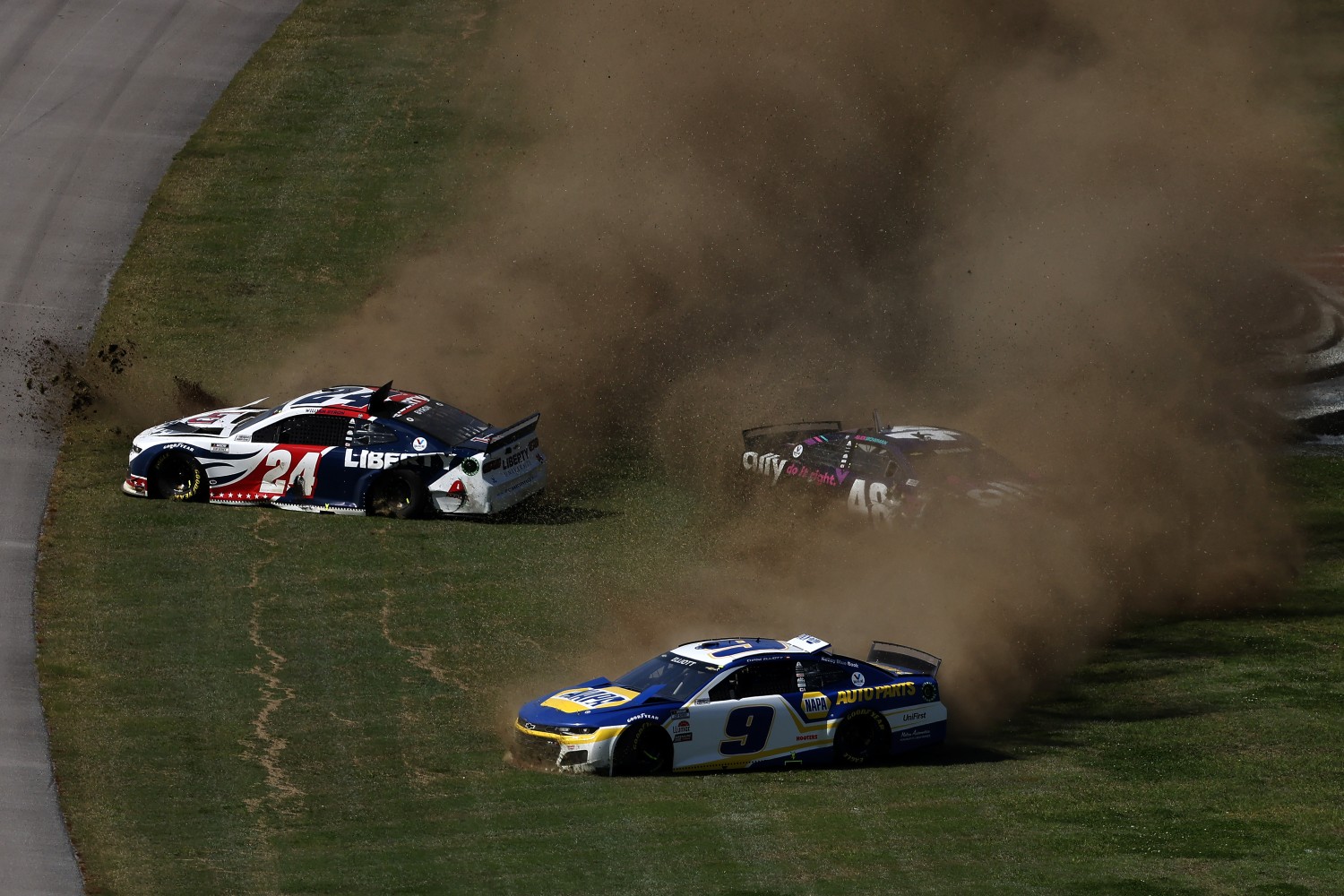 DiBenedetto (Stage 1) and Wallace (Stage 2) each claimed the first stage wins of their career. DiBenedetto led 28 laps and lined up first for the overtime restart, but he faded to fifth by the end
The NASCAR Cup Series' next event is the Buschy McBusch Race 400, scheduled next Sunday (FS1, MRN, SiriusXM) at Kansas Speedway.
Notes: Five Toyota teams were docked for unapproved adjustments just before the green flag, sending a quintet of drivers to the rear of the field for the start. The drivers penalized for their teams' A-post violations: Hamlin, Truex, Wallace, Christopher Bell and Harrison Burton. … The 20-year-old Burton finished 20th in his Cup Series debut for Gaunt Brothers Racing.
Race Results
| | | | | | | | |
| --- | --- | --- | --- | --- | --- | --- | --- |
| Fin | Str | No. | Driver | Team | Laps | Led | Status |
| 1 | 10 | 2 | Brad Keselowski | MoneyLion Ford | 191 | 1 | Running |
| 2 | 4 | 24 | William Byron | Liberty University Chevrolet | 191 | 12 | Running |
| 3 | 23 | 34 | Michael McDowell | Love's Travel Stops Ford | 191 | 0 | Running |
| 4 | 16 | 4 | Kevin Harvick | Busch Dog Brew Ford | 191 | 12 | Running |
| 5 | 13 | 21 | Matt DiBenedetto | Motorcraft Quick Lane Ford | 191 | 28 | Running |
| 6 | 38 | 16 | * Kaz Grala | Hyperice Chevrolet | 191 | 0 | Running |
| 7 | 20 | 8 | Tyler Reddick | Roland Chevrolet | 191 | 0 | Running |
| 8 | 11 | 3 | Austin Dillon | Bass Pro Shops/Tracker Off Road Chevrolet | 191 | 0 | Running |
| 9 | 7 | 12 | Ryan Blaney | Menards/Sylvania Ford | 191 | 11 | Running |
| 10 | 27 | 41 | Cole Custer | HaasTooling.com Ford | 191 | 0 | Running |
| 11 | 25 | 14 | Chase Briscoe # | Rush Truck Centers/Cummins Ford | 191 | 1 | Running |
| 12 | 30 | 38 | Anthony Alfredo # | Speedy Cash Ford | 191 | 0 | Running |
| 13 | 28 | 6 | Ryan Newman | Castrol Ford | 191 | 2 | Running |
| 14 | 29 | 37 | * Ryan Preece | Kroger/Reese's Chevrolet | 191 | 9 | Running |
| 15 | 14 | 10 | Aric Almirola | Smithfield Ford | 191 | 16 | Running |
| 16 | 18 | 42 | Ross Chastain | Caregility Chevrolet | 191 | 12 | Running |
| 17 | 6 | 20 | Christopher Bell | DEWALT Toyota | 191 | 2 | Running |
| 18 | 9 | 18 | Kyle Busch | Interstate Batteries Toyota | 191 | 6 | Running |
| 19 | 24 | 23 | Bubba Wallace | DoorDash Toyota | 191 | 16 | Running |
| 20 | 39 | 96 | * Harrison Burton(i) | DEX Imaging Toyota | 191 | 0 | Running |
| 21 | 21 | 17 | Chris Buescher | Fastenal Ford | 191 | 0 | Running |
| 22 | 26 | 7 | Corey LaJoie | Fox Nation Chevrolet | 191 | 0 | Running |
| 23 | 19 | 99 | Daniel Suarez | CommScope Chevrolet | 191 | 0 | Running |
| 24 | 8 | 9 | Chase Elliott | NAPA Auto Parts Chevrolet | 191 | 3 | Running |
| 25 | 31 | 78 | BJ McLeod(i) | LONG-LEWIS Automotive Group Ford | 191 | 0 | Running |
| 26 | 37 | 15 | JJ Yeley(i) | Arrowhead Brass Chevrolet | 191 | 0 | Running |
| 27 | 22 | 43 | Erik Jones | Air Force Chevrolet | 190 | 7 | Accident |
| 28 | 33 | 51 | Cody Ware(i) | Nurtec ODT Chevrolet | 190 | 0 | Running |
| 29 | 40 | 66 | * Timmy Hill(i) | Supreme Construction Ford | 190 | 0 | Running |
| 30 | 34 | 77 | Justin Haley(i) | FOE Chevrolet | 190 | 0 | Running |
| 31 | 3 | 19 | Martin Truex Jr. | Bass Pro Toyota | 189 | 0 | Running |
| 32 | 1 | 11 | Denny Hamlin | FedEx Ground Toyota | 188 | 43 | Running |
| 33 | 17 | 47 | Ricky Stenhouse Jr. | NOS Energy Drink Chevrolet | 186 | 0 | Running |
| 34 | 35 | 28 | Joey Gase(i) | Davey Allison Tribute Ford | 186 | 0 | Running |
| 35 | 15 | 1 | Kurt Busch | Monster Energy Chevrolet | 185 | 0 | Running |
| 36 | 36 | 52 | Josh Bilicki | Jacob Companies Ford | 180 | 0 | Running |
| 37 | 32 | 0 | Quin Houff | Permatex Chevrolet | 168 | 0 | Accident |
| 38 | 5 | 48 | Alex Bowman | Ally Chevrolet | 123 | 0 | DVP |
| 39 | 2 | 22 | Joey Logano | Autotrader Ford | 59 | 10 | Accident |
| 40 | 12 | 5 | Kyle Larson | HendrickCars.com Chevrolet | 3 | 0 | Engine |