WEC: G-Drive Racing top times in morning test session at Spa
It's day two of the Official Prologue, the official FIA WEC pre-season test, and the morning test session at Spa-Francorchamps saw G-Drive Racing (shown above)  top the leaderboard with a lap time of 2:04.168 posted by Nyck de Vries.
De Vries' lap is the quickest of the Prologue so far, with the No. 22 United Autosports second-fastest – 0.116s adrift of the pace-setting lap set half-way through the session.  Third fastest was JOTA, the No. 38 Oreca shared by Roberto Gonzalez, Antonio Felix da Costa and Anthony Davidson.
In the new Hypercar category, the No. 7 Toyota GR010 Hybrid was fastest – the car recovering from hydraulic and electrical issues yesterday to put in 39 laps. The sister No. 8 car successfully completed 52 laps, proving to be another important session to test the all-new machinery ahead of the WEC season-opener which takes place this weekend. The quickest lap time from the Alpine A480 Gibson, which is also entered in the Hypercar category, was a 2:05.772 by Nicolas Lapierre.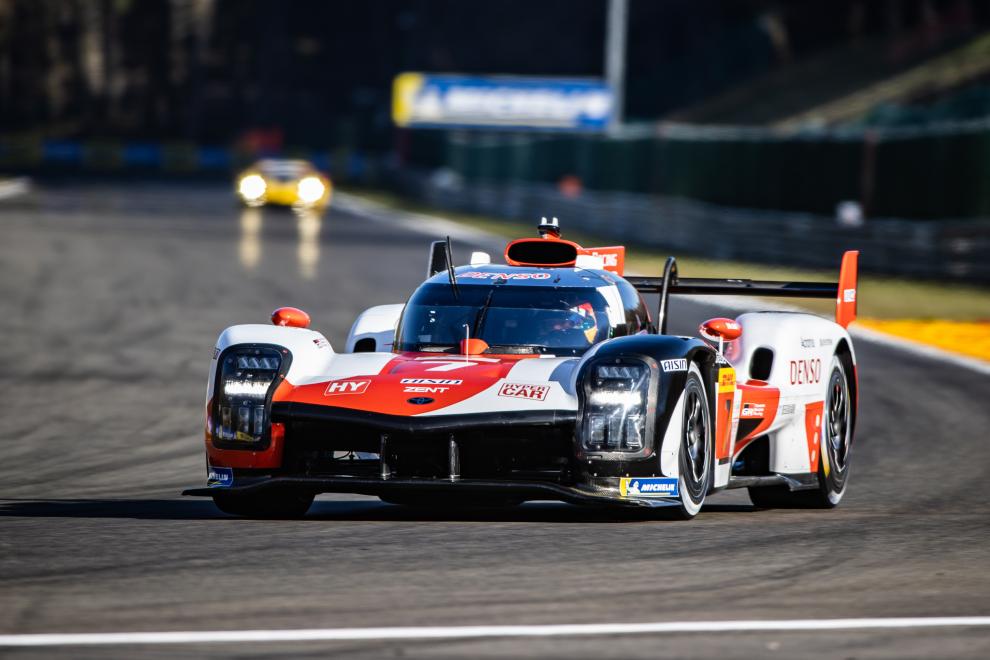 Meanwhile, it was the No. 92 Porsche 911 RSR – 19 that was quickest out of the Porsche-Ferrari-Corvette battle for the third consecutive test session. Estre set a time of 2:12.916.  The sister Porsche GT Team was second, with the No. 51 AF Corse Ferrari 488 GTE Evo driven by James Calado and Alessandro Pier Guidi third quickest.  Oliver Gavin and Antoinio Garcia completed 43 laps in the Chevrolet Corvette C8.R, which is due to make its WEC race debut this coming weekend.
The No. 56 Team Project 1 once again topped the times out of the 13 LMGTE Am entries followed by the No. 77 Dempsey-Proton entered Porsche 911 RSR. After recovering from an incident at Raidillon yesterday, TF Sport clocked the third fastest lap in the Aston Martin Vantage AMR.
Elsewhere, the No. 29 Racing Team Nederland Oreca LMP2 and No. 85 Iron Lynx Ferrari 488 GTE Evo had a collision at Blanchimont.  Drivers Job van Uitert and Katherine Legge were unharmed but both cars suffered significant damage, with the Iron Lynx Ferrari unable to take part in this afternoon's test session.
The only car which did not appear this morning was the No. 46 Team Project 1 Porsche following damage incurred yesterday.
Test Session 3 Results
| | | | | | | | |
| --- | --- | --- | --- | --- | --- | --- | --- |
| POS | NO. | TEAM | DRIVERS | LAPS | TIME | BEHIND | GAP |
| 1 | #26 | G-Drive Racing | Rusinov R. Colapinto F. De Vries N. | 48 | 2:04.168 | +0.000s | +0.000s |
| 2 | #22 | United Autosports | Hanson P. Scherer F. Albuquerque F. | 37 | 2:04.284 | +0.116 | +0.116 |
| 3 | #38 | Jota | Gonzalez R. Felix Da Costa A. Davidson A. | 49 | 2:04.582 | +0.414 | +0.298 |
| 4 | #7 | Toyota Gazoo Racing | Conway M. Kobayashi K. Lopez J. | 39 | 2:04.708 | +0.540 | +0.126 |
| 5 | #29 | Racing Team Nederland | Van Eerd F. Van Der Garde G. Van Uitert J. | 35 | 2:04.775 | +0.607 | +0.067 |
| 6 | #8 | Toyota Gazoo Racing | Buemi S. Nakajima K. Hartley B. | 52 | 2:04.798 | +0.630 | +0.023 |
| 7 | #25 | G-Drive Racing | Falb J. Andrade R. Merhi R. Menchaca D. | 40 | 2:05.080 | +0.912 | +0.282 |
| 8 | #21 | Dragonspeed | Hedman H. Montoya J. Hanley B. | 26 | 2:05.340 | +1.172 | +0.260 |
| 9 | #70 | Realteam Racing | Garcia E. Duval L. Nato N. | 55 | 2:05.379 | +1.211 | +0.039 |
| 10 | #31 | Team Wrt | Frijns R. Habsburg F. Milesi C. | 46 | 2:05.389 | +1.221 | +0.010 |
| 11 | #36 | Alpine Elf Matmut | Negrão A. Lapierre N. Vaxiviere M. | 45 | 2:05.772 | +1.604 | +0.383 |
| 12 | #20 | High Class Racing | Magnussen J. Fjordbach A. Andersen D. | 46 | 2:06.707 | +2.539 | +0.935 |
| 13 | #34 | Inter Europol Competition | Smiechowski J. Van Der Zande R. Brundle A. | 45 | 2:06.824 | +2.656 | +0.117 |
| 14 | #24 | PR1 Motorsports | Kelly P. Aubry G. Trummer S. | 37 | 2:07.034 | +2.866 | +0.210 |
| 15 | #1 | Richard Mille Racing Team | Calderon T. Floersch S. Visser B. | 44 | 2:07.540 | +3.372 | +0.506 |
| 16 | #28 | Jota | Gelael S. Vandoorne S. Blomqvist T. | 12 | 2:08.220 | +4.052 | +0.680 |
| 17 | #44 | Arc Bratislava | Konopka M. Jackson T. Webb O. | 19 | 2:10.331 | +6.163 | +2.111 |
| 18 | #92 | Porsche Gt Team | Estre K. Jani N. | 46 | 2:12.916 | +8.748 | +2.585 |
| 19 | #91 | Porsche Gt Team | Bruni G. Lietz R. | 44 | 2:14.214 | +10.046 | +1.298 |
| 20 | #51 | Af Corse | Pier Guidi A. Calado J. | 43 | 2:14.414 | +10.246 | +0.200 |
| 21 | #63 | Corvette Racing | Garcia A. Gavin O. | 43 | 2:14.703 | +10.535 | +0.289 |
| 22 | #56 | Team Project 1 | Perfetti E. Cairoli M. Pera R. | 41 | 2:14.736 | +10.568 | +0.033 |
| 23 | #77 | Dempsey – Proton Racing | Ried C. Evans J. Campbell M. | 41 | 2:14.872 | +10.704 | +0.136 |
| 24 | #33 | Tf Sport | Keating B. Pereira D. Fraga F. | 41 | 2:14.997 | +10.829 | +0.125 |
| 25 | #52 | Af Corse | Molina M. | 21 | 2:14.998 | +10.830 | +0.001 |
| 26 | #86 | Gr Racing | Wainwright M. Barker B. Gamble T. | 41 | 2:15.025 | +10.857 | +0.027 |
| 27 | #54 | AF Corse | Flohr T. Castellacci F. Fisichella G. | 39 | 2:15.086 | +10.918 | +0.061 |
| 28 | #98 | Aston Martin Racing | Dalla Lana P. Farfus A. Gomes M. | 43 | 2:15.302 | +11.134 | +0.216 |
| 29 | #88 | Dempsey – Proton Racing | Haryanto A. Seefried M. Picariello A. | 39 | 2:15.398 | +11.230 | +0.096 |
| 30 | #60 | Iron Lynx | Schiavoni C. Piccini A. Cressoni M. | 51 | 2:15.403 | +11.235 | +0.005 |
| 31 | #47 | Cetilar Racing | Lacorte R. Sernagiotto G. Fuoco A. | 42 | 2:15.458 | +11.290 | +0.055 |
| 32 | #83 | AF Corse | Perrodo F. Nielsen N. Rovera A. | 38 | 2:15.951 | +11.783 | +0.493 |
| 33 | #85 | Iron Lynx | Frey R. Legge K. Gostner M. | 25 | 2:16.559 | +12.391 | +0.608 |
| 34 | #777 | D'station Racing | Hoshino S. Fujii T. Watson A. | 21 | 2:17.191 | +13.023 | +0.632 |
| 35 | #46 | Team Project 1 | Olsen D. Buchardt A. Jefferies A. | 0 | – | – | – |