IndyCar: O'Ward defeats Newgarden to win Texas Xpel 375
Arrow McLaren SP driver Pato O'Ward passed Team Penske ace Josef Newgarden for the lead with 23 laps to go and stretched the margin to over 1.2s-seconds to win the Xpel 375 at Texas Motor Speedway, his first ever IndyCar win.
Newgarden hung on for 2nd while Graham Rahal, an earlier leader, came home 3rd in his Rahal Honda. "My car got loose at the end," said Rahal
Last nights winner Scott Dixon was 4th on this day while Colton Herta rounded out the top-5 in his Andretti Honda.
After completing 375 miles at Texas Motor Speedway, @ArrowMcLarenSP wins the second race of the doubleheader weekend with @PatricioOWard in the No. 5 car. pic.twitter.com/dDxBqJHQj1

— Arrow Electronics (@ArrowGlobal) May 2, 2021
"Finally!" O'Ward said. "That was long race, but we had so much pace in the Arrow McLaren SP No. 5. We got the job done today, man. I couldn't be happier for a group of guys. It's Texas. It's very close to my heart. Many Mexicans were out there in the grandstands, so thank you guys so much."
O'Ward became the first Mexican winner of an INDYCAR SERIES race since Adrian Fernandez in 2004 on the 2-mile oval at Auto Club Speedway. This also was McLaren's first win in INDYCAR since April 22, 1979, when Johnny Rutherford swept a doubleheader at Atlanta Motor Speedway.
Dixon kept the series points lead. O'Ward jumped to second in the standings, 22 behind.
"Huge congrats to Pato," Dixon said. "I was watching from back a few spots there, and what he did there at the end was a tremendous drive, especially against one of the best guys in the field.
"Hopefully he calms down a little bit and doesn't make it too often," Dixon joked about O'Ward.
While Dixon and teammate Alex Palou were the only leaders Saturday night with three lead changes among them, there were nine leaders and 12 lead changes tonight in a contest that shifted from tactical fuel strategy to all-out speed over the closing laps.
With 100 laps to go, Dixon, Rahal, O'Ward and 2014 series champion Will Power closed to within one second of each other, packing closely to try and save fuel while whittling the number of pit stops needed from four to three.
Dixon and Rahal peeled off for their final pit stop on Lap 186, followed by O'Ward on Lap 187 and Power on Lap 188. Team Penske President Tim Cindric, who serves as Newgarden's race strategist, decided to keep his driver on track until Lap 189.
It was a deft call by Cindric. Newgarden produced blistering in and out laps around his stop and returned to the track in second behind Takuma Sato in the No. 30 Panasonic Mi-Jack Honda, who had not made his final stop.
Then the last of three caution periods started on Lap 190 when the right rear wheel of the No. 7 Arrow McLaren SP Chevrolet driven by Felix Rosenqvist worked free from the wheel hub assembly in Turn 3. Rosenqvist returned to his pit box safely for service.
On the ensuing restart on Lap 197, Newgarden was content to let Sato lead for awhile to ensure he had plenty of fuel for an all-out dash to the checkered. Newgarden's patience ended on Lap 202 when he rocketed past two-time and reigning Indianapolis 500 presented by Gainbridge winner Sato for the lead.
O'Ward then pulled closer and began to stalk Newgarden. On Lap 225, he tried to pass Newgarden for the lead with a daring outside move in Turn 1 but was parried. But O'Ward sealed his powerful deal by diving inside Newgarden for the lead in Turn 3 on the same lap and began to pull away, never trailing thereafter. He averaged 169.360 mph in the victory.
"We were in the catbird seat there, for sure, and just did not have the speed at the end," Newgarden said. "I don't know what it was.
"We'll figure it out. But we did a great job. I was really proud of the team. They stuck to it."
"Super proud of the Arrow McLaren SP team. It's really special to get our first win where our journey started a year ago. Texas is very close to my heart and is the closest I will have to a home race this year, so it's amazing to win here. This is great momentum to roll into the Month of May at Indianapolis. We just need to keep our heads down because if there is any time to keep pushing, it's now. We will definitely celebrate but will quickly move on to preparing for the next few races. Thank you to the team, our partners and the fans for making this first win incredibly special."
While yesterday's race was a parade, today's race was much more entertaining after the teams dialed in their cars better for the 2nd-half of the doubleheader.
Six drivers were eliminated in a big first-lap accident that took out Sebastien Bourdais (for the 2nd night running), Alexander Rossi, Pietro Fittipaldi, Ed Jones,Dalton Kellet and Conor Daly.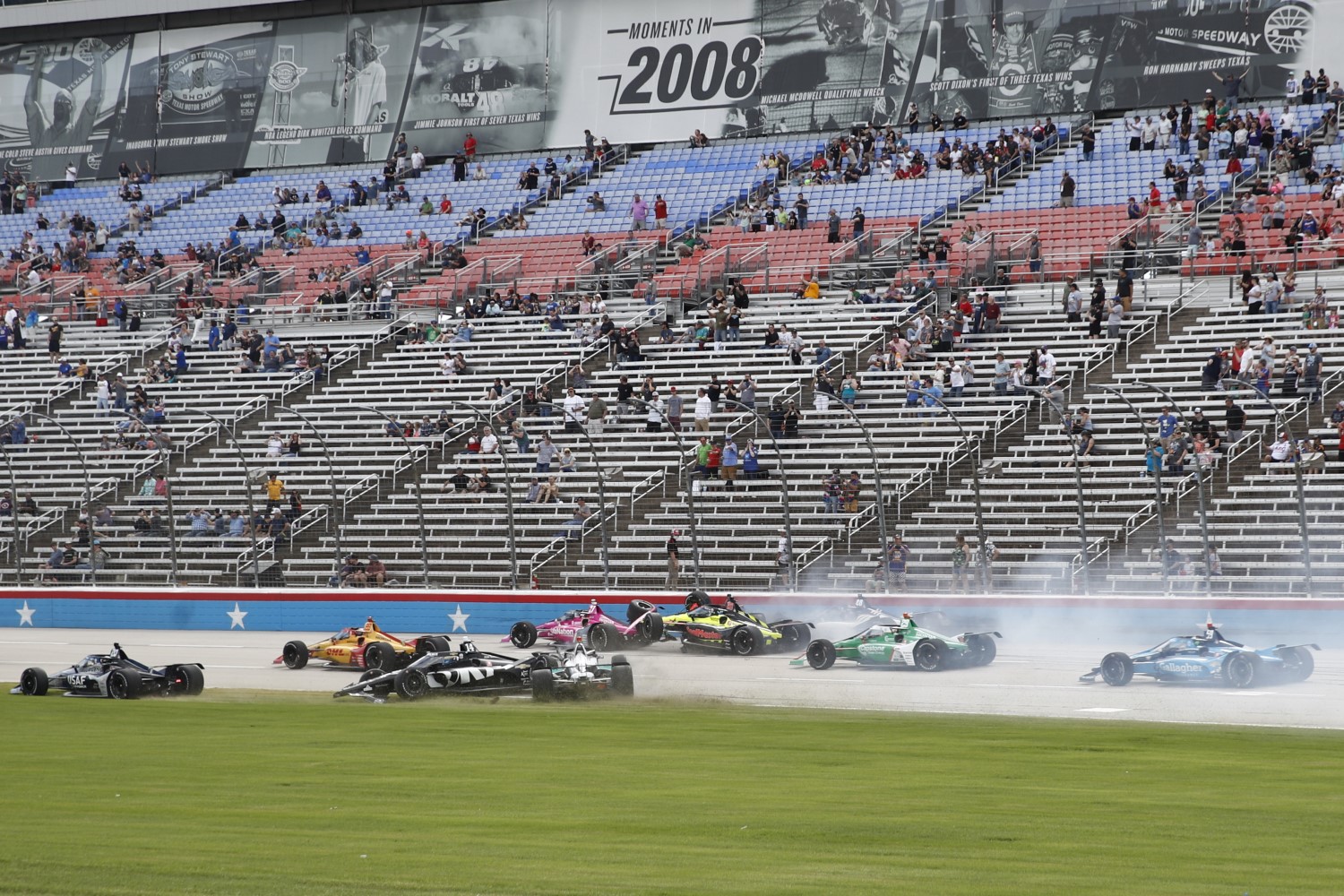 "I'm not really sure what happened," said Daly. "I think in general in IndyCar we have too many start crashes. It' looked fine… everyone accelerated. I had the best view; I was last. Then everyone is nose to tail. Can't throw blame. I've never been upside down in an IndyCar before. On our bingo card of terrible things to have happen to us, I don't know what's coming next. Hinch found a hole, then the 4 car caught whoever else was crashing. Then two giant cars came. It turns out you can be upside down quite easily. We will hope to be on to better things in our hometown of Indianapolis soon."
"Obviously I didn't see anything," said Bourdais. "Clearly someone was checking up at the front of me, we should be going. It's not an excuse. When someone checks up in front. It's a real shame two days in a row we get drilled and taken out of the race. It's a very expensive day for A.J. Foyt Racing and the No. 14 ROKIT Chevrolet. It's a shame when you get wrecked, right? Even more when you have something to fight with. The guys worked til midnight to repair the car after Josef took us out, then we can't even run now. I'm not very impressed right now. "
Winner Quotes
PATO O'WARD, NO. 5 ARROW MCLAREN SP CHEVROLET, wins at Texas:
WHAT WERE YOUR EMOTIONS AS YOU CROSSED THE FINISH LINE FOR YOUR FIRST INDYCAR CHECKERED FLAG?
 "Finally man! That was a long race, but we had so much pace in this Arrow McLaren No. 5. I have to thank Vuse, Team Chevy, Mission Foods and everybody on this team who have been doing such a good job.  And we bounced back from last weekend and we got a podium yesterday, we had pace and we got the job done today. I couldn't be happier for another group of guys."
DID YOU THINK YOUR FIRST INDYCAR WIN WOULD COME AT AN OVAL?
"Honestly no, but hey, I will take it. Its Texas, it's very close to my heart and I have lived here for many years. Many Mexicans are out there in the grandstands, so thank you very much. So happy, finally!"
YOU SAID WHEN THE SEASON STARTED YOU WANTED TO CAUSE HEADACHES FOR THE GUYS THAT WIN ALL THE TIME. IS THIS WHAT YOU MEANT PATO?
"This is exactly what I meant, yes. All emotions in one. A little big of relief. We got the first win out of the way. This lets us focus on the rest of the championship. I get my formula one test at the end of the year. We feel like we have a good shot a championship. I love INDYCAR racing."
Race Results
| | | | | | | | | | | |
| --- | --- | --- | --- | --- | --- | --- | --- | --- | --- | --- |
| Pos | No | Name | Laps | Behind | Gap | Led | ST | Engine | Points | Team |
| 1 | 5 | Pato O'Ward | 248 | 0.000s | 0.000s | 25 | 4 | Chevy | 131 | Arrow McLaren SP |
| 2 | 2 | Josef Newgarden | 248 | 1.2443 | 1.2443 | 25 | 6 | Chevy | 116 | Team Penske |
| 3 | 15 | Graham Rahal | 248 | 5.6449 | 4.4006 | 13 | 9 | Honda | 107 | Rahal Letterman Lanigan Racing |
| 4 | 9 | Scott Dixon | 248 | 6.0386 | 0.3937 | 163 | 1 | Honda | 153 | Chip Ganassi Racing |
| 5 | 26 | Colton Herta | 248 | 6.3782 | 0.3396 | 0 | 10 | Honda | 100 | Andretti Autosport w/ Curb-Agajanian |
| 6 | 22 | Simon Pagenaud | 248 | 7.0088 | 0.6306 | 0 | 8 | Chevy | 102 | Team Penske |
| 7 | 10 | Alex Palou | 248 | 8.3686 | 1.3598 | 3 | 2 | Honda | 127 | Chip Ganassi Racing |
| 8 | 3 | Scott McLaughlin | 248 | 11.8928 | 3.5242 | 0 | 7 | Chevy | 99 | Team Penske |
| 9 | 21 | Rinus VeeKay | 248 | 12.7212 | 0.8284 | 5 | 12 | Chevy | 84 | Ed Carpenter Racing |
| 10 | 28 | Ryan Hunter-Reay | 248 | 14.5929 | 1.8717 | 0 | 21 | Honda | 56 | Andretti Autosport |
| 11 | 20 | Ed Carpenter | 248 | 15.3180 | 0.7251 | 1 | 19 | Chevy | 33 | Ed Carpenter Racing |
| 12 | 8 | Marcus Ericsson | 248 | 16.0741 | 0.7561 | 0 | 13 | Honda | 79 | Chip Ganassi Racing |
| 13 | 12 | Will Power | 248 | 17.8136 | 1.7395 | 1 | 3 | Chevy | 99 | Team Penske |
| 14 | 30 | Takuma Sato | 247 | 1 LAPS | 1 LAPS | 12 | 11 | Honda | 84 | Rahal Letterman Lanigan Racing |
| 15 | 48 | Tony Kanaan | 246 | 2 LAPS | 20.6998 | 0 | 20 | Honda | 34 | Chip Ganassi Racing |
| 16 | 7 | Felix Rosenqvist | 246 | 2 LAPS | 2.5779 | 0 | 17 | Chevy | 58 | Arrow McLaren SP |
| 17 | 60 | Jack Harvey | 115 | Mechanical | 4.9116 | 0 | 5 | Honda | 90 | Meyer Shank Racing |
| 18 | 29 | James Hinchcliffe | 30 | Mechanical | 79 LAPS | 0 | 22 | Honda | 44 | Andretti Steinbrenner Autosport |
| 19 | 14 | Sebastien Bourdais | — | Contact | | 0 | 14 | Chevy | 68 | AJ Foyt Enterprises |
| 20 | 27 | Alexander Rossi | — | Contact | 4.7449 | 0 | 15 | Honda | 65 | Andretti Autosport |
| 21 | 51 | Pietro Fittipaldi | — | Contact | | 0 | 16 | Honda | 24 | Dale Coyne Racing w/Rick Ware Racing |
| 22 | 18 | Ed Jones | — | Contact | 3.9851 | 0 | 18 | Honda | 51 | Dale Coyne Racing with Vasser Sullivan |
| 23 | 4 | Dalton Kellett | — | Contact | 2.3610 | 0 | 23 | Chevy | 38 | AJ Foyt Enterprises |
| 24 | 59 | Conor Daly | — | Contact | 3.7575 | 0 | 24 | Chevy | 43 | Carlin |