NHRA: Antron Brown cements Atlanta legacy, beating Steve Torrence in final round
In the final NHRA event at Atlanta Dragway, it was only fitting that the series all-time Top Fuel win leader at the track would close it out with a victory and that's exactly what Antron Brown did in defeating Steve Torrence in the final round to earn his fifth Lucas Oil NHRA Southern Nationals Top Fuel victory Sunday. In the process, Brown tied Joe Amato for third all-time in career NHRA Top Fuel wins with 52.
The victory is the second for Brown in the last four races as he also defeated Torrence in the 2020 season finale at Las Vegas.
The Matco Tools/Toyota/Sirius XM driver opened his day with a victory over fellow Toyota driver Doug Kalitta. Brown had a slight advantage on the tree, then opened up a lead through the 600' mark before Kalitta started to close back up, but it wasn't enough as Brown won 3.793-3.800 with a margin of victory of .017 seconds. In round two against pole-sitter Billy Torrence, Brown had a sizable lead in reaction time (.038 seconds) and then out-ran him the rest of the way, winning by 0.047 seconds.
With the win, Brown advanced to the semifinals where he faced off with Brittany Force. Once again, Brown had a clear advantage on the tree (by 0.028) and it would prove to be the difference as Force registered the quicker time (3.785-3.786), but Brown won handily by .027 seconds.  That would set up a head-to-head match-up with Steve Torrence for the second time in the last three two-wide races with Brown having defeated him in the finals in the season finale in 2020 at Las Vegas.
Brown had a slight advantage on the tree, but then proceeded to run his quickest pass (3.752 seconds at 325.22 mph) in defeating Torrence by 0.045 seconds.
"That's Rocky Balboa right there (referencing Torrence) and I'm Apollo," said Brown, who jumped to second in the Top Fuel points standings. "To get this win, it was truly remarkable. We just built on it every lap. Any time you can do this and get one of these (Wally trophies), it's just so special. Atlanta has just been so special to all of us."
It gave Brown his 68th career victory and a 7-5 record against Torrence in the final round. The team performed vastly different from qualifying when they struggled to a 4.331 at 191.76, not making it down the track during Saturday's two qualifying sessions.
But the difference on Sunday was immediate and impressive, as Brown went 3.793 at 317.19 in a scintillating first-round win against Doug Kalitta. He went 3.811 at 321.42 to beat No. 1 qualifier Billy Torrence and then slipped past Brittany Force on a holeshot in another thrilling matchup, going 3.786 at 320.51 to move into the final round.
Torrence, who won in Vegas, was the usual suspect in the final round, beating Buddy Hull, Justin Ashley and Shawn Langdon to advance to his 64th career final round and maintain his points lead. Brown and his team, led by crew chief Brian Corradi, dialed up something special when it counted, leading the entire way with his best pass of the weekend.
He was emotional in the winner's circle, taking in a moment at the Atlanta finale he won't soon forget.
Quotes: 
Antron Brown, Matco Tools/Toyota Top Fuel dragster: 
Tell us about your win
"It feels good. It feels real good. This is what we work for each and every day and all that hard work over the off season and all the changes we made and the testing we've done, and we're just building on that, and we've got to keep building. We just kept on nipping at it each round and that's what I love about my team so much, all of our Matco Tools Toyota boys. This is what they work hard for. They put in the work as a team and when you see these types of results, that's why we work hard. We've got a lot of new players, too. We have Matt (Sackman) who's been here the longest, along with Brad (Mason), Brian (Corradi) and Mark (Oswald), they're my homeboys from back in '09. The rest of the gang is all new to this Matco team. I'm so proud of all these guys and how they all pulled together and meshed so quickly."
How does it feel to tie Joe Amato for third all-time in Top Fuel wins?
"It's huge. Just to be mentioned in the same sentence with Joe Amato. He was always a huge hero of mine. I remember growing up and he had the motto hang on Sloopy because here comes Joe. I remember him winning those back-to-back championships and being a dominant force in drag racing. He's really a true legend of our sport. Just to be mentioned alongside of him is a great honor for me. Just to be on that list period, knowing where I've come from and where I'm at now. The way we fought through all the diversity as a team to get back to winning races feels like a real accomplishment.  You have to go through things like that to be amongst those great. They went through a lot of turmoil in their time and I guess when you get that many wins, you're going to go through some yourself. So, I'm fortunate even to be mentioned with Joe, let alone to be able to tie him."
Bob Tasca III grabbed the spotlight from John Force in the Funny Car final round at Atlanta Dragway, extending his points lead and winning the 40th and final Lucas Oil NHRA Southern Nationals on Sunday.
With Force going for his eighth victory at the storied facility, it was Tasca who came through in the clutch in an exhilarating side-by-side championship round, topping Force with a run of 4.004-seconds at 326.48 mph in his Motorcraft/Quick Lane Ford Mustang. Tasca won by less than two feet against Force's 4.015 at 321.81, winning for the second straight race.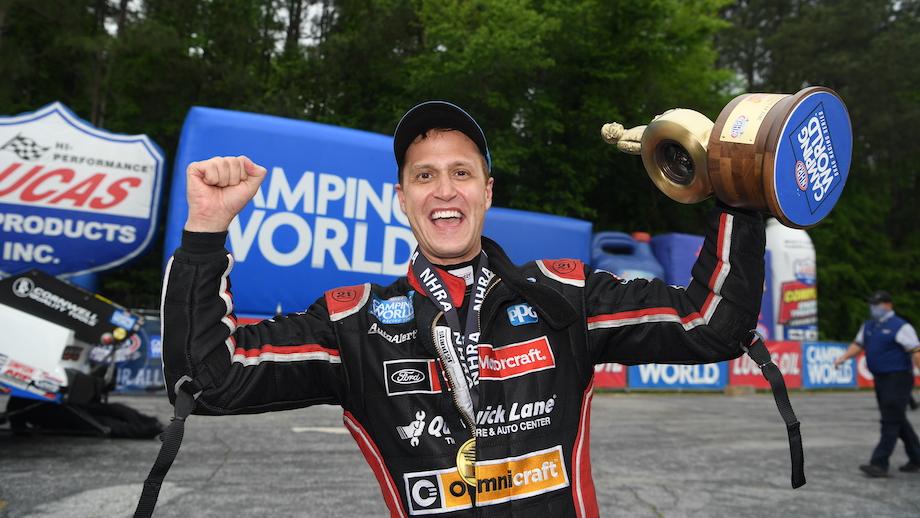 He enjoyed a memorable winner's circle celebration in taking a victory for the first time at Atlanta in his final opportunity, with the back-to-back wins cementing his status as the hottest driver in the class.
"There's nobody who has done it better than Force over the years and it's an honor to roll up next to him, but there's nobody I get up for more and to beat him in the final, it's great," Tasca said. "I want to thank all the Atlanta fans. It's so special to be here and see this place sold out. There's so many great memories and it's so great to leave with the trophy. For all those Ford fans and all the Ford family members that called me (after the last race) after winning Vegas, we did it again."
Tasca, who qualified No. 2 with a 3.999 at 320.81, stayed around that for most of the day, minus a challenging first round against Paul Lee. He had to pedal in that first-round race, but regained traction and went 4.224 at 309.13.
From there, Tasca and the team, led by crew chief Mike Neff, were strong. He beat Blake Alexander a round later with a 4.014 at 326.32, advancing to the final round by knocking off defending world champ with a 3.981 at 327.82.
It was Tasca's best run of the weekend and his final-round performance maintained his status as a bona fide championship contender this year.
Force's performance was his best of 2021, as the legendary driver advanced to his 257th final round, much to the delight of the huge crowd on hand at Atlanta Dragway.
He picked up wins against an impressive list of talent, beating Cruz Pedregon, Ron Capps and J.R. Todd, going 3.984 at 325.22 in the semifinals. That run brought the crowd to their feet on Sunday, but Tasca was simply too much at the finish line, overtaking Force right before the stripe to claim his eighth career victory, and likely the most memorable one in the process.
Greg Anderson got the moment he wanted to have to close out Atlanta Dragway.
The longtime standout finished off a dominating performance at this weekend's Lucas Oil NHRA Southern Nationals, rolling past Vincent Nobile with a 6.568 at 209.04 in the final round in his Denso Chevrolet Camaro. Nobile ran 6.598 at 208.78 in the losing effort.
It was a monumental win on a number of fronts, starting with the fact Anderson will go down as the final Pro Stock winner at Atlanta. It also gave Anderson his fifth victory at Georgia's House of Speed, tying him with Warren Johnson, who was honored during pre-race activities on Sunday, for the most wins in Pro Stock history at the track.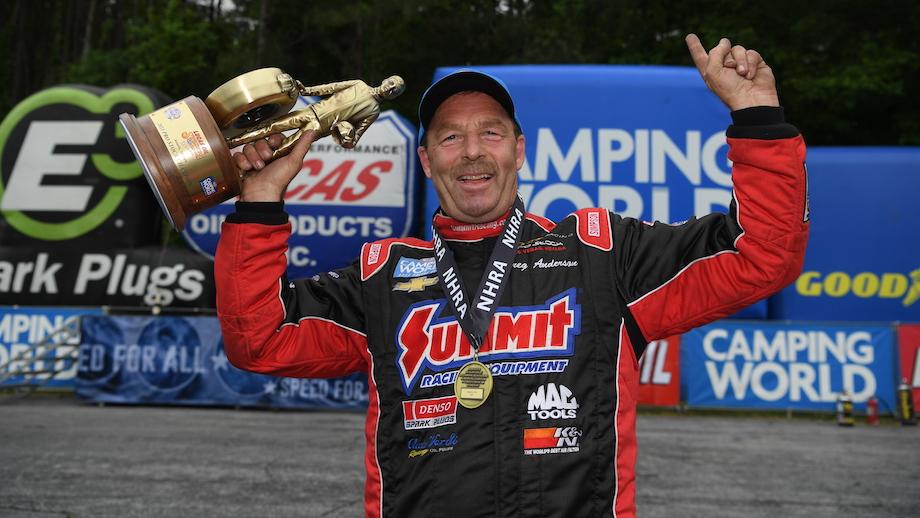 The wire-to-wire triumph also handed Anderson his 96th career victory – and second in 2021 – putting him one away from Johnson for the most in Pro Stock history. Anderson will focus on that aspect soon enough, but his main priority on Sunday was capping off his incredible run at Atlanta Dragway with a victory.
"It was an absolute dream weekend. My Denso Chevy, it was absolutely flawless all weekend long," Anderson said. "I've never made four smoother, nice runs on raceday than this. It's just been an awesome day and a storybook deal. There's a lot of history here and I love racing here. To tie Warren and to go out with five each, it's great. It's been a dream, it's been wonderful and I want to thank everyone who has helped us."
Anderson won in Gainesville to open the NHRA Camping World Drag Racing Series season, and he may have topped himself with this weekend's performance. After qualifying No. 1, he kept a pace nobody could match, going 6.560 at 209.82, 6.571 at 209.46, and 6.575 at 208.59 to reach the final round. Only Erica Enders made it interesting, posting a .009 reaction time in the semifinals. But Anderson drove past her before half-track and cruised to the final-round win.
In his first race since the 2018 season, Nobile enjoyed a welcome return, advancing to his 26th final round with a series of upsets. He knocked off Troy Coughlin Jr., Aaron Stanfield and Deric Kramer to meet up with Anderson, but the veteran was simply too much in the championship round.