IndyCar: Newgarden tops Practice 2 at Indy
Josef Newgarden marked himself as favorite to win the pole later this afternoon after turning a lap of 1m09.3323s in his #2 Penske Chevy in final practice for the GMR Grand Prix on the Indianapolis Motor Speedway Road Course.
Chevy powered cars ran 1-2-3 as Rinus Veekay was 2nd quick for Ed Carpenter Racing just 0.0697s behind Newgarden.
Will Power was 3rd in another Penske Chevy and Scott McLaughlin 5th giving the best team in IndyCar, Team Penske, three of the top-5 positions.
Colton Herta was the fastest Andretti Autosport driver in 4th and the only Honda powered car in the top-5.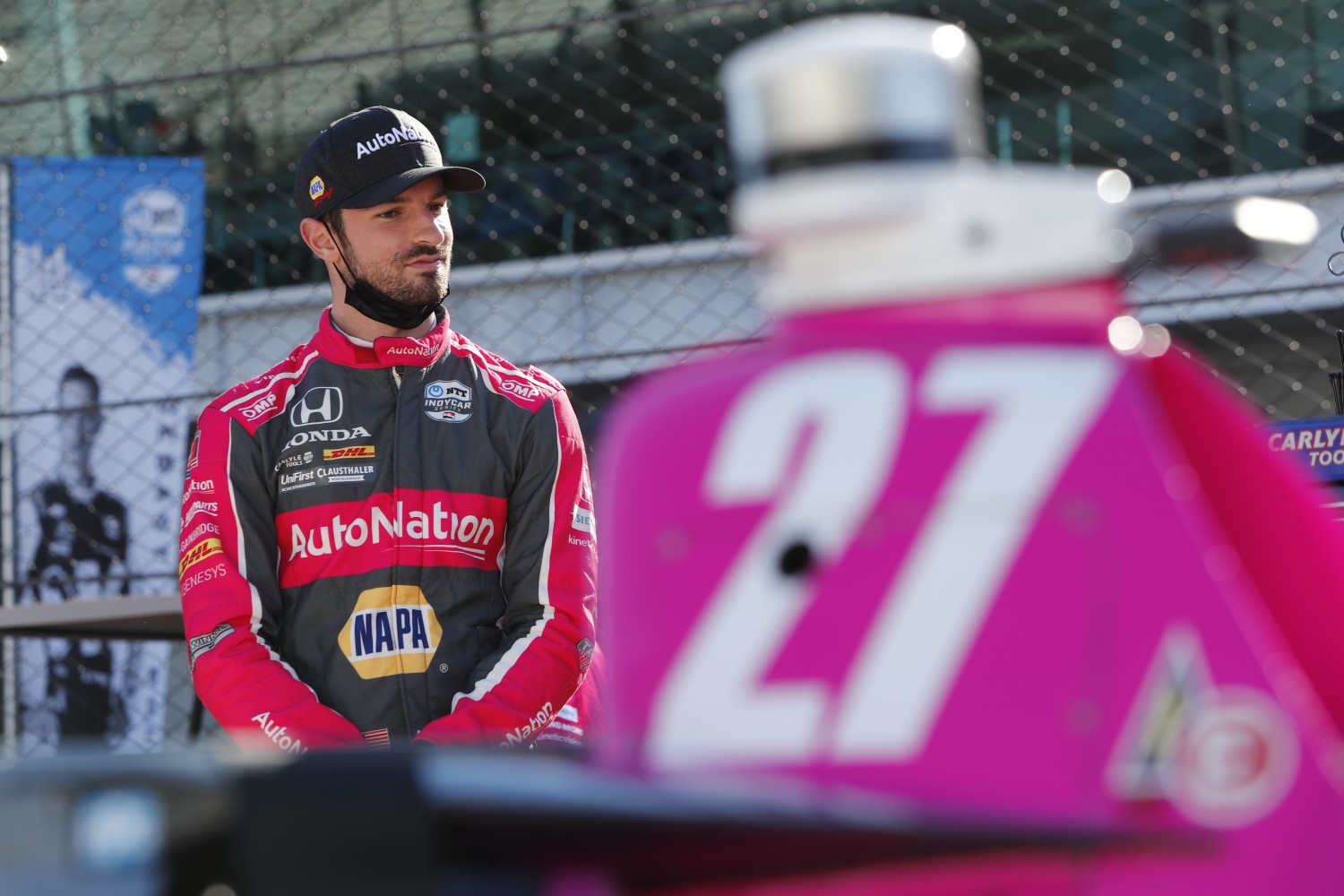 Scott Dixon was only 23rd in his Ganassi Honda after suffering a clutch problem and missing a good part of the session.
NASCAR Star Jimmie Johnson was 24th and at least this time he was not the slowest driver on the track, that honor belonged to Juan Montoya.  Johnson was a massive 1.6s off the pace, but at least he is closing the gap to the leaders with each race after 'lazy' racing all those years in NASCAR.
Next up is qualifying later this afternoon, and you would have to be crazy to bet against a Team Penske Chevy car to sit on pole for tomorrow's GMR Grand Prix.
Qualifying Groups
Group 1
21 VeeKay, Rinus
26 Herta, Colton
60 Harvey, Jack
22 Pagenaud, Simon
7 Rosenqvist, Felix
28 Hunter-Reay, Ryan
18 Jones, Ed
15 Rahal, Graham
8 Ericsson, Marcus
30 Sato, Takuma
11 Kimball, Charlie
48 Johnson, Jimmie
Group 2
2 Newgarden, Josef
12 Power, Will
3 McLaughlin, Scott
51 Grosjean, Romain
5 O'Ward, Pato
27 Rossi, Alexander
10 Palou, Alex
20 Daly, Conor
29 Hinchcliffe, James
4 Kellett, Dalton
14 Bourdais, Sebastien
9 Dixon, Scott
86 Montoya, Juan Pablo
Mark C. reporting for AutoRacing1.com
Practice 2 Results
| | | | | | | | | | |
| --- | --- | --- | --- | --- | --- | --- | --- | --- | --- |
| Pos | No | Name | Time | Diff | Gap | Laps | Speed | Engine | Team |
| 1 | 2 | Josef Newgarden | 1:09.3323 | 1:09.3323 | 0.000 | 20 | 126.642 | Chevy | Team Penske |
| 2 | 21 | Rinus VeeKay | 1:09.4020 | 0.0697 | 0.0697 | 17 | 126.515 | Chevy | Ed Carpenter Racing |
| 3 | 12 | Will Power | 1:09.4747 | 0.1424 | 0.0727 | 21 | 126.383 | Chevy | Team Penske |
| 4 | 26 | Colton Herta | 1:09.4999 | 0.1676 | 0.0252 | 19 | 126.337 | Honda | Andretti Autosport |
| 5 | 3 | Scott McLaughlin | 1:09.5514 | 0.2191 | 0.0515 | 18 | 126.243 | Chevy | Team Penske |
| 6 | 60 | Jack Harvey | 1:09.6190 | 0.2867 | 0.0676 | 17 | 126.121 | Honda | Meyer Shank Racing |
| 7 | 51 | Romain Grosjean | 1:09.6214 | 0.2891 | 0.0024 | 21 | 126.116 | Honda | Dale Coyne Racing w/Rick Ware Racing |
| 8 | 22 | Simon Pagenaud | 1:09.7379 | 0.4056 | 0.1165 | 19 | 125.906 | Chevy | Team Penske |
| 9 | 5 | Pato O'Ward | 1:09.7395 | 0.4072 | 0.0016 | 20 | 125.903 | Chevy | Arrow McLaren SP |
| 10 | 7 | Felix Rosenqvist | 1:09.7749 | 0.4426 | 0.0354 | 17 | 125.839 | Chevy | Arrow McLaren SP |
| 11 | 27 | Alexander Rossi | 1:09.7787 | 0.4464 | 0.0038 | 18 | 125.832 | Honda | Andretti Autosport |
| 12 | 28 | Ryan Hunter-Reay | 1:09.7847 | 0.4524 | 0.0060 | 18 | 125.821 | Honda | Andretti Autosport |
| 13 | 10 | Alex Palou | 1:09.8459 | 0.5136 | 0.0612 | 22 | 125.711 | Honda | Chip Ganassi Racing |
| 14 | 18 | Ed Jones | 1:09.9068 | 0.5745 | 0.0609 | 12 | 125.602 | Honda | Dale Coyne Racing with Vasser Sullivan |
| 15 | 20 | Conor Daly | 1:09.9218 | 0.5895 | 0.0150 | 19 | 125.575 | Chevy | Ed Carpenter Racing |
| 16 | 15 | Graham Rahal | 1:09.9723 | 0.6400 | 0.0505 | 21 | 125.484 | Honda | Rahal Letterman Lanigan Racing |
| 17 | 29 | James Hinchcliffe | 1:09.9789 | 0.6466 | 0.0066 | 18 | 125.472 | Honda | Andretti Steinbrenner Autosport |
| 18 | 8 | Marcus Ericsson | 1:09.9877 | 0.6554 | 0.0088 | 20 | 125.456 | Honda | Chip Ganassi Racing |
| 19 | 4 | Dalton Kellett | 1:10.1185 | 0.7862 | 0.1308 | 22 | 125.222 | Chevy | AJ Foyt Enterprises |
| 20 | 30 | Takuma Sato | 1:10.1355 | 0.8032 | 0.0170 | 19 | 125.192 | Honda | Rahal Letterman Lanigan Racing |
| 21 | 14 | Sebastien Bourdais | 1:10.3497 | 1.0174 | 0.2142 | 20 | 124.811 | Chevy | AJ Foyt Enterprises |
| 22 | 11 | Charlie Kimball | 1:10.6833 | 1.3510 | 0.3336 | 17 | 124.222 | Chevy | AJ Foyt Enterprises |
| 23 | 9 | Scott Dixon | 1:10.7770 | 1.4447 | 0.0937 | 11 | 124.057 | Honda | Chip Ganassi Racing |
| 24 | 48 | Jimmie Johnson | 1:10.9752 | 1.6429 | 0.1982 | 16 | 123.711 | Honda | Chip Ganassi Racing |
| 25 | 86 | Juan Pablo Montoya | 1:11.8081 | 2.4758 | 0.8329 | 14 | 122.276 | Chevy | Arrow McLaren SP |