IndyCar: Grosjean wins pole for GMR Grand Prix
David Slayed Goliath on Friday in Indianapolis.
Ex-F1 driver and IndyCar rookie Romain Grosjean put the #51 Dale Coyne Racing Honda on pole for the GMR Grand Prix at the Indianapolis Motor Speedway.
Grosjean's lap of 1m09.4396s beat the Team Penske Chevy of Josef Newgarden by 0.1269s. Dale Coyne's team is small compared to the mighty Team Penske, so it really was a story of David Slaying Goliath.
His F1 career ended in a fiery crash last November in Bahrain in which he escaped an inferno with serious burns to his hands, endearing himself to fans around the world with his optimistic spirit during his recovery.
Grosjean, who was also quick in practice earlier in the day, went out in Group 2 of Round 1 of qualifying and registered a fastest lap of 1:09.8556 which placed him fifth in his group and allowed him to move on to the Fast 12 for the second time this season.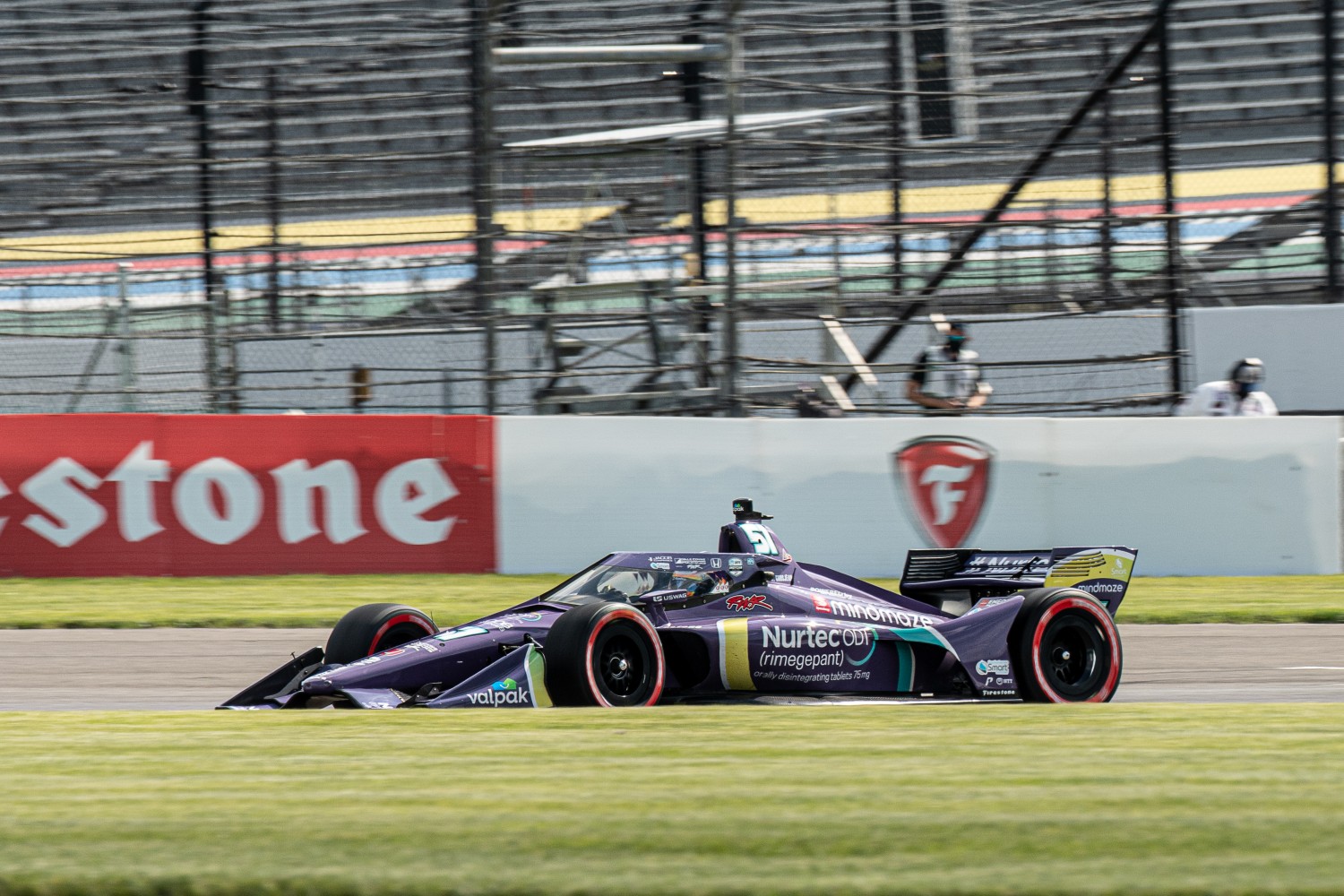 The Swiss-Franco driver then secured his first trip to the Firestone Fast 6 with a third place thanks to a lap of 1:09.5476.
The driver of the #51 Nurtec ODT car then took to the final round of qualifying with a used set of Firestone alternate tires and immediately jumped to first place on his first lap. Despite falling to second, Grosjean jumped back to P1 with a fastest lap of 1:09.4396 securing his first pole position in the series, in only his third NTT IndyCar Series start.
"Amazing," Grosjean said. "When I saw the (first qualifying) group I was in, I was like, 'Oh, dear, if we can get out of the first group, we're going to be OK,' and we did. That last few laps, we were on it. What a day for us.
"I'm happier than I have been in a very long time."
Grosjean will lead the 25-car field to the green flag on the 14-turn, 2.439-mile road course Saturday afternoon. Live coverage of the 85-lap race starts at 2 p.m. (ET) on NBC and the INDYCAR Radio Network.
"My engineer made some good changes throughout the qualifying rounds, and it worked perfectly", said an elated Frenchman Grosjean who could not show his talent in F1 because in F1 the car is 99% and the driver 1% and Grosjean was straddled with the Haas-Ferrari slug.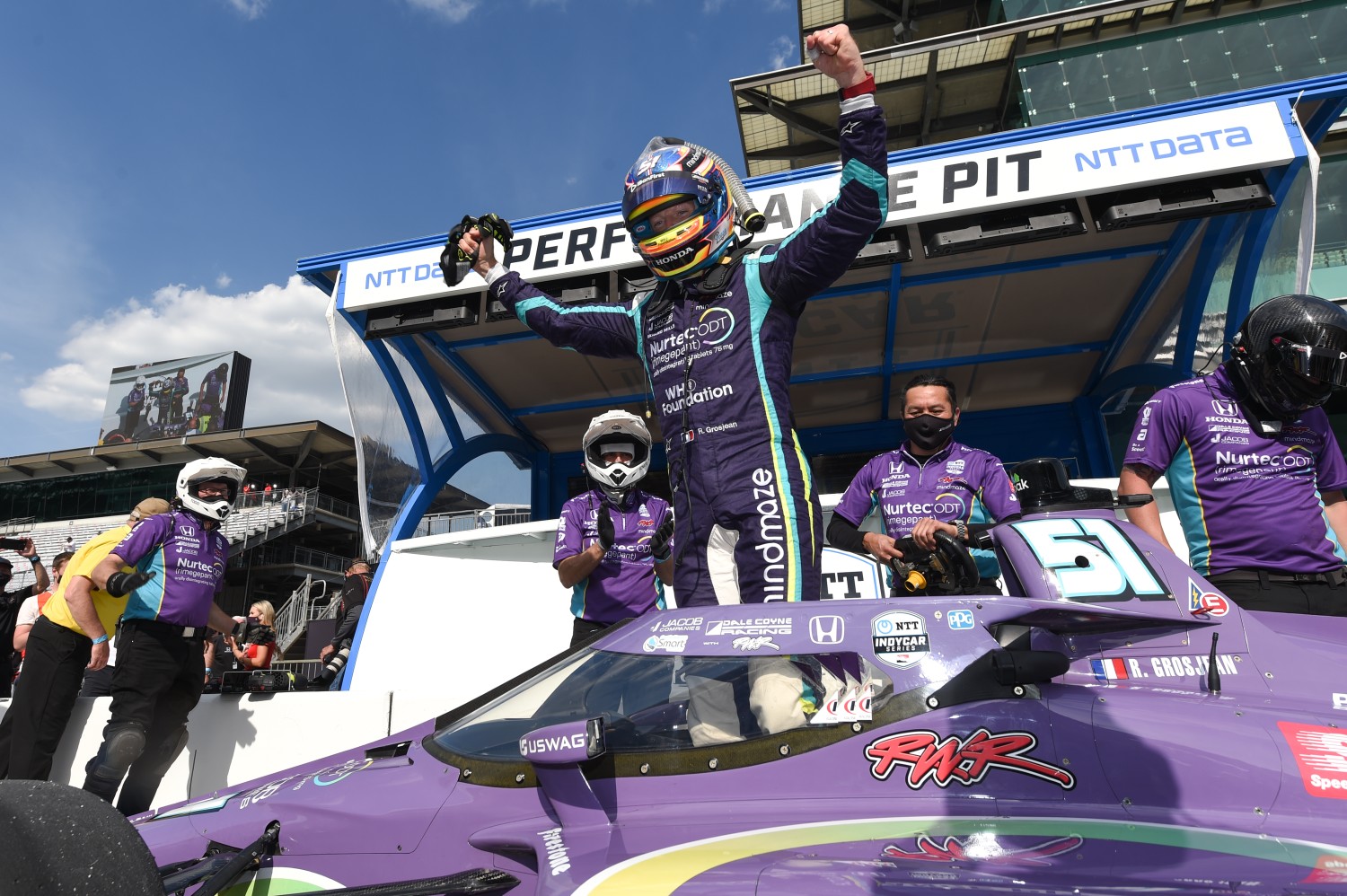 "We were struggling a bit earlier today, but my engineer [Olivier Boisson] made some really good changes over the [practice session] runs.  Then we put on the Reds [softer compound, alternate Firestone tires on], and the car felt so good, amazing. Those last few laps [of qualifying] each time, I was 'on it'. What a day for us!"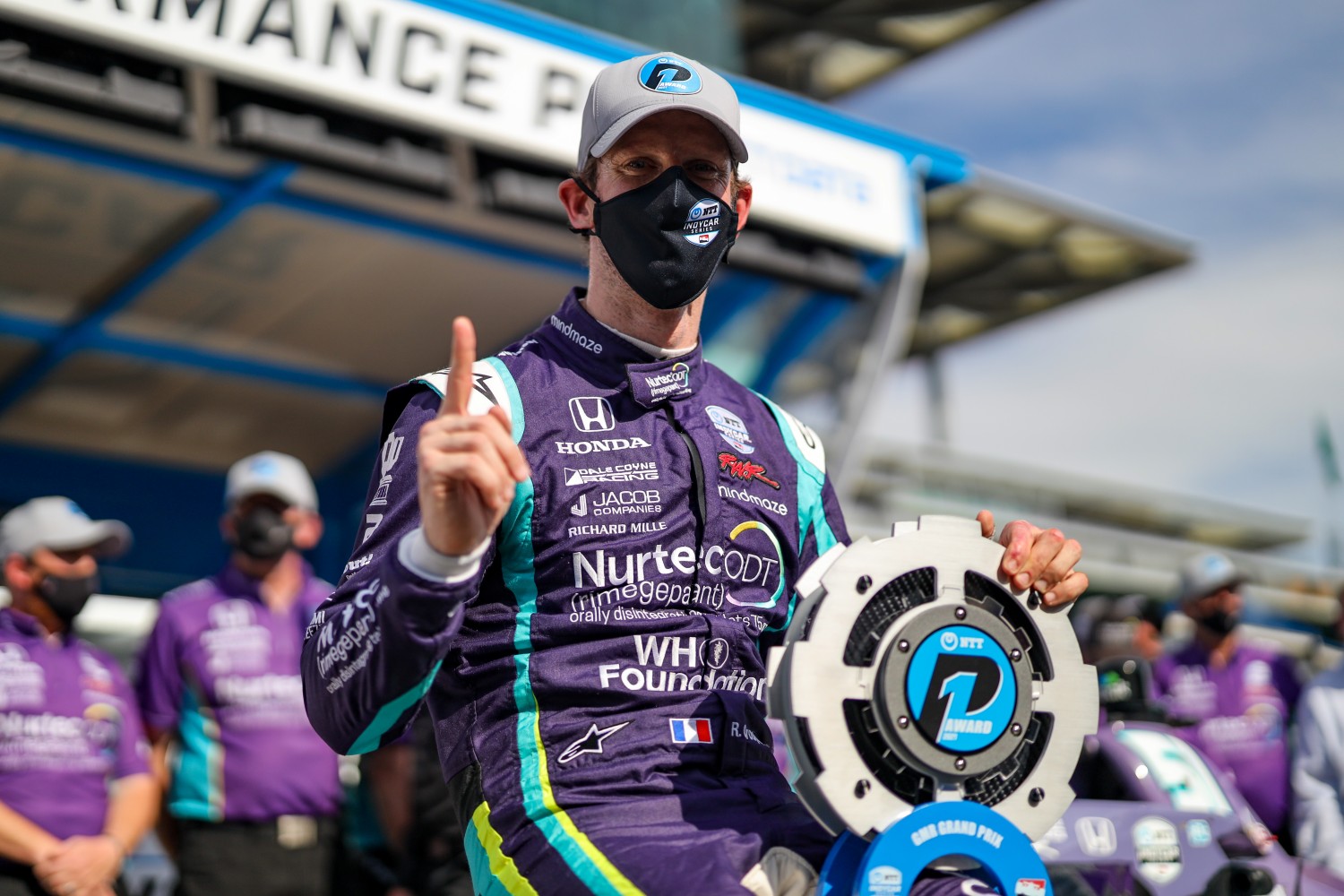 This was the first INDYCAR pole for the Coyne team since 2018, when Sebastien Bourdais took the top spot at Phoenix Raceway.
"When you look at his resume and how great he was before he got into Formula One, and Formula One is such a team performance issue, we knew he could win races and we knew he could win poles," team owner Dale Coyne said of Grosjean. "He's proven it today."
"I had Tim Cindric in my ear like always, he was telling me where we were at," said Newgarden who had to settle for 2nd.
"I did a pretty good lap to be honest with you, I wasn't dissatisfied with it, I think I was within a tenth of what was ultimately possible, so we just got beat, Grosjean did a great job. I've been very happy with our pace, it's a lot of work to finish second, it's kind of funny to be disappointed with that, but I think we've got a good vantage point for tomorrow, and we can focus on the main thing which is trying to get through this race and win, I mean winning at the end of the day is what's most important, so we've got to put our best foot forward for tomorrow."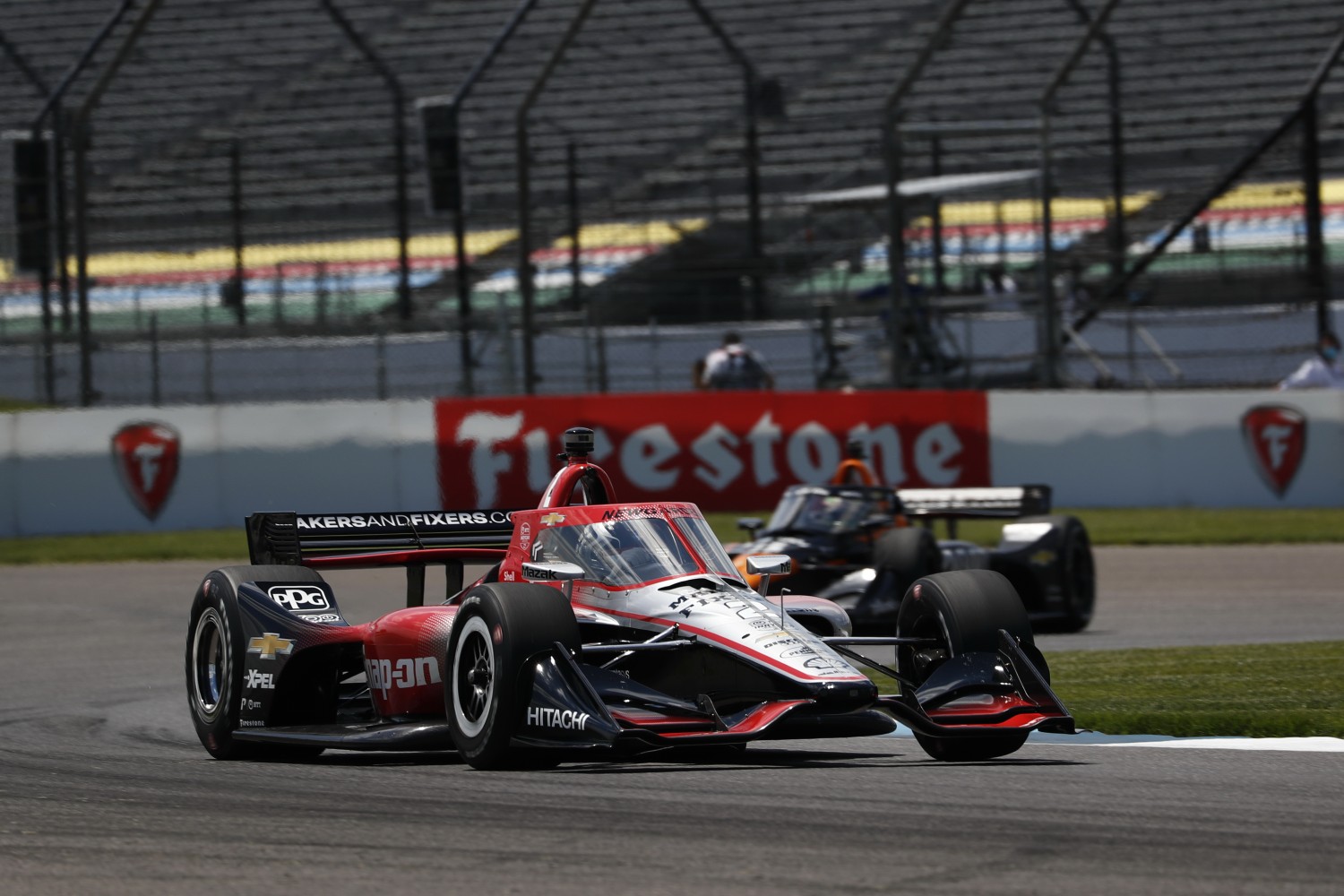 "I mean look, Grosjean's a great driver, I'm not surprised that he's adapted super well, much like Scott McLaughlin, like he's done a stellar job, he's right on the pace, but you can jump in any car in this series and have a shot at winning, you really can, and I think that's the great thing about what IndyCar is right now is that there's so much parity, so much competition, you don't know who's going to win each weekend. It's tough on us, we'd love to have an advantage and know we've got a little more cushion every weekend, but it's not guaranteed.
"But ultimately, we've put in a lot of work here, I think it's the camaraderie at Team Penske that makes us successful, great partners like Snap-On and Team Chevy. So we think we have what we need to get on top of these people tomorrow but it's no easy task beating anybody nowadays."
Jack Harvey will start 3rd for Meyer Shank Racing while Alex Palou was 4th for Ganassi Racing and rookie Scott McLaughlin rounded out the top-5.
"We're always excited to come to the Indianapolis road course, but what's allowed this weekend to go well for us so far is really good preparation and focus from everyone on the Meyer Shank Racing/Honda team," said Harvey.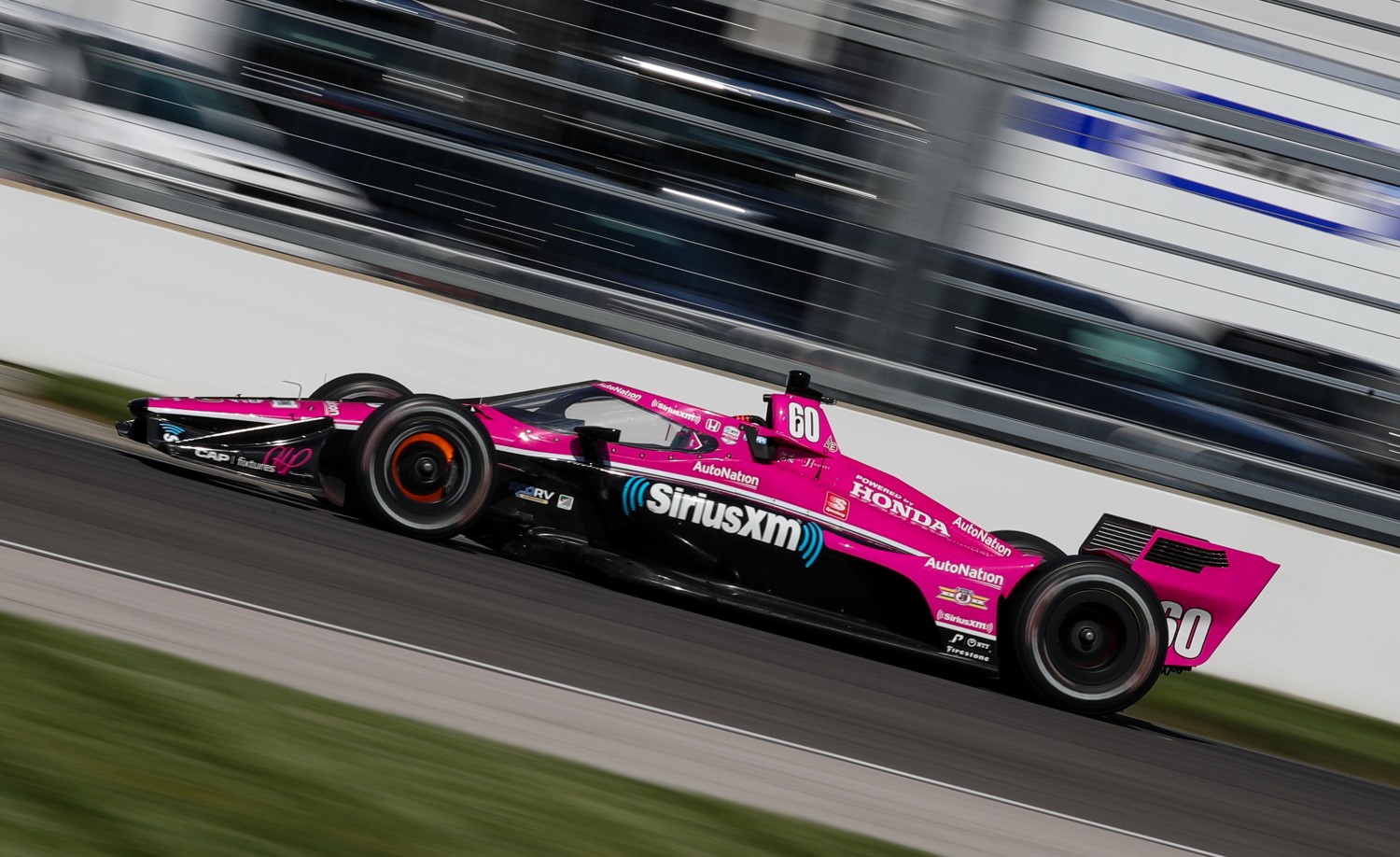 "That was an incredible lap by Romain [Grosjean, to claim pole], but that's what we love about the NTT INDYCAR SERIES.
"We have a small team like Dale Coyne with RWR taking the pole, and our still relatively new team starting third. We all can come and compete [on equal terms]. I'm not sure how many other series in the world have that. We're really close, and I hope that positivity can help drive us forward tomorrow."
Conor Daly made his first career Firestone Fast 6 appearance today against a fitting backdrop: his hometown track, the Indianapolis Motor Speedway. In his new MannKind Corporation colors, Daly advanced through each round of qualifying. He will start 6th in tomorrow's GMR Grand Prix, his best start at the road course.
Teammate Rinus VeeKay also had a strong run, narrowly missing out on the Fast 6 himself. The 20-year-old will start 7th.
"Today was a very, very exciting day for me," said Daly!  "My first time in the Firestone Fast 6 – it took me a while to get there! We've done a lot of work to get this car to suit my driving style a bit more and today was a great example of that work paying off. We have a really great starting spot for tomorrow. I am very, very happy with what the Ed Carpenter Racing team has done. To be able to do this for MannKind and NeedleFreeInsulin.com in their first race is super fantastic. Can't wait to go into battle tomorrow!"
"Qualifying was going really well, and I just made a little mistake in Round 2," said Veekay. "We just missed out! We have great speed and have some more ideas to try in warm up tomorrow. I am very ready to race!"
Some big names will start toward the back – Alexander Rossi, Scott Dixon and Will Power never made it out of Round 1.
"At least we're 12th – that's better than St. Pete, 20th," Power said. "It's so crazy how the car can change so much from session to session. I made a mistake. I'm very frustrated at myself."
British driver Max Chilton will not race in Saturday's Indy Grand Prix because he couldn't travel back to the United States from England.
The team remains hopeful Chilton will drive in the Indianapolis 500 on May 30.
Mark C. reporting for AutoRacing1.com
Qualifying Results
Lineup
| | | | | | | |
| --- | --- | --- | --- | --- | --- | --- |
| Pos | Car | Driver Name | Engine | Time | Speed | Session |
| 1 | 51 | Grosjean, Romain (R) | Honda | 01m09.4396 | 126.447 | Round 3 / Firestone Fast Six |
| 2 | 2 | Newgarden, Josef | Chevy | 01m09.5665 | 126.216 | Round 3 / Firestone Fast Six |
| 3 | 60 | Harvey, Jack | Honda | 01m09.6528 | 126.060 | Round 3 / Firestone Fast Six |
| 4 | 10 | Palou, Alex | Honda | 01m09.7118 | 125.953 | Round 3 / Firestone Fast Six |
| 5 | 3 | McLaughlin, Scott (R) | Chevy | 01m09.7140 | 125.949 | Round 3 / Firestone Fast Six |
| 6 | 20 | Daly, Conor | Chevy | 01m09.8662 | 125.675 | Round 3 / Firestone Fast Six |
| 7 | 21 | VeeKay, Rinus | Chevy | 01m09.8185 | 125.760 | Elimination Round 2 / Top 12 |
| 8 | 26 | Herta, Colton | Honda | 01m09.8222 | 125.754 | Elimination Round 2 / Top 12 |
| 9 | 18 | Jones, Ed | Honda | 01m09.8548 | 125.695 | Elimination Round 2 / Top 12 |
| 10 | 22 | Pagenaud, Simon | Chevy | 01m09.8722 | 125.664 | Elimination Round 2 / Top 12 |
| 11 | 15 | Rahal, Graham | Honda | 01m09.9060 | 125.603 | Elimination Round 2 / Top 12 |
| 12 | 12 | Power, Will | Chevy | No Time | No Speed | Elimination Round 2 / Top 12 |
| 13 | 7 | Rosenqvist, Felix | Chevy | 01m09.8243 | 125.750 | Elimination Round 1 / Group 1 |
| 14 | 27 | Rossi, Alexander | Honda | 01m09.9012 | 125.612 | Elimination Round 1 / Group 2 |
| 15 | 8 | Ericsson, Marcus | Honda | 01m09.8382 | 125.725 | Elimination Round 1 / Group 1 |
| 16 | 9 | Dixon, Scott | Honda | 01m09.9512 | 125.522 | Elimination Round 1 / Group 2 |
| 17 | 30 | Sato, Takuma | Honda | 01m09.8665 | 125.674 | Elimination Round 1 / Group 1 |
| 18 | 5 | O'Ward, Pato | Chevy | 01m10.0726 | 125.304 | Elimination Round 1 / Group 2 |
| 19 | 28 | Hunter-Reay, Ryan | Honda | 01m09.8759 | 125.657 | Elimination Round 1 / Group 1 |
| 20 | 14 | Bourdais, Sebastien | Chevy | 01m10.1830 | 125.107 | Elimination Round 1 / Group 2 |
| 21 | 11 | Kimball, Charlie | Chevy | 01m10.6810 | 124.226 | Elimination Round 1 / Group 1 |
| 22 | 29 | Hinchcliffe, James | Honda | 01m10.6174 | 124.338 | Elimination Round 1 / Group 2 |
| 23 | 48 | Johnson, Jimmie (R) | Honda | 01m11.0455 | 123.588 | Elimination Round 1 / Group 1 |
| 24 | 4 | Kellett, Dalton | Chevy | 01m10.9312 | 123.788 | Elimination Round 1 / Group 2 |
| 25 | 86 | Montoya, Juan Pablo | Chevy | 01m11.1370 | 123.429 | Elimination Round 1 / Group 2 |
Round 1 Group 1
Pos
No
Name
Time
Diff
Gap
Speed
Engine
Team
1
21
Rinus VeeKay
1:09.4890
1:09.4890
0.000
126.357
Chevy
Ed Carpenter Racing
2
26
Colton Herta
1:09.5867
0.0977
0.0977
126.179
Honda
Andretti Autosport
3
18
Ed Jones
1:09.7152
0.2262
0.1285
125.947
Honda
Dale Coyne Racing with Vasser Sullivan
4
60
Jack Harvey
1:09.7589
0.2699
0.0437
125.868
Honda
Meyer Shank Racing
5
15
Graham Rahal
1:09.7918
0.3028
0.0329
125.808
Honda
Rahal Letterman Lanigan Racing
6
22
Simon Pagenaud
1:09.8061
0.3171
0.0143
125.783
Chevy
Team Penske
Elimination Cutoff
7
7
Felix Rosenqvist
1:09.8243
0.3353
0.0182
125.750
Chevy
Arrow McLaren SP
8
8
Marcus Ericsson
1:09.8382
0.3492
0.0139
125.725
Honda
Chip Ganassi Racing
9
30
Takuma Sato
1:09.8665
0.3775
0.0283
125.674
Honda
Rahal Letterman Lanigan Racing
10
28
Ryan Hunter-Reay
1:09.8759
0.3869
0.0094
125.657
Honda
Andretti Autosport
11
11
Charlie Kimball
1:10.6810
1.1920
0.8051
124.226
Chevy
AJ Foyt Enterprises
12
48
Jimmie Johnson
1:11.0455
1.5565
0.3645
123.588
Honda
Chip Ganassi Racing
Round 1 Group 2
Pos
No
Name
Time
Diff
Gap
Speed
Engine
Team
1
2
Josef Newgarden
1:09.6101
1:09.6101
0.000
126.137
Chevy
Team Penske
2
10
Alex Palou
1:09.6589
0.0488
0.0488
126.049
Honda
Chip Ganassi Racing
3
3
Scott McLaughlin
1:09.7537
0.1436
0.0948
125.877
Chevy
Team Penske
4
20
Conor Daly
1:09.7646
0.1545
0.0109
125.858
Chevy
Ed Carpenter Racing
5
51
Romain Grosjean
1:09.8556
0.2455
0.0910
125.694
Honda
Dale Coyne Racing w/Rick Ware Racing
6
12
Will Power
1:09.8963
0.2862
0.0407
125.620
Chevy
Team Penske
Elimination Cutoff
7
27
Alexander Rossi
1:09.9012
0.2911
0.0049
125.612
Honda
Andretti Autosport
8
9
Scott Dixon
1:09.9512
0.3411
0.0500
125.522
Honda
Chip Ganassi Racing
9
5
Pato O'Ward
1:10.0726
0.4625
0.1214
125.304
Chevy
Arrow McLaren SP
10
14
Sebastien Bourdais
1:10.1830
0.5729
0.1104
125.107
Chevy
AJ Foyt Enterprises
11
29
James Hinchcliffe
1:10.6174
1.0073
0.4344
124.338
Honda
Andretti Steinbrenner Autosport
12
86
Juan Pablo Montoya
1:10.8705
1.2604
0.2531
123.894
Chevy
Arrow McLaren SP
13
4
Dalton Kellett
1:10.9312
1.3211
0.0607
123.788
Chevy
AJ Foyt Enterprises
Round 2
Pos
No
Name
Time
Diff
Gap
Speed
Engine
Team
1
10
Alex Palou
1:09.4743
0.0000
0.000
126.383
Honda
Chip Ganassi Racing
2
60
Jack Harvey
1:09.5189
0.0446
0.0446
126.302
Honda
Meyer Shank Racing
3
51
Romain Grosjean
1:09.5476
0.0733
0.0287
126.250
Honda
Dale Coyne Racing w/Rick Ware Racing
4
20
Conor Daly
1:09.5627
0.0884
0.0151
126.223
Chevy
Ed Carpenter Racing
5
3
Scott McLaughlin
1:09.7727
0.2984
0.2100
125.843
Chevy
Team Penske
6
2
Josef Newgarden
1:09.7837
0.3094
0.0110
125.823
Chevy
Team Penske
Elimination Cutoff
7
21
Rinus VeeKay
1:09.8185
0.3442
0.0348
125.760
Chevy
Ed Carpenter Racing
8
26
Colton Herta
1:09.8222
0.3479
0.0037
125.754
Honda
Andretti Autosport
9
18
Ed Jones
1:09.8548
0.3805
0.0326
125.695
Honda
Dale Coyne Racing with Vasser Sullivan
10
22
Simon Pagenaud
1:09.8722
0.3979
0.0174
125.664
Chevy
Team Penske
11
15
Graham Rahal
1:09.9060
0.4317
0.0338
125.603
Honda
Rahal Letterman Lanigan Racing
12
12
Will Power
1:11.7005
2.2262
1.7945
122.459
Chevy
Team Penske
Round 3 Fast Six
| | | | | | | | | |
| --- | --- | --- | --- | --- | --- | --- | --- | --- |
| Pos | No | Name | Time | Diff | Gap | Speed | Engine | Team |
| 1 | 51 | Romain Grosjean | 1:09.4396 | 0.0000 | 0.000 | 126.447 | Honda | Dale Coyne Racing w/Rick Ware Racing |
| 2 | 2 | Josef Newgarden | 1:09.5665 | 0.1269 | 0.1269 | 126.216 | Chevy | Team Penske |
| 3 | 60 | Jack Harvey | 1:09.6677 | 0.2281 | 0.1012 | 126.033 | Honda | Meyer Shank Racing |
| 4 | 10 | Alex Palou | 1:09.7118 | 0.2722 | 0.0441 | 125.953 | Honda | Chip Ganassi Racing |
| 5 | 3 | Scott McLaughlin | 1:09.7140 | 0.2744 | 0.0022 | 125.949 | Chevy | Team Penske |
| 6 | 20 | Conor Daly | 1:09.8662 | 0.4266 | 0.1522 | 125.675 | Chevy | Ed Carpenter Racing |