Grosjean: Being in IndyCar is like being alive again
IndyCar rookie Romain Grosjean, driver of the No. 51 Nurtec ODT Honda,  had not won a pole in 10 years.
Until today, as he took pole position for Saturday's GMR Grand Prix.
"A long time ago I was on pole position. That feels obviously super good going into the weekend. For me it's very special to be racing here. I've been on some of the most famous tracks around the world. When I came to Indianapolis for the first time, I realized the atmosphere around, the grandstands, everything that's happening here, the history of the place.
"Going onto the weekend, we obviously did a lot of work to be good and also just learning about it. Our first segment of quallie wasn't so good. Second one felt much better. Going into the Fast Six I never ran scrub red tires, so I didn't know what to expect from the car. It behaved really well.
"The first lap I had a mistake. It was a fast lap, but I had a mistake. I knew I had more pace in the second lap. It went really, really good. I thought that could be it. That was it."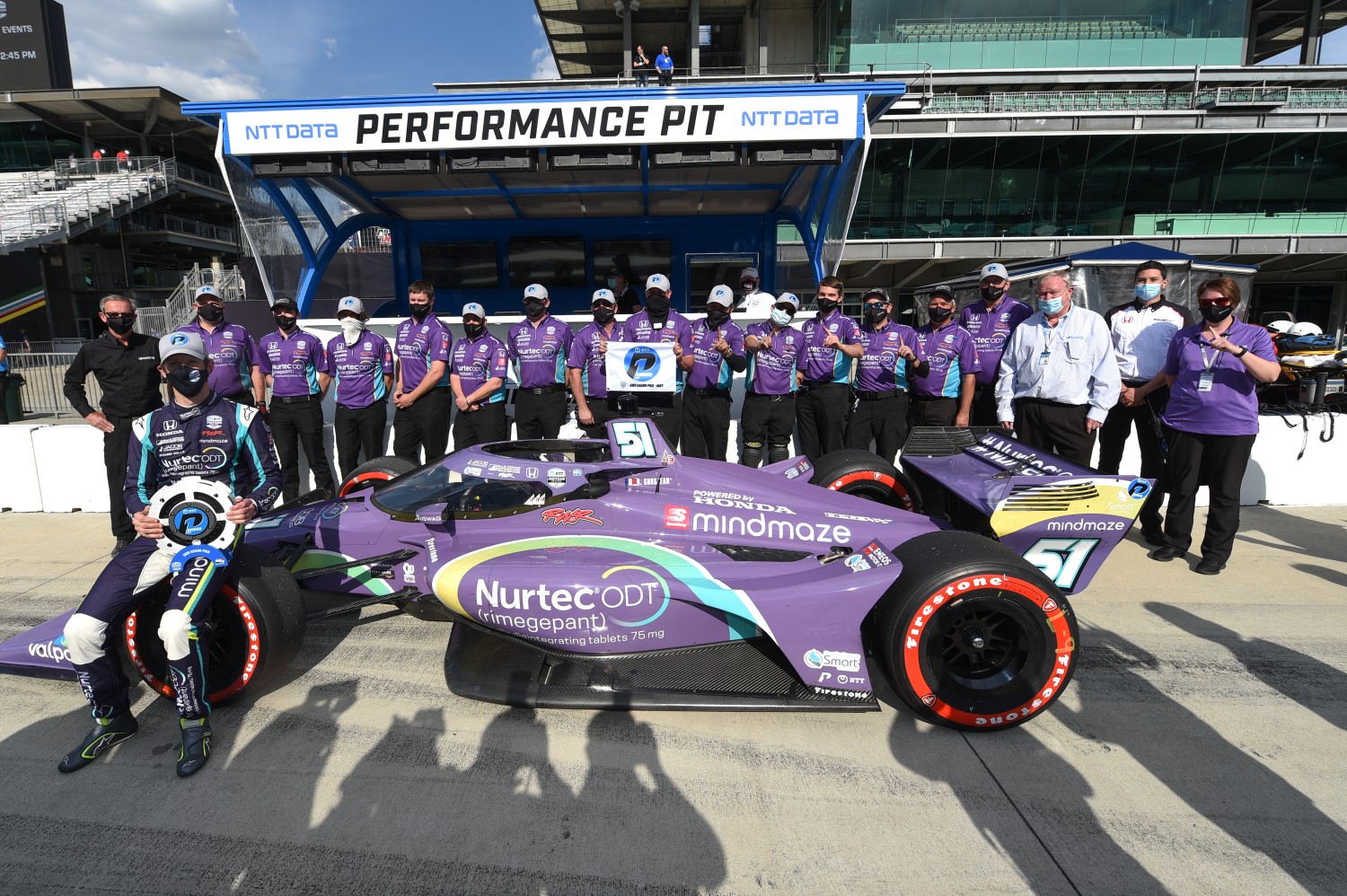 What is it like to be competitive again?
"It's like being alive again," said Grosjean.
"A lot of people are asking how I felt watching the first race, the Formula 1 race of the season, and I wasn't there. I said, Guys, the chapter is closed for me. I've had a good time, now I want something else. That's what I came looking for.
I love the atmosphere between the drivers, I love the tracks. The cars are fun to drive. We can go for some good stuff. I'm really happy. Family-wise a bit of a tough year because I'm away from them quite a bit. We knew what was going to happen this year before deciding for the future. I'm happier, I've said it for a few times, I'm happier than I've been for a very long time.
Grosjean really loves the Firestone tires IndyCar uses compared to F1, tires you can push hard for laps vs. F1 where the entire race you have to save the tires else they turn to junk.
"Firestone does an incredible job on getting us good tires. When you nail it, and you've got the grip and the balance, you can really feel through the steering wheel that you're there, you've got the grip.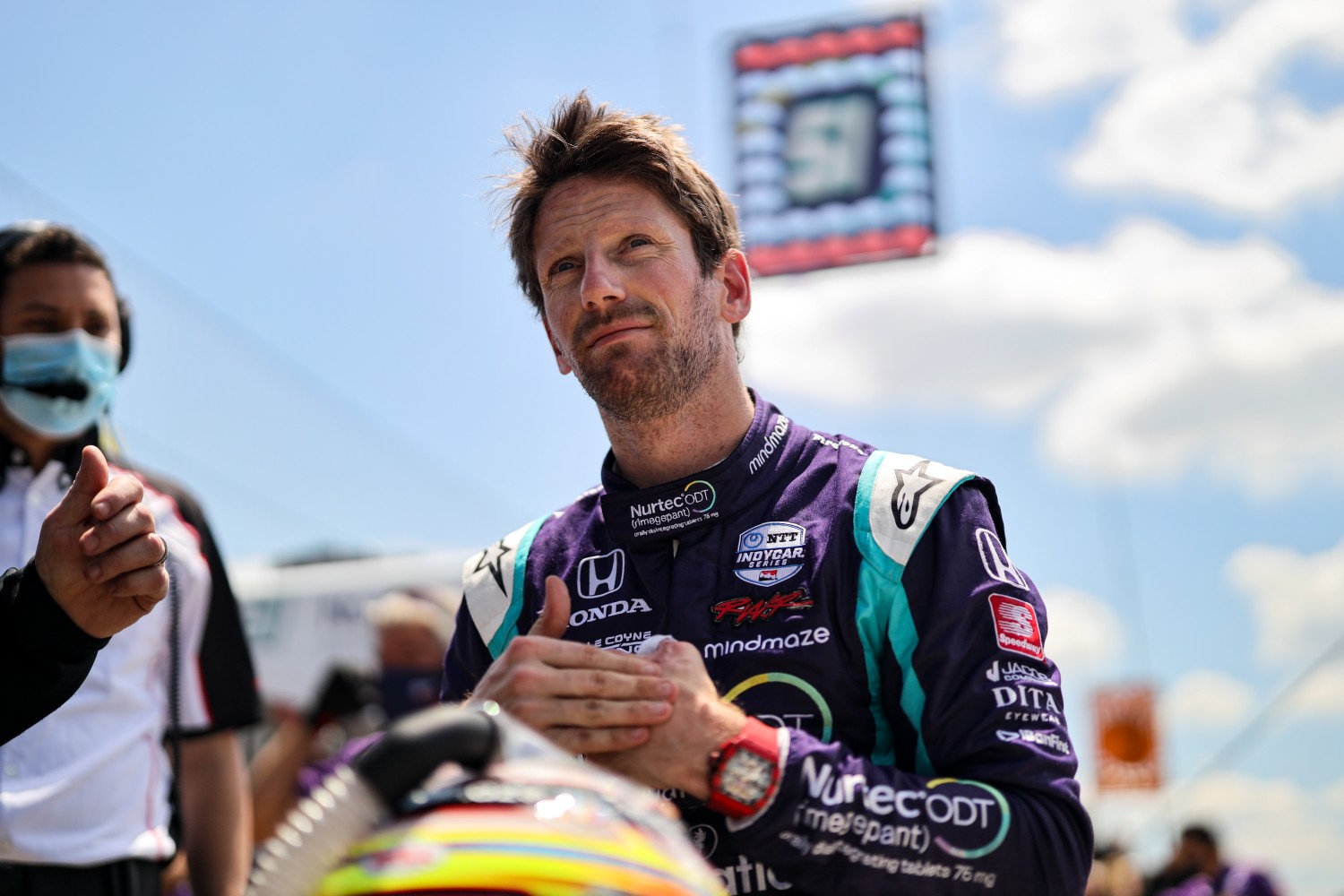 "Obviously in Formula 1 with the power steering wheel, you lose a little bit that fitting. The tire is quite different. I don't know. I just feel like here you put the red and you kind of know what to expect, that's what's happening most of the time."
"You know, even through the last few years that have been tough in terms of results, I take the example of Germany last year where I finished ninth, with the Haas car, that was quite special. I think Germany 2018 as well, we were like 12th after the last safety car. I came back finishing sixth or something in the last 10 laps. That was quite cool.
"Even though you're not winning, you've got that feeling. Days that I completely forgot about is when you get to race weekend, you got those butterflies because you know if you do everything right, you may end up on pole or trying to win the race. That's definitely something I had no chance to do over the last few years."
Would he consider doing the Indy 500 one day?
"Never say never. We take things step by step. I think for my whole family they were super supportive, but obviously seeing me going back racing I guess was not that easy. They can see how happy I am. I'm sure my kids are asleep, but my wife has been watching quallie. She's going to see my smile. They're going to come around. They're going to come this summer, then we can decide.
Obviously I'll be keeping an eye on the Indy 500. But right now I can't say yes or no.
When did he start feeling comfortable in an IndyCar?
"If I'm being honest, from Barber onwards, from the practice two in Barber, I could tell we had good pace in the car. The first quallie in Barber got a bit of traffic in the lap, that's why I didn't make it to Fast Six. I could tell we were good.
"On the street course like St. Pete, I think we still need to do a little bit of work, which we're doing to improve. On the road course, I knew we had a good car. I knew we could be at the front.
"Again, we were fourth, fifth, I can't remember, FP1. Pretty good in FP2 on the blacks. The reds were a bit trickier part. But I'm also learning about them. Every time we put them on, it's the first time I used them on the racetrack. Time to learn about it.
But I think INDYCAR is super competitive, really much more than a lot of people think it is. Also as Josef mentioned, the cars have been here for a long time, the guys know what they are doing. You don't want to lose a couple of hundredths by hitting a bit of a limiter by upshifting or something like that because that may cost you pole, even Fast Six or top 12.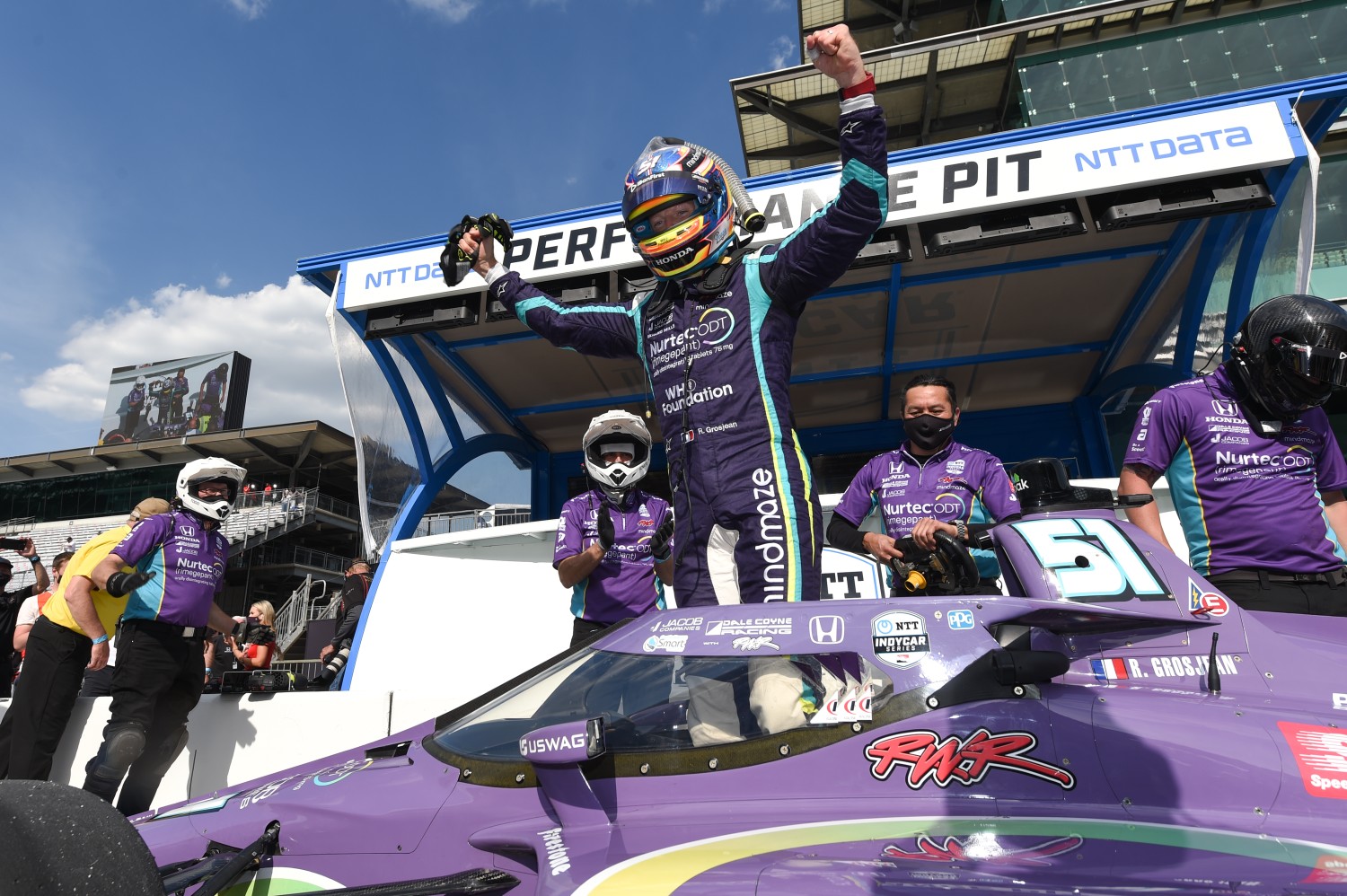 This last week Stefano Domenicali said how important it was to get an American driver into Formula 1. Does Grosjean think an American driver can make it in F1?
"It's a question I've been asked a lot recently. I don't have an answer. The drivers here, super talented. Many of the American drivers, they've been growing up through the series. You got Indy 2000, Indy Lights, the Road to Indy. You race here with cars. The atmosphere is very different from Europe.
"You may have some drivers that have been trying to come over in Europe, and they may not just feel that good because it's different. Everything is probably more stricter. 'Strict' is not the word, but more into a square. The cars are different to drive. I had to adapt my driving style quite a bit coming in here. From Europe to America it's a bit easier to adapt than the other way around.
"I mean, I was impressed with the level that you get here in INDYCAR when I came in. I'm sure the guys have got the talent, but it's more the bigger picture. Is it going to fit into the European model that you could ask yourself.
Would Grosjean consider making a career out of IndyCar?
"I started looking at houses in the U.S., if that's the answer that you want (smiling)."
Mark C. reporting for AutoRacing1.com