NHRA: Brittany Force And Flav-R-Pac Set Track Record At Four-Wide Nationals At Zmax Dragway
Friday night at zMAX Dragway was apparently ladies night, at least in the nitro classes, as both Brittany Force and Alexis DeJoria rocketed to the number one spots in Top Fuel and Funny Car, respectively, with Force setting both ends of the track record under the lights. Greg Anderson nabbed the provisional No. 1 spot in Pro Stock, continuing his stellar 2021, and Joey Gladstone broke the track record in Pro Stock Motorcycle to sit atop the class.
The top three qualifiers in Top Fuel all recorded their passes in Lane 4, which may set off a race for Sunday lane choice.
Making quite the entrance, Brittany Force and her David Grubnic and Mac Savage led Flav-R-Pac dragster team set the track low elapsed time record when they blasted their way to a 3.662-second pass at 333.08 mph.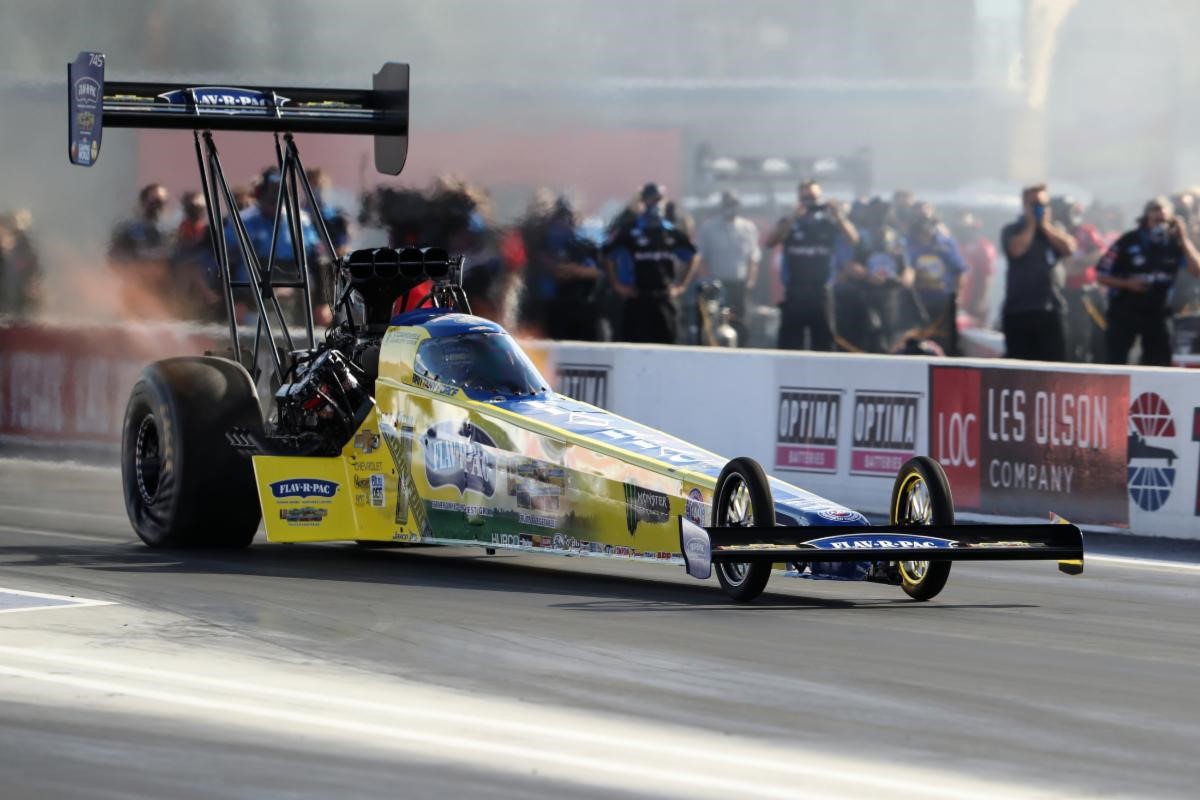 "I'm just pumped after a run like that. That's a hell of a run," Force said. "The four-wide race can be tough and tricky, and I just have to keep my focus. (Crew chief David) Grubnic said we were going to have a killer run, and Grubnic, Mac Savage and all of my guys, I'm just so proud of them.
"Now we can do what we want because we feel pretty safe, we're locked in the show," Force continued. "Now we can really push the car or play around with it and get us set up for race day. We're locked in, we're solid so it lets us relax a little bit tonight going into tomorrow. No matter how we run tomorrow we'll be good to go for race day."
Force's run had been preceded by Leah Pruett's 3.718 in the Mopar dragster, a run that ended up No. 3 behind Force and world champ Steve Torrence's 3.683. Southern Nationals winner Antron Brown (3.761), Gatornationals champ Josh Hart (3.776), and Clay Millican (a fiery 3.810) rounded out the top six. Eighteen cars are entered this weekend in Top Fuel.
Despite what appeared to be prime-time conditions with cool weather and a cooling track, the Funny Cars all largely swung and whiffed with 14 of the 16 shaking or smoking (or both) the rear Goodyears.
DeJoria made the only three-second pass of the session, guiding her ROKit Toyota to a 3.930 for the provisional No. 1 spot. Tuner Del Worsham, who won the Four-Wide Nationals in Top Fuel in 2011, probably would have gotten a better e.t. for his driver but the car shut down 100 feet before the finish line, coasting through at just 301 mph.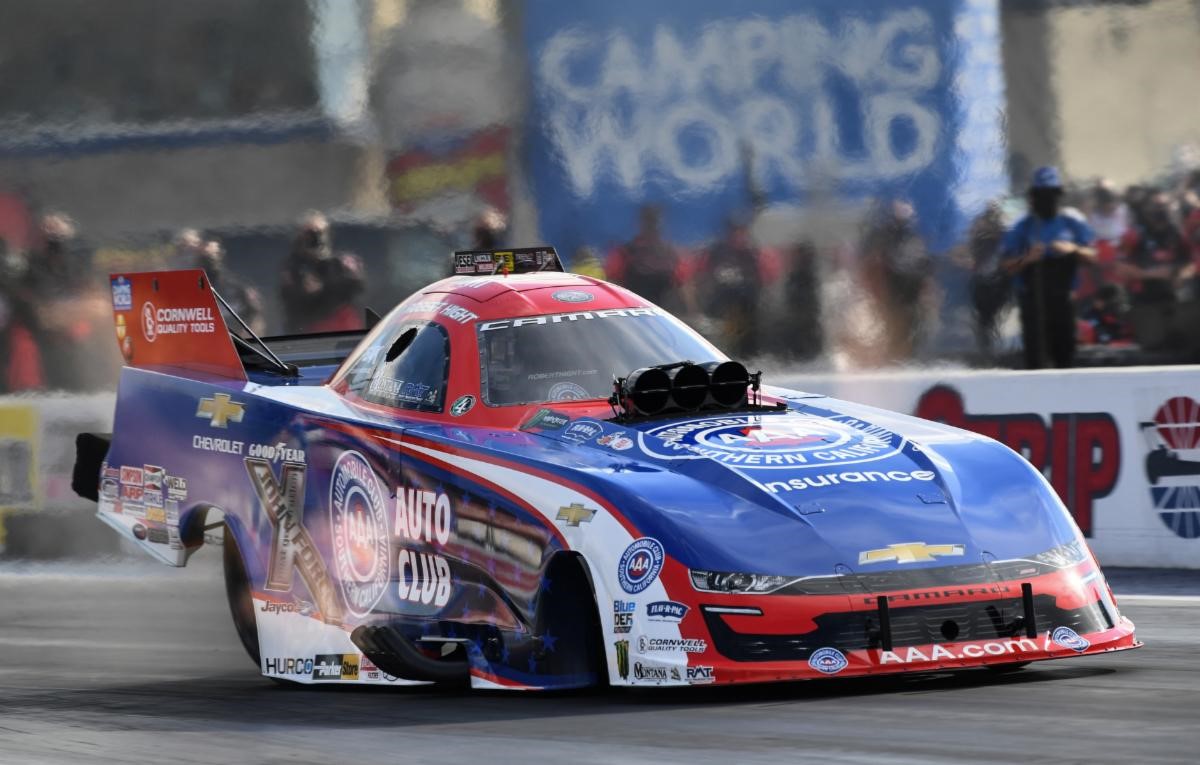 Privateer Mike McIntire surprised everyone with a 4.01 for the No. 2 spot, the fruits of a successful Indianapolis test session two weeks ago with the McAttack Toyota. Dave Richards, another part-time racer, grabbed the No. 1 spot with the Guaranteed Rate Mustang with a 6.857. Points leader Bob Tasca III, winner of the last two events on the schedule, sits 10th with two qualifying sessions remaining.
Anderson continued his dominant start to the 2021 season in Pro Stock, jumping straight to the No. 1 position in his HendrickCars.com Chevrolet Camaro with a splendid run of 6.524 at 210.50. Should it hold, it would give Anderson, who already has two wins this year, his fourth straight No. 1 qualifier and 110th in his career. Anderson, of course, is more concerned with victories, as a third victory this season would give him 97, tying him with Warren Johnson for the most in Pro Stock history.
In the same quad, Aaron Stanfield went 6.533 at 210.67 on Friday to currently sit in the second spot. Kyle Koretsky went 6.535 at 210.87, putting him third and Mason McGaha made a pass of 6.543 at 210.21, putting a trio of young rising stars in ideal positions. Deric Kramer's 6.546 rounds out the top five with two more qualifying sessions coming on Saturday.
Both ends of the track record were set in Pro Stock Motorcycle, with  Gladstone making the quickest run on his Precision Service Equipment Suzuki with an impressive pass of 6.763 at 198.58. Running the new four-valve Suzuki, Gladstone stole the show with a career-best pass and would pick up his first career No. 1 qualifier if it holds up.
The fastest run belonged to defending world champ and points leader Matt Smith, who went 201.10 to set the track record on his Denso Auto Parts/Stockseth/Matt Smith Racing EBR. It was also the fifth-fastest run in class history, while his run of 6.778 puts him second after one session. Eddie Krawiec added another fast run and the eighth-fastest in class history, going 6.828 at 201.07 to currently sit in the third spot. Steve Johnson and Karen Stoffer rounded out the top five with runs of 6.836 and 6.851, respectively.
Qualifying at the NGK NTK NHRA Four-Wide Nationals at zMAX Dragway continues with two sessions on Saturday at 2 and 5:30 p.m. ET. Eliminations on Sunday will take place at noon ET. Television coverage for qualifying will be on FOX Sports 1 (FS1) beginning Saturday at 3 p.m. ET and continuing on Sunday at 11 a.m. ET. Live eliminations coverage will begin Sunday at noon on FOX Broadcasting Network.