IndyCar: Veekay gets first IndyCar win in GMR Grand Prix
Ed Carpenter Racing's 20-year old Dutch sensation Rinus Veekay held off a closing Romain Grosjean in th3 #51 Dale Coyne Racing Honda to win the GMR Grand Prix – his first-ever IndyCar win – by 4.95s.
Veekay and Grosjean were the class of the field, Grosjean leading 44 lap of 85 laps in the first half of the race and Veekay leading 33 in the 2nd half.
It was an emotional victory lane for Veekay whose parents are over from The Netherlands and the family was besides themselves with emotion cheering their son home to the biggest win in his life.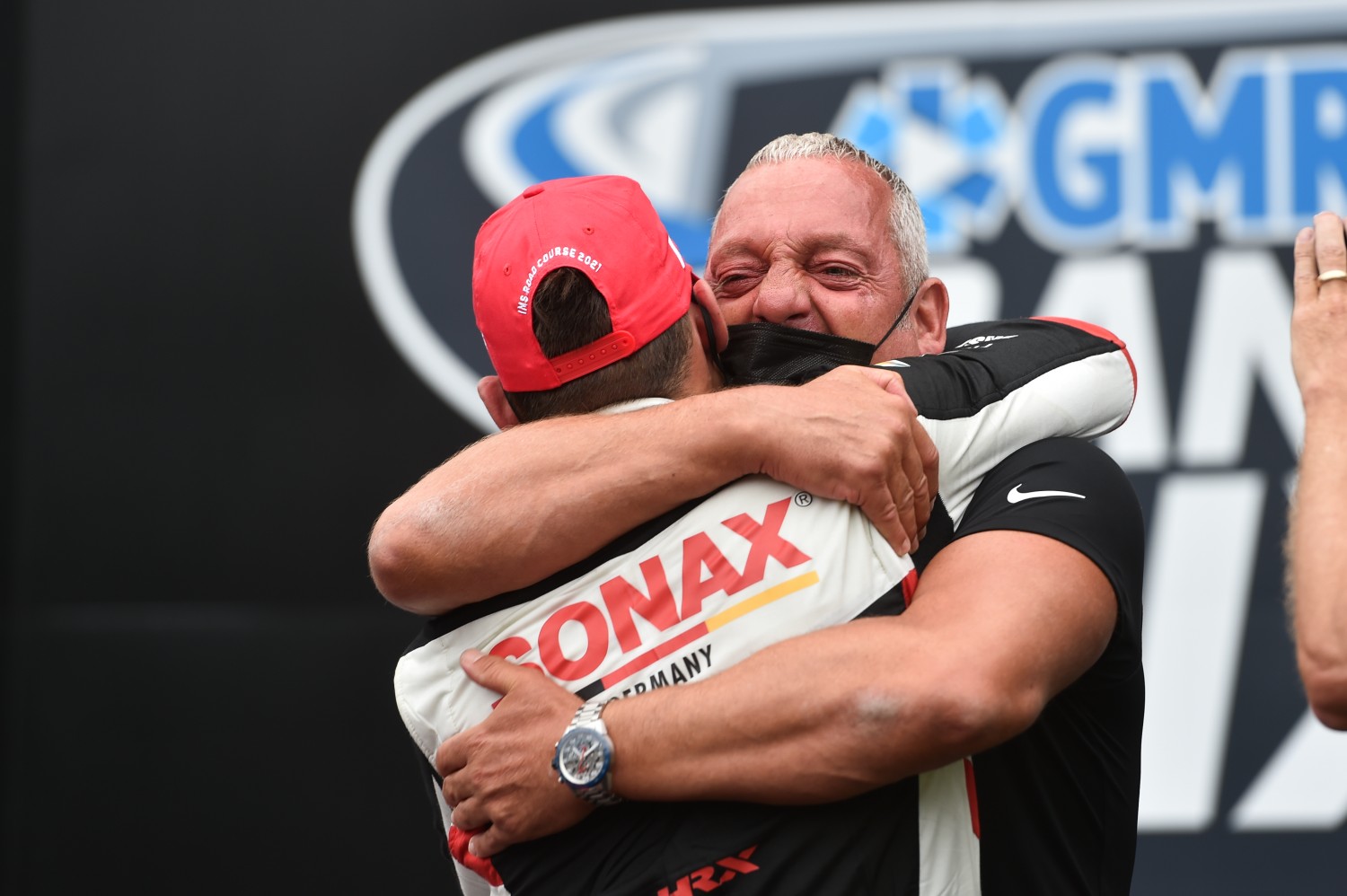 "I actually thought it, yeah," the confident VeeKay said when asked if he believed he could win this 85-lap race. "We had an awesome start to the weekend. I knew we had the car; we were so fast. I'm so happy for the team, so thankful. I couldn't have done it without them.
"A perfect day. It's amazing, and thank you to all the fans coming out. Getting my first podium here last year and now winning, it's a dream."
VeeKay, 20, became the sixth-youngest winner in INDYCAR SERIES history by delivering Ed Carpenter Racing its first victory since Josef Newgarden won in July 2016 at Iowa Speedway. VeeKay also became the first driver ever to win in the NTT INDYCAR SERIES and in all three rungs of the Road to Indy ladder series – Indy Lights, Indy Pro 2000 and USF2000.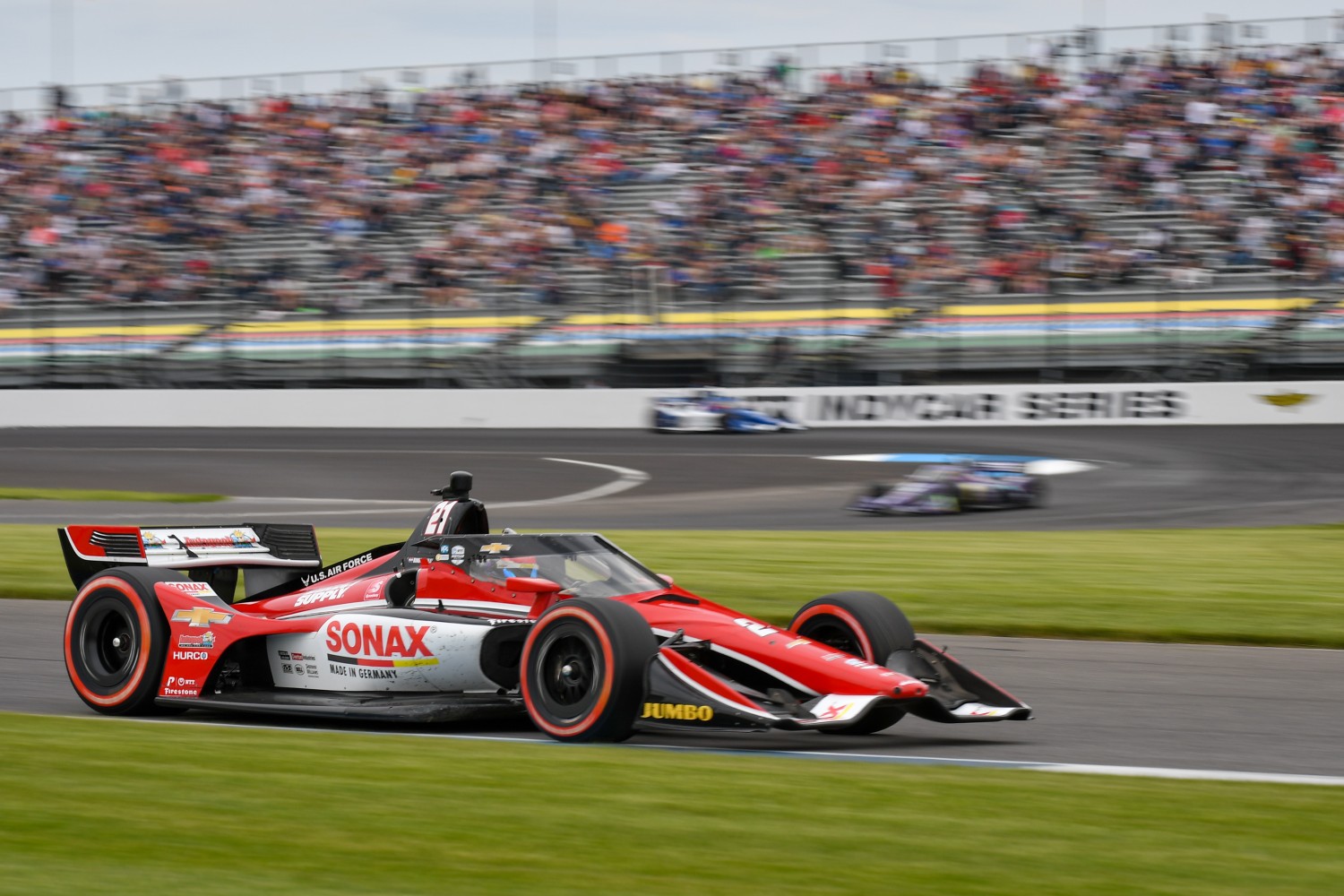 Then VeeKay managed his gap over Grosjean and traffic over the closing 20 laps as very light rain began to spatter the Speedway. The moisture never required a switch to rain tires, but it kept VeeKay and the rest of the 25-driver field atop their respective steering wheels.
VeeKay's margin over Grosjean was 9.0106 seconds with 10 laps to go. Grosjean, helped by Firestone alternate "red" tires that were three laps fresher than VeeKay's, sliced that gap nearly in half over the last 10 trips around the 14-turn, 2.439-mile circuit but never threatened VeeKay, who also slowed in his final laps to save enough fuel to finish.
"I was not concerned about the fuel," VeeKay said. "I just hoped the rain was not going to get worse. I'm standing in Victory Lane!"
Grosjean, who was starting on pole, dominated the first part of the race, gradually growing his lead with each lap and had a six second lead by the time he headed to pit lane on Lap 25 for his first of three stops.
The Swiss-born Frenchman then returned to the track in second place and regained the lead a couple of laps later when the car in front of him made his first stop.
Grosjean continued to lead until Lap 43 when his team decided to bring him into the pits for his second stop, but also to cycle him out of lapped traffic that was costing him precious time.
Despite good work by his #51 Nurtec ODT pit crew, Grosjean came out in third and moved up to second a couple of laps later before making his way back to first on Lap 60 when eventual race winner Rinus Veekay pit from the lead.
The Dale Coyne Racing with RWR driver led another few laps, for a total of 44 laps led, before making his final stop on Lap 63.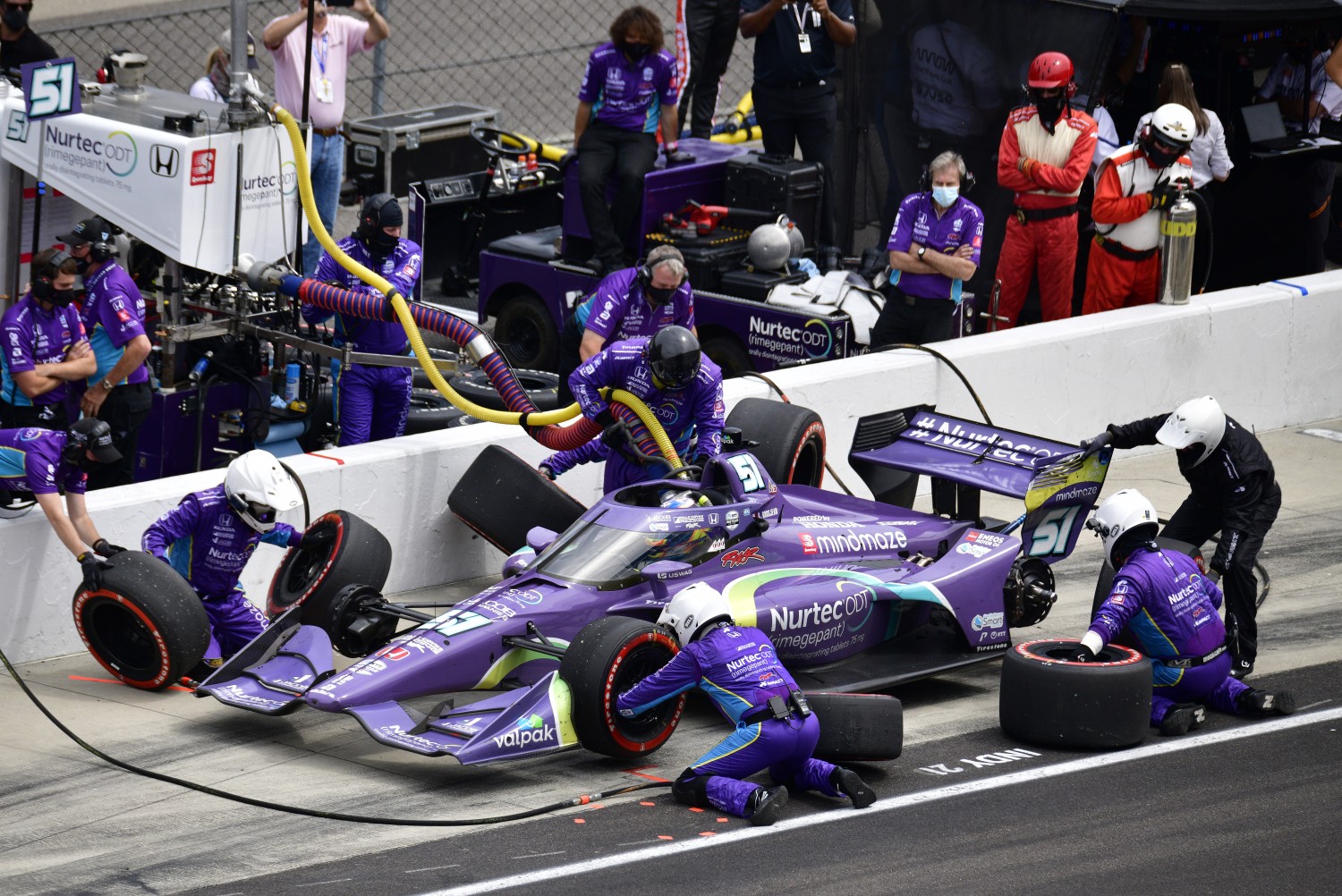 Grosjean once again exited pit lane in third and made his way back to second with 20 laps remaining. Despite chasing down the leader as best he could, Grosjean had to 'settle' for second after dominating the first part of the 85-lap event.
"It's not a bad day! I think we're kind of disappointed to be second but also super happy. I was telling the team, guys, it's a great day. You can't be disappointed being second. It's fantastic!" shared Grosjean. "We've had a strong car all weekend. We were leading the race quite easily in the first stint. We got a bit unlucky with traffic and back markers and I think that cost us a chance to go for the win, but also Rinus (Veekay) was quite fast on a different strategy. The right one, I guess.
"But we've done great work, and finishing second in my third race starting in INDYCAR, it's pretty big. It is a tough championship. There's super good talent here, super fast drivers."
Although Grosjean was disappointed in not turning his pole position into a win, he was happy with his first podium in over 10 years. It is clear that Grosjean is very happy being in IndyCar instead of F1 because in IndyCar the driver's talent actually means something.
"That's really a good day," Grosjean said. "I think we've done really good work this weekend. We learned at the start of the race, and we were super fast. We were a bit unlucky with the slower cars and traffic, but P2 in my third INDYCAR race is not too bad."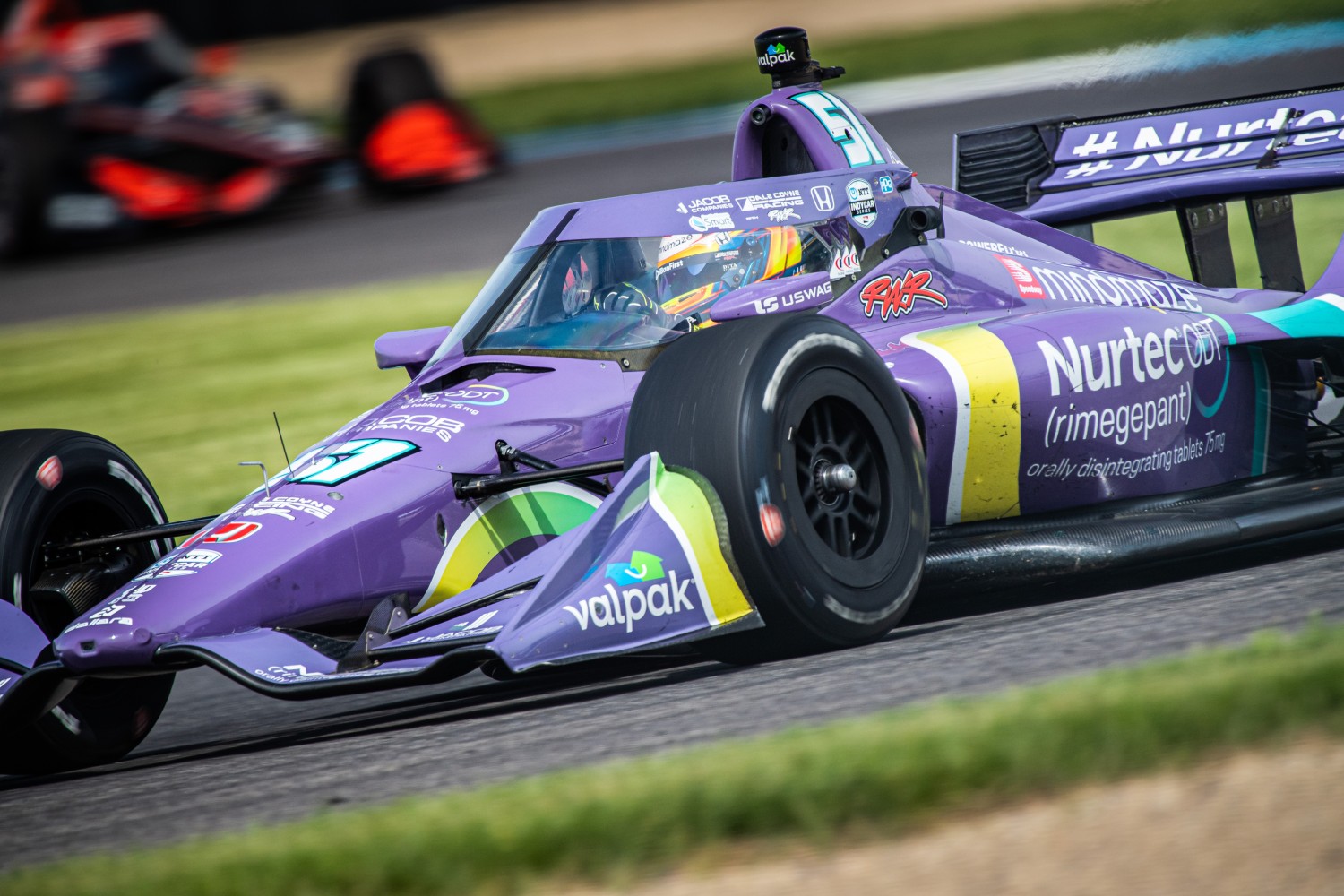 Fans at IMS serenaded Grosjean with cheers as he was interviewed on pit lane after the race. The Frenchman has gained worldwide acclaim and popularity for his positive attitude after suffering severe burns to his hands last November in a fiery crash at Bahrain that ended his F1 career.
"It's incredible," Grosjean said of the crowd. "Bahrain, it was horrible, but for my life it's been a great experience, and people really are behind me, and I can tell. I can feel it. The support I'm having is incredible. You only see me smiling here in the U.S."
Ganassi Racing's Alex Palou finished third, 15 seconds behind.
Outside polesitter Josef Newgarden was 4th  in the #2 Penske Chevy and Graham Rahal rounded out the top-5 after getting bumped off the track at the start in Turn 1 and requiring bodywork repairs.
"It was a good run for us today with a fourth-place finish with the No. 2 Snap-on Chevy," said Newgarden. "Even though it was a good run, it's a bit disappointing because we thought we had a winning car coming into the race, especially after qualifying second. It just didn't pan out. We were a little shy on pace, but still a good weekend. Team Chevy has done such a good job for us, and they won the race today, which is great. And to represent Snap-on today was special. The livery looked great and I'm happy to get a good result for one of the team's longest-running partnerships."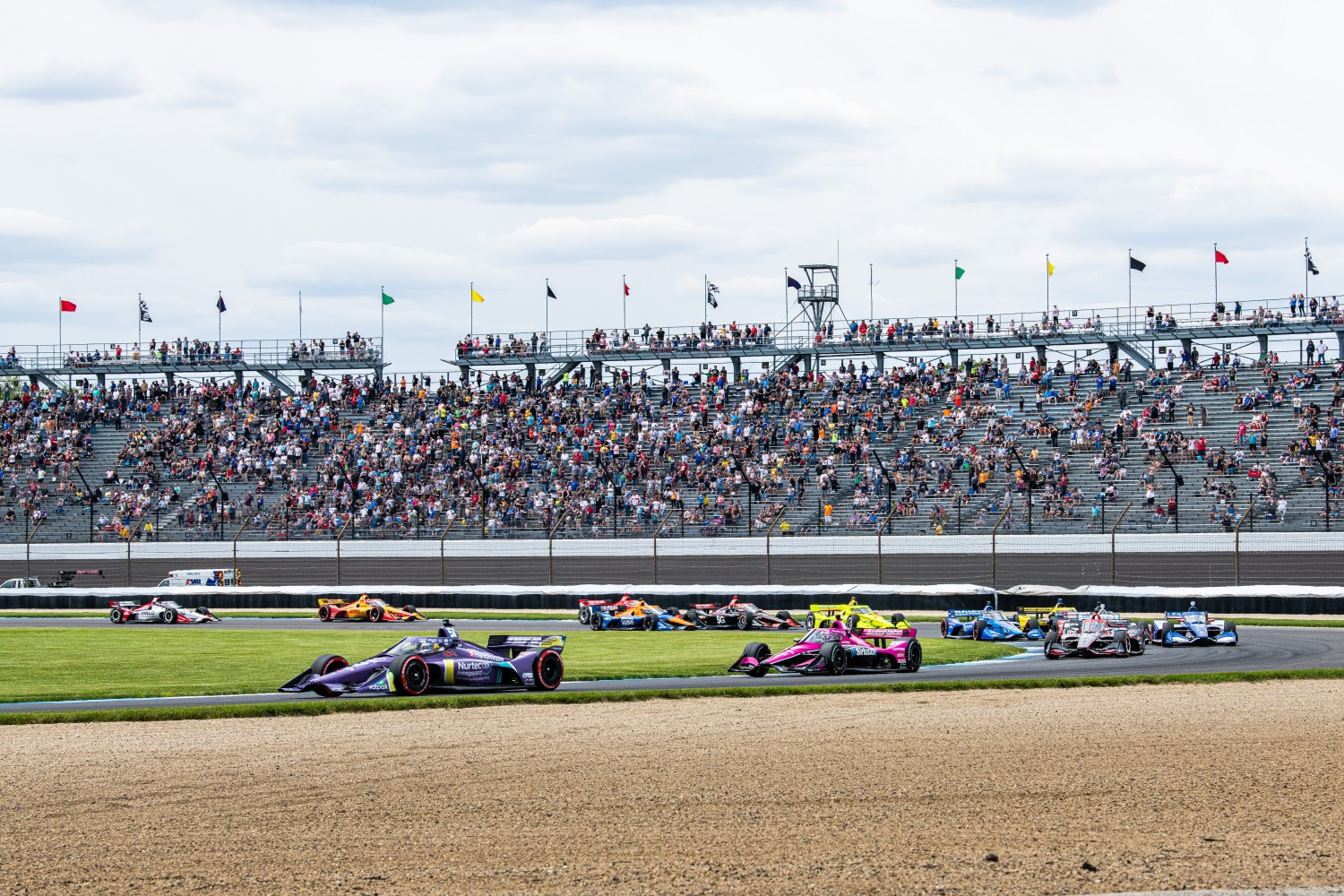 "Oh boy was that an exciting one," said Rahal.
"Obviously, the start I need to look at it. I thought I was giving enough room but obviously came in contact with Conor there. Our boys, we're going to nickname this race 'Chicken Salad' because to take that green flag 20+ seconds behind (the field after two stops) and be able to work our way up with a good car, good pace, good fuel saving, definitely one of the better drives I've ever had. I'm proud of these guys to get another top five. When you start that far behind it's remarkable. It's a good run for Fifth Third Bank, everybody in this organization, Honda with the fuel mileage, it's all just excellent stuff. I'm super happy with how this ended up. I've got to say I'm shocked but it was definitely a good run for us."
"(On the incident at the start:) I don't know what happened. Obviously, we had a pretty beat up car for the remainder of the race. The right rear was pretty beat up. But that happened so easily, I'm not really sure how it falls apart like that with so little contact but either way the biggest thing is just to keep the guys heads together and keep mine. Obviously that restart wasn't ideal – we topped up on fuel and restarted 20 seconds behind.  Imagine if we had restarted in the back of the pack and didn't have to make up the 20 seconds. But at the same time it was good because by the time I caught Montoya he had to pit. By the time I got to some of those guys in the sequence, they were having to pit so I could just keep going so the momentum just kept rolling but it was definitely a good day."
The youth movement continued in IndyCar. So far this year youngsters Pato O'Ward, Alex Palou, Colton Herta and now Veekay have come home winners.
All signs were pointing towards Jack Harvey racing to a podium return and potentially a breakthrough INDYCAR Series victory with Meyer Shank Racing on Sunday during the GMR Grand Prix, but a flat tire on lap 38 ended all hopes of him scoring his best career INDYCAR finish.
As one of the only cars in the top 10 to start on Firestone primary tires, Harvey quickly established a strong race pace as he grew his advantage on the pursing field. The team's tire strategy was looking to play out perfectly for Harvey who kept the leader within sight through the first two pit cycles.
But all hopes of what could have been an INDYCAR victory started to deteriorate on lap 36 following Harvey's second stop. After an issue with the wheel gun during the stop, Harvey returned on track looking to make up ground. But the setback was compounded significantly when the tire lost pressure and Harvey was forced to make a slow lap back to the pits for a replacement.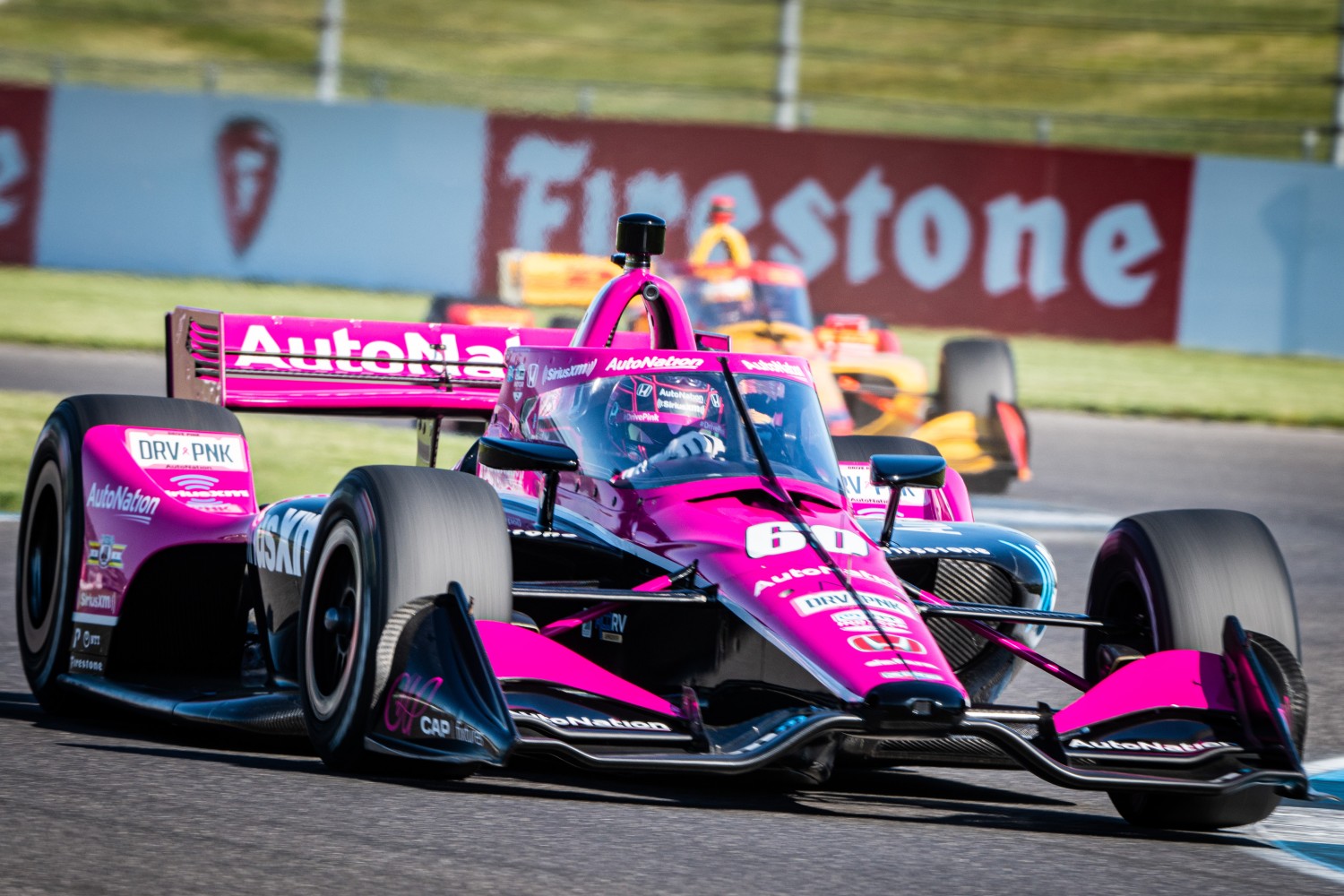 "We had a really great start and held P2 for a decent bit there," said Harvey. "The strategy was just great and we had a five second lead on the guy that ended up winning the race. But on that second pit stop we had a wheel gun fail. We talk about it week in and week out, that we do this all as a team, and that's easy to say when you're having a good weekend. This is when it matter now, for us all to come together and to reset. The next one is always the important one, whether its Indy or Detroit, we'll be ready."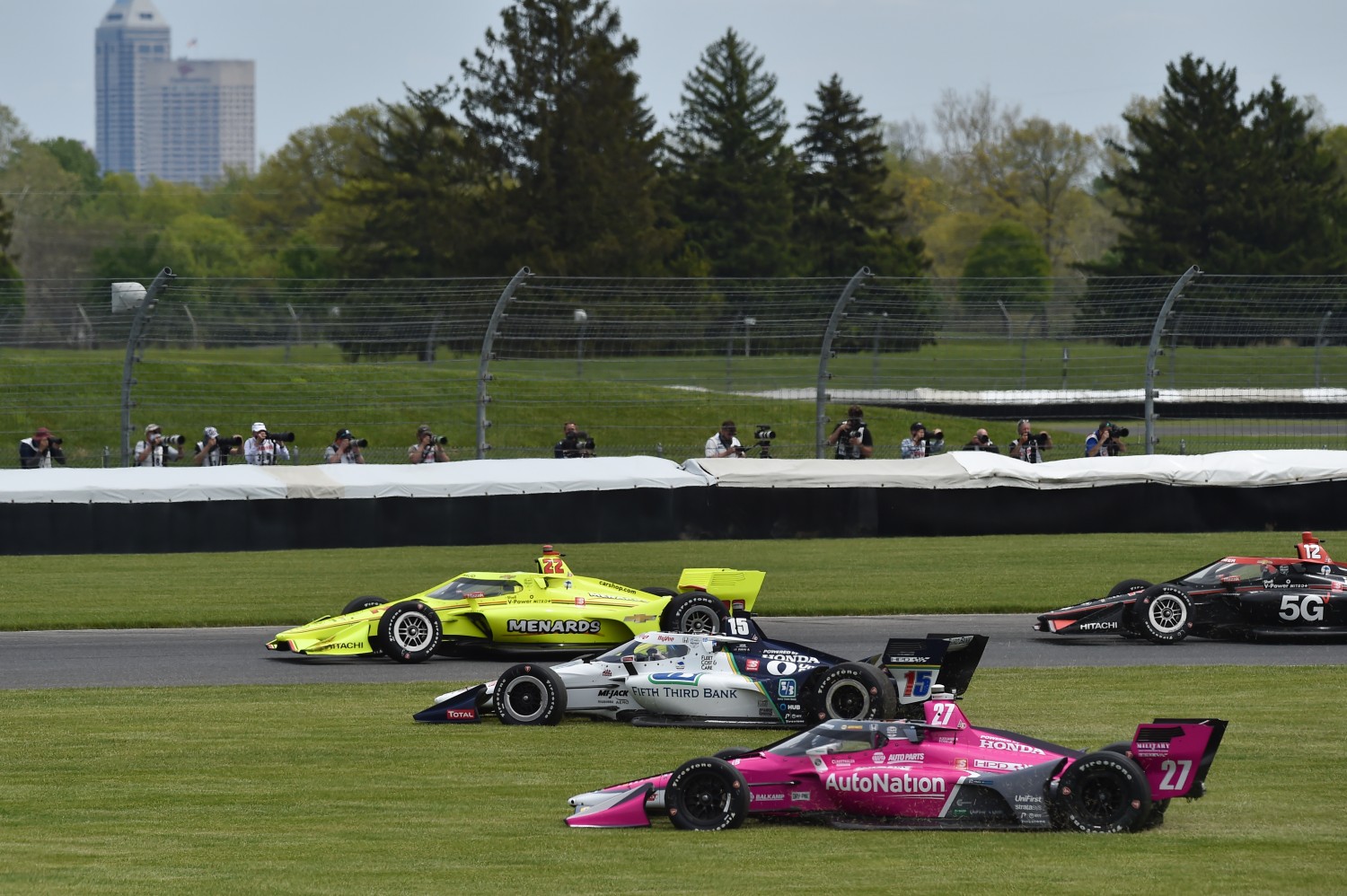 Dixon kept the championship lead, 176-163, over second place Ganassi teammate Palou. Dixon finished ninth today after starting 16th.
Quotes
WINNING AT INDIANAPOLIS. AT THE BEGINNING OF THE DAY, DID YOU THINK THIS COULD HAPPEN?
"I actually thought it, yeah. We had an awesome start to the weekend. I knew we had the car; we were so fast. I'm so happy for the team, so thankful. I couldn't have done it without them. A perfect day. It's amazing, and thank you to all the friends coming out. Getting my first podium here last year and now winning, it's a dream."
OVER THE FINAL FEW LAPS, WERE YOU EVER FAZED BY THE RAIN OR THEM TELLING YOU TO SAVE FUEL OR ANY OF THAT?
"I was not concerned about the fuel. I just hoped the rain was not going to get worse. I'm standing in Victory Lane."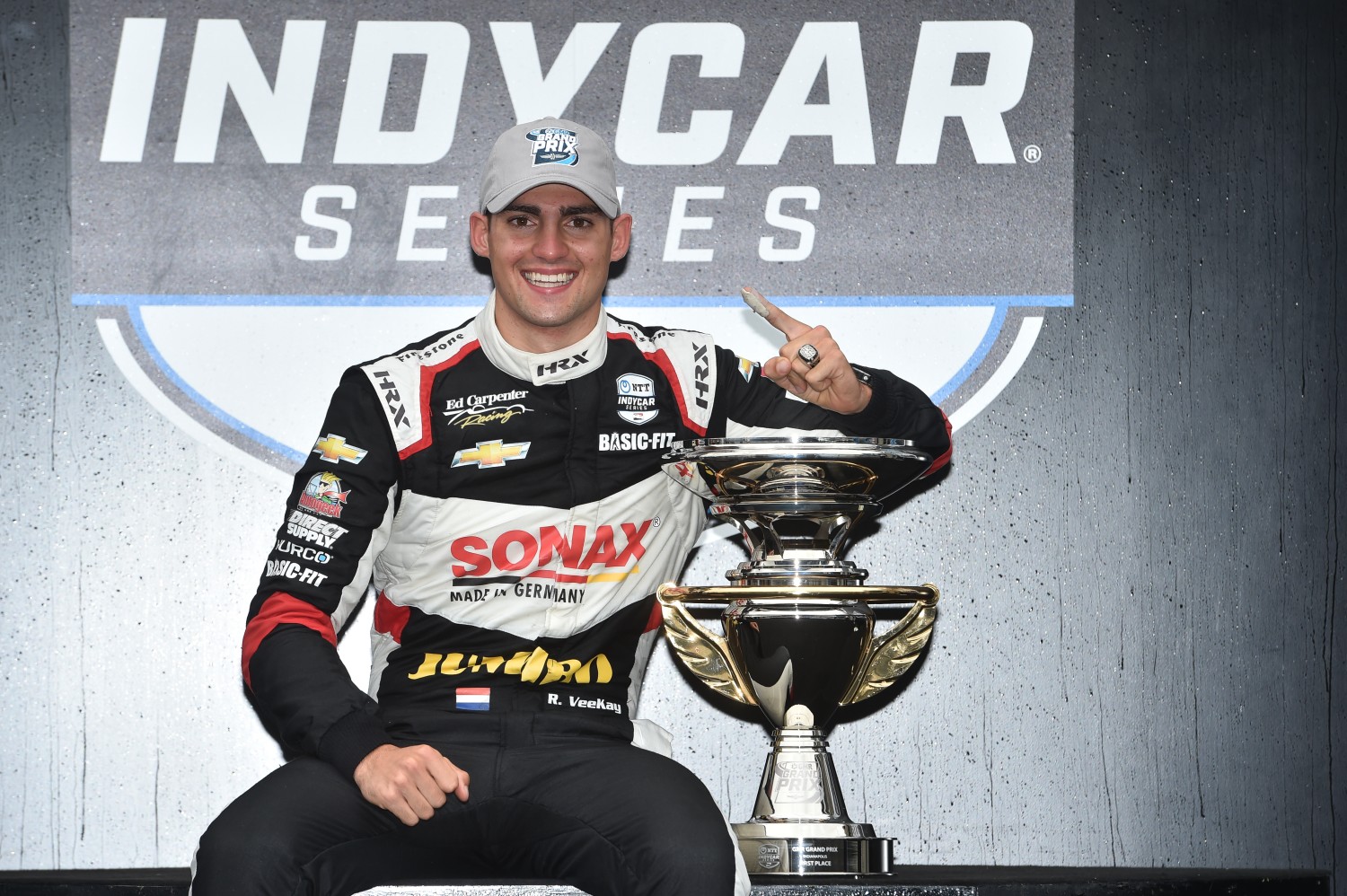 THE JOURNEY TO GET HERE AND HOW MUCH YOUR MOM AND DAD HAVE SUPPORTED YOU. WHAT DOES THAT MEAN TO YOU?
"It's amazing. It's great to have them here. It's hard to get them overseas, but it's a dream come true not just for me but for the team, it's for the family, everyone at home. I'm extremely grateful. My parents sacrificed everything to get me up here. I'm extremely happy."
Race Results
| | | | | | | | | | | |
| --- | --- | --- | --- | --- | --- | --- | --- | --- | --- | --- |
| Pos | No | Name | Laps | Diff | Gap | Led | ST | Engine | Points | Team |
| 1 | 21 | Rinus VeeKay | 85 | 0.000s | 0.000s | 33 | 7 | Chevy | 135 | Ed Carpenter Racing |
| 2 | 51 | Romain Grosjean | 85 | 4.9510 | 4.9510 | 44 | 1 | Honda | 81 | Dale Coyne Racing w/Rick Ware Racing |
| 3 | 10 | Alex Palou | 85 | 15.0726 | 10.1216 | 1 | 4 | Honda | 163 | Chip Ganassi Racing |
| 4 | 2 | Josef Newgarden | 85 | 18.4472 | 3.3746 | 0 | 2 | Chevy | 148 | Team Penske |
| 5 | 15 | Graham Rahal | 85 | 26.9813 | 8.5341 | 0 | 11 | Honda | 137 | Rahal Letterman Lanigan Racing |
| 6 | 22 | Simon Pagenaud | 85 | 27.8704 | 0.8891 | 0 | 10 | Chevy | 130 | Team Penske |
| 7 | 27 | Alexander Rossi | 85 | 33.2703 | 5.3999 | 0 | 14 | Honda | 91 | Andretti Autosport |
| 8 | 3 | Scott McLaughlin | 85 | 36.1862 | 2.9159 | 0 | 5 | Chevy | 123 | Team Penske |
| 9 | 9 | Scott Dixon | 85 | 36.8362 | 0.6500 | 3 | 16 | Honda | 176 | Chip Ganassi Racing |
| 10 | 8 | Marcus Ericsson | 85 | 37.1971 | 0.3609 | 0 | 15 | Honda | 99 | Chip Ganassi Racing |
| 11 | 12 | Will Power | 85 | 39.8020 | 2.6049 | 0 | 12 | Chevy | 118 | Team Penske |
| 12 | 28 | Ryan Hunter-Reay | 85 | 40.3892 | 0.5872 | 4 | 19 | Honda | 75 | Andretti Autosport |
| 13 | 26 | Colton Herta | 85 | 43.1147 | 2.7255 | 0 | 8 | Honda | 117 | Andretti Autosport |
| 14 | 18 | Ed Jones | 85 | 43.8110 | 0.6963 | 0 | 9 | Honda | 67 | Dale Coyne Racing with Vasser Sullivan |
| 15 | 5 | Pato O'Ward | 85 | 44.5448 | 0.7338 | 0 | 18 | Chevy | 146 | Arrow McLaren SP |
| 16 | 30 | Takuma Sato | 85 | 44.9971 | 0.4523 | 0 | 17 | Honda | 98 | Rahal Letterman Lanigan Racing |
| 17 | 7 | Felix Rosenqvist | 85 | 45.4208 | 0.4237 | 0 | 13 | Chevy | 71 | Arrow McLaren SP |
| 18 | 29 | James Hinchcliffe | 85 | 65.1989 | 19.7781 | 0 | 22 | Honda | 56 | Andretti Steinbrenner Autosport |
| 19 | 14 | Sebastien Bourdais | 84 | 1 LAPS | 16.9088 | 0 | 20 | Chevy | 79 | AJ Foyt Enterprises |
| 20 | 4 | Dalton Kellett | 84 | 1 LAPS | 10.6891 | 0 | 24 | Chevy | 48 | AJ Foyt Enterprises |
| 21 | 86 | Juan Pablo Montoya | 84 | 1 LAPS | 2.4217 | 0 | 25 | Chevy | 9 | Arrow McLaren SP |
| 22 | 11 | Charlie Kimball | 84 | 1 LAPS | 3.8046 | 0 | 21 | Chevy | 8 | AJ Foyt Enterprises |
| 23 | 60 | Jack Harvey | 84 | 1 LAPS | 41.4656 | 0 | 3 | Honda | 97 | Meyer Shank Racing |
| 24 | 48 | Jimmie Johnson | 83 | 1 LAPS | 4.6758 | 0 | 23 | Honda | 25 | Chip Ganassi Racing |
| 25 | 20 | Conor Daly | 50 | Contact | 18 LAPS | 0 | 6 | Chevy | 48 | Ed Carpenter Racing |
Lead Change Summary
| | | |
| --- | --- | --- |
| On Lap | Car | Leader |
| 1 | 51 | Grosjean, Romain |
| 25 | 10 | Palou, Alex |
| 26 | 9 | Dixon, Scott |
| 28 | 51 | Grosjean, Romain |
| 44 | 28 | Hunter-Reay, Ryan |
| 48 | 21 | VeeKay, Rinus |
| 60 | 51 | Grosjean, Romain |
| 64 | 9 | Dixon, Scott |
| 65 | 21 | VeeKay, Rinus |