IMSA: Tincknell Wins First Motul Pole Award for Mazda at Mid-Ohio
Mazda stole the Saturday headlines from rival manufacturer and race host Acura at Mid-Ohio Sports Car Course as Harry Tincknell earned the Motul Pole Award for the Acura Sports Car Challenge Presented by the TLX Type S.
Tincknell lapped the 13-turn, 2.258-mile road course in 1 minute, 10.027 seconds (116.080 mph) in the No. 55 Mazda Motorsports Mazda DPi. That smashed the Mid-Ohio track record for the Daytona Prototype international class of the IMSA WeatherTech SportsCar Championship by almost 0.7 seconds. The previous record was also held by a Mazda DPi and set in May 2019 by Oliver Jarvis.
Filipe Albuquerque (No. 10 Wayne Taylor Racing Acura ARX-05) qualified second with a lap timed at 1:10.122 (115.923 mph), with another Acura – the No. 60 out of the Meyer-Shank Racing with Curb Agajanian stable driven by Dane Cameron – third at 1:10.355 (115.539 mph).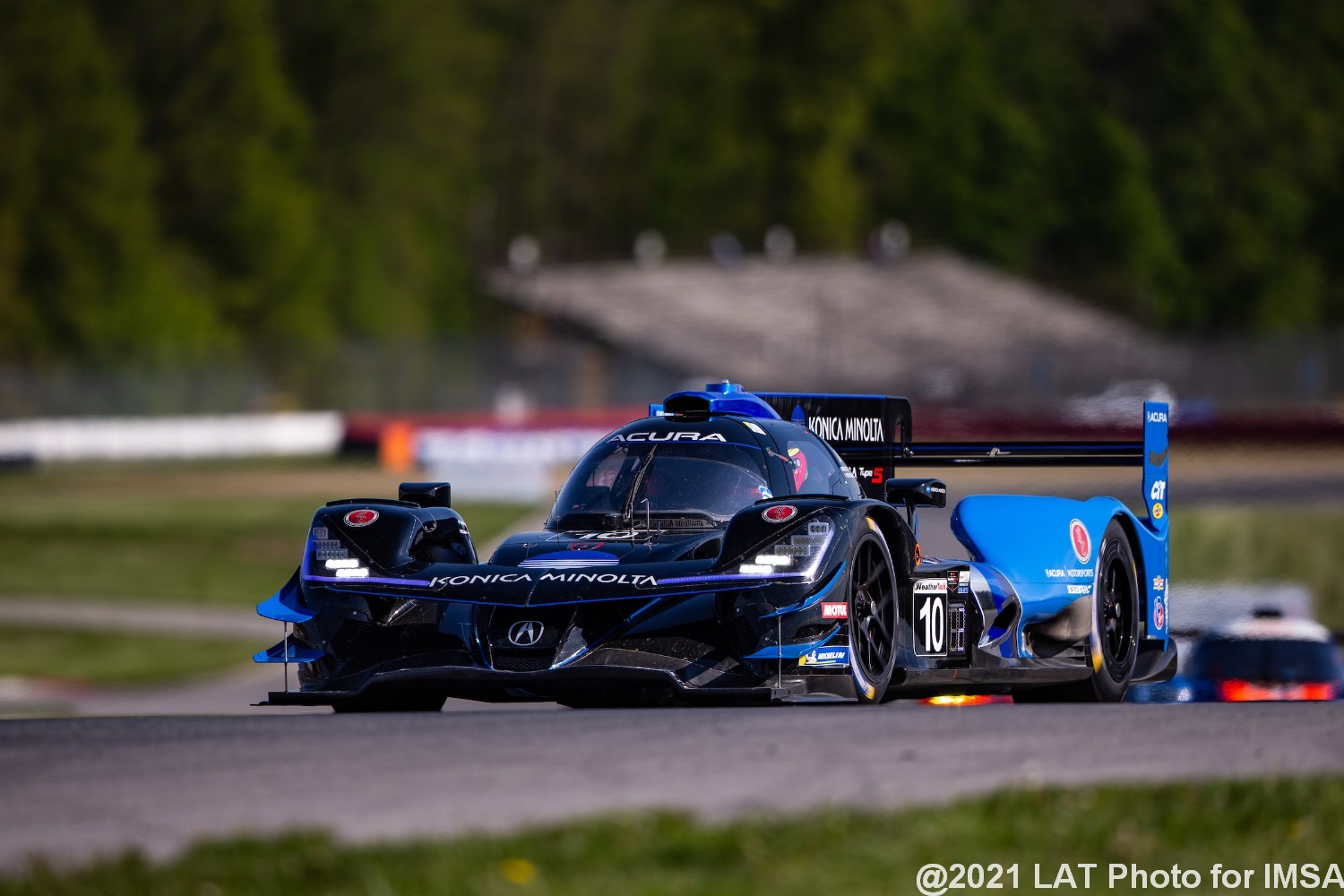 The Saturday morning practice session gave an idea of how intense the action in qualifying would be, as Cameron's fastest lap bested Pipo Derani (No. 31 Action Express Racing Cadillac DPi) by nearly a quarter of a second.
But it was the lone Mazda entry that shot to the fore in qualifying, as Tincknell mastered the warming conditions to produce a blistering lap that earned his first IMSA pole position.
"Seventy seconds around Mid-Ohio is really pushing on quite a bit," said Tincknell, who boasts four WeatherTech Championship race wins. "It was definitely a rollercoaster ride, but I'm really happy. We didn't have the fastest car in the first couple races, but we've really come out of it well (finishing third at Daytona and second at Sebring). There's a long race ahead of us, but we're really happy to be starting up front."
Tincknell and his Mazda teammate Jarvis were near the bottom of the DPi timing charts in practice, but they found speed when it counted.
The 29-year-old Englishman admitted that he never expected to lap under the track record by such a large margin. He set his time with more than five minutes remaining in the 15-minute qualifying session.
"I was surprised because we hadn't shown anywhere nearly that pace so far during the weekend," he said. "The sun has come out today, and I think that helped us a bit. That's the best the car has felt around here by a long way and the new surface around Turn 2 perhaps provides a bit more grip.
Robinson Breaks Through for First LMP3 Pole
In LMP3 practice, Dylan Murry (No. 91 Riley Motorsports) eked out a margin over second fastest Joao Barbosa (No. 33 Sean Creech Motorsports) of just 0.056 seconds. But neither entry figured in the battle for class pole position.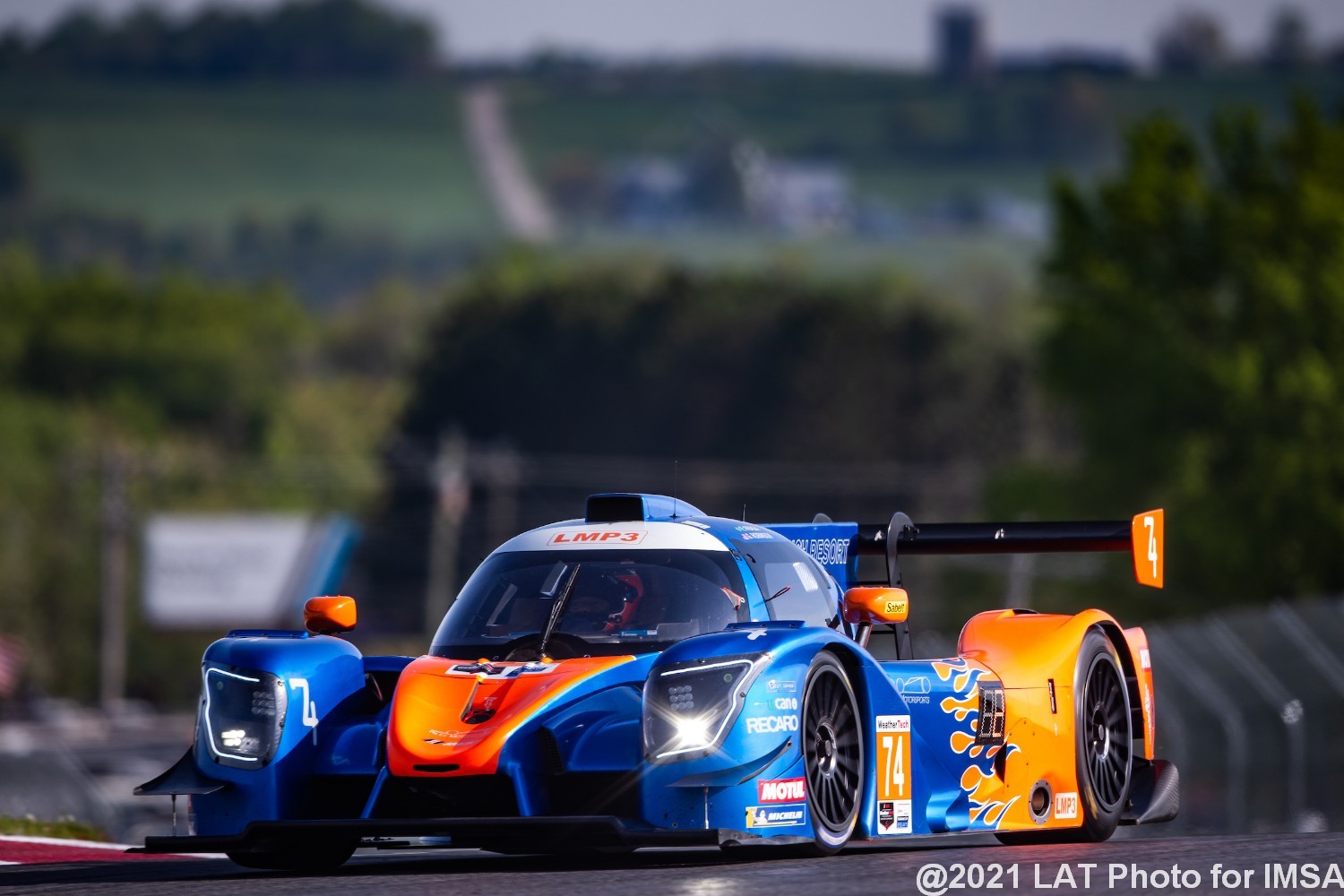 Instead, Gar Robinson (No. 74 Riley Motorsports) and Jon Bennett (No. 54 CORE autosport) waged an intense battle, swapping the top spot half a dozen times before Robinson settled the matter with 1:17.246 (105.232 mph) lap.
Jarrett Andretti (No. 36 Andretti Autosport) inserted himself into the mix and briefly moved up to second place, but Bennett's final effort of 1:17.632 (104.709 mph) was quicker than Andretti by a tenth.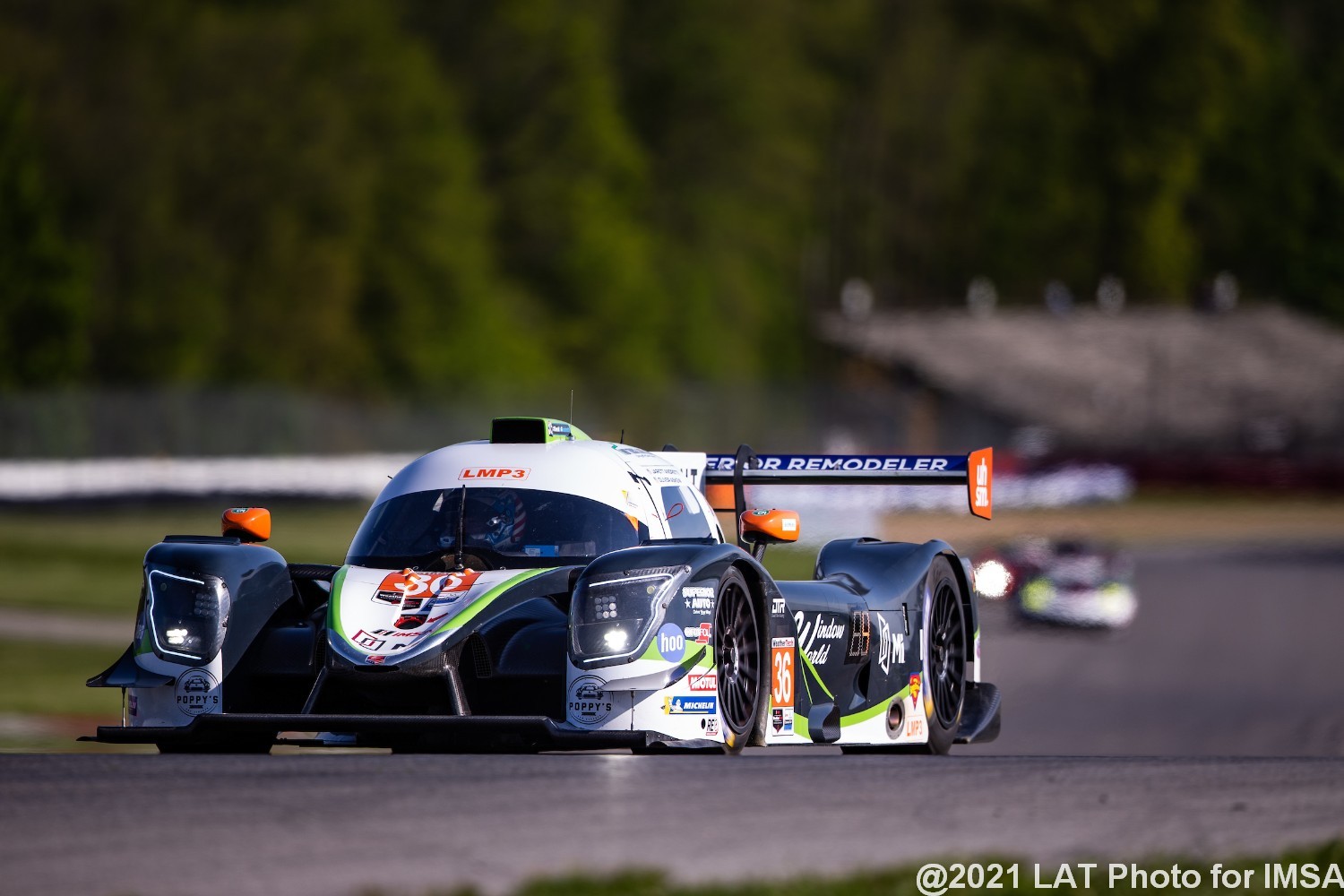 It was Robinson's first career LMP3 Motul Pole Award in WeatherTech Championship competition.
"I could hear from [team owner] Bill Riley that Jarrett and Jon were on flyers, so I knew I had to keep pushing, just trying to keep the gap behind me," said Robinson, a second-generation sports car racer who hails from San Antonio, Texas and currently resides in Detroit. "We'll try to keep that for tomorrow as well.
"This track has always been really good to me," he added. "I had my first professional race win in Trans-Am here, and I've just kind of carried the attitude and momentum from back then."
Robinson and the Riley team won the LMP3 class in the season-opening Rolex 24 At Daytona International Speedway.
Sunday's action at Mid-Ohio features live coverage from NBCSN starting at 2:30 ET.
By John Oreovicz for IMSA
Lexus Continues Torrid GTD Pace at Mid-Ohio
The No. 14 Vasser Sullivan Lexus RC F GT3 will start from the GT Daytona (GTD) pole in Sunday's Acura Sports Car Challenge Presented by the TLX Type S, thanks to Aaron Telitz. But Patrick Long was able to stretch the season points lead for the No. 16 Wright Motorsports Porsche 911 GT3R.
Under the GTD qualifying format introduced this season in the IMSA WeatherTech SportsCar Championship, two 15-minute sessions are held. The first session, limited to a Bronze- or Silver-rated driver, determines the race starting position for each car. That's when Telitz put in a last-minute flyer in the No. 14 Lexus to take the Motul Pole Award with a lap of 1 minute, 20.529 seconds (100.942 mph) around Mid-Ohio Sports Car Course.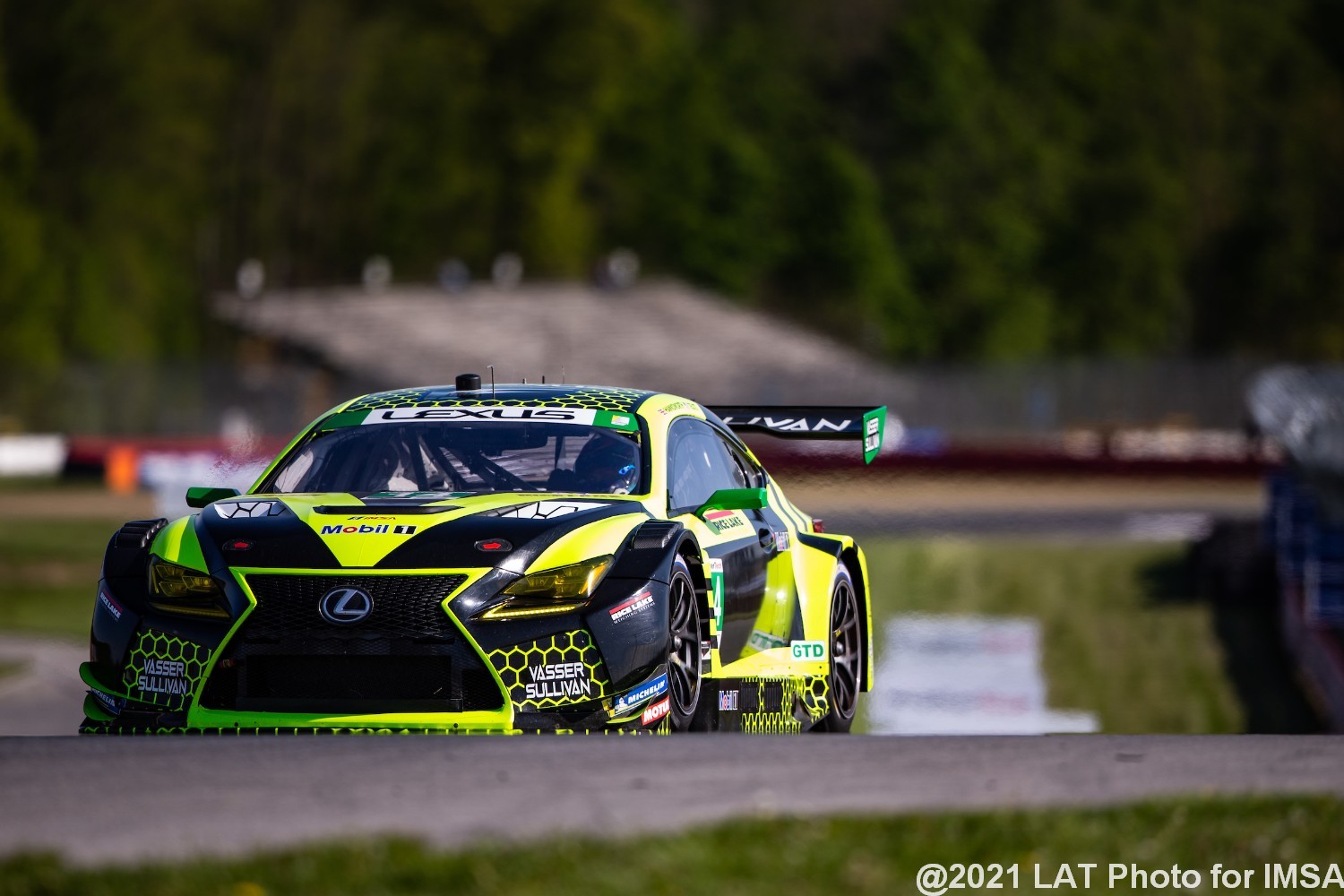 For the second GTD qualifying session, teams must change drivers. Like Telitz, Long saved his best for last, rolling off a 1:20.083 (101.504 mph) lap in the No. 16 Porsche to collect the maximum 35 points available toward the season-long WeatherTech Championship as well as the IMSA WeatherTech Sprint Cup that kicks off this weekend.
Telitz was delighted to put his car at the front of the grid, at a track where Lexus has dominated. The marque has won three straight GTD races at Mid-Ohio. Vasser Sullivan has fielded the last two winners, including a 2020 victory from Telitz and co-driver Jack Hawksworth in the No. 14.
"The track changed a bit from (practice) this morning to this afternoon for qualifying," Telitz said after earning his fourth career pole. "Just figuring out what the car needed a little bit differently in qualifying there and it took a little bit longer for the tires to come in than I was expecting. Normally, we do a (fast) lap a little earlier in the Lexus, the tires come in a little quicker, so it was kind of strange to do the lap on the last lap. But I'm glad to get it done, glad to be up for pole position for Vasser Sullivan and Lexus."
Robby Foley qualified the No. 96 Turner Motorsport BMW M6 GT3 second, just 0.006 seconds shy of Telitz's pole-winning effort. Daniel Morad drove the No. 28 Alegra Motorsports Mercedes-AMG GT3 to the third starting spot for the second straight race this season. They all seem to be chasing the Lexuses, however, which perform well at Mid-Ohio.
"Mid-Ohio has a lot of high-speed and medium-speed corners, and that is what the Lexus likes the most," Telitz said. "Just the fact there's only two really slow corners really helps us. It flows a lot; the sections flow together. That just suits our car so that's why we've been doing so well the last four years here."
Long, meanwhile, was eager to show what the Ohio-based Wright Motorsports Porsche could do in the points-paying session after co-driver Ryan Hardwick qualified a disappointing 11th in the grid-deciding portion. Long's fast lap was 0.126 seconds better than Zach Veach in the No. 12 Vasser Sullivan Lexus.
"Ryan was pretty unhappy with his performance and with the car and with the circuit," Long said. "He sort of gave me a pat on the back and his few tips and wished me the best. We were able to time it perfectly, roll the dice a little bit and come out of the pits later than everybody by a couple of laps. So that's a testament to the team and their strategy."
With the 35 points earned, Long expanded his provisional season points lead to 50 over the nearest full-season GTD competitors, Zacharie Robichon and Laurens Vanthoor of the No. 9 Pfaff Motorsports Porsche.
"Based on last year, coming up one or two points short of the championship, we know that every single point is going to count," Long said.
The competitiveness of the GTD class was on display in both sessions. The fastest nine cars in each were separated by less than a second on the 2.258-mile, 13-turn road course. Long, though, feels confident the No. 16 Porsche can be a threat, even starting near the back.
"It's going to be a very dicey race with multiple classes," Long said. "It's very dirty off-line so it's hard to make passes. There's going to be a lack of patience between different classes. Other than that, there's going to be a pretty tight strategy on fuel in the GTD class. Plenty to play for, lots of racing, strategy, at least two pit stops. We're feeling OK. Starting position isn't a big deal."
by Mark Robinson for IMSA
Qualifying Results
| | | | | | | |
| --- | --- | --- | --- | --- | --- | --- |
| Pos | Class | No. | Drivers | Team | Car | Time |
| 1 | DPi | 55 | O. Jarvis / H. Tincknell | Mazda Motorsports | Mazda DPi | 1:10.027 |
| 2 | DPi | 10 | R. Taylor / F. Albuquerque | Konica Minolta Acura ARX-05 | Acura DPi | 1:10.122 |
| 3 | DPi | 31 | F. Nasr / P. Derani | Whelen Engineering Racing | Cadillac DPi | 1:10.432 |
| 4 | DPi | 01 | R. van der Zande / K. Magnussen | Cadillac Chip Ganassi Racing | Cadillac DPi | 1:10.934 |
| 5 | DPi | 5 | T. Vautier / L. Duval | Mustang Sampling / JDC-Miller MotorSports | Cadillac DPi | 1:10.567 |
| 6 | DPi | 60 | D. Cameron / O. Pla | Meyer Shank Racing w/Curb-Agajanian | Acura DPi | 1:10.355 |
| 7 | LMP3 | 74 | G. Robinson / F. Fraga | Riley Motorsports | Ligier JS P320 | 1:17.246 |
| 8 | LMP3 | 54 | J. Bennett / C. Braun | Core Autosport | Ligier JS P320 | 1:17.632 |
| 9 | LMP3 | 36 | J. Andretti / O. Askew | Andretti Autosport | Ligier JS P320 | 1:17.713 |
| 10 | LMP3 | 38 | R. Lindh / D. Goldburg | Performance Tech Motorsports | Ligier JS P320 | 1:19.347 |
| 11 | LMP3 | 33 | L. Willsey / J. Barbosa | Sean Creech Motorsport | Ligier JS P320 | 1:19.629 |
| 12 | LMP3 | 91 | J. Cox / D. Murry | Riley Motorsports | Ligier JS P320 | 1:19.444 |
| 13 | GTD | 14 | A. Telitz / J. Hawksworth | Vasser Sullivan | Lexus RC F GT3 | 1:20.529 |
| 14 | GTD | 96 | B. Auberlen / R. Foley | Turner Motorsport | BMW M6 GT3 | 1:20.535 |
| 15 | GTD | 28 | D. Morad / M. de Quesada | Alegra Motorsports | Mercedes-AMG GT3 | 1:20.687 |
| 16 | GTD | 12 | F. Montecalvo / Z. Veach | Vasser Sullivan | Lexus RC F GT3 | 1:20.812 |
| 17 | GTD | 1 | B. Sellers / M. Snow | Paul Miller Racing | Lamborghini Huracan GT3 | 1:20.941 |
| 18 | GTD | 23 | R. De Angelis / R. Gunn | Heart Of Racing Team | Aston Martin Vantage GT3 | 1:21.139 |
| 19 | GTD | 76 | J. Kingsley / M. Farnbacher | Compass Racing | Acura NSX GT3 | 1:21.332 |
| 20 | GTD | 39 | R. Heistand / J. Westphal | CarBahn with Peregrine Racing | Audi R8 LMS GT3 | 1:21.478 |
| 21 | GTD | 66 | T. Bechtolsheimer / M. Miller | Gradient Racing | Acura NSX GT3 | 1:21.856 |
| 22 | GTD | 16 | R. Hardwick / P. Long | Wright Motorsports | Porsche 911 GT3R | 1:21.975 |
| 23 | GTD | 88 | R. Ferriol / K. Legge | Team Hardpoint EBM | Porsche 911 GT3R | 1:22.036 |
| 24 | GTD | 44 | J. Potter / A. Lally | Magnus with Archangel | Acura NSX GT3 | 1:22.131 |
| 25 | GTD | 9 | Z. Robichon / L. Vanthoor | Pfaff Motorsports | Porsche 911 GT3R | 1:20.952 |