NHRA: Forces Sweep No.1 Qualifying Positions At Zmax Dragway
The father daughter duo of John and Brittany Force swept the nitro No. 1 qualifying positions for the third time in their careers. The Flav-R-Pac dragster secured it's 22nd No. 1 while the PEAK / BlueDEF Platinum Chevrolet Camaro tallied it's 161st at the NGK NTK NHRA Four-Wide Nationals at zMAX Dragway just outside of Charlotte, N.C. Robert Hight and the Automobile Club of Southern California Camaro rounded out qualifying in the No. 15 position.
In 2019, Brittany and John qualified No. 1 together at the SpringNationals in Houston and the Texas FallNationals in Dallas. At the Houston event, Brittany went on to win the race for the second consecutive year. As a team, the No. 1 qualifiers are the 337th and 338th for John Force Racing and the fifth and sixth at the NHRA Four-Wide at zMAX Dragway.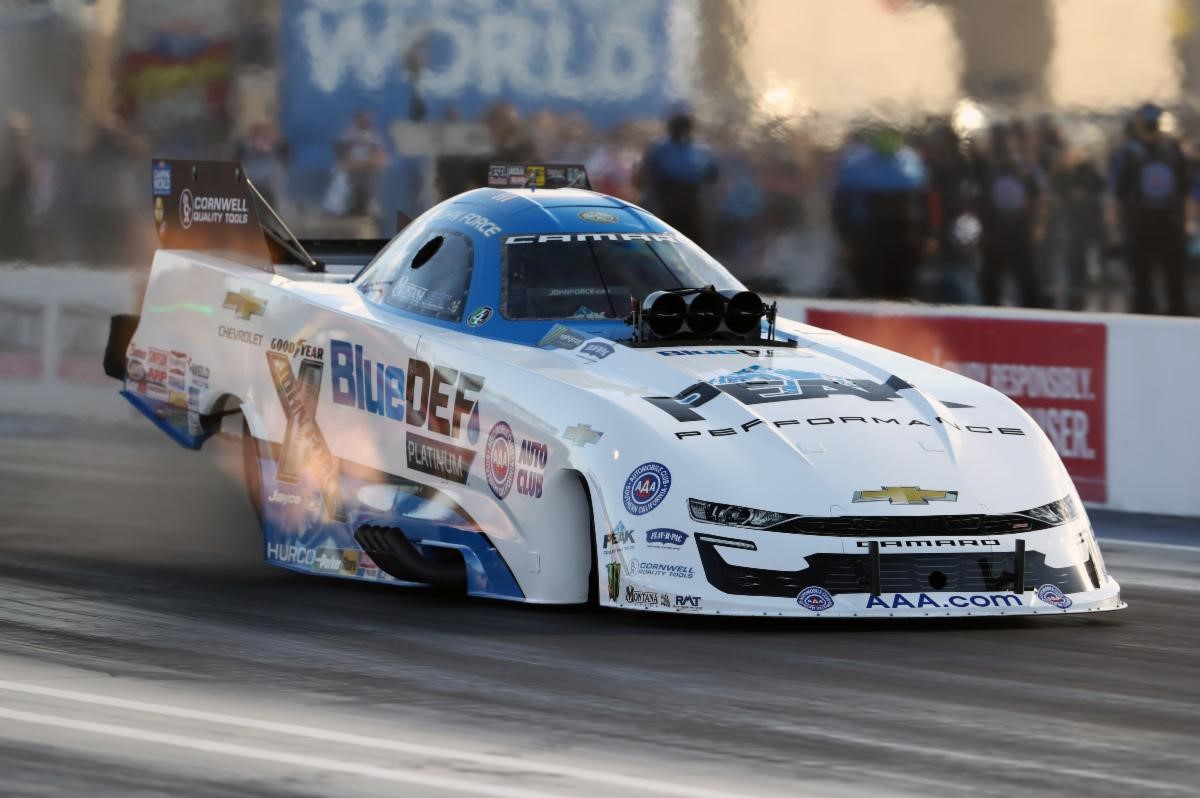 Entering the day from the No. 16 position after experiencing tire smoke right at the hit on Friday night, John Force (shown above) powered his PEAK / BlueDEF Chevy to an impressive 3.904-second pass at 328.30 mph to start Saturday. With one qualifying run left, Force and the BlueDEF team continued to put on a show when they ran 3.902-seconds at 330.55 mph to solidify their No. 1 position.
"It's exciting, I get to wear one of these hats here with Camping World, we're with Jayco and they sell a lot of product there. Taking this PEAK BlueDEF Chevy to No. 1 with Brittany and Flav-R-Pac over there. It means a lot, being out here with her, I love my kids and my grandkids," Force said. "Daniel Hood and Tim Fabrisi, these guys all make it happen for me, I'm just a shoe. We've been learning a lot and all the teams work together. Daniel Hood and Tim, they work really well together. We've struggled in the past, so, you know, runner up last event and then come out here low ET, that's good for your feelings. Now you have to make it count tomorrow. They're doing the job, I'm driving, give me a good car and I'll win races. So, we'll see where it goes.
"Also, Bruton Smith, I got you a low ET hat and I'm going to sign it for you," Force added. "Remember what I said, your race tracks don't know how old you are and my race car sure as heck don't know how old I am."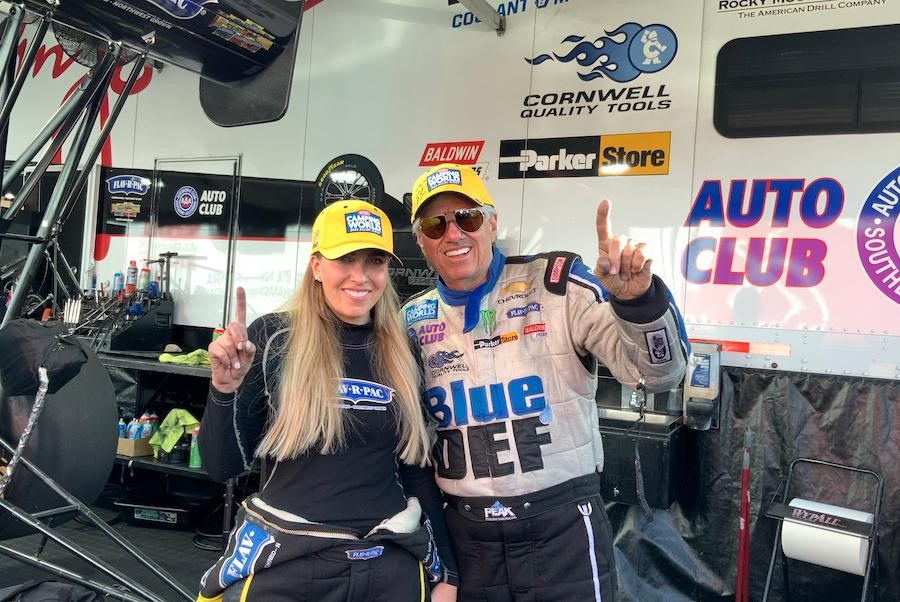 For the 30th season in his career, Force will begin at least one National event from the No. 1 qualifying position. To kick of the day, Force will face off with Dale Creasy, Mike McIntire and Dave Richards.
Brittany Force and the Flav-R-Pac dragster team held onto their No. 1 position from their track record run Friday night under the lights. With header flames lit they went 3.662-seconds at 333.08 mph. On Saturday, the Flav-R-Pac team ran into tire smoke during both runs going 4.265-seconds at 194.91 mph in the first try and 5.711 at 111.58 in their final go before race day.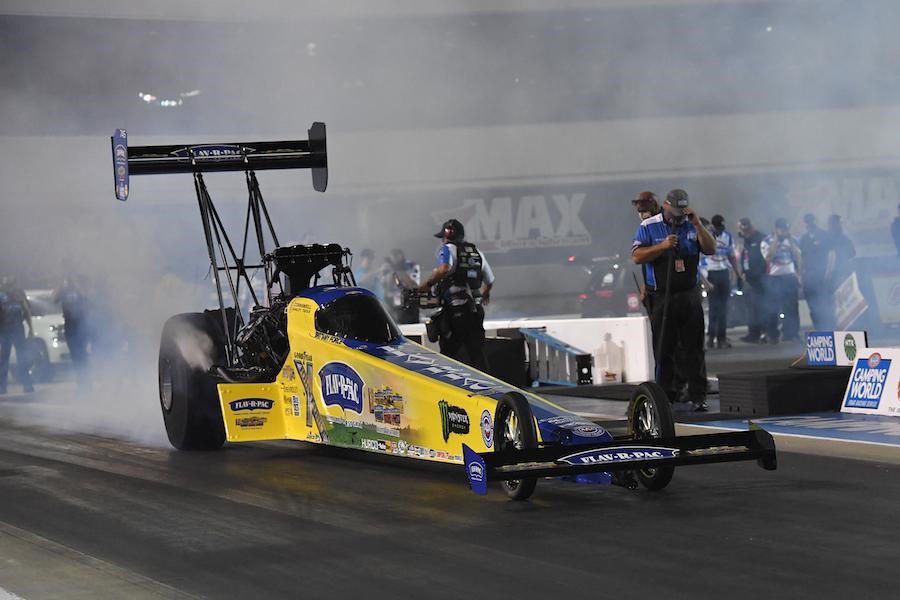 "Ending Saturday qualifying today we struggled a little bit. Looking at the big picture we went No. 1 with my dad, we've only done that two times. It's exciting to have two No. 1 qualifiers in the John Fore Racing pits. Pumped on it," Force said. "We're going to have a tough day tomorrow. Even though we got that No. 1 spot, we didn't get down the race track like we planned so we have a lot of work ahead of us."
The work will begin for Force when she faces Jim Morrison, Justin Ashley and Clay Millican in the first round.
Steve Torrence, whose Q3 3.742 was the best run of the day, remained No. 2 with his Friday 3.683 and Leah Pruett third with her 3.718. Gatornationals champ Josh Hart bettered his Friday 3.77 with a 3.75 to take the No. 4 spot just ahead of Billy Torrence, who fired off a 3.760 in the final session.
Doug Kalitta had some anxious moments as the 49-time tour winner started the final session in the perilous No. 15 spot after runs of 4.23 and 4.18 then was bumped out by Joe Morrison and Artie Allen. Kalitta, who had just seven DNQs in his 527 previous starts and none since the 2010 season, easily powered his way into the field with a 3.83 in the next pair. The run was not without incident for Kalitta, who oiled the track and was assessed a 15-point penalty; he's already accumulated 45 penalty points this season.
After just one Funny Car driver, Alexis DeJoria, was able to crack into the three-second zone on Friday's lone
Pro Stock didn't see any sweeping changes, as Greg Anderson's 6.524 at 210.50 from Friday held up. It maintains Anderson's perfect mark in qualifying in 2021, and gives him the first top qualifier in his new HendrickCars.com look on his Chevrolet Camaro and the 110th top spot in his standout career.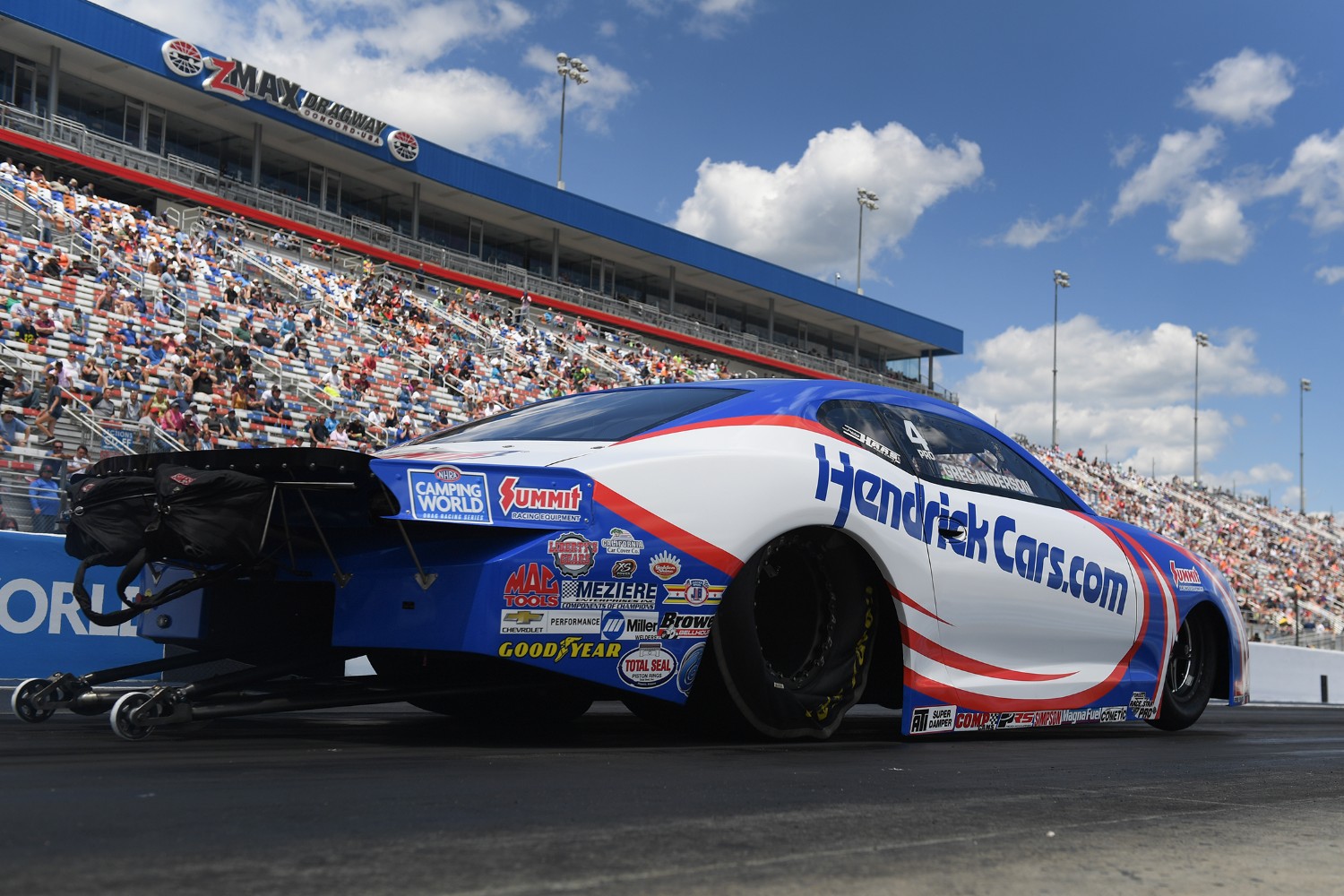 Anderson, who has two wins this year and is the points leader, maintained his terrific start to 2021 and is feeling good moving into eliminations, especially after running a 6.535 in the final session on Saturday. He went 6.536 during the second session, boasting plenty of consistency as well.
"This gives me a lot of confidence," Anderson said. "I love racing at this track and we've got a lot of experience here, so we should do well. I'm looking forward to hopefully having a big day tomorrow. This car has been a dream to drive all year, so we'll win if we can get a win (on Sunday) for Rick Hendrick and this HendrickCars.com Camaro."
The biggest jump on Saturday came from defending back-to-back world champ Erica Enders, who moved all the way to the third spot after a subpar Friday run. She went 6.534 at 211.59, making the quickest run of the day during the second qualifying round.
Her Elite Motorsports teammate Aaron Stanfield maintained the second spot with his 6.533 at 210.67 from Friday. Kyle Koretsky's 6.535 from Friday kept him in the top five, while Chris McGaha jumped up to the fifth position on his final run of the day, going 6.541 at 210.01. That run was the second-best of the final session behind only Anderson. Matt Hartford went 6.544 in the final session to bump up to seventh.
In the midst of a series of the fastest passes in Pro Stock Motorcycle history, Scotty Pollacheck raced to the No. 1 position in the class for the second straight race. His 6.736 at 201.16 during the second session on his Denso/Strutmaster/Matt Smith Racing EBR gave Pollacheck the sixth-quickest run of all-time and his fourth career No. 1 qualifier. The run also obliterated Joey Gladstone's track record, which was set all of one day ago.
"The four-wide races are always tough, but I love racing in them and I would love to close the deal on Sunday," Pollacheck said. "I've been close before, but I've never got that trophy at the end of the day. Hopefully we can change that (on Sunday)."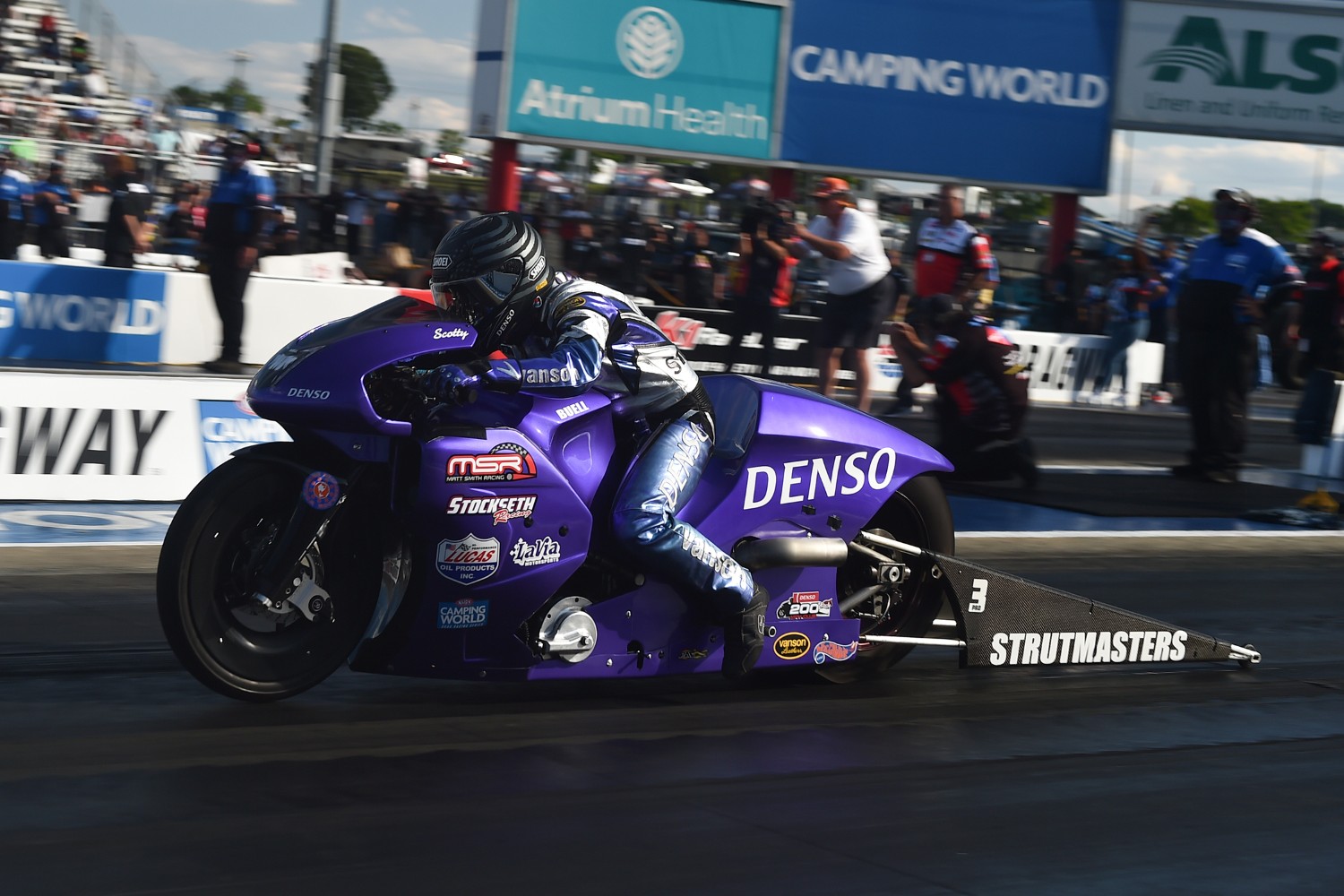 What else happened in the class on Saturday? Well, a lot, especially during an incredible second session.
Eddie Krawiec finished with the fastest pass in Pro Stock Motorcycle history, a record that was re-set five times on Saturday. Krawiec did it in both of his runs, topping 203 mph on both occasions. He finished with a spectacular run of 6.771 at 203.49 to qualify sixth on his Vance & HInes/Mission Foods Buell, topping his previous run of 203.37.
Matt Smith, Hector Arana Jr. and Andrew Hines all posted career-best speeds of more than 202 mph, with each setting the speed record at one point on Saturday.
In all, the six fastest runs in class history came on Saturday, as well as seven of the top 10 and 10 of the 15 fastest runs.
Along with that, Steve Johnson qualified second with a 6.738 at 196.90, making the seventh-quickest pass in Pro Stock Motorcycle history. Smith's 6.740 at 201.73 put him third and wrapped up a huge day for the defending champ. That run was the eighth-quickest ever, while his earlier pass of 202.18 momentarily set the record and now is the fourth-fastest in class history.
Hector Arana is fourth with a blast of 6.761 at 202.70 in the final qualifying session, giving him the third-fastest run ever for PSM. Joey Gladstone, who was Friday's No. 1 qualifier, dropped him all the way to fifth in the midst of Saturday's historic day with a 6.763. On a great note, Gladstone did make his first 200-mph run to become the final member of the Denso 200-mph club.
qualifier, she got a lot more company in the sub-four club on Saturday.