NHRA: 72-year-old John Force races to record 152nd NHRA victory
After taking off the majority of the 2020 season in a COVID-influenced sabbatical, it didn't take drag racing's winningest driver long to get back into the winner's circle, scoring his second four-wide victory in just his fourth race after a yearlong shutdown.
Force, who won Funny Car at the inaugural NHRA Four-Wide Nationals at zMAX Dragway in 2010, collected his sport-leading 152nd career win and his first since the 2019 U.S. Nationals by outrunning fellow former world champions J.R. Todd and Cruz Pedregon as well as Alexis DeJoria to claim the victory. Force's 3.91 in his Danny Hood-tuned BlueDef Chevy Camaro got the job done ahead of Todd's 3.94 in the DHL Toyota, which finished ahead of Pedregon's late-leaving 3.93. DeJoria finished fourth.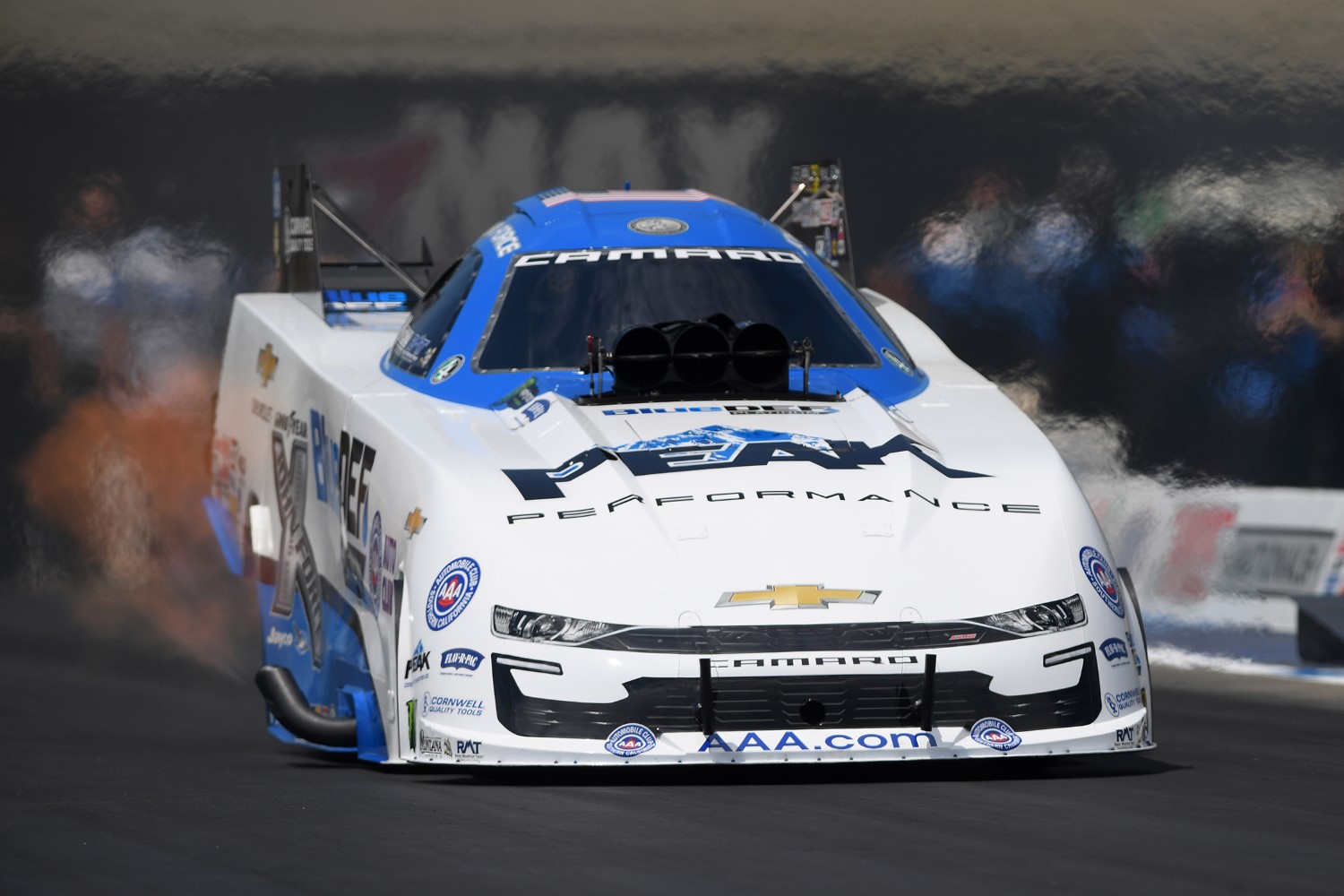 "Timing is everything," Force said. "I won the inaugural (four-wide race) here and this makes me so proud. Don't take the job you love for granted. I wanted to win for (track owner) Bruton (Smith), (crew chief) Daniel (Hood), but these kids are tough out here. Some days, things go right and our car was ready and prepared, and I halfway did my job. I'm excited and I get to send this (Wally trophy) to Bruton, a guy I really love."
Force won both of his pre-final quads, finishing ahead of Mike McIntire Jr. in the first round then powered his way into the final round with low e.t. of the event, a 3.897, to beat Todd. McIntire, and Terry Haddock were also in that semifinal quad.
Gatornationals champ Todd, a two-time Las Vegas four-wide winner, won his first-round quad with a 3.95 ahead of upset second-place finisher Haddock then finished second behind Force in their semifinal quad to reach the final round.
Stop us if you've heard this before: Steve Torrence won the Four-Wide Nationals.
The three-time and reigning NHRA Camping World Top Fuel champion won for the sixth time in the last seven NHRA four-wide events, driving his Capco Contractors machine to a final-round victory over Brittany Force, Antron Brown, and Josh Hart.
Torrence's red and black Richard Hogan-tuned steamroller ran 3.71 to beat Force to the stripe with recent Southern Nationals champ Antron Brown finishing third and Gatornationals champ Josh Hart in fourth,
At first, admittedly, I was not a fan of the four-wide but Bruton Smith and Marcus, thank you guys, I love it," said Torrence. "I mean, we do really well I don't know why but I like to keep doing it. It's the only thing that I've got a winning record, and so I'm proud of that. It makes us as a driver step up more, I think that it takes you out of your body, your wheelhouse of thinking makes you concentrate and focus a lot more."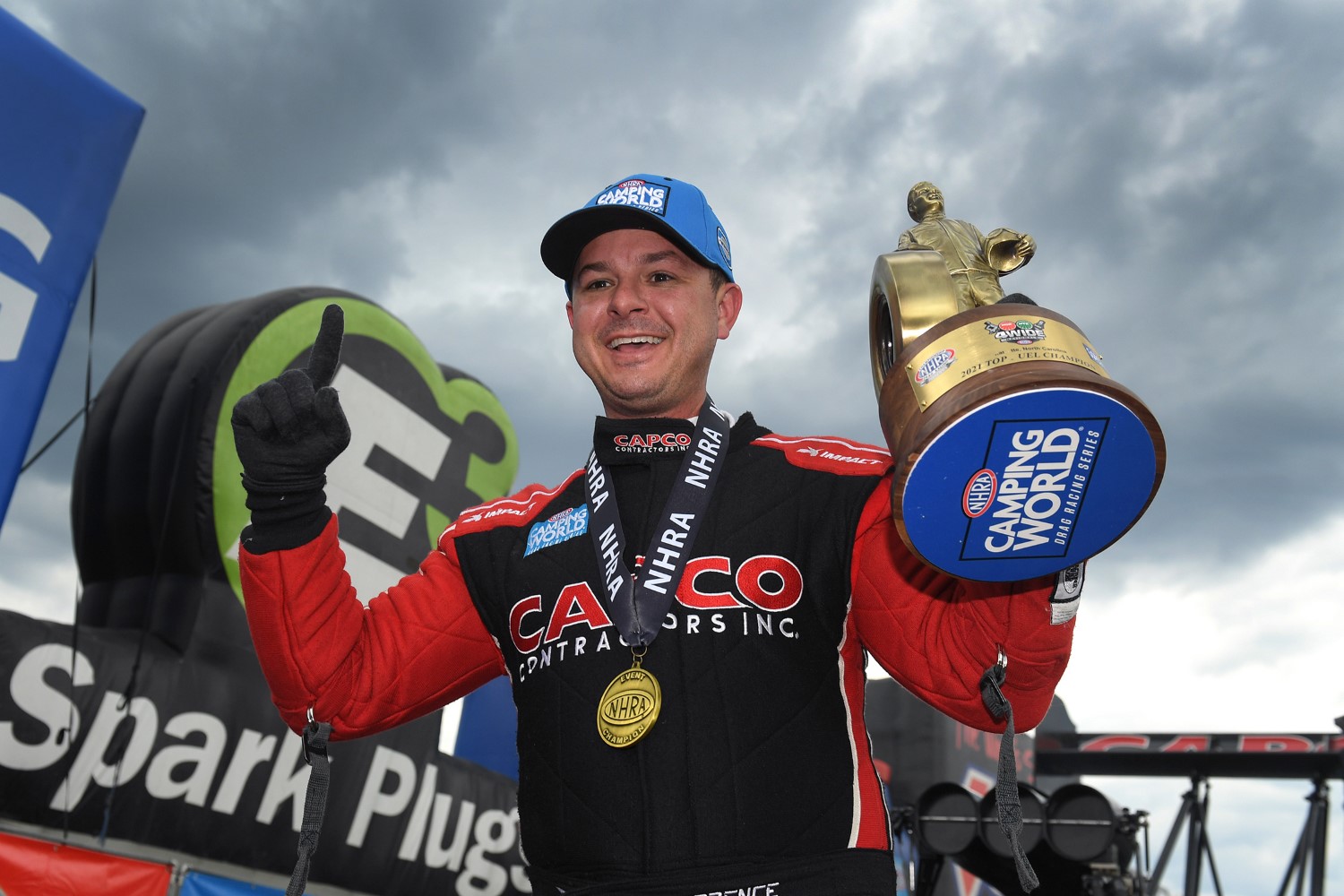 Torrence won his first-round quad ahead of Doug Foley, Mike Salinas, and Artie Allen with low e.t. of the day, 3.70, then finished second behind Brown in his semifinal quad.
Force, who qualified No. 1 with a track-record 3.662, had won the 2016 Four-Wide event, and got the chance to win another by winning her first-round quad ahead of fireballing Clay Millican at a new track speed record of 333.49 mph then finished second behind Hart in their semifinal quad.
Dallas Glenn had already displayed impressive potential through the first three races of his burgeoning Pro Stock career.
But apparently, the future is now, as the promising rookie won the NGK NTK NHRA Four-Wide Nationals at zMAX Dragway on Sunday, going 6.540-seconds at 209.88 mph in his Rad Torque Systems Chevrolet Camaro.
The suspense was initially drawn out when the win light didn't immediately come on in Glenn's lane, but the celebration soon ensued after he was officially declared the winner, holding off fellow young guns Mason McGaha and Troy Coughlin Jr.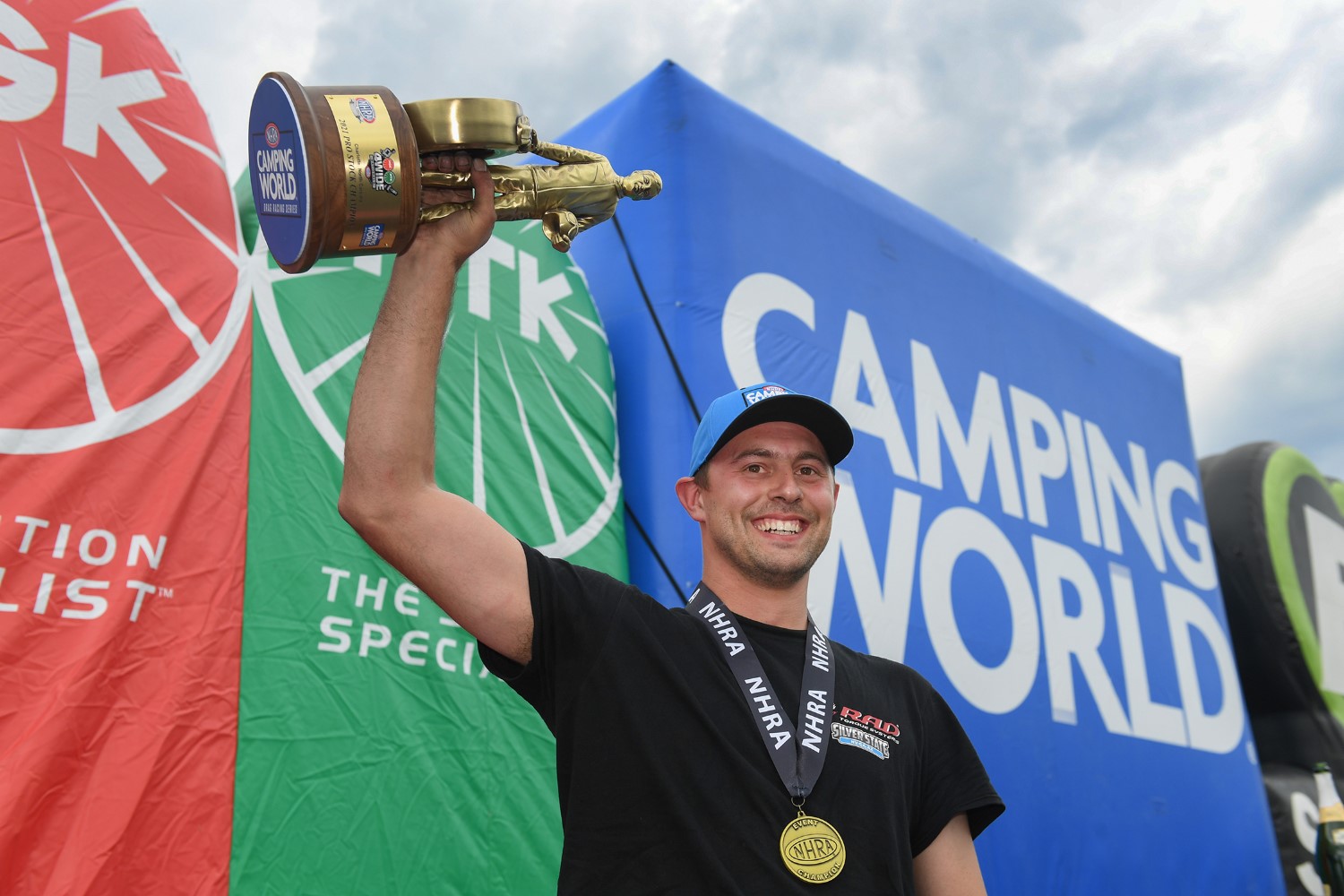 It was a final quad that also included Fernando Cuadra Jr., who went red, and featured four young talents looking for their first Pro Stock win. In the end, it was Glenn who delivered from start to finish to become the 69th different winner in Pro Stock's illustrious history, allowing him to enjoy a moment he won't soon forget.
"To be honest, I don't even think it's hit me yet," Glenn said. "I'm just trying to enjoy everything I can. I've never experienced it on this side. It's super emotional. This is a whole new perspective for me and these cars are so much fun, but they're hard to drive. The results just came a little sooner than we were expecting."
Glenn's first victory in his first career final round continued the strong start for KB Racing, giving the team all four wins in 2021. Of course, the first three all came from points leader Greg Anderson, but Glenn made major improvements over the course of the weekend.
He lost in the opening round at the most recent race in Atlanta and the team made a number of changes afterward. Glenn qualified 10th and then made the quickest pass of his opening-round quad, going 6.535 at 210.64.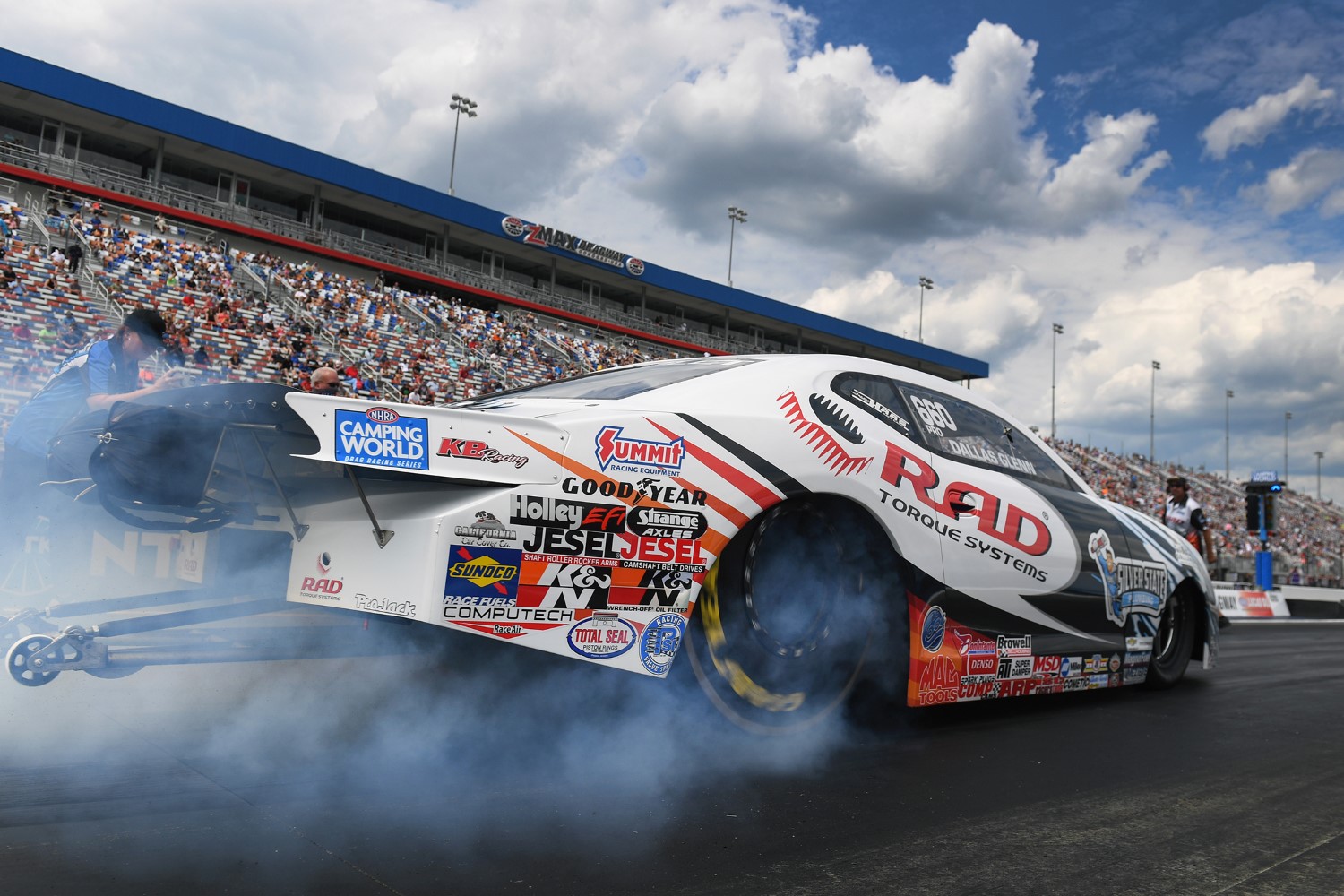 A round later, he again made the quickest run of the quad with a pass of 6.547 at 209.52 to advance to his first career final.
Glenn was a solid .030 on the starting line there, but it was McGaha who left first with a stellar .018, continuing his incredible day on the starting line. Glenn had enough to track him down, with McGaha finishing second after going 6.558 at 209.23.
It was the second final-round appearance for McGaha, with both coming at the four-wide events this year. He advanced on a holeshot in the first round and a double holeshot in the semifinals.
Coughlin finished third in his third final round appearance, going 6.545 at 210.80. It was also Coughlin's second final in 2021. It was the first final-round appearance for Cuadra, who dynamite on the starting line all day as well, advancing to the final on a double holeshot.
In all, the four Pro Stock competitors have just 48 starts in the class between them, indicating a bright future not only for them but the rest of the class as well. On Sunday, though, the day belonged to Glenn.
"I think Pro Stock is extremely healthy," Glenn said. "Pretty much half the field is under the age of 35. There's a lot of young guns driving right now, and it's absolutely tough out there. Anybody in the top 16 can win a race out there. Anything can happen right now. You know you're going to have to be good on the tree."
EVENT WINNERS
TOP FUEL
Steve Torrence makes it six Top Fuel wins in the last seven four-wide events
FUNNY CAR
John Force returns to the Funny Car winner's circle with four-wide win
PRO STOCK
Rookie Dallas Glenn wins battle of Pro Stock young guns to claim first career victory
PRO STOCK MOTORCYCLE
Long time coming: Steve Johnson picks up first victory in seven years
PRO MOD
W: Steve Jackson
R/U: Brandon Snider
3rd: Jeffrey Barker
4th: Mike Castellana
TOP FUEL HARLEY
Jay Turner def. Randal Andras
TOP ALCOHOL DRAGSTER
W: Rachel Meyer
R/U: Karen Stalba
3rd: Matt Cummings
4th: Jule Mataas
TOP ALCOHOL FUNNY CAR
W: Sean Bellemeur
R/U: Doug Gordon
3rd: Kris Hool
4th: DJ Cox Jr.
COMP
David Barton def. Joel Warren
SUPER STOCK
Peter D'Agnolo def. Steve Comella
STOCK
Marion Stephenson def. Morgan Wilson
SUPER COMP
Billy Upton def. Lauren Freer
SUPER GAS
James Perry def. Jeff Jensen
TOP SPORTSMAN
Ronnie Proctor def. Lester Johnson