F1: Ferrari 1-2 in 2nd Monaco practice
The sun shining above, the waters of the Mediterranean glistening in the harbor, the noise of the engines breaking through the city: the first day of action in the first Monaco Grand Prix weekend in two years didn't disappoint, with all the hallmark features of one of the world's most famous motorsport events.
The thrill and jeopardy of Monaco was present too: cars glanced the barriers, sometimes a caress, sometimes a bit more of a slap; drivers built up their confidence in the tiny confines of the narrow track; and fans – yes, fans – enjoyed the spectacle of 20 cars being driven in anger around the streets of the Principality.
Charles Leclerc beat Ferrari teammate Carlos Sainz Jr. by a tenth to top the 2nd practice session for the Monaco GP.
Sandbagging Mercedes' hero Lewis Hamilton was third.
Sainz Jr. appeared like he was going to lead the session but a late lap by Leclerc wound up 0.112s ahead of Sainz, in what was a fantastic result for Ferrari.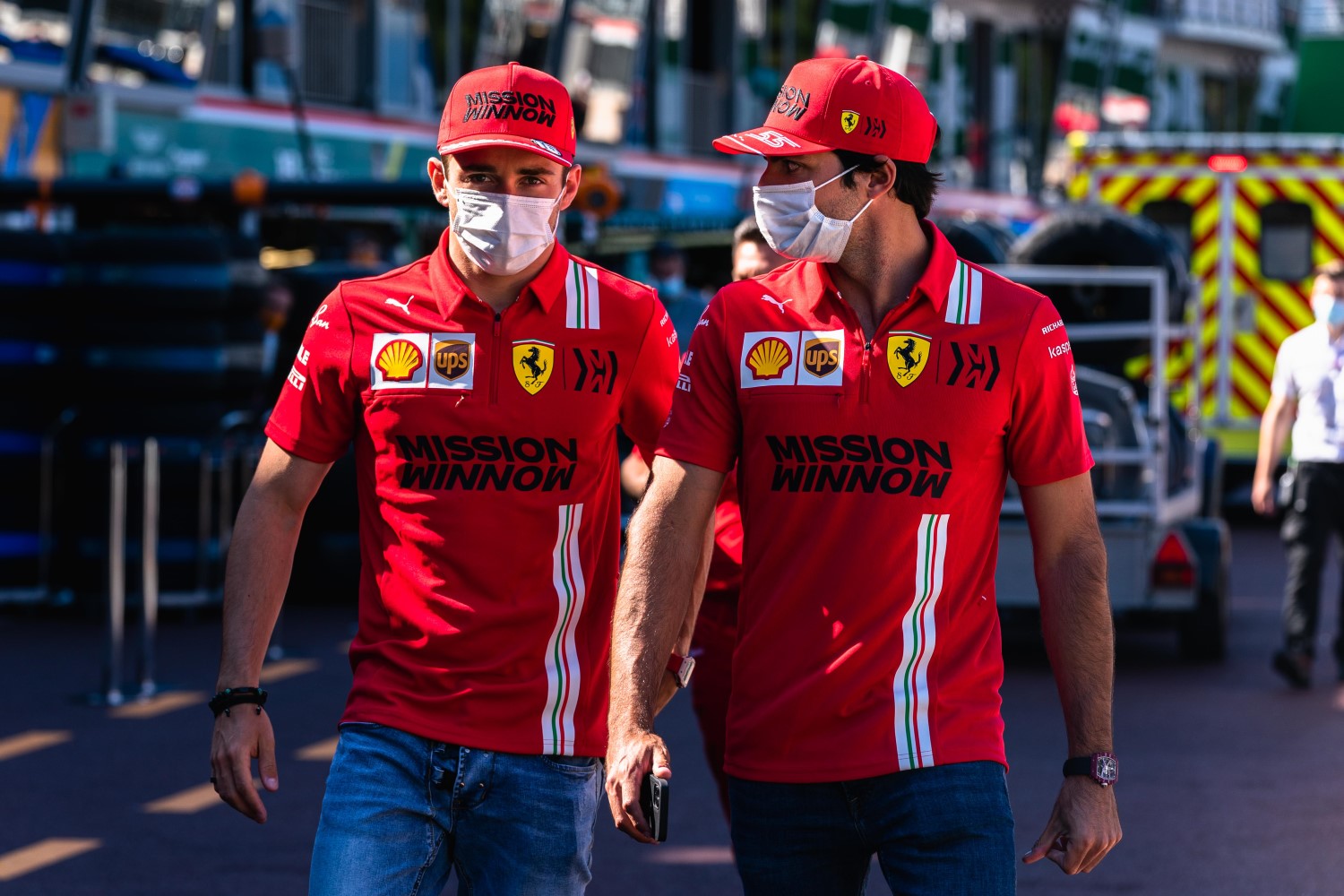 Leclerc beat Hamilton by 0.278s but he has yet to show his true speed
Hamilton was narrowly ahead of Max Verstappen in 4th and the second Mercedes of Valtteri Bottas in 5th, 0.423s back.
Lando Norris took P6 in the Gulf-liveried McLaren MCL35M, as Pierre Gasly claimed seventh for AlphaTauri.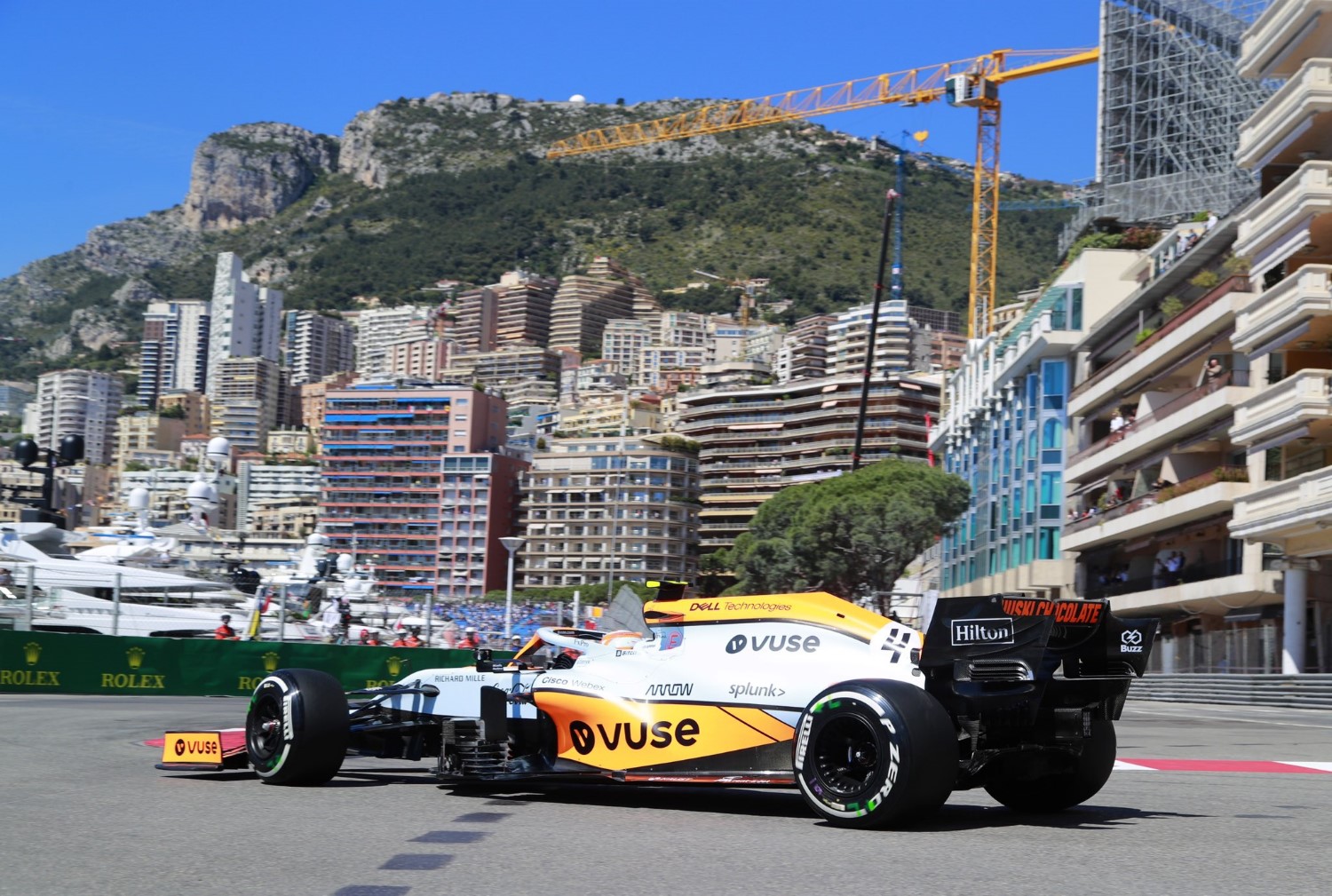 Sergio Perez finished in P8 in the 2nd Red Bull Honda, while Alfa Romeo's Antonio Giovinazzi, was 9th ahead of two-time Monaco winner Sebastian Vettel who rounded out the top-10.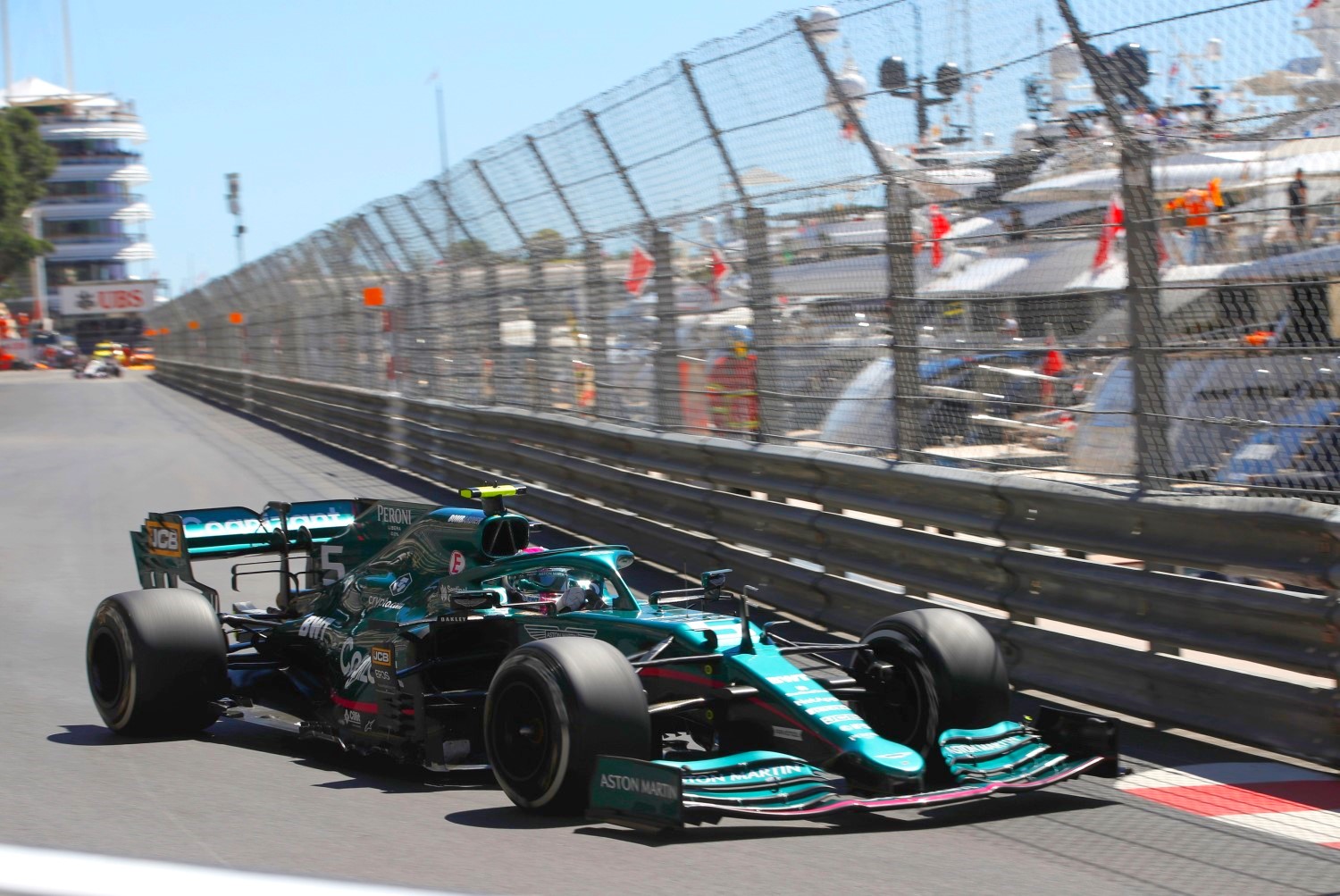 Select Quotes
Lewis Hamilton
Everyone loves to drive here – the weather has been great and this track is rapid, absolutely mesmerizing, so I've enjoyed today. The Ferraris look really strong, which is great, it means more competition.
For me personally, this is a track where you need to walk before you can run but you've got to do that quickly, obviously. The grip on this track is really high this year, they've redone the surface so there's a lot of grip.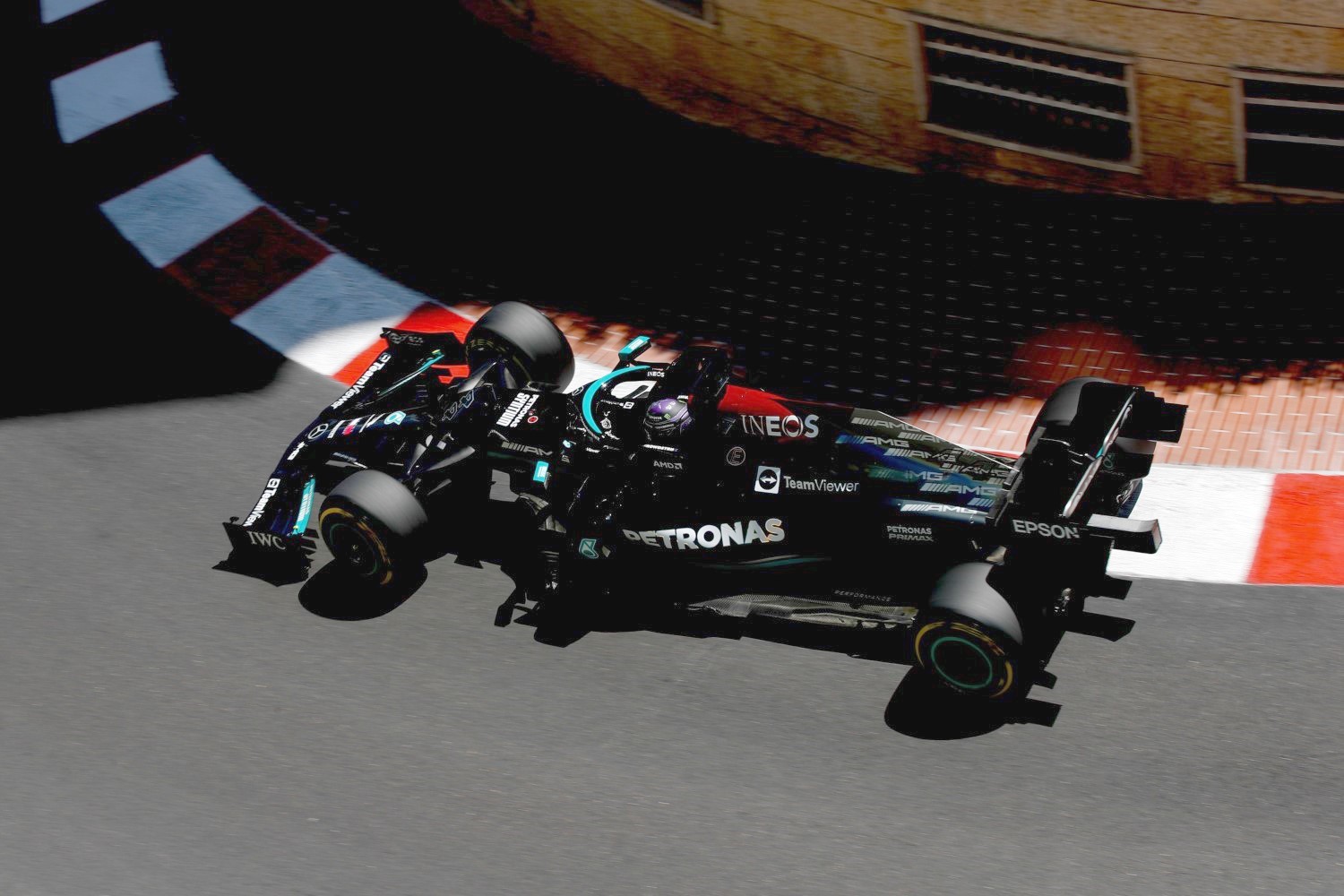 Whichever track you go to, the car never gives you everything you want immediately, you need to acclimatize. From a driver's point of view, you're experimenting – you've got to dial-in your driving style, figure out where you can and can't push, where you've got to give up some time to get some, and you've got to really work with the car.
The car is good, we've made some decent steps with the balance, so generally I'm very happy. I've got some changes I'll make this evening as we analyze today, and it's going to be close tomorrow, which is exciting.
Valtteri Bottas
It's nice to be back on this track after a two-year gap, it's still so tight around here with very little space. It's very demanding and I feel like we still have work to do with the cars – from my side, I'm lacking some front end on this circuit. We've had similar issues at other tracks, mainly in mid-corner but here, it's all slow-speed corners and if you don't have a good feeling at the front, you can lose time easily. Our car also feels quite stiff on the bumps and cambers in the corners which we'll look into.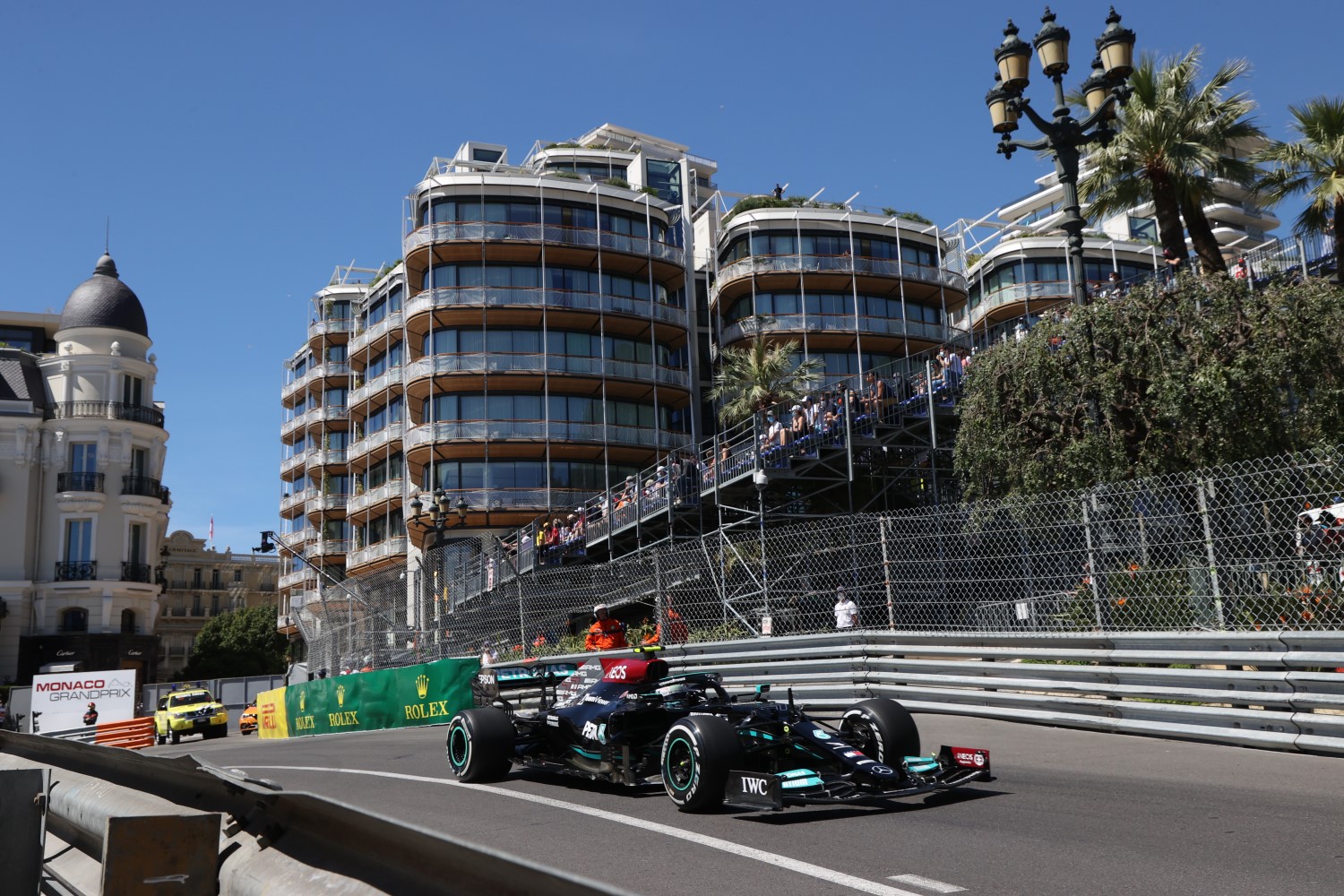 It will be important to turn the tires on quickly and get them working. Today for the first lap, I couldn't get them to work immediately so we need to work hard on that for tomorrow. Ferrari look quick, as do Red Bull, so it's not only about two teams which will be a lot of fun.
Andrew Shovlin – Mercedes Technical Lead
For a Monaco Thursday this one has been relatively straightforward. Traffic is always a feature and as expected, the shorter sessions make it hard to do much by way of long runs. That said, we've covered the majority of what we set out to and we have a decent understanding of our limitations and the areas that we need to improve. This season we've learned to expect Max's company in the battle at the front but it was a surprise to us to see both Ferraris looking so strong; you don't need to scrutinize the timesheets for long to see that their pace is genuine – they could be real contenders for the win.
We've got an extra day to work on things tomorrow which is handy as it feels like we need to improve both our single lap and long run performance, but Monaco is all about putting together the entire weekend and today was a pretty decent start.
Max Verstappen
"It of course feels good to be back out on track in Monaco, and although we did quite well in FP1, this afternoon's session was tricky, and I would have hoped that we could have been faster. We were too slow in FP2, and we really need to find some pace because everyone has traffic, you have to look to optimum lap times and optimum sectors and we were quite off. I usually feel quite comfortable in the car but that has not come yet this weekend. Luckily, we have a free day tomorrow to look at a few things to improve to make sure qualifying goes well on Saturday."
Sergio Perez
"It's great to drive in Monaco again after not racing here last year. I'm enjoying it a lot as it's such a fantastic track. We had a very good FP1 and the car was feeling strong, we made a few changes between sessions and I think maybe we took a step backwards but it's hard to really know as I had traffic on my soft tire run. I think we probably have work to do on our short runs, but we have lots of information to look at now ahead of qualifying on Saturday when hopefully we can be in the mix. Even though he missed most of FP1, Charles still managed to end the session the fastest so the Ferraris are looking strong but let's see who sits where on Saturday when it counts."
Sebastian Vettel
"I think everybody is happy to be back here at this special track and it is great to see fans in the grandstands, even though the numbers are still limited. The morning session went well, and I got into a rhythm quickly, but the afternoon was more complicated because I got something in my eye, which was quite uncomfortable and caused my eye to tear up. As usual, it is very close in the midfield, which means getting everything perfect on Saturday afternoon, and being lucky with the traffic, is what matters. I feel happy with the work we did today and if we can get everything together over the weekend, we can hopefully be near the front of the midfield group."
Lance Stroll
"It is great to be back here in Monaco, especially after the race did not take place last year. I had a lot of fun out there today – building up speed and getting close to the walls. It was very busy on track, with a lot of traffic, and not easy to find free air, which is always a major factor on Saturday and Sunday, too. The sessions went smoothly, giving us lots of information and things to improve before final practice. There is a chance to catch our breath tomorrow with a quiet day, but we still have some engineering meetings to see what ideas we can come up with ahead of qualifying."
Kimi Räikkönen
"Today was ok, a straightforward day without big issues. So far, so good, but Saturday is where it matters. We can definitely still improve but so can the others, so we will need to extract all we can for the car and see where that puts us on Saturday. Conditions today were good, but we can't be drawn into making comparisons with other weekends: this track is so unique. It doesn't matter anyways, so long as we're competitive!"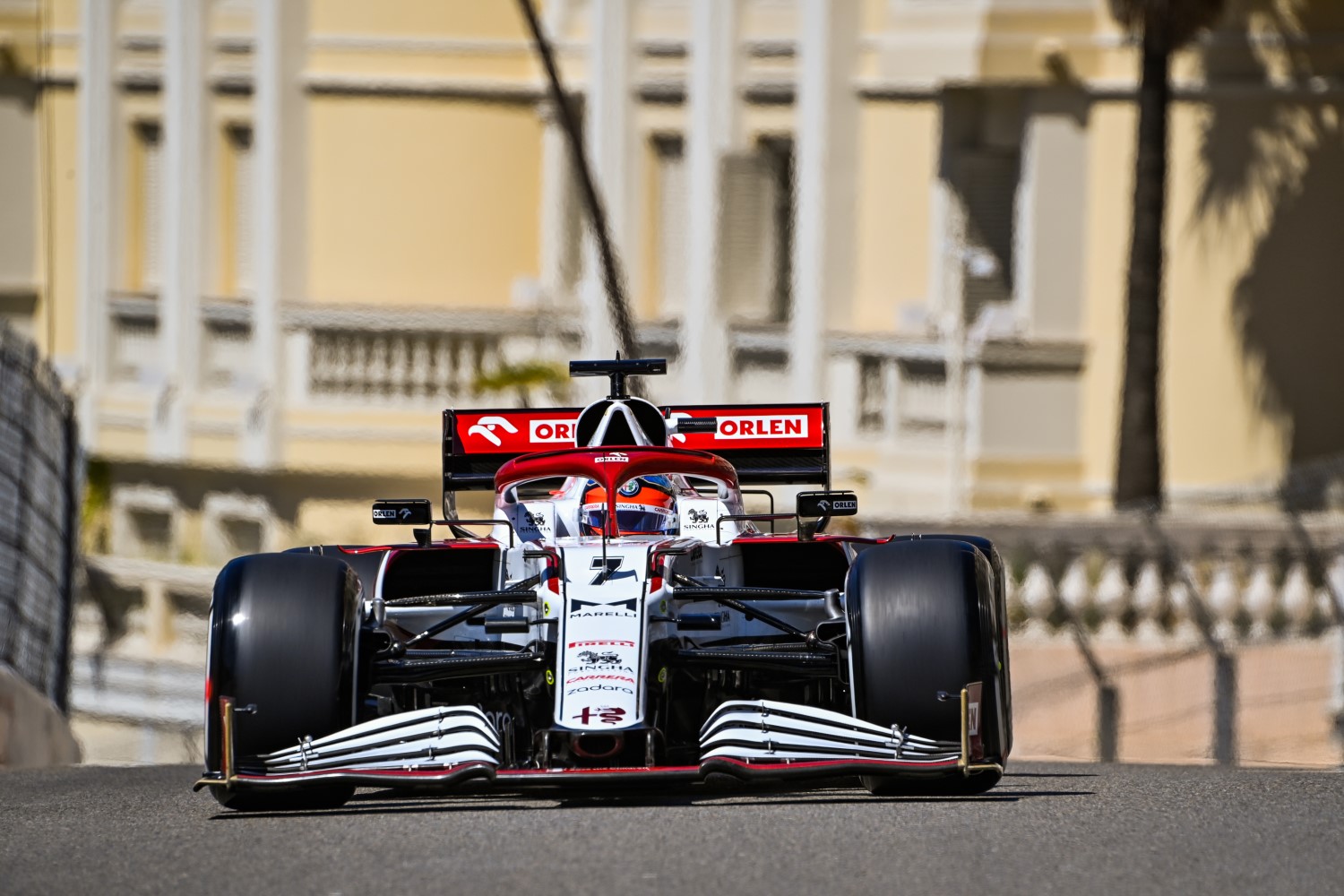 Antonio Giovinazzi
"It has been a positive start to our weekend and I am very happy with the work we did today. FP1 was ok and already in FP2 I felt the balance of the car had improved. I am happy with P9 at the end of the day, but it's qualifying when it really matters: we have to keep being on the pace. I think Monaco is such a unique track, hard to compare with anything else, and I think it really suits us: if we can improve a little more ahead of Saturday, we can be confident."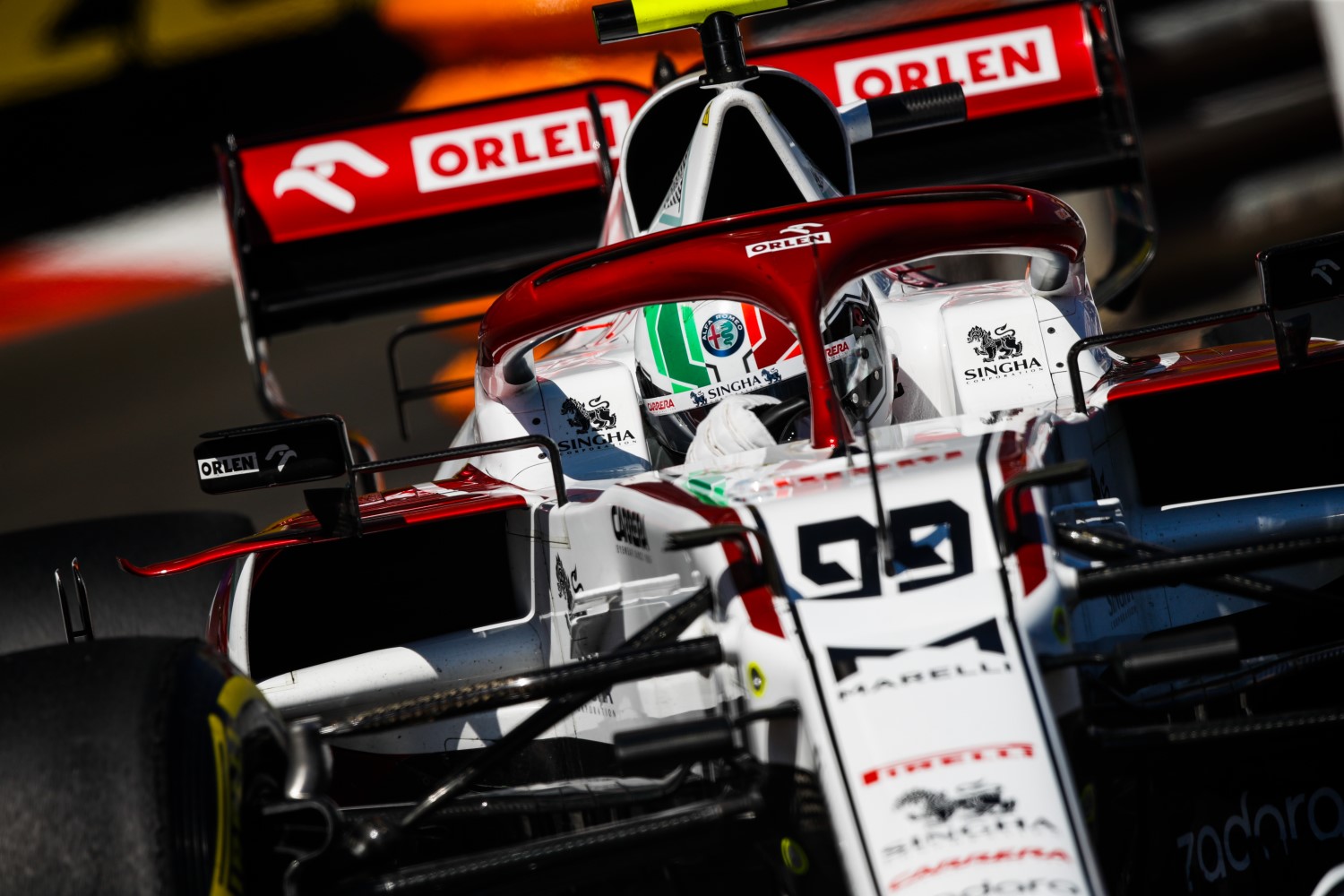 Practice 2 Results
| | | | | | | |
| --- | --- | --- | --- | --- | --- | --- |
| POS | NO | DRIVER | CAR | TIME | GAP | LAPS |
| 1 | 16 | Charles Leclerc | Ferrari | 1:11.684 | +0.000s | 30 |
| 2 | 55 | Carlos Sainz | Ferrari | 1:11.796 | +0.112s | 32 |
| 3 | 44 | Lewis Hamilton | Mercedes | 1:12.074 | +0.390s | 28 |
| 4 | 33 | Max Verstappen | Red Bull Racing Honda | 1:12.081 | +0.397s | 27 |
| 5 | 77 | Valtteri Bottas | Mercedes | 1:12.107 | +0.423s | 32 |
| 6 | 4 | Lando Norris | McLaren Mercedes | 1:12.379 | +0.695s | 24 |
| 7 | 10 | Pierre Gasly | AlphaTauri Honda | 1:12.498 | +0.814s | 28 |
| 8 | 11 | Sergio Perez | Red Bull Racing Honda | 1:12.708 | +1.024s | 24 |
| 9 | 99 | Antonio Giovinazzi | Alfa Romeo Racing Ferrari | 1:12.746 | +1.062s | 28 |
| 10 | 5 | Sebastian Vettel | Aston Martin Mercedes | 1:12.982 | +1.298s | 26 |
| 11 | 7 | Kimi Räikkönen | Alfa Romeo Racing Ferrari | 1:13.065 | +1.381s | 31 |
| 12 | 14 | Fernando Alonso | Alpine Renault | 1:13.175 | +1.491s | 27 |
| 13 | 18 | Lance Stroll | Aston Martin Mercedes | 1:13.195 | +1.511s | 26 |
| 14 | 31 | Esteban Ocon | Alpine Renault | 1:13.199 | +1.515s | 28 |
| 15 | 3 | Daniel Ricciardo | McLaren Mercedes | 1:13.257 | +1.573s | 26 |
| 16 | 63 | George Russell | Williams Mercedes | 1:13.509 | +1.825s | 32 |
| 17 | 6 | Nicholas Latifi | Williams Mercedes | 1:13.593 | +1.909s | 31 |
| 18 | 9 | Nikita Mazepin | Haas Ferrari | 1:14.407 | +2.723s | 26 |
| 19 | 47 | Mick Schumacher | Haas Ferrari | 1:14.416 | +2.732s | 25 |
| 20 | 22 | Yuki Tsunoda | AlphaTauri Honda | 1:14.829 | +3.145s | 11 |