Indy 500 Day 4 Practice: Dixon fast with tow, Rossi fastest w/o tow
Ganassi Honda veteran Scott Dixon turned the overall fastest speed on Fast-Friday at Indianapolis, the day before qualifying, at a speed of 233.302 mph, but that was with a tow.  Without a tow, Dixon was 4th fastest.
It was the second day this week that six-time and reigning NTT INDYCAR SERIES champion Dixon topped the speed charts, as he also was fastest Wednesday in the No. 9 PNC Bank Grow Up Great Honda.
"The team was really fast," said Dixon, who also gained the advantage of drawing first in the qualifying order. "I think any time one of the Ganassi cars went out, they improved and improved in a big way.
"It was really tough out there today. Just really tough to get a clear track. I know it's difficult. I know everybody wants to try to get a (qualifying simulation) run."
Andretti Honda driver Colton Herta was 2nd quick overall at 232.784 mph but 6th quickest without a tow.
The fastest driver on Fast-Friday without a tow was Alexander Rossi in the #27 Andretti Honda at 231.597 mph, and it was done in the heat of the day, which was pretty stout.
"I only I think (I got) just one four-lap (qualifying simulation) run because people kept jumping out or whatever," Rossi said. "It's always interesting on days like this when you have an unfriendly wind in Turn 2. For whatever reason, Turn 2 is hard. I don't know if the air is different over there."
The day was solely focused on qualifying simulations for most teams. Rather than pack running which has been a common sight the last few days, drivers were focused on finding enough clean track time to test out their fastest four lap average to prepare for qualifying.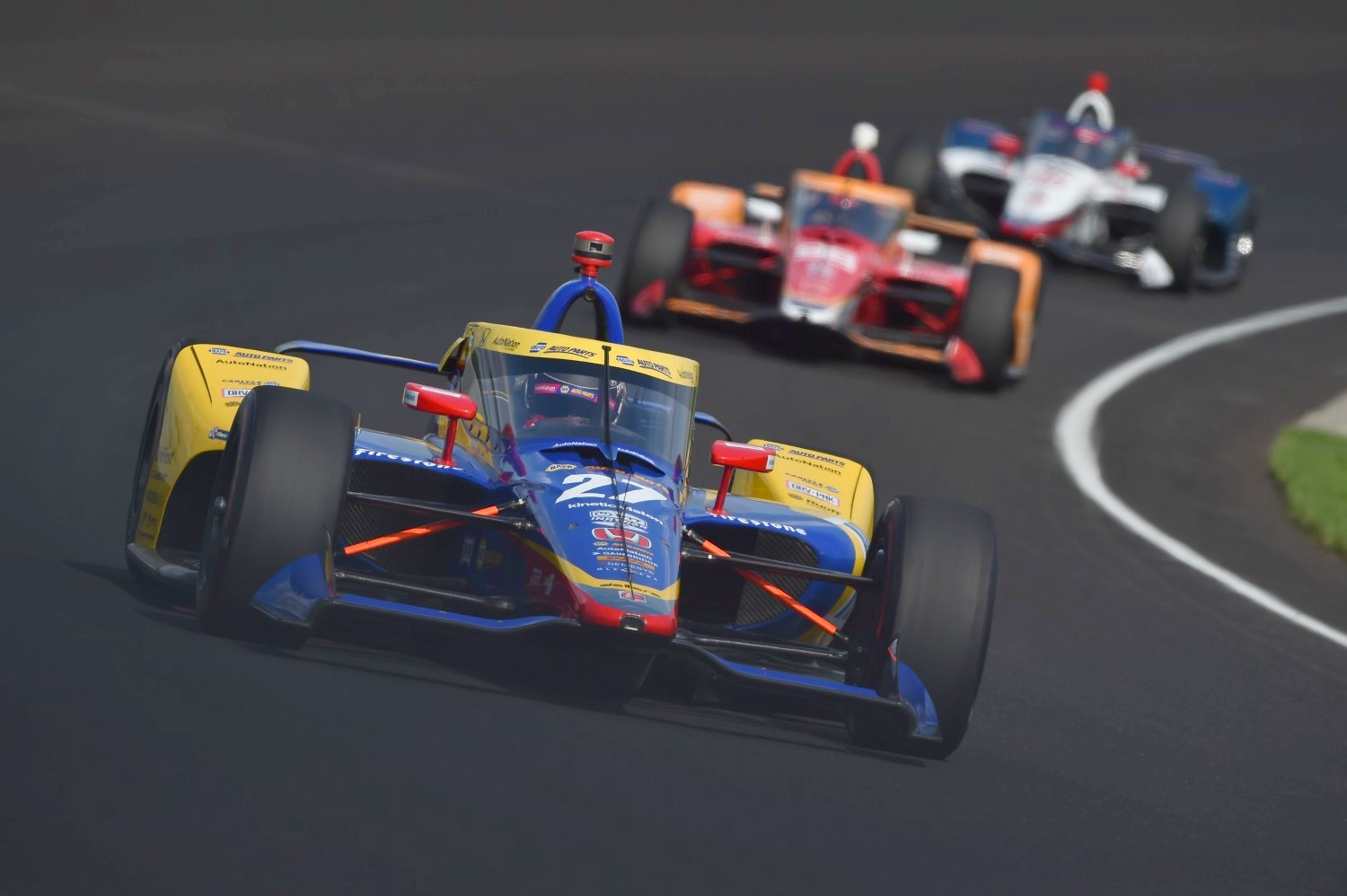 "There's always surprises," Rossi said when asked to predict qualifying. "I think this year has proved that correctly across all the races, right? How many races have we had, four or five? Five races, five winners. I think that's a testament to the series, the level of all these teams and guys. The guy that's going to be on pole is really anyone's guess."
Who goes fastest in qualifying Saturday will be influenced by what number they draw for qualifying order. An early number before the track heats up is always desirable.
There are two results tables below, the first with tow speeds (i.e. fake speeds) and the 2nd, rank by no-tow speed.
8th quick was Takuma Sato in the #30 RLL Honda. "It was a very good Fast Friday. Obviously, we bumped up the boost and going to see a 230 mph+. It was a very productive day. We ran only four short sim runs which was half of what we actually planned but that's because every run we did a really good analysis and then the 30 car in particular just made really good progress. We were very happy in the end. I think all of our speed is coming really close together so that's very satisfying and obviously most important tomorrow and the day after but I think it was very good preparation."
After spending the first three days of practice for the 105th Running of the Indianapolis 500 working on both qualifying and race setups, Dale Coyne with Vasser Sullivan unleashed the SealMaster Beast on Fast Friday.
Ed Jones, and the No. 18 Team SealMaster-Dale Coyne w/ Vasser-Sullivan Honda, posted the ninth fastest lap on Fast Friday with a top speed of 231.569 mph putting him ninth on the speed charts. His four-lap average of 230.251 was also the ninth best.
Jones served notice that he is a contender for the Fast Nine by setting the tone early running his fast lap of the day in his first outing. The lap speed put him at the top of the speed charts for over three hours while the team spent most of the time in the garage. His four-lap average, at the time 230.064 mph, was the third best.
Over the final hour and 20 minutes of practice, when the conditions were much cooler and the track much faster, a couple of drivers were able to overtake his fast lap and four-lap average, with Jones and the Coyne Vasser Sullivan squad opting not to run again.
Fast Friday is when teams are given additional horsepower, in the case of Honda powered teams an estimated 95 additional HP, in preparation for Saturday's qualifying for the Indy 500.
Jones drew No. 5 in the qualifying order of the 35 drivers scheduled to make a qualifying attempt. The early number is important because the track conditions will be cooler than the drivers qualifying later when conditions will be considerably hotter, slowing the cars.
Mark C. reporting for AutoRacing1.com
Friday Results (With Tow)
| | | | | | | | | | |
| --- | --- | --- | --- | --- | --- | --- | --- | --- | --- |
| Pos | No | Name | Time | Diff | Gap | Laps | Speed | Engine | Team |
| 1 | 9 | Scott Dixon | 38.5766 | 0.0000 | 0.000 | 29 | 233.302 | Honda | Chip Ganassi Racing |
| 2 | 26 | Colton Herta | 38.6624 | 0.0858 | 0.0858 | 34 | 232.784 | Honda | Andretti Autosport |
| 3 | 48 | Tony Kanaan | 38.6781 | 0.1015 | 0.0157 | 26 | 232.690 | Honda | Chip Ganassi Racing |
| 4 | 8 | Marcus Ericsson | 38.7045 | 0.1279 | 0.0264 | 39 | 232.531 | Honda | Chip Ganassi Racing |
| 5 | 10 | Alex Palou | 38.7672 | 0.1906 | 0.0627 | 23 | 232.155 | Honda | Chip Ganassi Racing |
| 6 | 5 | Pato O'Ward | 38.7874 | 0.2108 | 0.0202 | 30 | 232.034 | Chevy | Arrow McLaren SP |
| 7 | 27 | Alexander Rossi | 38.8160 | 0.2394 | 0.0286 | 40 | 231.863 | Honda | Andretti Autosport |
| 8 | 30 | Takuma Sato | 38.8604 | 0.2838 | 0.0444 | 28 | 231.598 | Honda | Rahal Letterman Lanigan Racing |
| 9 | 18 | Ed Jones | 38.8653 | 0.2887 | 0.0049 | 18 | 231.569 | Honda | Dale Coyne Racing with Vasser Sullivan |
| 10 | 28 | Ryan Hunter-Reay | 38.8703 | 0.2937 | 0.0050 | 33 | 231.539 | Honda | Andretti Autosport |
| 11 | 15 | Graham Rahal | 38.8738 | 0.2972 | 0.0035 | 30 | 231.518 | Honda | Rahal Letterman Lanigan Racing |
| 12 | 21 | Rinus VeeKay | 38.9063 | 0.3297 | 0.0325 | 18 | 231.325 | Chevy | Ed Carpenter Racing |
| 13 | 25 | Stefan Wilson | 38.9650 | 0.3884 | 0.0587 | 28 | 230.977 | Honda | Andretti Autosport |
| 14 | 45 | Santino Ferrucci | 38.9739 | 0.3973 | 0.0089 | 21 | 230.924 | Honda | Rahal Letterman Lanigan Racing |
| 15 | 20 | Ed Carpenter | 38.9777 | 0.4011 | 0.0038 | 29 | 230.901 | Chevy | Ed Carpenter Racing |
| 16 | 60 | Jack Harvey | 38.9880 | 0.4114 | 0.0103 | 35 | 230.840 | Honda | Meyer Shank Racing |
| 17 | 29 | James Hinchcliffe | 38.9919 | 0.4153 | 0.0039 | 30 | 230.817 | Honda | Andretti Steinbrenner Autosport |
| 18 | 51 | Pietro Fittipaldi | 39.0174 | 0.4408 | 0.0255 | 17 | 230.666 | Honda | Dale Coyne Racing w/Rick Ware Racing |
| 19 | 47 | Conor Daly | 39.0241 | 0.4475 | 0.0067 | 36 | 230.627 | Chevy | Ed Carpenter Racing |
| 20 | 7 | Felix Rosenqvist | 39.0308 | 0.4542 | 0.0067 | 36 | 230.587 | Chevy | Arrow McLaren SP |
| 21 | 06 | Helio Castroneves | 39.0435 | 0.4669 | 0.0127 | 48 | 230.512 | Honda | Meyer Shank Racing |
| 22 | 2 | Josef Newgarden | 39.0491 | 0.4725 | 0.0056 | 48 | 230.479 | Chevy | Team Penske |
| 23 | 59 | Max Chilton | 39.0501 | 0.4735 | 0.0010 | 44 | 230.473 | Chevy | Carlin |
| 24 | 3 | Scott McLaughlin | 39.0600 | 0.4834 | 0.0099 | 30 | 230.415 | Chevy | Team Penske |
| 25 | 86 | Juan Pablo Montoya | 39.0683 | 0.4917 | 0.0083 | 44 | 230.366 | Chevy | Arrow McLaren SP |
| 26 | 98 | Marco Andretti | 39.0735 | 0.4969 | 0.0052 | 25 | 230.335 | Honda | Andretti Herta-Haupert w/Marco & Curb-Agajanian |
| 27 | 4 | Dalton Kellett | 39.0970 | 0.5204 | 0.0235 | 20 | 230.197 | Chevy | AJ Foyt Enterprises |
| 28 | 1 | JR Hildebrand | 39.1351 | 0.5585 | 0.0381 | 36 | 229.973 | Chevy | AJ Foyt Enterprises |
| 29 | 12 | Will Power | 39.1564 | 0.5798 | 0.0213 | 42 | 229.847 | Chevy | Team Penske |
| 30 | 22 | Simon Pagenaud | 39.1658 | 0.5892 | 0.0094 | 41 | 229.792 | Chevy | Team Penske |
| 31 | 24 | Sage Karam | 39.2095 | 0.6329 | 0.0437 | 43 | 229.536 | Chevy | Dreyer & Reinbold Racing |
| 32 | 16 | Simona De Silvestro | 39.2197 | 0.6431 | 0.0102 | 34 | 229.477 | Chevy | Paretta Autosport |
| 33 | 14 | Sebastien Bourdais | 39.2284 | 0.6518 | 0.0087 | 23 | 229.426 | Chevy | AJ Foyt Enterprises |
| 34 | 11 | Charlie Kimball | 39.3839 | 0.8073 | 0.1555 | 30 | 228.520 | Chevy | AJ Foyt Enterprises |
| 35 | 75 | RC Enerson | 39.8134 | 1.2368 | 0.4295 | 33 | 226.055 | Chevy | Top Gun Racing |
Friday Results with No-Tow
| | | | | | |
| --- | --- | --- | --- | --- | --- |
| Pos | No | Name | Non-Tow Speed | Engine | Team |
| 1 | 27 | Alexander Rossi | 231.597 | Honda | Andretti Autosport |
| 2 | 15 | Graham Rahal | 231.518 | Honda | Rahal Letterman Lanigan Racing |
| 3 | 5 | Pato O'Ward | 231.51 | Chevy | Arrow McLaren SP |
| 4 | 9 | Scott Dixon | 231.502 | Honda | Chip Ganassi Racing |
| 5 | 30 | Takuma Sato | 231.379 | Honda | Rahal Letterman Lanigan Racing |
| 6 | 26 | Colton Herta | 231.348 | Honda | Andretti Autosport |
| 7 | 8 | Marcus Ericsson | 231.226 | Honda | Chip Ganassi Racing |
| 8 | 10 | Alex Palou | 231.208 | Honda | Chip Ganassi Racing |
| 9 | 45 | Santino Ferrucci | 230.924 | Honda | Rahal Letterman Lanigan Racing |
| 10 | 20 | Ed Carpenter | 230.901 | Chevy | Ed Carpenter Racing |
| 11 | 60 | Jack Harvey | 230.772 | Honda | Meyer Shank Racing |
| 12 | 48 | Tony Kanaan | 230.762 | Honda | Chip Ganassi Racing |
| 13 | 51 | Pietro Fittipaldi | 230.666 | Honda | Dale Coyne Racing w/Rick Ware Racing |
| 14 | 21 | Rinus VeeKay | 230.647 | Chevy | Ed Carpenter Racing |
| 15 | 25 | Stefan Wilson | 230.514 | Honda | Andretti Autosport |
| 16 | 6 | Helio Castroneves | 230.512 | Honda | Meyer Shank Racing |
| 17 | 2 | Josef Newgarden | 230.479 | Chevy | Team Penske |
| 18 | 47 | Conor Daly | 230.386 | Chevy | Ed Carpenter Racing |
| 19 | 4 | Dalton Kellett | 230.197 | Chevy | AJ Foyt Enterprises |
| 20 | 3 | Scott McLaughlin | 230.037 | Chevy | Team Penske |
| 21 | 86 | Juan Pablo Montoya | 229.955 | Chevy | Arrow McLaren SP |
| 22 | 28 | Ryan Hunter-Reay | 229.91 | Honda | Andretti Autosport |
| 23 | 98 | Marco Andretti | 229.908 | Honda | Andretti Herta-Haupert w/Marco & Curb-Agajanian |
| 24 | 1 | JR Hildebrand | 229.811 | Chevy | AJ Foyt Enterprises |
| 25 | 18 | Ed Jones | 229.794 | Honda | Dale Coyne Racing with Vasser Sullivan |
| 26 | 22 | Simon Pagenaud | 229.792 | Chevy | Team Penske |
| 27 | 7 | Felix Rosenqvist | 229.691 | Chevy | Arrow McLaren SP |
| 28 | 29 | James Hinchcliffe | 229.583 | Honda | Andretti Steinbrenner Autosport |
| 29 | 24 | Sage Karam | 229.536 | Chevy | Dreyer & Reinbold Racing |
| 30 | 16 | Simona De Silvestro | 229.476 | Chevy | Paretta Autosport |
| 31 | 14 | Sebastien Bourdais | 229.425 | Chevy | AJ Foyt Enterprises |
| 32 | 12 | Will Power | 229.163 | Chevy | Team Penske |
| 33 | 59 | Max Chilton | 229.086 | Chevy | Carlin |
| 34 | 11 | Charlie Kimball | 226.743 | Chevy | AJ Foyt Enterprises |
| 35 | 75 | RC Enerson | 226.054 | Chevy | Top Gun Racing |