F1: Verstappen nips two Ferraris to lead final Monaco practice
Red Bull Honda's Max Verstappen waited until the waning minutes of practice 3 to show he has the pace to win pole for the Monaco GP later today. Verstappen's lap of 1m11.294s beat the #55 Ferrari of Carlos Sainz Jr. by just 0.047s.
With only 0.047s between Verstappen and Sainz, pole position is certainly all still to play for in Monaco.
Charles Leclerc was third quick in the #16 Ferrari 0.258s behind the Dutchman.
Sergio Perez was 5th in the 2nd Red Bull Honda 0.523s behind his teammate.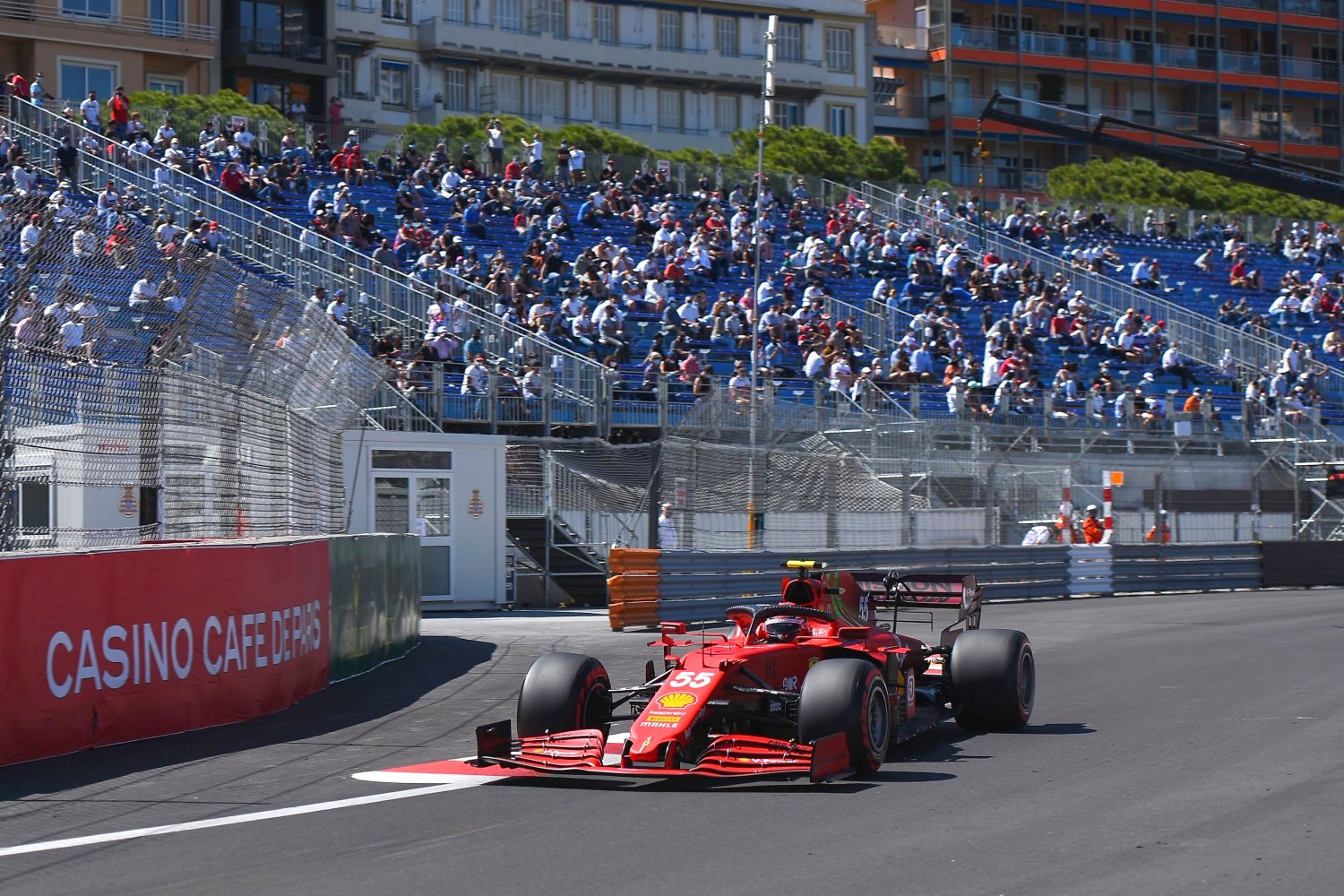 Mercedes are the team really off the pace – Valtteri Bottas has improved, but only to fourth. Lewis Hamilton is down in seventh and really looks to be struggling today.
The session ended a few minutes early when Haas rookie Mick Schumacher crashed heavily coming out of Casino Square. Replays show that he just carried too much speed into the corner, lost the rear and couldn't correct, smacking into the barriers with booth the rear and the front of his car. Schumacher was out and walking away which was good to see, shaking his head in despair. Getting that car ready for qualifying will be a tough ask here.
🚩 RED FLAG 🚩

The session ends early after Mick has a heavy collision with the Armco exiting Casino Square.

Thankfully he's ok and out of the car.#HaasF1 #MonacoGP #FP3 pic.twitter.com/XS73HqPahO

— Haas F1 Team (@HaasF1Team) May 22, 2021
So while Mercedes will be working hard over lunch to find some pace, spare a thought for the Haas and Williams crews. They both have quite the rebuild to complete if they are to get Schumacher and Latifi out for qualifying a little later on.
With two red flag periods during the crucial qualifying simulation runs (the first was when Latifi crashed his Williams on the exit of the swimming pool), the order isn't a true reflection – but it certainly gives an indication ahead of qualifying in just under a couple of hours' time. Lando Norris is going to be one to watch, but Daniel Ricciardo still can't get on his teammate's pace here.
Red flag as Nicky crashes on the exit of the swimming pool.

A hard hit but good to see him out of the car and ok. We'll be working flat out to get the car ready for Quali 💪 pic.twitter.com/cO9Bz8GiH0

— Williams Racing (@WilliamsRacing) May 22, 2021
Unfortunately Mick won't compete in this afternoon's #MonacoGP Quali session, due to chassis damage sustained in the #FP3 accident. #HaasF1 #MonacoGP pic.twitter.com/slJ5XM1Q1l

— Haas F1 Team (@HaasF1Team) May 22, 2021
Practice 3 Results
| | | | | | | |
| --- | --- | --- | --- | --- | --- | --- |
| Pos | No. | Driver | Team | Time | Behind | Laps |
| 1 | 33 | Max Verstappen | Red Bull Racing Honda | 1:11.294 | +0.000s | 19 |
| 2 | 55 | Carlos Sainz Jr. | Ferrari | 1:11.341 | +0.047s | 28 |
| 3 | 16 | Charles Leclerc | Ferrari | 1:11.552 | +0.258s | 27 |
| 4 | 77 | Valtteri Bottas | Mercedes | 1:11.765 | +0.471s | 21 |
| 5 | 11 | Sergio Perez | Red Bull Racing Honda | 1:11.817 | +0.523s | 18 |
| 6 | 4 | Lando Norris | McLaren Mercedes | 1:11.988 | +0.694s | 20 |
| 7 | 44 | Lewis Hamilton | Mercedes | 1:12.020 | +0.726s | 20 |
| 8 | 7 | Kimi Räikkönen | Alfa Romeo Racing Ferrari | 1:12.298 | +1.004s | 25 |
| 9 | 10 | Pierre Gasly | AlphaTauri Honda | 1:12.357 | +1.063s | 28 |
| 10 | 5 | Sebastian Vettel | Aston Martin Mercedes | 1:12.537 | +1.243s | 24 |
| 11 | 99 | Antonio Giovinazzi | Alfa Romeo Racing Ferrari | 1:12.539 | +1.245s | 21 |
| 12 | 18 | Lance Stroll | Aston Martin Mercedes | 1:12.700 | +1.406s | 22 |
| 13 | 3 | Daniel Ricciardo | McLaren Mercedes | 1:12.959 | +1.665s | 25 |
| 14 | 47 | Mick Schumacher | Haas Ferrari | 1:13.139 | +1.845s | 21 |
| 15 | 14 | Fernando Alonso | Alpine Renault | 1:13.329 | +2.035s | 19 |
| 16 | 9 | Nikita Mazepin | Haas Ferrari | 1:13.390 | +2.096s | 20 |
| 17 | 63 | George Russell | Williams Mercedes | 1:13.447 | +2.153s | 29 |
| 18 | 6 | Nicholas Latifi | Williams Mercedes | 1:13.475 | +2.181s | 22 |
| 19 | 22 | Yuki Tsunoda | AlphaTauri Honda | 1:13.522 | +2.228s | 30 |
| 20 | 31 | Esteban Ocon | Alpine Renault | 1:13.614 | +2.320s | 18 |