NHRA: Rain delayed Houston Results
Steve Torrence still has a ways to go before he matches his 2018 season, where he went 11-0 in final rounds en route to the first of his three straight Top Fuel world championships, but he's off to a great start. The Capco driver has now won three of the first five races of the 2021 season after stopping Doug Kalitta in the final of the rain-delayed Mopar Express Lane NHRA SpringNationals presented by Pennzoil. This win meant more than most since the Texas-based Torrence has been trying to win the Houston event since his Top Alcohol Dragster days nearly two decades ago.
"We've run well here in the past, but we get to the final round and something always seems to happen. We've been snake bit," Torrence said. "I don't know if I've had win repellant on me or what. The Kalitta boys did an awesome job. This is also the first race I've ever won on Monday other than Indy. I just think it's unbelievable to have the success we've had this year, and to win in Texas in front of our Capco crew and fans is even more special.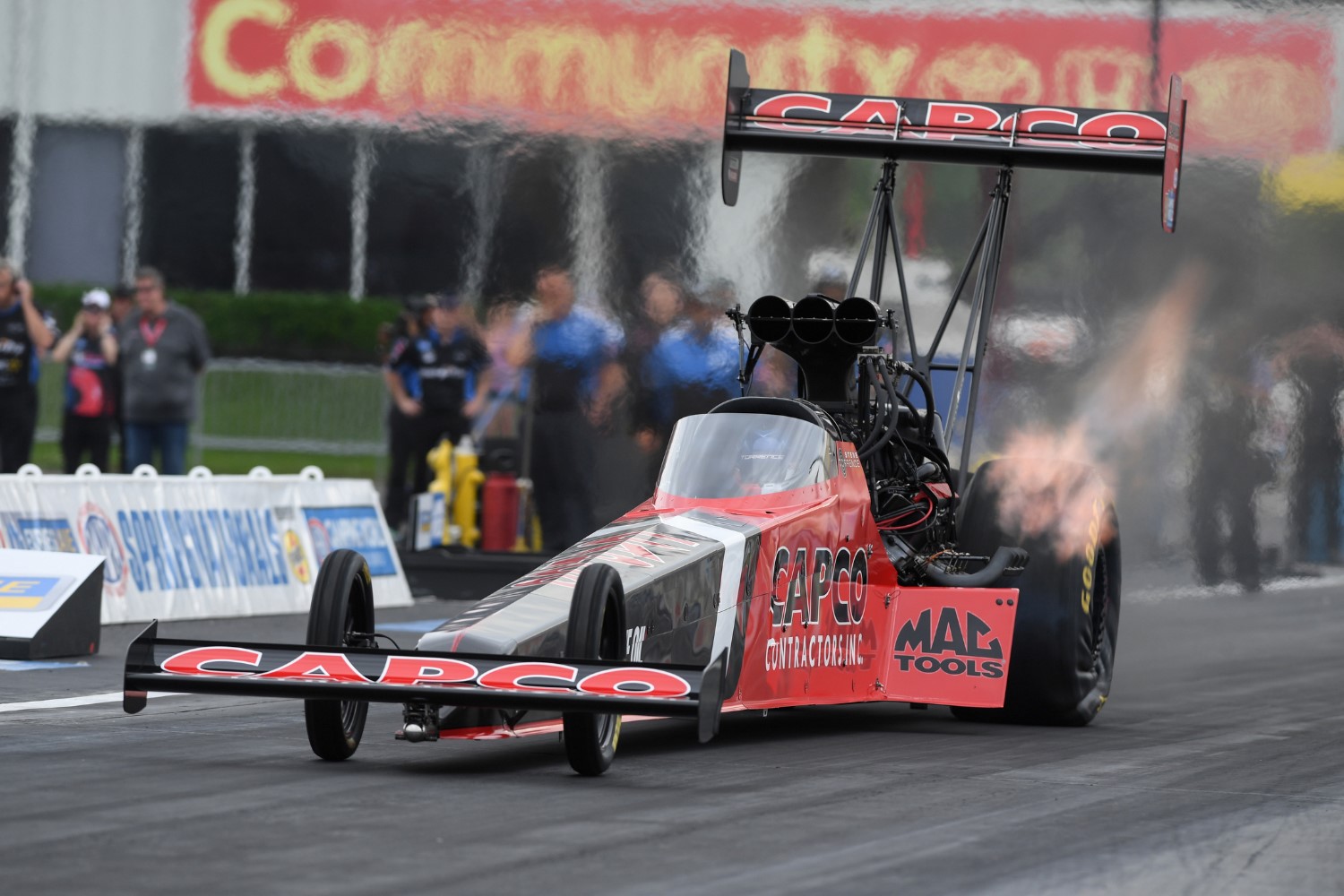 Torrence needed just a 4.00 to earn career win No. 43 after Kalitta's Mobil 1/TRD dragster smoked the tires early. Torrence has lost just two rounds this season and has 14 round-wins to extend his lead in the NHRA Camping World Top Fuel standings.
Coming off a convincing win a week ago in Charlotte, the Capco crew had no problems adjusting to the warm and muggy conditions present in Houston for much of the weekend. A 3.727 was more than enough to land in the top spot, but Sunday and Monday's final rounds were far from smooth sailing. In addition to his off-pace performance in the final, Torrence slowed to a 4.04 in the opening round, but that was enough to cover Mitch King, who was making his first start since 2008.
Torrence was quick when he needed to be, including a 3.703 in his semifinal win against Clay Millican. Torrence also ran a 3.71 on his quarterfinal bye run.
Kalitta was just about to take on Brittany Force in a crucial round-one match on Sunday when rain interrupted the event and pushed final eliminations into Monday. The battle, normally reserved for late rounds, went to Kalitta with a 3.76 at just 281 mph, after Force's Monster Energy dragster smoked the tires.
"That was worth the wait," said Kalitta. "Just before the finish line, it was coasting. At that moment, you're just hoping they're not going around you. You can kind of see it, but you're not totally sure."
Kalitta, wearing a special wrap highlighting the Kalitta team's relationship with Mobil 1 and Toyota Racing Development, made a similar run in the quarterfinals with a 3.77 at just 291 mph in his win against Antron Brown's Matco Tools dragster. Kalitta didn't top 300 mph in the semifinals, either. He managed just a 3.99 after dropping cylinders at half-track, yet it was enough to hold off teammate Shawn Langdon's tire-hazing 4.18.
Not many drivers can take the better part of a full year off, and come back without skipping a beat, but Robert Hight isn't like most drivers. Hight raced just twice in 2020 and was parked after the February event in Phoenix due to the COVID-19 pandemic. He returned this season with a runner-up finish in Gainesville and has now completed the comeback by parking his AAA Texas Camaro in the winner's circle for the 52nd time in his career at the Mopar Express Lane NHRA SpringNationals presented by Pennzoil.
In the final, Hight was paired with Ron Capps in a race featuring two sure-fire Hall of Famers who have combined for 117 victories in more than 900 starts. The heavyweight bout ended early when Capp's NAPA Dodge smoked the tires, and Hight laid down a solid low 3.9-second run for the fourth straight round with a 3.916. The win is Hight's first since the 2019 fall Charlotte event.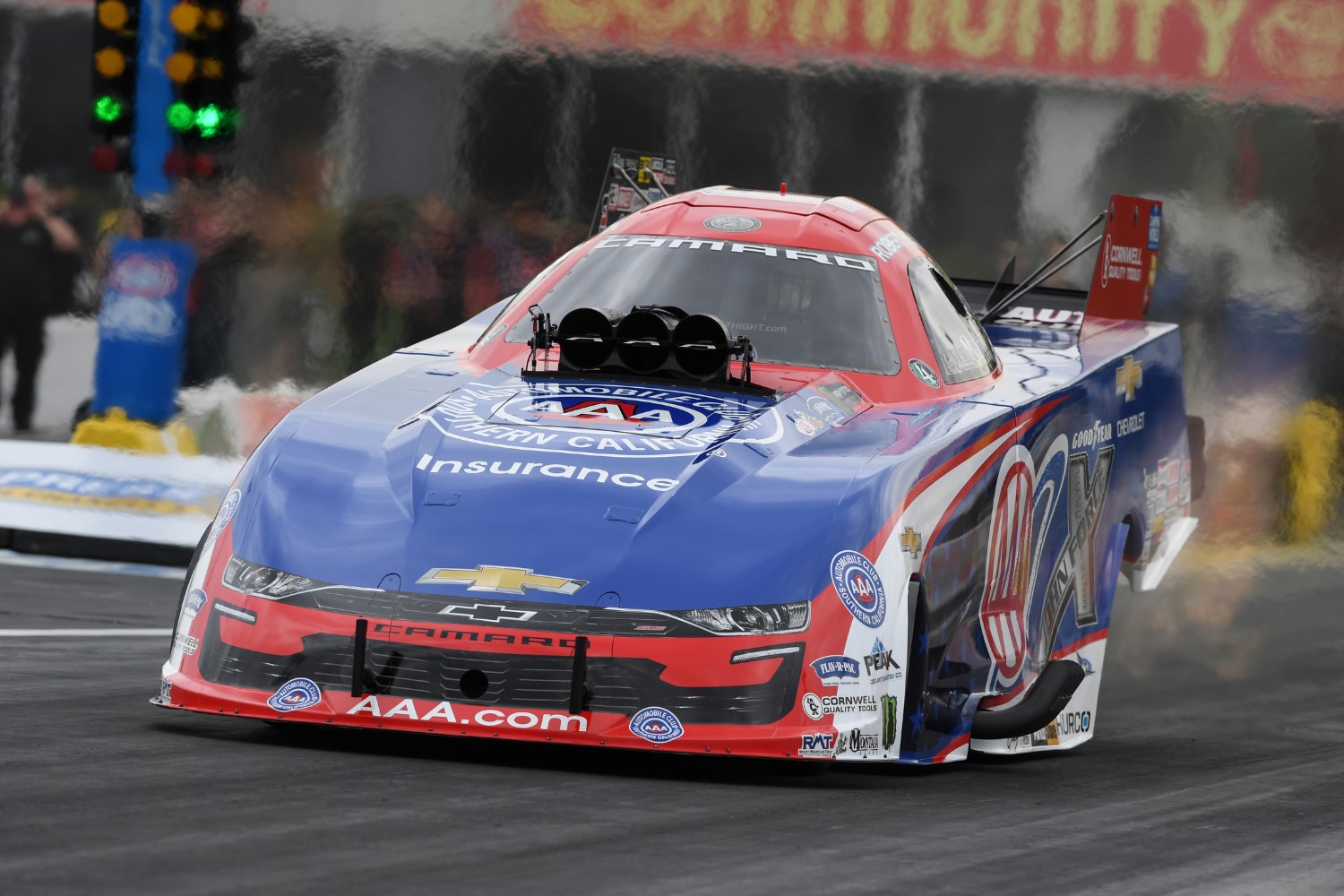 "The Peak car [John Force's Peak Camaro] has been the class of the field at the last few races, and they helped us on Monday in Charlotte. We tested, and they got us back on track. Then Jimmy [Prock, crew chief] and [the] Auto Club team did their jobs. These races are hard to win, and this place [Houston Raceway Park] has a special place in my heart. After sitting out last year, you wonder if ever going to get another one of these. They're pretty tough to win."
Hight came out swinging this season with a runner-up finish in Gainesville but lost a bit of momentum following back-to-back round-one losses in Atlanta and Charlotte.
A winner here in 2005, 2014, and 2019, Hight and his Jimmy Prock-led team have a handle on the Houston Raceway Park track surface, and that proved beneficial during one-shot qualifying with a 3.954 that was good for the No. 5 spot in the field. Hight approached Monday's eliminations with bracket-like consistency, including four runs between 3.93 and 3.90. Hight opened with a single after Bobby Bode was a no-show due to his college commitments.
Following a win against Cruz Pedregon, Hight took on Bob Tasca III's Motorcraft Quick Lane Mustang in a semifinal battle that could almost be described as a must-win since Tasca entered the race as the championship leader in the Funny Car class. Hight powered to a 3.909 to cover Tasca's 3.949.
Capps came to Houston in a similar predicament to Hight; with an extremely competitive car that hasn't yet had the success that many expected. Through the first four races of the season, Capps admitted that his NAPA team wasn't missing anything other than luck. In his first year with crew chiefs Dean Antonelli and John Medlen, Capps has been great in qualifying but had little to show for it other than a semifinal finish at the Las Vegas four-wide event. Capps came to Houston with a pedestrian 4-4 record in elimination rounds and was ranked fifth in the NHRA Camping World Funny Car standings but made a huge move with wins against Paul Lee, Matt Hagan, and Tim Wilkerson.
The way Matt Hartford sees it, there is no way he should have gone five races deep into the 2021 season without as much as a semifinal to show for it. Hartford attributed his slow start to a combination of bad luck and minor mechanical gremlins, specifically a pair of defective line-locks that cost at least two or three possible victories.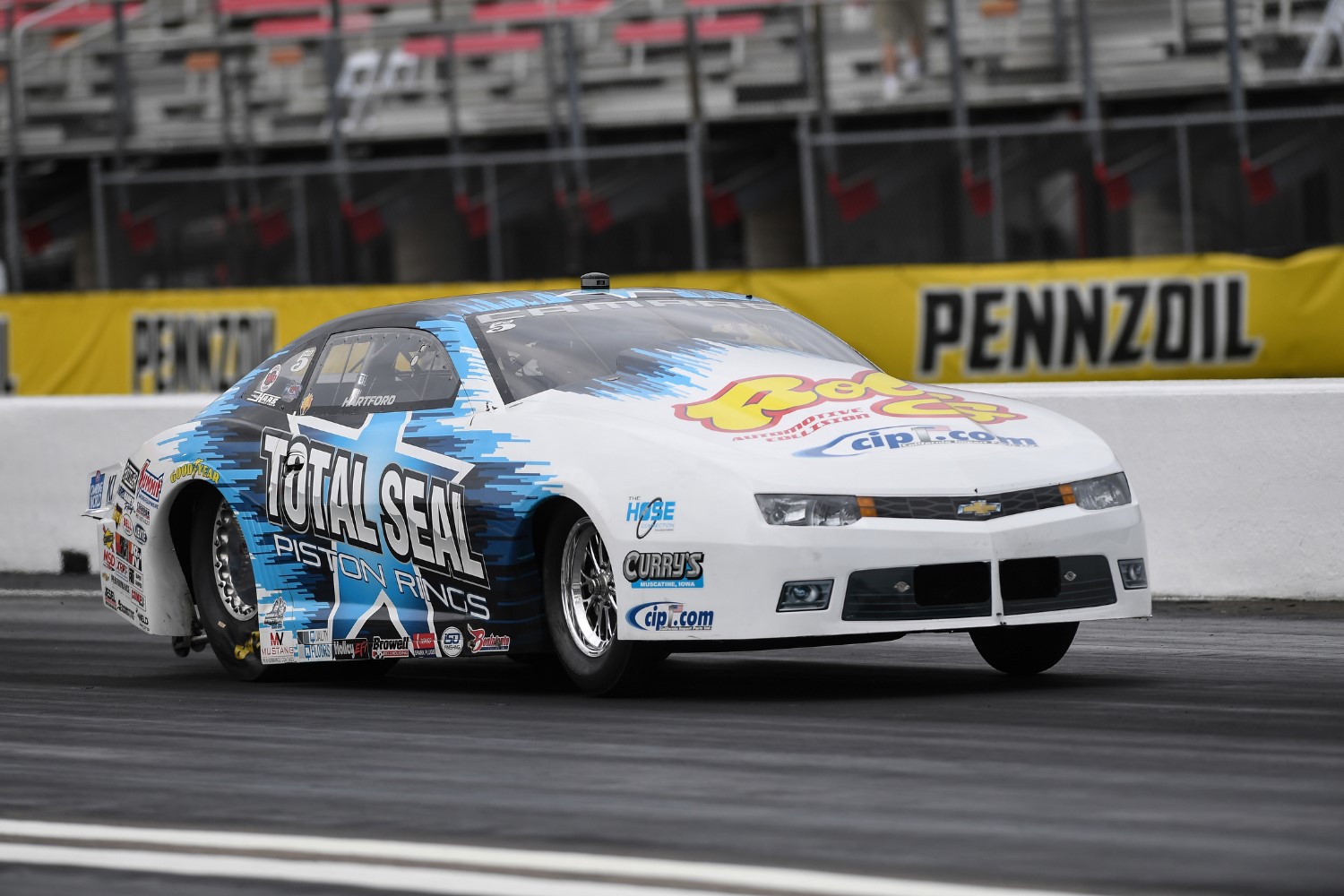 Hartford managed to shake off his early misfortunes to win in Houston for the second time in his career. During Monday's rain-delayed final round at the Mopar Express Lane NHRA SpringNationals presented by Pennzoil, Hartford made a withdrawal from the luck bank when both he and final-round opponent Deric Kramer shook the tires. Hartford recovered more quickly than his rival and nursed his Total Seal Camaro to the finish line for career win No. 4.
"We've had the power to win all year, but not the luck," said Hartford. "We had a line-lock problem that was really hard to diagnose. We changed everything, and the problem was still there. As it turns out, we had two defective pieces. That's really rare, but that's what we've been dealing with.
"I just wish my wife, Amber, was here," said Hartford. "This Wally is going back home to Scottsdale [Ariz.] for her. Texas has been great to us, I won my first race here. My lights today were pretty decent for a change. Normally, they're not that good. And that Boninfante clutch, that thing works. We've got a great team, and everyone has jelled together. The KB team also creates incredible horsepower. Both Deric and I are KB lease customers, and we were quick all day."
Hartford has also been without key members of his crew for much of this season. Crew chief Eddie Guarnaccia has missed some events and so has Hartford's right-hand man, Kris Ingaldson, who has been unable to travel from his home in Canada to the U.S. for events. In Houston, Hartford's crew was intact, and it obviously made a difference.
Unlike their nitro counterparts, Pro Stock teams in Houston were able to get two qualifying runs in, and Hartford put himself in a favorable position with a fifth-best 6.566. Of course, that didn't guarantee an easy path to the final round as Hartford's Monday began with a win against Kenny Delco and also included tough battles against four-time and current champ Erica Enders and defending Houston winner Aaron Stanfield.
Hartford can chalk both wins up to a quick clutch foot as he used a .013 light to barely edge Enders and was even quicker in the semifinals with a .008 opposite Stanfield's Janac Bros. Camaro.
For all the discussion about the up-and-coming young stars in the Pro Stock class, there is still plenty of room for some of the class's more experienced racers to shine. Hartford and Kramer each proved that in Houston. Kramer, off to a solid start this year with semifinals in Gainesville and Atlanta, topped Bruno Massel and points leader Greg Anderson before taking a 6.576 to 6.576 holeshot win against Kyle Koretsky in the semifinals.