F1 becomes latest industry to endorse cryptocurrencies
Cryptocurrencies received global exposure during the 2021 Monaco Grand Prix after leading blockchain platforms Fantom and Tezos had their logos featured on selected drivers' vehicles.
The logo of Fantom, a scalable blockchain platform, was prominently displayed on the vehicle of Formula One driver Pierre Gasly for the team Scuderia AlphaTauri. Tezos also became the Official Blockchain Partner for Red Bull Racing Honda, with their logo displayed on driver helmets and cars as part of their ongoing deal.
Gasly will act as the brand ambassador for Fantom, with his car and helmet proudly displaying the Fantom logo to a worldwide audience. Their partnership is set to last throughout the season. In a tweet, Gasly stated: "Fantom is the world's first smart contract platform ready for mass adoption, allowing instant transactions and nearly zero cost."
Tezos' deal with Red Bull aims to bring interactive NFT's through experiences that provide global race fans who have been unable to attend the Grand Prix closer to the action than ever before.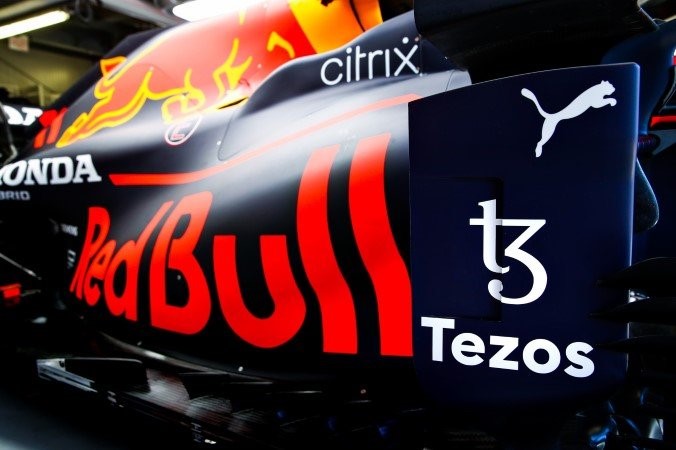 The NFT's will remain exclusive to Tezos, which is known to be the "world's most advanced blockchain". Red Bull believes that the NFT's will provide new, unique and immersive experiences as part of its fan engagement efforts.
Christian Horner, Red Bull Racing Honda Team Principal and CEO, said: "Designed to self-upgrade, Tezos' ability to remain at the cutting edge of blockchain technology makes it a natural fit for Red Bull Racing Honda. Crucially, its energy-efficient design also matches our own long-term future environmental ambitions."
Aston Martin Cognizant also announced a multi-year sponsorship deal in March with cryptocurrency platform Crypto.com, following their return to Grand Prix racing after more than 60 years. They also released a collection of commemorative NFTs to highlight previous race victories.
Fan tokens are also becoming increasingly popular, as they allow users to interact further with their favorite team through merchandise, marketing campaigns and selected votes and opinions on changes to club kits and branding. The tokens also offer VIP rewards, exclusive promotions, chat forums, games and competitions for fans.
Recently, Chiliz, the leading blockchain provider for the global sports and entertainment industry, announced that Aston Martin Cognizant and Alfa Romeo became the first Formula One Teams in the world to launch Fan Tokens through Socios.com.
Alexandre Dreyfus, CEO of Chiliz and Socios.com, said: "We're very proud to welcome Aston Martin Cognizant and Alfa Romeo as the first two Formula One™ Teams to join our network, and look forward to raising the profile of their brands globally through Fan Tokens. Formula One is broadcast to a worldwide audience of around two billion, making the reach and potential of these partnerships enormous in scale."
As their values and mission mirror each other so well, alongside the opportunity for greater global exposure to the sport and the Cryptocurrency industry, it's clear to see that further partnerships could be on the horizon.