Fittipaldi receives fastest Indy 500 rookie qualifier award
Pietro Fittipaldi has received his Fastest Rookie qualifier award after qualifying an impressive 13th last Saturday.
Driving the #51 Dale Coyne Rick Wares Honda in place of Romain Grosjean who is afraid of ovals, Fittipaldi set a four-lap average of 230.846mph to claim 13th, the inside of the fifth row.
He was the fastest of the two rookies who qualified this year for the Indianapolis 500 presented by Gainbridge, as Scott McLaughlin will start 17th in the No. 3 Pennzoil Team Penske Chevrolet.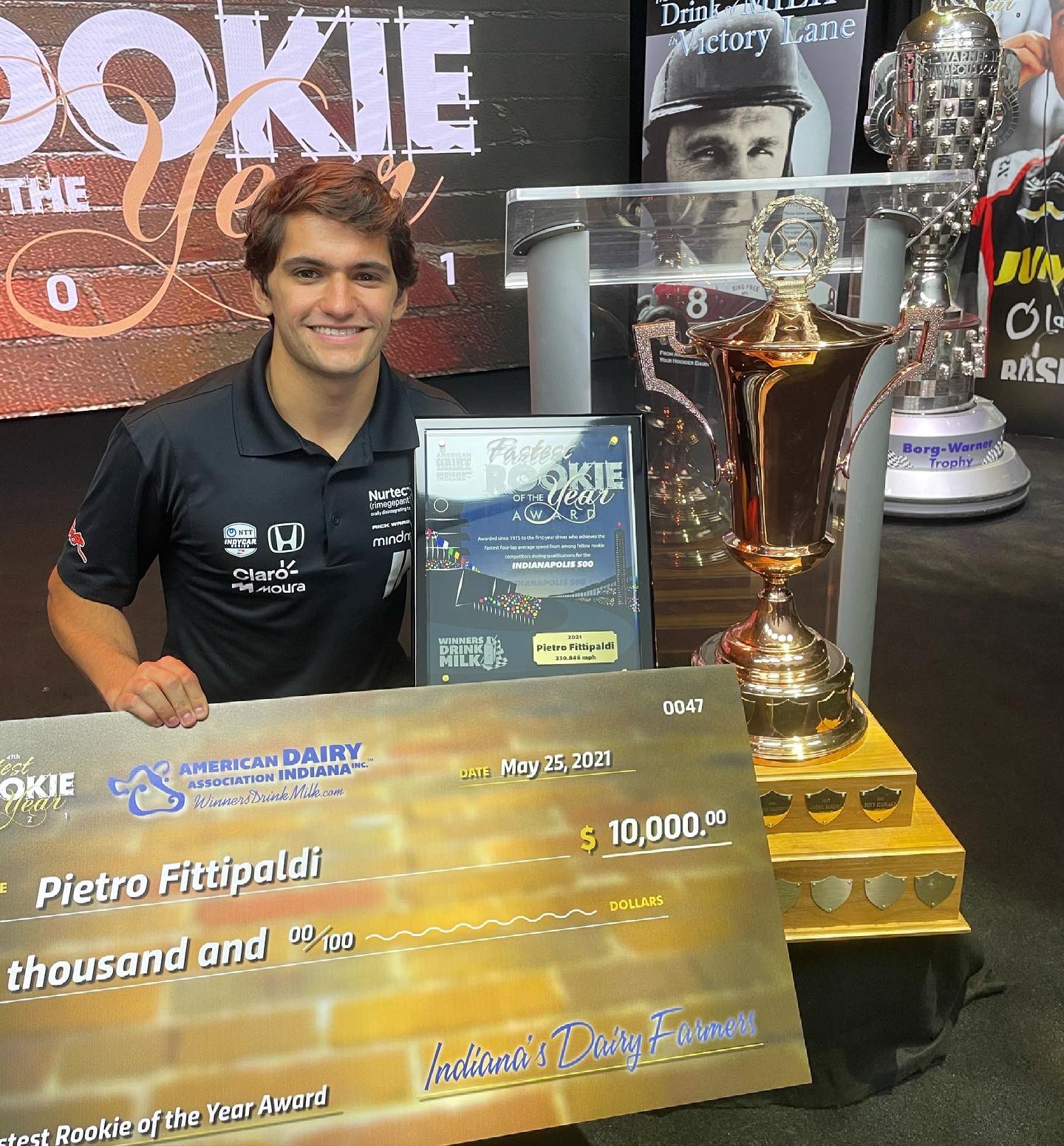 Fittipaldi and fellow rookie McLaughlin were honored at the American Dairy Association Indiana's 47th Annual Fastest Rookie of the Year Luncheon, with Fittipaldi earning the title of Fastest Rookie of the Year.
"It was amazing," Fittipaldi said, "It was great to be there and to get presented the award, have my name on the trophy that has so much history with all those drivers there."
"We knew we had a good car [on Fast Friday]. All the pressure and the hype, it's four days of practice that are just building up to it. The nerves were there, it's my first Indy 500 qualifying and it's super intense.
"You have to go out and be committed and hold it wide open, flat out for four laps and we did that. The car was amazing, the Dale Coyne Racing with RWR team has done a great job. I'm just very happy to be here and super excited.
"We were thinking of going back out at the end to try and get into the Fast Nine – I think the car had it in it – but at the end of the day we're happy with where we qualified, and we didn't want to risk it."
The Brazilian-American driver was scheduled to make his Indy debut in 2018 until he suffered serious leg injuries in a crash during a World Endurance Championship sports car event at Spa-Francorchamps in Belgium just 11 days before practice the Indy 500 opened.
Doctors told him it would take over a year to return to racing, with a chance that the injuries could be career-ending. But Fittipaldi defied that diagnosis and returned in 2 1/2 months, while his legs were still healing, and later that season finished an NTT INDYCAR SERIES career-best ninth at Portland thanks to the help of a specially created cast and an aggressive rehab program.
"I had to go through a lot of things when I had the accident, overcoming that, and being able to overcome it mentally, as well," he said.