IndyCar: Chevy drivers talk about Sunday's Indy 500
Chevy powered drivers respond to questions from the media on Media Day for the Indy 500:
JR HILDEBRAND, NO. 1 ABC SUPPLY/AJ FOYT RACING CHEVROLET
HOW HAS THE MONTH OF MAY BEEN GOING FOR YOU AND HAVING TONY STEWART AS A FILL ENTRY?
"It's been very cool. A lot of people have asked me. I'm just trying to feed off the energy of it. It's been great. The team has done an awesome job so far. Heading into qualifying just to our race trim through the week, we had a pretty good feeling for what we were looking for early in the week and couldn't quite find it. We were trying a lot of different stuff. By the end of the day on Thursday, we had made some really significant gains on how the car was feeling in traffic. And then, rolled into Friday. You're never really sure what to expect. But as far as being on our side of the fence, we felt like we found some speed and ended up being the fastest car on the team on Saturday and had a really strong qualifying run from our perspective from what we felt like in that short period of time we could work on and extract. I think a lot of that, honestly, is due to the work just over the week that the crew has been doing on the cars. A huge credit to them to find a little extra speed for us and I'm feeling good heading into race day."
SCOTT MCLAUGHLIN, NO. 3 PENNZOIL TEAM PENSKE CHEVROLET
HOW IS THE MONTH MAY GOING FOR YOU?
"I'm enjoying it. It's been a really interesting month. You're once an IMS rookie and I'm really taking it in my stride. I enjoy every moment. It's been an up and down month, obviously, for me. As a team, we're a little bit underwhelmed with that qualifying speed. But I think in our race trim and the cooler temperatures will certainly help us move forward."
DID YOU EVER THINK YOU'D BE HERE AT A PRESS CONFERENCE TODAY FOR THE INDY 500?
"Absolutely not. I think I always had the ambition and the want to come over to America and race. But I thought a touring car race was probably where it was going to be if I was able to achieve anything because that's what I've known for my whole time. I've really enjoyed my time at INDYCAR so far and thankful for the opportunity. It's so fresh and new for me. Learning a car that's completely different from what I've ever driven before. I'm really enjoying the freshness and the challenge and comradery. My first Indy 500 means everything that I could have ever thought of. I'm really excited for what's ahead and really don't know what to think of what it's going to be like on race day morning for me."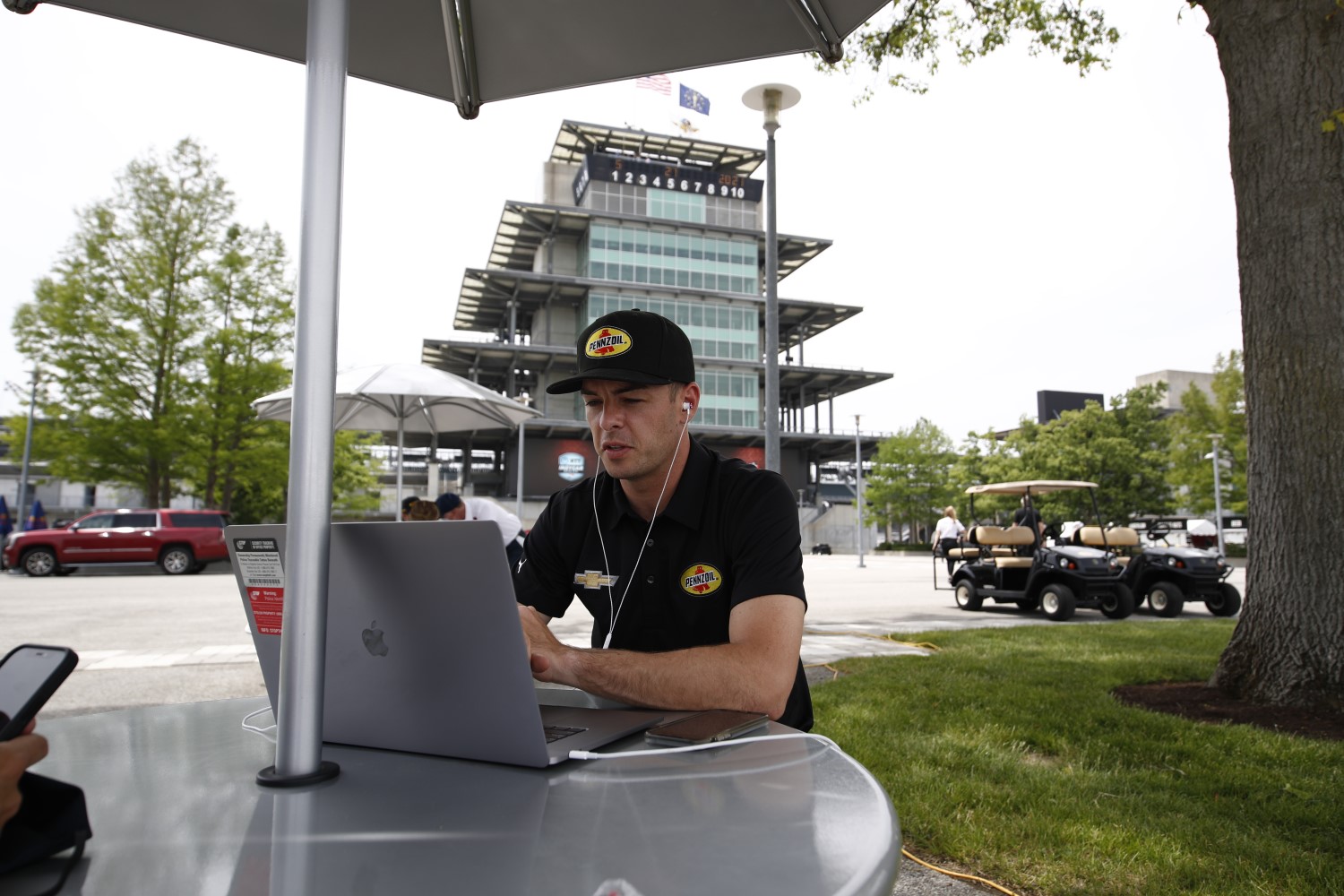 SEBASTIEN BOURDAIS, NO. 14 ROKIT/AJ FOYT RACING CHEVROLET
HOW HAS THE MONTH OF MAY BEEN GOING FOR YOU?
"The month of May has been interesting. We struggled a little bit early on to find some stuff in traffic that we were comfortable with. And then you transition to qualifying trim and we didn't do the best job, I don't think. We probably got a little bit too cautious. If we had done everything right, I think we could have probably been in the top-20. We were too careful. The gaps between the cars made it that the opportunity was pretty unforgiving. When you are not exactly on the money, you are losing quite a few positions. What is done is done. I'm pretty comfortable with what we found Sunday late afternoon with the race car and how we looked. I'm looking forward to it and a better race day."
WHAT'S IT LIKE TO BE BACK AT INDIANAPOLIS WITH FANS IN ATTENDANCE?
"It's like the Indy 500 but not quite, though, because I think 130,000 for the 500 is still going to feel pretty empty, but after everything we've been through over the last year or so it's definitely a step in the right direction and I'm definitely looking forward to getting back to normal."
ON THE EMOTIONS OF THE TEAM AFTER LAST CHANCE QUALIFYING
"It's very tough for the team. Everybody works very hard, and you have four cars in the team and then one that just doesn't have speed. The guys worked extra hard to try to put that car in the show and it didn't make a difference. It's heart-breaking Charlie (Kimball) is probably one of the drivers that values the 500 the most and has the most appreciation and respect for the place. He missed the show through no fault of his own just because the car isn't quick enough is a sad one. But it's super unforgiving. I'm kind of glad it wasn't my car, but yes, it's tough to witness it."
WILL POWER, NO. 12 VERIZON 5G TEAM PENSKE CHEVROLET
HOW HAS MEDIA DAY GONE FOR YOU AND WHAT ARE YOUR EXPECTATIONS FOR SUNDAY?
"Media Day has gone fine. Expectations, obviously we had some good strategy go our way. I think we have a really good car in traffic, I do. I've said that from the beginning. Qualifying didn't go as we expected, but I was really happy to get in the race. It's been positive. It really has. We executed on Sunday and the team is in good spirits. I think it's really hard to judge how this race is going to play out; but we need to make up a lot of positions the whole time."
HOW DO YOU DEAL WITH FRUSTRATIONS OR SETBACKS OR THINGS YOU WEREN'T EXPECTING? IS THERE ANYTHING IN PARTICULAR THAT YOU DO TO KIND OF BOOST TEAM MORALE?
"Actually, we had a dinner last night and talked about race plans, just for my crew. I have been really happy. It's funny. I've been more positive, and happy than I am when I qualify on the front row. It actually was a win for us in getting it right. It just kind of put things into perspective. It turned into a positive, believe it or not."
MAX CHILTON, NO. 59 GALLAGHER CARLIN CHEVROLET: 
"We will just have to forget about  the Grand Prix and move on to bigger and better things. The Indianapolis 500 is something five or six years ago I wasn't aware of it to the extent of it I am now. I used to the end of the race in Monaco and think these guys are absolutely heroic. And the first time I actually watched it was through the visor of my helmet. Every year I learn more and more about it. I've been though trials and tribulations of not qualifying. We were on the cusp. I knew we were on the right side of it. But it doesn't make the stress levels amy easier on qualifying day. I am just unbelievably proud of what we did. We were very very disciplined. We were up against power houses like Andretti who is engineering 8 cars. Penske with five and Ganassi with four. So a single car team is not easy. I think we did a fantastic job. We were very very disciplined. Yes we focused on qualifying all week and didn't do much race running at all. But win a race you aren't in. So we stuck to it. We were very disciplined. And didn't get sidetracked by other peoples times. We knew what we needed to do and we actually executed the best we've ever done. I did the best qualifying I've ever done here. I was flat all four laps and it wasn't because of downforce. We were trimmed more than ever. I was just really in control my bars and my jacker which allowed me to keep flat. They said at the time we were safe, but it was still very close."
ED CARPENTER, NO. 20 SONAX ED CARPENTER RACING CHEVROLET:
QUESTION ABOUT OUTLOOK FOR RACE FOR ALL THREE ECR CARS:
"I'm feeling pretty good. We've had a really good week and a half of prep. And obviously qualifying weekend went fairly well. Happy to have two of our three cars up in toward the front. And really excited about the race cars we've built based on what we learned in practice. I'm just hoping that we can continue the way things have been going. Hopefully we will be in a similar position late in the race from where we are starting and then we can fight for it."
WERE YOU SURPRISED YOU PUT UP THE BIG QUALIFYING NUMBERS THAT YOU DID? "I think we expected to be able to run over 232 mph for at least a lap based on what we did Saturday. I was encouraged when I saw Rinus time. Any time you have a teammate go before you, you kind of know where you are going to be relative to that. It was good. The guys did a great job with the balance. They had prepared for those conditions Friday.  And Fast Friday prepared us pretty well for what we saw in the Shootout. I knew we were going to have a chance. It was going to depend on how big Scott( Dixon) and Colton's (Herta) first laps were."
DO YOU HAVE A FEEL FOR FUEL MILEAGE?
"It's a little hard to tell in those practice sessions. You don't really know who goes out, and who stays out during those sessions. So it is hard to get an exact measurement on where the competition is. But, I was happy with what we were a le to do and learn. We have good options to be able to do what we need to do come Sunday. But you don't truly know until the race and everyone is running full stints for real. But I'm always confident in what Chevrolet gives us from a fuel mileage standpoint, but also economy and most importantly reliability."
JOSEF NEWGARDEN, NO. 2 SHELL FUEL REWARDS TEAM PENSKE CHEVROLET
HOW HAS YOUR MONTH OF MAY BEEN AND WHAT ARE YOUR EXPECTATIONS FOR SUNDAY?
"It's been good. I'm excited to be here as always. I like seeing the energy again at this track with fans. I can't wait to get going for Sunday. I think we have a good car. We all feel pretty comfy. We have high expectations without a doubt. We didn't perform to the level that we would expect or hope in qualifying. But qualifying is one piece of it. The race is another. And I think we're all very excited to be a part of this field and try to make the most of the day."
IN YOUR LAST SIX INDY 500'S YOU'VE HAD TOP-10 FINISHES IN FIVE OF THOSE SIX RACES. IT SEEMS LIKE YOU ARE ALWAYS ON CUSP. WHAT IS YOUR MINDSET FOR THIS YEAR'S RACE AND HOW WOULD IT BE TO CELEBRATE IN VICTORY LANE?
"Well, I always believe it can be the year. So that's no different. We have to be able to attack at the end of this race if we're able to put ourselves in position. The last couple of times I've been up in the mix at the end. First off, you've got to be able to put yourself in that mx but then I think be able to capitalize and attack at the very end. That final piece of the puzzle is really what I need. With this team I think we have that. I think we have execution skills, and we can definitely put it all on the line when it really matters. We've just got to be prepared to do that."
ON RACE STRATEGY AND WORKING WITH TEAMMATES
"I think we have the ability to move forward, and I think we can definitely make it happen on race day. I think our cars are all capable of moving forward. This place is a matter of executing at the highest level throughout the day. We have to make strong stops and make the right decisions and if we can drive the car aggressively, I think we will be moving forward all day long and be in the mix. I think any one of us can. That's our focus right now, to be prepared to do that and hope we have a very strong day."
BECAUSE OF THE DOUBLE POINTS FOR THIS RACE, DOES THIS RACE BECOME THAT MUCH MORE IMPORTANT?
"Yeah, naturally it does. Because it's double points it's double-impactful. I'm still not a huge fan of it. I think it would be nice to see it return to standard points like we have with the season finale. But this is the game that we're in right now. We know the rules going into it. So, it is important to have a strong race here, but it's still the Indy 500. I think if you feel like you have a winning car then that overrides anything else on the day. But if you have a so-so car, then, championship-wise, it is a very important event. It's going to play into the mix here as we go down to the wire. It's important. You don't want to think about it because it's the 500, but it's impossible not to."
SIMON PAGENAUD, NO. 22 MENARDS TEAM PENSKE CHEVROLET
HOW HAS THE MONTH MAY BEEN FOR YOU AND WHAT ARE YOUR EXPECTATIONS FOR SUNDAY?
"Well, I'm not going to lie. Qualifying was disappointing. As a team, we worked hard over the Winter trying to find as much as we could to be ready for qualifying day and it turned out to be a disappointment. We are very confident in our race package and we demonstrated it on Monday. Very early in the session we were able to pass many cars and I was very happy with my race car. I was as happy as I was in 1919, so we have a lot of hope. Knowing also my pit crew is the best on pit lane since the beginning of the season. We have a lot of hope we come back to the front. And the goal is to be cracking top-10 at the end of the 100th lap and then I think we've got a chance."
ARE YOU GOING TO BE PLAYING A BIT OF A TEAM GAME TO GET TO THE FRONT OF THE FIELD AND THEN ALONE FOR THE SECOND HALF OF THE RACE?
"I think we have a fantastic car, quite frankly. I'm very energized about the opportunity to go out there Sunday. I think the aero package is very good for racing. I think we're going to see something different than we saw last year. Because they're giving us more downforce, I think the racing in the back will also be better. I have a lot of hope. I feel like we have a chance to come back. Obviously, there are some very strong cars, but my goal is to come back to the front and do the best I can. There are no team games to play at this point."
WHAT'S IS YOUR ATTITUDE LIKE GOING IN AS AN INDY 500 WINNER AS COMPARED TO PREVIOUS YEARS WHEN YOU WERE STILL TRYING TO GET YOUR FIRST VICTORY?
"That's a great point you make. I didn't get to enjoy the year after winning the championship here at the speedway. It's okay. There are a lot of winner-seekers this week and it was fantastic to see the fans come back. Last year was definitely weird with no energy before the race, which is something we're very sensitive to. The fans have been starving for competition so I'm very excited to be able to give them a great show here. And again, being a 500 winner gives you a lot of confidence and also a sense of achievement. It gives me the opportunity to unlock myself a little bit more going into the race knowing that I've done it before."
SAGE KARAM, NO. 24 DRR-AES INDIANA DREYER & REINBOLD RACING CHEVROLET
YOU PROBABLY HAD A BIT OF STRESS ON SUNDAY GOING THROUGH THE LAST ROW SHOOTOUT, BUT HOW HAS YOUR MONTH BEEN? YOU STARTED OFF FAST
"Yeah, it's been an up and down month, for sure. We rolled off the truck pretty well. We were fourth on the charts on day one, but obviously I think all the drivers know it doesn't really matter where you are on the first day of practice. But it felt good. It's a confidence boost for me and the team. Everything was good until we got to Fast Friday and it seemed like the balance of the car changed quite drastically and then we knew we were in trouble. We knew we were probably going to be battling for the Final Five Shootout there, unfortunately. I've done that twice now. It doesn't get any easier even though you've done it before. I didn't really know what I could do for four laps, so I wasn't totally confident. Thankfully the team gave me a car that was good enough to be able to get in the show inside of the last row. It's my fourth time starting there, so I have some experience back there. I kind of know what to expect going into Turn 1. I think I have some good drivers around me too, with Will (Power) next to me, so I'm not really worried too much about who I am around. We've just got to make sure we avoid anything that might happen and be on our toes. It's a long race and I think INDYCAR has done a good job with the car in bringing some new aero pieces. It makes it a bit easier to stay close to people and with a cooler track, I think that's going to help guys like me and Will with passing."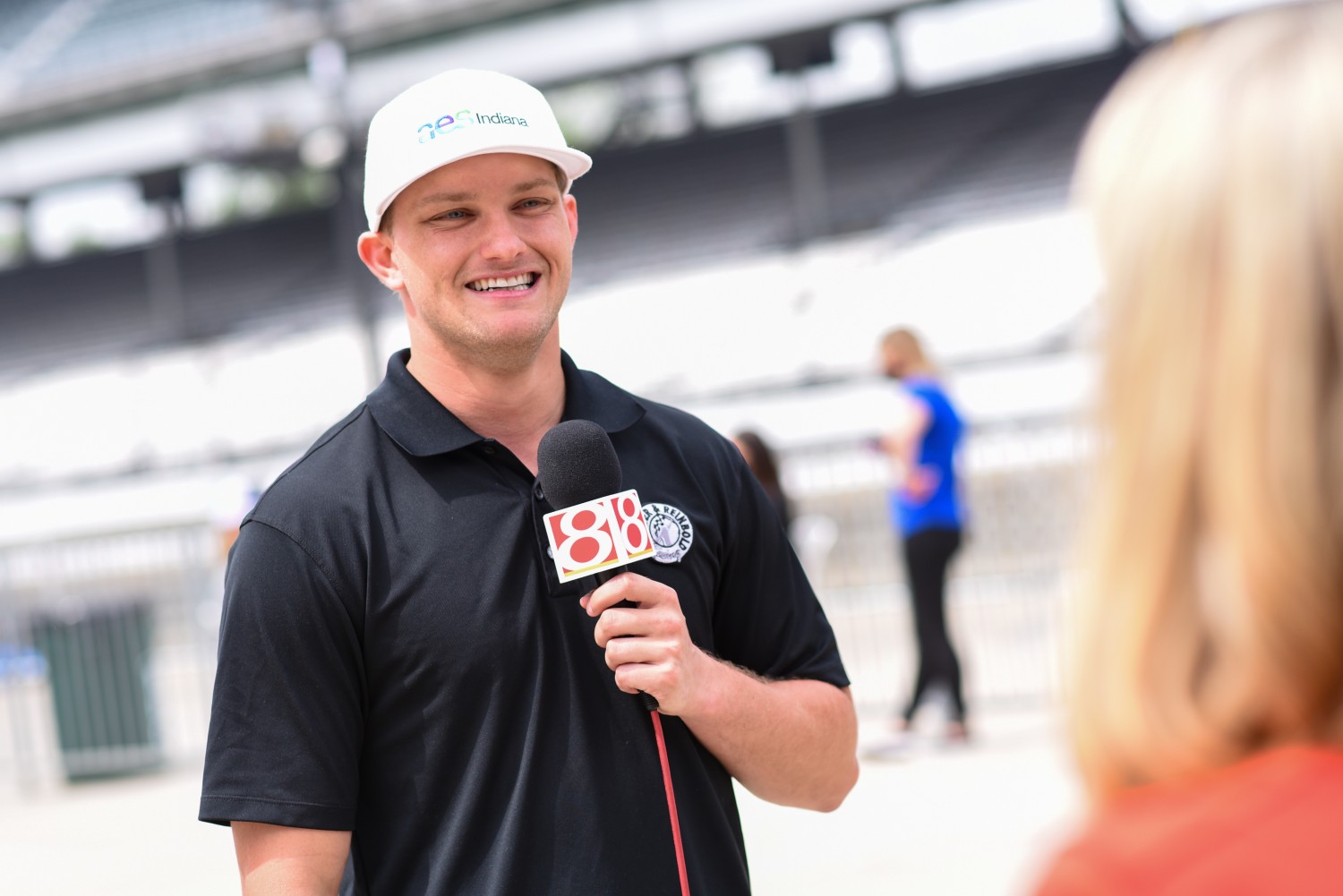 HOW DIFFICULT IS IT FOR A ONE-OFF TEAM TO COME INTO THE INDY 500 WHEN THE TEAMS ARE GETTING SO MUCH BIGGER?
"It's obviously quite difficult. It's a very competitive field. I'm 31st and a 229-mph average. Usually, 31st is like 227 or 226-mph It just shows how good the field is now days. I think for us we had a two-car operation, the last two years. And it was good. You'd go through a test plan a bit quicker and still get some more data. But we're not a big team. And I think we operate better at just one car and just putting all your energy and effort into that car. That's when we ran strong. And we've struggled the last two years. So, there are definitely some upsides and downsides to being a one off, one-car entry. But I think we've shown in the past that we can compete with the big teams. We've just got to put everything together.
"It's hard for me. Being my first race of the season, and my only race of the season like having a whole year off and then trying to come into the 500 being race ready, I need to re-learn some stuff and get ready by just driving. It's hard to train for racing without actually just racing. After the first day of practice, my neck was just so sore and I'm sure full-time guys don't have that. They get used to that stuff. I can't really like workout for that. So, it's strange. And the team, itself, like they don't do live pit stops all year and everything, so they have to get in the swing of that through the month. I think that's like kind of the downside to it. They do a great job and have been doing it for a long time. They're so used to it. They know what they've got to check off the list and what the important stuff is."
WAS THERE ANY DOUBT THAT YOU WOULDN'T MAKE THE RACE?
"No, just because I don't want to manifest the negative energy in the universe. I want to always think positive, and I always believed that I was going to make it and I believed in my team and I think the team believes in themselves and in me, as well. I think everybody always believed we were going to make it. It was just going out and executing four perfect laps. As far as like how the run went, it was a good run. That first lap was pretty good. It was in the 230's and I wasn't expecting that. And then like the third and fourth corner of the second lap I started to feel the car getting a little bit tougher to handle. So basically, from Turn 3 and 4 at the end of the second lap on, I was holding on to the car. But I think it was like that for mostly everybody."
SIMONA DE SILVESTRO, NO. 16 ROCKET PRO/PARETTA AUTOSPORT CHEVROLET:
HOW HAS THE MONTH OF MAY GONE FOR YOU AND PARETTA AUTOSPORT?
"It's good to be back. We've had a lot of interesting scenarios and definitely a bit of interesting qualifying, and that just show what IMS can do to you. Super happy to be back in the show and be racing this weekend."
HOW STRESSFUL WAS SUNDAY FOR YOU?
"It was stressful in the sense because you knew you had just that one shot; you had to get it done. If you crash or you lift, you're not going to make the race, so that was a bit stressful. The team put so much work into it and me as well coming back after six years I really wanted to be in the field. That was definitely a bit of pressure, but happy the run went OK, and we made the show."
WHAT ARE YOUR EXPECTATIONS FOR THIS SUNDAY STARTING FROM THE 33RD STARTING POSITION?
"We don't have pressure from behind, so moving forward is what we need to do. I think we have a really strong race car and I'm excited about it. I think the team is amazing, they are really on top of it with the pit stops as well. It's a long race and we just need to execute all the things we can control and hopefully and luck is on our side and we can finish strong."
DO YOU HAVE ANY EXPECTATIONS?
"I think the first thing is we need to finish. I think we have the potential to be in the top 10 and that's what we're aiming for. You want to win this race and maybe things fall our way. We have our work cut out for us, but we'll try to execute the best we can and be there at the end. I'm confident with the race car I have and I'm looking forward to Sunday."
PATO O'WARD, NO. 5 ARROW MCLAREN SP CHEVROLET:
HOW HAS THE MONTH GONE FOR YOU?
"I thought we had a car to get into the Fast Nine, but we didn't get a second turn to go. We're starting on the outside of Row 4. Not a bad place to start. I feel like my race car has been solid. My Chevy has been good to me so far. I think we've been doing a good job with what we have. I just want to start the race already."
HOW SIMILAR ARE THE THREE CARS AT ARROW MCLAREN SP?
"Felix (Rosenqvist) and I are similar, and Juan Pablo (Montoya) is completely different, and he went his own way. I feel strong in the race car. We'll be in a good place."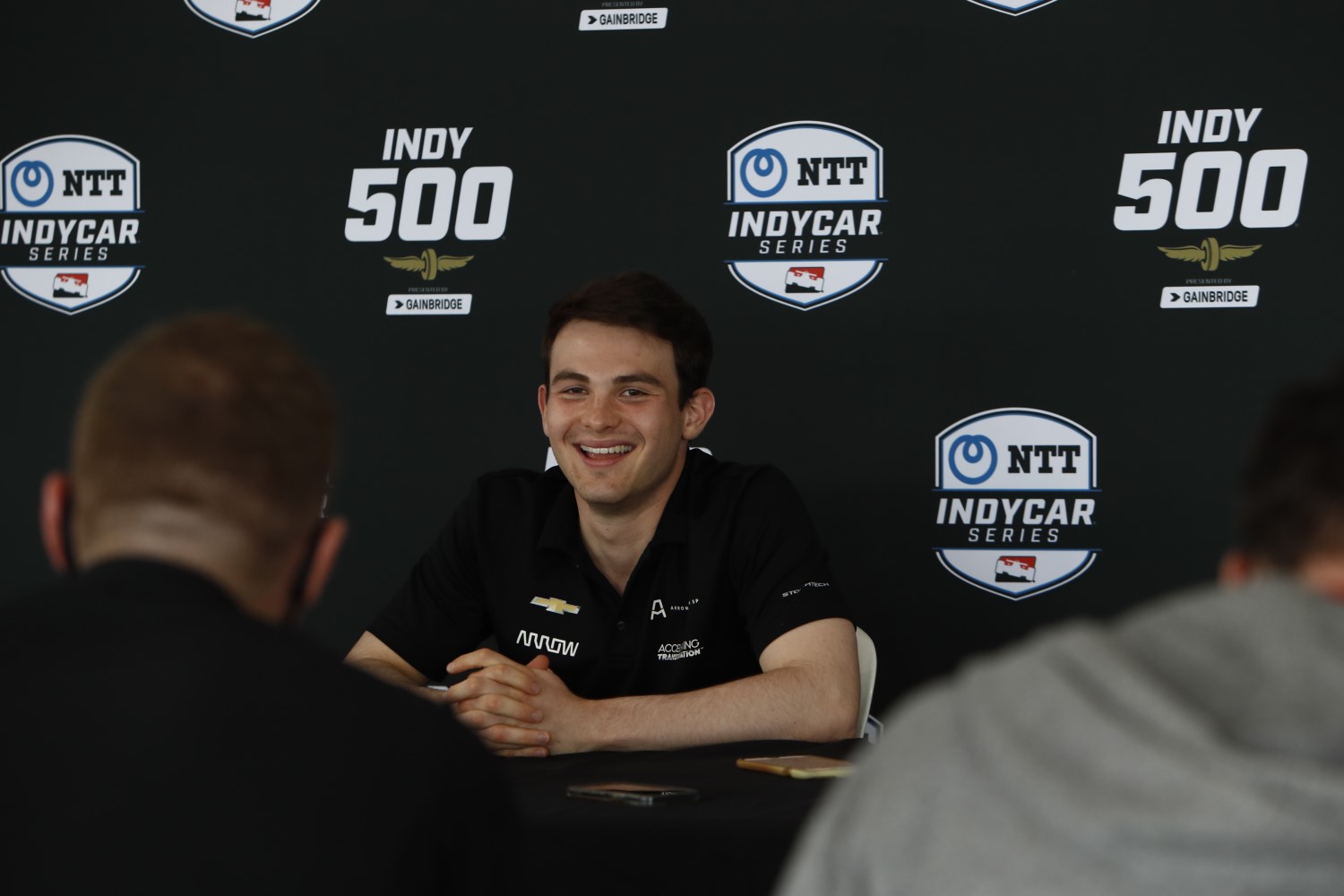 HYPOTEHTICALLY, YOU WIN THE 500. WHERE DOES THE FIRST MILLION DOLLARS GO?
"I'd probably buy myself something as a present. Not quite sure. Whenever I get to having that problem, I will choose."
FELIX ROSENQVIST, NO. 7 VUSE ARROW MCLAREN SP CHEVROLET:
HOW HAVE THINGS PROGRESSES THIS MONTH FOR YOU AND THE NO. 7 TEAM?
"It's been a lot calmer than my previous ones, I think. I've learned how to handle the month a little bit to my benefit, take it one day at a time and not get too stressed about it. It doesn't help you to think that it's the biggest race in the world. You do what you can."
WHAT'S IT BEEN LIKE HAVING JUAN PABLO (MONTOYA) WORKING WITH YOU THIS MONTH?
"It's been fun. He cracks me up. Having him and Pato (O'Ward) as my teammates, it's definitely not a quiet time at any point. It makes the days pass faster. Technically, Juan Pablo is very experienced. He knows what he wants from the car and will say it. It's a good learning experience for me and Pato as well. You can always make the car better and that's Juan's mentality for the whole month. And he's been looking good out there, and that pushes us as well. We obviously want to beat him on track, but we're working very good together."
HOW HAS JUAN BEING WITH THE TEAM HELP YOU FOR THE REST OF THE SEASON?
"He did the GP with us, which was helpful because our performance on the road courses as a team has been up and down, a bit hit and miss. There's just no testing for us and when we try something it's a big risk. To have Juan Pablo there and give his feedback with his experience that really lined us up in a good direction. I'm not the one to decide, but he'd be welcome to join us for the whole season."
HOW DO YOU PREPARE YOUR MIND FOR SUNDAY?
"I certainly haven't been topping any practice times, but I think where you place is practice is kind of overrated. I think all three of us have been good in traffic and have bene working hard on our car in traffic. I think as a team we're up there with others. We're focusing on ourselves. If I've been in the shadows on the time sheet, I think that's a good thing because we can surprise a few people on Sunday. That's when it all counts."
CONOR DALY, NO. 47 U.S. AIR FORCE ED CARPENTER RACING CHEVROLET:
HOW DO YOU LIKE YOUR FIGHTER JET FOR SUNDAY?
"I feel great and the car is incredible. This is probably the most confident I've been before the race. I've had a great time. The car has been enjoyable to drive. If it ain't broke, don't fix it. That's been kind of the moto we've been going with, but we've always made a couple of changes that we think can help."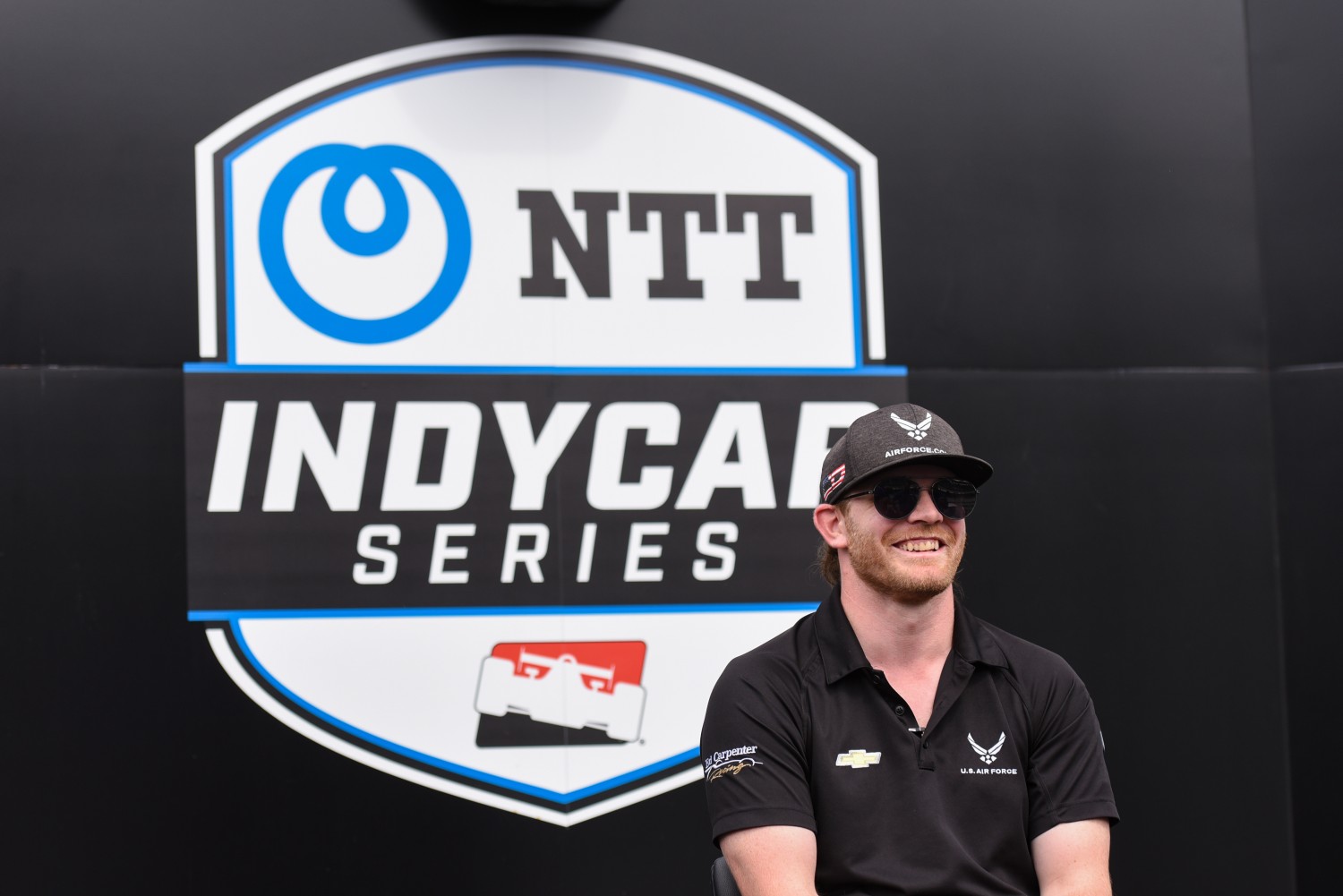 WHAT ARE YOUR EXPECTATIONS FOR SUNDAY?
"We're going forward. We have an incredible race car. If it's cold, I'll feel even better. I said at the beginning of practice week that if it's cold for the race we're going to have a pretty serious machine. Who knows what will happen on Sunday, but we just have to get through there with no mistakes and be there for the last 20 laps."
YOU SEEM VERY RELAXED.
"I just try to be me, and I've had a really great time these last two weeks and enjoy being at the Indianapolis Motor Speedway and having a great car. I think when you feel like you have a really good car underneath you, everything in life seems to be much happier. It's amazing how car performance leads to happier life. It's been fun."
LAST LAP, DO YOU WANT TO BE FIRST OR SECOND OR THIRD?
"I'd say second for us. Our car tows up really well. If there's anyone in front of me, I think we have the ability to get that magic run out of Turn Four that you want, that we've seen happen before. I think that we have an incredibly efficient car when it's in the draft. Second place out of Turn Four and let's have a drag race to the line."
DALTON KELLETT, NO. 4 K-LINE INSULATORS/AJ FOYT RACING CHEVROLET:
DO YOU HAVE ANY PERSONAL EXPECTATIONS FOR SUNDAY?
"The main thing for me Sunday is focusing corner by corner, lap by lap; focusing on driving. We all want to win but it doesn't help me to focus on that. You have to drive the race."
IT'S YOUR SECOND 500, HOW IS IT DIFFERENT?
"It's so great to be here at IMS and have the fans back. I've been focusing on the race car and we had quite the drama in qualifying sitting on that bump spot in 30th but we got through. I'm looking forward to being on track on Sunday."
WORKING WITH SEBASTIEN (BOURDAIS) AND JR (HILDEBRAND) THIS MONTH, WHAT HAS THAT BEEN LIKE?
"It's been great. They both have been extremely helpful to me as kind of the more green member of the team. They take the time to sit down and go over stuff – more the race running. That's been really helpful and talking about position in the car."
LARRY FOYT SAID HE'S BEEN IMPRESSED WITH HOW YOU ARE GETTING ON IN YOUR SECOND SEASON. WHAT DO YOU PUT THAT DOWN TO?
"I think part of that is experience, not having to do everything for the first time on the race weekend. The other part is I've learned from the lessons of last year and the stuff that we worked on in the offseason and trying to keep working on technique and try to keep developing the car. It's been a fun process."
JUAN PABLO MONTOYA, NO. 86 ARROW MCLAREN SP CHEVROLET:
HOW HAS IT BEEN JOINING THE TEAM THIS MONTH?
"It's been good; busy preparing for the race. I think we've got a pretty good race car, so we'll see what it brings."
WHAT ARE YOUR THOUGHTS ABOUT SUNDAY FOR THE 86 CAR?
"I have no idea. I really don't know. I do have a pretty good car; pretty happy and comfortable. We've been making strides all week, making it better every time we've been out. We've done everything we need to do, and now it's a matter of how good we are in the race, how good Chevy is, and we'll see where we stand."
WHAT WOULD BE A GOOD RESULT FOR YOU SUNDAY?
"You come here and try to do the best possible. The strategy might not go your way and you'll have a horrible result, or things go your way, and you have an amazing day. It's really tough to know this is the way we need to do it."
WHAT'S IT BEEN LIKE WORKING WITH PATO (O'WARD) AND FELIX (ROSENQVIST) THE LAST COUPLE OF WEEKS?
"It's been good, we have a good relationship. We've had a lot of fun."
HOW WILL THE AERO PACKAGE FOR MORE PASSING BE OFFSET BY HOW TIGHT THE FIELD IS?
"From my point of view, the thing that's going to help the most is the cooler temperatures on Sunday. At the end of the car, the driver who does the best job of handling the car will look a lot better. That's been my experience here."
RINUS VEEKAY, NO. 21 BITCOIN ED CARPENTER RACING CHEVROLET:
HOW DOES GOING OFF THE FRONT ROW GIVE YOU CONFIDENCE?
"I've very excited to go out on Sunday and go flying. Very good confidence racing from the front row, and we have a potential race-winning car. Ed (Carpenter), too, and Conor (Daly). I think we can work as a team and hopefully get that first 500 win for the team. You just never know how the 500 is going to be anyway."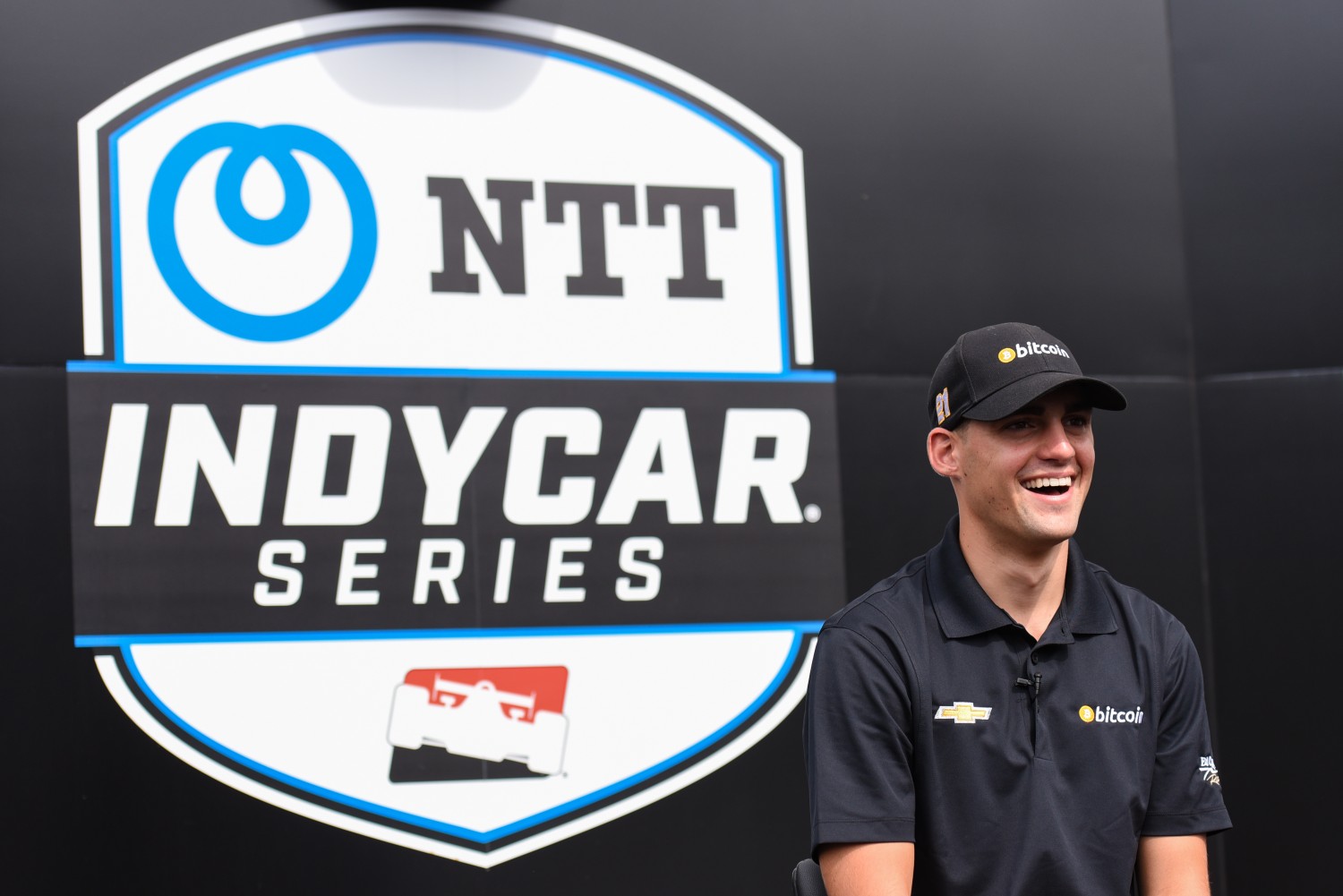 YOU SAID AFTER QUALIFYING IN THE FAST NINE THAT THE CAR WAS ON THE LIMIT. CAN YOU TAME IT FOR THE RACE?
"Our car was very sketchy in qualifying, but sketchy is fast around here. We have a very good race car and it's going to be different this weekend with the colder temperatures. Our car is very good and the same for Ed and Conor."
HOW WILL THE AERO PACKAGE FOR MORE PASSING BE OFFSET BY HOW TIGHT THE FIELD IS?
"I think the cars are a lot better following with the new aerodynamic package and the new features. The field is very tight and it's hard to judge. It's going to be a good race and I expect much passing. The cooler temperatures will be way easier to follow, too."