Helio Castroneves outduels Palou to win 4th Indy 500
With the crowd of over 200,00 going wild, 46-year old Helio Castroneves outdueled Ganassi Honda youngster Alex Palou by less than 1/2-sec to join AJ Foyt, Al Unser Sr. and Rick Mears as the only 4-time winners of the Indy 500.
The Meyer Shank Racing Honda driver passed Palou for the lead with two laps to go and held on to win the 105th running of the Indy 500. In winning Castroneves got a bit of revenge on Team Penske who put him out to pasture after last year, making the win that much sweeter.
Just 1.2424 seconds separated the top five despite the last caution period of the 200-lap race ending on Lap 124.
The Captain with a big congratulations for @h3lio.#ThisIsMay | #Indy500 pic.twitter.com/KzR3wLFFA3

— Indianapolis Motor Speedway (@IMS) May 30, 2021
Every fan is on their feet!@h3lio takes the lead!#ThisIsMay | #Indy500 pic.twitter.com/nymtvWjEBk

— Indianapolis Motor Speedway (@IMS) May 30, 2021
Castroneves joined A.J. Foyt (1961, 1964, 1967, 1977), Al Unser (1970, 1971, 1978, 1987) and Rick Mears (1979, 1984, 1988, 1991) as four-time winners of "The Greatest Spectacle in Racing."  Castroneves also won in 2001, 2002 and 2009.  It was the first Indianapolis 500 victory for Meyer Shank Racing.
SpiderMan returns to #IMS for the 4th time. #ThisIsMay | #Indy500 pic.twitter.com/fJZU4pWyaj

— Indianapolis Motor Speedway (@IMS) May 30, 2021
The popular Brazilian racer started the race from eighth on the grid and moved up to take the lead on lap 37.
Saving fuel early in his run, Castroneves raced in the top seven through the majority of the race, racing to the lead on lap 72 under green flag conditions. Holding the lead once again on a lap 126 restart, Castroneves pitted from the lead for the final time on lap 172, with the Meyer Shank Racing squad delivering a final well-executed pit stop on the day to position him for a fight to the finish.
Castroneves made his final pit stop on Lap 172, followed by Palou on Lap 173. Palou slotted in front of Castroneves when he exited the pits, and they formed a three-car train with O'Ward in the virtual lead of the race, as numerous cars in front of them needed to make one final stop before the race ended.
Pagenaud, Sage Karam, Tony Kanaan and Santino Ferrucci peeled off from the lead for their final stops by Lap 180, putting Felix Rosenqvist, JR Hildebrand and Takuma Sato in the top three, respectively, and about 12 seconds ahead of Palou, Castroneves and O'Ward.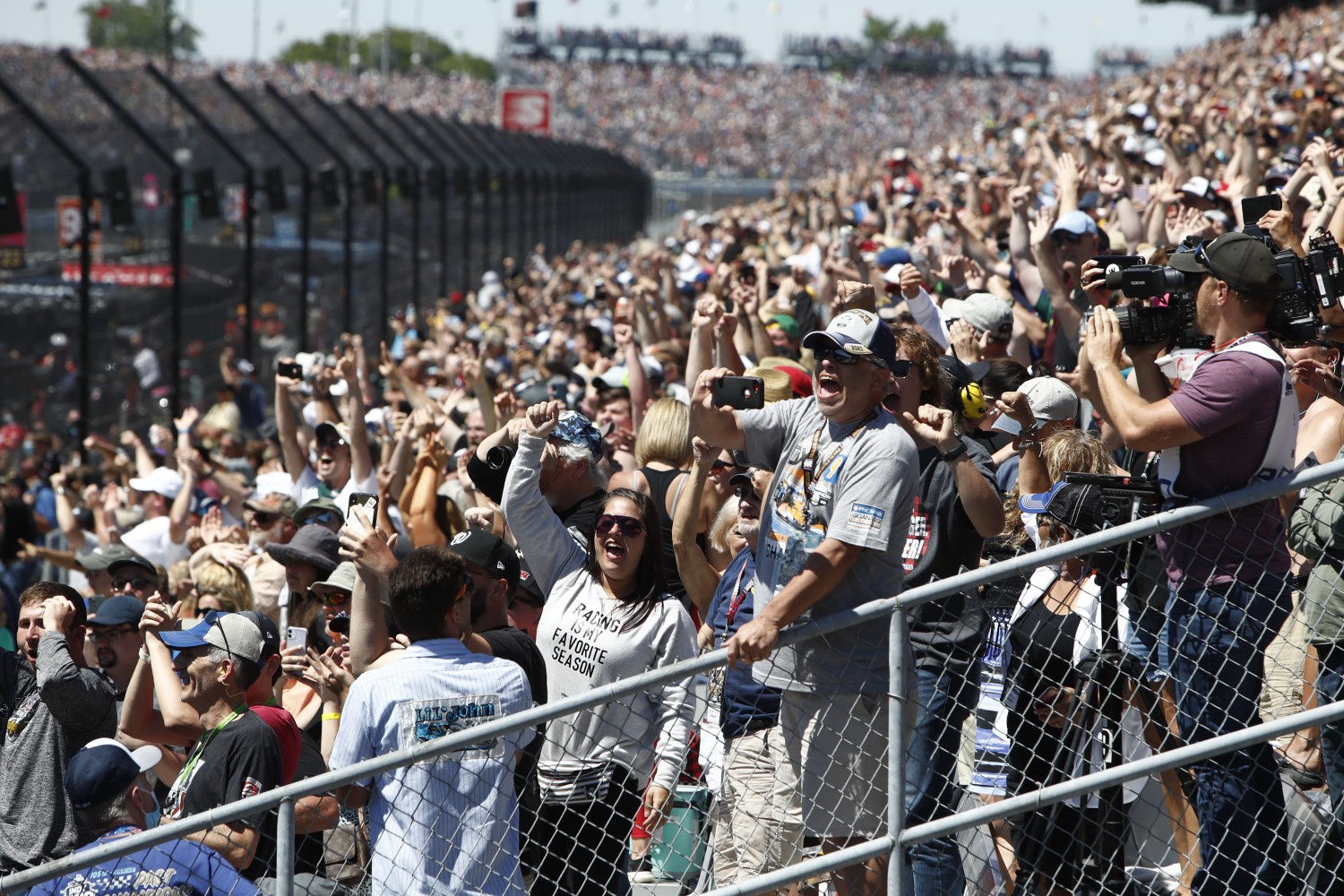 Meanwhile, Castroneves and Palou diced for position behind that lead trio, knowing they had plenty of fuel to reach Lap 200 and cognizant they would become the lead pack due to pit stops needed by the fuel-thirsty cars of Rosenqvist, Hildebrand and Sato if a caution flag didn't fly late in the race.
That caution never came. Rosenqvist pitted from the lead on Lap 192 in the No. 7 Arrow McLaren SP Chevrolet, and Sato was forced to dive in for a splash of fuel from the lead on Lap 193 in the No. 30 Panasonic/PeopleReady Honda.
Castroneves inherited the lead on Lap 194, but Palou blasted past Castroneves for the lead in Turn 1 on Lap 196, reminiscent of Rick Mears' decisive move against Michael Andretti in 1991 that led to his fourth win.
But Castroneves collected himself and placed his car in Palou's draft on the front straightaway as they rocketed past the flag stand to start Lap 199. Then Castroneves returned the favor to Palou, using an identical outside move in Turn 1 to seize the lead.
Lapped traffic ahead over the closing laps posed a possible problem for Castroneves, but he used the wisdom gained over 20 previous "500" starts to hold off Palou, who showed skills beyond his years in just his second start.
The race set a record as the fastest Indianapolis 500 in history, with Castroneves fighting for the lead with Alex Palou through a frantic final 20 lap segment. Taking the point for the final time on lap 198, Castroneves held firm at the front to take an amazing fourth victory in the race to the roaring approval of 135,000 enthusiastic race fans as he returned to climb the fence at the Indianapolis Motor Speedway once again.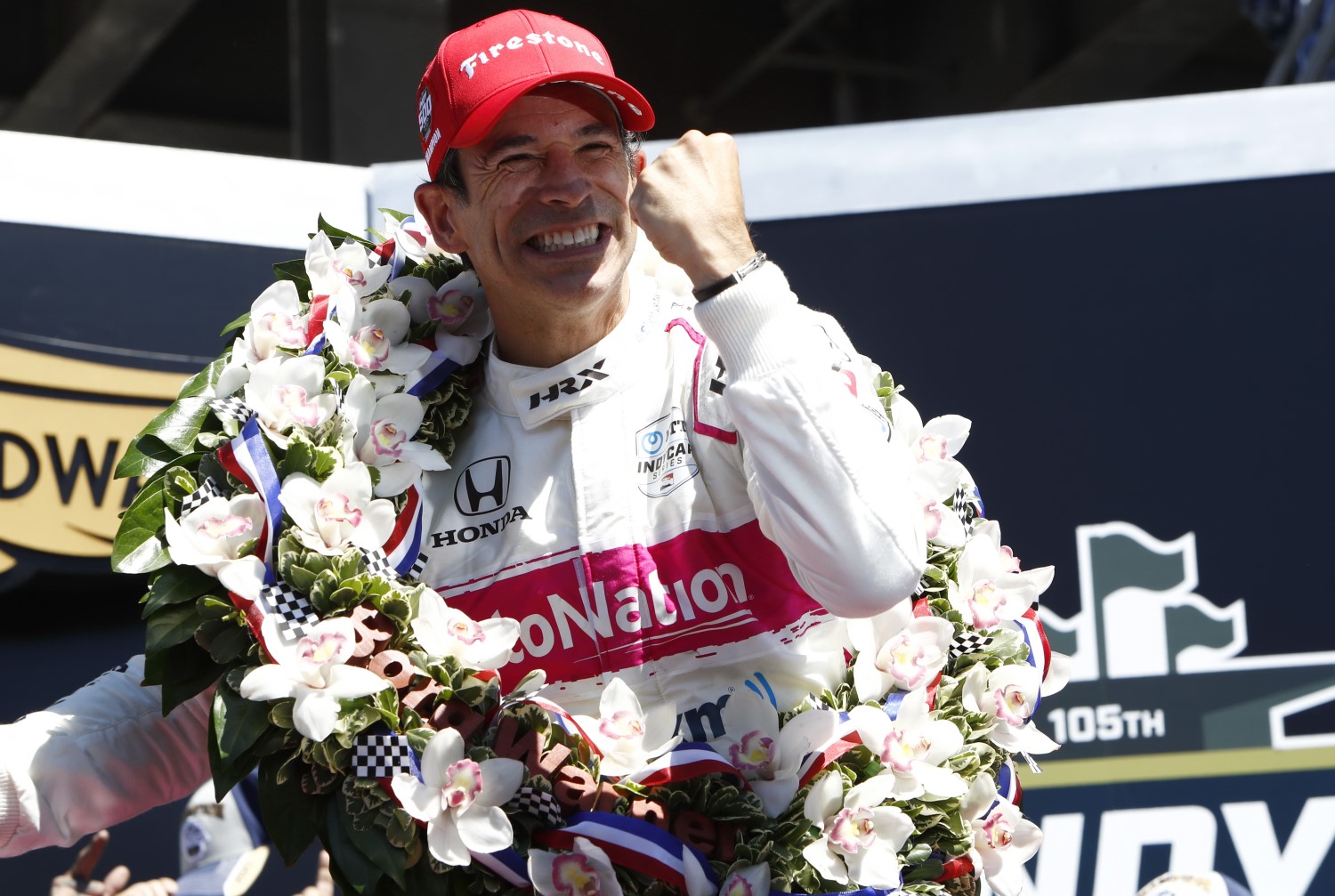 Castroneves, 46, also became the fourth-oldest winner in "500" history in his first INDYCAR start of the season, as he is scheduled to run only a partial schedule this year.
"It's not the end; it's the beginning," Castroneves said. "I don't know if it's a good comparison, but Tom Brady won a Super Bowl, Phil (Mickelson) won the PGA, and now here you go. The old guys still got it, kicking the young guys' butts. We're teaching them a lesson.
"What a great team effort. Everyone was in sync. We didn't make any mistakes. No. 4 – what a moment. I'm just so honored to be a part of this amazing group with A.J. Foyt, Al Unser Sr. and Rick Mears. This is absolutely a dream come true."
"I love Indianapolis!" enthused Castroneves. "This is incredible. I had to put my elbows up to fight there at the end. Meyer Shank Racing gave me everything I needed to go fight for the win. Thank you so much to Jim (Meyer) and Mike (Shank) for giving me this chance, and to AutoNation and SiriusXM for supporting us. It was so great to be powered by Honda today. We had such an amazing car and the team did an unbelievable job. I can't believe it!"
The victory marks an incredible new highlight for the team, which is based in Columbus and earned success in sports car racing with victories in some of the sports biggest events including the Rolex 24 At Daytona and Petit Le Mans before expanding to compete in IndyCar with a one-off Indianapolis 500 outing in 2017.
With Jim Meyer joining Shank in an ownership role in 2017, the team grew the program in partnership with AutoNation and SiriusXM to contest partial IndyCar seasons in 2018 and 2019 before making its first full-season campaign with Jack Harvey in 2020. Castroneves joined the team ahead of the 2021 season for a 6-race campaign starting with the Indianapolis 500.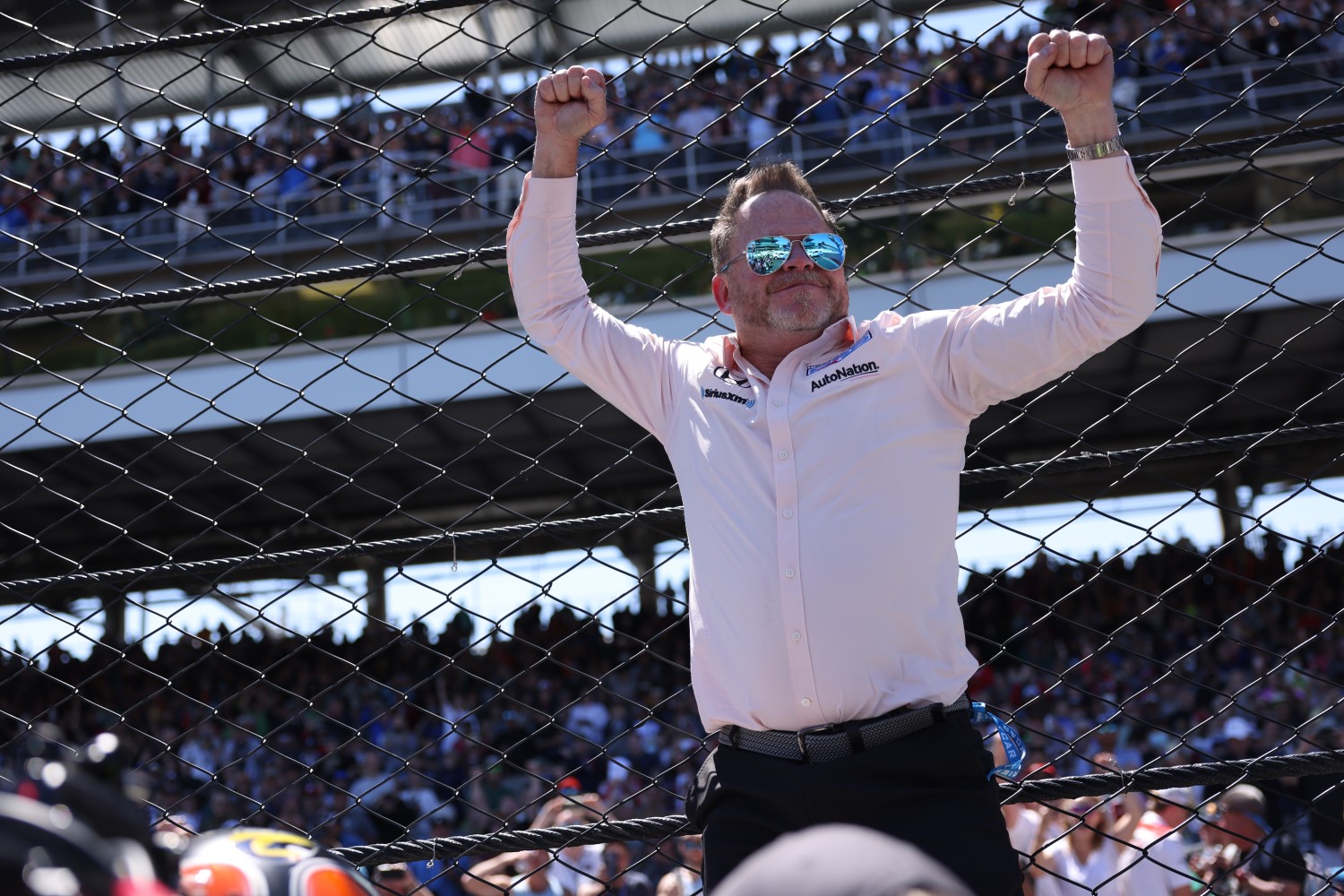 "I don't even know where to start," said team co-owner Mike Shank. "Helio drove an incredible race-his experience in this race was there for all to see. I'm so proud to have the partnerships that we've built to get to this point. That starts with Jim (Meyer), who has made such an impact on this organization since coming on board and goes to AutoNation and SiriusXM, and of course Honda and the folks at HPD have been just amazing. This is going to take a long time to soak in, but right now I just am a little at a loss for words to be standing here right now after winning the Indianapolis 500!"
Pagenaud, the 2019 Indy 500 winner, advanced 23 positions relative to his starting spot in the No. 22 Menards Team Penske Chevrolet and finished third ahead of fellow Chevy powered drivers Pato O'Ward and Ed Carpenter.
"The team did an amazing job in the pits," said Pagenaud. "The car was phenomenal all day. Man, we started up front. We were right there at the end. I just want to congratulate him (Helio Castroneves, race winner). What he's doing is awesome. And he is old. That gives me another 10 years.
"I think we had the race car to get it done today. Certainly Chevy, amazing job with the engine power, and handling was phenomenal. I was pedal to the metal. I could see Helio was playing a very smart game; obviously he knows how to win this race. I thought I might have had a shot in Turn Four, but he was too fast. But we did a great job today, I think we had the best car out there: one more lap and we may have had a shot at Helio. But what really cost us was that early yellow – we hadn't pitted so we had to come in for an emergency stop to put fuel in the car and that put is at the back of the field. We only had 156 laps to get to the front, but we did it. The championship points are great, but it's the one place in the world that you want to win, second and third don't matter. Congratulations to Helio, obviously he's writing a huge page in history here, it's great to have a driver of our generation get into this club. It's great to see him win at 46, I have 10 more years to reach him! He is such a great friend and was a great teammate, one of the best I've had. I have a responsibility to be even better on track now, so my son (Marley) is proud of me."
"The 105th Running of the Indianapolis 500 is complete, and we finished fourth," said O'Ward. "We were in the fight all day. I think we had a perfect race, we just weren't fast enough in the end. When they let us loose, I couldn't quite catch Alex [Palou] and Helio [Castroneves]. We've got work to do for when we come back next year. Obviously, it burns a little bit to lose the third position in the last lap, but I was trying everything I could to try and win this thing for the Arrow McLaren SP team. We will come back next race and hopefully do better. We should be very proud of the work we did but there is definitely more to be done."
"At the end of the day I'm happy with 5th," said Carpenter.  "I stalled it on my first pit stop and dug ourselves a huge hole. And then really, just on strategy, tried to make some passes but the team, pit stops, and strategy, they did a great job getting us back in the fight. We were in the lead pack at the end, which is where you want to be. But we struggled for speed. The car handled pretty well, but I just struggled for speed. Just couldn't quite have enough to keep attacking those guys once we got toward the front. So, given how far we got shuffled back, to get back up to P5 is not bad."
With just two caution flag periods, the average speed of the race was a new race record at 190.690 mph.
Palou took the NTT INDYCAR SERIES championship lead in this double-points race, building a 248-212 lead over six-time and reigning series champion Dixon.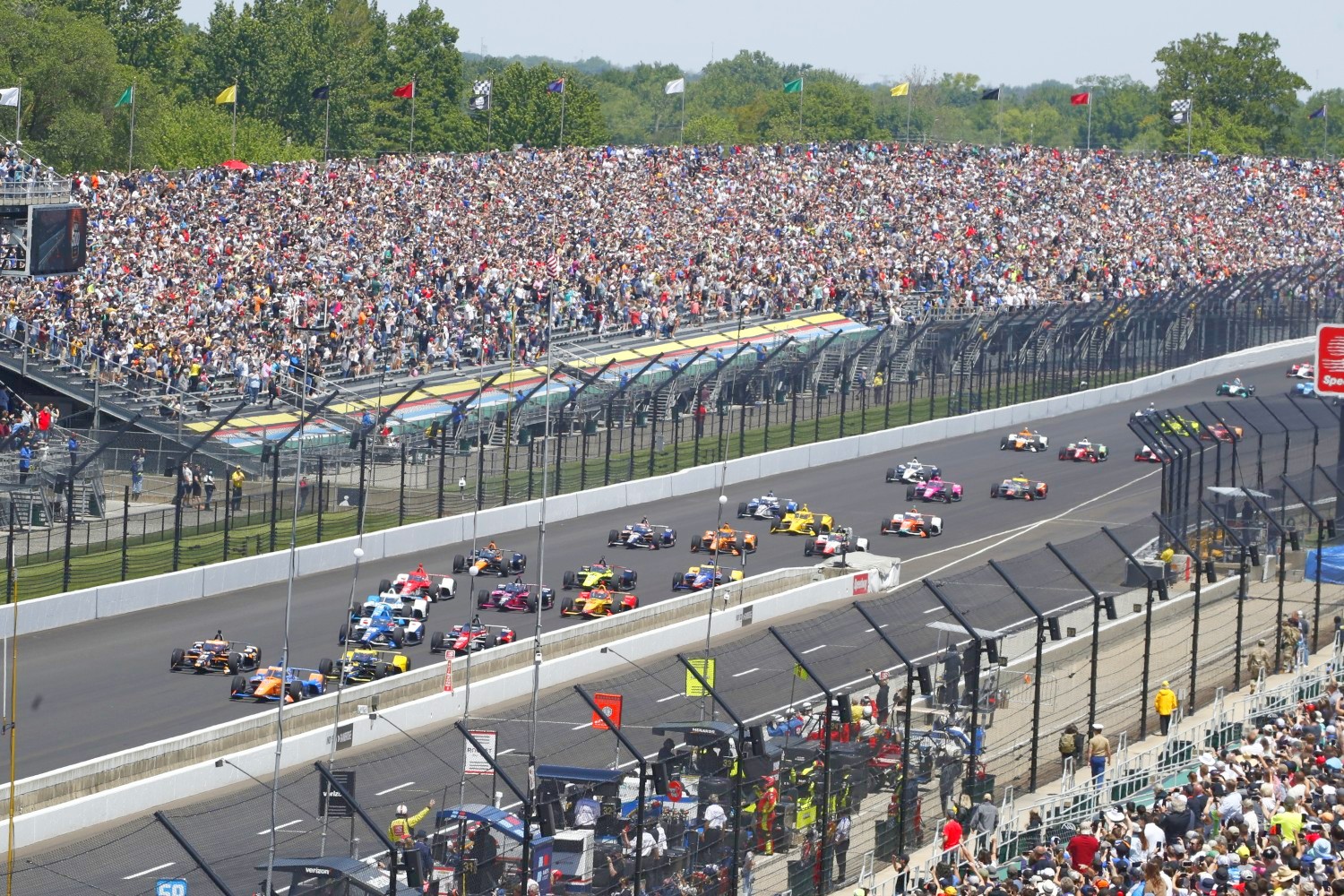 The fourth glass tastes the best 🥛

Congrats @h3lio! #ThisIsMay | #Indy500 pic.twitter.com/yLd84tEeti

— Indianapolis Motor Speedway (@IMS) May 30, 2021
RETWEET TO CONGRATULATE @H3LIO CASTRONEVES ON HIS FOURTH #INDY500 WIN!

Relive the final two laps at @IMS. pic.twitter.com/0aYT4grWPe

— IndyCar on NBC (@IndyCaronNBC) May 30, 2021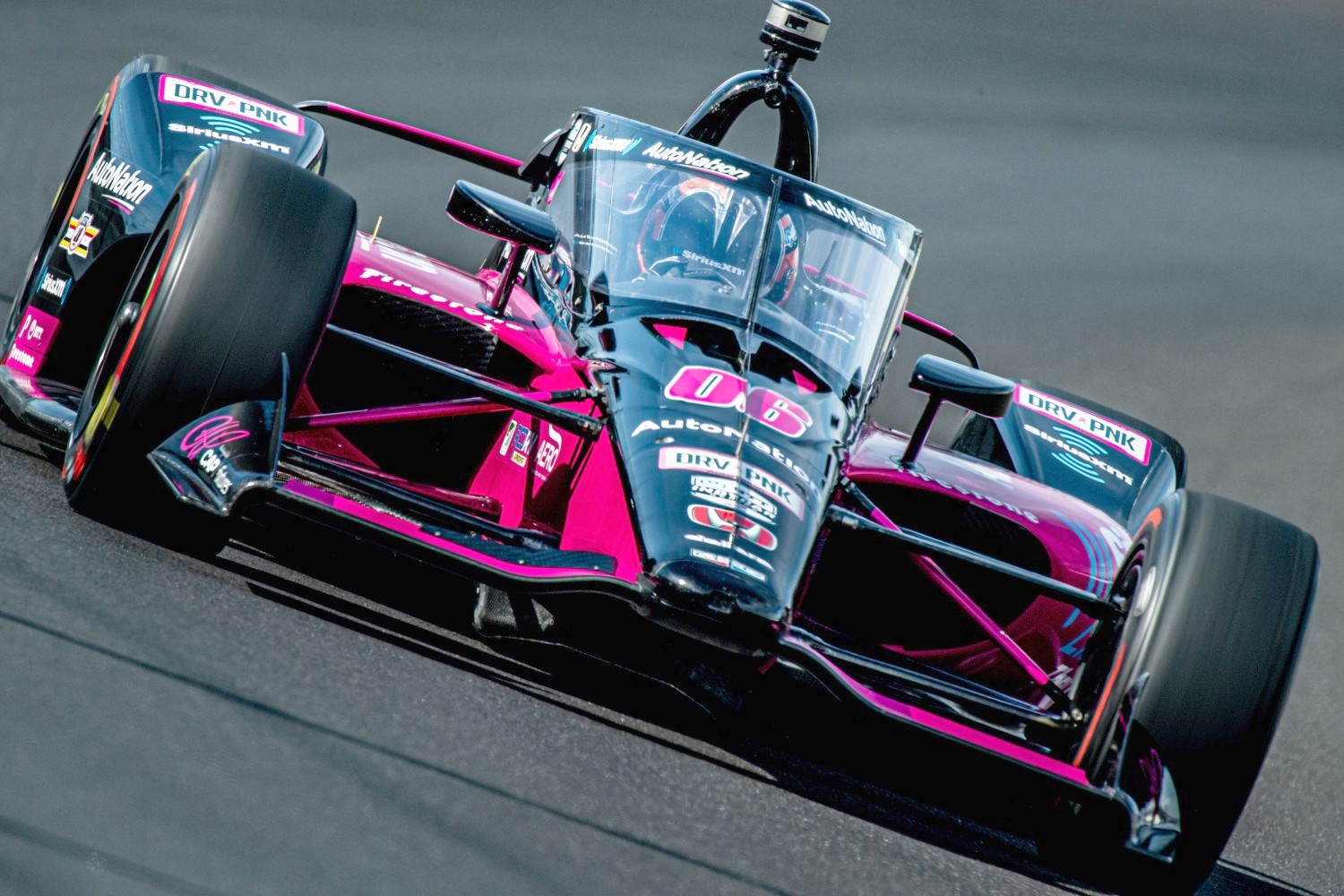 Race Results
| | | | | | | | | | | |
| --- | --- | --- | --- | --- | --- | --- | --- | --- | --- | --- |
| Pos | No | Name | Laps | Diff | Gap | Led | ST | Engine | Points | Team |
| 1 | 06 | Helio Castroneves | 200 | 0.000s | 0.000s | 20 | 8 | Honda | 103 | Meyer Shank Racing |
| 2 | 10 | Alex Palou | 200 | 0.4928 | 0.4928 | 35 | 6 | Honda | 248 | Chip Ganassi Racing |
| 3 | 22 | Simon Pagenaud | 200 | 0.5626 | 0.0698 | 3 | 26 | Chevy | 201 | Team Penske |
| 4 | 5 | Pato O'Ward | 200 | 0.9409 | 0.3783 | 17 | 12 | Chevy | 211 | Arrow McLaren SP |
| 5 | 20 | Ed Carpenter | 200 | 1.2424 | 0.3015 | 0 | 4 | Chevy | 99 | Ed Carpenter Racing |
| 6 | 45 | Santino Ferrucci | 200 | 9.0876 | 7.8452 | 2 | 23 | Honda | 57 | Rahal Letterman Lanigan Racing |
| 7 | 24 | Sage Karam | 200 | 13.4359 | 4.3483 | 2 | 31 | Chevy | 53 | Dreyer & Reinbold Racing |
| 8 | 21 | Rinus VeeKay | 200 | 14.2415 | 0.8056 | 32 | 3 | Chevy | 191 | Ed Carpenter Racing |
| 9 | 86 | Juan Pablo Montoya | 200 | 14.8808 | 0.6393 | 0 | 24 | Chevy | 53 | Arrow McLaren SP |
| 10 | 48 | Tony Kanaan | 200 | 15.4428 | 0.5620 | 0 | 5 | Honda | 79 | Chip Ganassi Racing |
| 11 | 8 | Marcus Ericsson | 200 | 16.5166 | 1.0738 | 0 | 9 | Honda | 138 | Chip Ganassi Racing |
| 12 | 2 | Josef Newgarden | 200 | 22.3045 | 5.7879 | 0 | 21 | Chevy | 184 | Team Penske |
| 13 | 47 | Conor Daly | 200 | 22.6921 | 0.3876 | 40 | 19 | Chevy | 85 | Ed Carpenter Racing |
| 14 | 30 | Takuma Sato | 200 | 23.2955 | 0.6034 | 7 | 15 | Honda | 131 | Rahal Letterman Lanigan Racing |
| 15 | 1 | JR Hildebrand | 200 | 23.5277 | 0.2322 | 0 | 22 | Chevy | 30 | AJ Foyt Enterprises |
| 16 | 26 | Colton Herta | 200 | 28.8029 | 5.2752 | 13 | 2 | Honda | 154 | Andretti Autosport |
| 17 | 9 | Scott Dixon | 200 | 38.6410 | 9.8381 | 7 | 1 | Honda | 212 | Chip Ganassi Racing |
| 18 | 60 | Jack Harvey | 200 | 40.1572 | 1.5162 | 0 | 20 | Honda | 121 | Meyer Shank Racing |
| 19 | 98 | Marco Andretti | 200 | 40.3591 | 0.2019 | 0 | 25 | Honda | 22 | Andretti Herta-Haupert w/Marco & Curb-Agajanian |
| 20 | 3 | Scott McLaughlin | 200 | 40.8337 | 0.4746 | 0 | 17 | Chevy | 143 | Team Penske |
| 21 | 29 | James Hinchcliffe | 200 | 40.8464 | 0.0127 | 0 | 16 | Honda | 74 | Andretti Steinbrenner Autosport |
| 22 | 28 | Ryan Hunter-Reay | 200 | 41.5762 | 0.7298 | 0 | 7 | Honda | 94 | Andretti Autosport |
| 23 | 4 | Dalton Kellett | 199 | 1 LAPS | 6.4543 | 0 | 30 | Chevy | 62 | AJ Foyt Enterprises |
| 24 | 59 | Max Chilton | 199 | 1 LAPS | 9.7133 | 0 | 29 | Chevy | 28 | Carlin |
| 25 | 51 | Pietro Fittipaldi | 199 | 1 LAPS | 5.4759 | 0 | 13 | Honda | 34 | Dale Coyne Racing w/Rick Ware Racing |
| 26 | 14 | Sebastien Bourdais | 199 | 1 LAPS | 3.9415 | 0 | 27 | Chevy | 89 | AJ Foyt Enterprises |
| 27 | 7 | Felix Rosenqvist | 199 | 1 LAPS | 0.7730 | 14 | 14 | Chevy | 82 | Arrow McLaren SP |
| 28 | 18 | Ed Jones | 199 | 1 LAPS | 10.8357 | 0 | 11 | Honda | 77 | Dale Coyne Racing with Vasser Sullivan |
| 29 | 27 | Alexander Rossi | 198 | 2 LAPS | 36.4089 | 0 | 10 | Honda | 101 | Andretti Autosport |
| 30 | 12 | Will Power | 197 | 3 LAPS | 34.1205 | 0 | 32 | Chevy | 128 | Team Penske |
| 31 | 16 | Simona De Silvestro | 169 | Contact | 6 LAPS | 0 | 33 | Chevy | 10 | Paretta Autosport |
| 32 | 15 | Graham Rahal | 118 | Contact | | 8 | 18 | Honda | 148 | Rahal Letterman Lanigan Racing |
| 33 | 25 | Stefan Wilson | 32 | Contact | 3 LAPS | 0 | 28 | Honda | 10 | Andretti Autosport |
Race Statistics
Winner's average speed: 190.690 mph
Time of Race: 2:37:19.3846
Margin of victory: 0.4928 of a second
Cautions: 2 for 18 laps
Lead changes: 35 among 13 drivers
Lap Leaders:
Herta, 1
VeeKay, 2-30
Herta, 31-32
Dixon, 33-35
Castroneves, 36-38
Herta, 39-48
VeeKay, 49
Daly, 50-70
Castroneves, 71-76
Palou, 77
O'Ward, 78
Rahal, 79-81
VeeKay, 82-83
Daly, 84-102
O'Ward, 103-113
Rahal, 114-118
Palou, 119-124
Castroneves, 125-126
O'Ward, 127-130
Palou, 131-147
Castroneves, 148-149
O'Ward, 150
Sato, 151-156
Rosenqvist, 157
Dixon, 158-161
Palou, 162-168
Castroneves, 169-171
Palou, 172
Pagenaud, 173-175
Karam, 176-177
Ferrucci, 178-179
Rosenqvist, 180-192
Sato, 193
Castroneves, 194-195
Palou, 196-198
Castroneves, 199-200