NASCAR: Coca-Cola 600 post-race press conference
Participants
1st – Kyle Larson, Hendrick Chevy
2nd – Chase Elliott, Hendrick Chevy
Rick Hendrick – Winning Team Owner
THE MODERATOR: We're joined by Kyle Larson, winner of tonight's Coca-Cola 600 and driver of the No. 5 MetroTech Chevrolet.
Q: Kyle, have you ever had just kind of a car like that and a dominating performance like that in NASCAR?
KYLE LARSON: I would say a few times. Probably more so — like Vegas I think was a much more dominating car. I think Kansas was. My car was really, really good. I didn't have many complaints tonight, but I just think with the grip in the track and all that, my teammates were just as good as I was.
It was much harder to fight them off than say it was in Vegas or Kansas or things, other races like that.
Even when I was at Ganassi I had some races where it was probably easier throughout the whole race. I can think of Darlington, whatever year that was, where this one I felt like I was on defense for most of the race.
Finally in that final stage I was able to kind of stretch out and relax a little bit, but for most of the race I didn't really relax at all.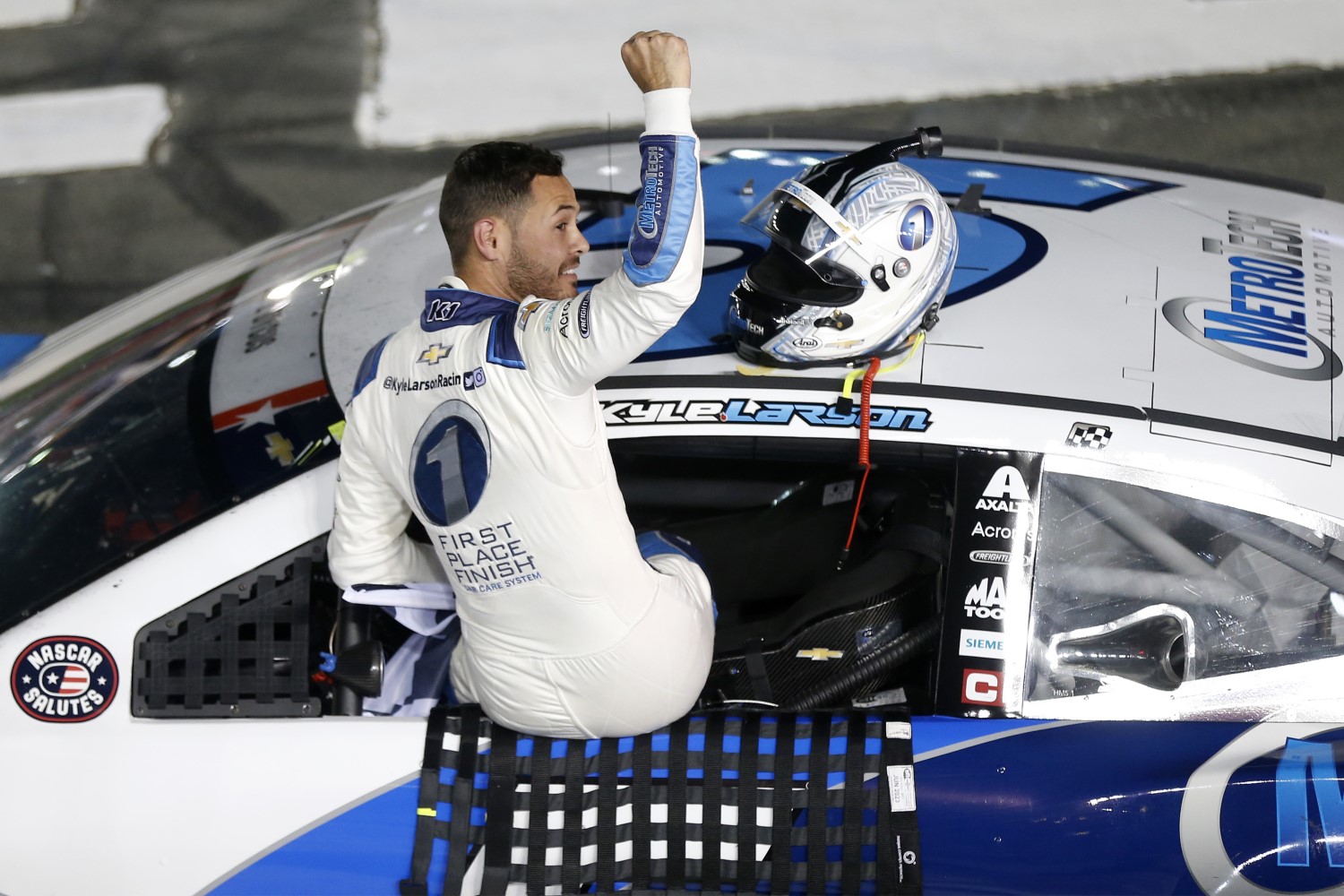 Q: Kind of the string of second-place finishes, does that pop into your mind at all near the end of this race, like gosh, just don't let something happen and me finish second again?
KYLE LARSON: No, I mean, not really. Honestly all I'm thinking about the last 20 is just like, just don't be a caution because I don't want to have to be a strategy game, do we stay out, do we pit, anything like that. I just kind of wanted to cruise to the checkered flag.
No, I'm not thinking about the second-place finishes at all when I'm out there. I'm more just trying to think ahead of — hopefully it stays green and we get to the checkered like we did, but if not what do I need in my car to be better if we do pit. I had a big lead, so I'm like, well, let's try and take care of my tires as much as I can just in case we have a restart and we stay out.
No, I'm not thinking about oh, gosh, let's not finish second when I have a 10-second lead.
Q: I'm curious your take on the lap traffic tonight. It seemed like there was really a much larger disparity tonight between the leaders and the lap traffic. What was your take on that?
KYLE LARSON: I mean, for the most part, most of the cars we lapped were pretty easy. I could catch them in okay spots and get runs in the corners. But it was as you got to the faster cars, that's about when my front tires were pretty wore out and I was tight. It made it difficult to get runs and pass them.
I got stuck behind the 10 a couple different times and maybe somebody else one other time. That really allowed the guys in second to close on me because I was just stalled out and making things were by trying to get aggressive to pass.
With this package and us running up in the PJ1, it was just kind of narrow up there and you're just a little bit stuck in their dirty air.
Yeah, but it seemed like usually about the time where I would catch traffic and be struggling, that's usually in the run where we would get to pit and put fresher tires on and get spread out again, so it worked out.
Q: You were battling your teammates most of the night. Was there ever a point even when Chase and William passed you, was there ever a point where you didn't necessarily feel in control of the race or even when they got by you did you feel like you had the car to be able to get back to them and get around them?
KYLE LARSON: Well, when Chase got by me early, I was like, uh-oh, this is not good. But when I ate him up getting to the commitment line for the green flag stop and took a large chunk of that out and came out the leader, I knew I had something in my advantage to be able to beat them guys.
And then when William passed me, he was way faster than I was. He was way faster than Chase was. But my goal when he passed me, he kind of stretched out a little bit, my goal was just to inch closer to him for when we got to the green flag stops because I knew I could do a better job than him on the green flag stop, and that's what I was able to do.
We gained a lot of time. I think we pitted a lap earlier than him. I did a good job coming to the commitment line, our pit crew did a great job on the stop, and I was able to edge him out down the backstretch when he blended up. That carried us to the third stage win, and that No. 1 pit stall really helped for our pit stops and beating cars off for the caution stops.
It all just worked out really well, and qualifying on the pole I think really helped our race tonight.
Q: Multiple wins, the consistency, really the level of dominance you've had, was this the kind of season that you expected to have coming to Hendrick Motorsports or have you surprised yourself a little bit?
KYLE LARSON: I did not expect to be this good. I had hoped to. It's still early in the year, but I don't know, I knew I would be good. Chase Elliott won the championship last year, and Jimmie had one of the fastest cars every race. They just kind of had some issues, and they didn't get the finishes that they quite deserved. I had that in the back of my mind and thought, well, if Jimmie had the fastest car, maybe we would still continue to have one of the fastest cars this year, and Cliff and everybody at Hendrick Motorsports, they've probably gotten their stuff even better toward the end of the year, and it's been awesome to see. Like looking at the scoreboard we had four cars in the top 5 is pretty dang cool.
Q: Kyle, what does Rick Hendrick mean to you?
KYLE LARSON: He means a lot. I think we all in this room have a lot of respect for Rick Hendrick and a lot of you probably don't even know him, just like myself really before this year. I had obviously — he said hi to me in passing and things like that, but I've always had a lot of respect for him, and then now getting to see firsthand the level of respect that everybody has for him and how they all love to work for him, I think it just shows how great of a person that he is and how great of a leader, too.
I think there's just a lot to be learned off of him. He's got a lot of experience in the business world, too, to get him to where he's at and build the empire that he's built today.
He means a bunch to me, and I definitely love having him at the racetrack, love having him around. He came to our competition meeting a few weeks ago, and I thought that was really cool, that our owner was sitting through an hour and a half competition meeting with us when he could have been doing a lot of other things on a Monday afternoon than he was that day. But he was there to support us, and I think that says a lot about him.
Q: You've had some really strong runs at some of the playoff tracks. What this organization has done the last few weeks has been remarkable, but it's also come at tracks that aren't going to be playoff tracks. With all the success or some of the things that you guys have done, how do you carry that through because the playoffs still are several months away and a lot of things can change? How do you look at what you've done but what you still have to do to be a true title contender?
KYLE LARSON: Yeah, definitely. I honestly don't even know what the schedule is for the playoffs off the top of my head. I mean, yeah, I guess this track isn't in the playoffs.
I don't know, in my experience in the Cup Series, too, a lot of times, and you see it a lot, the team that's the best throughout the regular season isn't the team that always is the best throughout the playoffs and wins the championship. I think we all know that at Hendrick Motorsports, and I think that's why we continue to not settle with where we're at.
There's no denying that we're the most dominant team, organization out there right now, but that could easily change in a couple months. I think I've seen it in my career, so I'm happy that we're this good, but I'm not thinking it's going to be a cake walk to the Final Four or anything like that just because nothing is easy in this sport, and every week these teams are getting better and better.
We've got to continue to get better, as well.
Q: Sort of a follow-up, you haven't been at Hendrick Motorsports very long, but I wondered what have your impressions been of working with this organization and how in general it has helped you to have the kind of season that you've had this year?
KYLE LARSON: Yeah, I mean, it's an amazing place. Everything about the compound there at Hendrick Motorsports just down the street is perfect. Everything down to the way they mow the lawn. It looks amazing.
I think it just — they put a level of effort into everything and pride in everything. That's why we — I don't think it's a surprise to anybody that our cars are this good. He's built such an amazing empire, and everybody there loves to work there, too. I think that's the most important thing. They all respect him — I mentioned it earlier, but they all respect him and love to work for him and want to do a good job for him that results follow.
I don't know if — it's probably hard for Mr. H to have a few thousand employees probably, and I'm sure they all love working for him. That's hard to do. I don't think there's probably another race team out there that everybody that works there loves their boss. But I feel like at Hendrick Motorsports it's that way, and I think because of that, the results follow because everybody is putting 100 percent of their effort in, and us four drivers get to be a part of that and go out there and have some fun on the weekends.
Q: You mentioned a couple times battling your teammates tonight. What is that like as a driver when week after week it seems on a consistent basis, at least lately, some of your toughest competition is facing your own teammates?
KYLE LARSON: Yeah, it's a great problem to have when we're all battling each other for the win. We've done a great job of racing each other hard but yet not putting each other in a bad spot, either. We all want to see each other succeed for Rick, and we all work great together during the week and even on the weekends when we're racing. Like I said, we're racing hard but we're racing with respect.
I thought we were going to have another one, two, three, four finish tonight, but Kyle had other plans for that and messed that up. No, it was a great night, and it's been a great few weeks really for this team.
Q: What makes this driver lineup at Hendrick work?
KYLE LARSON: I'm not sure. I think — it's not just us drivers. I think it's everything that's — it's the whole team. I think it's our crew chiefs, our engineers, everybody at the shop that has hands on our cars. I don't know.
I think at least for me, and I think all of us teammates are like this, I think we're pretty open with each other. I don't think any of us hide anything. I know I don't. I'm not afraid to ask — I don't know anything about cars, but I'm not afraid to ask somebody why they're driving like this or how that helped them, and they've asked me the same questions, and I give them a 100 percent honest answer.
I think when you're honest with each other and want to help each other out, it just makes the whole program better. I've always taken a lot of pride in being a good teammate, and I think my other three teammates are the same way.
We're young, but we're hungry. We love what we're doing, and we want — like I said, we want to see each other succeed for our whole organization.
Q: Alex Bowman mentioned after the race that one of the biggest keys for him with the four of you is how you guys all sit down with Chad Knaus in his new role this year. How has that helped you and the other three, as well?
KYLE LARSON: Yeah, so it's a little unique because I never got to see Chad Knaus in the crew chief role and I didn't get to see kind of how their competition meetings were run before, but when I am sitting in that competition meeting room and he's running it, you get to see why he is how he is and how he probably — he takes everything very seriously, and he dives in deep to everything. He's very thoughtful and thinks deeper than I've ever been around anybody. He thinks about a lot of, like I said, deep things that I would never even think would be a thing.
I think it just shows how his mind is on racing and how to be faster, how to make all four of us faster every day of the week. He's a great leader, and I think the same as Mr. H, everybody has got a lot of respect for him, and I think his role now probably fits him perfectly for where he's at in his career and with everything he's already accomplished. He's definitely doing a great job.
Q: As remarkable as your off-season, so to speak, was last year away from NASCAR, can you imagine where your career would be right now without Rick Hendrick stepping in?
KYLE LARSON: No, I don't know, I can't imagine — I would hope if I wasn't racing Cup, I would hope it was going as good right now as it did last year. But I don't know, I haven't had to think about that.
Q: Has Rick transformed your life at this point?
KYLE LARSON: Oh, yeah, for sure. Right now I'd be twiddling my thumbs in Indiana waiting to race at Lawrenceburg tomorrow, which I'm going to do anyways, but yeah, it's much different.
But no, I mean, I was happy doing what I was doing last year, but I always had the goal of getting back to the Cup Series and didn't really think it was a realistic thing throughout the summer. Even when I was winning a lot I just kind of accepted that this was my life and I was going to have a blast doing it and wasn't going to regret anything at that point.
No, it all kind of came together, and yeah, for sure it's transformed my life. Getting back into the Cup Series and getting a second opportunity at the highest form of American auto racing is something that I don't think normally happens. Just very thankful for it and want to take full advantage of it.
Q: It's time for you to come home now to Sonoma. You've got some massive momentum coming in. What are you expecting next week when you come back home and do you have any plans to spend time with family, friends? What are your plans when you come out here?
KYLE LARSON: Yeah, I'm going to come out early and kind of spend it as a vacation a little bit and then race on Sunday. Yeah, I'm excited to get out there and drink some good wine. I haven't really had wine in a while. I get to go do that, eat some good food and hang out with friends, see some of my family. Yeah, Sonoma is a fun place, fun racetrack, a track that I've honestly struggled. I've qualified really well at but struggled in the races. Yeah, I hope that'll be a different story now being with HMS.
Yeah, excited to get home. I love the West Coast, the best coast, and yeah, getting excited to go out there.
THE MODERATOR: Kyle, thanks for joining us. We look forward to seeing you at Sonoma next weekend.
Chase Elliott
THE MODERATOR: We are now joined by Chase Elliott, driver of the No. 9 NAPA Auto Parts Chevrolet, who finished second in tonight's Coca-Cola 600.
Q: Chase, I'm curious your take on the lap traffic. It seemed like the closing rates tonight were pretty significant. A lot of them looked like you guys used them for picks. What was your take on the lap traffic tonight?
CHASE ELLIOTT: Yeah, I mean, it was — I felt like pretty — as bad as I hate to say this, pretty normal here in the last couple years, so I wasn't super surprised by any of it, to be real honest.
Q: Did you feel like NASCAR needed to make any calls regarding any penalties for minimum speed, or do you think that minimum speed needs to be addressed moving forward at this point?
CHASE ELLIOTT: Man, I can't answer that. I really try hard to stay out of the official calls. That typically doesn't get me anywhere good, so I'm not sure.
Q: When it comes to where Larson was better, Byron said that it just seemed like the 5 was stuck to the track. Was that something that they could have done differently at the shop? Could you guys have adjusted to get closer to him, or was it just out-and-out better tonight?
CHASE ELLIOTT: Yeah, great question. He definitely did a better job for sure. I thought he did the best job driving and being able to make pace and not abuse his tires each run. Yeah, best driver, best car won tonight. There's no doubt.
I think for us, we just look ahead, and I'm excited for more opportunities. That's all you can do when you get beat is look ahead and be excited for another chance.
Q: Is it frustrating for you at all now that you've come so close in two straight Coke 600s and just haven't gotten to Victory Lane yet?
CHASE ELLIOTT: I mean, no. Obviously I would love to win, like anybody would, but we didn't last year and we didn't this year, and that's just what it is, so onward.
Q: What does it feel to be a part of Hendrick Motorsports during this historic time in their NASCAR history, and how does it feel to be a part of the 269 wins, the record that was set tonight?
CHASE ELLIOTT: Yeah, just super proud of everybody. I've said this over the course of the last couple weeks. Mr. Hendrick has changed a lot of lives I feel like throughout the course of his career and what he's meant for motorsports I feel like goes without being said. He's changed my life, and for that I feel like he deserves to be on top. I'm a little biased, but I feel like he does.
I feel like he treats people with a lot of respect and integrity, and he just goes about his business like someone should. He's a great role model to a lot of employees, not just in motorsports but across the automotive group side of things, and there's a reason he is a successful man in not only business but in life.
He deserves to win. He deserves to be on top, and I'm glad to see him be there.
Q: What sort of impact has Mr. H left on your life personally, and how does it feel to vindicate the trust he put in you when he put you in first the 24 car and now the 9 car moving forward?
CHASE ELLIOTT: Yeah, for sure. Like I said, he's offered me opportunities I would have never had otherwise, and that's really, not to be short, but that kind of sums it up. If he hadn't done what he did and stuck with me and wanted to give me a chance, I don't think I'd be sitting here. It's pretty much as simple as that.
Q: When we watched the race, the package seems to be, I don't want to say slower, but it seems a little different than in years past. Was the passing a little more difficult? Help fans understand how hard it is mentally to be out there and trying to be on the ragged edge of speed for the entire 400 laps.
CHASE ELLIOTT: Yeah, I mean, it's always hard to pass. We've had multiple different packages, and it's always hard to pass. Until we learn how to defy physics, it's going to be hard to pass. That's just what it is. I don't think that's ever going to change. But I do think the best drivers and the best teams tend to find their way to the front of these races, even with it being so hard to pass. That's why we race. It's a challenge, and we all embrace that challenge. We play within the rules that we are given, and I'm sure the rules are going to change a bunch over time and continue to change, and it seems like every time they change, the better guys and the better teams tend to always find their way back to the front, and I don't think that'll ever change.
Q: Mentally how tough is it to be out there for that 400 laps being on the ragged edge the entire time.
CHASE ELLIOTT: Yeah, actually I feel really good. I feel like the race went by really fast. What time did we start, 6:30? It was over about 10:30. I thought it was quick. Felt good.
Q: Chase, you and Kyle raced pretty hard when you were together on the track, and even coming down pit road at one point he got to your inside. Where is the line there of racing your teammate hard but not — what's acceptable, what's not acceptable?
CHASE ELLIOTT: I don't know, I thought it was all good. We were racing hard and racing for the lead of the Coca-Cola 600. Yeah, I didn't see anything wrong with anything that happened tonight.
Q: That was enjoyable.
CHASE ELLIOTT: Yeah, was it fun to watch? There you go.
Q: I wanted to ask, how much does it become a mental battle when your teammate is so strong and you guys are a top-2, top-3 car and you just can't get there and really do anything with it?
CHASE ELLIOTT: Yeah, just keep pushing. We absolutely got beat tonight, no question. They did a better job, as I said before. The only thing you can do is just look for more opportunities, be excited for another chance, and fortunately we have that next week, next Sunday, and the Sunday after that. We'll just try to get a little better and me do a better job, us communicate better as a team, execute better, and try to have a better result.
Q: You led a lot of laps here last year in the races. Were you as good tonight as you were last year and Kyle Larson was just better?
CHASE ELLIOTT: That's so hard to honestly really compare year to year in my opinion. Just things change, and the cars sometimes drive a little different. So I couldn't give you a fair assessment on that.
Kyle was definitely better tonight, and that was the only thing that mattered today, currently, here in 2021. I don't know how to compare it to last year, but we were — yeah, I don't know. Good question.
Q: Does it feel like almost a friendly boxing match between the two of you at Hendrick right now?
CHASE ELLIOTT: Well, I think we're all just trying to maximize the opportunities. This is a sport that comes in waves. It's a roller coaster. There's going to be good times, there's going to be bad times.
I hope we're always this good and always this competitive, but I think the law of averages would tell you that that's not going to last forever, so I think we all want to try to take advantage of the opportunities that we have right now as a company and continue to challenge ourselves to be better because our competitors are getting better, they're pushing harder. We need to make sure we're not just happy with where we are, we've got to get better, too. We've got to push, because May isn't — that's not when we hand out the big trophy. We need to make sure we're on our game when it counts.
Q: Obviously you won the last road course, wet Circuit of the Americas. Talk about what you're expecting next week at Sonoma Raceway?
CHASE ELLIOTT: Yeah, Sonoma has been a place that I haven't done a very good job at I don't feel like. It's been a pretty big challenge. Looking forward to getting there, looking forward to another shot. It's been a couple years — yeah, two years since we've been there. Been a little while, but looking forward to getting back and having another chance.
THE MODERATOR: Chase, thanks for joining us today. Congratulations on the second place tonight and we'll see you at Sonoma.
Rick Hendrick
THE MODERATOR: We are now joined by Rick Hendrick of Hendrick Motorsports, who is celebrating their 269th win as an organization tonight. Their cars placed in four of the top five positions tonight. We're going to go straight to questions here.
Q: Rick, can you describe kind of the vibe at Hendrick Motorsports with all four drivers seem to be racing at the top of their game?
RICK HENDRICK: You know, you work hard, you hope you can pull that off and all the cars be fairly close and run the race together, and boy, I don't know what turned it on all of a sudden, but all the hard work and the cars are fast, the guys are doing a great job. Pit crews are doing well. It feels good. I can't believe we got 269. It was kind of neat to — I want any one of them to win, but the first one was 5 and this one was the number 5. I just remember how close it was not to finish out the first year.
But you work towards having this kind of communication and the cars running that way all together, but it's just hard to do.
Q: I know you love all your guys, but where do you think Kyle Larson could end up being among all the drivers that you've had?
RICK HENDRICK: Well, I've had a lot of really good drivers. I've been really blessed if you look at everybody that's won a race with us, from Bodine to Tim Richmond to Waltrip. You can look at Jeff Gordon and Jimmie Johnson with seven championships. All of them have unique features.
I think Kyle is going to win a lot of races. Chase is already a champion. I'm really excited about how William is running every single week and Alex, too.
It's like having a bunch of kids. You love them all the same. It's just each one of them has different strengths and characteristics, but at the end of the day they work well together.
Q: The record that you guys broke has been — Petty Enterprises has had the most wins in NASCAR since 1960. You've talked before at times about how you have come close, even shortly after you started, of stepping away. What makes you continue to want to do this year after year?
RICK HENDRICK: You know, I kind of grew up racing with my dad, and I raced when I was 14, and I've raced all my life. That's been — that and the automobile business, I tell everybody I'm really fortunate to be able to do the two things in life I love outside of my family, and that's the car business and racing.
From really humble beginnings and not having money to buy tires and riding in the back of a truck in Trenton, New Jersey, to watch a modified race to today, I was thinking out there on pit road hoping it wasn't going to be a caution and we could get it done tonight, how fortunate I've been to have the talent that's been at our organization.
I think we've got a lot more races to win, and the organization is really pumped up right now, and we've got good momentum, and we're going to ride this wave as long as we can.
Q: After Kyle spoke at the start-finish line, he said something to the effect of whatever I expected this year, I've already surpassed all my expectations. I was just wondering, what did you kind of expect? And how has it played out for Kyle?
RICK HENDRICK: Kyle is an awesome talent. I mean, he is just — some of the moves he makes, what he can do with a car in different situations, find a place to run on the track, he's got an awesome amount of talent.
I knew he was talented, but you see him in sprint cars and midgets and everything else; he races almost three or four times a week, but the guy is just — he wants to win. He's super dedicated. He's all business. Yeah, he's just got a tremendous amount of talent.
Cliff has got a lot of talent, and the chemistry there has been much better and quicker than I thought it could be. I just see great things between those two the rest of this year and into the future.
Q: I'm curious how you feel like it could impact sponsorship going forward, Kyle dominating this race and having fans back and more people at the track.
RICK HENDRICK: It feels so good to walk down pit road and be able to go on pit road and to see the fans in the stands and just the excitement in the air. When we go to the track at a race with no fans, it's like you're at a test. That's exactly what a test feels like.
Just the excitement in the air, the fans coming in today — I've met a lot of fans through motorsports, and having the military here, that was special. It's always a special day to pay tribute to those folks. It just feels like we're back. We've been cooped up for a year and not being able to go out and do things. It's just good to see folks enjoying themselves and not having to wear a mask.
Q: Do you feel like this win is going to be able to create more sponsorship opportunities?
RICK HENDRICK: Yeah, we've got a lot of things working with Kyle. Selfishly I like having Hendrick cars on it because I like for our business the — all of the hits we have on the internet and all the fans, we're selling cars and having — we're having a lot of fun with it.
Listen, we've talked to a lot of people. There's not going to be any problem getting a sponsor for Kyle.
Q: With your relationship with each of the drivers, I'm sure each one is unique and special. Obviously you haven't been with Kyle as long, but can you describe the relationship with Kyle and what it means that he was the one to deliver you this historic win?
RICK HENDRICK: Well, I think he's run so good this year. If you look, I think I saw that he led over 1,000 laps, more laps than anybody this year, and he was in position to win two or three times, and it didn't come together. He's been through a lot, and to see him come out here and run like that and make a statement and show his talent, I think the guy has been through a whole lot, and I'm just excited that he just really feels good and really got a great vibe right now with he and Cliff. I'm looking for a lot of wins the rest of this year.
Q: Certainly a dominant performance the last few weeks, but all these tracks that you guys have been dominant at the last three weeks are not playoff tracks, maybe not as strong as some of the playoff tracks earlier this year. What is the value of being strong at these tracks? Is it as much about winning and morale back at the shop, or what does a win like here mean compared to maybe not running as well at the playoff tracks earlier this year?
RICK HENDRICK: Well, I think we get better every week, and every time we go to a track we come back and I think we're better.
You know, I think as — we won Richmond. That was a tough — I'm looking at the different tracks we've raced on, road courses, mile-and-a-half. I don't think we're weak anywhere. I think when the time comes, we'll be ready.
Q: Just wanted to know if there's anybody in particular that Kyle's driving style reminds you of in particular.
RICK HENDRICK: Tim Richmond.
Q: Any reason why? Can you kind of expand on that?
RICK HENDRICK: Put a car in places that you don't think it'll go and having fun and wanting to win, wanting to lead every lap. He just reminds me a lot of Tim.
I mean, all of our guys have unique talent, but he is a racer. I look at William and how far William has come. William has been every single week, he's been there. I think they're just getting stronger together. But Kyle has probably got more racing experience than the other guys. He races everything there is to race, and he says it makes him better.
I mean, when you can climb in any kind of car and go to a track and win when you've got the guys that win all the races there, I think he's made a statement of how much talent he has.
Q: Kyle said that all four drivers wanted to deliver this milestone, and he felt the aggression between the other guys. Was there a time at Hendrick maybe back in the Jeb and Jimmie days or Jeff, Jimmie and Mark days that you felt these guys pushed each other to a new level?
RICK HENDRICK: I think, yeah, listen, they all want to win, and when you lead laps and you win races that motivates the other guys. They know exactly what's in the cars. They share a ton of information. They debrief together. Yeah, if any one of them wins, it motivates the other guys. There's nothing like — look, they want the company to win, but they want to win. They want to beat the other guy.
It's one of those things that everybody wants to be number one in the herd, so just let them all win races and we'll see how it comes out on the other end.
Q: You mentioned earlier about the 5 winning today and it being its first win for Hendrick. When you look at that accomplishment, that number, the history that it has, how extra special is this, and did you think maybe this is where you hoped it might end up?
RICK HENDRICK: I didn't care who broke the record. I just wanted to win it. Any one of them, I pull for them all the same. It's tough when they're battling each other for the lead, but the objective in this race was to win it. Whoever could win it, that was great.
The fact that the 5 was my first number and we decided to go back to it this year, it's pretty neat that that was the car number. But 24 has got a lot of history with us, Chase's number, Alex's number with Jimmie's 48. So I didn't care who won it, just so one of them won it.
Q: When you look at 269 wins, and I want to kind of ask you, what do you think Ricky would have thought about the way that Hendrick Motorsports is right now and breaking this record?
RICK HENDRICK: Well, he would be very proud of the fact that the company has done as well as it has. I wish he and Randy and all the folks on that plane were here to celebrate it.
You know, we never — when we were like 200 wins, just thinking that you're going to win 269 and beat Richard's number, I never thought we'd get there, and then all of a sudden the momentum started and we had a good run last year and this year.
I want to say this about Richard: He's a class act. He has done more for the sport than anybody I know of in the sport. He's still the same Richard to all the fans. He and I were together — when I started I thought he was going to drive the car, and it didn't work out.
I have tremendous respect for the Petty family and what they've accomplished. Someone will probably break my record, so it's just — records are made to be broken.
Q: Your drivers seem to be a camaraderie right now that has never existed throughout all of them; seemed like you had two drivers that got along or whatever. They're all in their 30s; do you think that plays a role in that even though they're so competitive that you can kind of guide them and mold them?
RICK HENDRICK: Well, number one, I'm very fortunate to have these guys because they're good, good people. I mean, I've seen — I've worked with Chase since he was 14. William walked up to me at the JRM shop when he was about 15 and said he wanted to drive one day. Alex, Dale picked him and he and I are car nuts and we worked together. You know, and Kyle is a racer.
I think they have tremendous respect for each other because I sit in the debriefs and listen to them sharing information, and I think the age does have a lot to do with it. I think that they respect each other, and each one offers a little bit that maybe the other one doesn't have.
But I'm really proud of the way they work together, and I know there's a lot of teams out here that don't, and I've been one of those teams in the past that you worried about the friction. There's no friction right now, so that's a good thing.
Q: What's the stress level like as a team owner to have all four cars compete for wins this year?
RICK HENDRICK: Well, it's a lot of stress when they get close together and if they try to block. The fear I have is wrecking each other because that destroys the organization's ability to pull together. I've had that happen, and I had to get them in a room and say, you can't — don't touch each other. If you're going for the win, okay, but just remember what you're getting ready to do to the organization. It's going to break us down if we have a lot of friction and we're not working together.
They want to win, but they race each other clean. I've heard all of them say, you've seen them on the track, they don't push people around and they try to pass clean, and that's the way we like to race.
Q: I have a question not related to your record win tonight, but I'm curious about your conversation with Pitbull on pit road and what that was like. Also you and Tony Robbins, seemed like you guys had a connection there, something about a helicopter?
RICK HENDRICK: Yeah, he was looking for a helicopter to chapter, and they called us and said, could we help him, and I told him, yeah, we could give him a lift in and a lift out, and he said I could come to his resort, but it's in Fiji, I think.
Q: And the Pitbull conversation?
RICK HENDRICK: Yeah, I just told him it was neat to have him in the sport, that we're glad to have him, and they've done a great job. It's fun to meet those kind of folks, and I'm glad they like our sport.
You know, he didn't know that was my helicopter when he started talking to me. Then somebody said, well, he's the guy that gave you the helicopter to get in here. Then it was a different conversation.
Q: You stopped me in my tracks a minute ago when you said that Richard Petty almost drove your car; did I hear that right or did I hear you wrong? We need to know that story.
RICK HENDRICK: Well, ask Richard. (Laughter.)
Q: I want to hear your side of it.
RICK HENDRICK: We were over here in the garage in Charlotte, and I thought we had a deal, and I went out of the country and I came back, and he went with Curb, I think, Records, but I thought he was going to drive the car. Let Richard tell you the story.
Q: When you look at where you started in 1985 to where you guys are now, when you think back on those early days with Jeff Bodine, what in that formative period do you feel like laid this foundation now for 269 wins? What was the point in the 80s that you could have seen any of this coming?
RICK HENDRICK: Well, I was very fortunate when I started, I thought we had another deal that was coming together that didn't, and so I was there with no sponsor, and I think we started with five people, and Harry was making 500 a week. You can put that in today's terms.
You know, I think Randy Dorton had a little engine shop, and he came on board, and so Randy was a big part of the foundation of our company.
Then we brought Tim Richmond in, and it just — it's been one brick at a time. I've got a lot of people that have been there forever. Look at Chad and Jeff Andrews and all these guys. We just kind of have built it from 5,000 square feet to what it is today, and from five people to over 600.
It's been a lot of years but a lot of just — any business you're in, it's all about people, getting people to work together, and I preach this to them all the time, you'll never tear down a good organization from the outside, it'll happen from the inside.
We've stuck together through some really tough times like the crash, but we stayed together. Sometimes you have — the biggest problem I have, I have drivers retiring, Darrell Waltrip and then Dale, then Jeff, Jimmie, then you start again. You see these kids that are 14 years old and you take a shot.
I think I'm good for the future. I think at my age I don't have to — with the average age of 26, I think I'm set.
Q: (No microphone.)
RICK HENDRICK: My dad always told me your biggest asset are your folks. You put key people together with good communication and good things will happen, and if you remember, I had a one-car team and I went to two, and everybody said, you can't win with a two-car team, but I did it. In the automobile business you have good people, you spread them out and they got great experience, then you add another and another, and together if they communicate, they're stronger.
I think we kind of broke that mold, but it's just — I've been very fortunate, too, to see Jeff Gordon, to see Jimmie Johnson, Darrell comes on board, Tim — Jeff Bodine. If he hadn't won that race in Martinsville, we wouldn't be here today.
Luck, and God has blessed our company, and we've had a lot of great luck, and I don't take that for granted. We've had a lot of good breaks along the way and just good people.
Q: When you look back on this race at any point in time, what are you going to remember most about tonight's victory?
RICK HENDRICK: Well, I'm going to remember that I really wanted to break the record at home. I really wanted to do it in Charlotte. When the cars — when the race started and it looked like we were going to be really strong and all of them running in the top 5, I thought we've really got a shot tonight.
I didn't like seeing Kyle up there, Kyle Busch, but I'll remember that I started about a mile from here in a little tin building and never thought I'd win a NASCAR race. I didn't think I belonged when I got to Daytona the first time when I looked at the Wood Brothers and Junior Johnson and Richard Petty, and I'm like, I don't know what I'm doing here.
You know, I think about all those things, and I think about breaking this record, because again, it's huge for our company to win 269 races.